TB12 Performance Meals, in partnership with The Purple Carrot, is a healthy meal subscription box that delivers pre-portioned ingredients to create plant-based, gluten-free recipes based on the TB12 nutritional guidelines.
Even his critics admit that Tom Brady, at an age when most quarterbacks are eyeing retirement, is performing at a higher level each year. He credits his to hard work and a sound diet to leverages the benefits of plant-based nutrition.
TB12 Performance Meals partners with Tom Brady & TB12 to create meals that help you achieve and sustain your own peak performance.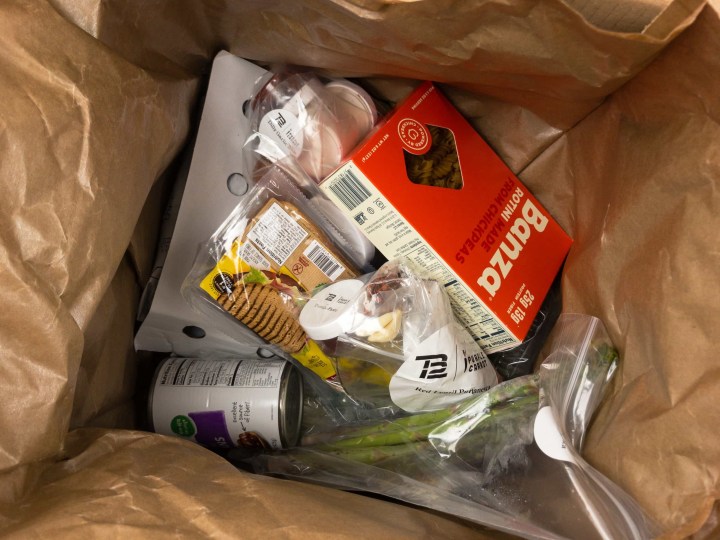 TB12 Performance Meals insulates the food with ecologically-sound padding. A few huge icepacks sit below the food, separated from it by cardboard. though it looks like a bit of a jumble because of the larger ingredients not being bundled, everything was in great condition.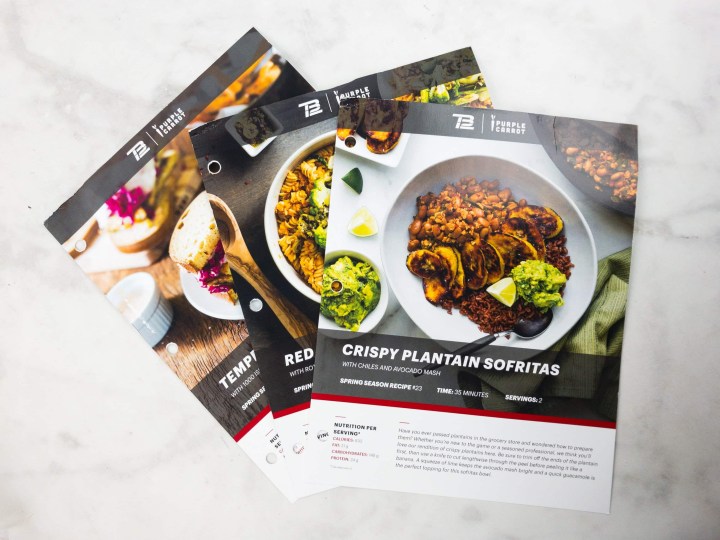 On-card information includes an estimated prep-time, number of servings, and a breakdown of the essential nutrition info (calories, fat, carbs, protein).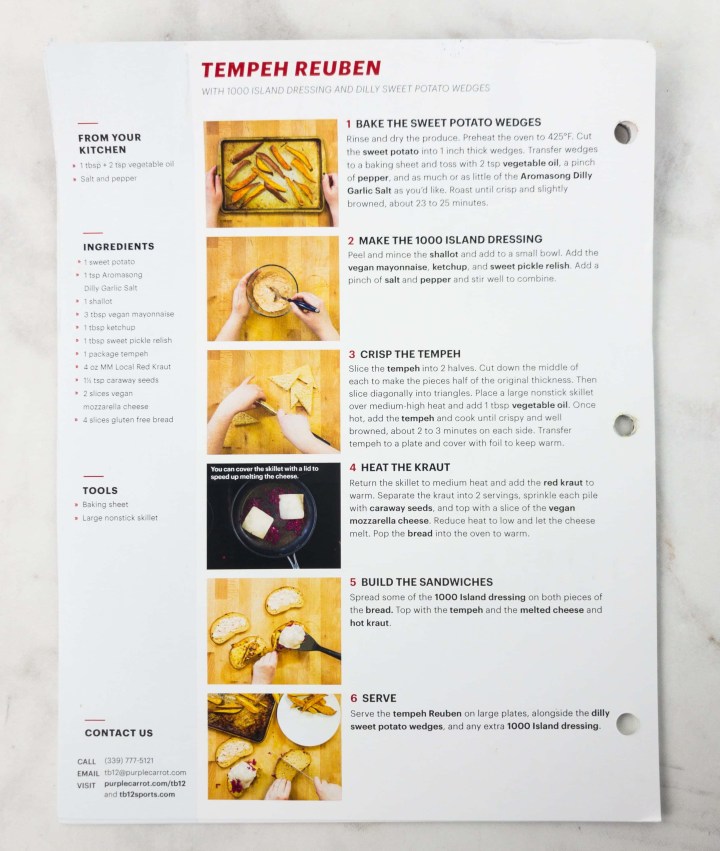 The recipes are really well designed, with most prep done ahead in a mise en place approach. Any items needed from your kitchen, whether food or cooking vessels, are set out separately. As far as ingredients, only olive oil and salt and pepper are needed. Ingredients are bolded for ease of recognition, and they even put ingredients in red font if they are divided and used in more than one spot in the recipe. Handy tips were worked into the text, like how to tell when a phase of cooking is done by smell or sound. They even have a hotline for phone or email help if you need it!
When we chose our meals for this month, we were able to pick from two flights of three meals for each week of the month – you can switch between regular Purple Carrot & TB12.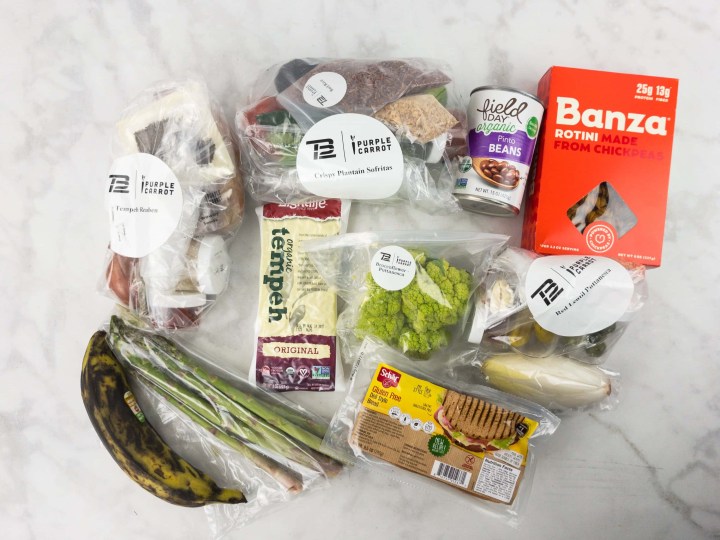 All our food! The meals are bagged separately, with the large or delicate items labeled in individual packages. Veggies that were bagged separately usually state which recipe they go with.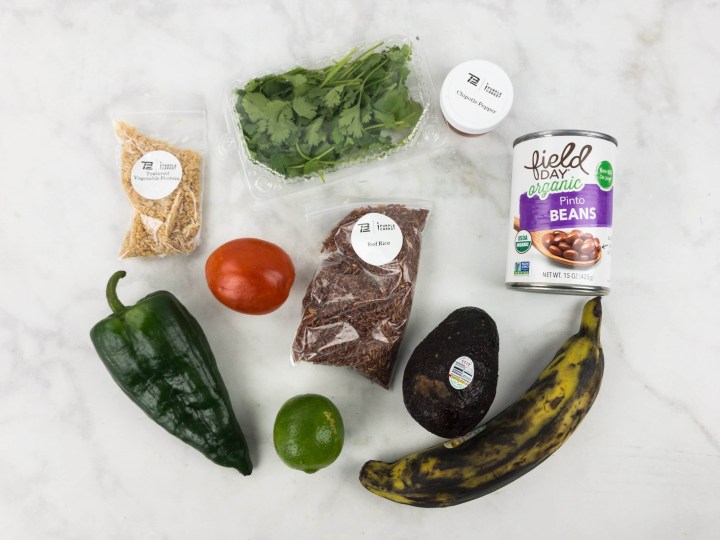 Crispy Plantain Sofritas With Chiles and Avocado Mash. 35 minutes, 830 calories per serving.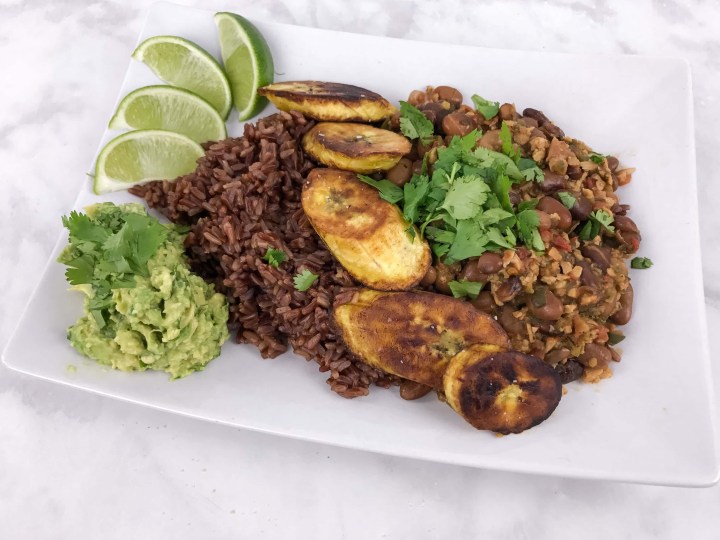 This dish was really delicious and surprisingly hearty. It was very dense and filling. The red rice maintained much more chew and texture than any variety of processed rice, the plantain was firm, and the sofritas was full of intact beans and soy protein crumbles that resembled ground pork sausage. I loved the intense, whole grain flavor the red rice added to the dish, and the avocado provided the creaminess that would have been present with less healthful rice. Despite the multiple components, the dish was relatively simple to put together, the only pain being breaking out the food processor.
Red Lentil Puttanesca With Rotini and Marinated Vegetables. 35 minutes, 790 calories per serving.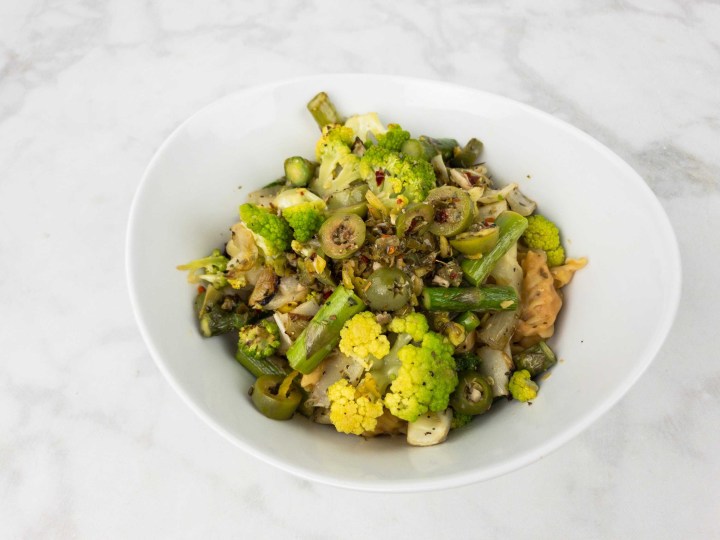 I loved the way this dish worked together! At first, we thought it funny to put lentils on top of chickpea pasta, but the rich flavor of the former made the beany taste of the chick pea less noticeable, making it more like semolina pasta. The briny puttanesca melded the creamy pasta with the roasted veggies in a delightful way, and this dish was actually very easy to make. It was a very filling pasta, and we wondered how it would reheat. I was psyched to discover that the leftovers were quite good cold, similar to a lentil and pasta salad combo.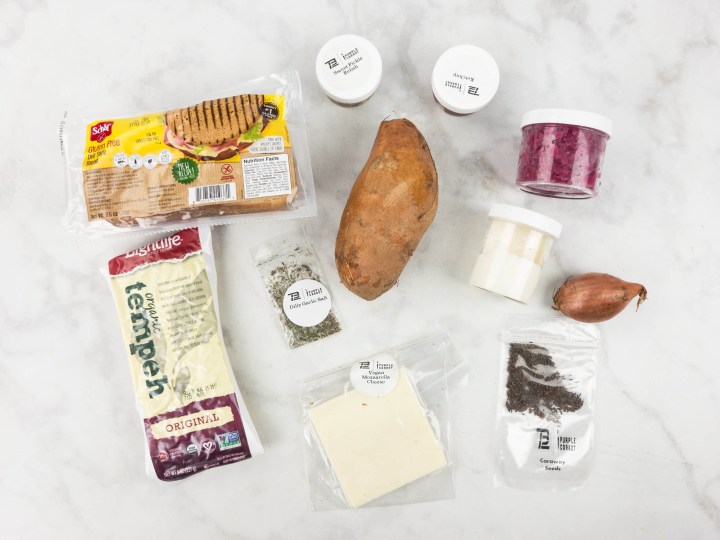 Tempeh Reuben With 1000 Island Dressing and Dilly Sweet Potato Wedges. 30 minutes, 910 calories per serving.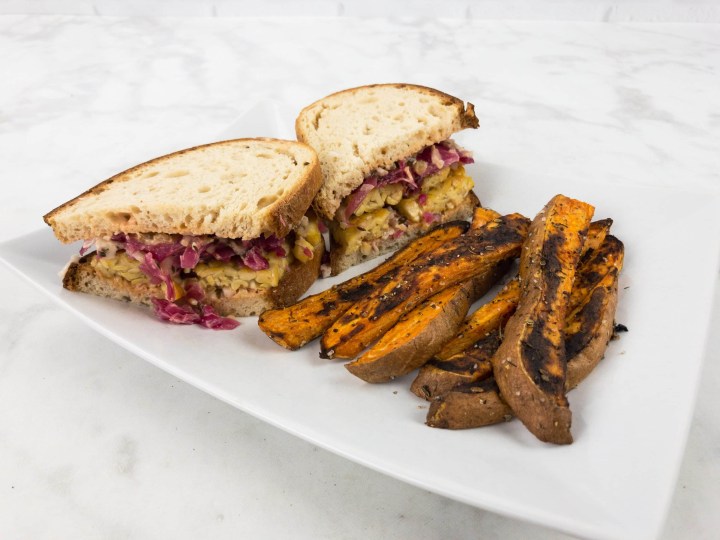 This dish looked to be the most promising when we selected our food, but it didn't wow us when we actually made it. The flavors were good – I loved the addition of rye seeds, and the homemade thousand island was spot on. The tempeh wasn't an ideal pastrami or corned beef substitute, though. Obviously, it isn't going to be precisely like actual meat, but the texture was a little too firm, dense, and segmented to work well in this application. It was kind of like having a stale falafel sandwich. I think a firm tofu would have worked better and had a more malleable flavor. Overall easy to make, and the dill sweet potato fries were excellent.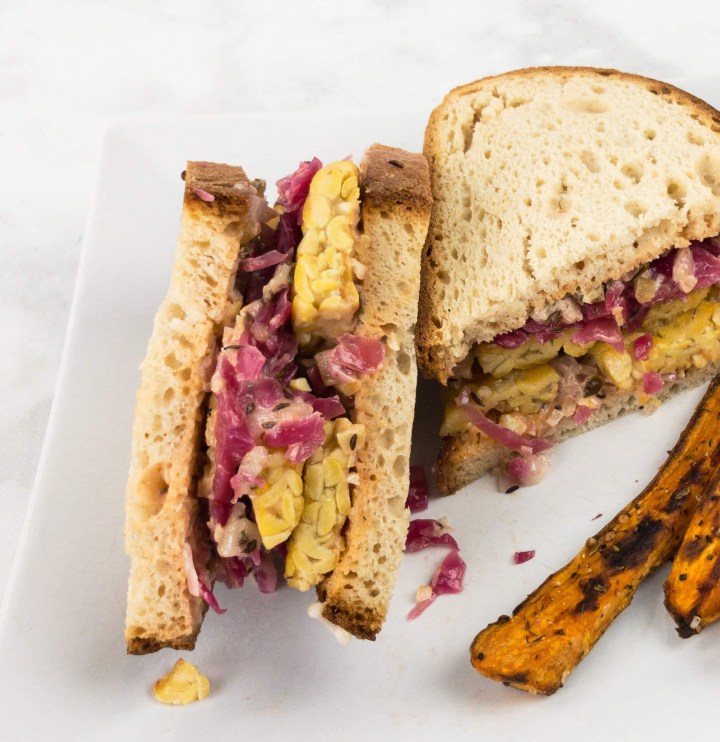 This was another great set of TB12 meals. I'm not an expert on various preparations of vegan staples like tempeh and exotic legumes, so it's tough to tell if something is going to be awesome just from the dish description. I eat meat regularly, but I thoroughly enjoyed the TB12 recipes and found them to be exceedingly filling and satisfying.
Like many folks, we are always a little skeptical of meals that focus on nutritional composition above all else, but this set of meals did not make taste and afterthought. We were blown away by the TB12 meals! They are possibly the best combinations of textures and flavors we've had in a meal kit, and the quality and condition of the ingredients were as good as we've seen. We tend to eat many hearty and meat-centric meals, and this subscription is a perfect breath of fresh air. These are well-designed, incredibly flavorful meals with superb nutritional profiles, and I highly recommend them whether you are an athlete or just a food lover.
Visit TB12 Performance Meals to subscribe or find out more!
[hsi_box_categories