Fresh Fiction Box Not To Miss is a monthly book subscription that sends 5-7 books for $25.95. Shipping is free to the U.S. but they also ship worldwide. You can choose from a 1, 3, or 12-month plan and all plans auto renew. Alternatively, you can also buy a one-time box from their online shop. They send 2-3 new release print books, codes for 2-3 downloadable ebooks, and a treat! Most of the books will be from the romance genre but they may occasionally send mystery, erotica, YA, and paranormal books too.
DEAL: Save $3 on your first Fresh Fiction Not To Miss box with coupon code HELLO.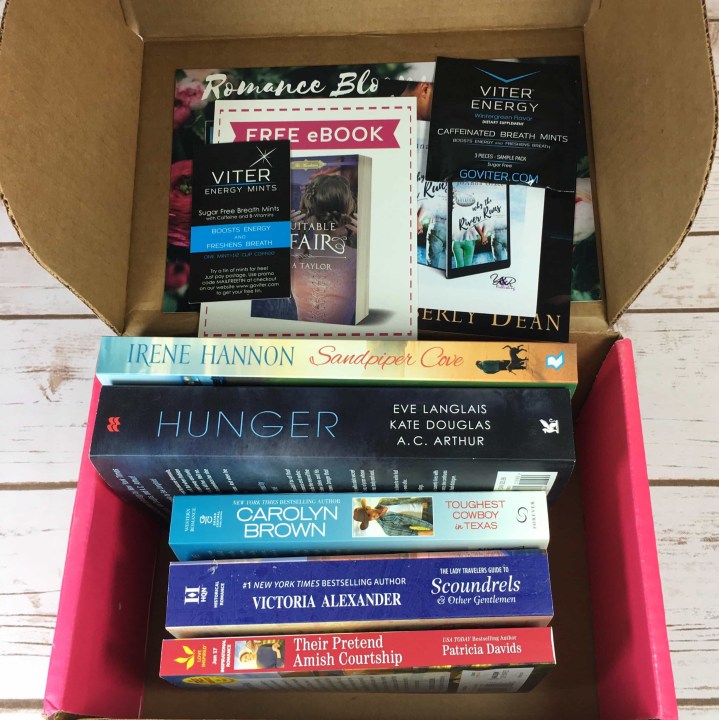 I'm always surprised at how heavy this box is when I pull it out of the mailbox! I received 5 paperbacks, codes for 3 ebooks,some mints, and a couple of inserts, which I will describe below. Fresh Fiction sends different box variations each month so keep in mind that your box may vary from mine! Also, I have been getting this box for a year now and have always received at least 4 print books each time!
Everything in the box!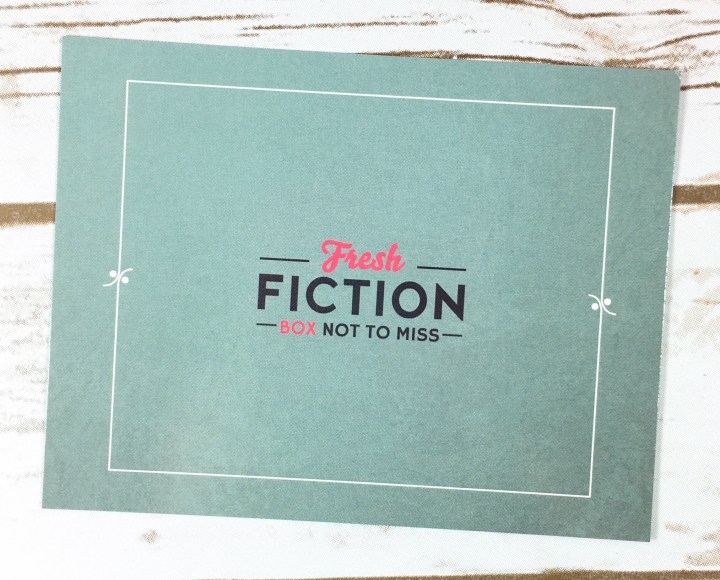 Gone are the Vixen postcards and now Fresh Fiction sends a card…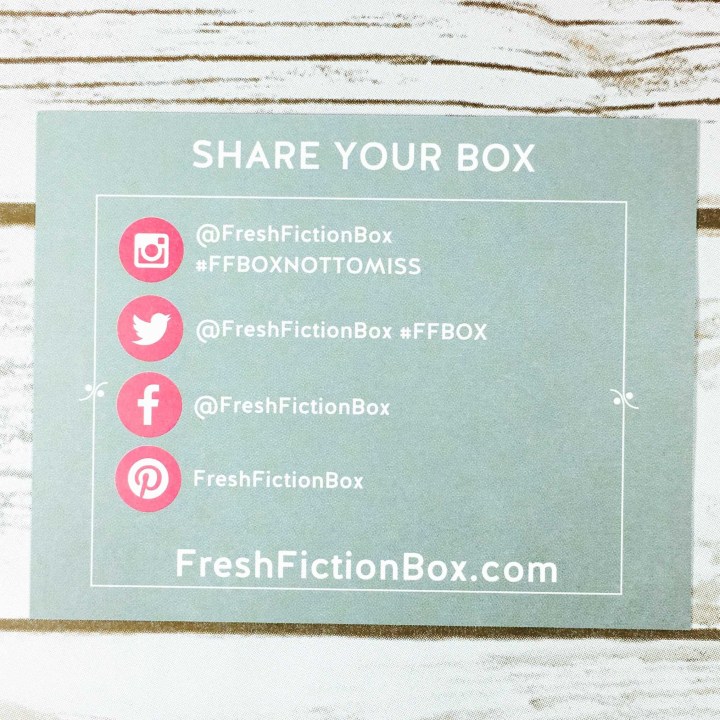 …that has some info on sharing your box on social media.
I received a packet of Viter Energy Caffeinated Breath Mints. Each mint has the equivalent amount of caffeine as 1/2 cup of coffee.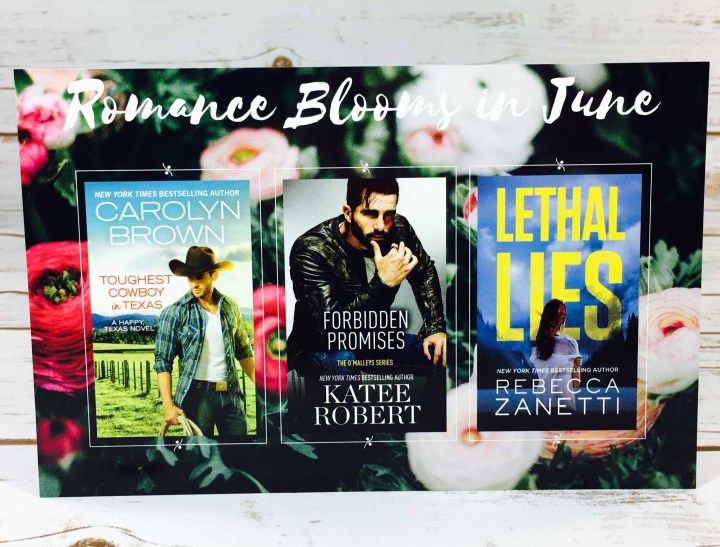 There was a card with the covers of three new romance books.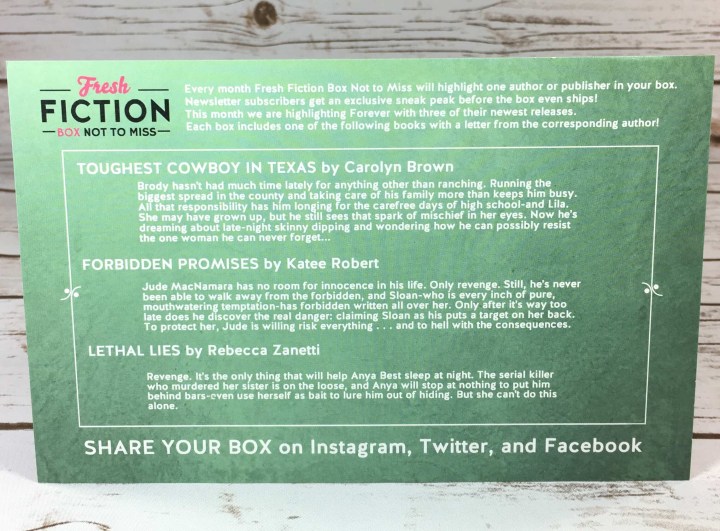 Each month FFBNTM will feature an author or publisher and this month it's Forever. Each subscriber will receive one of these books in their box, along with a letter from the author!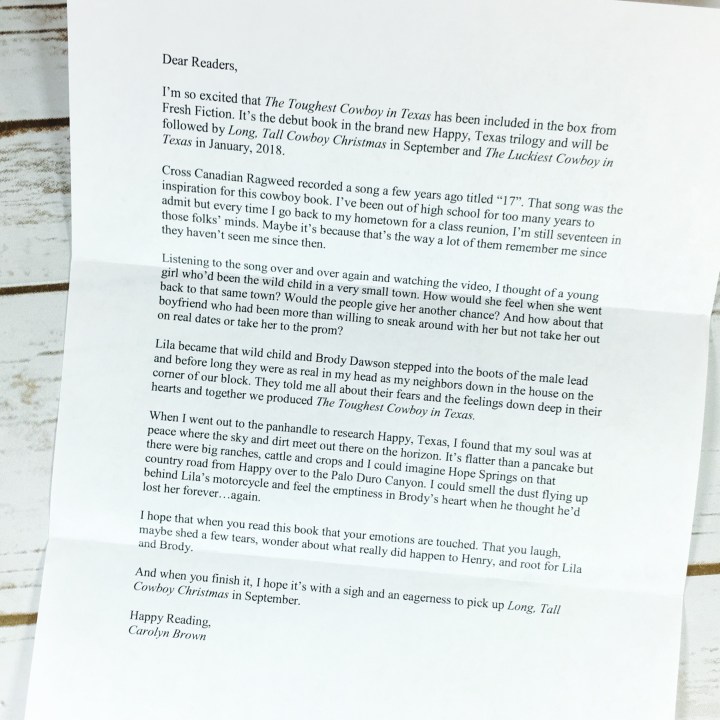 The author introduced herself and her book. You can see more about this book below.
First up are 3 downloadable ebooks:
A Suitable Affair by Erica Taylor ($9.87 for Kindle)
Lexie by Kimberly Dean ($3.99 for Kindle)
Why the River Runs by JoAnna Grace ($3.99 for Kindle)
Note: For the hard copies, I gave the current selling price from Amazon.com.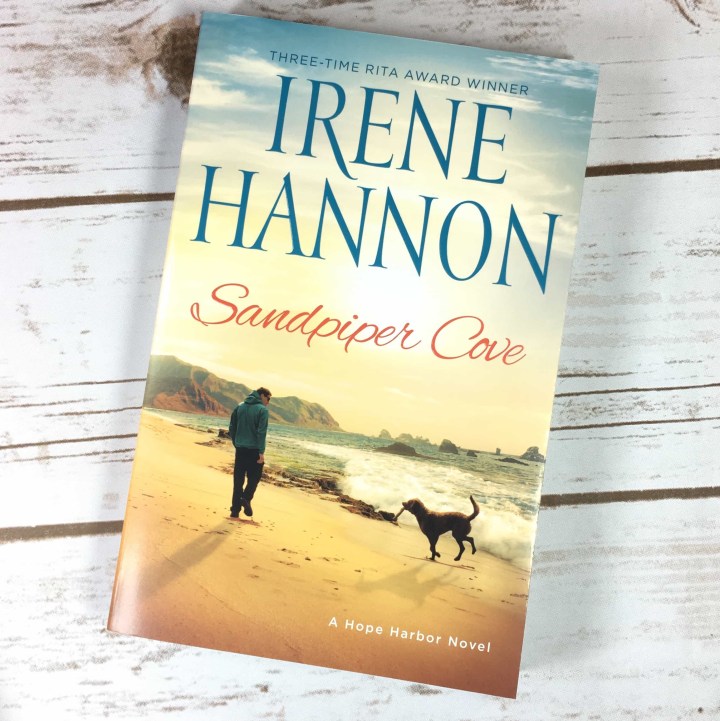 Sandpiper Cove: A Hope Harbor Novel by Irene Hannon ($8.79) I'm on vacation (I work at a school and school's out!) so it's time for me to read like nobody's business! This is book number 3 of 4 in the Hope Harbor series.
Hope Harbor police chief Lexie Graham has plenty on her plate raising her son alone and dealing with a sudden rash of petty theft and vandalism in her coastal Oregon hometown. As a result, she has zero time for extracurricular activities–including romance. Ex-con Adam Stone isn't looking for love either–but how ironic is it that the first woman to catch his eye is a police chief? Yet wishing for things that can never be is foolish.

Nevertheless, when Lexie enlists Adam's help to keep a young man from falling into a life of crime, sparks begin to fly. And as they work together, it soon becomes apparent that God may have a different–and better–future planned for them than either could imagine.

Lauded by Library Journal as "a master at character development," Irene Hannon welcomes readers back to this charming Oregon seaside village where hearts heal–and love blooms.
Hunger by Eve Langlais, Kate Douglas, & A.C. Arthur ($11.53) This book contains 3 novellas featuring werewolves and the human women who love them. Gothic paranormal romance.
Dive into Hunger, a paranormal romance anthology by New York Times bestselling author Eve Langlais, Kate Douglas, and A.C. Arthur!
A brand new, never before published novella!

In The Alpha's Mate, villains aren't supposed to rescue damsels, and pack alphas are known to have complete control of their wolf. But when Fabian saves a certain lady from drowning, everything he knows gets tossed away and only one thing becomes clear: she's his mate―and someone wants to kill her. Hell no. Protecting her, though, is only part of his problem. He also has to convince her she belongs to him. In her words, "Hell no."

When she flees, little does she realize this wolf loves to chase. And when he catches the woman he wants? She'll become the Alpha's Mate.

Previously published in the 2-in-1 e-original Claimed by the Mate Volume 3 and in print for the first time!

In Dangerous Passions, finding a mate shouldn't be all that difficult for a sexy werewolf on the prowl. Modern women want romance and seduction, and Feral Passions Resort has served that purpose for providing both for the men of the Trinity Alps pack. Only two are still unmated―alpha leader Traker Jakes and his lieutenant Evan Dark―but danger stalks the women they've chosen. Danger that threatens everyone in the pack at Feral Passions.

In Bound to the Wolf, Marena Panos is an attorney with a dark secret that follows her into the mountains and into the bed of a Phelan Sava, a lycan whose strength and shared penchant for pleasure/pain will eventually own her body and soul.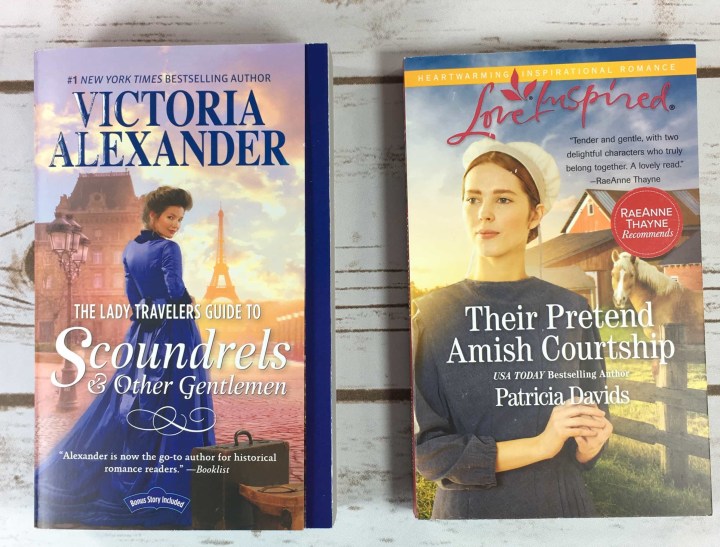 The Lady Travelers Guide to Scoundrels & Other Gentleman by Victoria Alexander ($6.79) Another two-in-one book – this one has a bonus short story! Historical romance is my favorite type of read so I will devour this one first. I love the author's name and I think if I were to write romance novels I would call myself Victoria Albert. Or maybe Deborah Teasdale, Teasley, or something with tea.
Really, it's too much to expect any normal man to behave like a staid accountant in order to inherit the fortune he deserves to support the lifestyle of an earl. So when Derek Saunders's favorite elderly aunt and her ill-conceived—and possibly fraudulent—Lady Travelers Society loses one of their members, what's a man to do but step up to the challenge? Now he's escorting the world's most maddening woman to the world's most romantic city to find her missing relative.

While India Prendergast only suspects his organization defrauds gullible travelers, she's certain a man with as scandalous a reputation as Derek Saunders cannot be trusted any farther than the distance around his very broad shoulders. As she struggles not to be distracted by his wicked smile and the allure of Paris, instead of finding a lost lady traveler, India just may lose her head, her luggage and her heart.

Free bonus story included in this volume! Don't miss The Proper Way to Stop a Wedding (in Seven Days or Less), a The Lady Travelers Guide novella.
Their Pretend Amish Courtship by Patricia Davis ($5.39) This book is the Harlequin novel of the month from the Love Inspired branch: "Uplifting romances of faith, forgiveness and hope."  It features a relationship of convenience for a girl and the boy next door. Will their sham arrangement turn into true love?
Make-Believe Beau 

Fannie Erb isn't looking for a husband—especially if she has to leave her beloved horses to go find one. What she needs is a way to assure her parents she's not hopeless when it comes to love. Family friend Noah Bowman might just be her solution. A fake relationship will free them both from unwanted matchmaking plans. How could Fannie predict that pretending to date the handsome, teasing boy next door would awaken genuine emotions? By summer's end they'll be free to part, but Fannie's growing feelings are transforming her neighbor into the only man who might ever rein in her adventurous heart.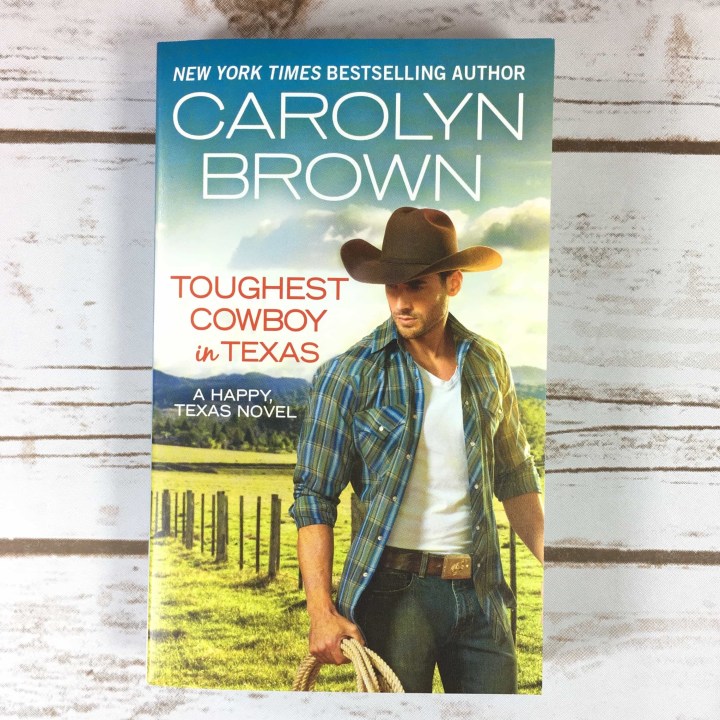 Toughest Cowboy in Texas by Carolyn Brown ($7.19) This is the novel that was introduced in the letter above and is book one of the Happy, Texas trilogy.
The last time Lila Harris was in Happy, Texas, she was actively earning her reputation as the resident wild child. Now, a little older and wiser, she's back to run her mother's café for the summer. Except something about this town has her itching to get a little reckless and rowdy, especially when she sees her old partner-in-crime, Brody Dawson. Their chemistry is just as hot as ever. But he's still the town's golden boy-and she's still the wrong kind of girl.

Brody hasn't had much time lately for anything other than ranching. Running the biggest spread in the county and taking care of his family more than keeps him busy. All that responsibility has him longing for the carefree days of high school-and Lila. She may have grown up, but he still sees that spark of mischief in her eyes. Now he's dreaming about late-night skinny dipping and wondering how he can possibly resist the one woman he can never forget…
I love Fresh Fiction Box! Each month when this heavy box shows up in the mail I know I will have several books from a couple of different genres to choose from and they are always new releases. My June box was worth $57.54! I really enjoy this subscription and love that these books all have high ratings on Goodreads and Amazon every single time!
What did you think of this month's box?
Visit Fresh Fiction Not To Miss to subscribe or find out more!