Varieteas is a monthly subscription service that sends you flavored, loose leaf teas! You will receive 3 packets of tea that vary each month and that are tasty hot or iced. This is a review of the Mini Box, which is $10 a month plus $2 for shipping, or you can try the Regular box, which sends the same flavors but in larger bags and is $19.95 a month with free shipping.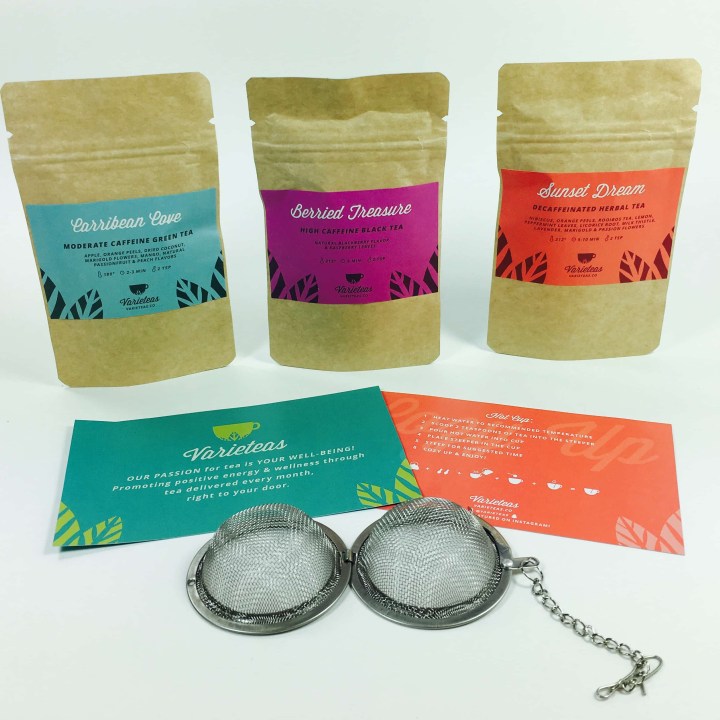 DEAL:
  Get 30% off your first box! Use coupon code 
HELLO
.
My teas came shipped in a beautiful aqua colored padded mailer and everything looked in perfect shape. The presentation was very nice and I love the color scheme!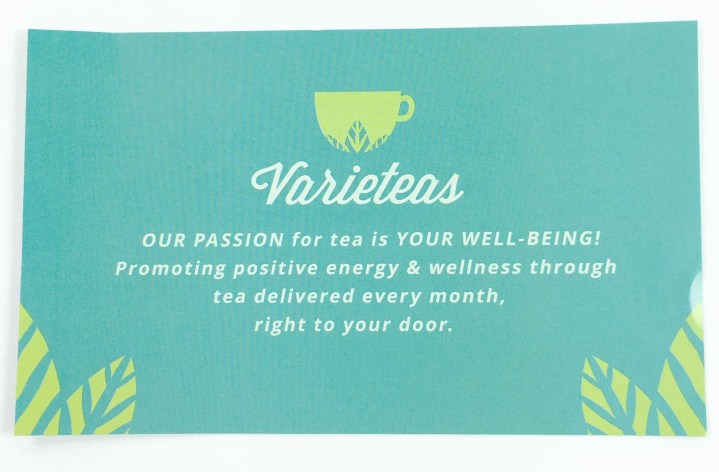 I received a card that had Varieteas goals for my monthly box – to help promote positive energy, yes!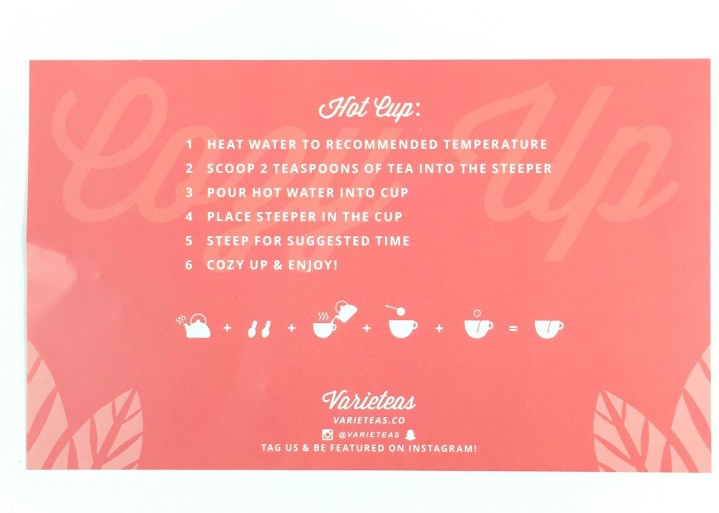 I received steeping instructions for hot…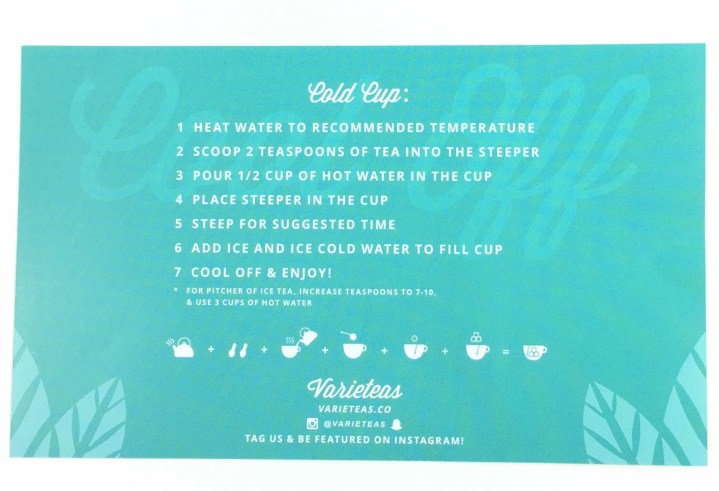 …and iced tea. One thing I noted was that it didn't list an amount of water for the hot tea and the iced tea calls for only a half cup of water. I steeped my teas using 2 teaspoons of tea and 8 ounces of hot water and wasn't pleased. I tried again with 1 teaspoon of tea and 8 ounces of water and they were much better that way, where as they were extremely bitter and undrinkable the first time around. For iced tea I would suggest two teaspoons of tea to 8 ounces of water.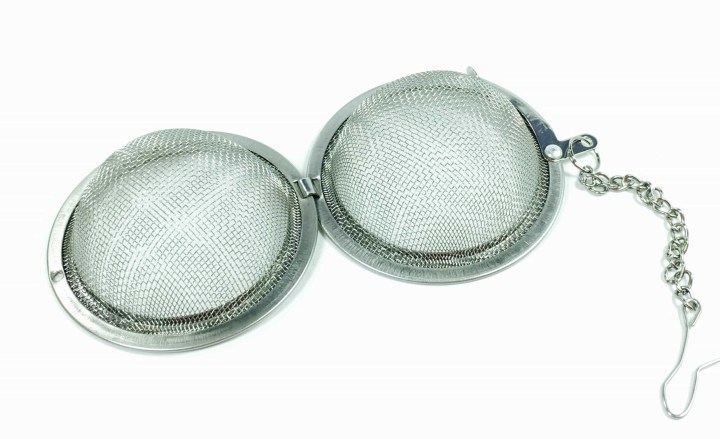 I received an in-cup infuser, such as this one from Amazon. I'm not sure if this comes in every shipment or just the first one but it was a nice touch, especially if you are new to loose leaf tea.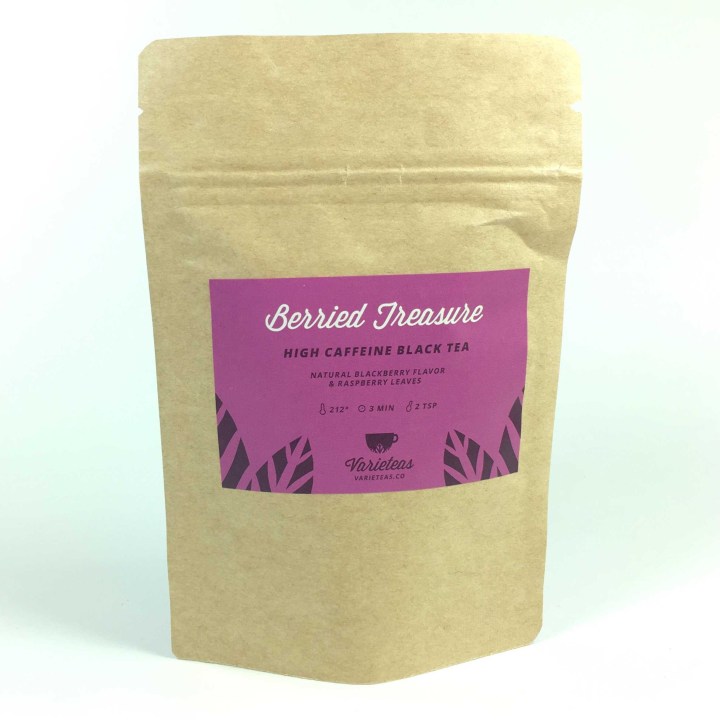 Berried Treasure was the first tea that I went for since I love black tea and can't seem to start my day without a nice cuppa. This selection has the highest amount of caffeine in this month's shipment. It didn't say how much tea is in each bag but I believe they each have 1/2 ounce of dry tea.
I see black tea, raspberry leaves, and raspberries.
Most black tea that I drink is pretty bitter, due to steeping it in boiling water, so I always add sugar and half-and-half to my cup. This had a really nice, fruity flavor and I plan on making iced tea with it for a change of pace.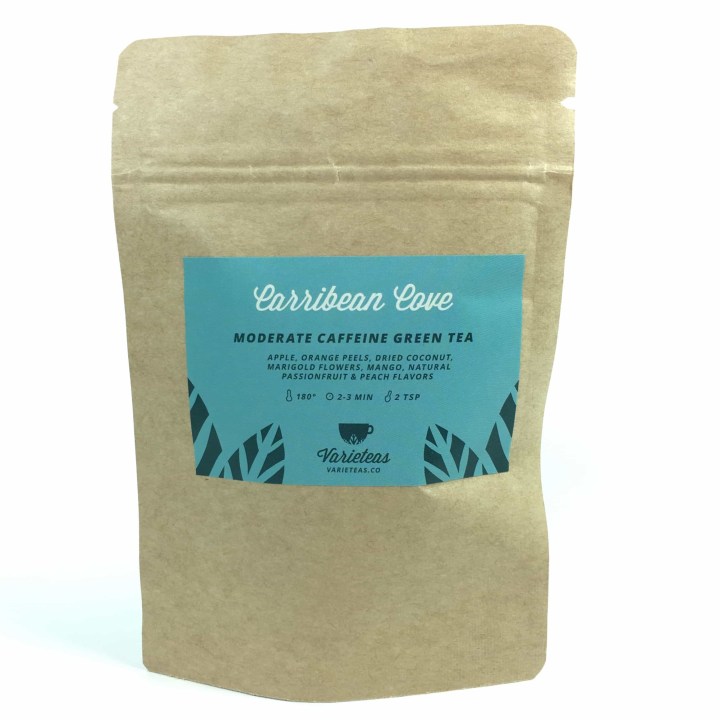 Carribean Cove has green tea and therefore a moderate amount of caffeine. Note that the water temperature should not be too hot or the tea will be bitter.
I wish you could smell this tea! Apple, orange peel, coconut, mango, and peach flavors are listed on the package and it smells fruity, sweet, and tropical.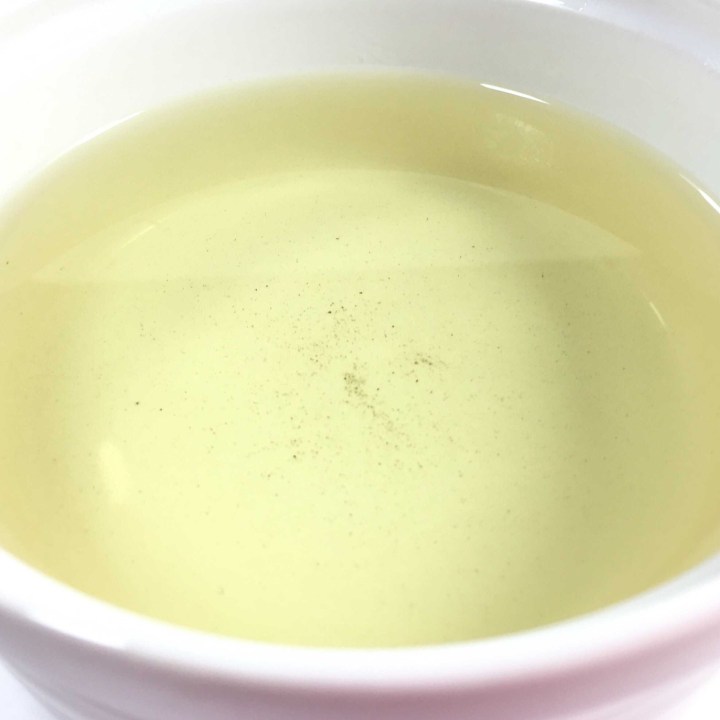 I actually preferred this one when I made it with 2 teaspoons of tea, although with 1 teaspoon it was refreshing and light. I'm not much of a green tea drinker but this one was my favorite this month!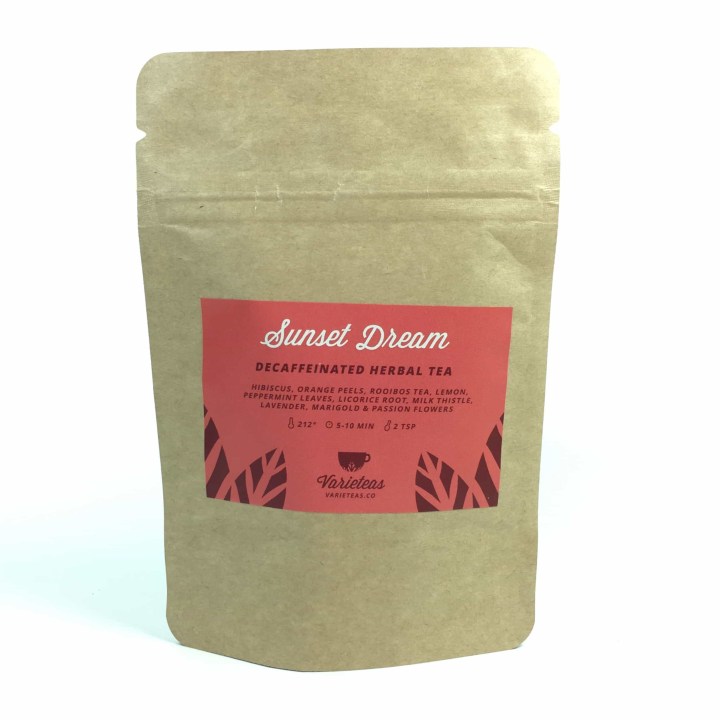 Sunset Dream has no caffeine as it is an herbal tea. To say it's decaffeinated is incorrect – since it doesn't have actual tea leaves (camellia sinensis) it never had any caffeine in the first place! Caffeine-free is the correct term since decaffeinated also means that most of the caffeine has been removed through a process but there is always some caffeine left behind. Some tea enthusiasts would go so far as to call this a tisane rather than tea.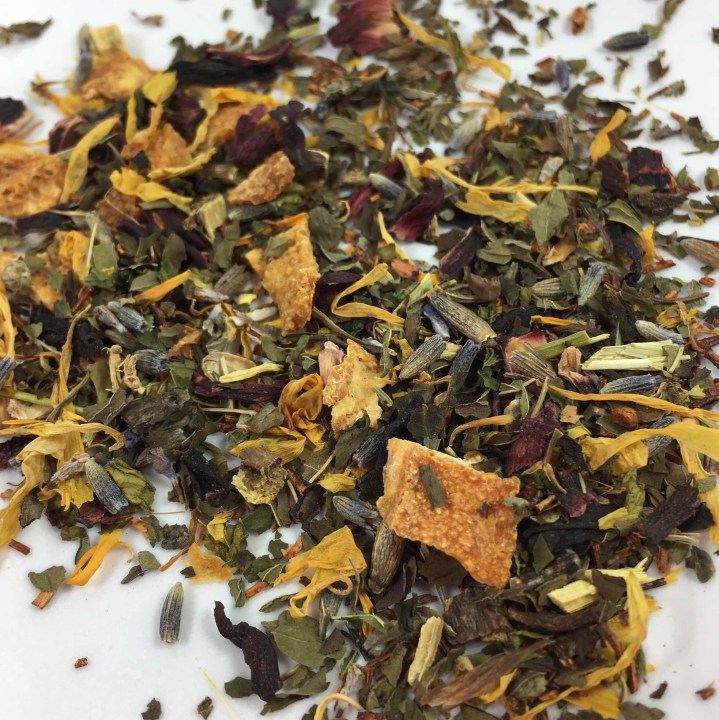 Wow, look at all those herbs, fruits, and flowers! Rooibos, or redbush, is featured in this mix, which is a caffeine-free plant commonly used as an herbal tea.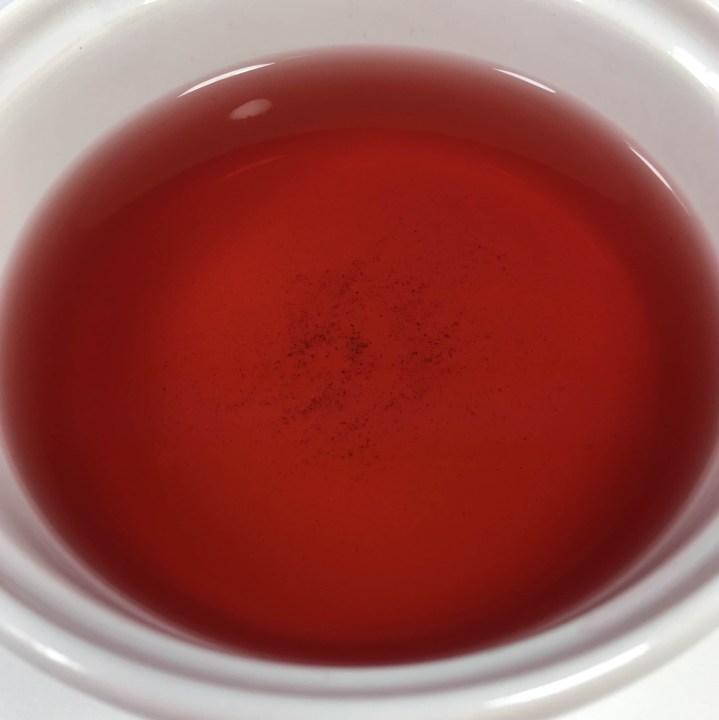 This turned a lovely shade of pink in the cup from the hibiscus! It had a minty lemon flavor and was fruity from the hibiscus. I also detected citric acid (it does something weird to my tongue that I find unpleasant) and was told that there is some naturally occurring citric acid in the fruit peels. I stuck some of the dry tea in my mouth and the reaction was the same as if I had eaten a sour gummie candy. This probably isn't a problem for most consumers, I just usually steer clear of teas when I see it on the label since I find the sensation unpleasant.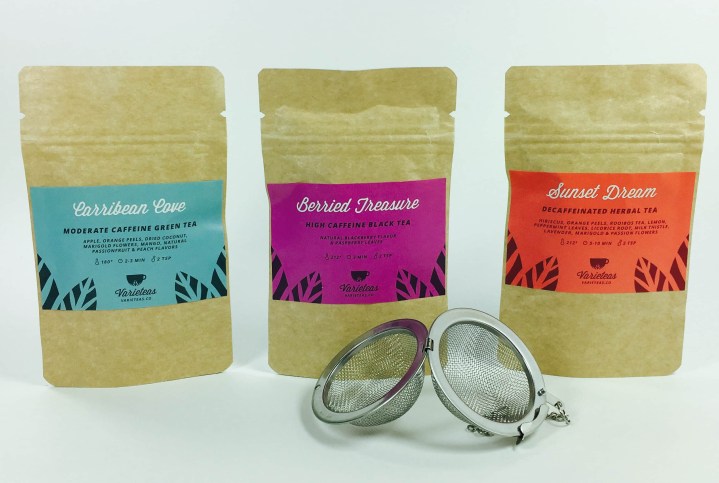 I liked my first Varieteas shipment! There was a tea for different times of the day: black to get me going in the morning, green to get me past the afternoon slump, and an herbal to help me relax in the evening. I loved the assortment and flavors and look forward to trying the raspberry tea iced on a hot day. This is a great subscription if you like flavored teas that can be enjoyed any time of day or night. You can purchase 1 ounce bags of their tea for $7 each on their website so these little bags work out to about $3.50 each. Check out Varieteas to learn more!
Have you tried Varieteas yet? Let me know in the comments!
Visit Varieteas to subscribe or find out more!