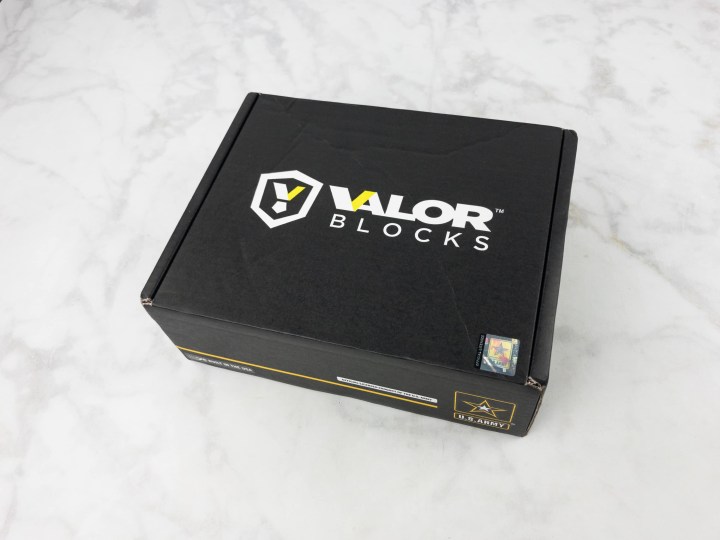 Valor Blocks is a monthly subscription box that features exclusive collectibles and merchandise from the world's most prominent protective services organizations, for $34 per month.
Their new US Army Block is their first block, but US Navy Block, US Marine Corps Block, and US Air Force Block are landing soon!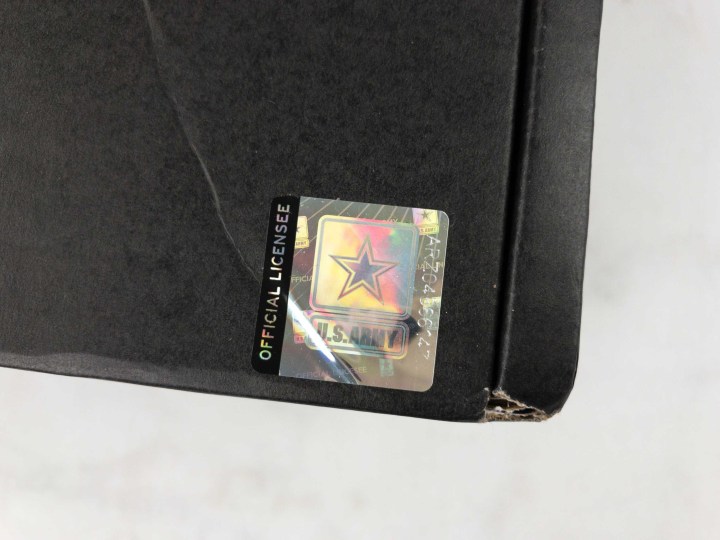 Valor Blocks comes with licensed products from the U.S. Army.
DEAL: Active duty members + veterans receive a 10% discount! You'll confirm your identity through a third-party service on checkout.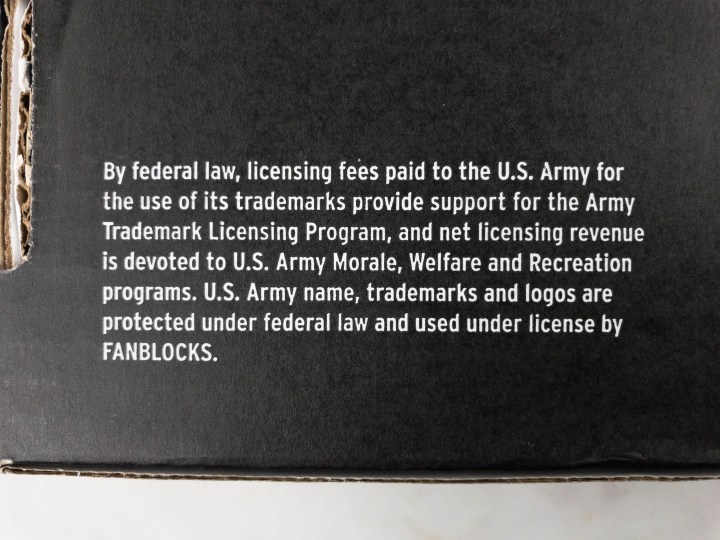 This is a review of the U.S. Army box. I think it's awesome that revenue from licensed products like these goes to MWR programs. MWR programs include libraries, community education and recreation, base childcare, entertainment, and more – things that make a big difference in the quality of life for service members and their families but that aren't always Federal budget priorities.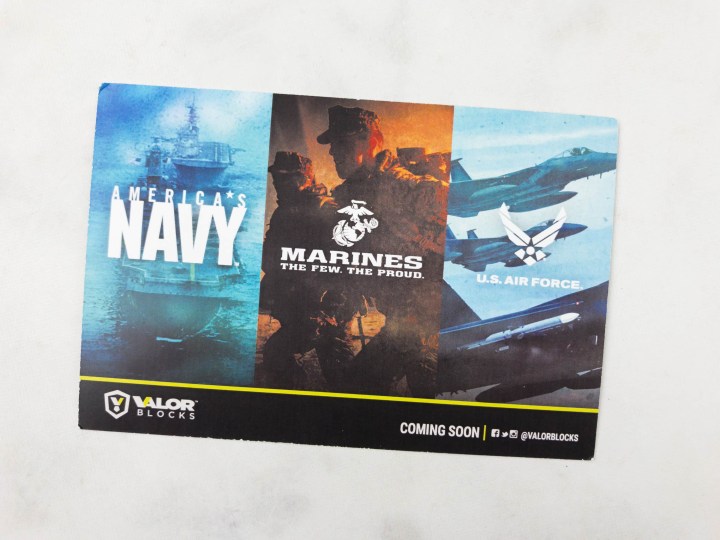 Just like Nerd Block, they have a variety of subscriptions – the U.S. Navy, U.S. Air Force, and U.S. Marine Corps boxes were recently launched! These blocks start in June!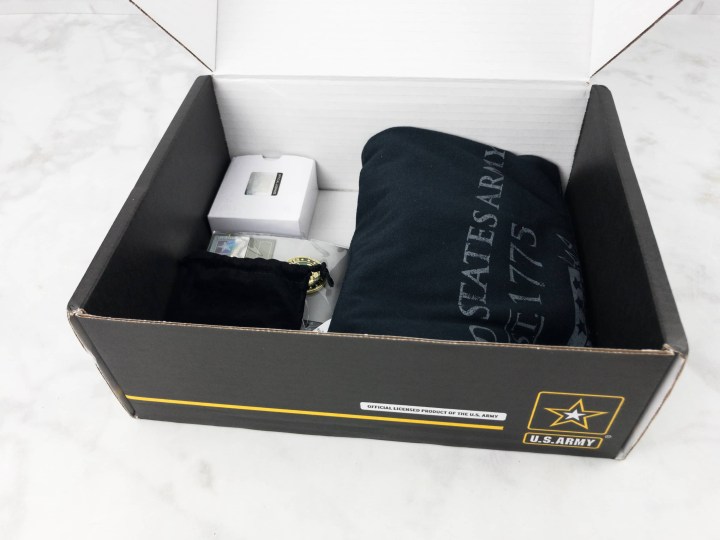 The interior packaging is simple, but the one fragile item was well-protected.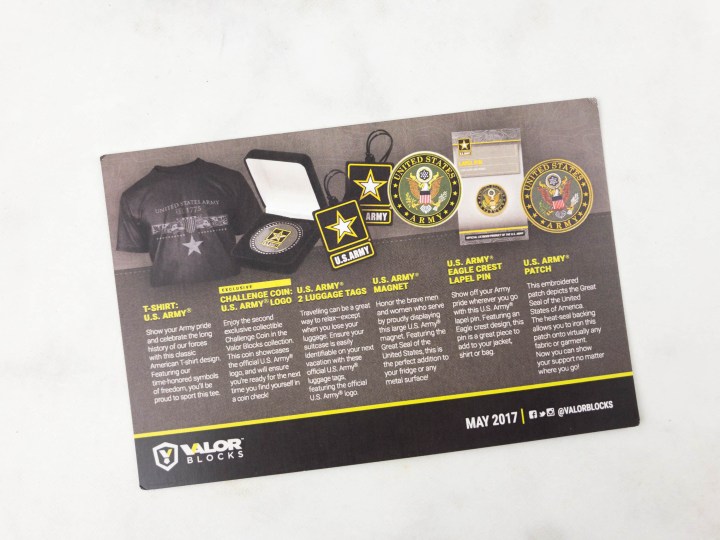 The information card is similar to the old Nerd Block info card (they're from the same family), with a list of items and a short description. The items mostly speak for themselves, so not much explanation is needed.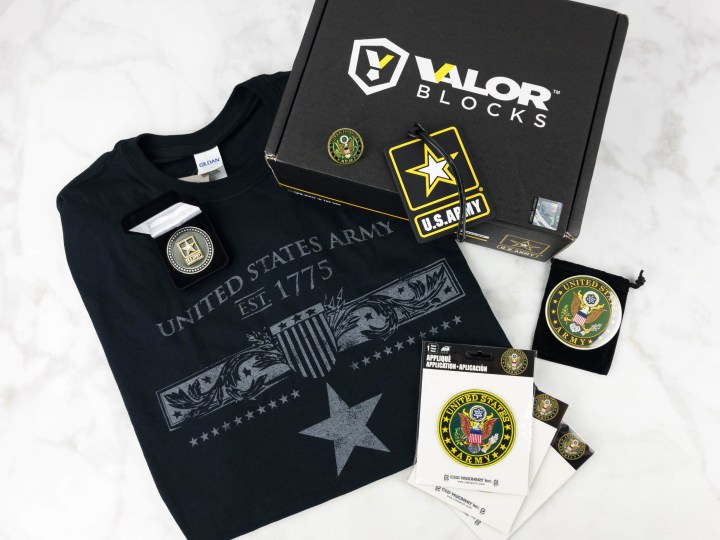 Everything in the May 2017 Valor Blocks box.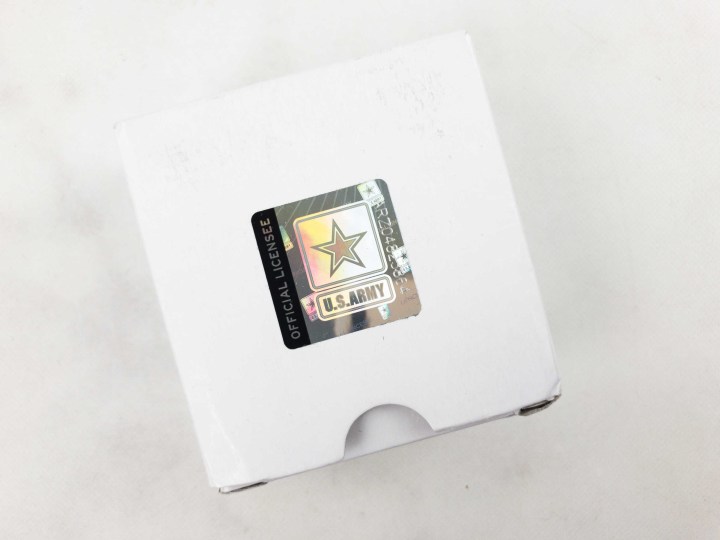 Exclusive Challenge Coin U.S. Army Logo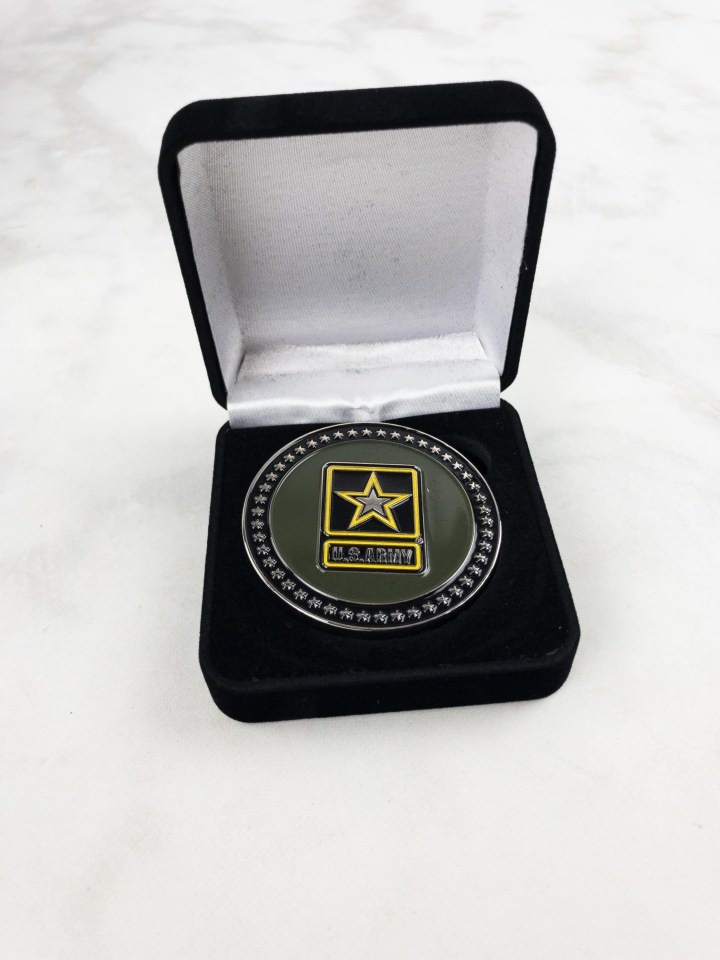 It's another challenge coin, the second in an exclusive collectible series!
You will never be without a coin when faced with a coin check! These coins are quite large and suitable for display.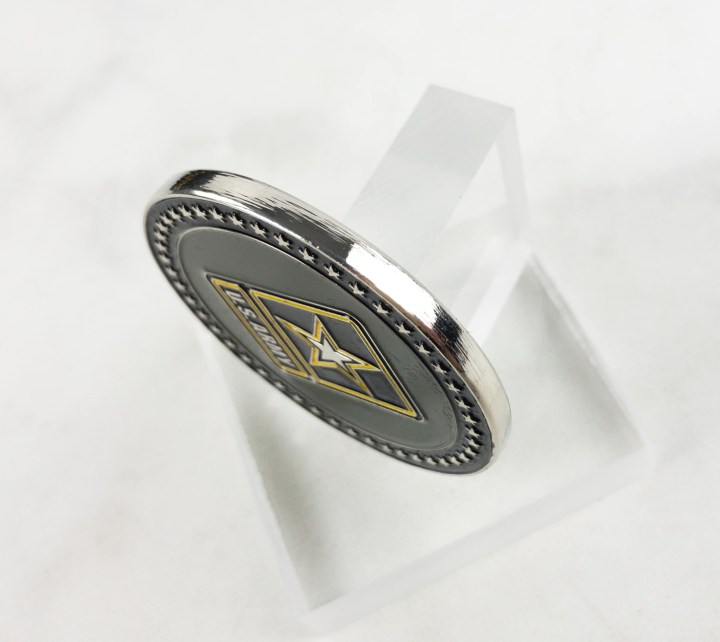 The coins are really well produced!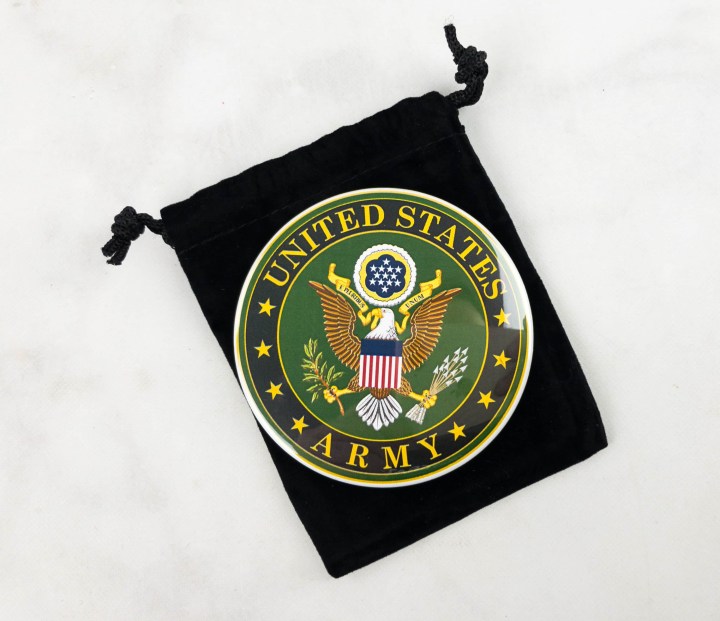 U.S. Army Magnet: This magnet looks like a large button pin, but it's actually a large magnet. The magnet on the back is thick and covers the entire back, so huzzah, it will actually hold things on the fridge! Or a metal file cabinet.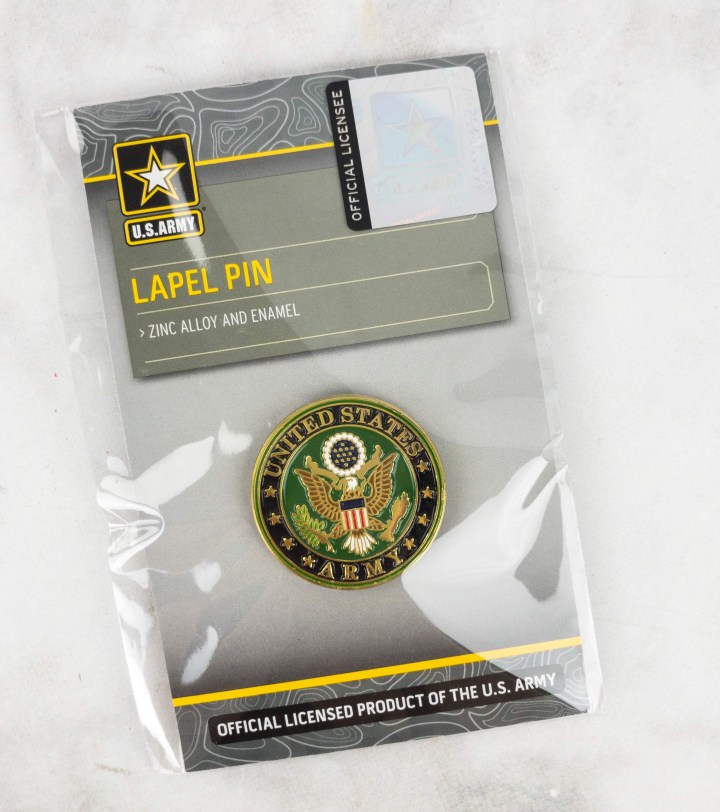 U.S. Army Eagle Crest Pin
Some nice unofficial flair to add to a jacket or a tote bag to show your Army pride.  This pin is really nicely detailed.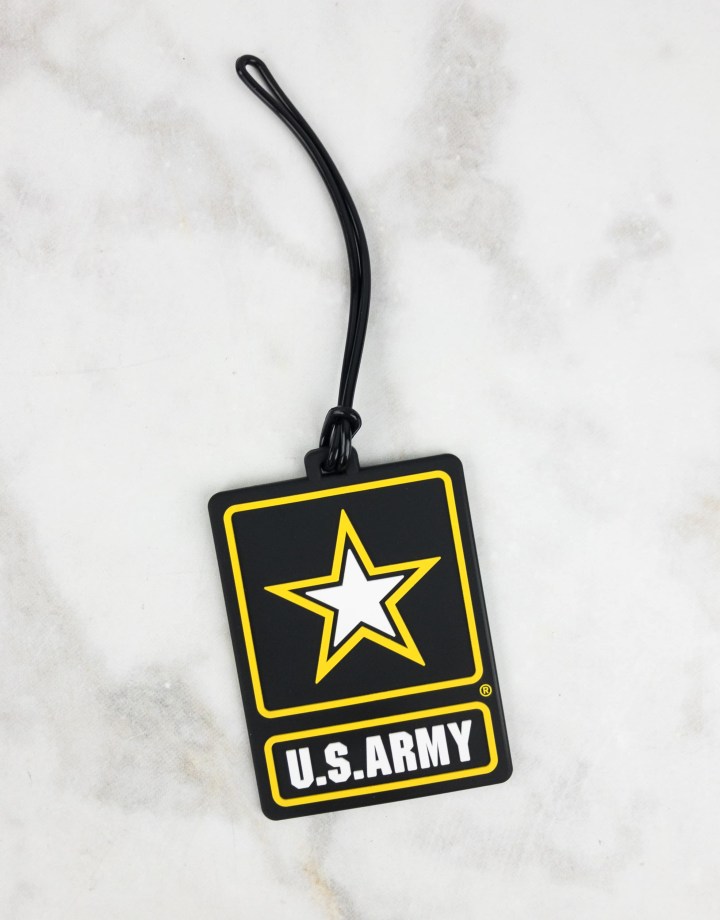 U.S. Army Luggage Tags: The info card said 2 of these were included, but only one. Nice rubbery luggage tag, your bag will be hard to miss!
U.S. Army Patch: And an iron-on patch. You will not run out of insignia with this subscription.
The back gives the iron-on instructions.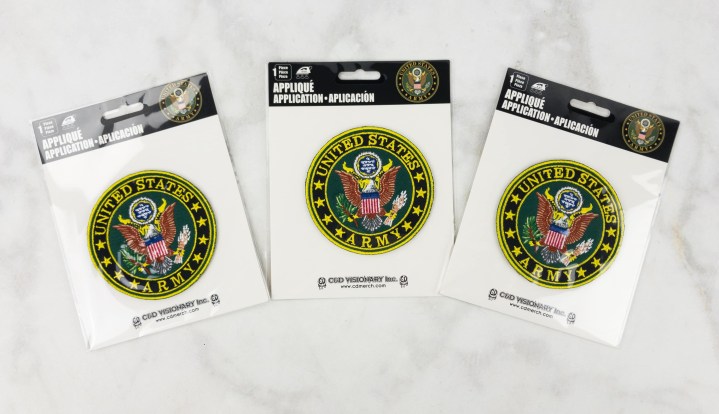 Our box had 3 patches. We're not sure if that was a mistake or if all boxes had three. Only 1 was on the card.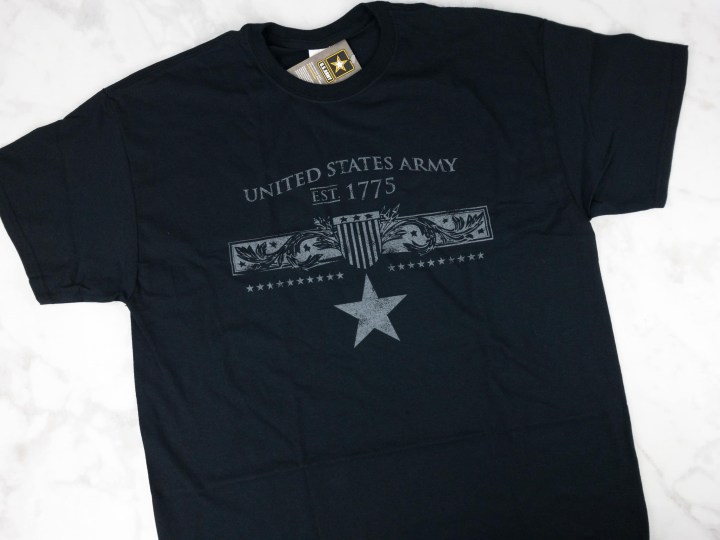 U.S. Army T-Shirt: Yay for a black shirt! (No sweat stains!)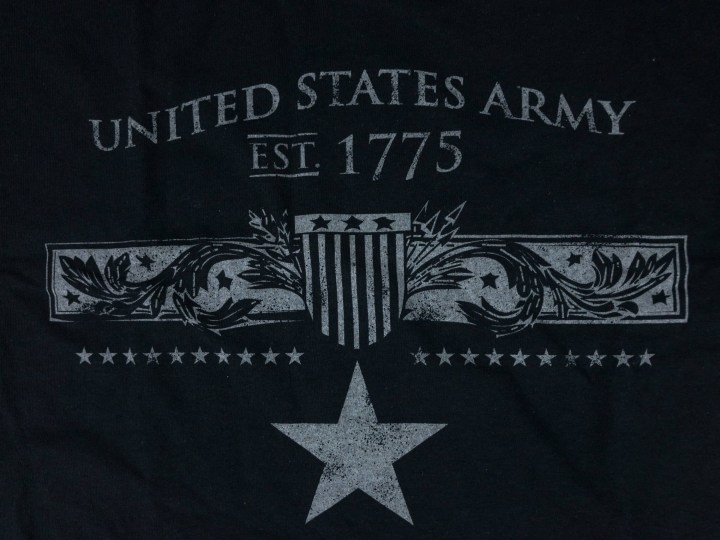 The shirt has enduring patriotic symbols – the stars & stripes and bundles of wheat, symbolizing abundance. When the wheat is bundled, it shows that you are stronger together. Great shirt!
We're impressed with the quality of the items in this block! It's an excellent box for anyone looking for more swag celebrating the US Army – spouses, respectful fans, parents, new recruits, and young and old veterans alike.