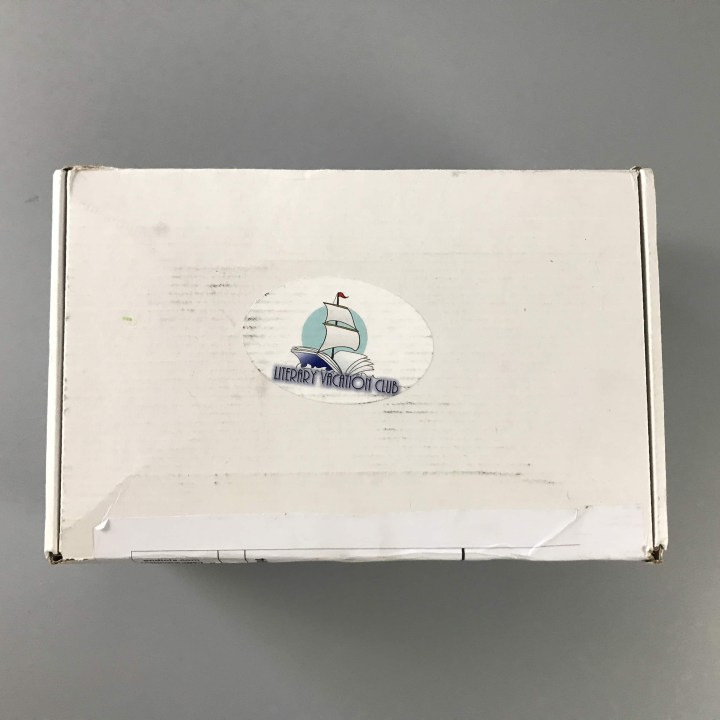 Literary Vacation Club is a subscription that sends one to two books + items to tantalize all 5 senses. Each box also comes with bonus bookish goodies. This box covers all genres, except for Horror, Poetry, and Erotica. Prices range $14.99 to $29.99. My earth friendly side loves that all the packing products are recycled from other subscription boxes. There is a letter explaining why the CEO does this and that no two boxes will be packaged the same but will, of course, have only the best products to heighten your reading experience.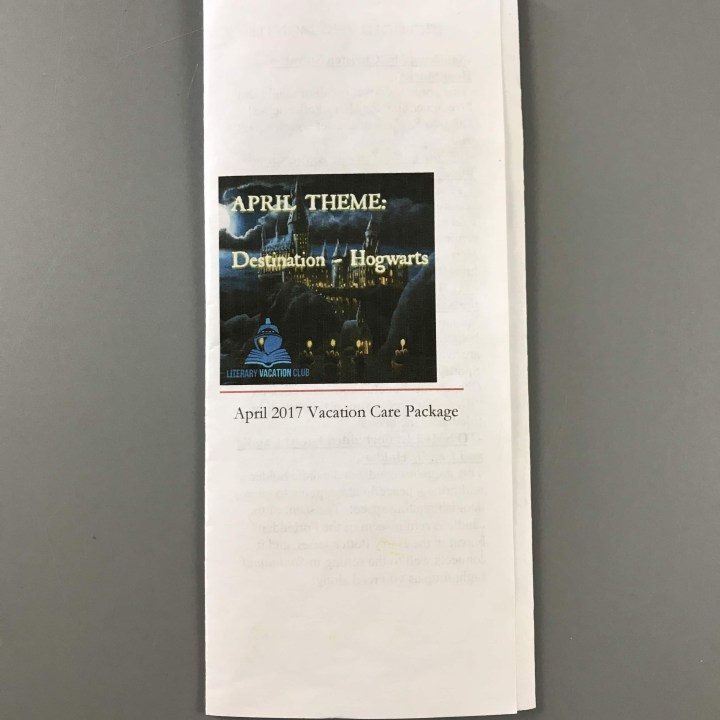 For this month's theme, we have: Destination Hogwarts.
DEAL: Get 10% off on your first box! Use coupon code WELCOME10.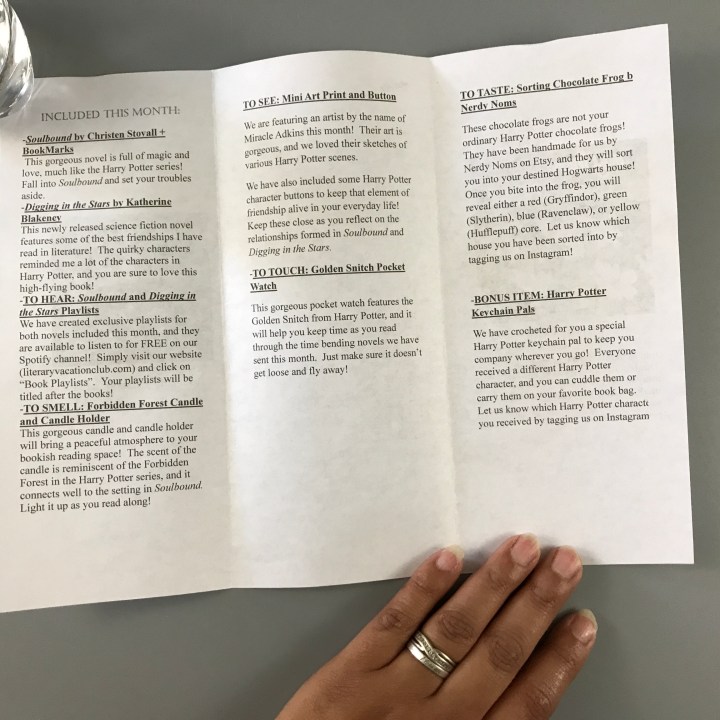 A detailed list of what may be found in my box.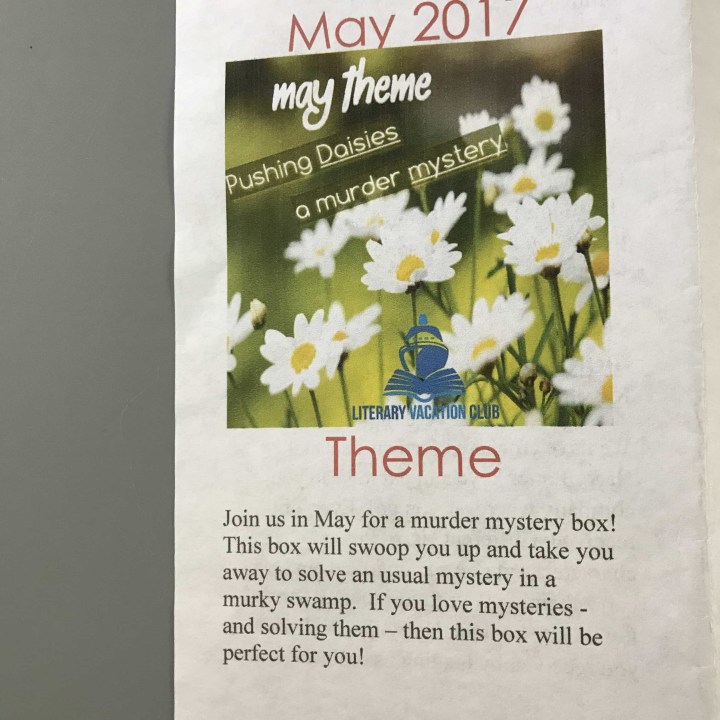 Closing out the pamphlet is a spoiler for the May box… Pushing Daisies a Murder Mystery.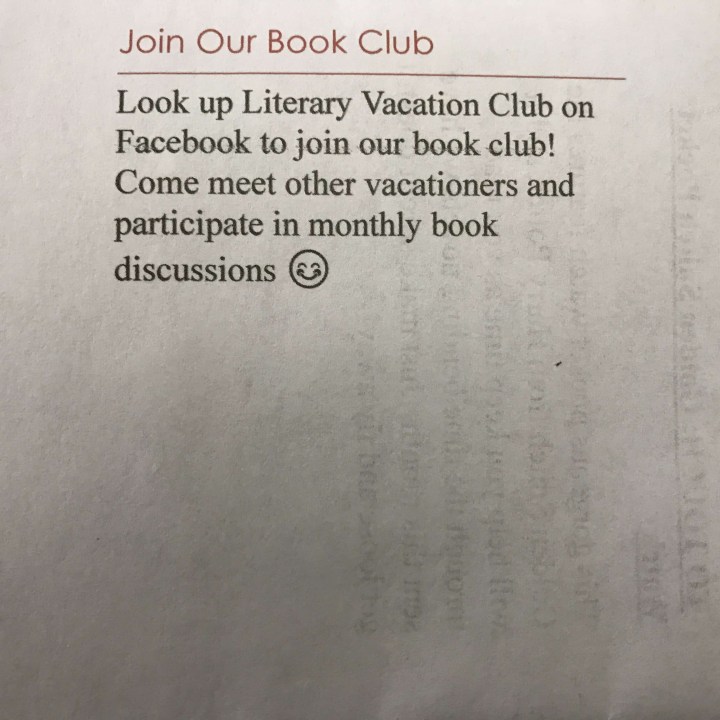 Don't forget to stay in touch via social media.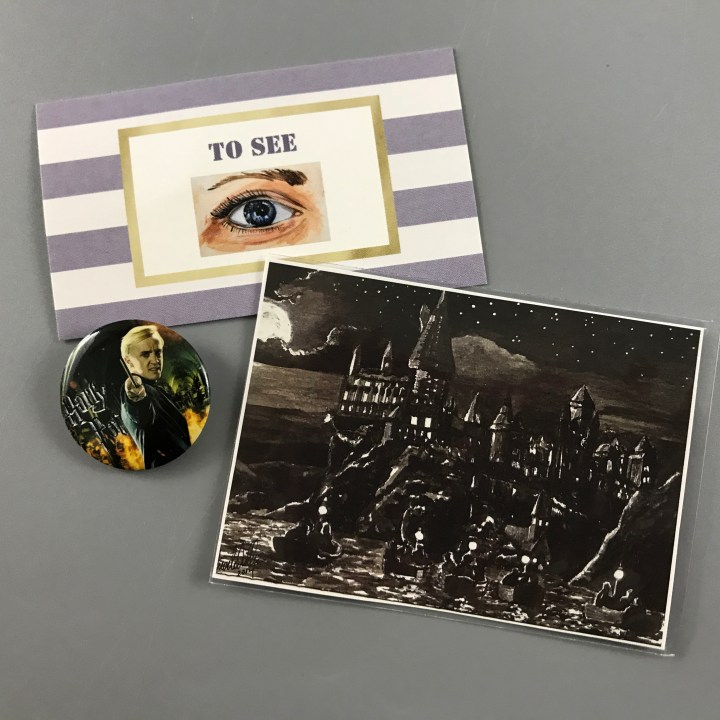 To See
Hogwarts Castle by Night from artist Miracle Adkins. The art is gorgeous! Harry Potter character button, I got Draco Malfoy. The buttons are supposed to help keep the element of friendship alive in your everyday life! Keep them close as you reflect on the relationships formed in Soulbound and Digging in the Stars.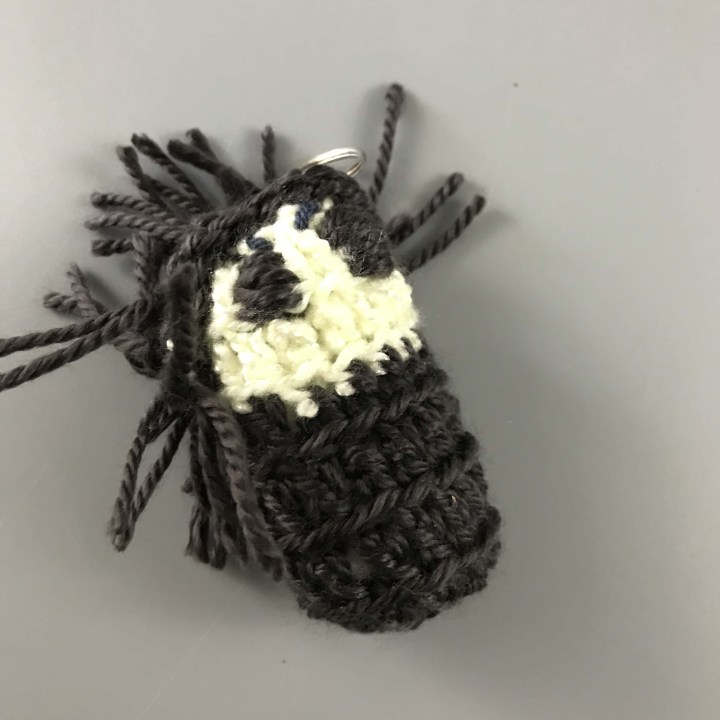 Bonus Item: Harry Potter Keychain Pals. Everyone received a different Harry Potter character. You can cuddle them or carry them on your favorite bag. They ask you to tag them on Instagram with which character you got, I'm still trying to figure out who this is…
To Touch
Golden Snitch Pocket Watch Necklace. This gorgeous pocket watch features the Golden Snitch from Harry Potter, and it will help keep me on time as I read through the time bending novels I received this month. Not to mention it's absolutely beautiful in every way. My daughter and I will be fighting over this for sure.
To Taste
Sorting Chocolate Frog by Nerdy Noms. These chocolate frogs have been handmade by Nerdy Noms on Esty and they will sort you into your designated Hogwarts house! Once you bite into the frog, you will reveal either a red (Gryffindor), Green (Slytherin), blue (Ravenclaw) or yellow (Hufflepuff) core. I got a green core for Slytherin, I guess this frog can tell I'm a little on the mischievous side.
To Smell
Forbidden Forest Candle and Candle Holder. I love this candle holder it will bring a peaceful atmosphere to my reading nook. The scent of the candle is reminiscent of the Forbidden Forest in the Harry Potter series and it connects well to the setting in Soulbound.
To Hear
Literary Vacation box has compiled two playlists to go along with Soulbound and Digging in the Stars! Visit literaryvacationclub.com and click on "book playlists" to access. The playlist will be titled after the books.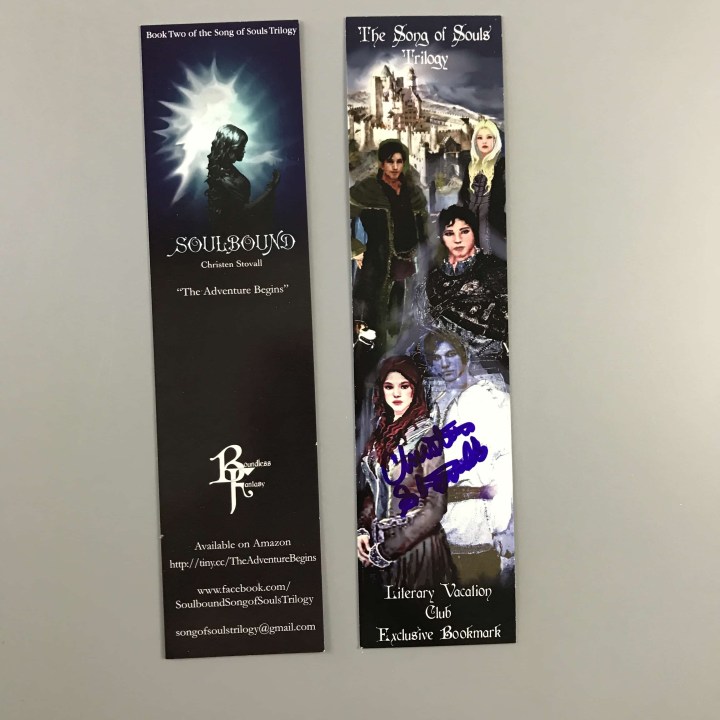 Bookmarks! One is even signed by author Christen Stovall.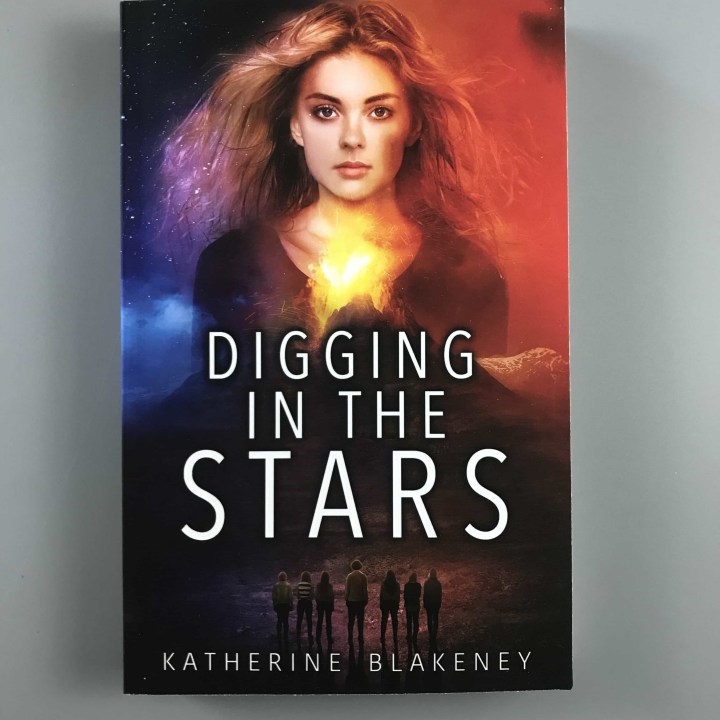 Digging in the Stars by Katherine Blakeney ($9.95)
A lost ancient civilization and the tomb of a legendary king lie buried beneath centuries of ash on the volcanic Planet Thror, but that's not the only reason sixteen-year-old Carter has tricked her Archaeology of Outer Space class into coming here. Her best friend Conrad has just disappeared on a trip to Thror, leaving behind little more than a broken vintage camera. The strange and disturbing photographs she manages to extract make her suspect Conrad's disappearance is somehow connected to the hidden tomb of the last king of Thror.

Unfortunately, the ludicrously over-friendly 'Furry Giants' who have taken over the planet's barren surface would rather offer her cheap souvenirs than answers, and the local officials insist they have no record of Conrad's existence. Inspired by fear for Conrad's life and the chance to make the greatest archaeological discovery of the century, Carter and her friends follow Conrad's footsteps deep into the mountains of Thror's forbidden Black Zone and launch an illicit excavation.

Coded messages, stunning ancient ruins, and clues left by Conrad himself begin to surface as the young archaeologists fall victim to an alarming series of accidents staged by the increasingly hostile Furry Giants. Piecing together a history of dictatorship, terrorism and disguise, Carter glimpses the horrors beyond Thror's flamboyant façade and startling revelations about the friend she thought she knew. The masks of Thror hide devastating secrets, and the golden tomb buried deep in the frozen core may claim the lives of everyone she loves.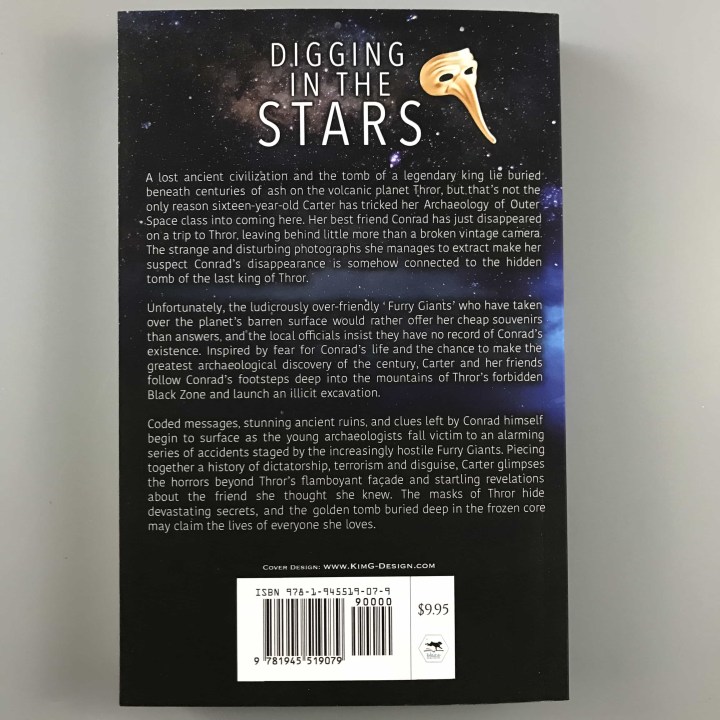 The friendship between Carter and Conrad sounds like one to be envious of, they would do anything to help each other out. I'm excited to read this book and see if Carter is a cool as she sounds on the jacket. I just love books with strong female characters.
Soulbound by Christen Stovall ($13.99)
Living in the quaint farming village of Brittendell offered a simple life of home and family. When Aislynn, the daughter of a local farmer, and Rorin, the son of a wealthy horse trader, married, another charming love story enlivened the tranquil town. Aislynn and Rorin were profoundly connected, but their relationship came to a screeching halt when Rorin was killed in a tragic accident. Their bond sends Aislynn into a spiraling depression as she continues sensing Rorin's presence. Soon, Aislynn finds herself thrust into a dangerous world of magic filled with hobgoblins, elves, and wizards. When Aislynn is captured by the future king of Venallis and forced to help him uncover a mysterious magical artifact she discovers that fate has far greater plans for her than she ever imagined. Perhaps death is not always the end.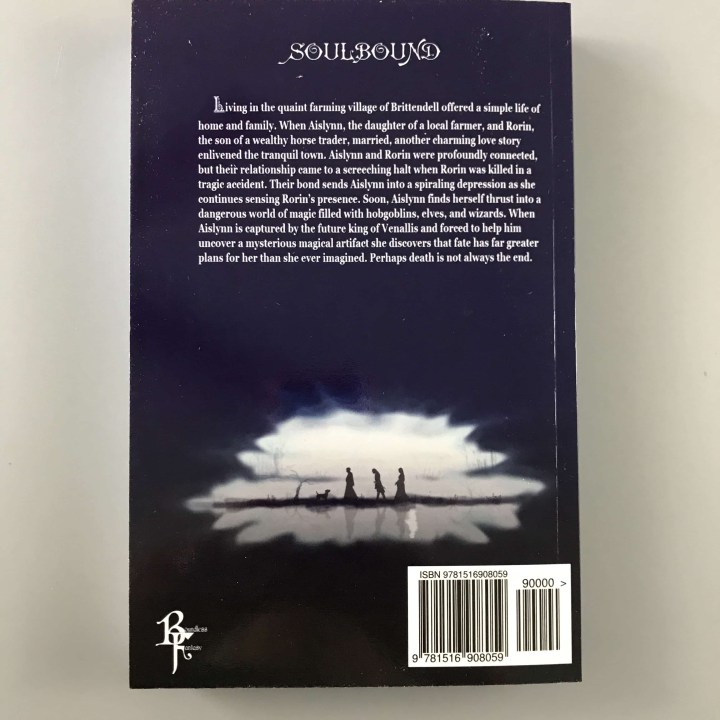 A love story that involves elves and wizards, yes please!
Literary Vacation Club is unique because they take all five senses for a trip. I love that all the items are tied so well together. I am fascinated to read  new authors and hopefully expand my genre base. I normally am not a huge science fiction fan but it looks like the relationships between the characters are going to be more important than the settings. I absolutely love that this subscription is trying to make an environmentally acceptable path by recycling, reusing and reducing packing materials. Literary Vacation Club is a treat for all my senses and I can't wait to start my trip to destination Hogwarts. Anything Harry Potter themed will inspire me to my core.