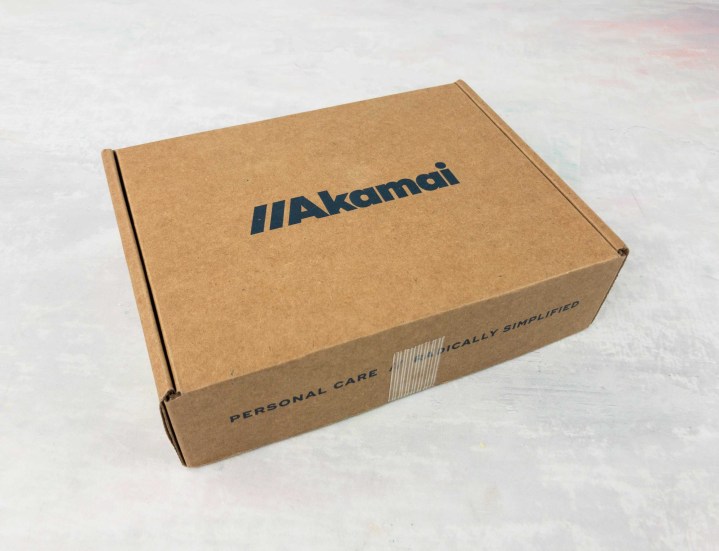 Akamai Essentials Kit is a bimonthly men's personal care subscription box. You'll get a box filled with teeth, skin, and hair products that replenished every 60 days, for $38 per box. Akamai also donates 1% of sales to support organizations like The Environmental Working Group.
DEAL:  Get 15% off your first order of any subscription! Use coupon code HELLO-15.
The box arrives with simple, no nonsense packing.
Each box comes with this folded information booklet.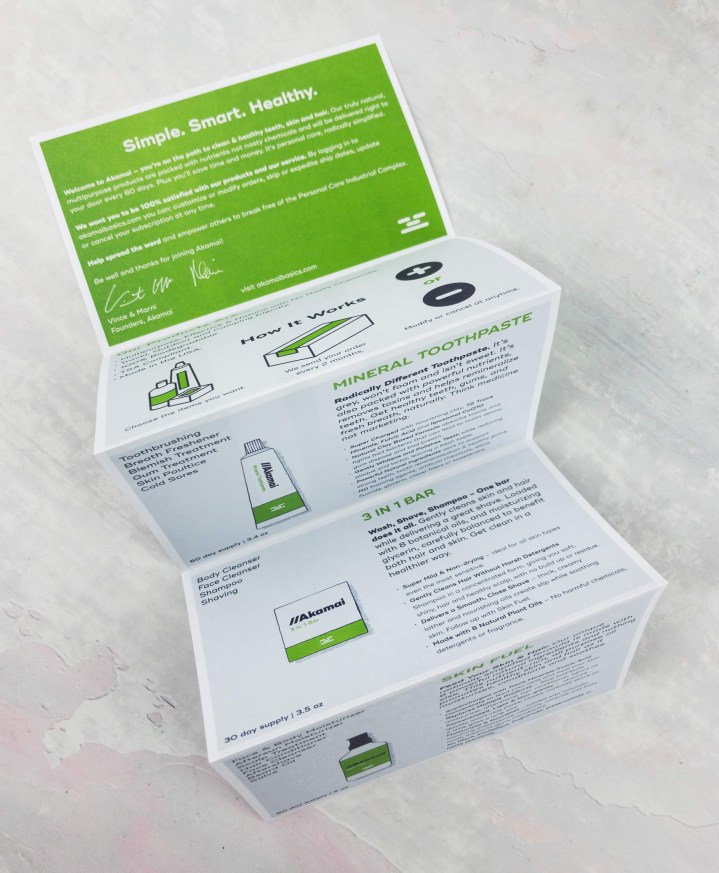 The booklet contains highlights the features of each product and the Akamai approach to healthy skin, teeth, and hair.
The idea is to provide you with just what you need, when you need it. You can adjust your bi-monthly order to get the quantity you want. You also never get strange chemicals or unnatural compounds in your products.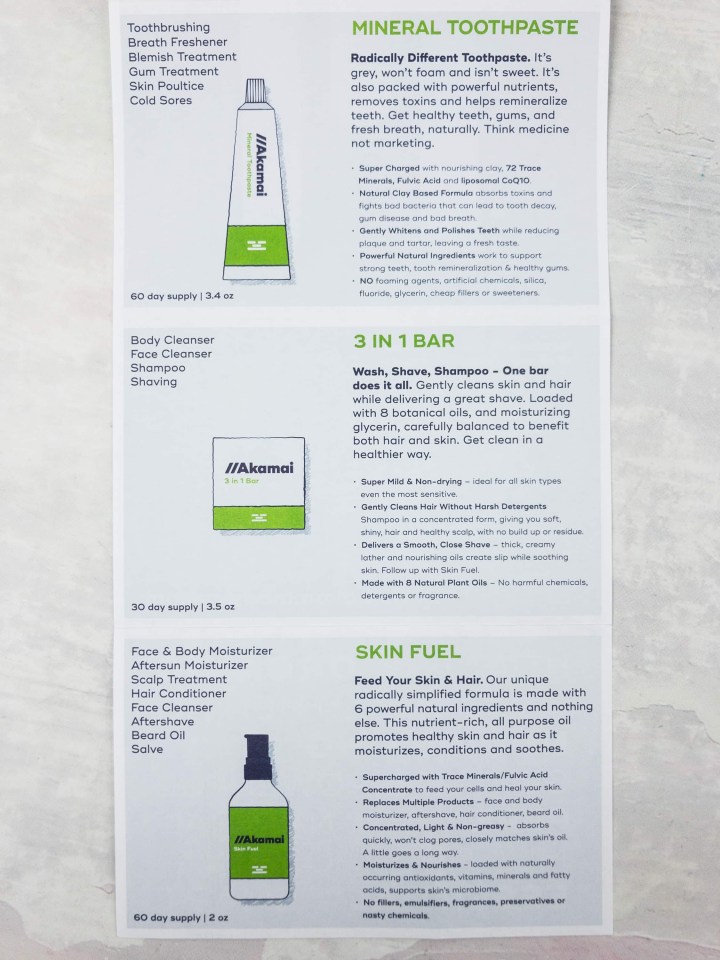 The booklet contains a plethora of information on each of the products included in the box. The Akamai approach is uniquely simple – each product is multi-purpose, allowing you to achieve your cleanliness goals with only a handful of products.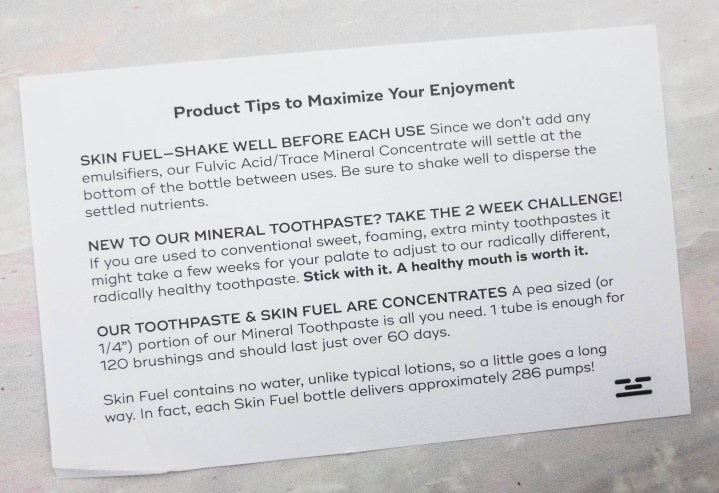 There's also a sheet for tips on how to get the most out of your products – they are more concentrated and are different from the products to which you are accustomed.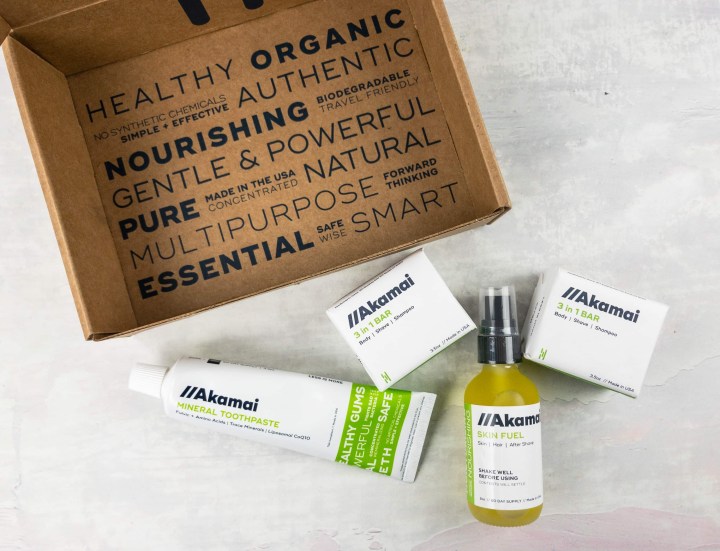 Everything in my Akamai Essentials Kit.
Akamai Skin Fuel ($16): This concentrated lotion is designed to cover all your basic skincare needs. It can be used to gently clean, moisturize, and aid healing of your skin – including your body, face, and even your scalp.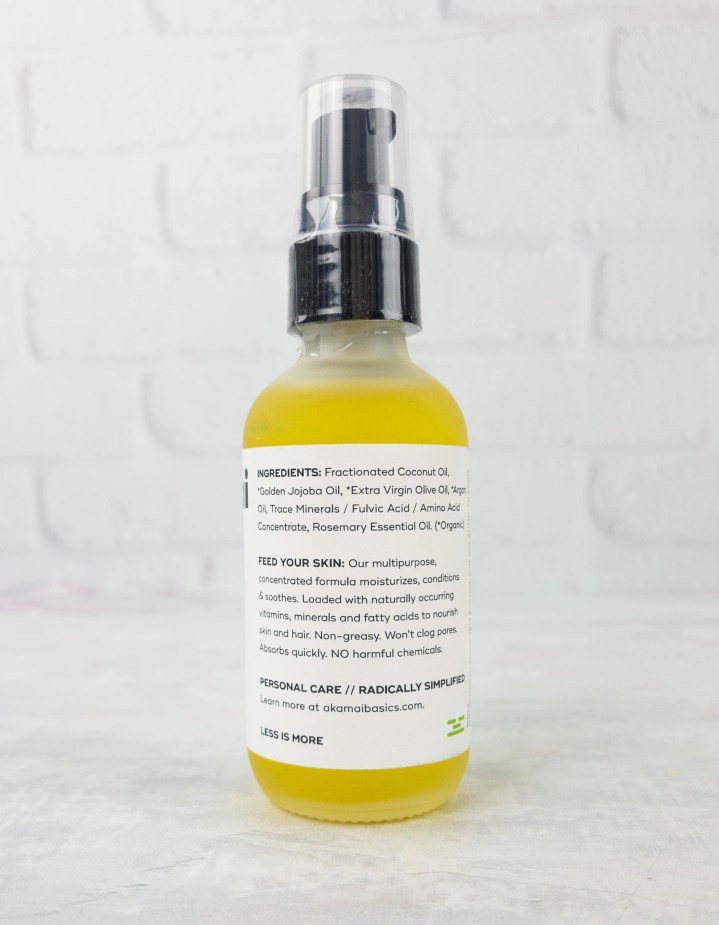 The simple ingredients combine natural oils with gentle, natural acids, minerals, and rosemary oil.
Akamai Mineral Toothpaste ($12): A mineral toothpaste that can also double as a poultice and treatment for blemishes!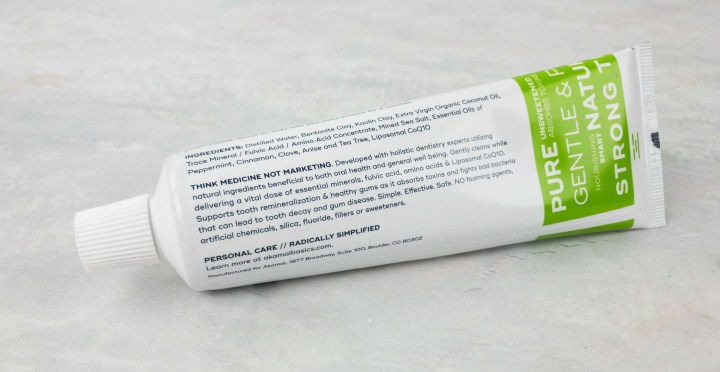 The paste supports remineralization of teeth and fights bacterial growth.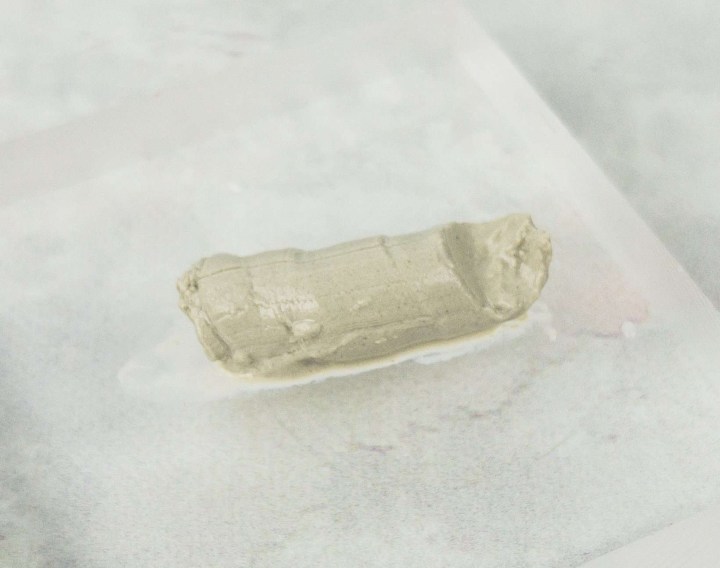 The presence of clay in the paste is evident – it helps with leeching toxins from your gums and mouth. The texture when brushing isn't gritty at all – I quite liked it. It left my teeth feeling very clean. The taste is unusual at first – they only typical flavor that comes through is a bit of fiery cinnamon. It has a strong minerality and tastes akin to saltiness.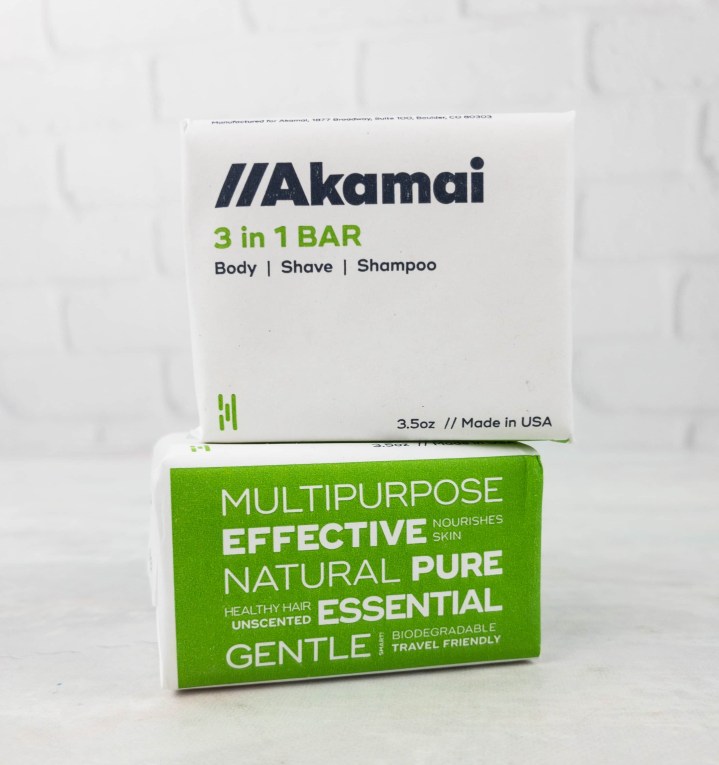 Akamai 3 in 1 Bar ($5 each): This bar is suitable for all your exterior cleansing needs. It can be used as soap for your body, shampoo for your hair, or as a shaving cream lather.
Made primarily from saponified natural oils, the bar's ingredients read more like those of a lotion than a soap.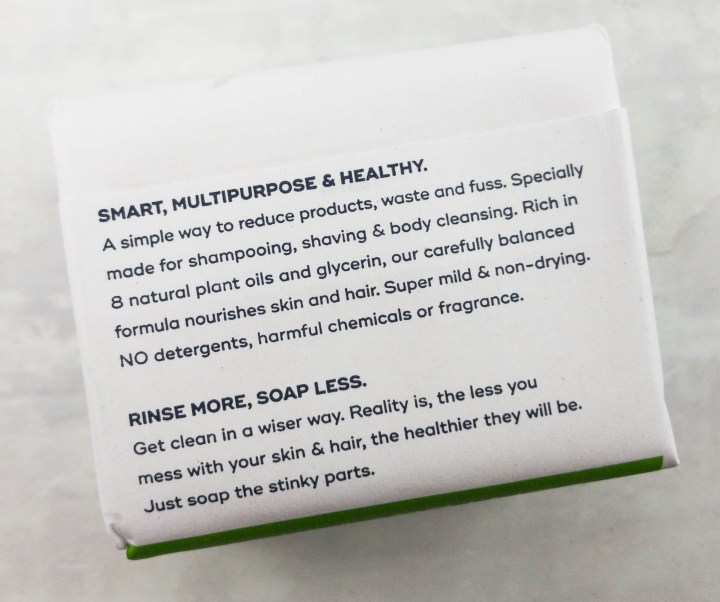 The moisture-enhancing formulation means the bar can be used as a shampoo without drying your hair.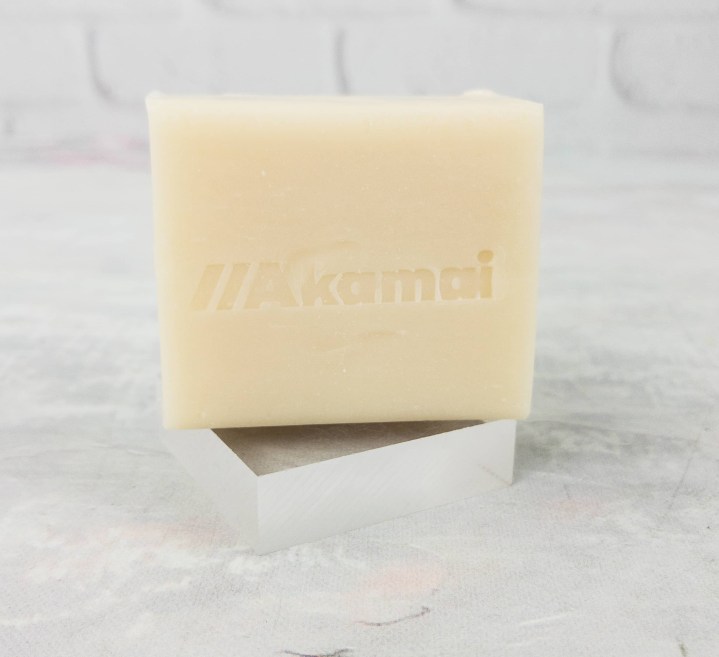 The scent of rosemary is faintly detectable – the bar is otherwise very innocuous.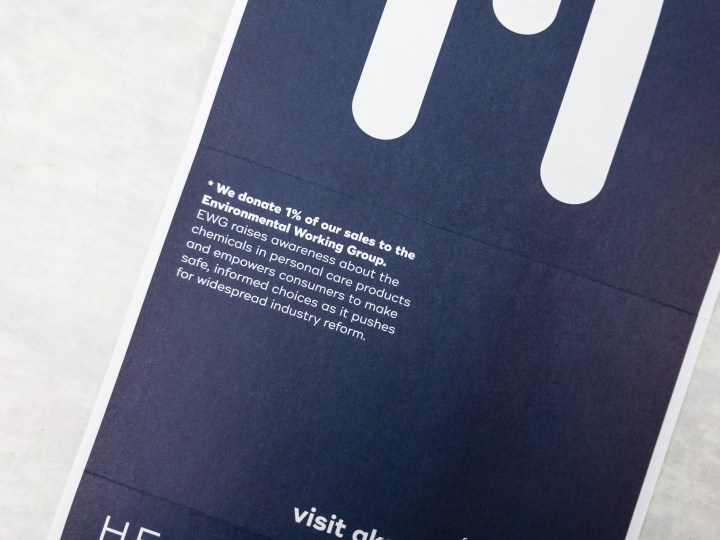 Akamai also donates a portion of sales to EWG, an organization whose mission includes reduction of chemicals in consumer products.
I love the concept of this subscription. With so many boxes out there offering literally thousands of grooming products, it is refreshing to have an option for receiving a right-sized, concise kit to handle all the daily grooming essentials. When we opened the box, Brandy joked that this was the kind of subscription that would appeal to Mark Zuckerberg – eminently practical, effective, socially conscious, and without any frills.