DelightfulCycle includes everything you might possibly need for when Aunt Flo comes knocking. More than just a tampon/chocolate subscription, every month will feature a few luxury items that will pamper you, as the subscription also aim to be a gentle reminder to practice some much needed self-care. The box will have popular brands, favorite snacks, and a few surprise goodies each month. $40 retail value, you only pay $19.95, with free shipping!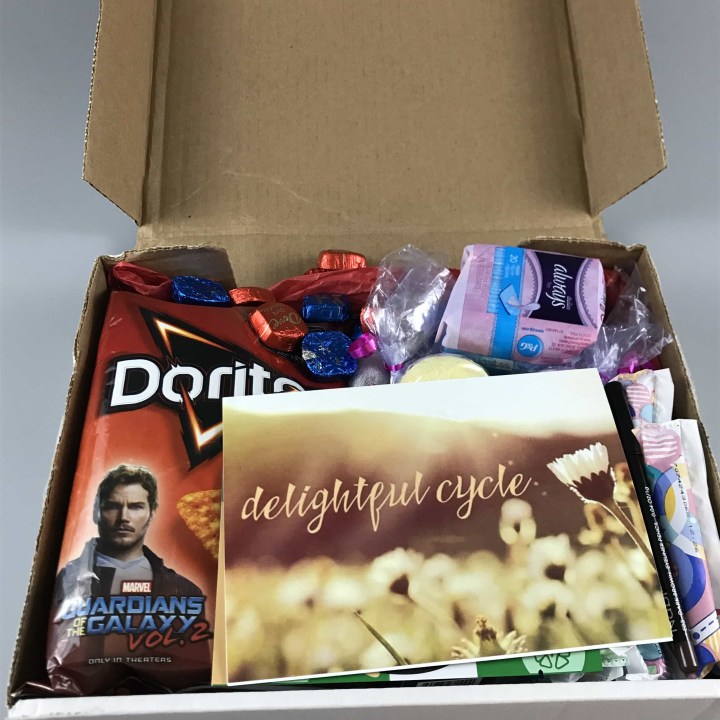 Beautifully packed with very little wiggle room. The only issue is there isn't a sticker to tell you which way to open the box, I may have spilled it twice before being able to take pictures.
DEAL:
  Receive 25% off of your first month's order! Use coupon code 
hello25
.
A breath taking photo opens up our contents card…
Detailed contents card lets me know what to expect in my box and gives a run down of each item.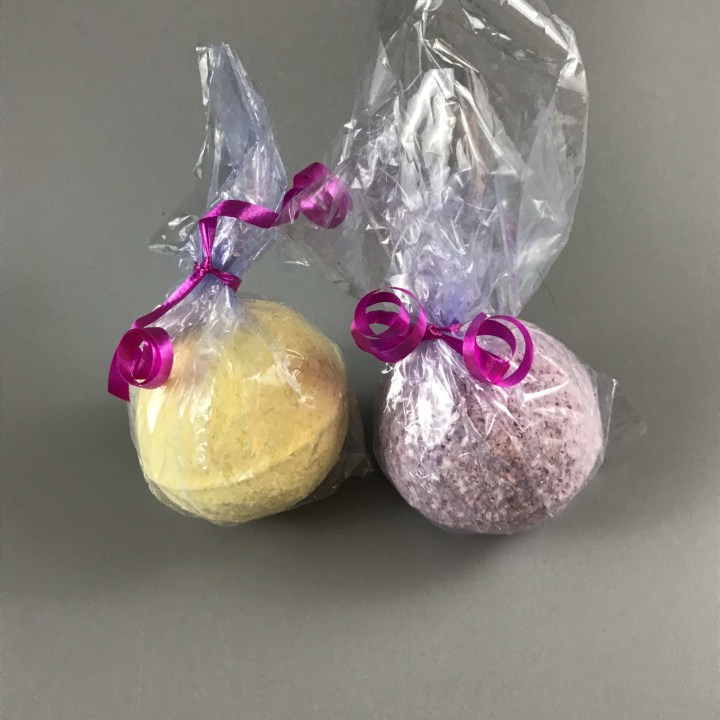 Delightful Cycle Lemon Bath Bomb and Lavender Vanilla Bath Bomb. I'm not a bath fan. There is something gross about sitting in dirty water but my daughter loves bath bombs. I like these ones because of the simple ingredients, it brings a sense of peace to the overly processed products of the world.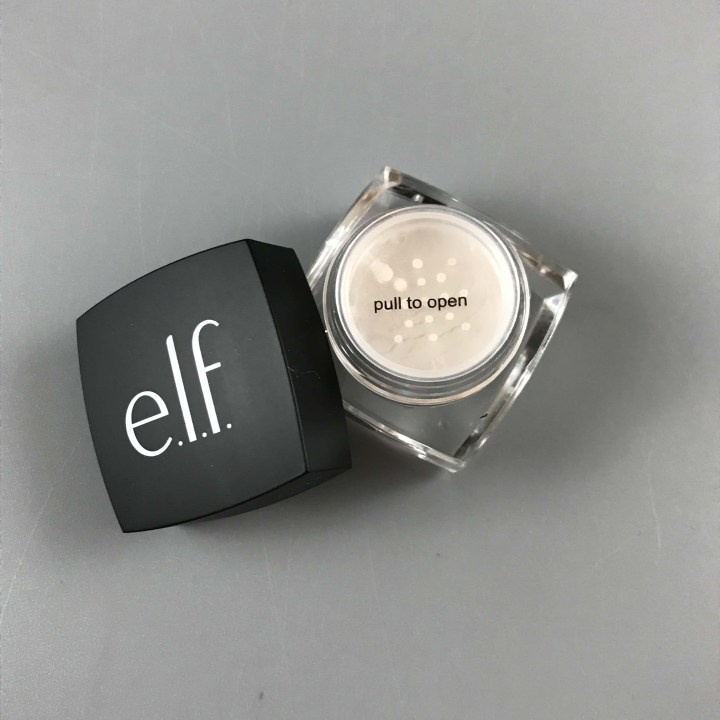 e.l.f. Under Eye Setting Powder ($3) It helps camouflage fine lines, wrinkles and dark circles. Let me tell you, this product is a life saver and I love it! There is nothing better than feeling like you look like a solid 10.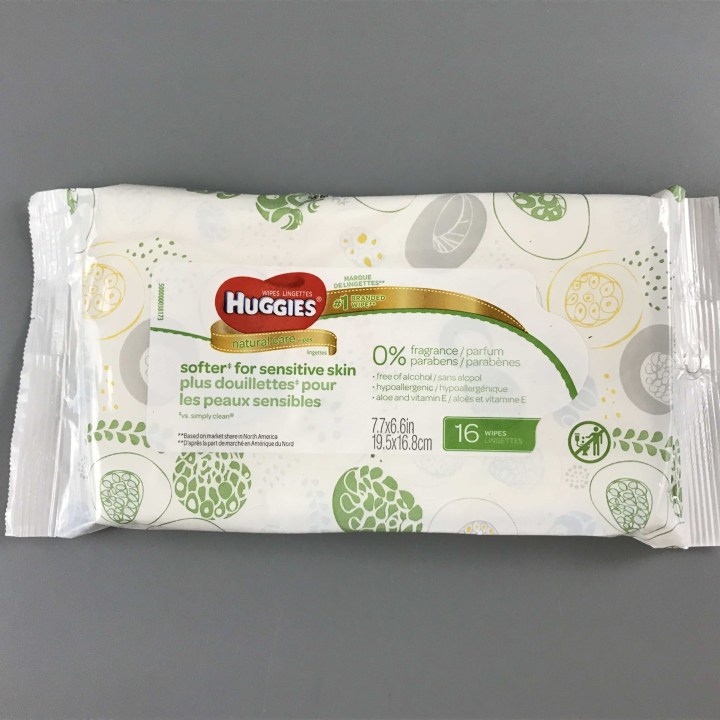 Huggies Natural Care Feminine Wipes. When I think of Huggies Wipes, I think baby wipes but that works too. These wipes are great for cleaning up messes, wiping bottoms and helping freshness during Aunt Flow's monthly visit. The only thing I dislike is that I can't flush them.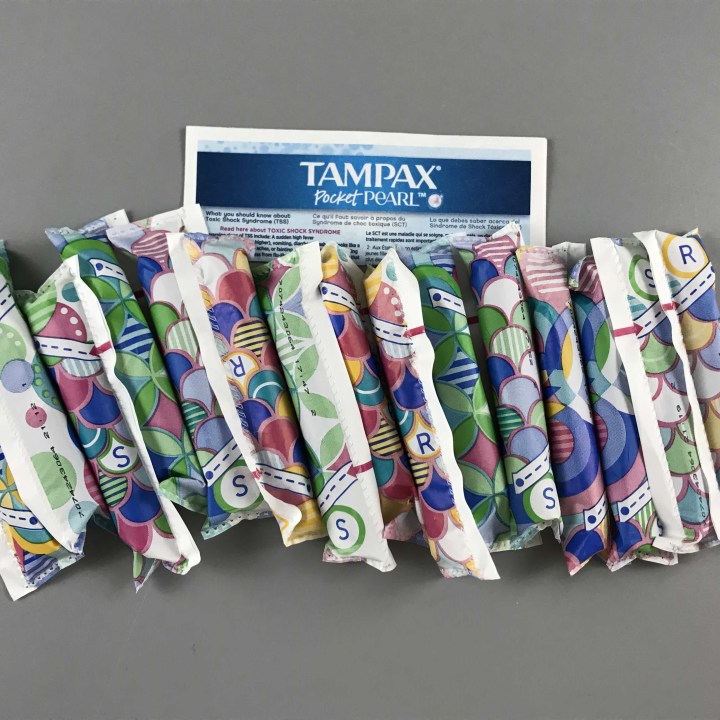 Tampax Pearl Tampons. Nice and discrete sized that you can slip it into your hand from a purse or backpack and o one ever has to know. Tampax is one of my favorite brands because of the leak-guard. I love that there are two absorbances: super and regular. Also keep in mind it's up to you what kind of supplies you prefer.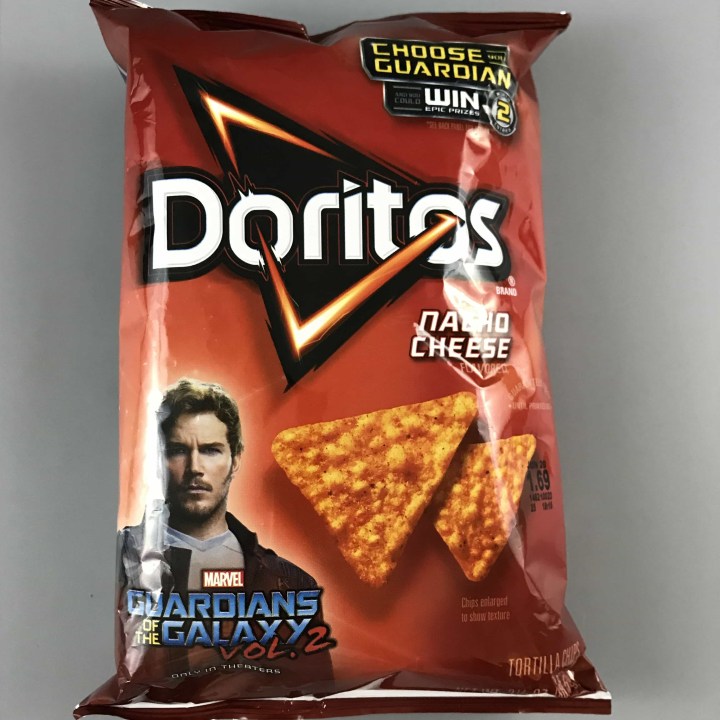 Doritos! Quite possibly the world's best snacking chip and it was made better by putting a picture of the adorable Chris Pratt as Star Lord on the bag. In my house, this snack didn't stand a chance and they were devoured within minutes.
Dove Chocolate in Dark and Milk Chocolate. Personally my favorite thing about Dove is the messages that are left on the wrappers, they are cute and some times compliments. I'm not a dark chocolate fan but I do love the melt-in-your-mouth smoothness of the milk chocolate.
Annual Cut Flower Mix Seeds. I can't wait to toss these seeds into the flower bed and hope for the best. If they end up looking like the packaging I will be one happy green thumbed girl. (I'm not sure these were included in every box because they aren't listed on the content card.)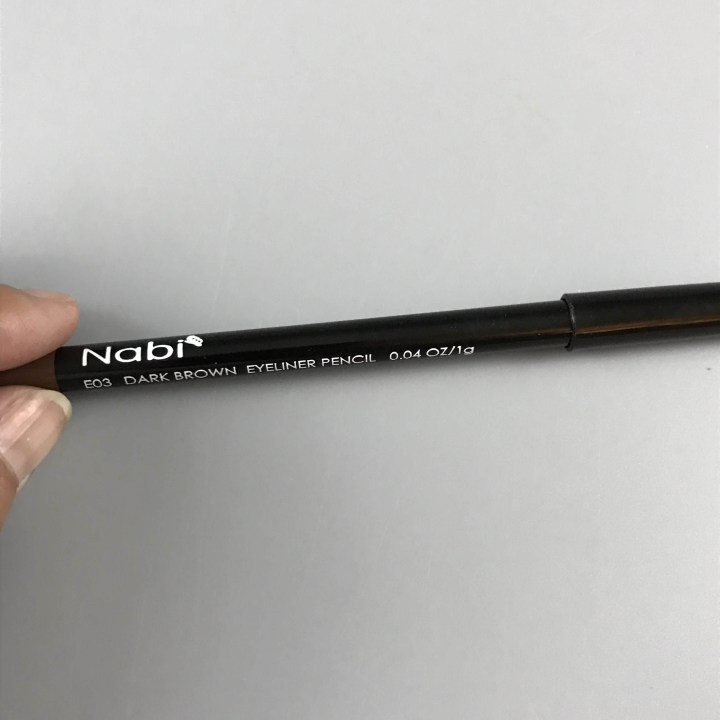 Nabi E03 Eyeliner in Dark Brown ($1.49) Working with eyeliner is always scary for me because I'm afraid it won't go on evenly and I'll look like a racoon trying to even both eyes out but this is a dream to work with. Just a light sweep over my lids and under my eyes I was good to go. I like the grab and go feel of this eyeliner and one can never have too many great eyeliners.
Nabi E03 Eyeliner in Dark Brown Swatch.
Always Dailies Thin Liners ($1.82) The best liners I have ever used, they stay in place and I almost forget I'm using a liner. I will admit that I am a die hard Always fan and might be a bit bias.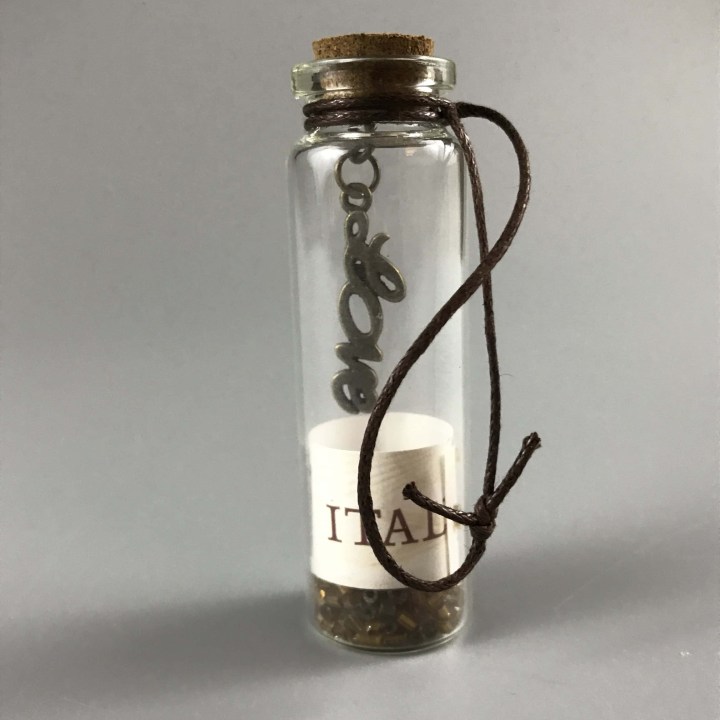 Vintage Charm. How incredible is this LOVE charm? I'm not sure what I'll use it for, in fact it may just be displayed in this bottle because I love the look. Please be gentle with the bottle because the bottom isn't as heavy duty as one may think and if you break the bottom, the pretty brown beads will be everywhere. Yes, I learned that he hard way!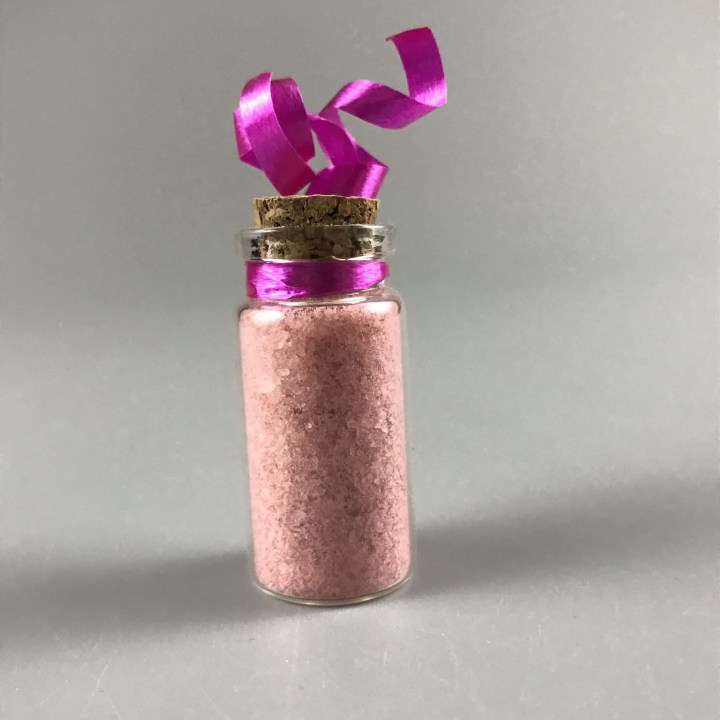 Pomegranate Vanilla Bath Salts.
Crafts of Egypt Perfume Bottle. Crafts of Egypt are specialized in bringing you the best of the Egyptian Handcrafts for home decor and gifts. All the products are 100% handmade, 100% from natural material and they deal with the local artisan for fair trade. This is 100% unique and 100% beautiful.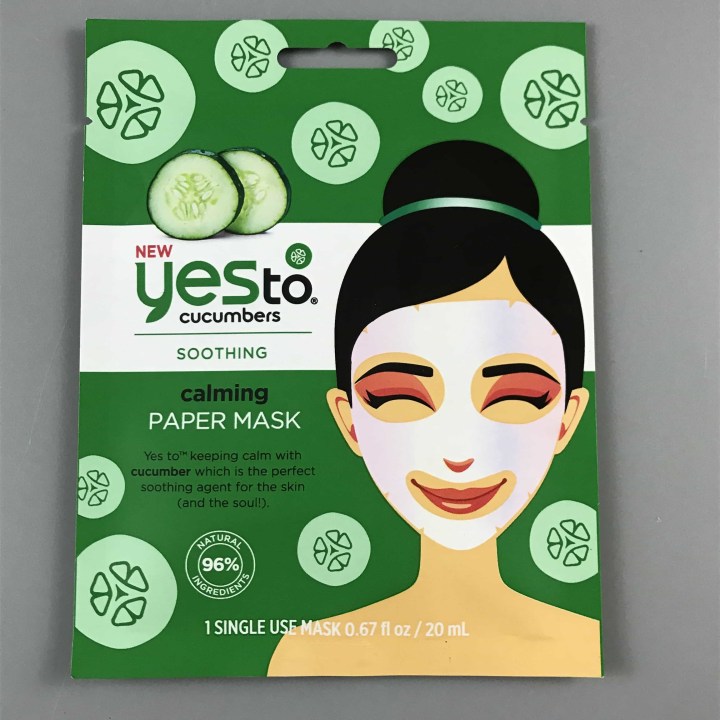 Yes to Cucumbers Calming Paper Mask ($2.75). Prior to using this brand of masks I was not a fan. I hate how my skin feels slimy and gooey but Yes To makes some wonderful products I can't wait to pamper myself with a mask treatment and a glass of wine.
DelightfulCycle is just what it claims… delightful. The happy balance between the much needed supplies and the fun items is perfect. I like that there isn't a ton of junk food but just enough to curb that nasty sweet tooth I have. I also like that once the month is over I won't have a ton of extra stuff lying around but I will have a least a beautiful trinket and makeup. I am still floored that all of this stuff fit into a box that was so thin and seemed small. I'm pretty excited to see what next month brings!