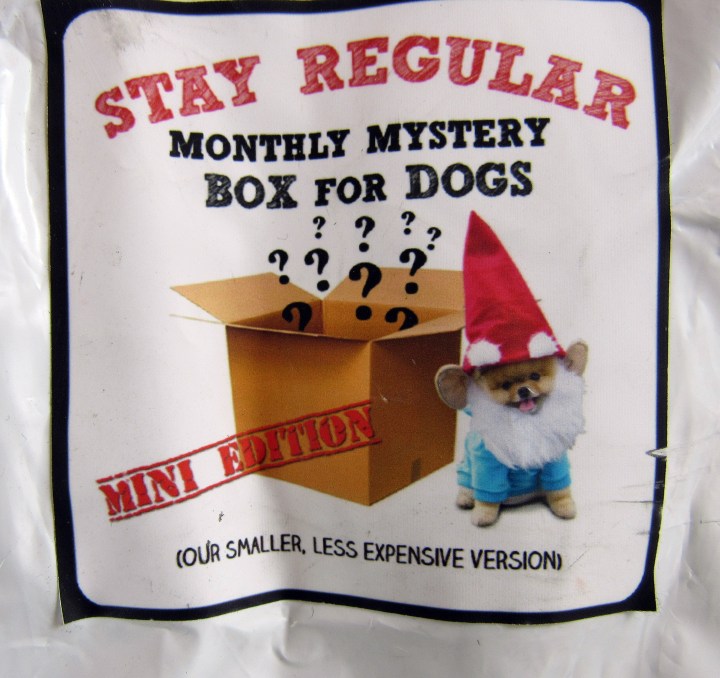 That Daily Deal is now offering a smaller version of Pet Treater called Mini Monthly Mystery Box for Dogs. Receive at LEAST one bag of treats made in the USA or Canada along with one toy each month for $9.99 and free shipping. Small, medium, and large dog options are available. Subscribers will also have access to secret deals and add-ons.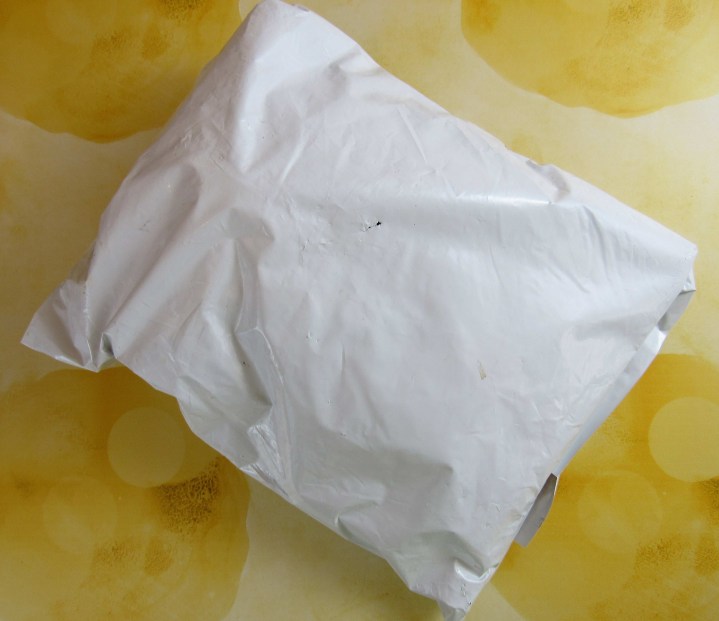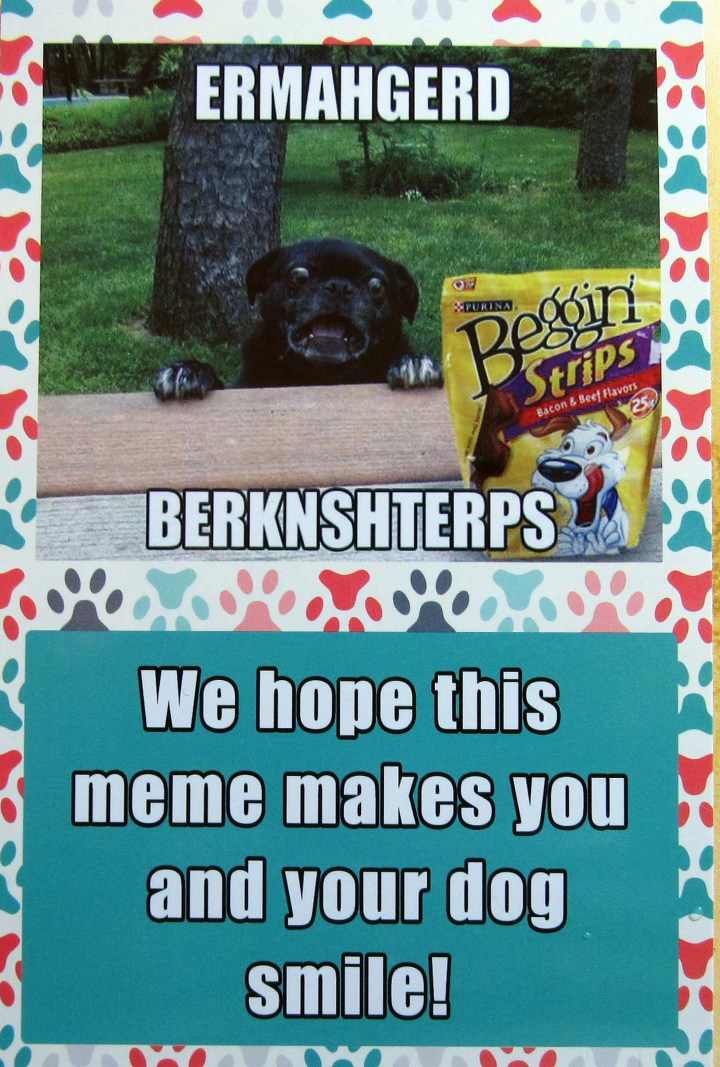 This meme made me laugh because Daisy is addicted to Beggin' Strips.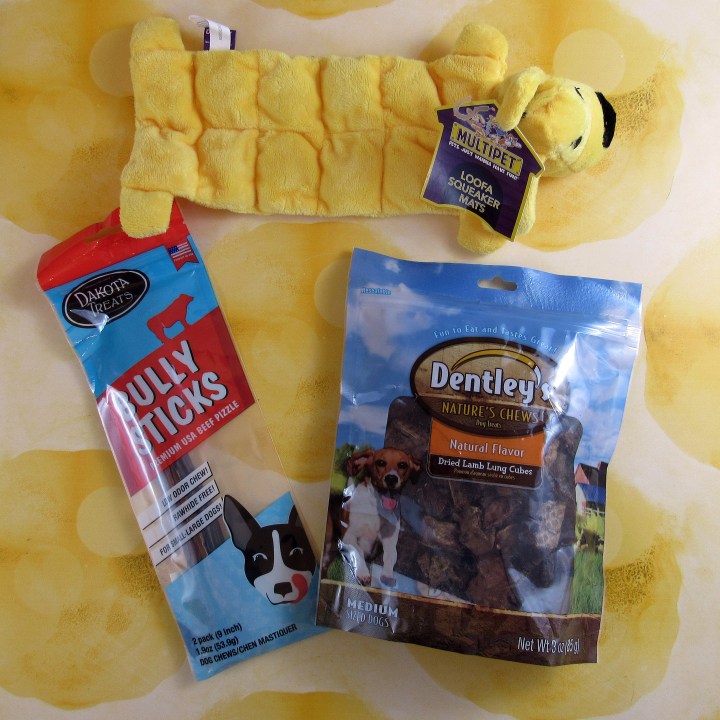 Here are the items in the April Mini Monthly Mystery Box for Dogs.  My dogs are going to love it! The items in this box are great for a medium-size dog.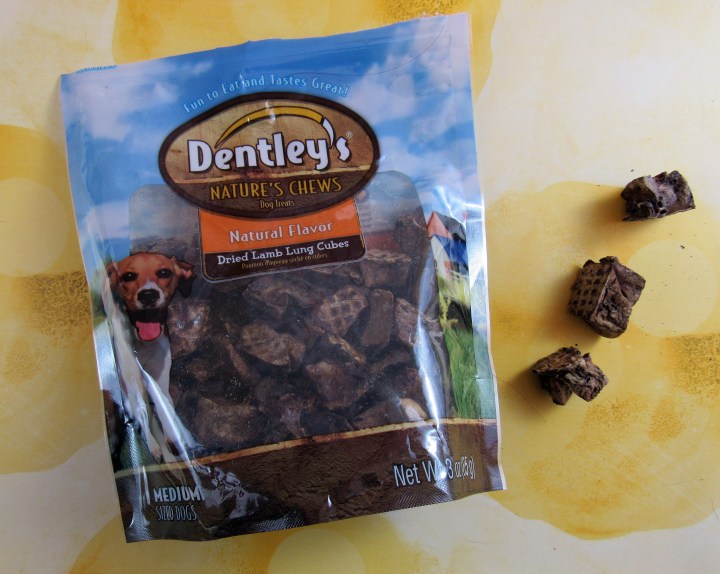 The Dentley's Dried Lamb Cubes (3 oz, appx $9.99) were greatly enjoyed by the cats and dogs. The treats are labeled as a product of the USA and New Zealand.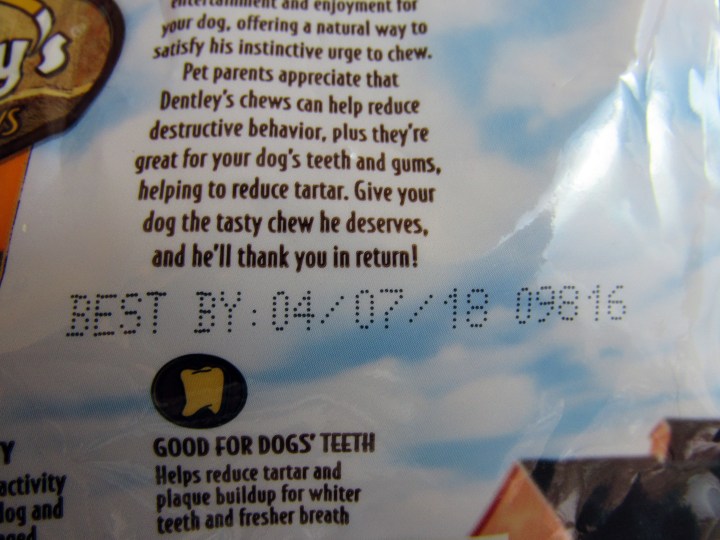 I wasn't able to find the treats online. They did not last long because the dogs and cats loved the strong smelling dried lamb lung treats. These treats were featured in the February Pet Treater Box.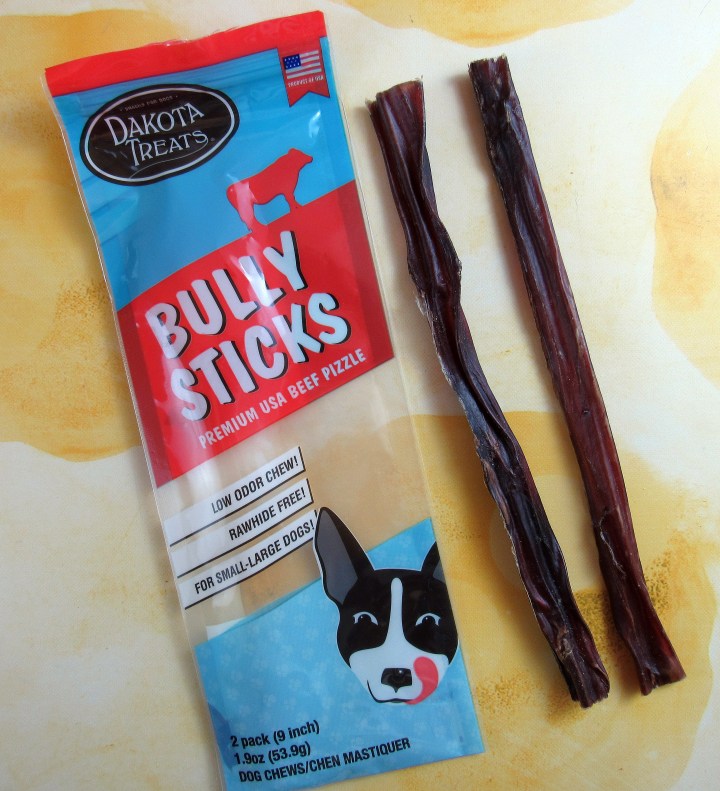 The Dakota Bully Sticks ($6.98) are made with premium USA beef. The doggies were happy to chew on their bully sticks. They were also featured in the February Pet Treater Box and had an expiration date in 2018.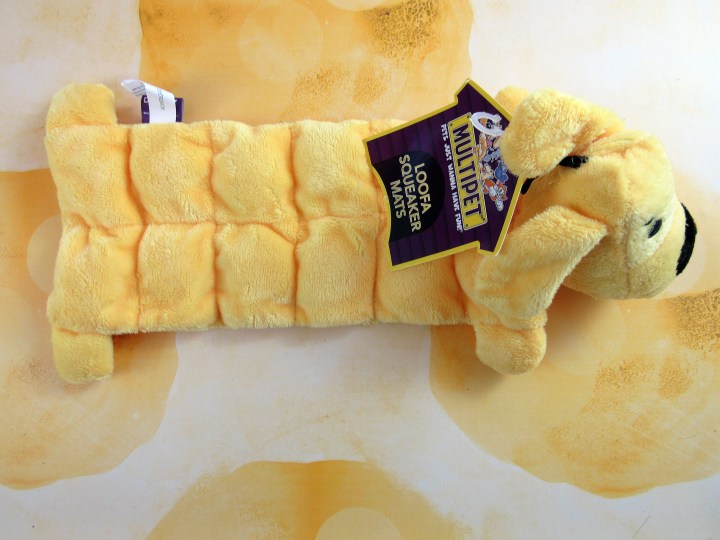 The adorable Multipet 12″ Loofa Squeaker Mats ($4.43) has thirteen squeakers. Odie enjoyed squeaking the toy and playing tug of war with it. I was surprised that Daisy did not think it was a baby. It's still in one piece mainly because Odie enjoys squeaking it while playing tug of war.
Time for dog pictures!
Daisy is contently chewing on her bully stick.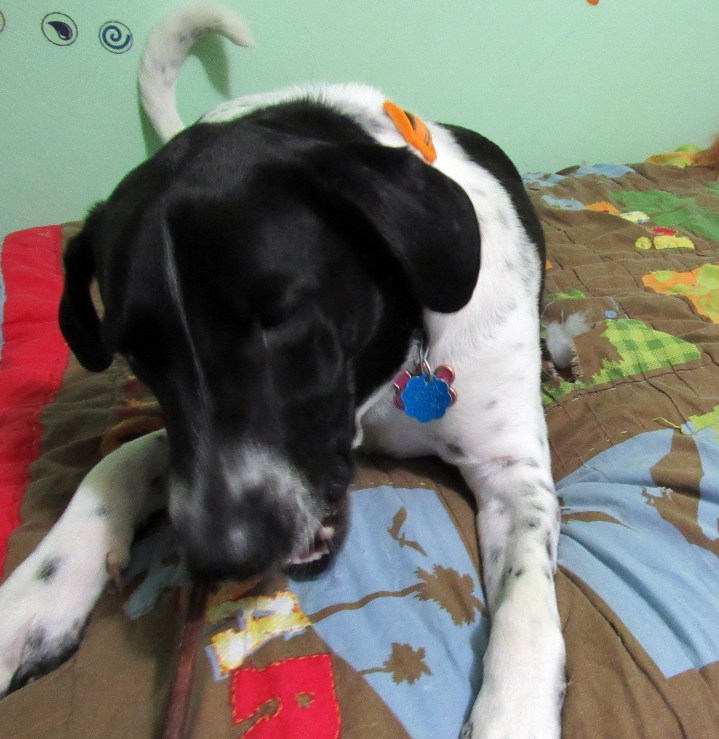 Odie is enjoying his chew. He finished his chew before Daisy and politely waited for her to finish.
Odie is checking out all thirteen squeakers to make sure they work while Bella is looking for bully stick crumbs.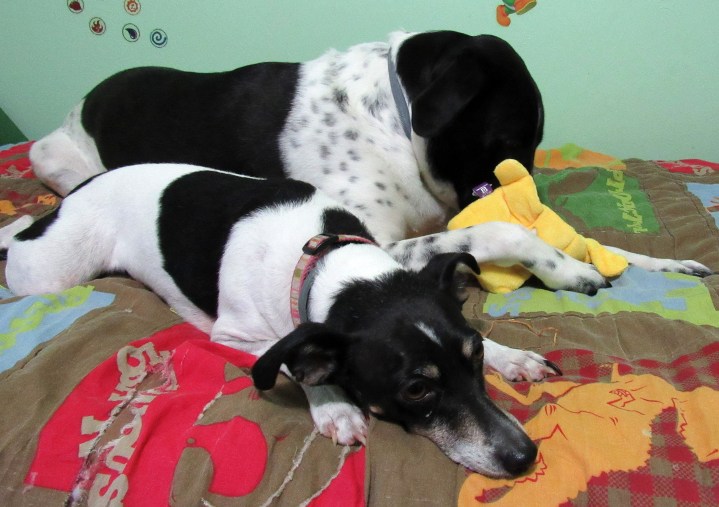 Bella is sad that there are no bully stick crumbs for her. She did not want to play at all.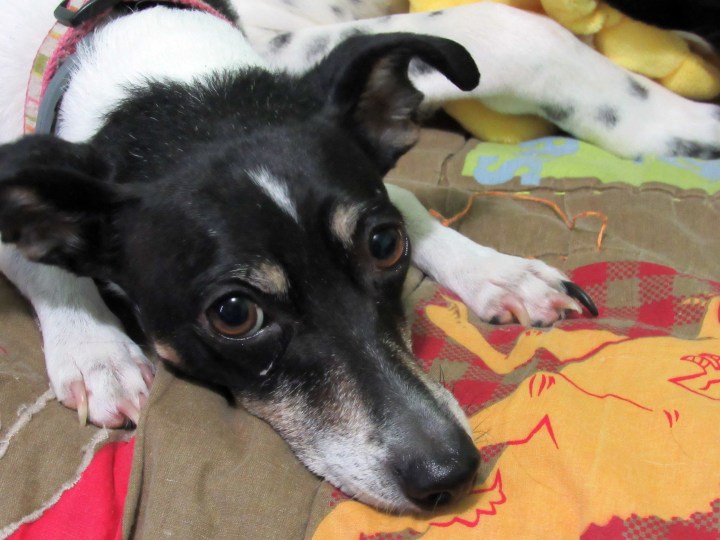 She looks so sad 🙁 She is serious about her job as a treat tester.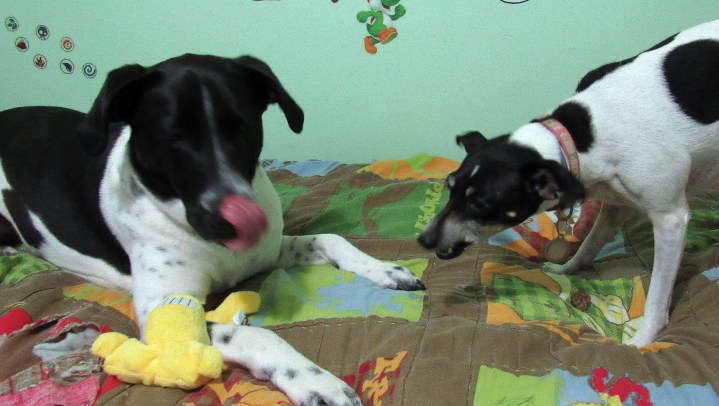 Life is good again now that they are munching on Dentley's Dried Lamb Cubes.
A couple of ads were included in the package.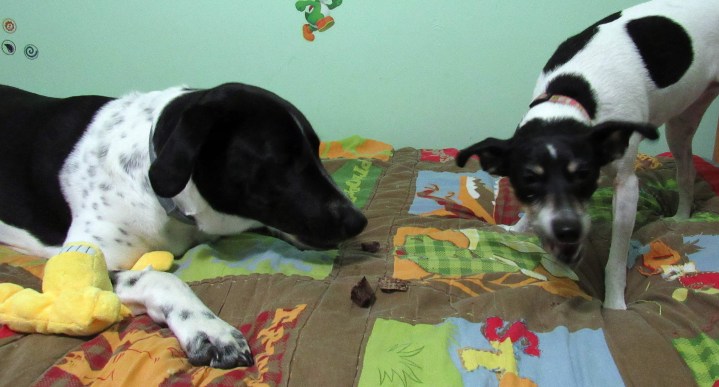 All three dogs enjoyed the April Monthly Mystery Box for Dogs. I liked that the box contained one treat, one chew, and one toy this month. The doggies enjoyed everything in the box. The cats also loved the dried lamb cubes. The value of the box came to approximately $21.40 using discount prices.  The mini size is an excellent size for those that want to spoil their dogs every month with a couple of toys and treats. It's also a great size for subscribers looking to supplement a regular dog subscription
Visit Mini Monthly Mystery Box for Dogs to subscribe or find out more!