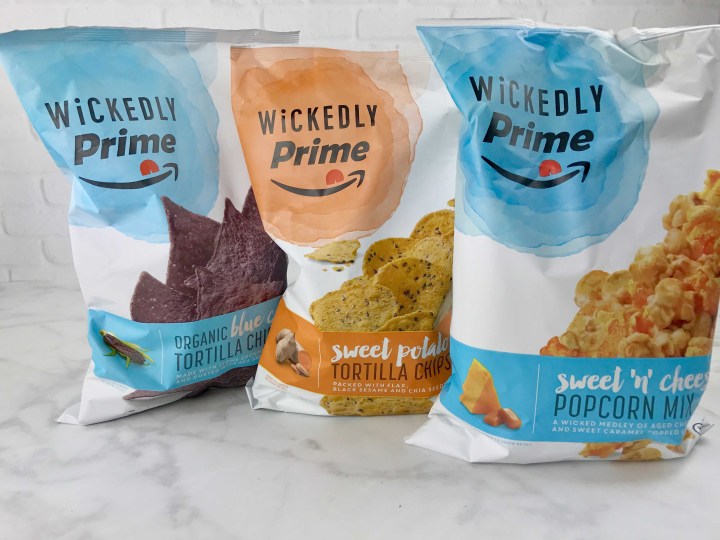 Wickedly Prime is a new food and beverage line offered exclusively for Amazon Prime members. For as low as $2.67 per snack, you get to experience and share "the best flavors" on earth, and they promise to give you your money back, if you're not completely satisfied.
Currently, most of the Wickedly Prime items are available singly through Prime Pantry, and some multi-packs are available via Prime & Dash buttons – no Subscribe & Save… yet! Like the Happy Belly snacks I reviewed I've also noticed some of the goodies at a deep discount with Alexa (to order with your Echo).
TIP: You may find that some Wickedly Prime items qualify a Prime Pantry order for free shipping when you buy 5!
If you're not a Prime member you can get a free trial here, and then check out more of the Amazon Prime exclusive goodies, like the Amazon Prime Sample Boxes!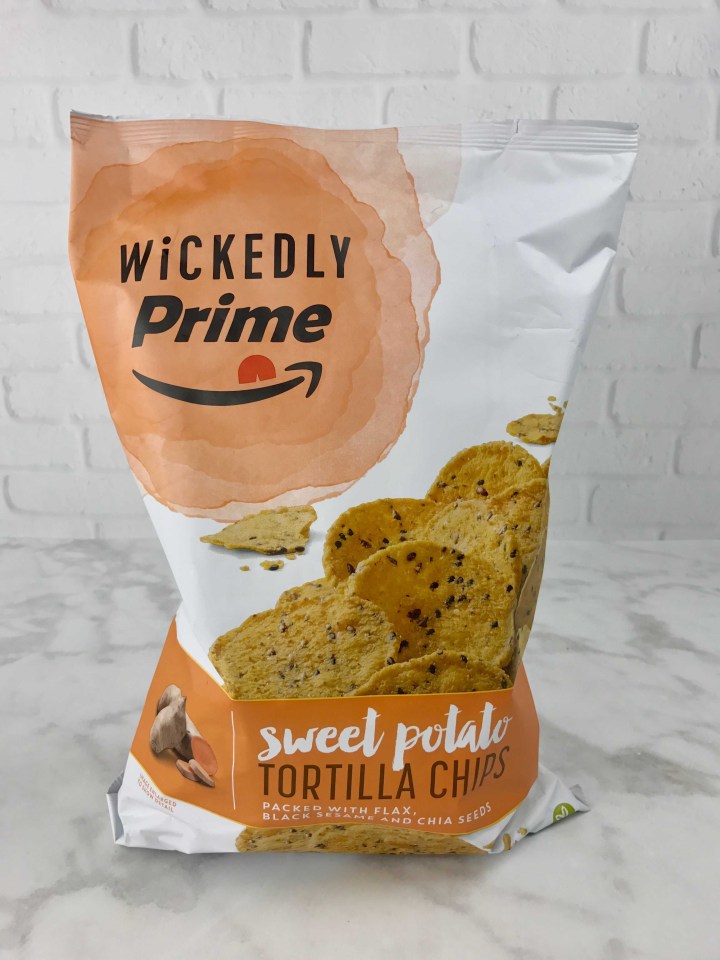 Sweet Potato Tortilla Chips ($3.99 for 13oz in Prime Pantry – available in a pack of 4 for $15.96)
Certified gluten-free, kosher, vegan! The website also said they are non-GMO.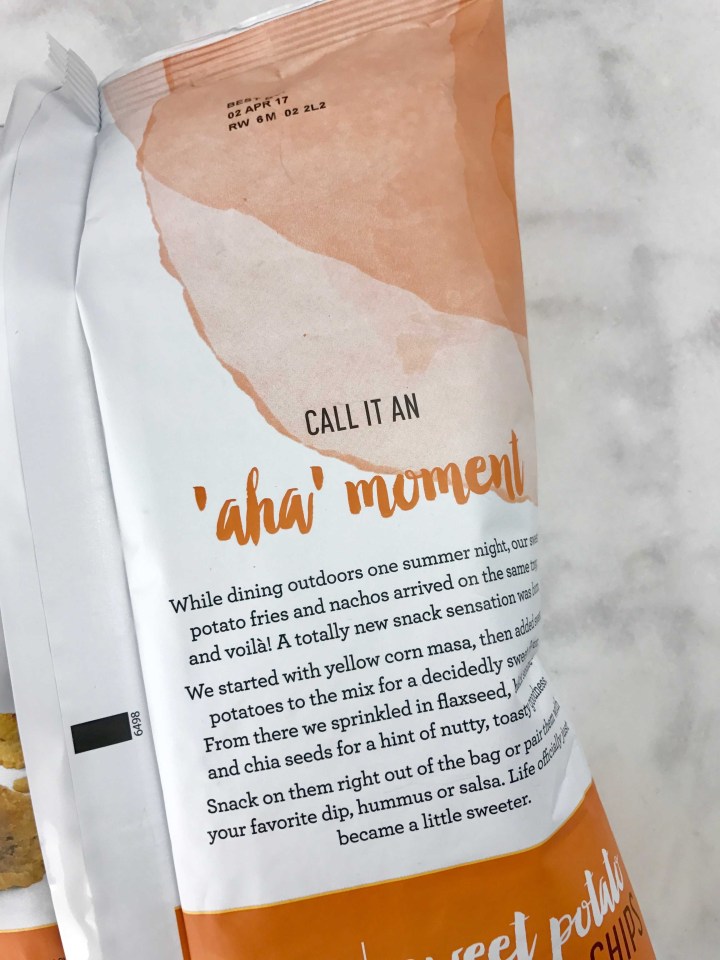 These chips combine stone-ground yellow corn with sweet potato and flax, black sesame, and chia seeds! I got all the chips in this review in mid-January – the best by date on this bag was 4/2/17.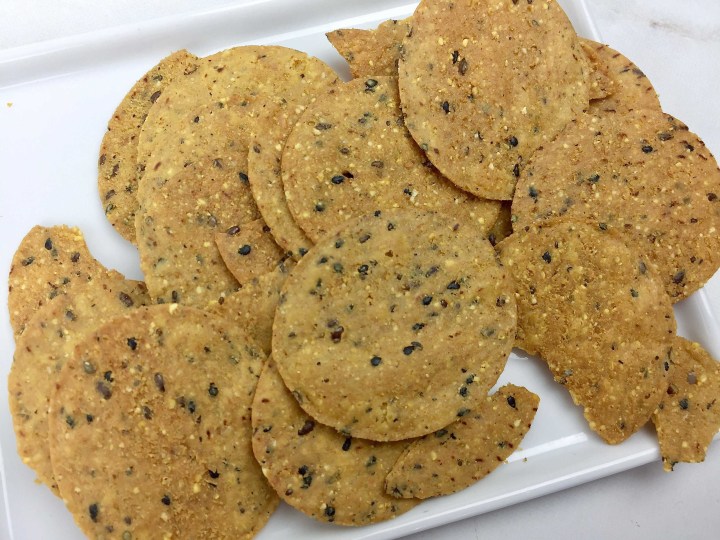 They are crunchy, nutty, and have a great flavor. Unlike other chips, they're not greasy at all! They're also surprisingly low salt – and very attractive and unique when set out for snacking.
It's a sturdy, dense chip that's wonderful for dipping (shown here with some chipotle hummus from Wegman's!). They don't explode with crispness in your mouth, but instead crunch apart.
Sweet & Cheesy Popcorn Mix ($4.99 12 oz in Prime Pantry – pack of 3 for $14.97)
Certified gluten-free, kosher/dairy, and no artificial flavors.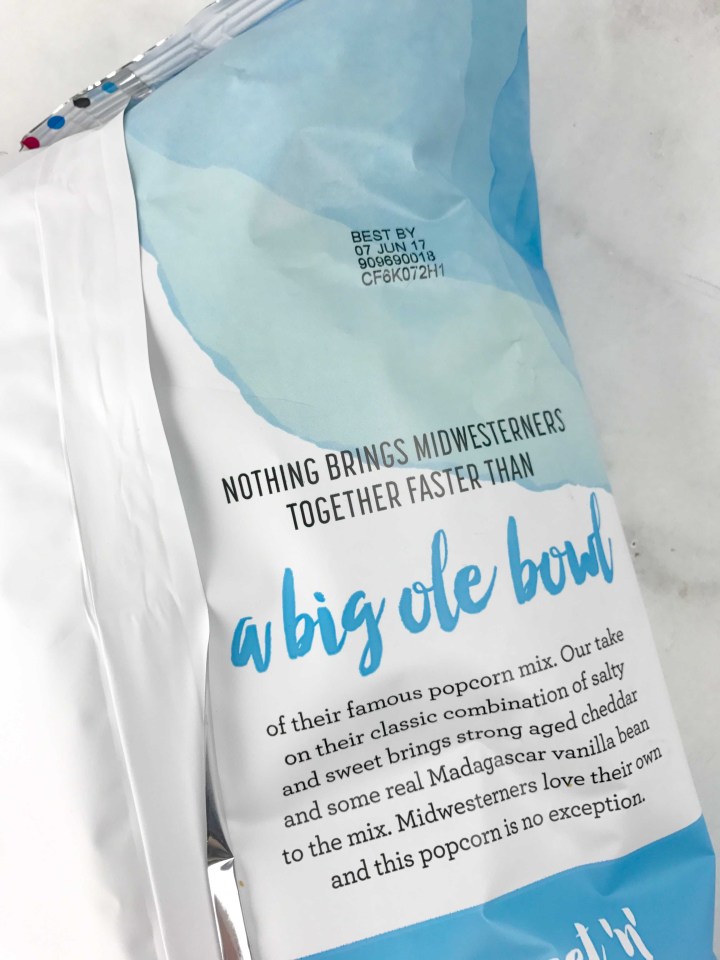 With 6 months before the best by date, these would NEVER last that long. EVER.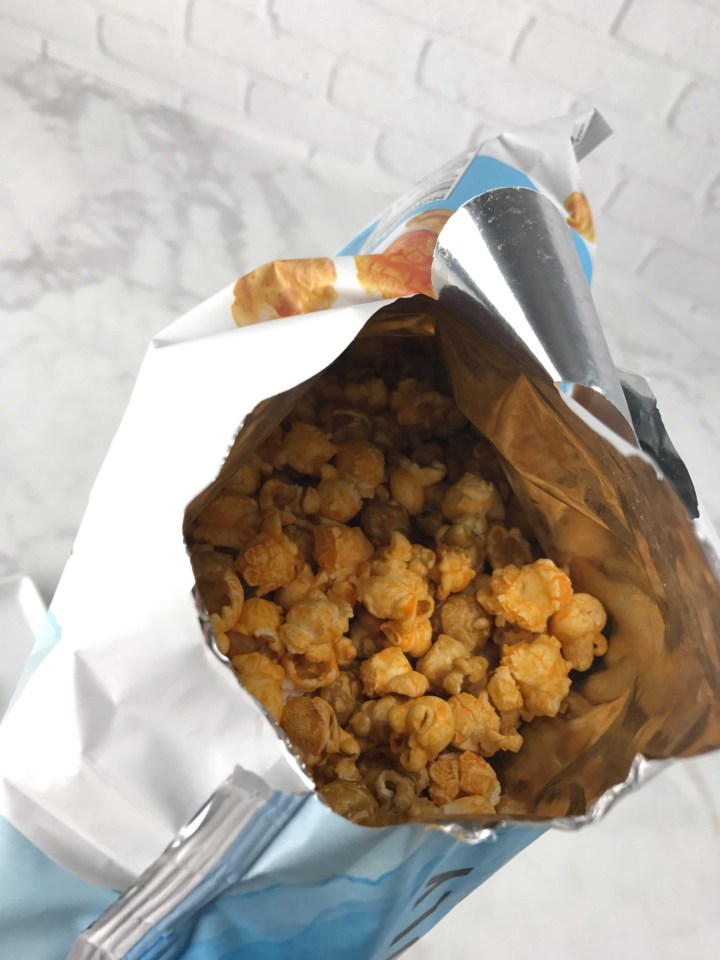 I cannot even tell you how sublime this is!
Sharp cheddary popcorn is combined with delicious buttery caramel popcorn. If you've never had this, it's commonly called Chicago Mix, and it has the perfect blend of salty & sweet!
You can even see the bits of Madagascar vanilla on the caramel corn! The Amazon site actually gives some serving ideas – with chocolate chips & mini pretzels, or drizzled with chocolate chips. The next bag I get (and there will be another!) I will consider "stretching" it a little with some add-ins, because it's fairly pricey, and goes fast if you are oinklets like we are. I was frankly surprised at how well the cheddar stuck to the cheese popcorn and how crisp (and not soft) the caramel was. This mix was top notch and I was disappointed to find that my husband polished off the half of the bag I'd saved during a painting session (but can I blame him? nope!).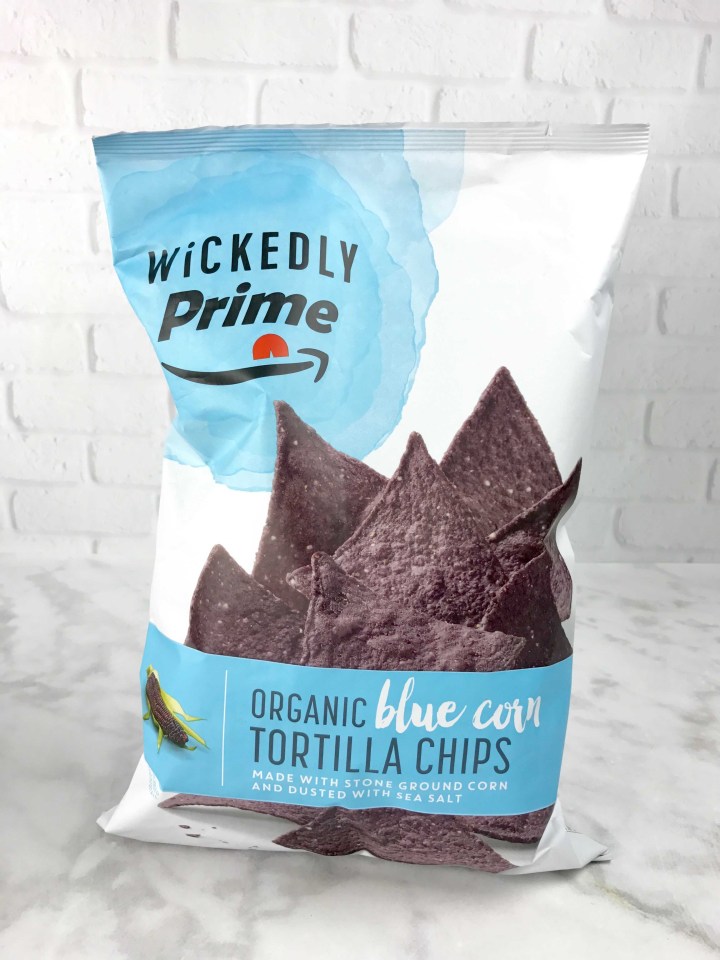 Organic Blue Corn Tortilla Chips ($2.67 13oz in Prime Pantry – not available yet in the multi-pack!)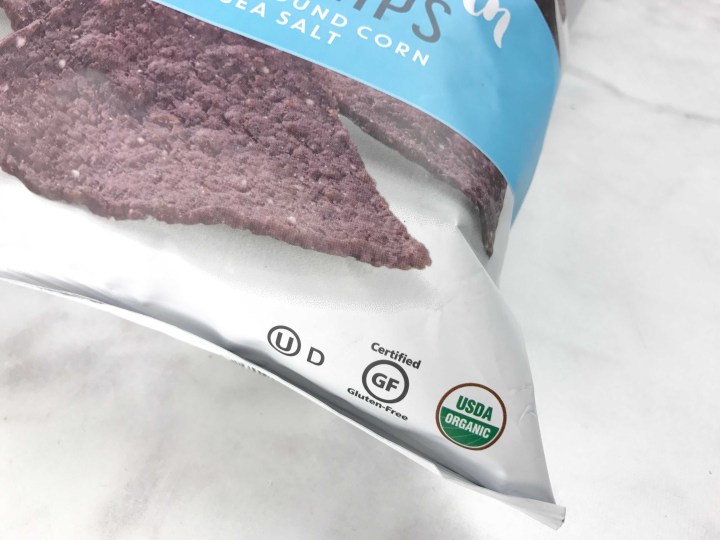 100% organic, certified gluten-free, kosher, and non-GMO.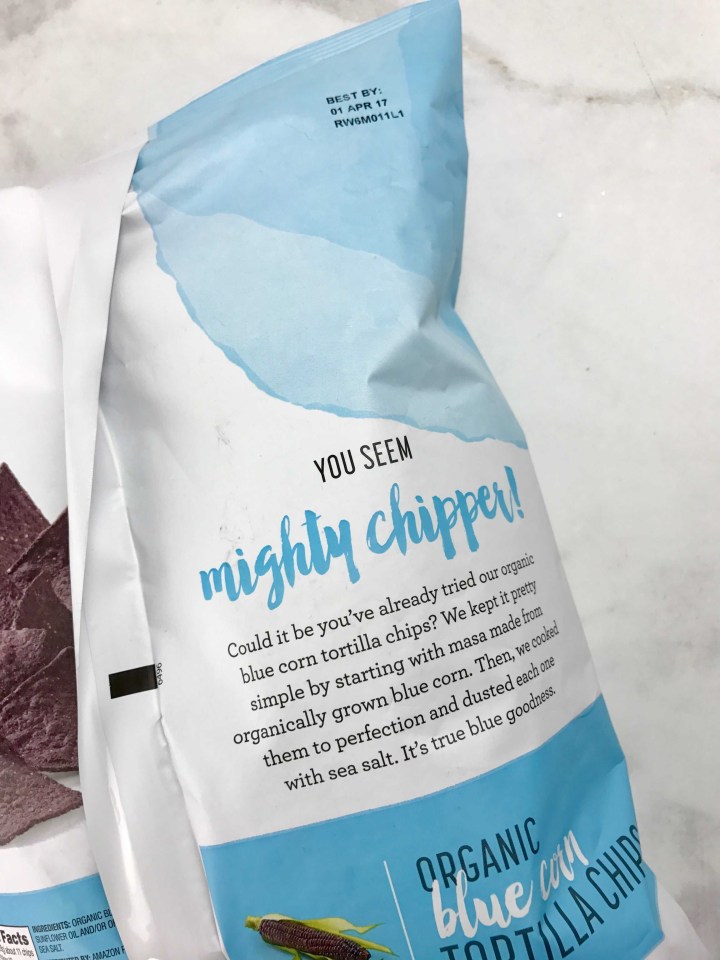 The best by date on this bag was 4/1/17.
Some people love the novelty of blue chips. I think they're fun but my 2 year old wouldn't touch them!
These sturdy chips have a decidedly coarse texture. They contain only organic blue corn, organic sunflower oil and/or organic safflower oil, and sea salt.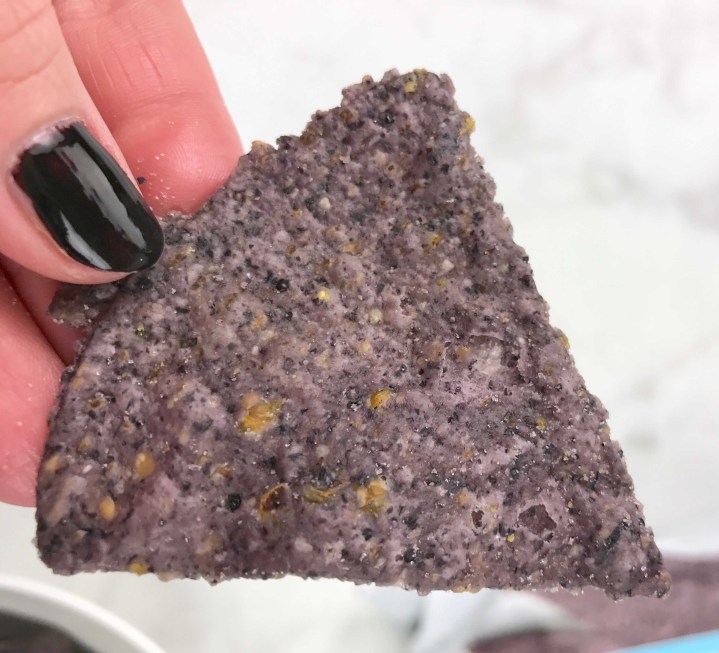 They were tasty, but have that ultra-mild flavor that's the hallmark of blue corn (ever had blue popcorn? They taste like that!). We tried these both with salsa (great dippers) and in a microwaved nacho plates. They were excellent in both, and a really great price.  It's certainly items like these that will continue to get me to order up a Prime Pantry box.
Since I ordered these goodies in one of my Prime Pantry boxes, they added soft shell almonds, regular tortilla chips, and chocolate chip cookies.  No beverages are currently available, but Amazon specifically terms this offering a "food and beverage" line! Yellow corn chips & cookies are arriving soon!
What do you think of Wickedly Prime?