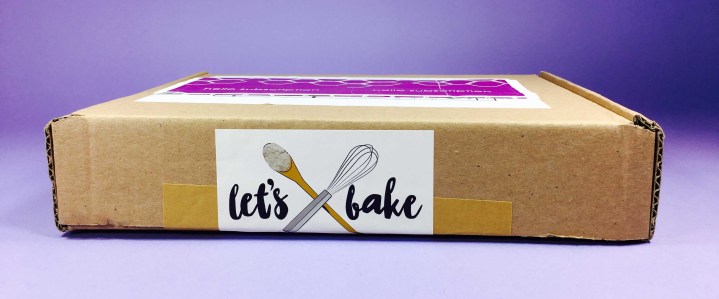 Whisk & Flour is a monthly subscription box that aims to help you create "sweet moments" by sending a recipe and shelf-stable, pre-measured ingredients in a box so that all you have to do is add your fresh ingredients (like butter or eggs), mix, and bake! No need to be a pastry chef with a fancy kitchen full of high-tech cooking supplies, Whisk & Flour wants to keep this fun for everyone. Whisk & Flour is $28 a month with free delivery and makes 10-15 servings.
DEAL: Get 10% your first baking kit. Use coupon code WF10HELLO.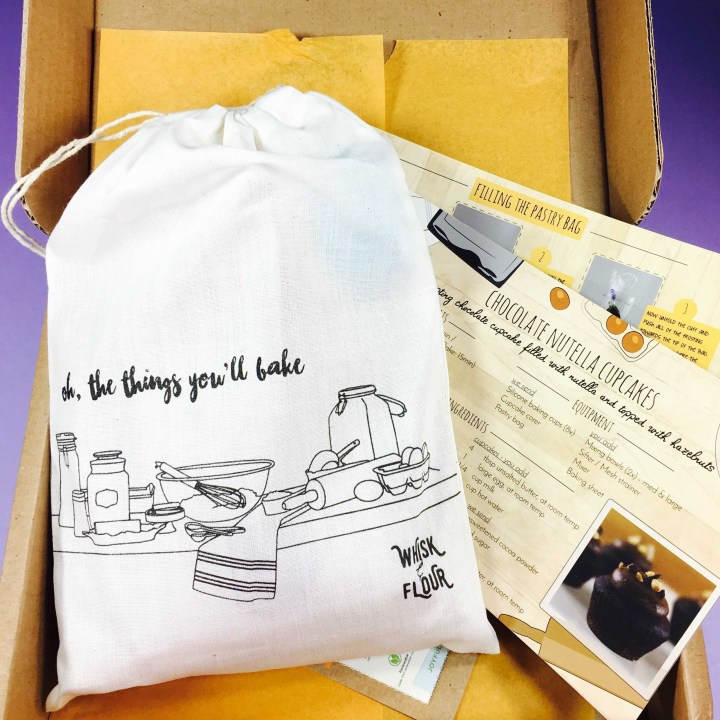 I loved the presentation, it was simple yet lovely. All of the items were in a reusable drawstring cotton bag.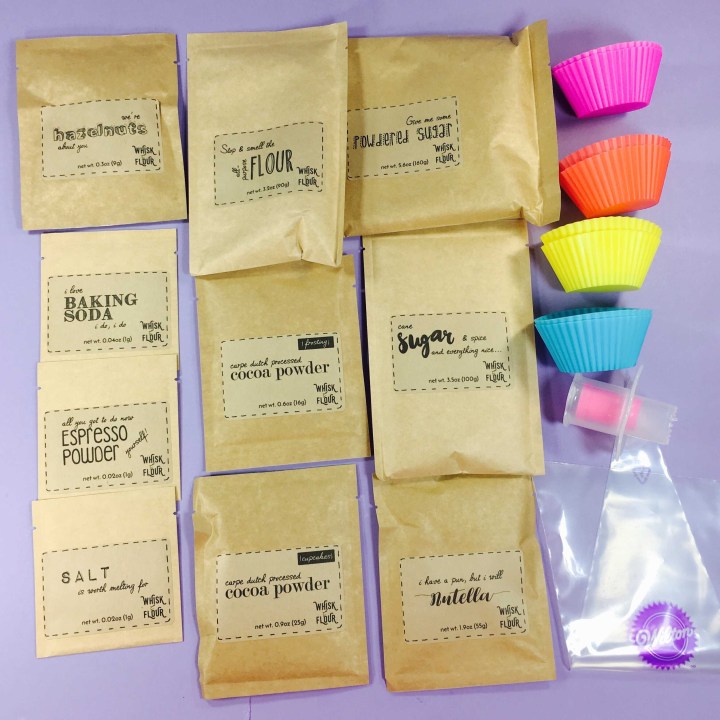 Look at all of these adorable little packets! Each one had an ingredient nestled inside, was clearly labeled, and listed the full ingredients (such as "sugar and cornstarch" in the powdered sugar) and allergen, such as "contains wheat." I also received 8 silicone cupcake holders, a cupcake corer, and a pastry bag. There were two cocoa bags, but they were clearly labeled with "cupcakes" or "frosting" so make sure to watch for duplicate items!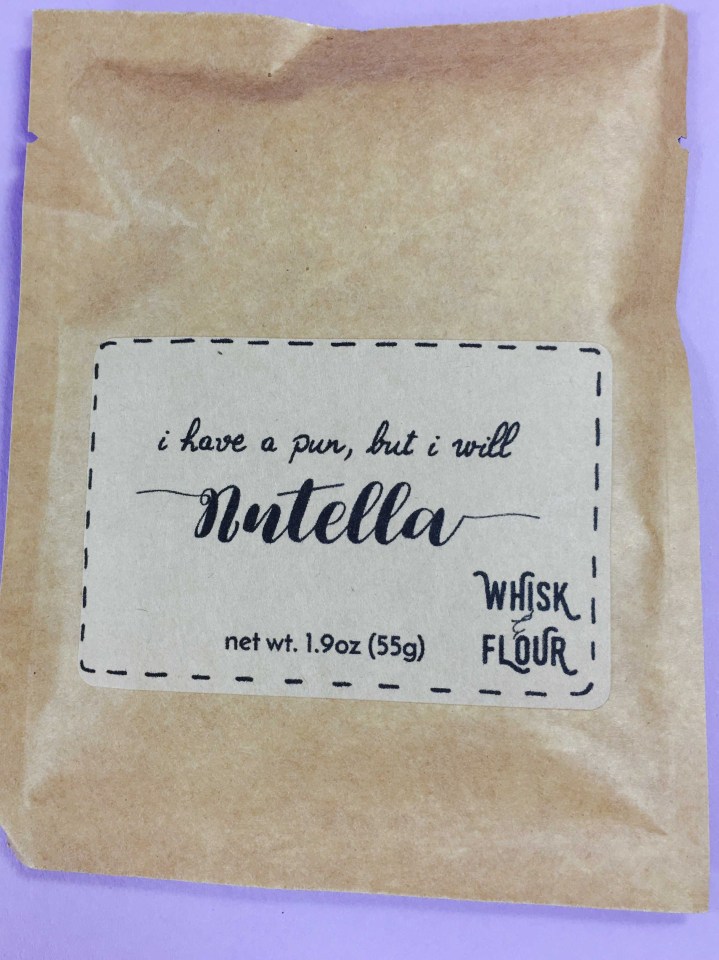 They even had cute sayings on each bag!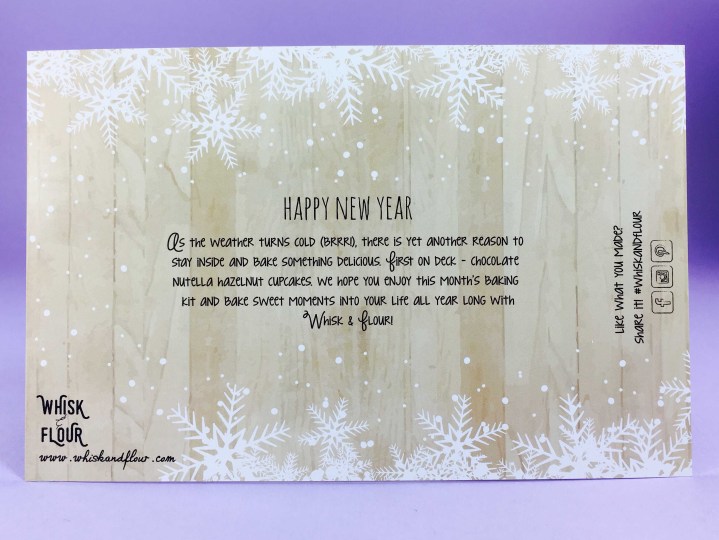 There were two cards in the box. The first one listed what we would be making…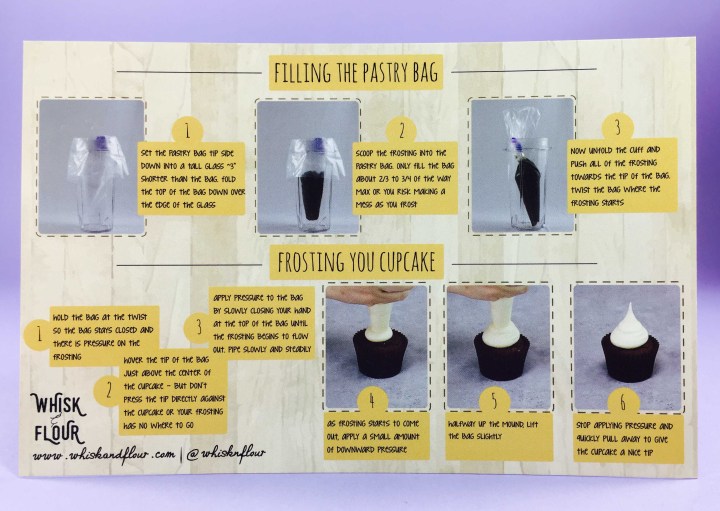 …and the flip side listed the baking techniques that would be put to use. I consider myself a pretty well-versed baker but these tips were helpful and I never knew about putting the pastry bag in a cup to fill, what a wonderful hint!
The recipe card had the instructions, ingredients (in case you want to make it again with your own products), and prep/chill/bake time. Check your fridge for the fresh ingredients, which are standard baking products for most kitchens.
The flip side of the card listed the steps along with pictures.
I let my 13-year-old daughter, Karina, take the lead this time, and supervised (well, to take pictures, anyways) while she followed the steps and mixed everything up according to the instructions provided on the cards.
After the cupcakes baked and then cooled we needed to core them. I have never used a cupcake corer and there weren't any instructions so I did a quick check on the internet to figure it out. Just place the serrated edge on the top middle of the cupcake and gently twist down and then pull up. The core came out and we had a nice, even hole, which we filled with Nutella as directed.
Next, we sifted and mixed the frosting and followed the directions to top the cupcakes. Here's Karina putting her percussionist moves to good use in the kitchen.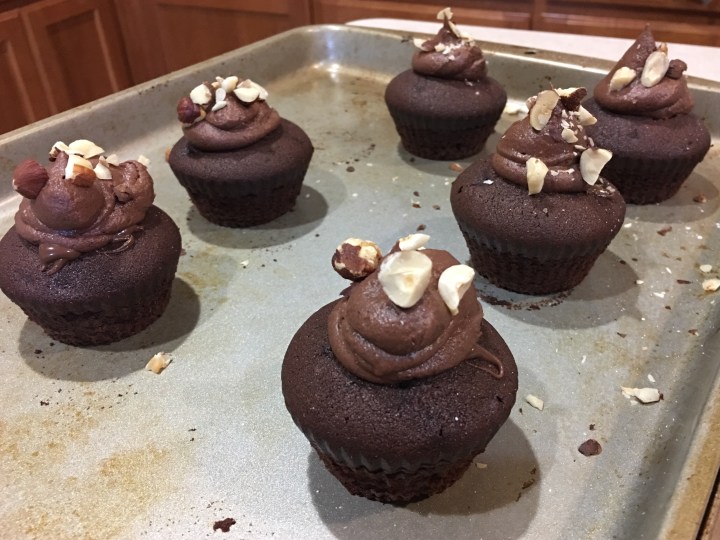 Look at those cupcakes! I usually use paper muffin liners and my cupcakes are always lopsided and I can't really frost well. Um, not anymore! I am going to use the core and fill technique from now on, as well as the frosting technique. These were decorated by Karina and I thought they looked lovely. But how would they taste?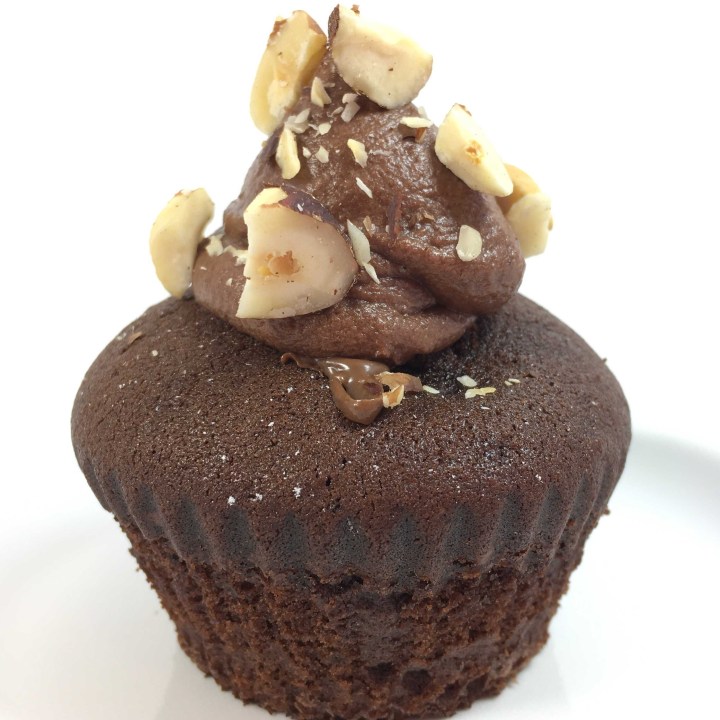 They tasted fabulous! Look at how pretty they are, with their mounds of frosting and sprinkling of hazelnuts! Karina declared them one of the best cupcakes she has ever eaten, and I had to agree!
Whisk & Flour is such a fun box, but not only that, I spent some quality time with my teenager as I "helped" her in the kitchen. This box had a wonderful presentation, the recipe was easy to follow, and the info on cooking techniques was very useful. My daughter got to make a showstopper dessert for us and you could see how proud she was of her effort. The quality of the ingredients were top-notch, too, and yielded a perfect product.
What did you think of Whisk & Flour?