Treats is a monthly snack subscription full of snacks from around the world. You can expect to receive eclectic and interesting snacks that you've never sampled before (unless, of course, you've lived in the featured country recently)! The Standard Pack offers 4-5 snacks, while the Premium box offers 8-10.  This, of course, is the Premium Box.  It's quick to enroll, and you'll get your first box within a few days of when you subscribe.
The packaging is simple and elegant. Tissue paper keeps the contents a surprise until you are ready to immerse yourself in the destination country's food culture. The box is crowned with a beautiful postcard welcoming us to this month's Treats destination.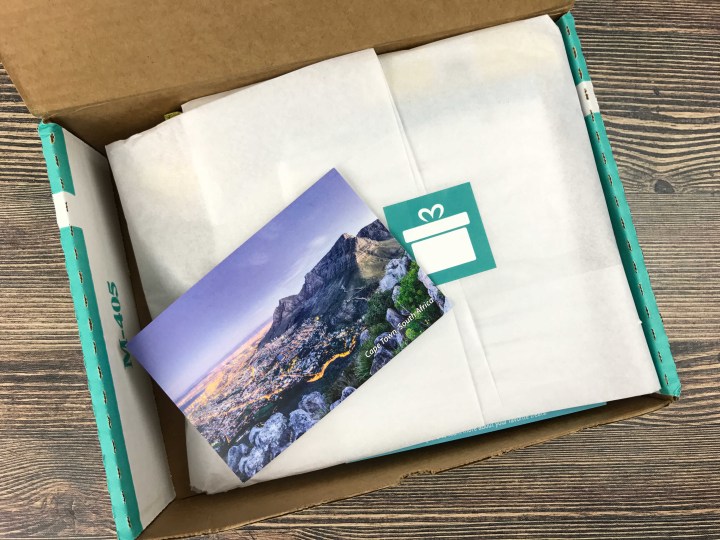 DEAL: You can save 15% on your first month with coupon code HELLO15.
The box is filled to the top with goodies! Chocolates and sweets are nestled under a layer of crunchy and savory snacks.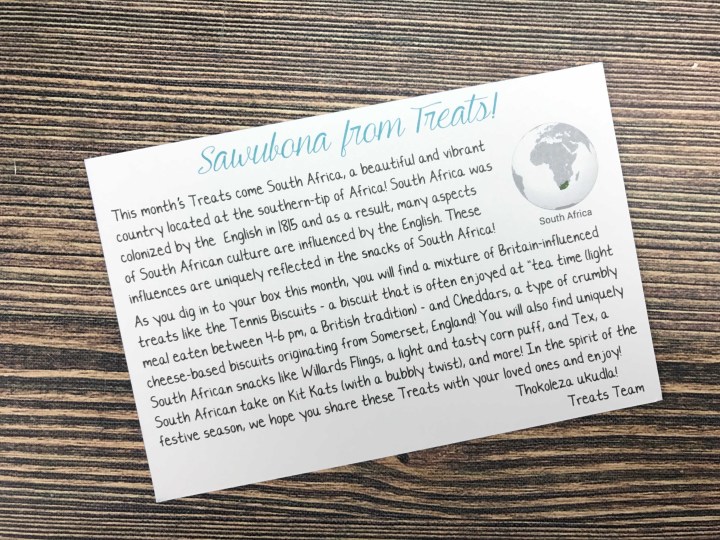 This month, we welcome a box from South Africa! The back of the card has a welcoming message that points out some of the items with distinctly local and traditional character.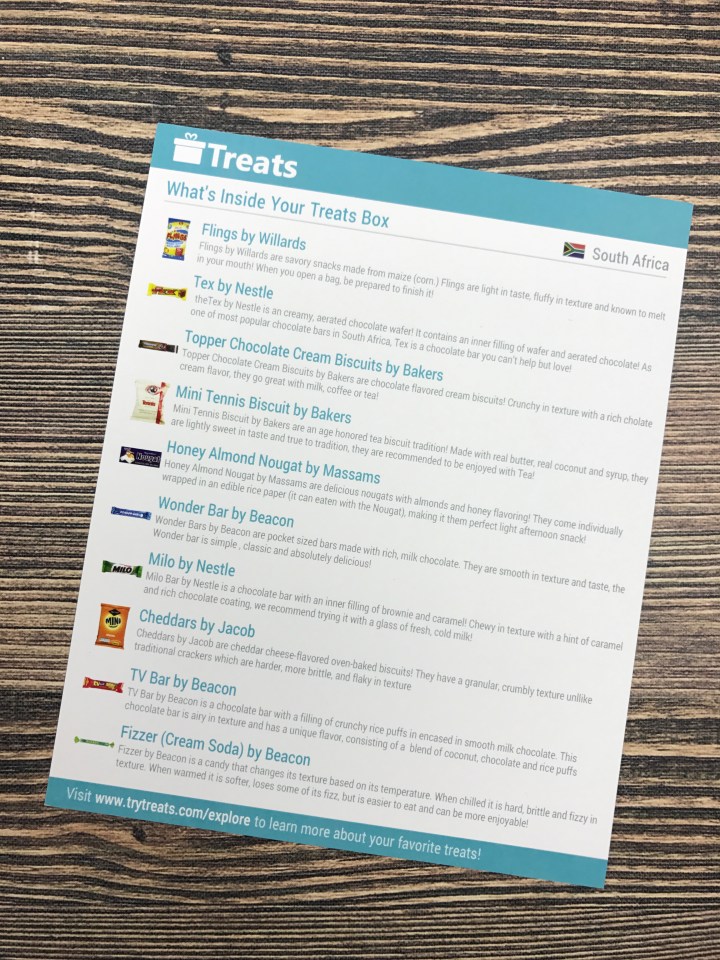 There is also a handy info card that gives the name and maker of each treat, as well as a short description of each.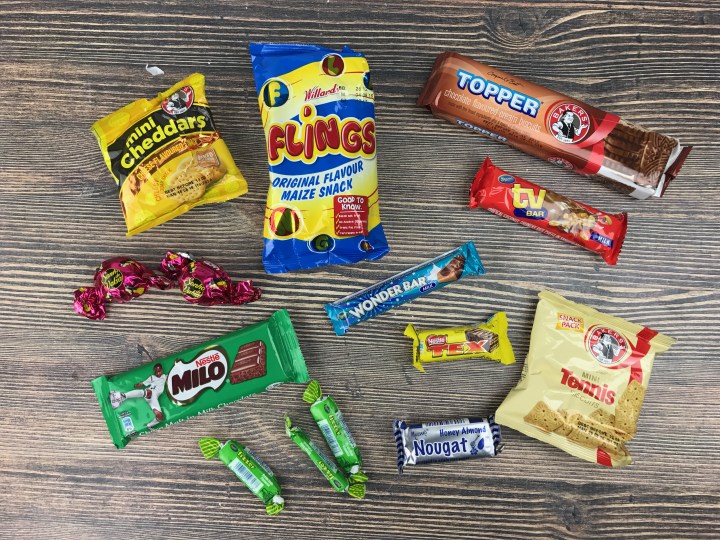 Everything in the box. The composition of each Treats collection depends on the local snacking culture, but there is usually a good mix of sweet and savory and individual and family packs – this box didn't have any huge multi-packs, and the Topper cookies were the only item that was clearly multi-serving.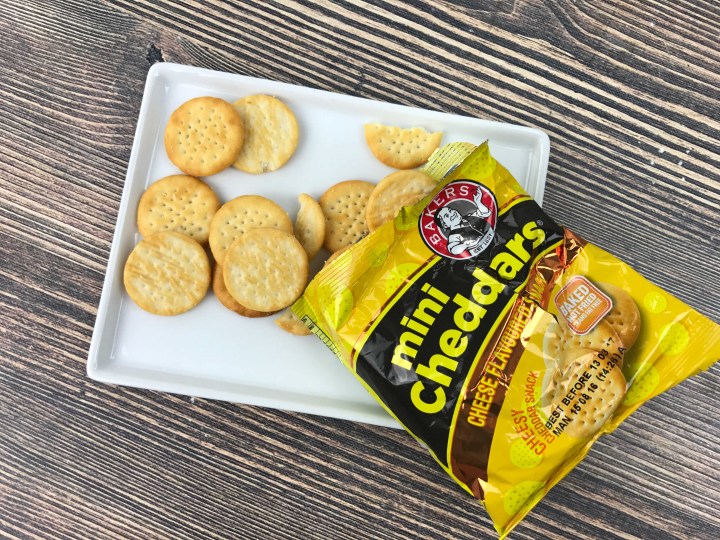 Baker's Mini Cheddars:  These little crackers look like a simple, buttery Ritz-style cracker, but they pack a very pronounced Cheddar flavor.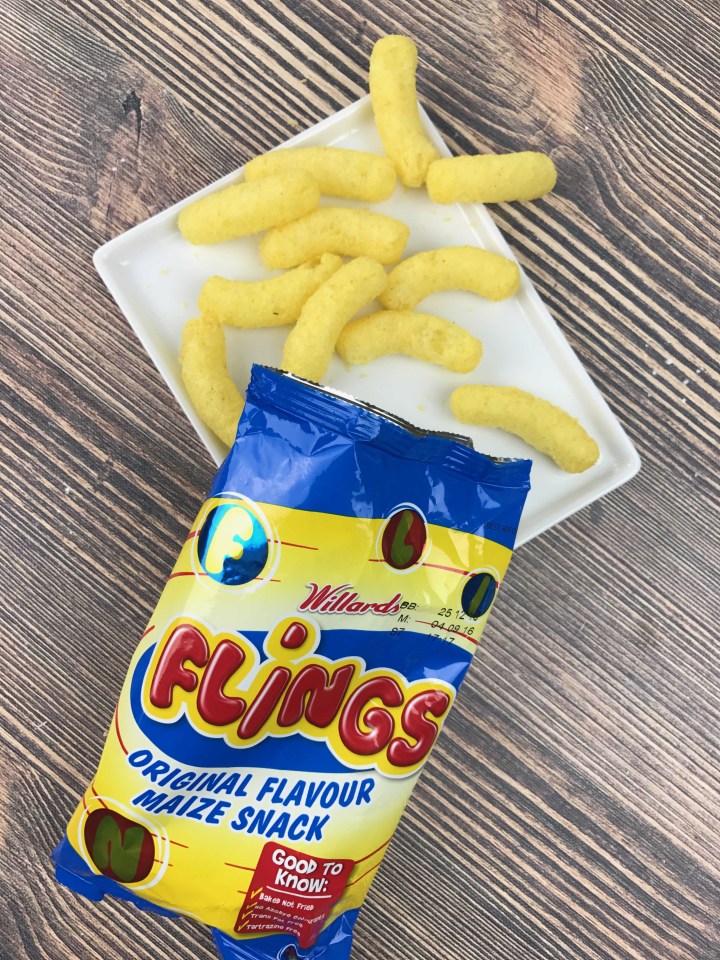 Willards Flings Maize Snack: With a light texture and enchanting taste, these are much less aggressive the cheeses puffs they resemble. The corn flavor and airy texture is addictive.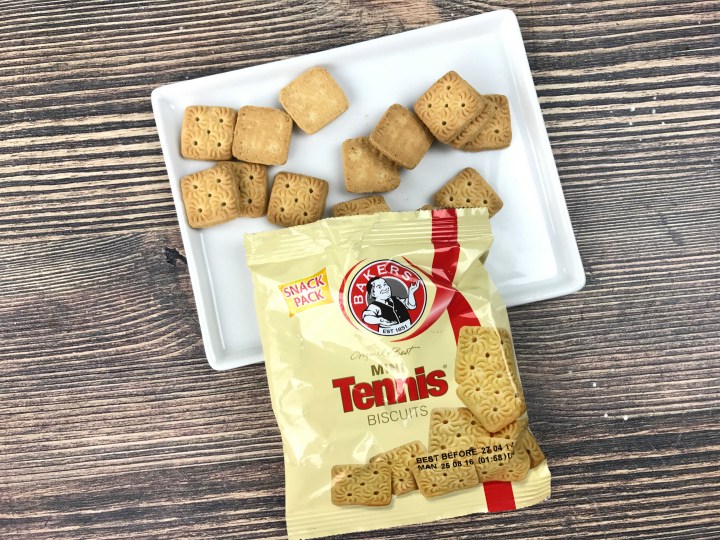 Bakers Mini Tennis Biscuits:  Little tea biscuits with the surprising addition of coconut.  Very delicious and unique – different than either traditional tea biscuits or coconut crusted cookies.
Bakers Topper Chocolate Cream Biscuits:  This is the largest pack of treats in the box.  The cookies are as expected – a cocoa flavored cookie with an Oreo style sugar creme filling.  The cool part is the intricacy of the cookies – the pattern contains fine detail and is set deep into the surface of the cookie.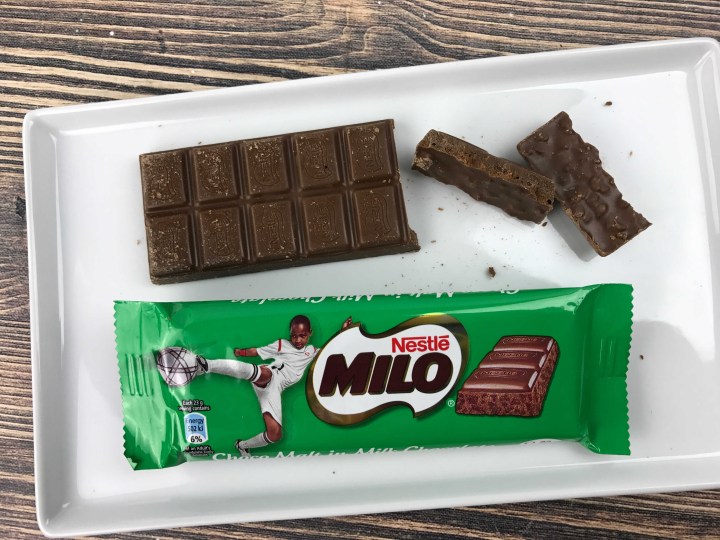 Nestle Milo: Playing soccer is the last thing I would think of doing after eating this! Normal Nestle chocolate is poured over and around a pile of brownie bits and caramel, making a super sweet jumble. A little bit of a sugar overload for my taste, as the brownie doesn't have the balancing effect that you typically get from other mix-ins like crisped rice, cremes, or wafers.  Certainly unique and great for those with a huge sweet tooth.
Beacon Fizzer in Cream Soda:  I didn't notice any fizzy action from this candy, and the flavor wasn't distinctly cream soda to me.  I'm not sure what it reminded me of – basically just sweet and chewy, with a dense, Laffy-Taffy type texture.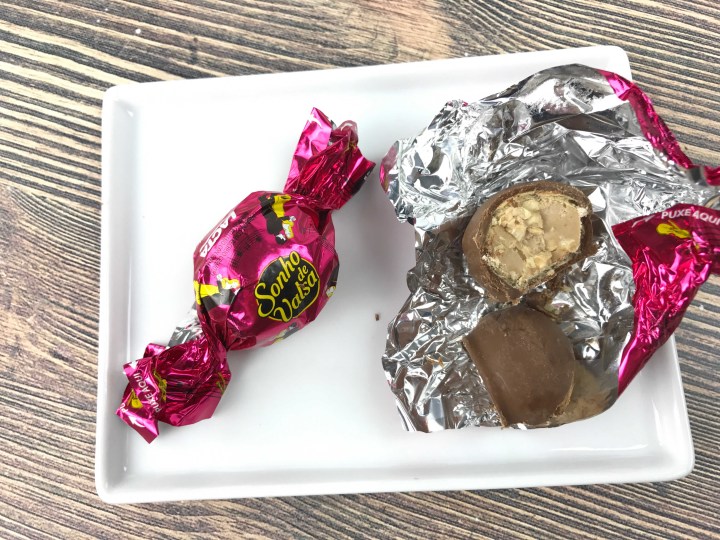 Sonho de Valsa:  This Brazilian treat was thrown in as a bonus, I think (it didn't appear on the card and isn't from the featured country).  It's a chocolate coated truffle with a wafer-encased cashew and cashew creme filling.  Treats occasionally throws in some leftovers from past months as a bonus.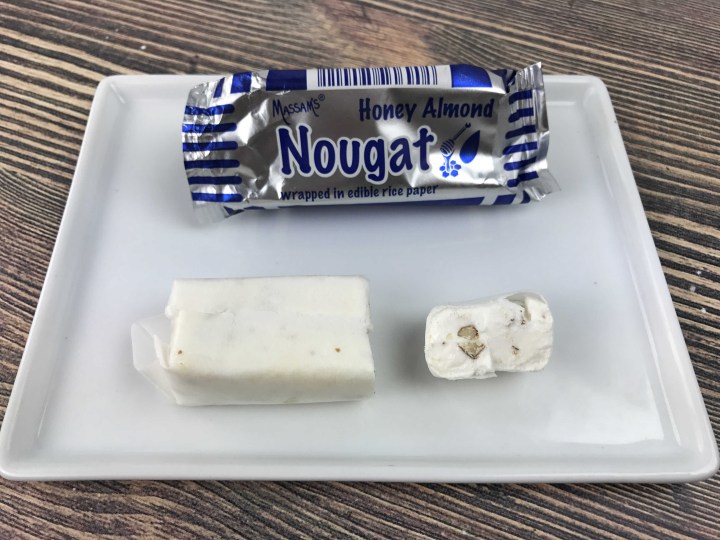 Massams Honey Almond Nougat:  The nougat has a light honey flavor and a dense, chewy texture.  My piece had half a dozen or so large pieces of almond, plus several smaller specks. The use of the edible rice paper is a nice touch – it doesn't taste particularly great, but it reminds me of the method used to serve similar nougat confections in Greece.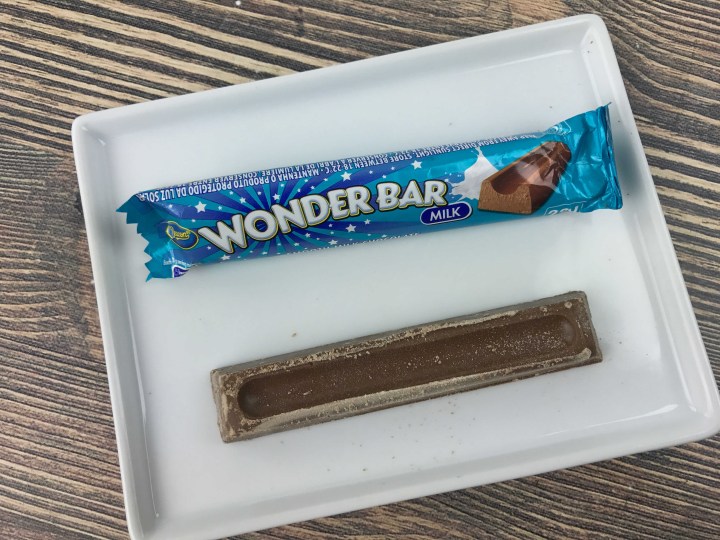 Beacon Wonder Bar:  There is nothing especially wondrous about this bar; it is a smallish bar of very sweet milk chocolate.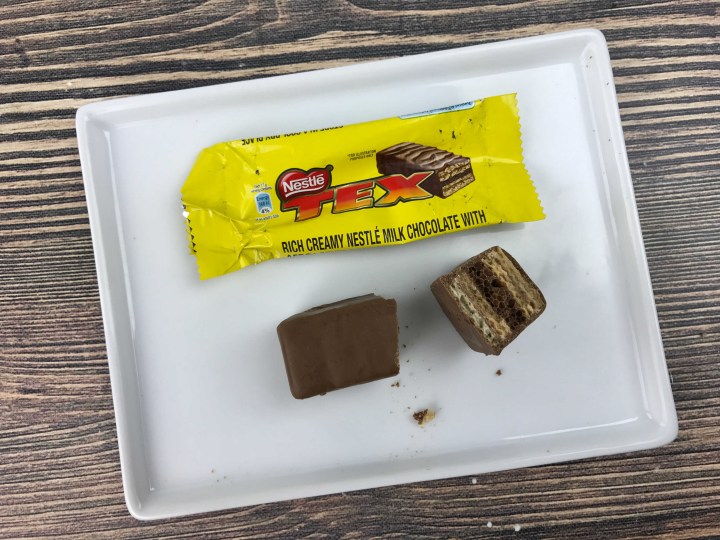 Nestle Tex: This bar combines Aero style filling with Kit Kat wafers, with the whole covered in chocolate.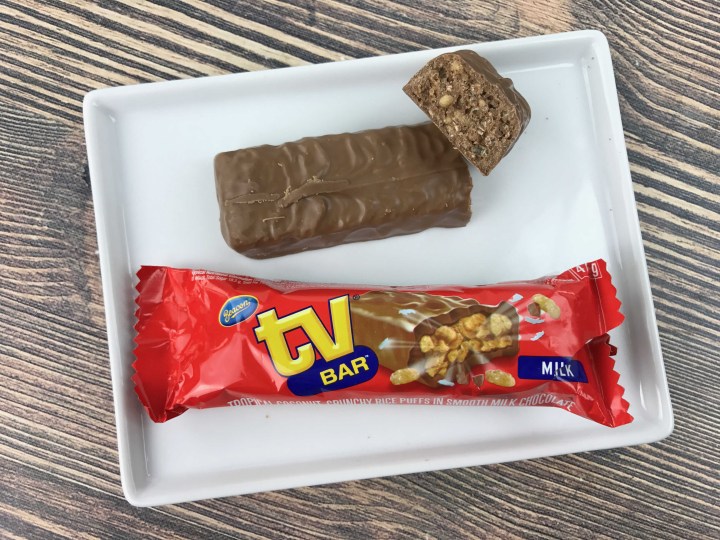 Beacon TV Bar:  This bar blends rice crisps and coconut inside milk chocolate. The coconut and rice add a nice bit of texture and really balance the sweetness of the chocolate.
This was a really great edition of Treats — we haven't seen anyone else do a South African themed snack box, (other than the occasional inclusion of biltong, the South African alternative to jerky). It's fun to see what people around the world like to snack on – some snacks are fairly universal, others are quite peculiar. Treats do a good job of including only good stuff – nothing is strange is included in the box solely for shock value. This box had some truly interesting things – combinations of familiar candy ingredients not normally paired together, along with some innovative use of coconut.
Have you tried Treats yet? What did you think of the box?