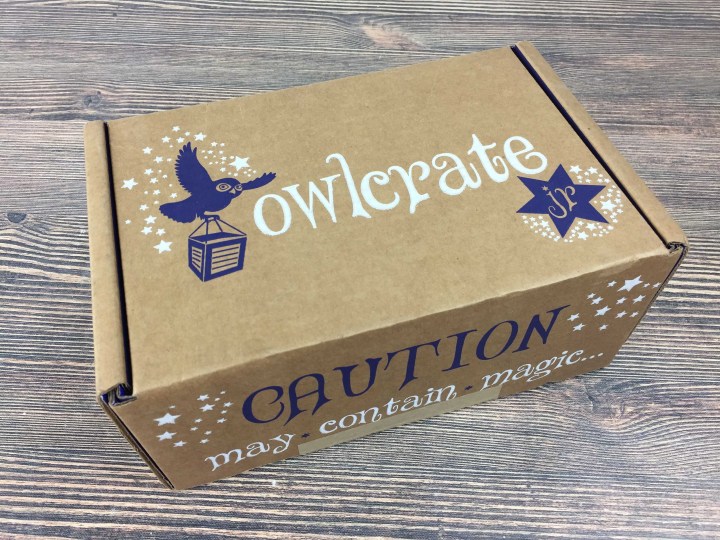 Owl Crate is a monthly subscription of books and bookish items box. They recently launched OwlCrate Jr., a book box for young readers ages 8-12. The December box is now sold out, but OwlCrate is planning to launch OwlCrate Jr. as a subscription box early next year. Be sure to subscribe to notifications for OwlCrate Jr. so you don't miss the next box!
DEAL: OwlCrate JR. is not yet offered as a subscription, but you can use code HELLO15 to save 10% off your first regular OwlCrate subscription!
The theme for the December OwlCrate JR. box is WINTER WONDERLAND!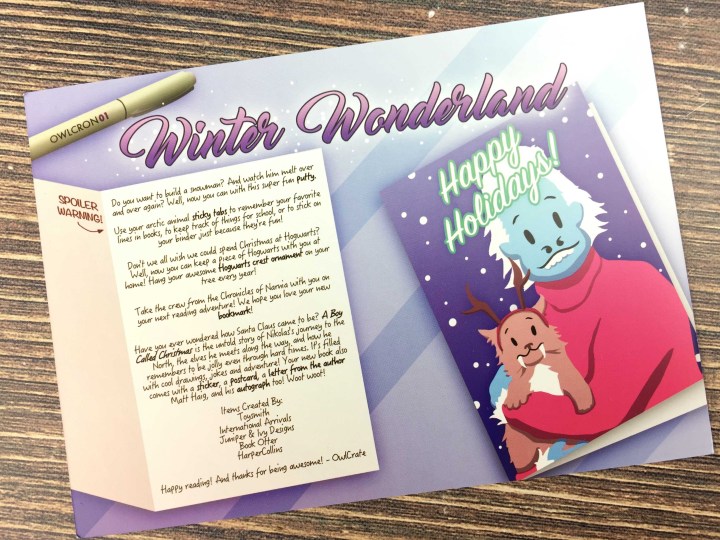 The information card tells a little bit about all the goodies in the box. Do my 8-year-old and 6-year-old want to build a snowman? YES, THEY WANT TO BUILD A SNOWMAAAAN!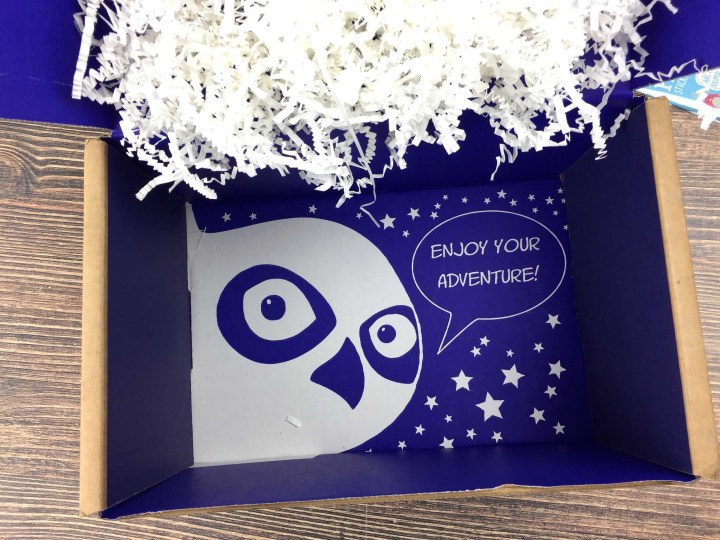 Enjoy Your Adventure!
Everything in the December Winter Wonderland OwlCrate JR. box.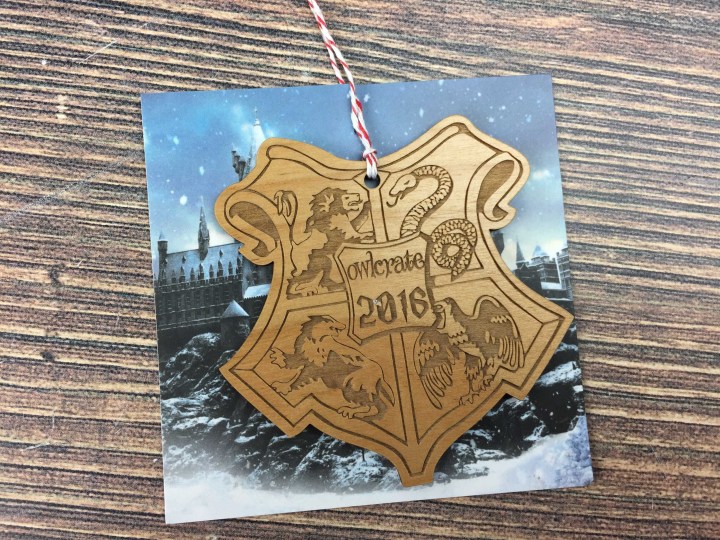 Hogwarts Crest Ornament
This laser cut ornament was a hit, with animals representing the 4 Hogwarts houses. Anything Harry Potter is an auto-win with this crowd!
So cute. I'm hoping they do this yearly!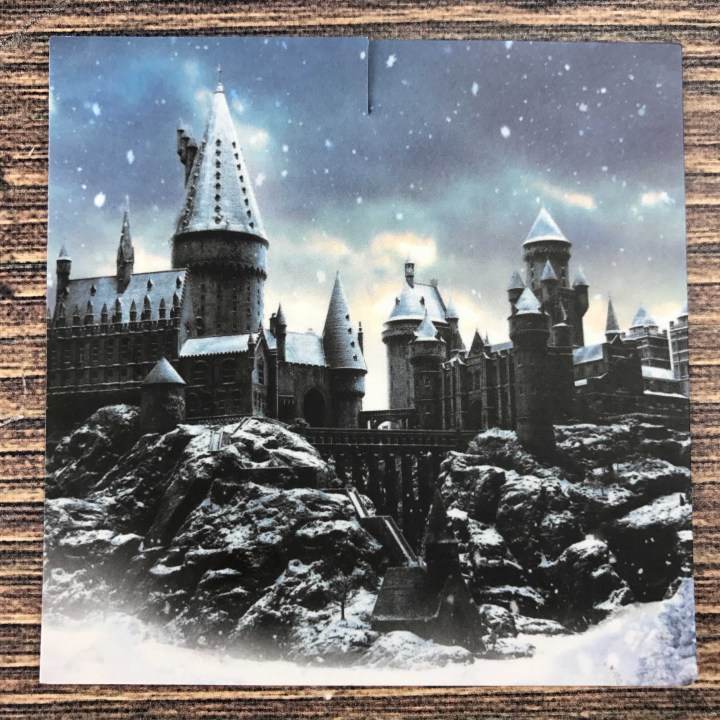 The cute design of the card holding the ornament just made them even more excited about it!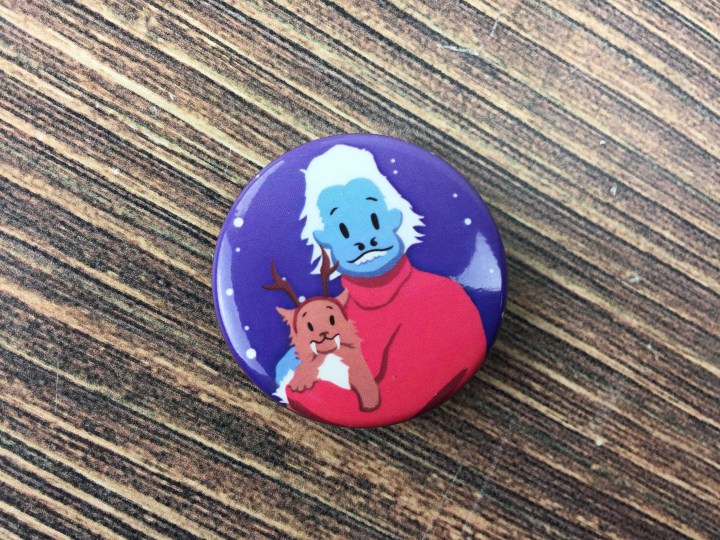 Button Pin: I don't really understand the button? Some sort of yeti character?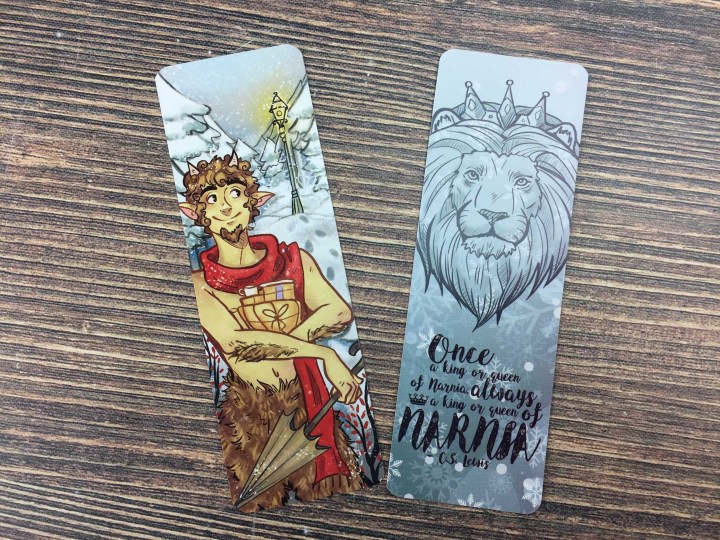 The Chronicles of Narnia Bookmark: My daughter hasn't read this… yet! But I appreciate the fun, engaging design because she wants to now, and she's totally been using these!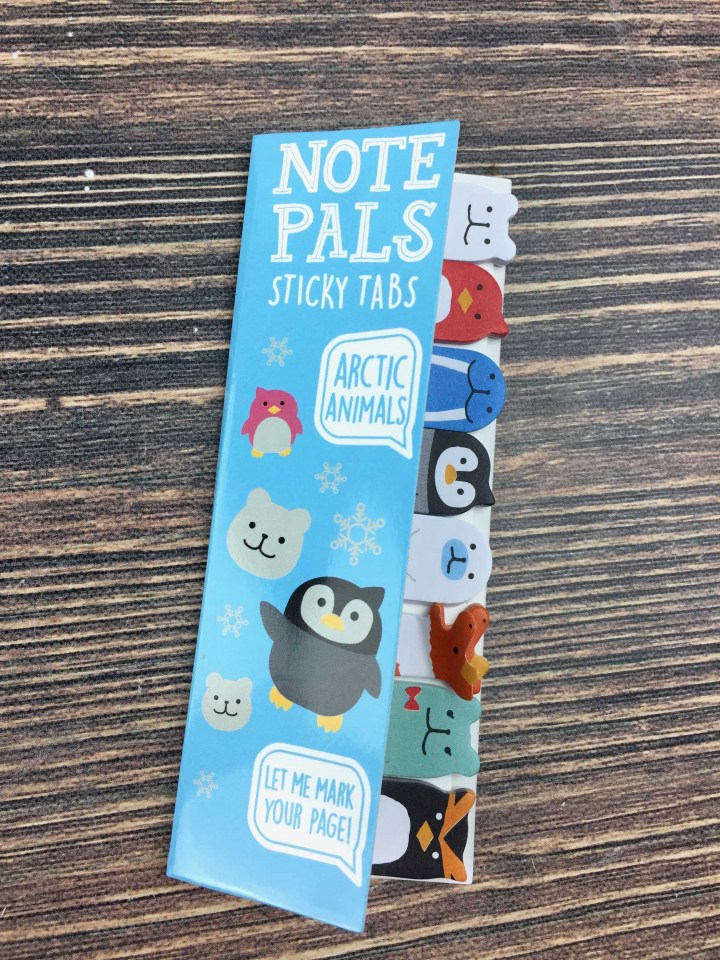 Note Pals Animals Sticky Tabs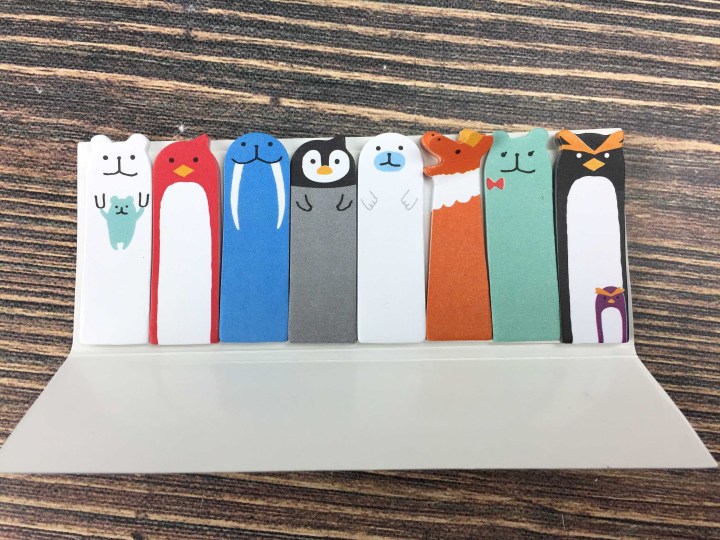 These are perfect for little readers, either to move around as an actual bookmark or to mark interesting pages!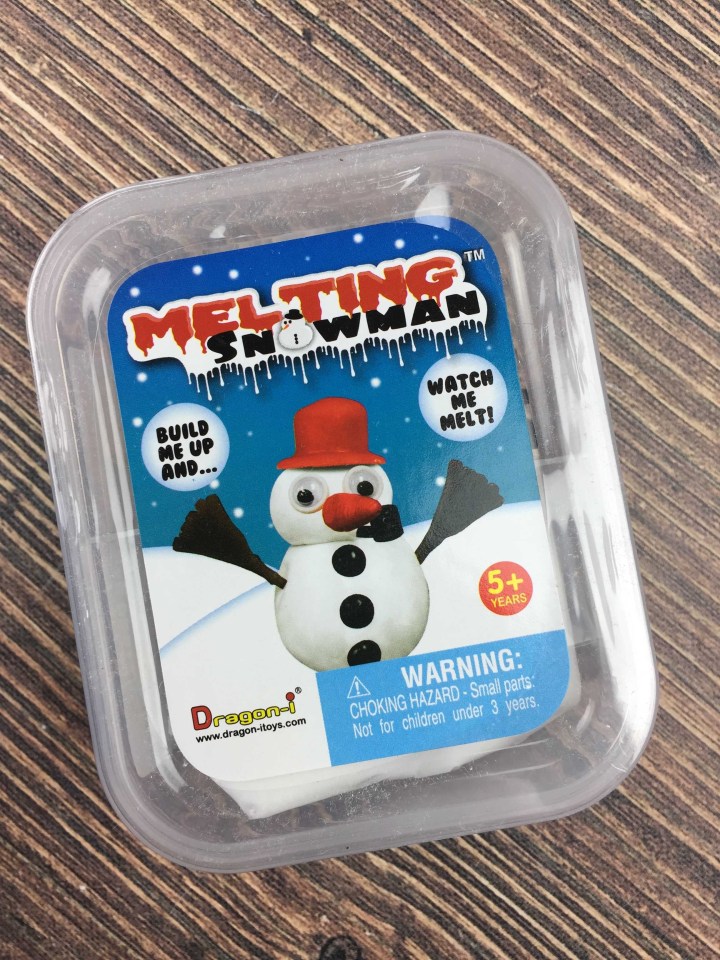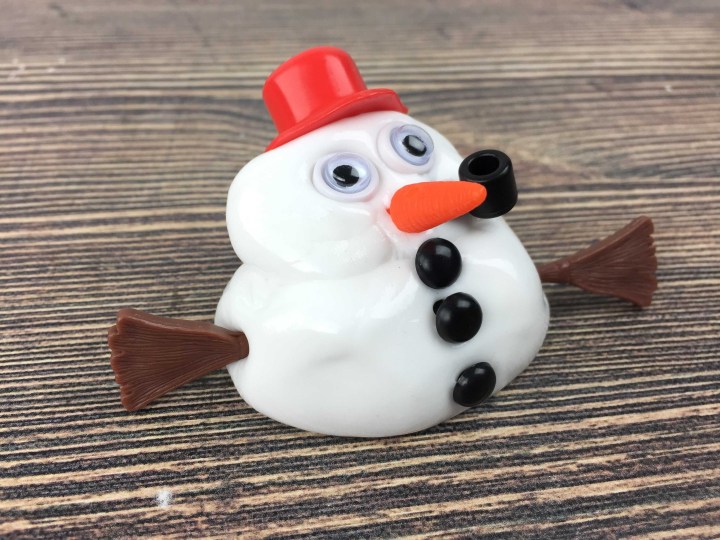 I may have squealed when I opened this set. You roll the putty into a snowman and decorate it…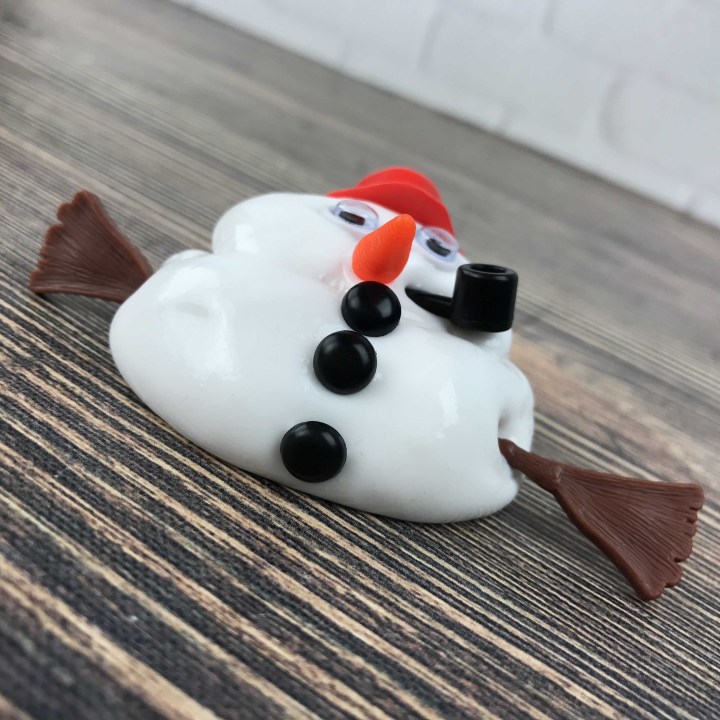 And then it melts into a pool, just like a snowman would. What a fun desk item. The kids were nuts about it. And me too – I love these little melting sets (you can find a ton like it by searching toys & games on amazon for "melting").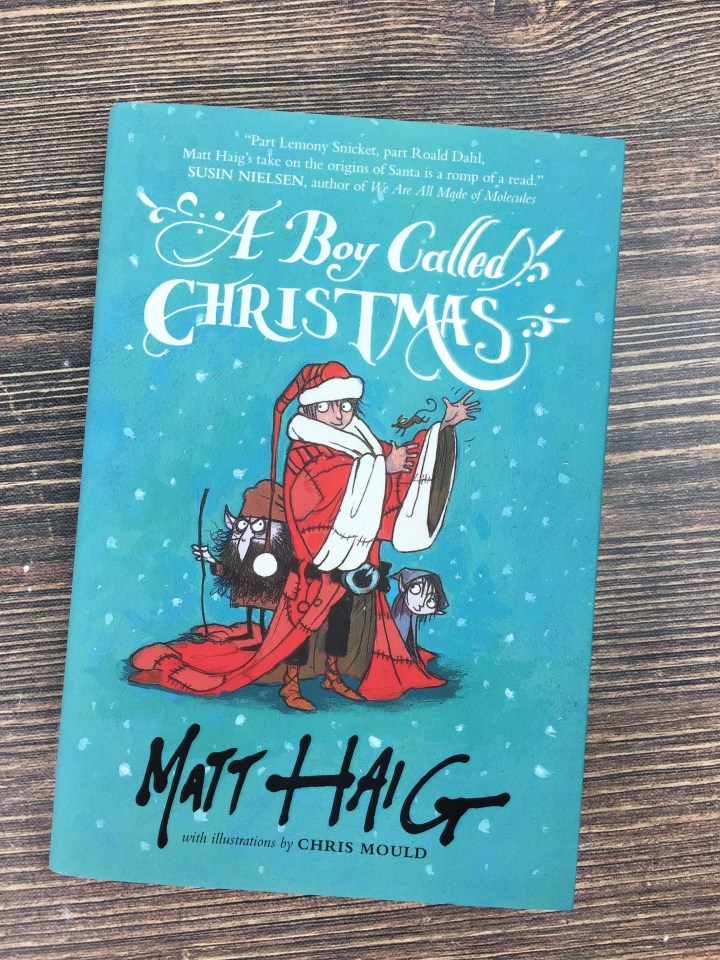 A Boy Called Christmas by Matt Haig ($9.27)
Before there was Santa Claus, there was a young boy who believed in the impossible. . . . Lemony Snicket meets Elf in this warmhearted Christmas caper.
 
Eleven-year-old Nikolas—nicknamed "Christmas"—has received only one toy in his life: a doll carved out of a turnip. But he's happy with his turnip doll, because it came from his parents, who love him. Then one day his father goes missing, and Nikolas must travel to the North Pole to save him.

Along the way, Nikolas befriends a surly reindeer, bests a troublesome troll, and discovers a hidden world of enchantment in the frozen village of Elfhelm. But the elves of Elfhelm have troubles of their own: Christmas spirit and goodwill are at an all-time low, and Nikolas may be the only person who can fix things—if only he can reach his father before it's too late. . . .

Sparkling with wit and warmth, A Boy Called Christmas is a cheeky new Christmas classic-in-the-making from acclaimed author Matt Haig and illustrator Chris Mould.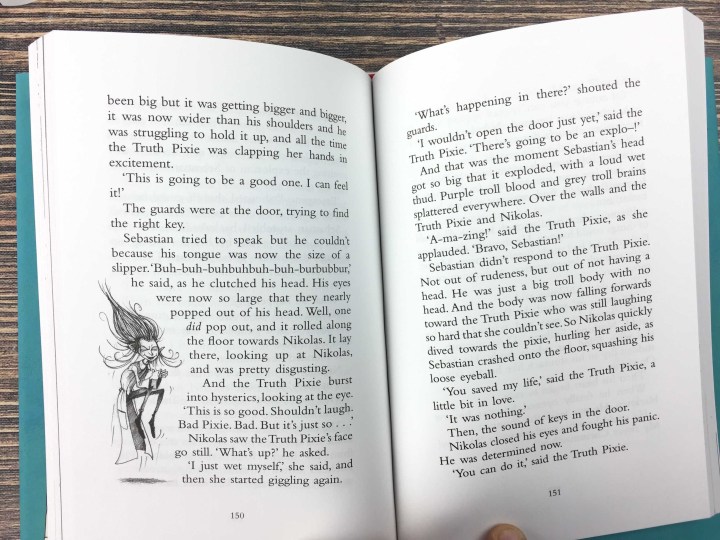 This is a fantastic book. You need not trust me, here are some Important People that also say so:
"Irresistibly readable. Destined to become a Christmas and anytime-before-or-after-Christmas classic!" –Chris Grabenstein, New York Times bestselling author of Escape from Mr. Lemoncello's Library

"The definitive (and funny) history of ho, ho, ho! My children loved it." —Yann Martel, bestselling author of Life of Pi

"The most evergreen, immortal Christmas story to be published for decades." —Stephen Fry

"Humorous and heartfelt, A Boy Called Christmas will grow your heart three sizes and make you believe in magic." –Liesl Shurtliff, New York Times bestselling author of Rump

"Matt Haig has an empathy for the human condition, the light and the dark of it, and he uses the full palette to build his excellent stories."—Neil Gaiman, Newbery-winning author of The Graveyard Book
My daughter devoured this book the weekend before Christmas!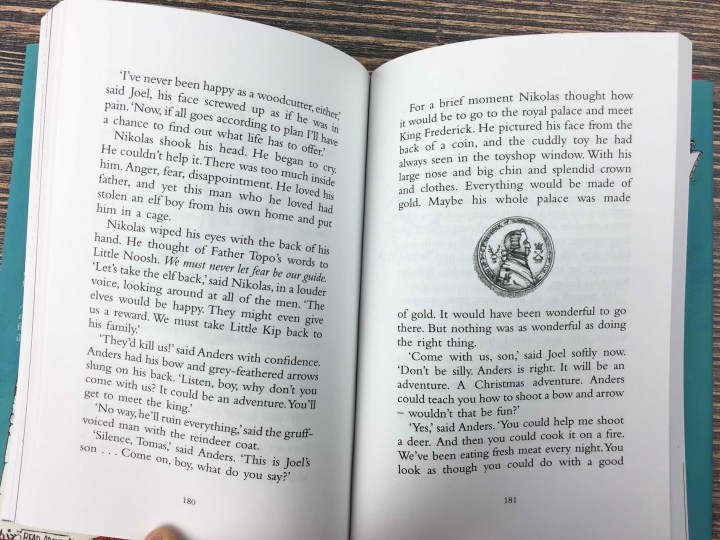 She loved the mix of illustrations and text. Mom loved the fact that this was a British children's novel – they don't seem to be beset with the leveling affliction that many US ones are (which reduces the variety and complexity of language and description in the text).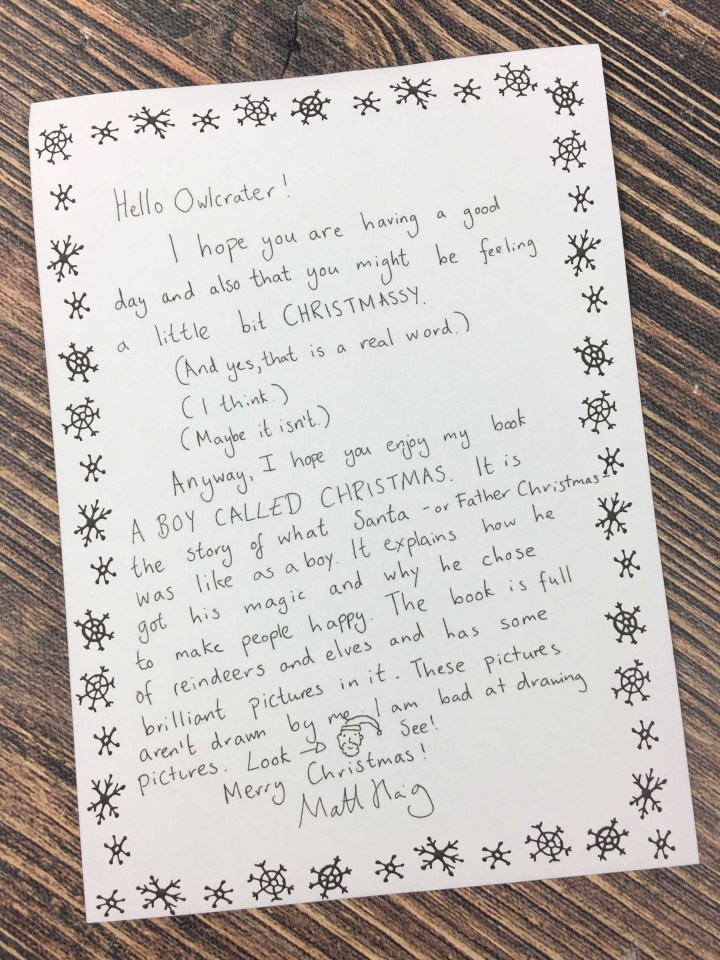 A short and funny letter to all Junior OwlCraters from the author.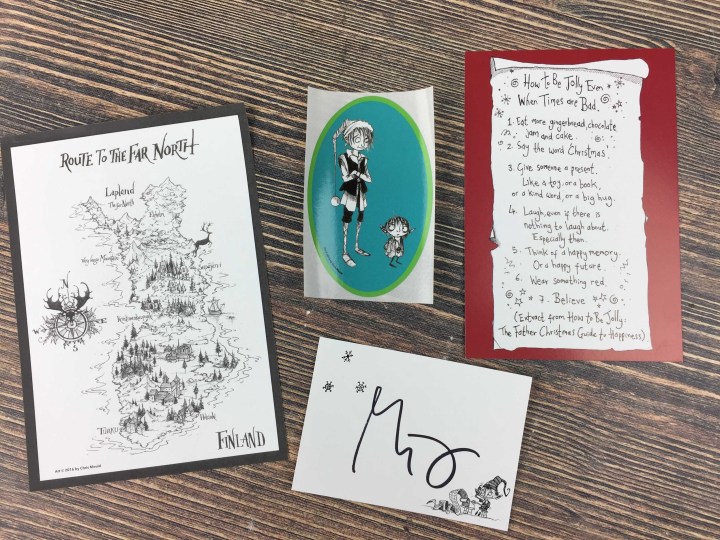 A Boy Called Christmas postcard/map, sticker, and author signature sticker. PLUS a fun little excerpt from How to Be Jolly (not a real book, it's a book inside the book – read the book!). There's a sequel to the book, which I'm hoping will come next year in the subscription, which will be coming soon – The Girl Who Saved Christmas.
What did you think of this amazing Owl Crate JR. box? We thought everything was perfectly curated, just like the regular box, and wouldn't have expected anything less. Be sure to request notifications here for news about Owlcrate Jr.