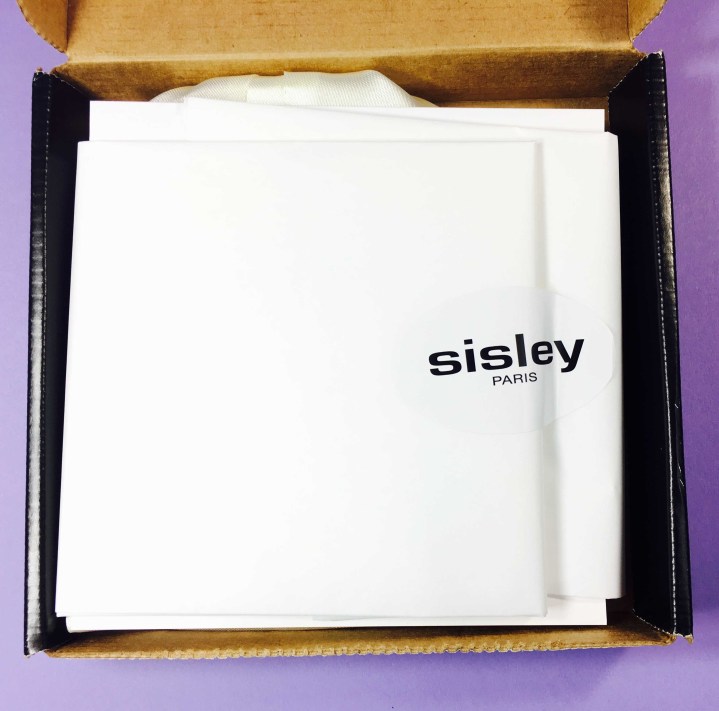 Sisley Paris Beauty Subscription is a monthly beauty subscription service starring 5 luxurious, expensive samples of products that would normally be found at upscale department stores such as Saks, Bergdorf Goodman, Neiman Marcus, Bloomingdales, or Nordstrom. It is $10 a month, however, you must sign up for either a 3, 6 or 12-month term. The 3-month term is $35 (until December 31st and works out to $11.67 a box), 6-month term is $60, and the 12-month term is $100 ($20 savings). When the term expires it will not automatically renew. Members of the My Sisley Club with either Gold or Platinum status should automatically receive the box as long as they maintain their status.
My products arrived in an unmarked black box with no return address. My items were wrapped in tissue paper and sealed with a sticker.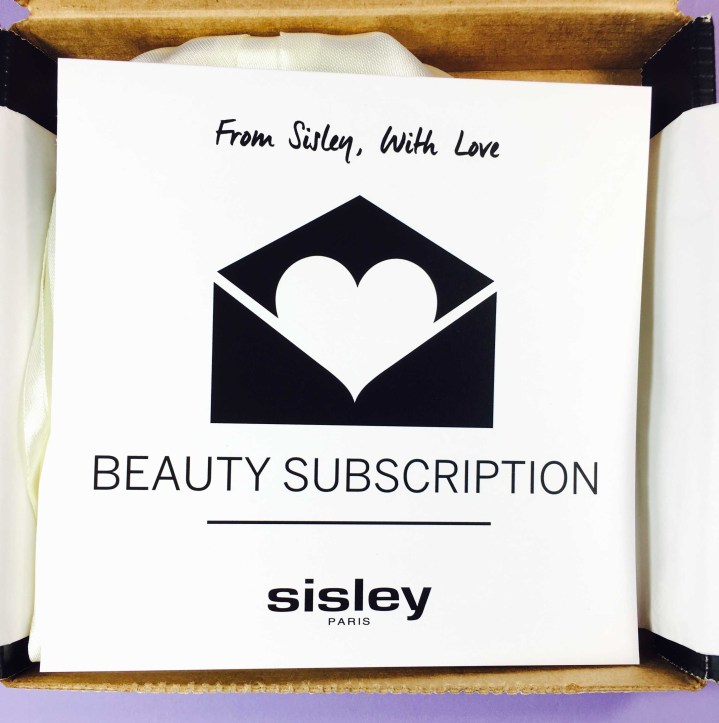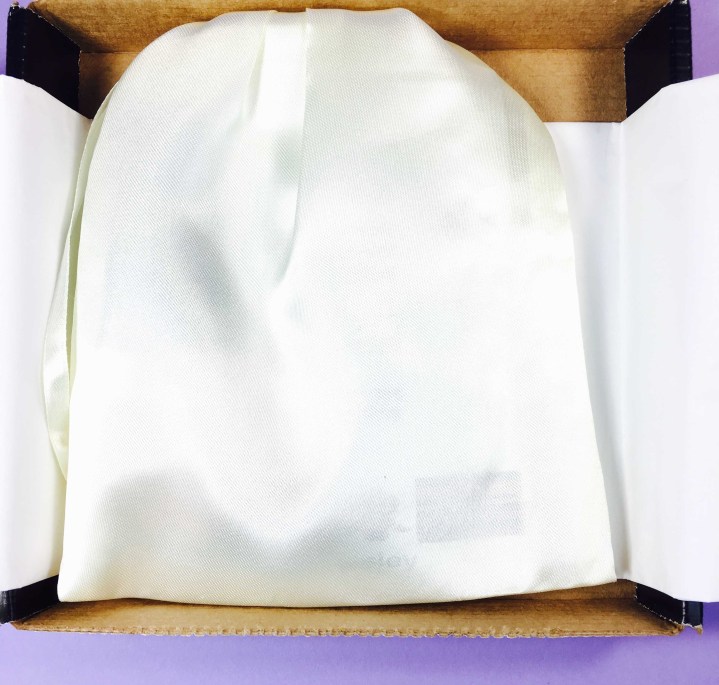 My products were inside of a silky drawstring bag. Sisley Paris claims to harness the power of plants to create the best cosmetics for your skin.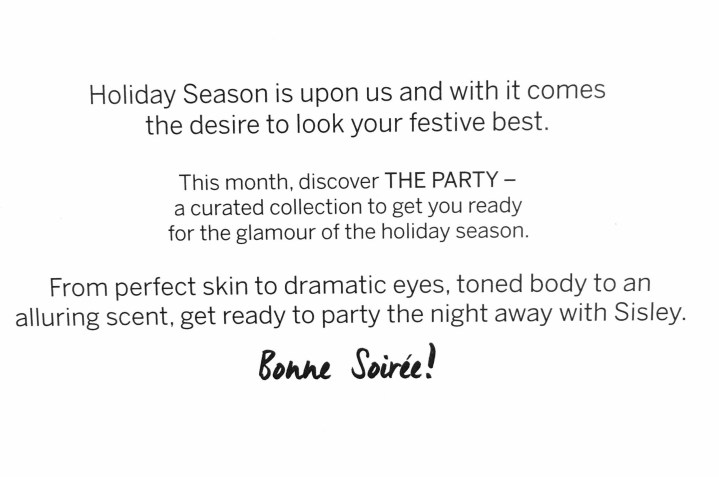 There was a welcome card that introduced the theme for November's box, which was "The Party".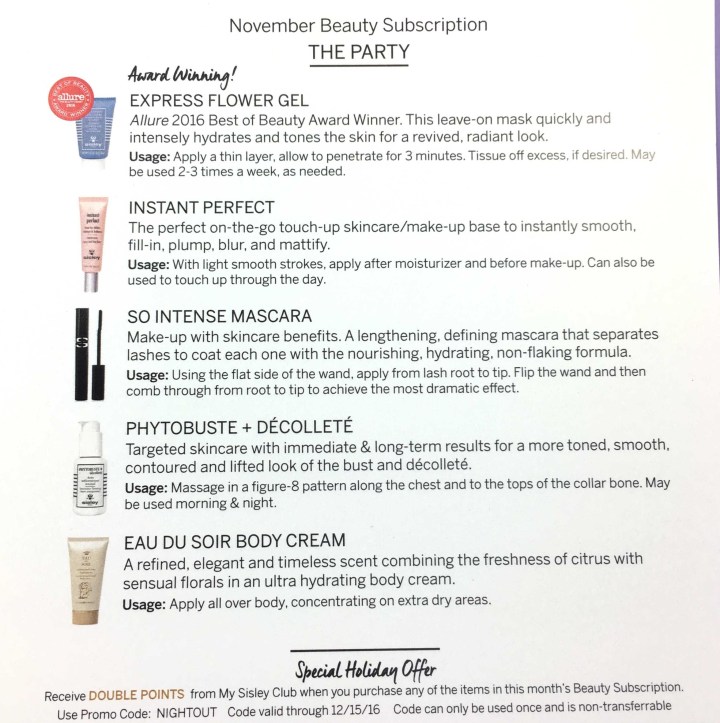 I love it when companies give instructions for using their products! Sisley Paris has it laid out nicely on their website too.
Everything in the box!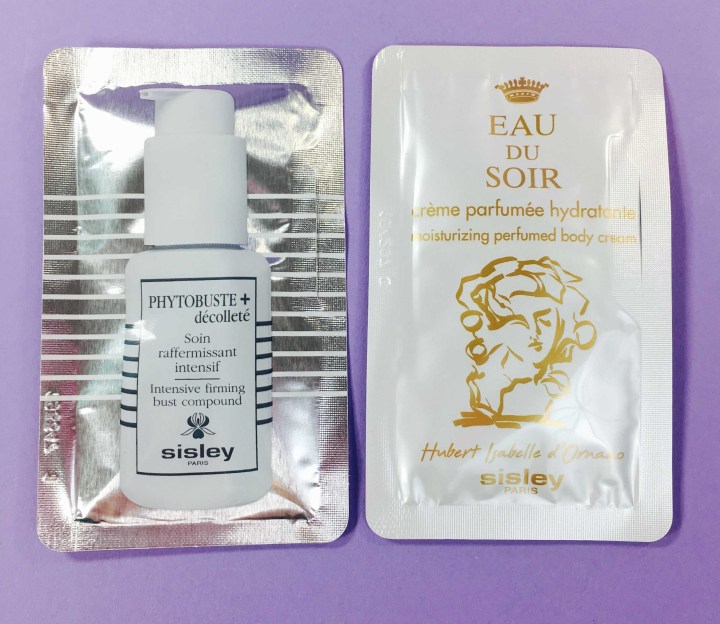 I've received several neck cream samples in boxes but one specifically for the bust was a nice change. Intensive Firming Bust Compound ($45.26) is designed to tone, firm, and moisturize this delicate area with oat seed extract, shea butter, and sunflower oil. Use a "cross my heart" figure eight pattern to apply (skip if breastfeeding) and use twice a day for 2 months to see some benefit.
I'm not sure how to describe the scent of Eau du Soir Moisturizing Perfumed Body Cream ($6.88). It's supposed to smell "refined, elegant, and timeless", like mandarin orange, ylang-ylang, and patchouli but reminds me of something old fashioned and that my awesome grandmother probably wore. It also lasts for a long time. I applied to the back of my hand hours ago and have washed them several times AND washed the dishes and I can STILL smell it. I love you grandma, but I'm not ready to smell like you yet!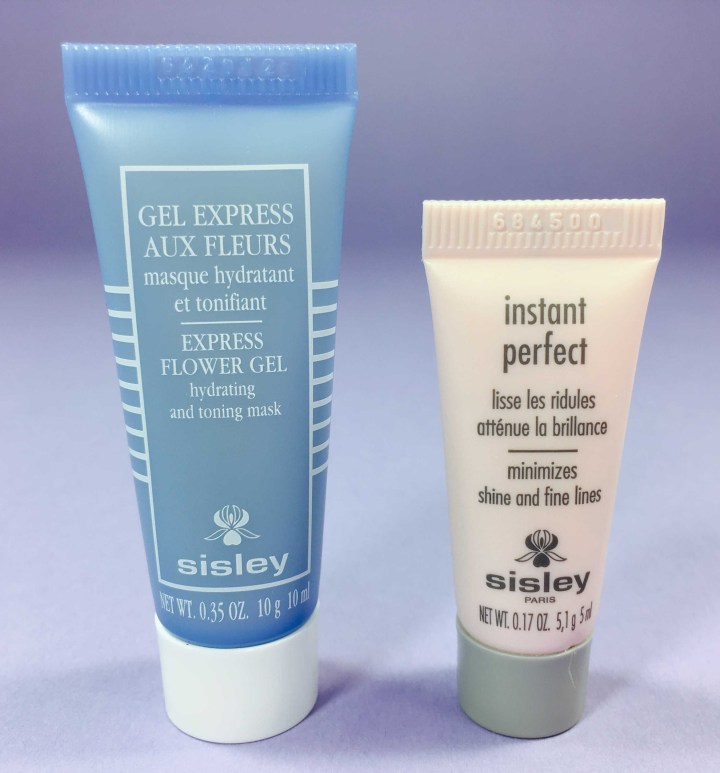 The Express Flower Gel ($22.79) is the first repeat item that I have received (it was also sent in July). It's a toning cream-gel mask that is good for dehydrated, sagging or tired-looking skin. Apply for 3 minutes two or three times a week on clean and dry skin and wipe away the excess. The scent was pleasant and minimal.
Instant Perfect ($17.49) is a "siliconated gel emulsion" that doesn't have that weird feel that some skin perfectors have (I have texture issues, so that's a good thing). It went on easily and didn't really smell like much (again, a good thing). I think it made my skin have a tiny bit of extra glow.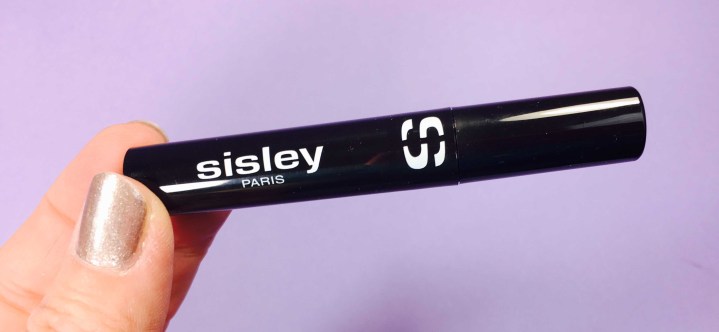 The regular price for the Mascara So Intense is $67; that's a lot of dough for something you should toss after about 3 months! I'm not sure about the value of this sample but I'm sure it's pricey so let's say $20? This volumizing and fortifying mascara has a unique applicator; you apply the product with the flat side of the brush and then comb through with the brush side.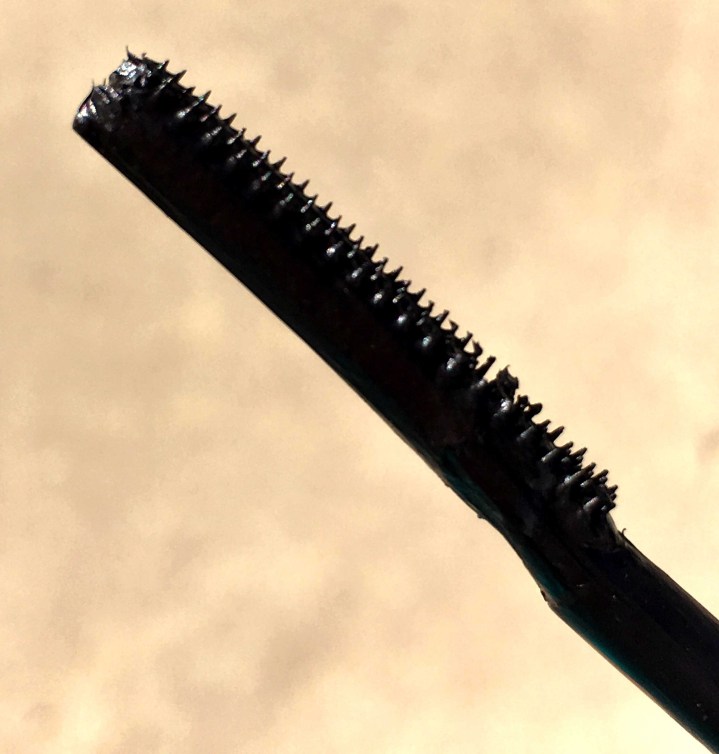 This was a little awkward to apply and I didn't notice any immediate changes in my eyelash length but supposedly by the end of two weeks, I should have longer thicker lashes.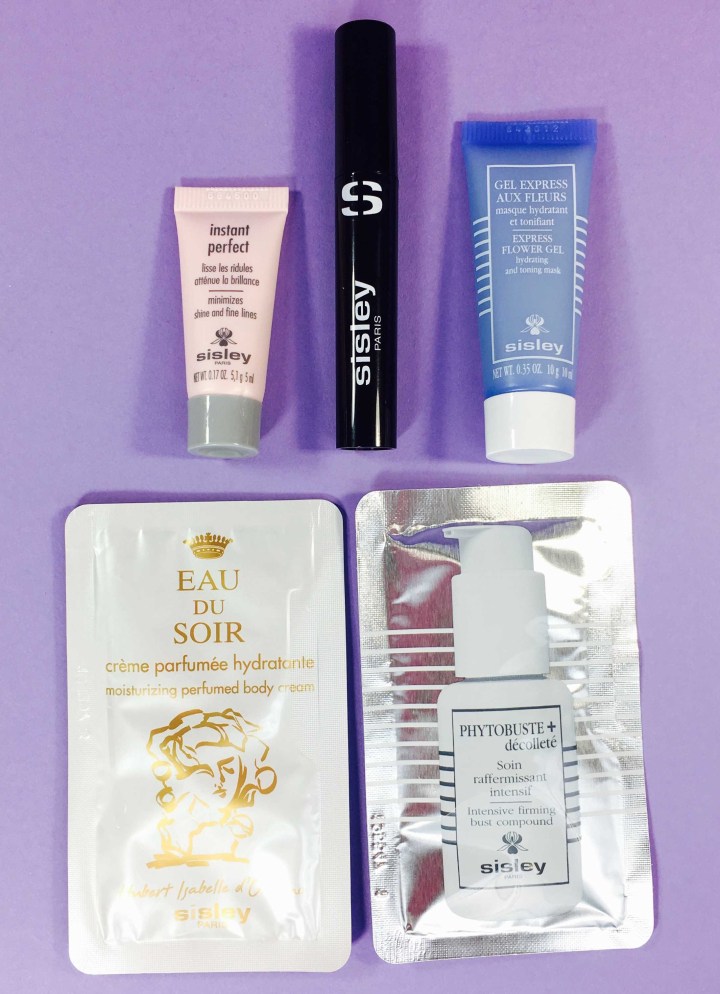 I always get a kick out of trying these products each month! I won't be purchasing them due to the price but for $10 a month I can splurge and not feel guilty about it. My November box had a value of $112.42! These samples won't last long but for a few days, I can enjoy a luxurious beauty experience. I enjoy trying anti-aging products and moisturizers so I would say this subscription is great for women with mature skin.
December's box theme is "The Winter Bundle" and will include "a curated collection from Sisley to provide your skin with the comfort, protection, and healing during this time of year." Sounds cozy!
What do you think of the Sisley Paris subscription? Have you tried any products from this company before?
Visit Sisley Paris Beauty Box to subscribe or find out more!