My Ireland Box is a monthly subscription box from Ireland filled with the best of Irish-made craft (artisan) goods. You can expect to receive Irish made jewelry, housewares, and craft and beauty products. They ship to the US, Canada, EU & Australia (anywhere with a significant proportion of people with Irish last names live!). This box ships from Ireland!
This box is always so neatly put together, and of course, the green tissue is necessary!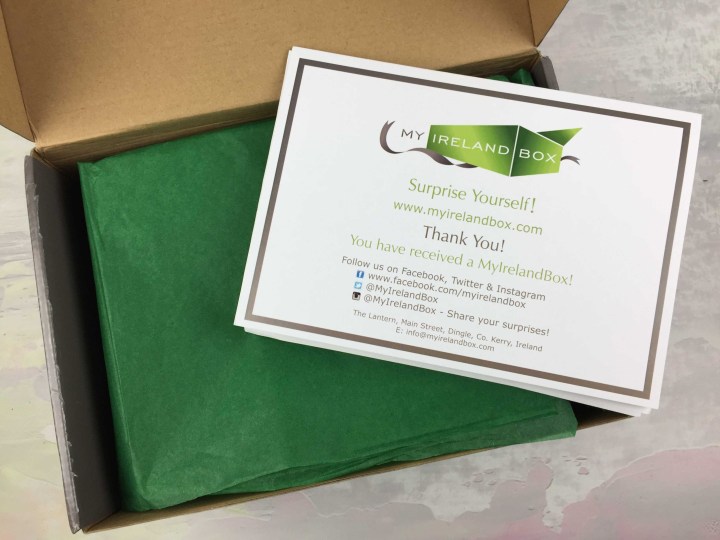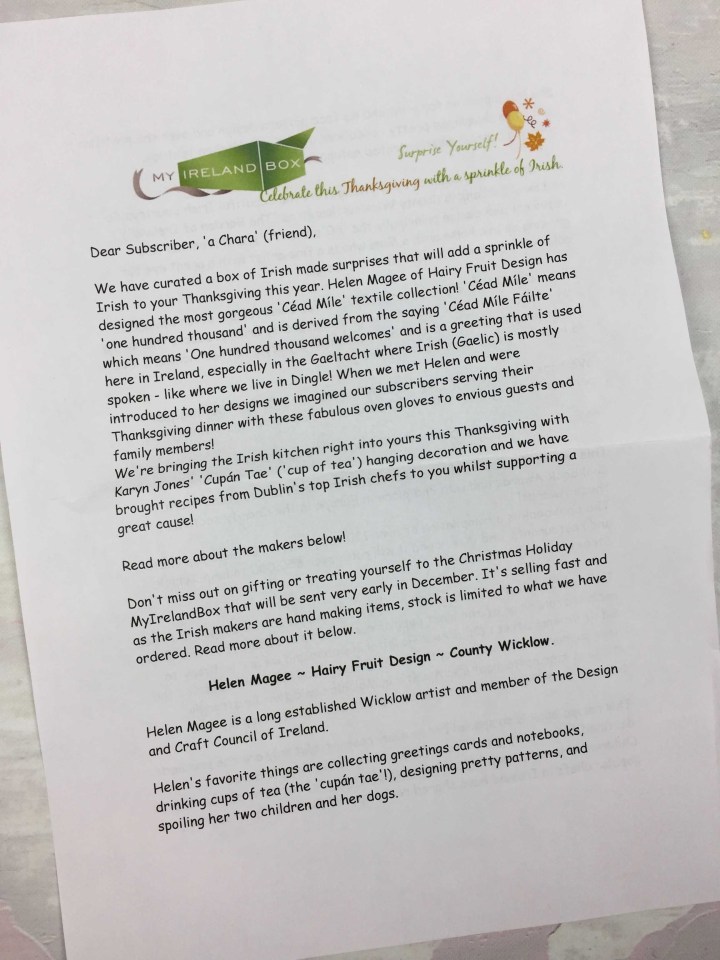 A letter containing extensive information about each product and its maker/designer comes with the box.
We really like their information sheet because it gives each item a real sense of place and we get to learn about the influences of each item, the inspirations of the designer, and more! It is really one of the most detailed information sheets you'll ever see in a box.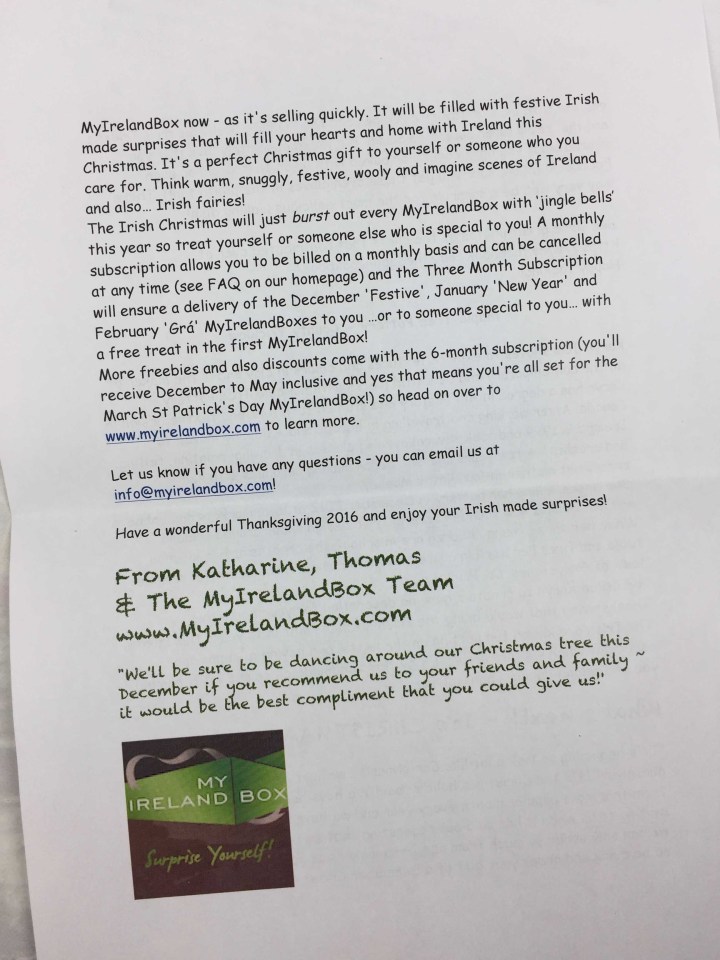 The last pages of the curator letter lists upcoming spoilers for the next three months. November is Thanksgiving, and December is, of course, Christmas-themed! January is New Year-themed!
All the contents of the November box!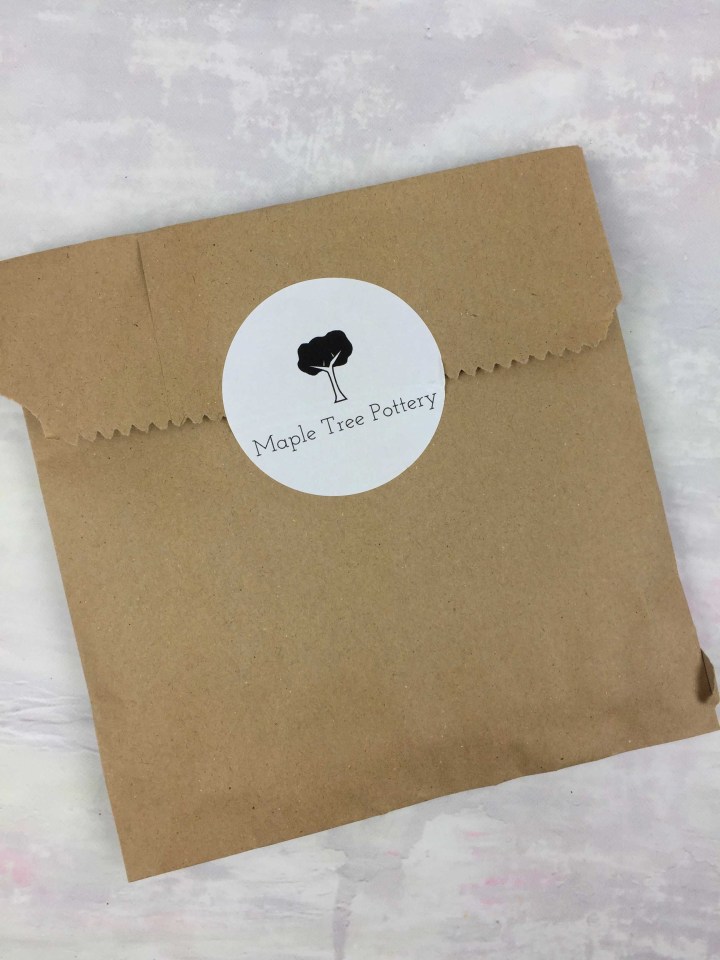 The first item was from Maple Tree Pottery, from the town of Greystones in County Wicklow.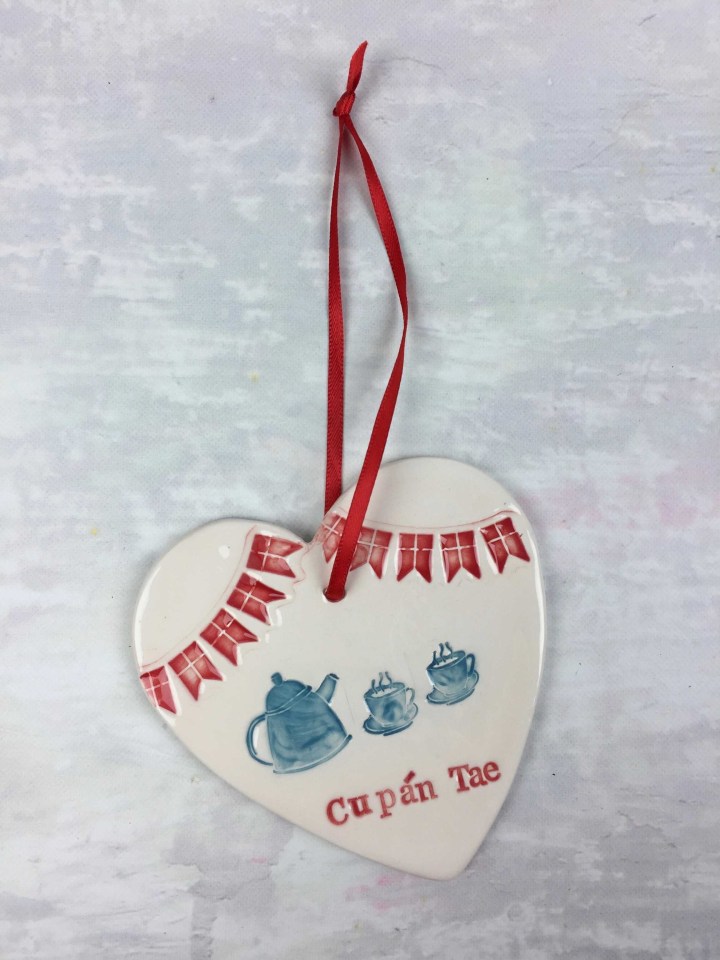 Maple Tree Pottery Hanging Decoration:  Perfect for hanging in the kitchen, breakfast nook, or as a Christmas ornament.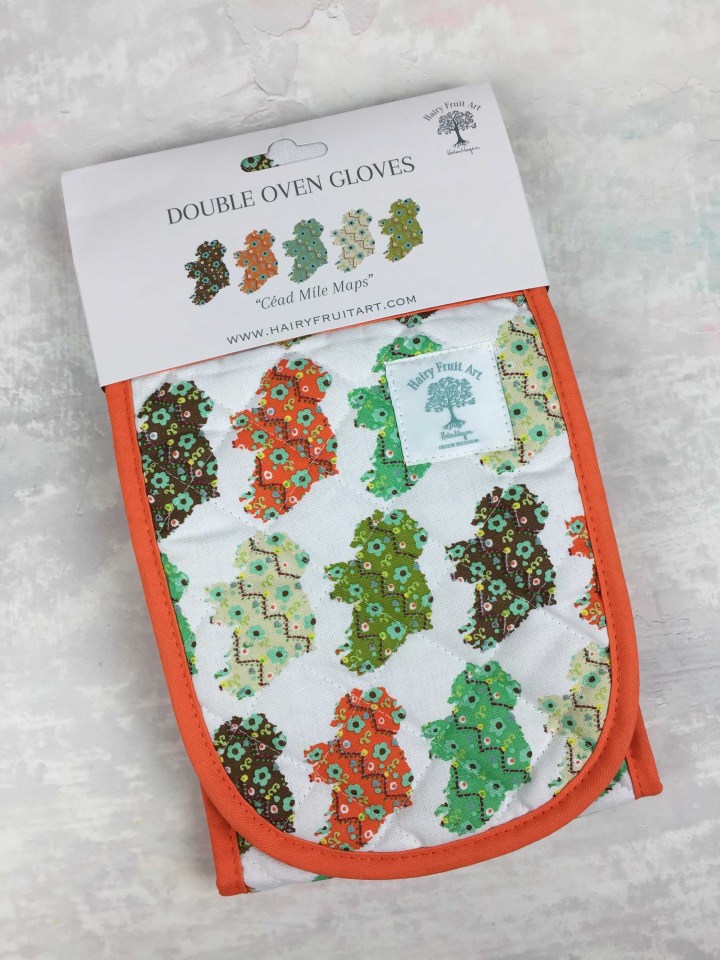 Hairy Fruit Art Double Oven Globes:  This is an incredibly useful item.  The pattern has lovely flowered silhouettes of the Emerald Isle.  If you look at them sideways, they also look a bit like a miniature schnauzer in need of a trim!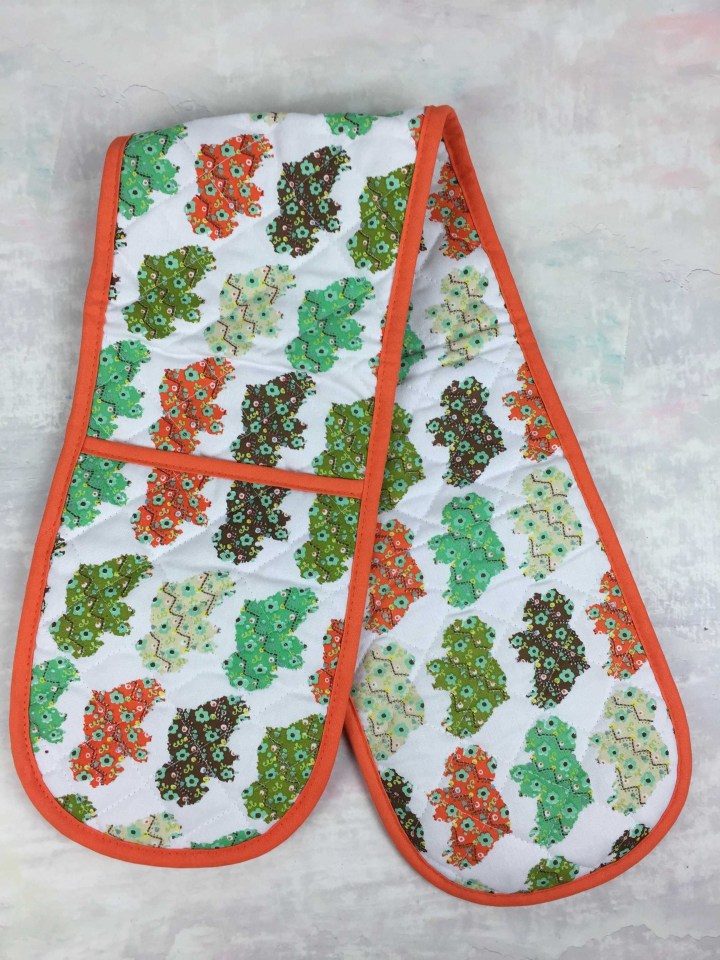 This single band of quilted fabric has pockets for each hand, while the middle section protects your forearms and tummy when handling unwieldy dishes.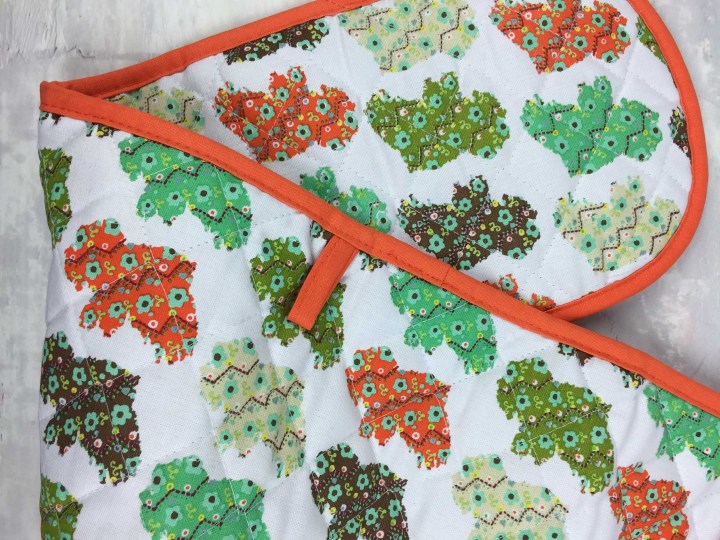 It includes a tag for hanging.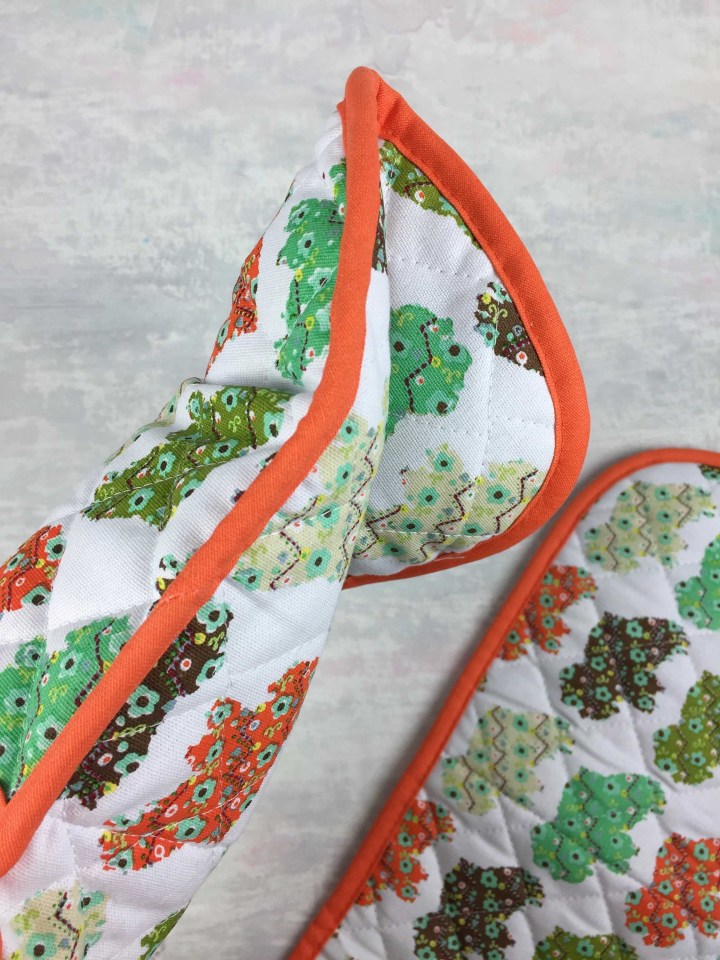 Great as a set of oven mitts, but the size also makes it perfect for using like a runner-shaped trivet.
The Dublin Cookbook (€15):  This very dense cookbook showcases some of the best in Irish dining.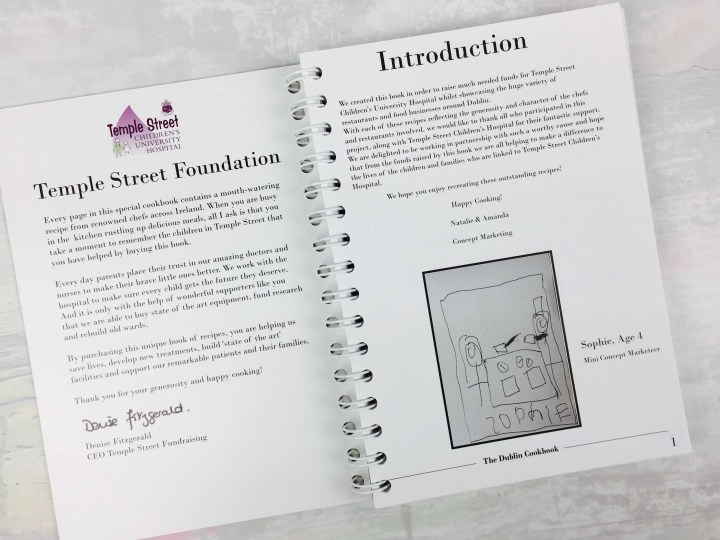 Sales of the book support the Temple Street Foundation and Children's University Hospital.
The recipes are set out in text with great detail.  It is not a lavishly illustrated cookbook – it's style is much like the recipe compilations that community groups, schools, firehouses, etc put out.
The recipes cover all manner of dishes, just be prepared to do your metric conversions!
I like the Ireland Box formula – we usually receive an Ireland-themed book, a craft, and a textile item.  The selections are lovely and distinctly Irish.
What did you think of this month's selections?
Visit My Ireland Box to subscribe or find out more!