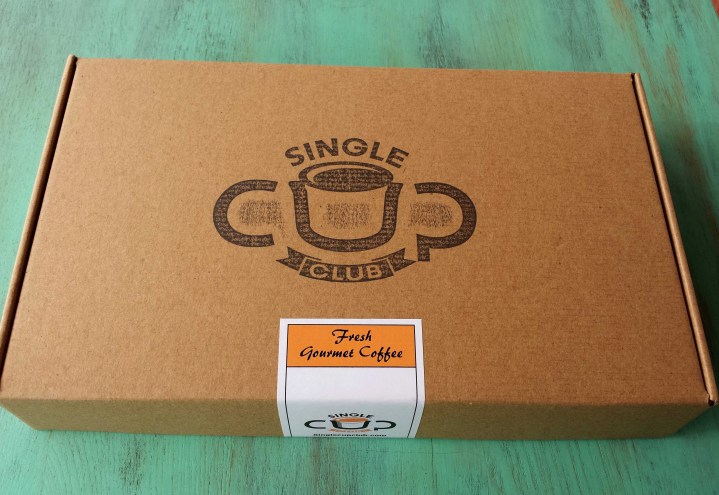 Single Cup Club is a subscription coffee service that allows you to experience the world of small batch roast coffees with the convenience of K-Cups.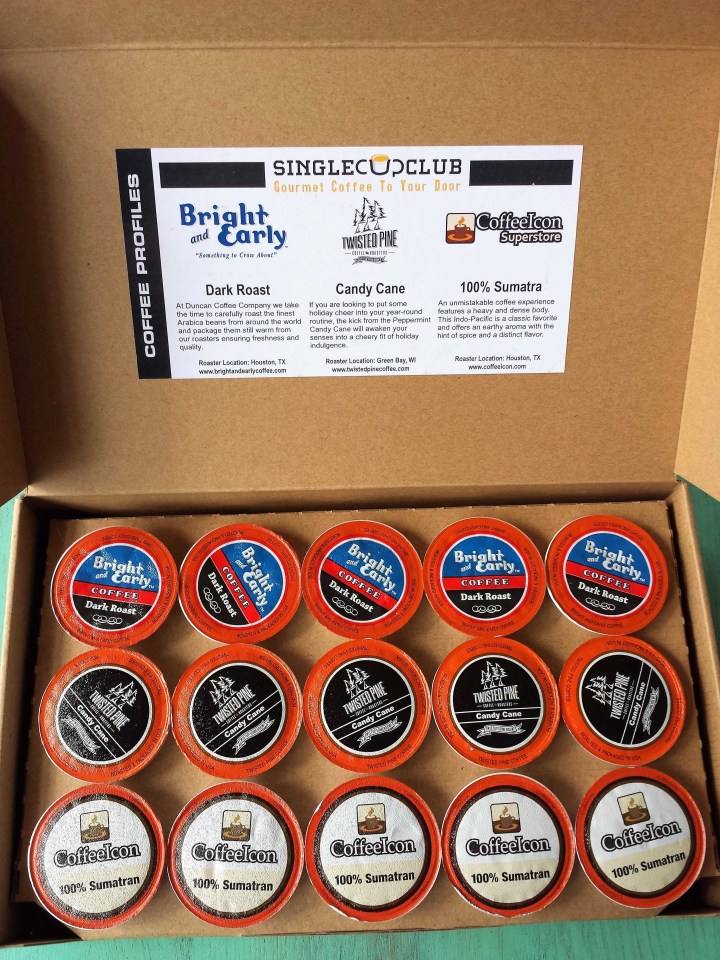 DEAL: Get your first month of Single Cup Club for $10 – use coupon code BOX10.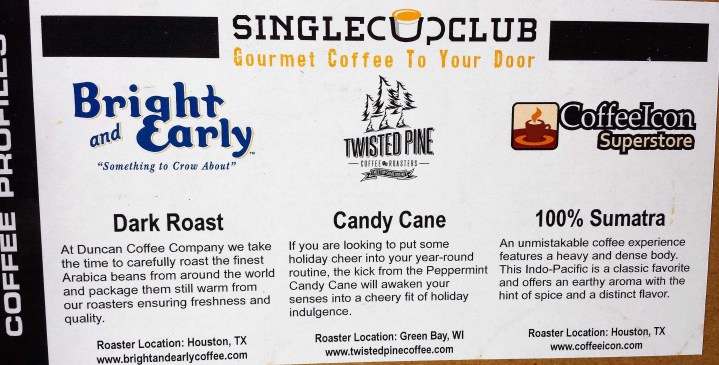 Every month you receive 15 K-cups in three unique blends. Each shipment introduces you to three new varieties of coffee to experience. If you subscribe month to month, the cost is $12.99 a month, but if you pay for one year at a time the price drops significantly to $8.99 per month. Shipping is a flat rate of $3.95 in the US.
The underside of the box lid gives a detailed description of each coffee variety. Also, all of their K-cups work with all Keurigs on the market.
The K-cups came nicely packaged in this cardboard box with holes cut out for the cups. I think it would be perfect to reuse to package mini cupcakes for a gift!!! Reuse and recycle. (The used K-cups are perfect for starting seeds in for your garden and you can add coffee grounds to compost too!)
The first variety of coffee was a Dark Roast from Bright and Early Coffee. Bright and Early Coffee is owned by Duncan Coffee Company, a family owned Texas based business that has been roasting coffee since 1918. "At Duncan Coffee Company we take the time to carefully roast the finest Arabica beans from around the world and package them still warm from our roasters ensuring freshness and quality."
This was a dark, full bodied roast with dark chocolate and cedar flavor notes. It was a good cup of coffee, which kind of surprised me because I usually prefer a medium roast coffee.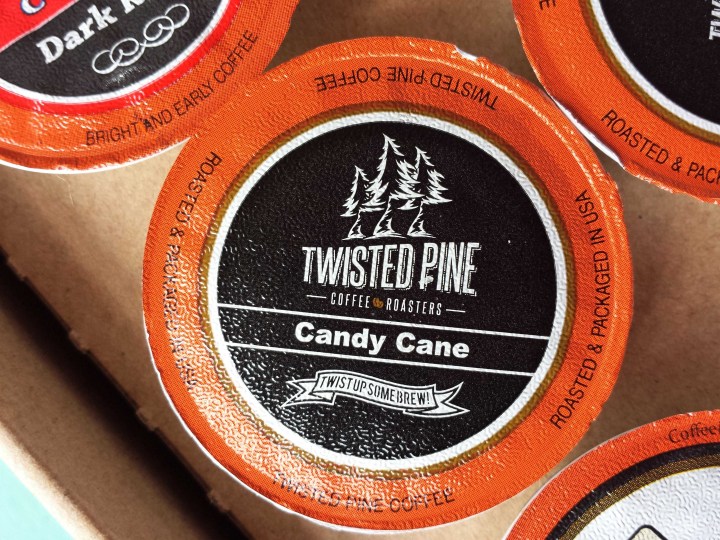 The second variety was Candy Cane by Twisted Pine Coffee Roasters. "If you are looking to put some holiday cheer into your year-round routine, the kick from the Peppermint Candy Cane will awaken your senses into a cheery fit of holiday indulgence. Made with 100% Arabica beans, the infusion of peppermint extract into this coffee makes it a great after-dinner coffee just as much as it works as a morning-pick-me-up."
This candy cane (peppermint extract infused) coffee required the addition of peppermint mocha creamer and a candy cane stir stick. It was the right thing to do. The mint was refreshing, but not overpowering. It was a great cup of coffee to start the morning with.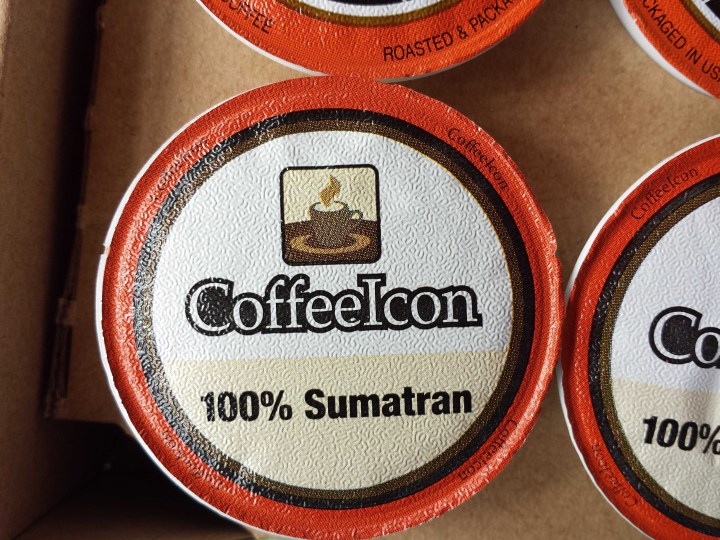 The last of this month's three varieties was a 100% Sumatran from Coffee Icon. "An unmistakable coffee experience features a heavy and dense body. This Indo-Pacific is a classic favorite and offers an earthy aroma with the hint of spice and a distinct flavor."
This coffee was exactly as they describe it. Unfortunately, the heavy dense body wasn't my favorite. Don't get me wrong, it wasn't awful, just not what I would reach for. Honestly, it reminded me of Starbucks coffee. Also, not my favorite, but to each his/her own.
The Single Cup Club Coffee Subscription is a great way to try out new coffee varieties with the convenience of K-cups. I especially enjoyed the Candy Cane variety from Twisted Pine in this month's box.