Scratch Monthly Mani Kit by NinaNailedIt is a monthly manicure subscription box that delivers an exclusive set of nail wraps designed by NinaNailedIt and handpicked nail art extras for only $10 a month (plus shipping).
Our kit arrived in this fabulous golden padded envelope!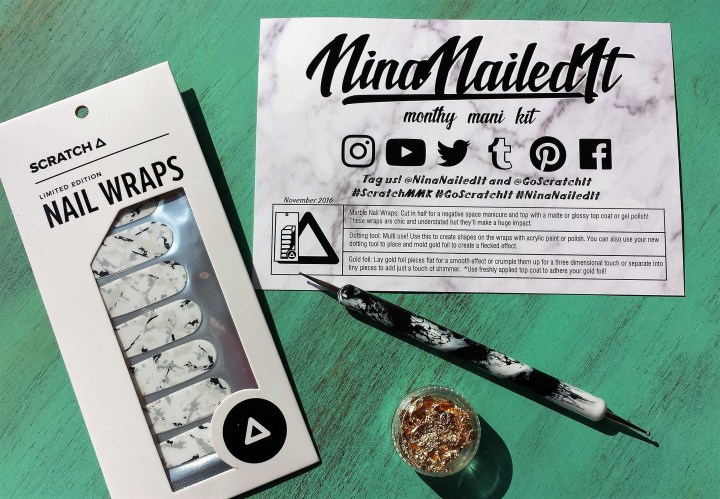 DEAL: Use code HELLOSUB20 to get 20% off the first kit (new subscribers).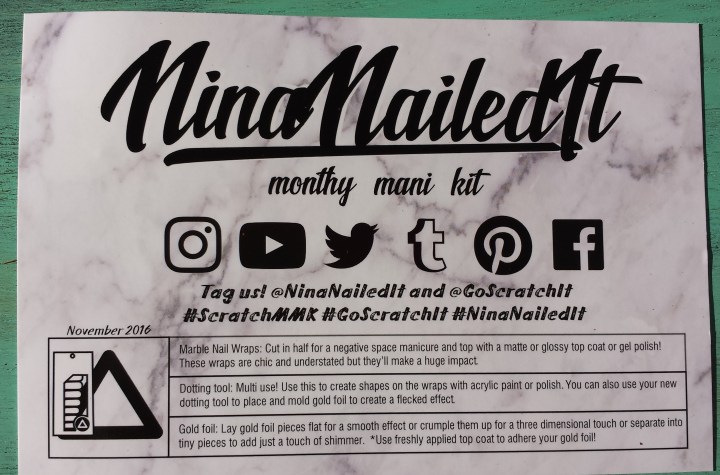 Each month's kit comes with a full set of nail wraps (16 wraps) that are designed by Nina herself. She has taken nail art to a new level and has gallery worthy nails, which she is now sharing with her subscribers!
This handy card was in the subscription box and included a product description for the included nail wraps and the accessories.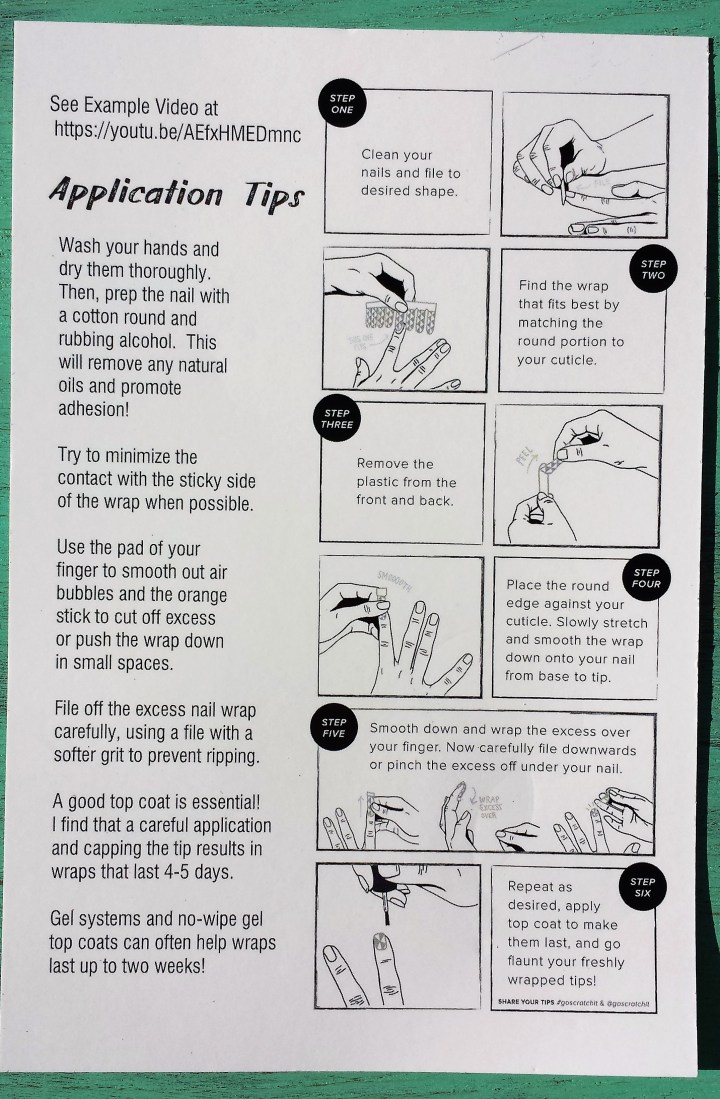 The back of the card had detailed instructions on how to apply the nail wraps, complete with illustrations. There is even a link to a handy instructional video. The nail wraps are made by Scratch and are screen printed on thin adhesive with 5free nail polish.
The nail wraps in the November kit were a Stone Marble print. They recommended using them for a white space manicure. I didn't even know that was a thing, but apparently you apply the wrap to the top half of the nail or part of the nail. I had never heard of it, but it looks great on the pics on the NinaNailedIt site. Each pack of wraps comes with its own orange stick and mini nail file for perfecting your look.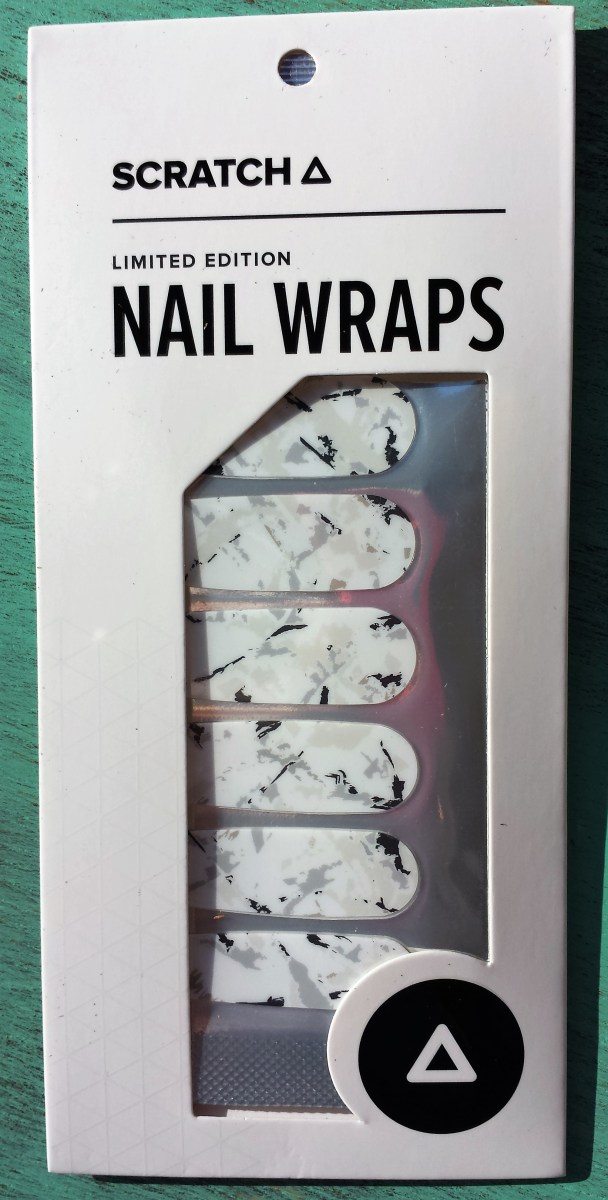 Check out that cute design!
The back of the package gives a little more information about the Scratch company. I like their philosophy (expressed in more detail on their site) that the wraps don't make you prettier, but they are a tool to express yourself.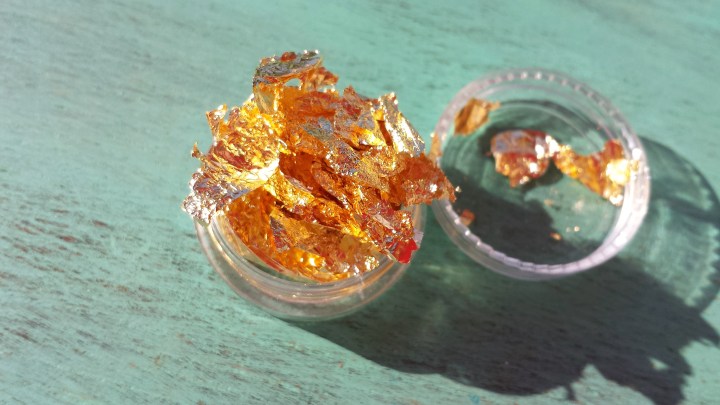 This wonderful little container of gold leaf was in the kit.  Again, I didn't know this was a thing. (I don't get out much.)  But, this stuff is fabulous!!! You just paint your nail and then pick up a flake of this stuff and push it into the polish.  Once it dries in place, you can brush off any excess and add a top coat of clear or translucent polish.  This was great for adding to the tips!!! Check out my bling-bling pedicure further down!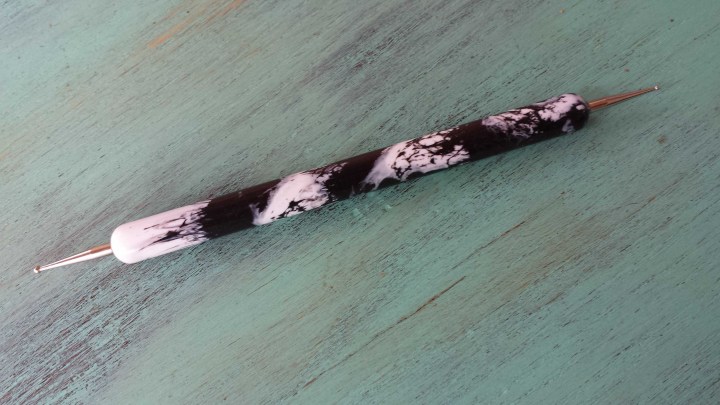 This tool was in the kit. You can use it to place the gold leaf, to add dots to paint or just to smooth edges. It is a high-quality tool and the marbled pattern on it even matches this month's nail wraps.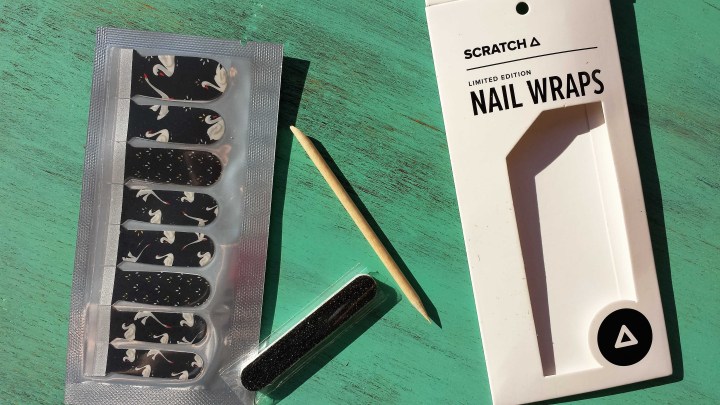 NinaNailedIt also threw in a spoiler for the December box!!!  These cuteness of cuteness swan wraps are coming up in next month's kit.  I just love them!!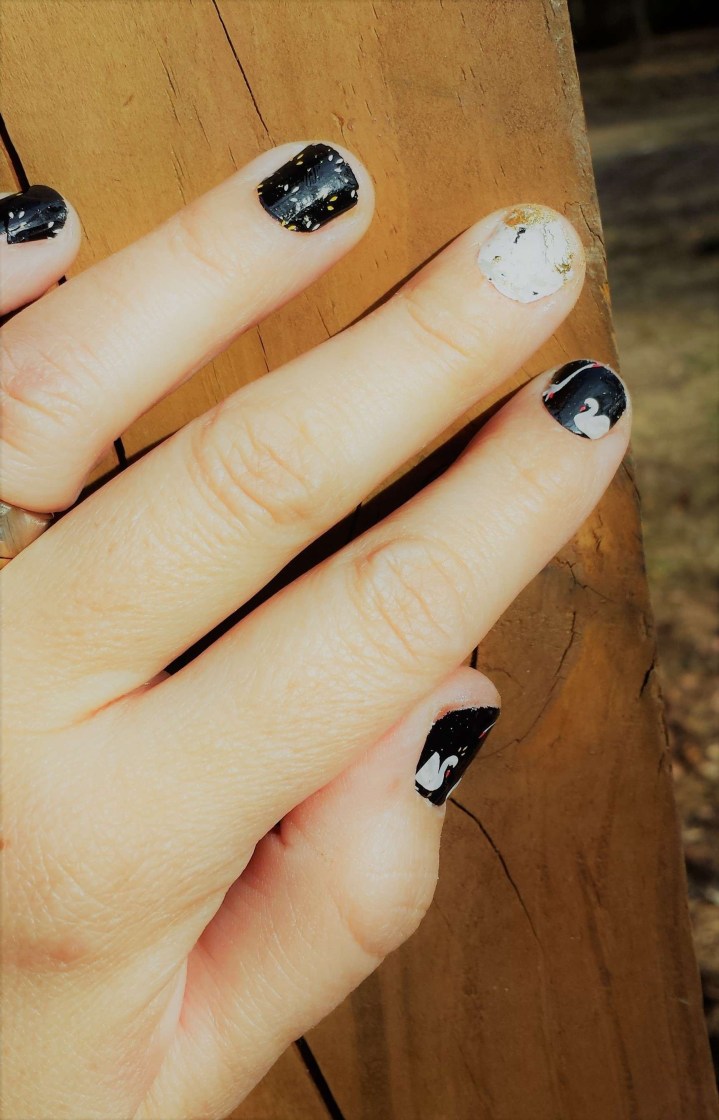 I use my hands a lot!!! (Like a construction worker.) So, my nails are short and usually not very pretty. I loved how quick these went on and not having to wait for them to dry (you do put on a top coat, but it dries quick and is clear so you don't have to worry so much about smudges.)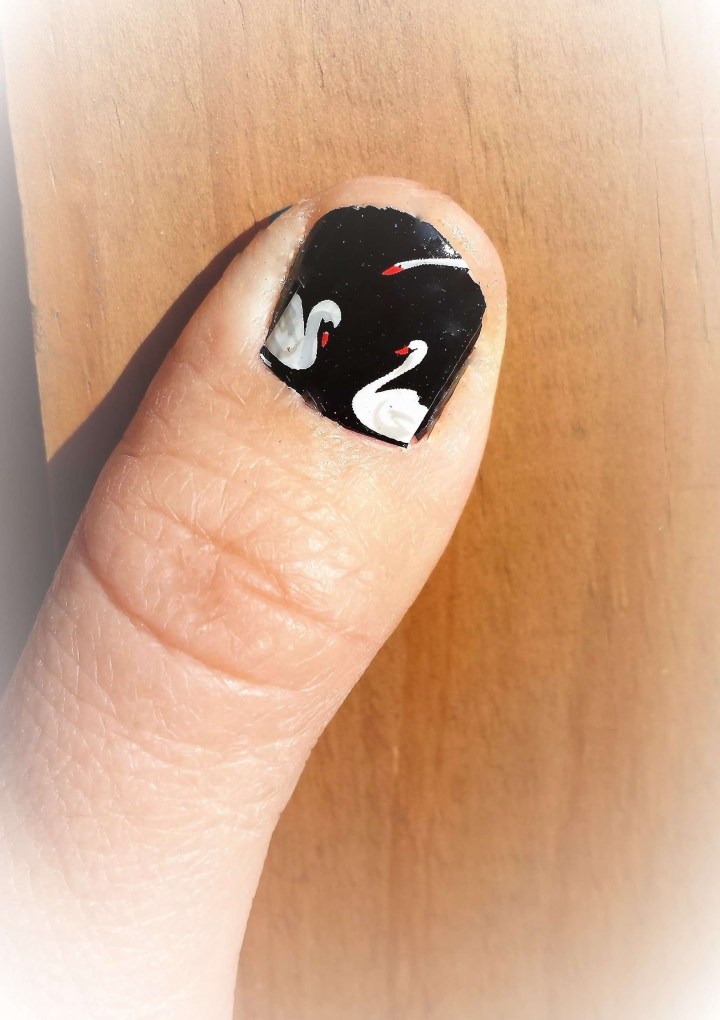 With all the torture I put my nails through, most of them lasted 2 days. (Really, that's not bad when you are doing lots of manual labor.)  But, this thumb nail is on its 5th day and still going strong. Woohoo!!! Aren't those swans pretty?
Pay no attention to my otherwise hideous foot, but I love the wrap pedicure!!! There was more than enough material in one package to do my manicure, my pedicure, and pedicures for two daughters. There is still a little left – careful cutting makes them go a lot further.  I added the gold leaf to the tips of my toes and I loved how it turned out. I feel all fancy.
The Scratch Mani Kit by NinaNailedIt is great because they go on easy and they are exclusive designs made just for the subscribers!!! It's like wearing an art gallery on your fingers! Plus, where else can you get a manicure, a pedicure (plus two kids pedicures) for $10??!!
Have you tried the Scratch Monthly Mani Kit from NinaNailedIt?  How did you use the wraps to express your own style?