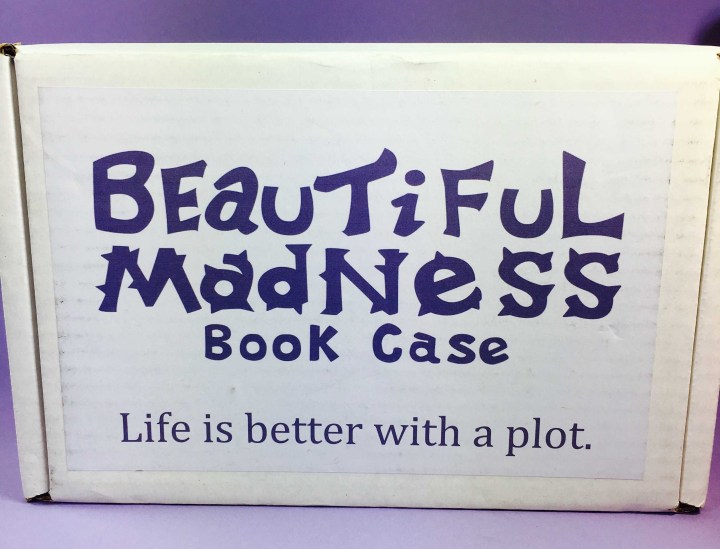 Beautiful Madness Book Case is a themed monthly subscription box from a former bookseller who wanted to offer something different. This box has a care package feel to it and will contain a book, a drink mix of some sort (coffee, tea, hot chocolate), a snack, and 2-3 items to complement that month's plot. BeMad is $39 plus shipping each month and there are discounts for 3, 6, or 12-month plans and all plans auto-renew. Some of the previous boxes are still available in their online shop as a one-time purchase.
DEAL: Save $4.00 off your first box! Use coupon code SIMPLYMAD.
In keeping with the literary theme, this box was called "Chapter Six: Lost in Space with a Good Book." Books sent may be fiction, non-fiction, or young adult. The product information card makes a great bookmark.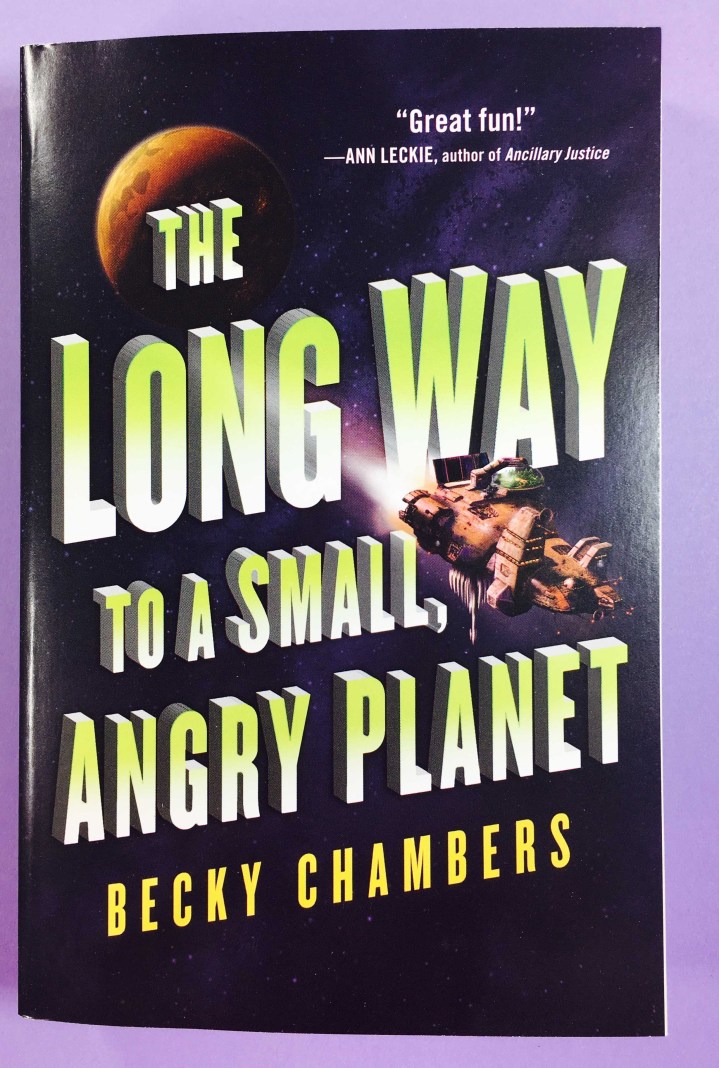 The Long Way to a Small, Angry Planet by Becky Chambers ($15.99 $10.08) is Book One of the Wayfarers series. It's supposed to be a "rollicking" road trip through space! This book has 4 1/2 stars on Amazon.
Follow a motley crew on an exciting journey through space—and one adventurous young explorer who discovers the meaning of family in the far reaches of the universe—in this light-hearted debut space opera from a rising sci-fi star.

Rosemary Harper doesn't expect much when she joins the crew of the aging Wayfarer. While the patched-up ship has seen better days, it offers her a bed, a chance to explore the far-off corners of the galaxy, and most importantly, some distance from her past. An introspective young woman who learned early to keep to herself, she's never met anyone remotely like the ship's diverse crew, including Sissix, the exotic reptilian pilot, chatty engineers Kizzy and Jenks who keep the ship running, and Ashby, their noble captain.

Life aboard the Wayfarer is chaotic and crazy—exactly what Rosemary wants. It's also about to get extremely dangerous when the crew is offered the job of a lifetime. Tunneling wormholes through space to a distant planet is definitely lucrative and will keep them comfortable for years. But risking her life wasn't part of the plan. In the far reaches of deep space, the tiny Wayfarer crew will confront a host of unexpected mishaps and thrilling adventures that force them to depend on each other. To survive, Rosemary's got to learn how to rely on this assortment of oddballs—an experience that teaches her about love and trust, and that having a family isn't necessarily the worst thing in the universe.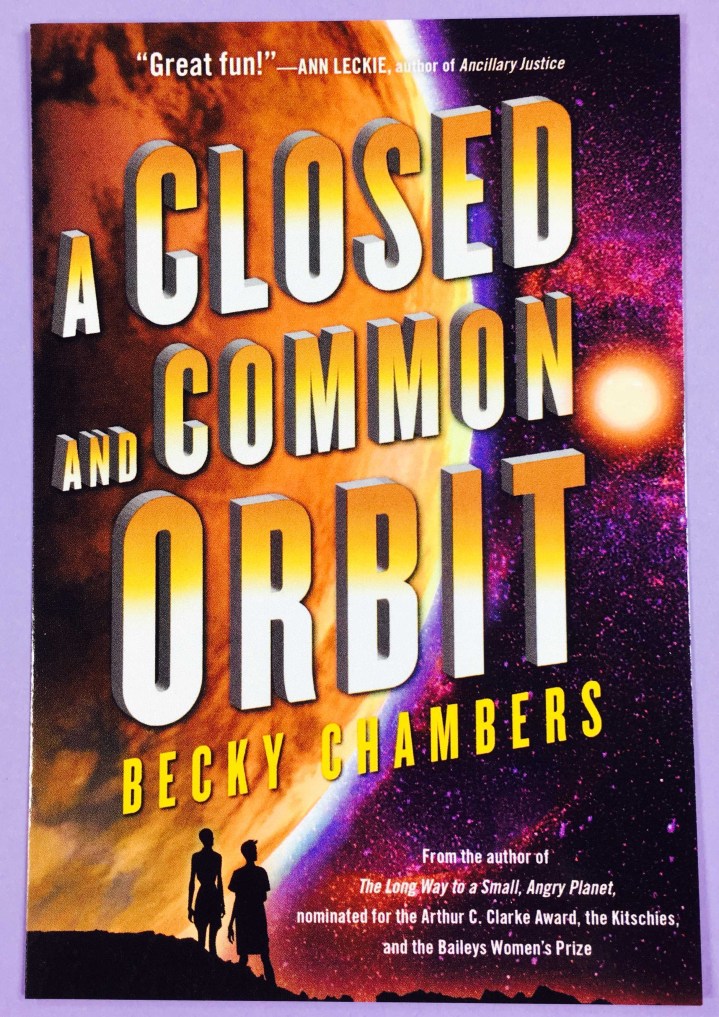 There was also a code to download an ebook version of A Closed and Common Orbit by Becky Chambers ($9.99 for Kindle). This is Book Two of the Wayfarers series and has even better reviews on Amazon than the first book!
Embark on an exciting, adventurous, and dangerous journey through the galaxy with the motley crew of the spaceship Wayfarer in this fun and heart-warming space opera—the sequel to the acclaimed The Long Way to a Small, Angry Planet.

Lovelace was once merely a ship's artificial intelligence. When she wakes up in a new body, following a total system shut-down and reboot, she has no memory of what came before. As Lovelace learns to negotiate the universe and discover who she is, she makes friends with Pepper, an excitable engineer, who's determined to help her learn and grow.

Together, Pepper and Lovey will discover that no matter how vast space is, two people can fill it together.

The Long Way to a Small, Angry Planet introduced readers to the incredible world of Rosemary Harper, a young woman with a restless soul and secrets to keep. When she joined the crew of the Wayfarer, an intergalactic ship, she got more than she bargained for—and learned to live with, and love, her rag-tag collection of crewmates.

A Closed and Common Orbit is the stand-alone sequel to that beloved debut novel, and is perfect for fans of Firefly, Joss Whedon, Mass Effect, and Star Wars.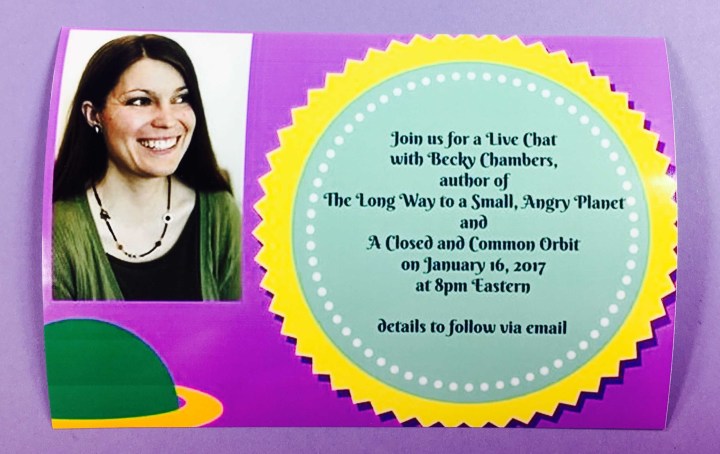 There was an additional card with information about a live chat with Becky Chambers, the author of this month's featured book.
There was a very generously sized bag from Out of Print featuring The Little Prince ($18). This bag is made of canvas and features a small inner pocket on the inside.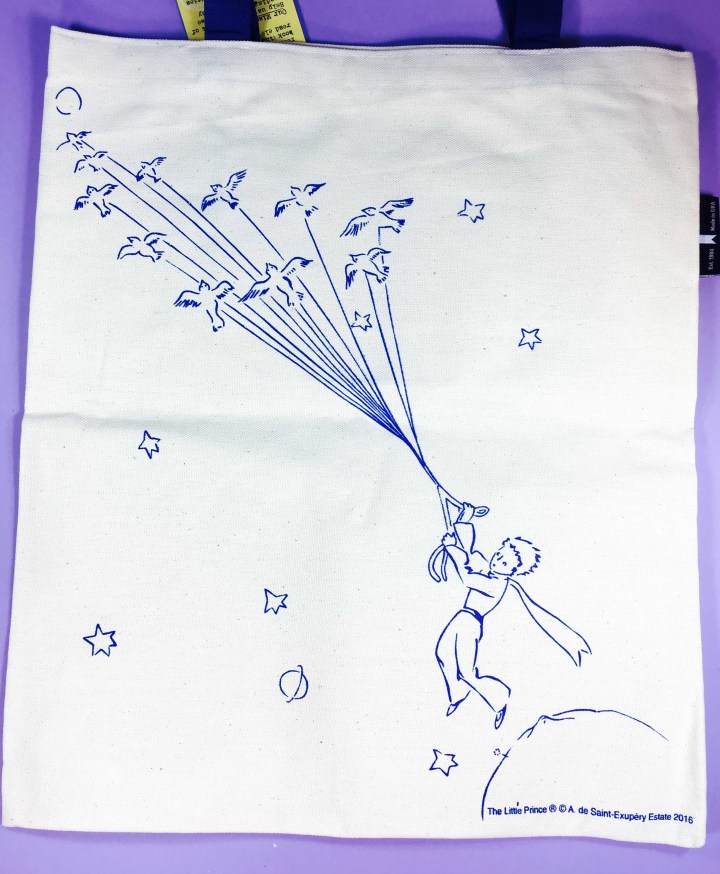 The backside of the tote is also illustrated and I plan on putting it to use immediately.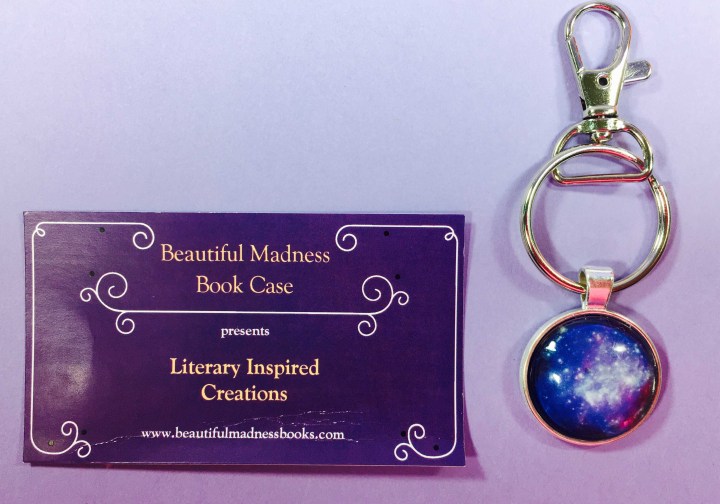 I found a Galaxy Pendant Charm similar to one I received in the box on Etsy here for $12.
This charm has what looks like a nebula print and is in pretty blue, purple, and rose shades. If I don't wear it as a necklace then at the very least it will make a nice keychain.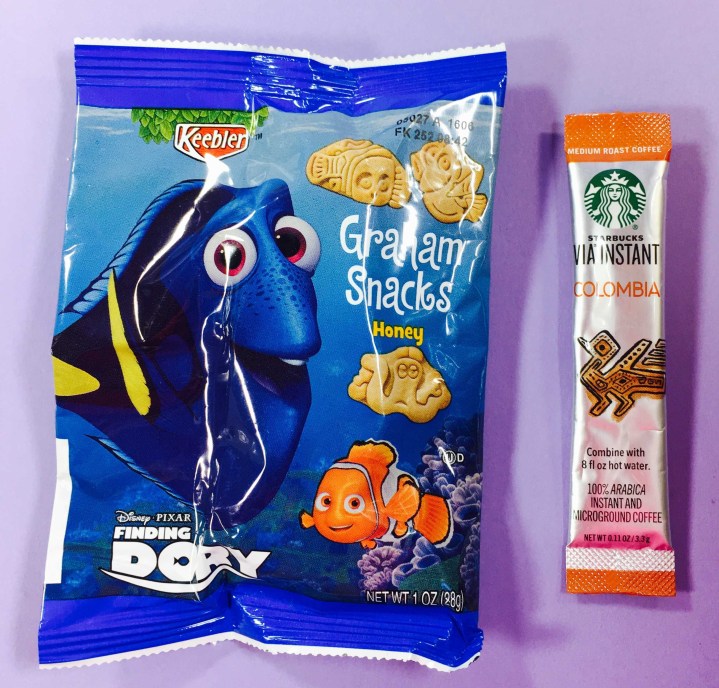 Beautiful Madness always includes a snack and a sip. I passed the Finding Dory Graham Snacks (42¢) to my daughter and will use the Starbucks Via Instant Colombia Coffee (83¢) to make a mocha latte one cold morning.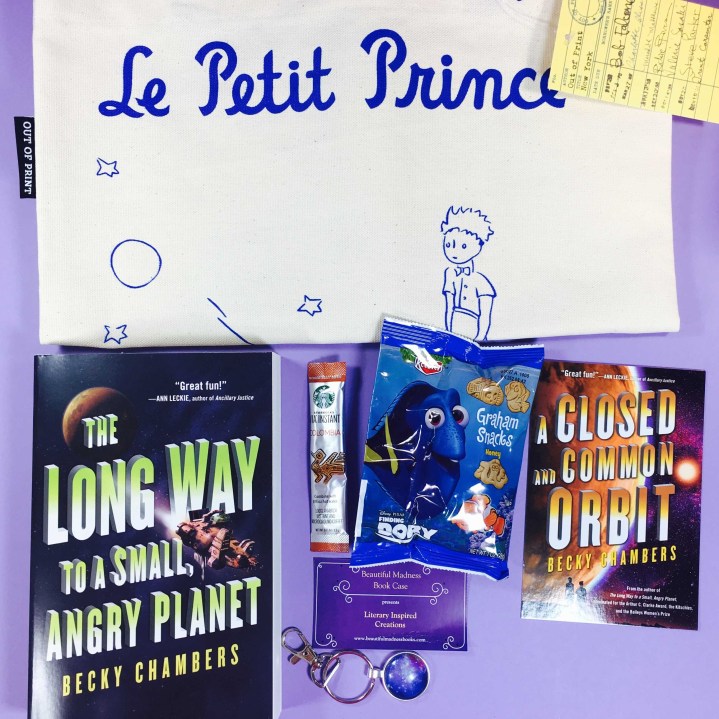 This was an out-of-this-world box from Beautiful Madness! I will get a lot of use from the tote and the pendant/keychain is cute. I like that this month's books are recent and have great reviews online. The items fit the space theme well but without matching the book exactly. This month's value was around $51.32 and the quality of the products was solid too. I'm always happy when this box shows up in my mail because I know I'm in for a special treat!
Next month's theme is Space Buns, Nerf Herders, and Rebels and I can't wait!
Visit Beautiful Madness Book Case to subscribe or find out more!