Planner Packs is a monthly subscription box of hand picked planner supplies! You'll receive planner addict supplies like pens, markers, stickers, washi, and other planner embellishment items! Decorating your planners is a big thing right now and I have so much fun creating new looks and using stickers.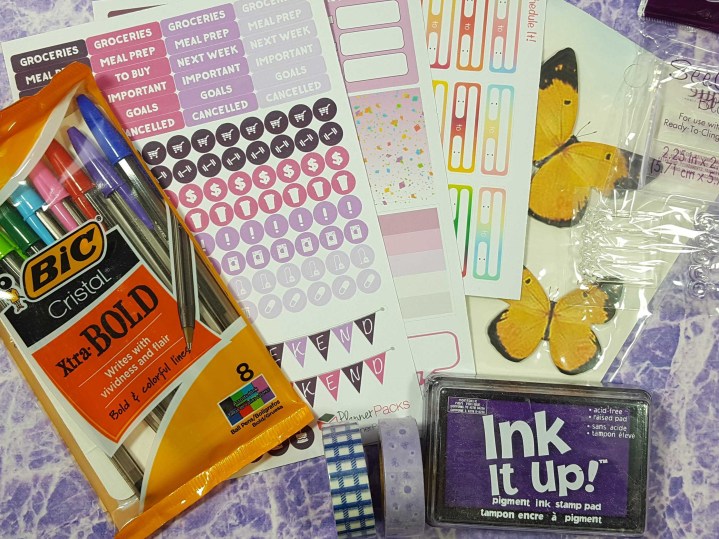 DEAL: Use coupon code CRATE15 for 20% off your first month of Planner Packs!
Everything that came in my December box. This box is so purple and it makes me so happy. If you can't tell I love purple and there is a lot of it in the box this month.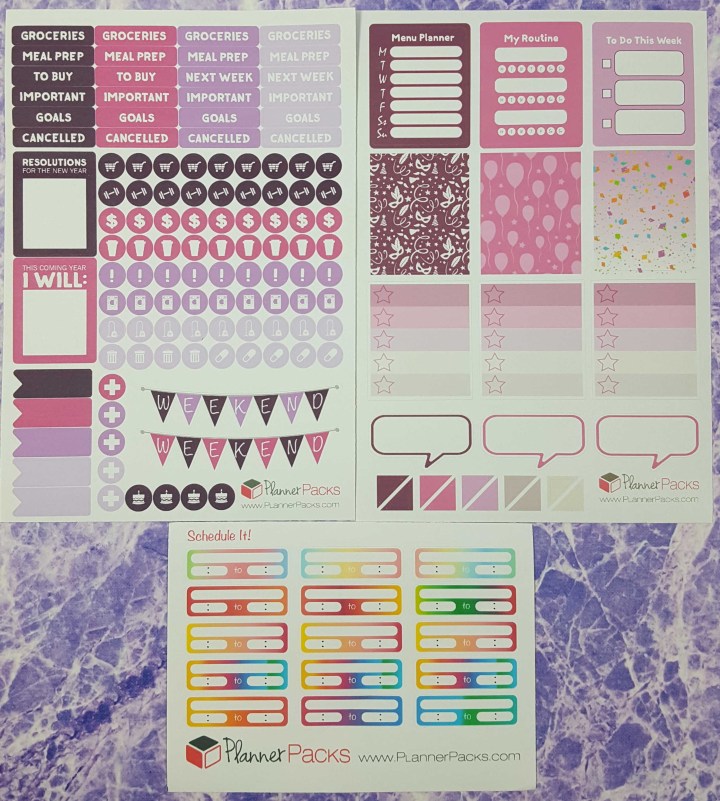 Pretty planner stickers. So much purple and I can't wait to put them in my planner. I'm also loving the schedule stickers. That is a great idea and I really want to use them when I plan my spring TV schedule. They will be perfect for when all of the season premieres start back up or maybe when the season finales are on. So many choices and great uses for stickers like this.
Washi is always welcome in my house. The purple flowers and bows are a little springy for a January layout but it will be fun for springtime and while the plaid looks blue in my picture when you put a piece off it is more of a deep purple. I love this and will use it a bunch.
To work on a planner you will always need some ink. This month Planner Pack sent a whole pack of Bic Xtra-Bold Pens ($5) and a Purple Ink It Up Inkpad ($2.00). I'm a bit of an ink pad snob but I keep these for my boys to use when they want to get crafty. I do love these pens and tore right into them as you can see. I actually could not wait to get all the pretty colors ready to go. I do love that they sent a stamp pad since they sent stamps and not everyone has the large collection I already do.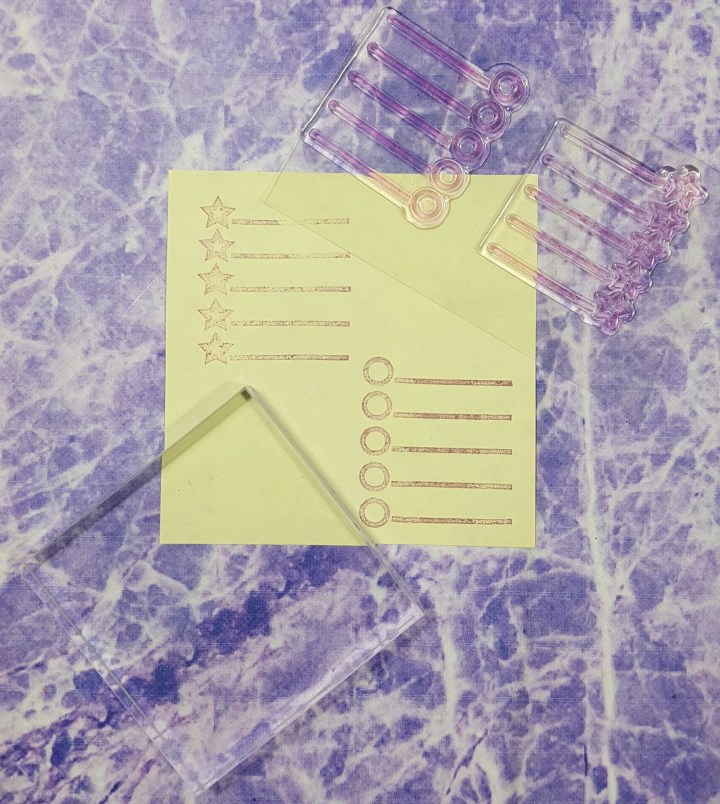 Eeehhh, I was very excited when I saw these in the box. To go along with my large inkpad collection. I also LOVE stamps and I love using stamps in my scrapbooking, card making, and planner decorating. The stamps they sent will make getting a checklist all set in my planner. I'm a huge list-maker and being able to check them off as I go is super exciting. These are great for that and the acrylic stamps worked great with the included block and ink.
These are like butterfly post-its and are really pretty if a bit dark to actually write much on. They are very pretty and since they are shown as home decor I'm thinking they will look great on a gift bag and since I  just got a bunch of plain brown ones so I could decorate them these will be so pretty there.
Planner Packs box sent out some great items to really start decorating my new planner with this month. I love the color scheme and all of the purple.  It is a color I will really use and I love the stickers that will be good for all around usage.  I've never seen the scheduling style stickers and they make me smile since they really do remind me of TV and I love TV.  Getting a whole pack of colorful pens is also great. I love when planner boxes send pens since you have to have pens to write in your planner and getting a whole pack of multiple colors is a great way to kick off the year.
Did you get this month's Planner Packs? What did you think about the goodies in this months box?
Visit Planner Packs to subscribe or find out more!