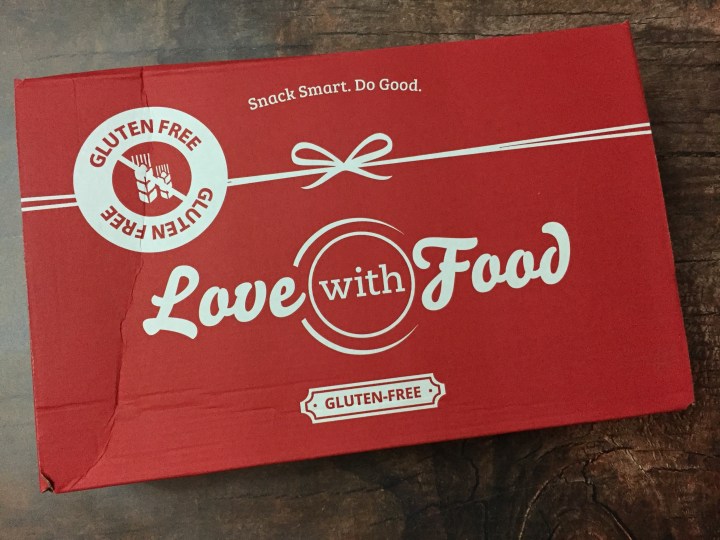 Love with Food is a popular snack subscription that now carries a gluten-free option! It is a fun snack discovery subscription available in three versions: classic tasting box, deluxe/family size, and gluten-free. This version is the gluten-free box, but you can see our reviews of the other versions too. You might not know it from all of the more adventurous Japanese snack boxes I review, but I actually do have a sensitivity for gluten (along with a laundry list of other ingredients) so I have to be careful how much of it I consume. When Love With Food started shipping internationally, this was great news for me!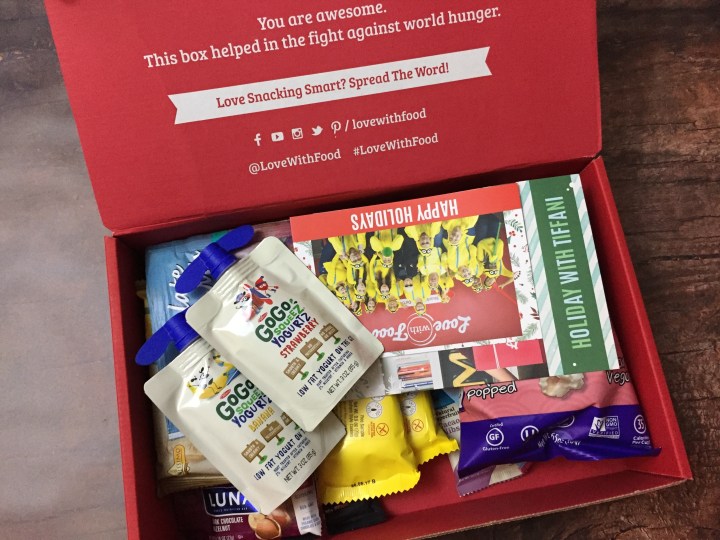 DEAL: You can save 25% on your first Gluten-Free box by using this link, no coupon code required!
My box always arrives mid-month. They don't include details on the product card, but the info is available on their website.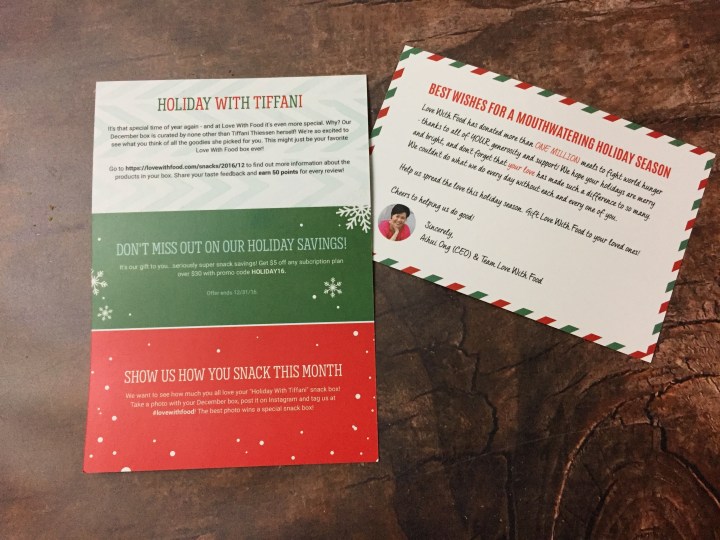 Here's the reverse!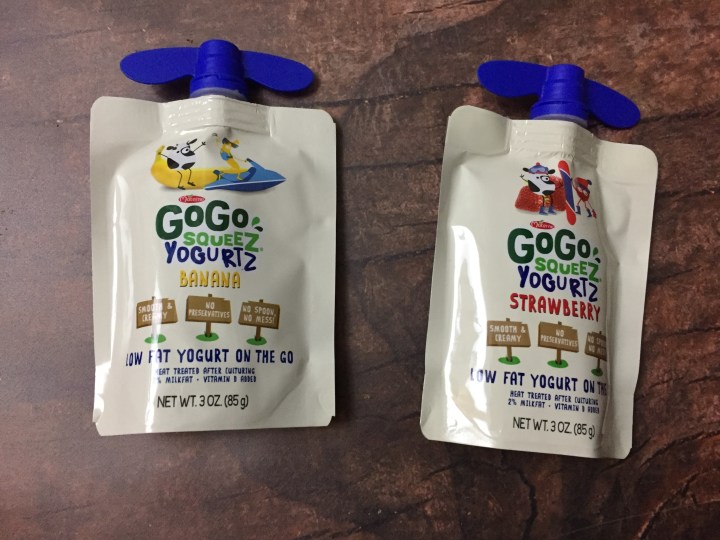 GoGo SqueeZ Yogurtz in Banana and Strawberry. These are gluten-free, soy-free, and vegetarian. I really liked the strawberry but the banana had a synthetic flavor to it even though it's all natural.
Pamela's Chocolate Brownie Mix. Boo, whenever something is dairy free that usually means it has soy in it instead – and that's the case with this brownie mix. I will probably take these with me to Christmas eve at my parents' for everyone to enjoy.
Himalayan Pink Salt Popcorn. Light popcorn with just a touch of salt – this satisfied my salty craving nicely.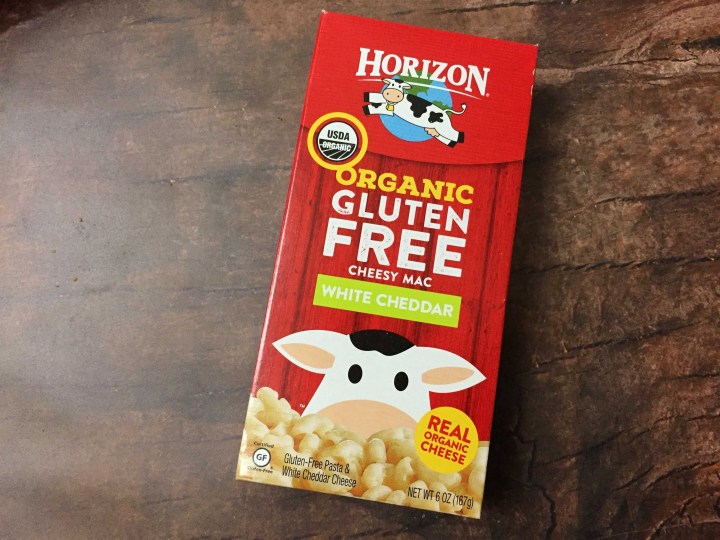 Horizon Organic GF Cheesy Mac. One of the things I miss most about avoiding gluten is the lack of Kraft Dinner. In Canada, it's bright orange and my sister was the best at making it in my house (her secret was a LOT of butter). I've tried a few alternate kinds of GF instant mac since then, like Annie's, so I'm excited to try a new one.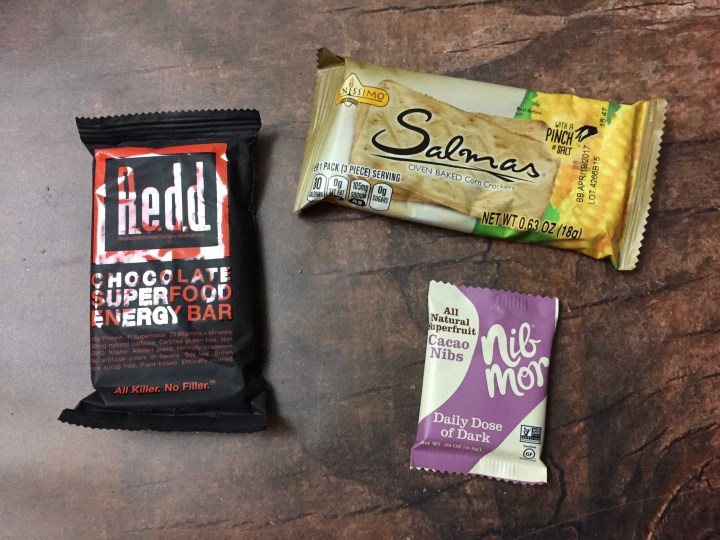 Redd Superfood Energy Bar. This was only okay – it just tasted like any other energy bar. There were real pieces of chocolate in it, which was a nice treat.
Salmas Oven Baked Corn Crackers. These were pretty good! I put some almond butter on them for a snack.
Nib Mor Dark Chocolate. 80% cocoa fair trade chocolate. It's the perfect treat yourself size.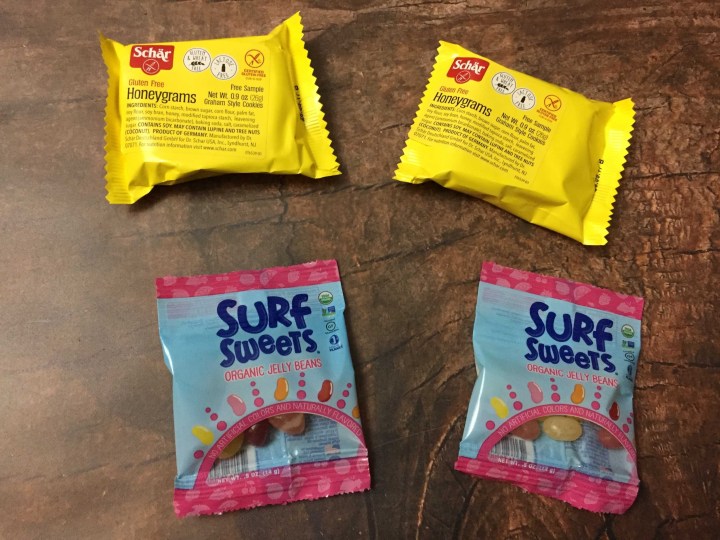 Schar Honeygrams. OMG, GF graham crackers. They taste exactly like the golden Teddy Grahams cookies I had when I was a kid. Love them!
Surf Sweets. Pretty sure I got these in the October box too, but I'm not complaining – these were great. They are made with real fruit juice, and are a lot juicier than normal jelly beans – past the hard outer layer, they burst with flavor instead of being dense.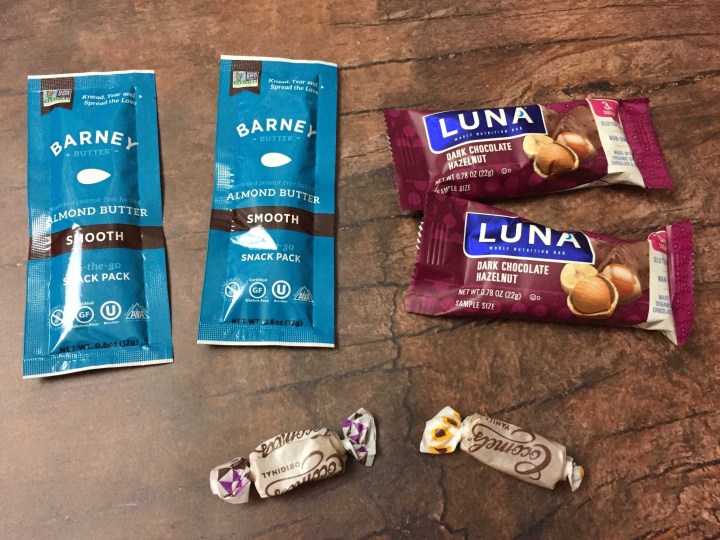 Barney Almond Butter. I am loving all of the new types of almond butter I've been trying lately, and these are great sizes to stash with lunch.
Luna Dark Chocolate Hazelnut Bar. We have Luna bars in Canada, but not these new hazelnut ones. We were actually sent three, but I might have sampled one when my blood sugar went low so it didn't make it into the photo. These are dark and rich and not too sweet.
Cocomels. In both original and vanilla! These are creamy and smooth and I am hooked.
I had so much fun with this month's GF box! I love being able to try so many different treats, especially some we can't even get here in Canada. My snacking feels so much healthier now and I like having my snack stash full of healthier options at work, too.
What is your favorite Love with Food item from this month's box? Share below and let us know!