Grand Box is a monthly subscription box care-package for Grandma, Grandpa and loved ones over the age of 65.  Every month they select awesome gifts, healthy products, and things just to make your loved one smile.
My mother who lives with me was the proud recipient of this box and helped me review the box.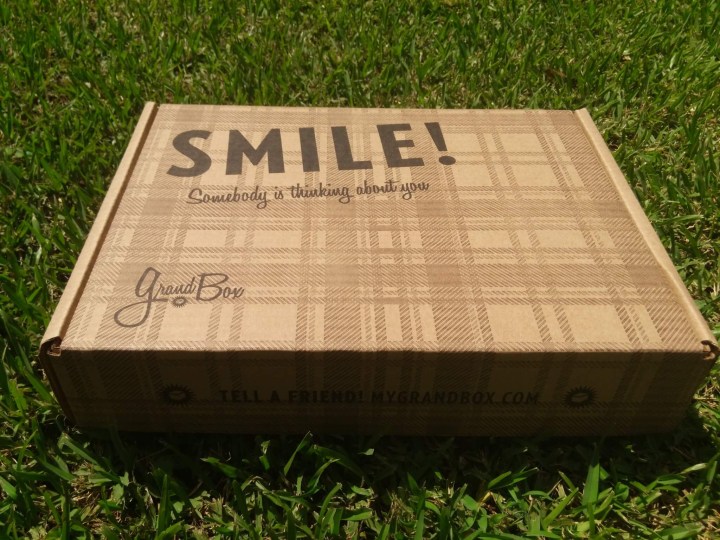 DEAL: Use the coupon code HELLO to get 15% off of any purchase! (That makes it just $25.50 a month if you prepay for 6 months or more.)
You can choose to subscribe to Grand Box month to month for $33 per month, 3 months at a time for $31.50 a month, 6 months at a time for $30 a month or 12 months at a time for $30 a month.
My mom was ecstatic to open this box. She loves getting mail! Don't we all? Unless it's a bill. Then, not so much.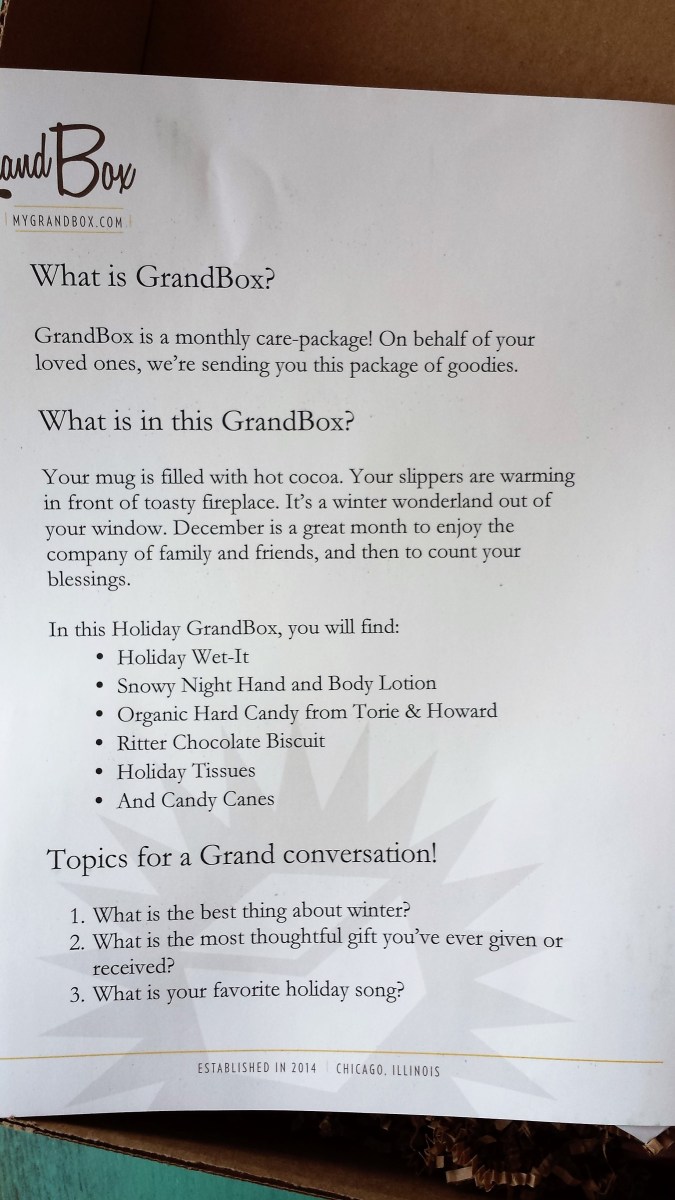 This letter welcomed us to Grand Box and listed the products included in the box. The theme for this month's box is Christmas or Holiday. There was even "Topics for Grand Conversation" included in the box. So, I asked my mom the questions.
 What is the best thing about winter? Sweaters.
What is the most thoughtful gift you've ever given or received? Roller Skates that my mom got me when I was a kid. I loved those things.
What is your favorite holiday song?  White Christmas by Bing Crosby because it reminds me of my Daddy.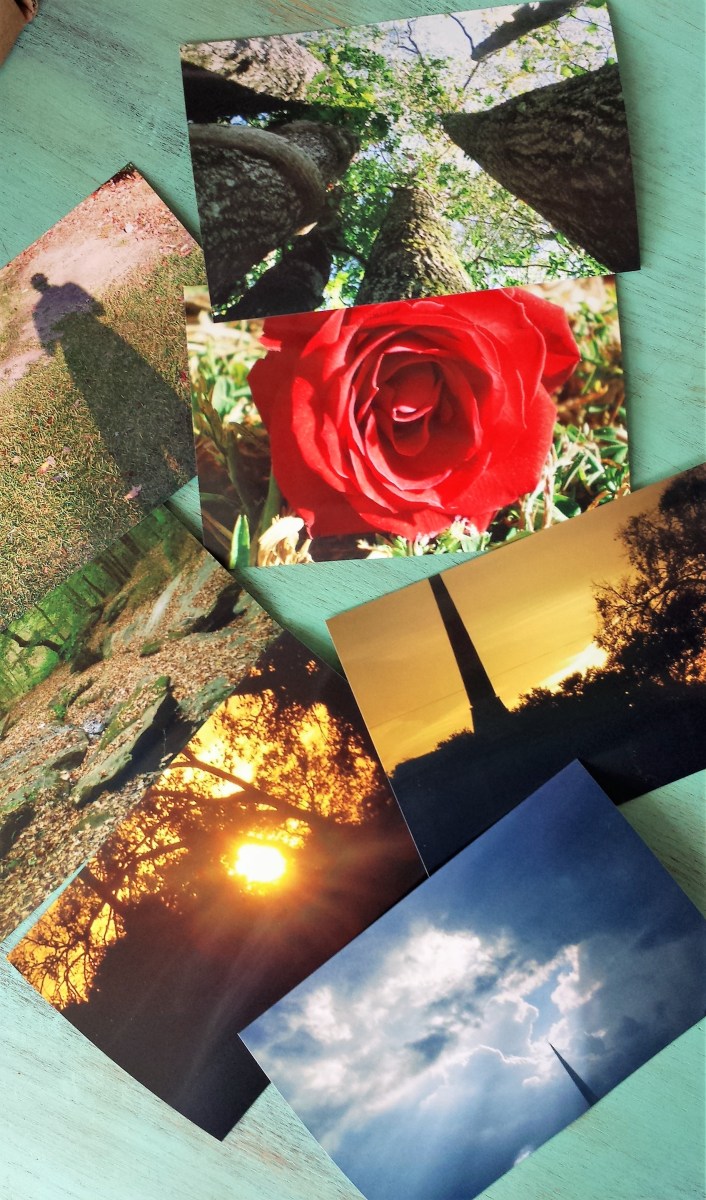 In addition to awesome products, you can choose to also send your loved ones a few personalized photos and notes.  Here's our photos that my mom received in her box. These are all photos that my 12-year-old daughter took. My mom loved them. Especially the rose.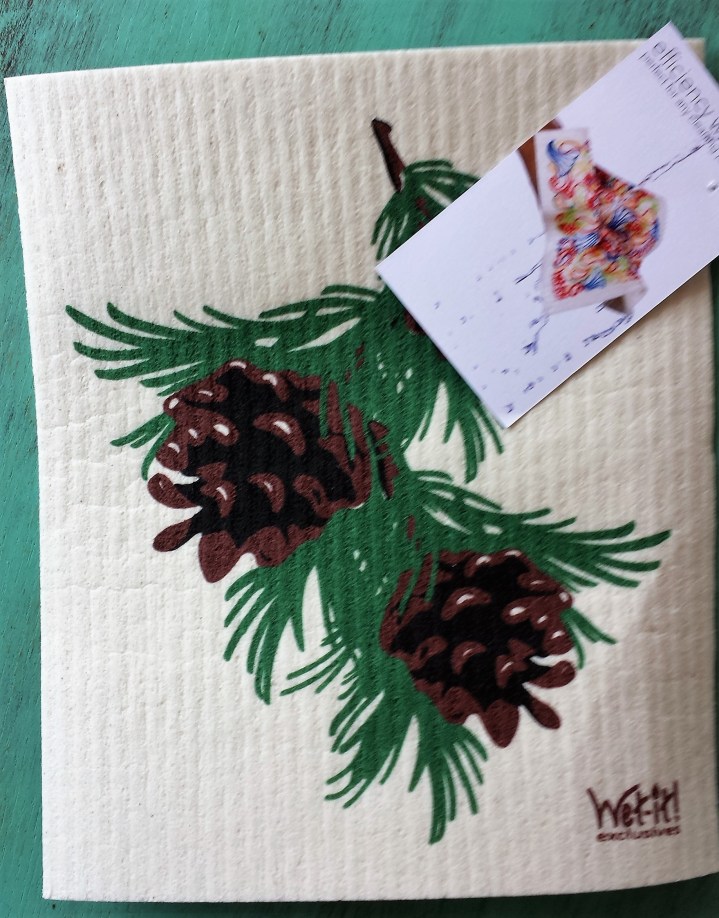 This Wet-it Swedish Dishcloth ($5.95) was the first thing my mom pulled out of the box.
"Welcome to the Wet It! Line. Our wonderful Swedish super absorbent cloths far outperform regular cotton rags, paper towels and sponges because they are so light and absorbent. When moistened, they soak up any mess and leave a squeaky clean surface behind. They are so versatile! Wash dishes, wipe your counters, polish chrome, dust and even shine your mirrors with these cloths and you will never want to go back to using cotton rags, paper towels and sponges. Soak up water to leave any surface streak-free and no drying is needed! And even better, they do not smell. Wash and use over and over again. You will save on paper towels and no more stinky cloths!"
So, I was questioning this at first, and my mom had no idea what it was, but after reading up on them I was excited to try it. When it came out of the box it felt stiff and frankly useless. But, you wet it and it becomes a super absorbent dishrag. She is loving it.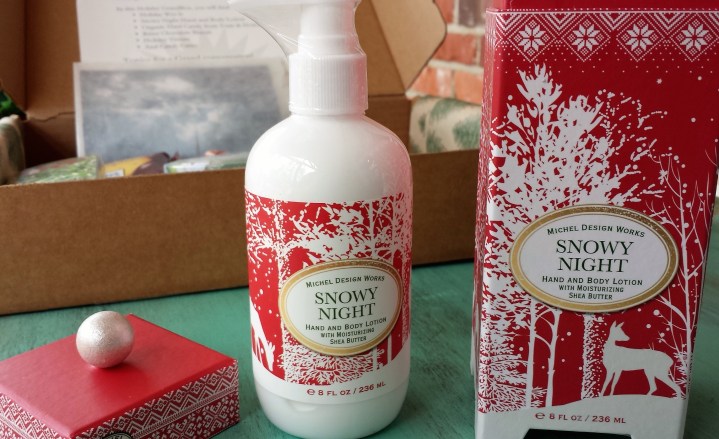 This lotion was the next prize in mom's box. Snowy Night Hand and Body Lotion by Michel Design Works ($16.50).  This lotion came in the cutest packaging. Mom loved it. The lotion itself is lightly minty and absorbed quickly. (Mom shared.) She currently has it perched on the table next to her chair for lotion emergencies.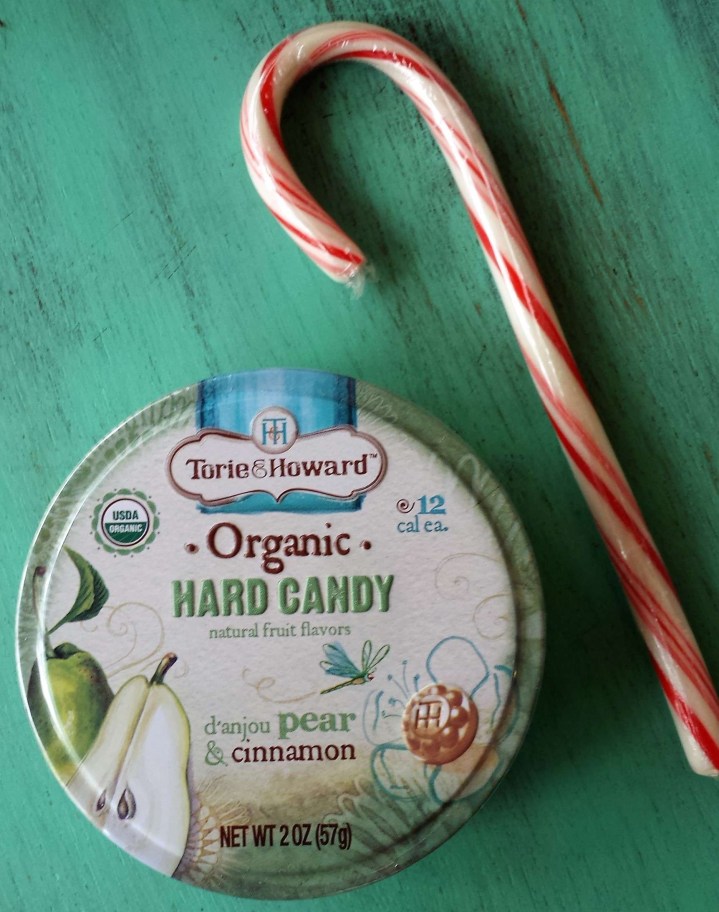 There was a candy cane in the box. (Mom loves peppermint. It made her smile.)
But, the awesome candy in the box was this tin of Torie & Howard Organic Hard Candy in d'anjou pear and cinnamon flavor ($3.99). These little hard candies are delightful bits of melt in your mouth sweetness. And, they are at only 12 calories apiece they can satisfy a sweet tooth without blowing your diet. Mom approved. She likes the cute little tin too. She plans on reusing it.
The next thing in mom's box was this Ritter Chocolate Biscuit ($3). I would love to tell you how could these are, but mom inhaled it before I could try a crumb. I'm not bitter, though. I am assuming they are magnificent because she says so. And, ironically there slogan is, "Not a crumb goes uneaten." Seriously. Not one.
She said it was buttery and covered in a massive amount of smooth milk chocolate. She loved it.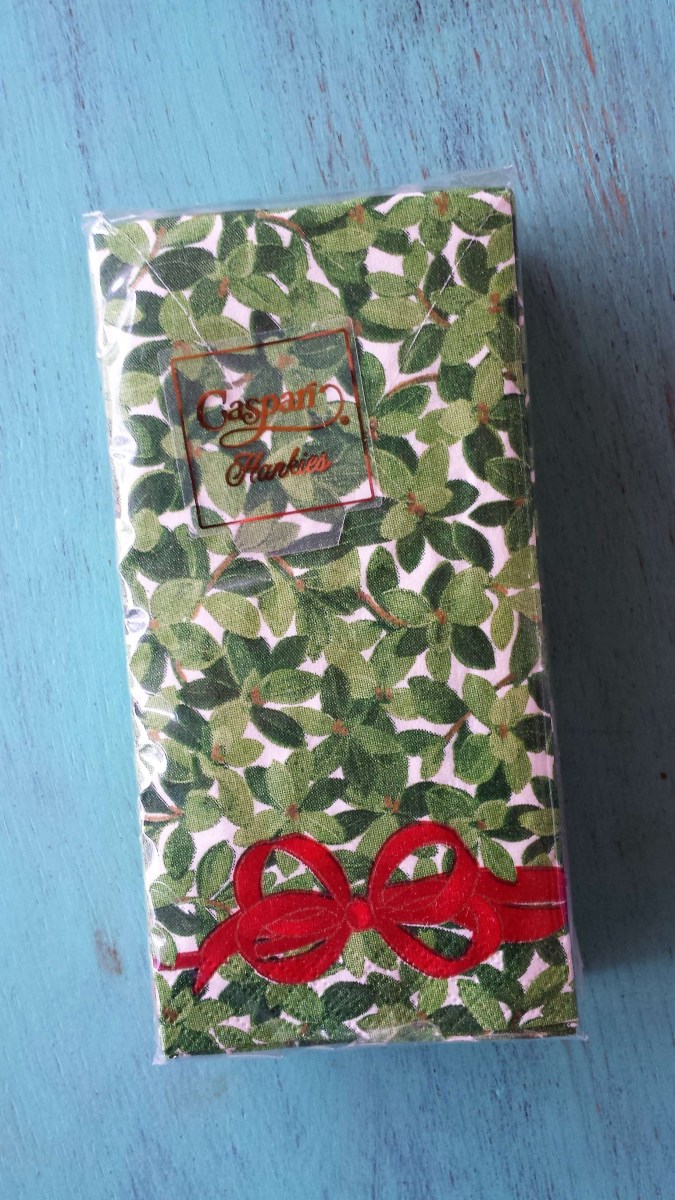 The last prize in her box was this little pack of Christmas themed hankies. Grandma's always need hankies. And, should always have one in their purse. Right?
Grand Box makes it easy to remember your loved ones and to let them know that they are remembered. My mom loved every item in this box.
"Remember the days of old, consider the years of many generations: ask thy father, and he will shew thee; thy elders, and they will tell thee." Deuteronomy  32:7
Did you order Grand Box? Who did you send it to?