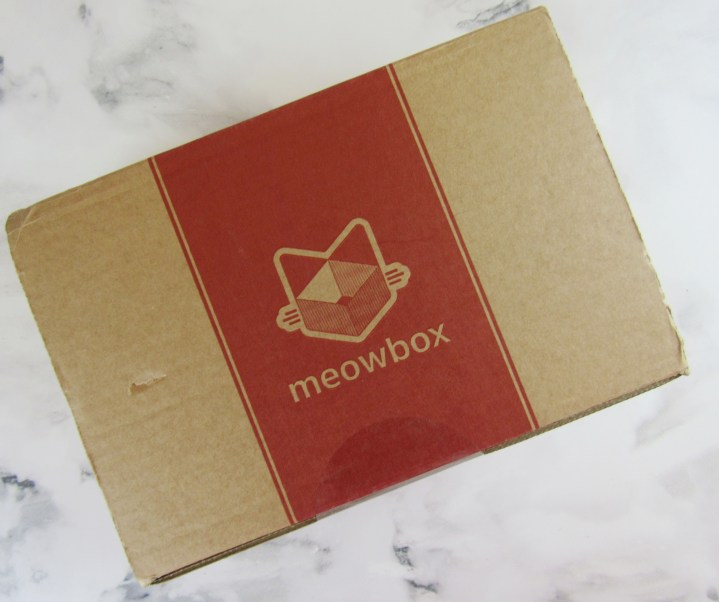 Meowbox is the original cat subscription box filled with fun and unique toys as well as healthy goodies. For $22.95 per month, you receive 4-6 items in the box. All edible items are sourced from Canada or the US with special attention to finding treats that are handmade, local, or grain-free. Wait until you see the kitties enjoying the box!
Writing my kitties' names is a nice touch! Puss in Boots is the orange cat with white paws. Zelda is a calico. Little Lamb is a mostly white fluffy cat. Garfield decided to participate in the review this month.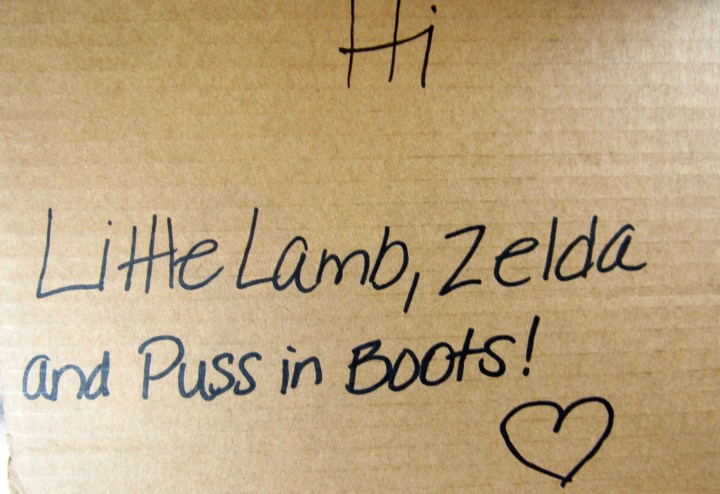 DEAL: Save 10% on your subscription with coupon code HELLO10.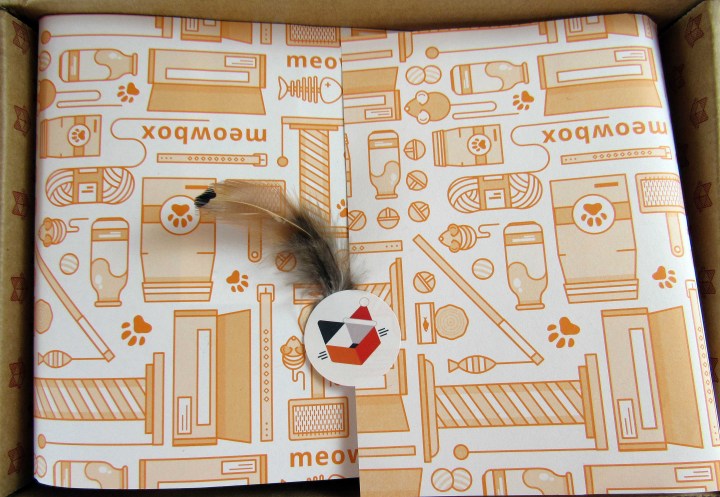 The box is sealed with a feather.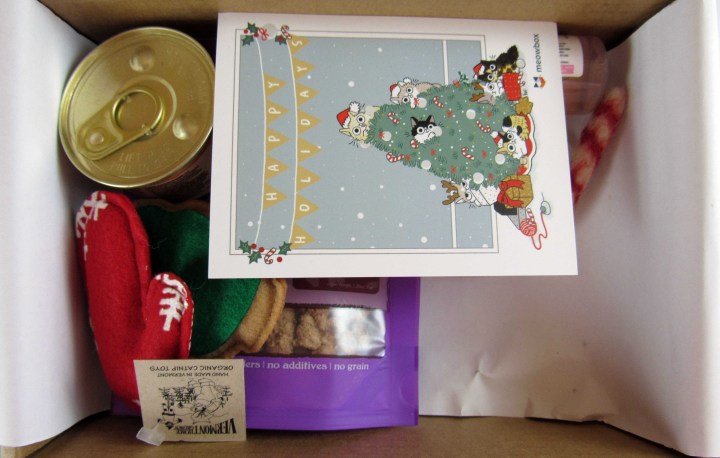 The kitties are going to be excited about the canned food!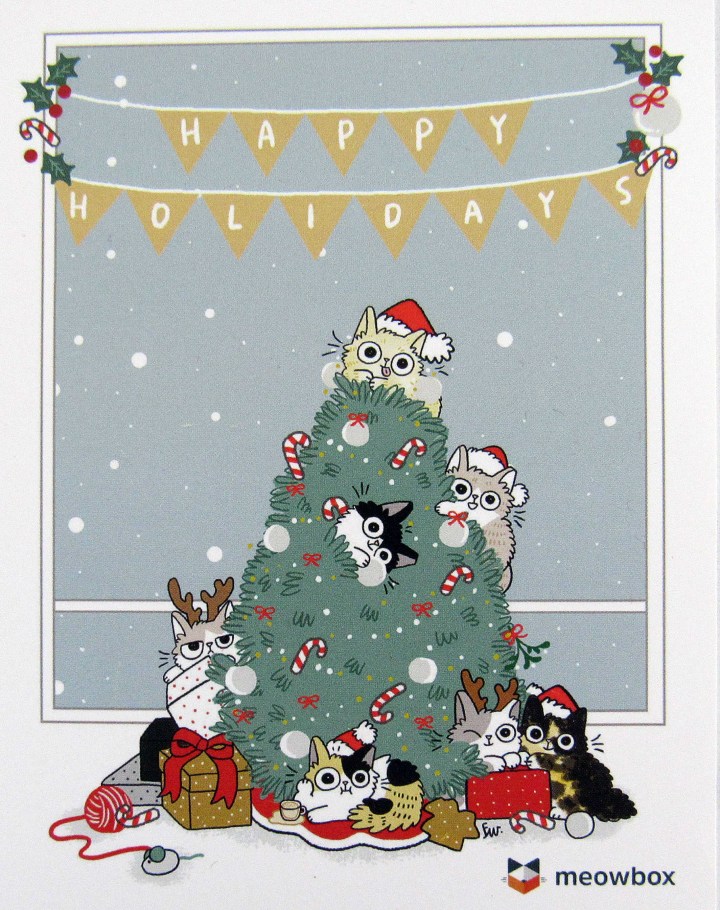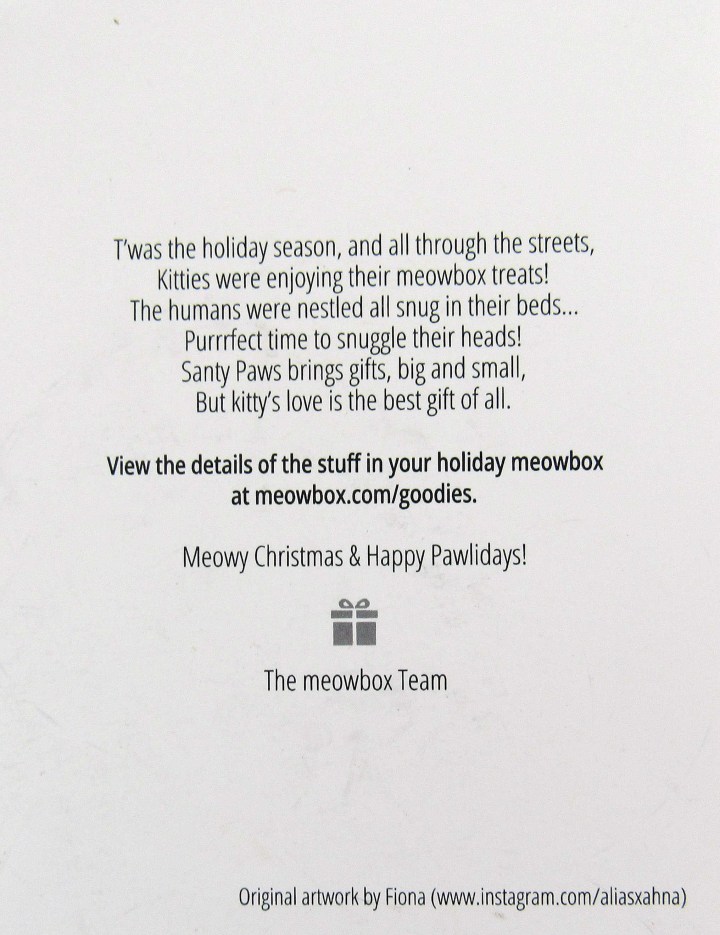 The digital artwork by Fiona reminded me of the Christmas where we had two litters of farm kitties exploring the Christmas tree. Garfield is the worst offender when it comes to climbing the Christmas tree. Check out what possible items were included in the DecemberBox. The theme is "Happy Pawlidays."
Garfield is peeking too!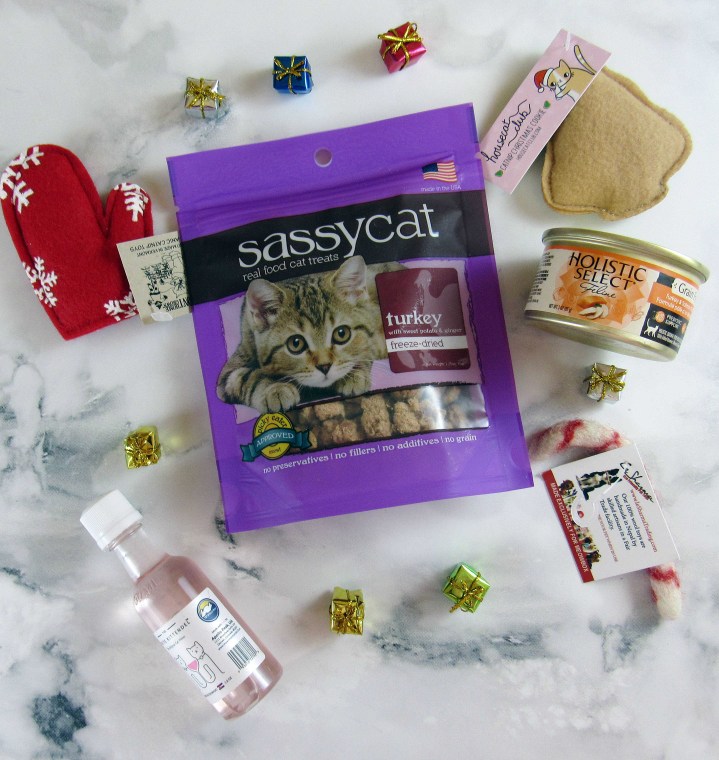 The cats are ready to celebrate Meowy Christmas.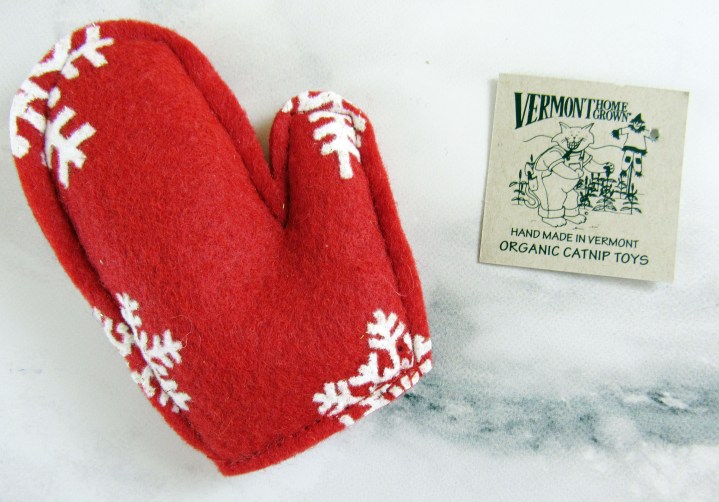 The Holiday Mitten Toy (appx $6.00) is made in Vermont with organic catnip grown in the Green Mountains and beyond. The red mitten is festive and will bring lots of enjoyment to the cats. I based the price on similar items.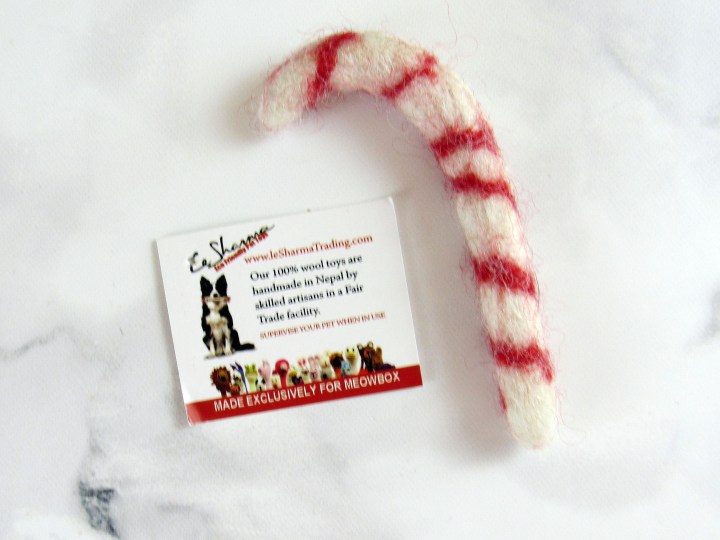 The kitties went crazy over the exclusive Le Sherma Candy Cane (appx $7.50). The 100% wool toy is handmade with no harmful dyes. Skill artisans in Nepal make the toys in a Fair Trade Facility. I based the price on similar items.
The Catnip Christmas Cookie by Housecat Club (appx $6.00) is made in Columbus, Ohio with locally grown catnip and vegan, recycled materials. Our kitties purred that every good cat deserves a catnip Christmas cookie.
Sylvester relished the Holistic Select Turkey & Salmon Pate (3 oz, $1.25). The grain-free formula provides prebiotic support for digestion. Read further to see Puss in Boots' reaction to the canned food.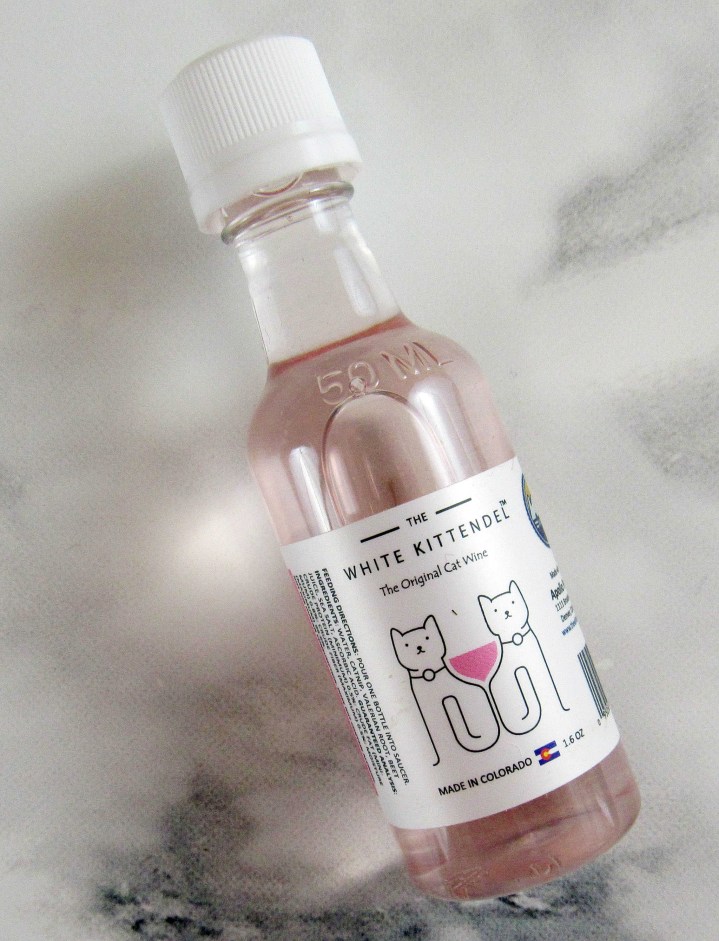 The kitties indulged in a little White Kittendel Cat Wine (136 oz, $5.95) which is a rose style catwine. I can't get over how adorable the bottle looks! It is made in Colorado, USA.  The non-alcoholic, catnip-based drink has valerian root in it which will appeal to the cats.
The Sassycat Freeze Dried Turkey Treats (1.25 oz, $4.59) were a delicious treat for the Pawlidays. The cats purred that the turkey freeze-dried treats were meowlicious.
Time for kitty pictures! The kitties are on an old comforter and are photographed in natural lighting.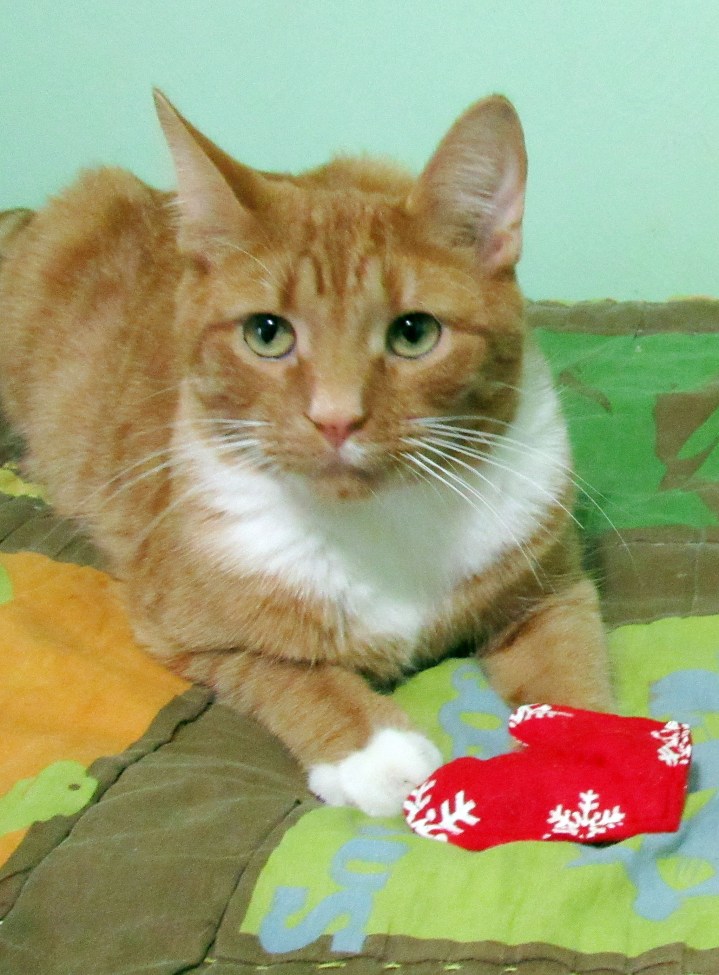 Puss in Boots is afraid he's a kitten that lost a mitten.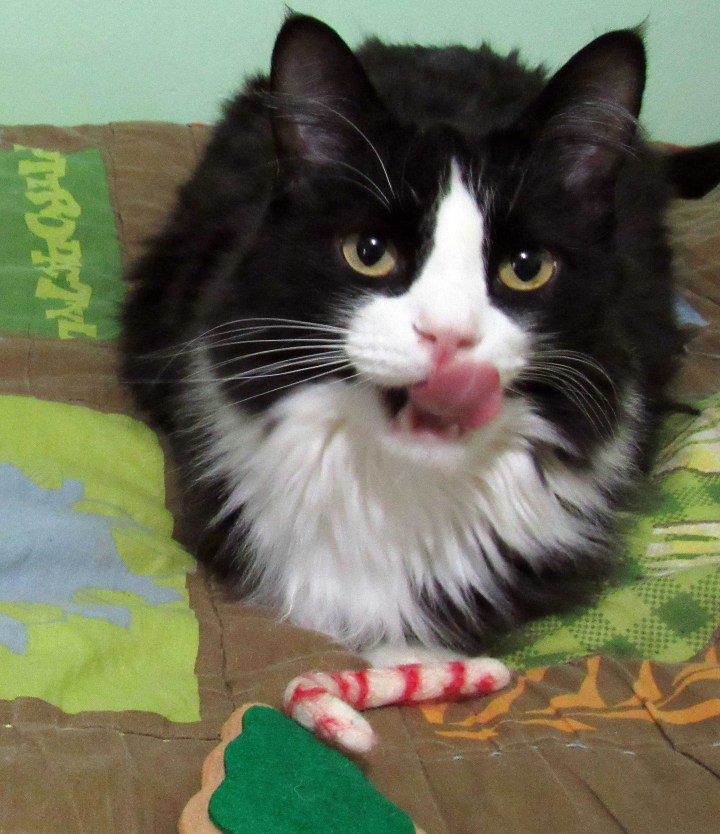 Sylvester played with the cookie and candy cane for a bit.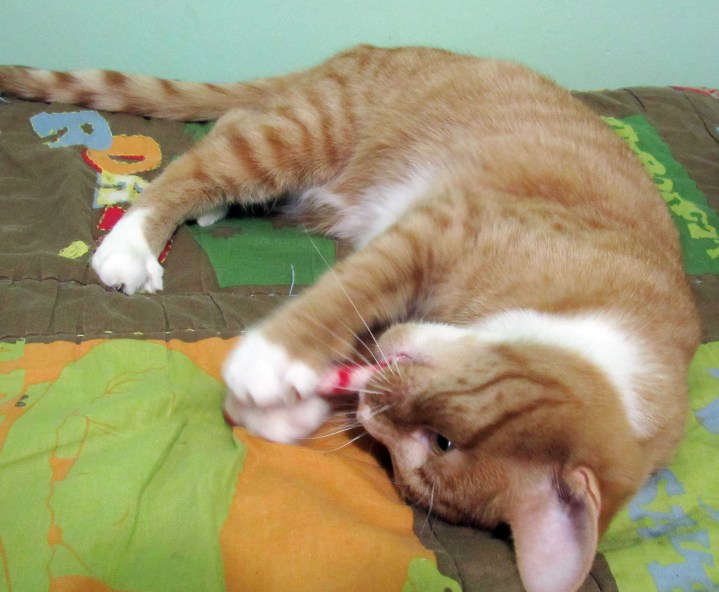 Puss in Boots enjoyed chewing on his candy cane.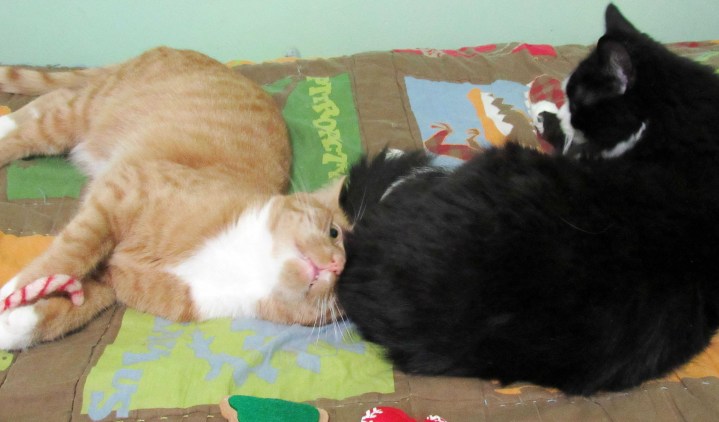 Sylvester abruptly decided he was done reviewing and turned his back to me until…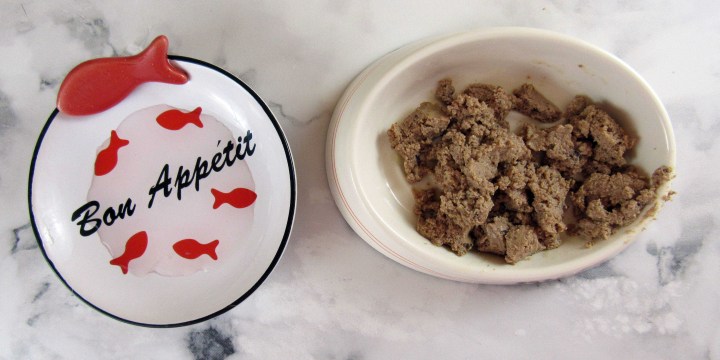 He realized it was snack time.
Puss in Boots tried out the catnip wine while Sylvester started to eat the canned food.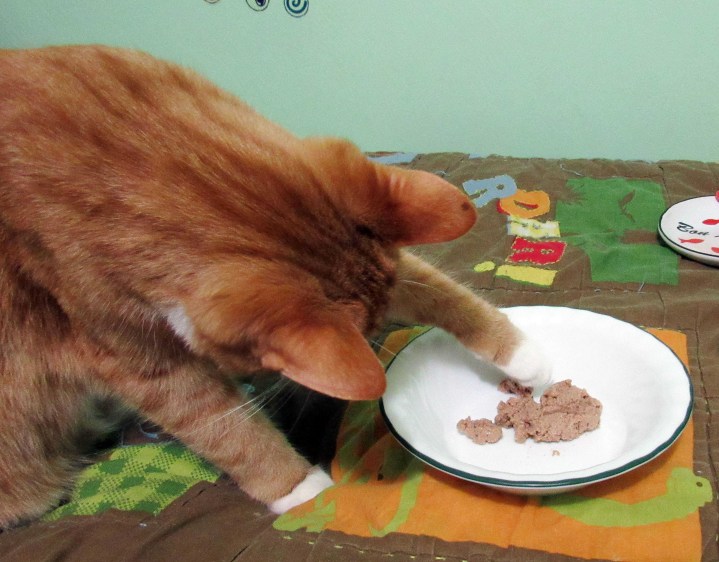 Puss in Boots refused to eat from the same bowl as Sylvester which was unusual. I placed some of the canned food in the bowl for him. He kept sticking his paw in it and looking at it. It was comical because he would nudge the food with his paw, grab a piece, looked at it, and put it back in the bowl.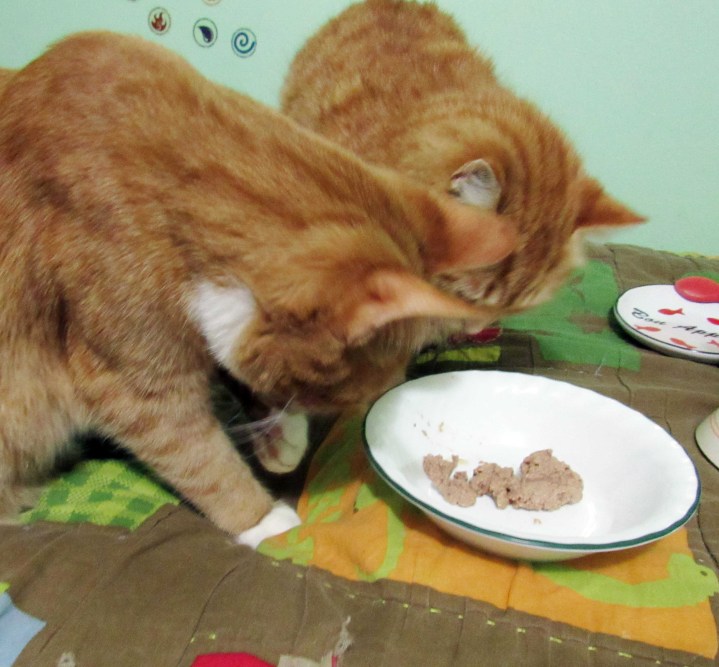 Garfield joined Puss in Boots in inspecting the food. Maybe they are reacting strangely because it is in a regular bowl?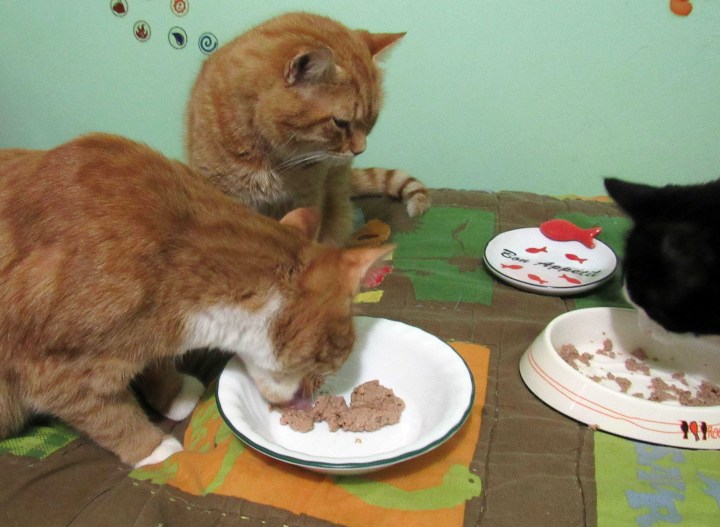 Looks like Garfield gave the OK. Puss in Boots ate all the food in the bowl. Sylvester left his bowl to eat turkey treats while Garfield finished up Sylvester's bowl.
Garfield loves catnip toys. He finds them much more interesting than the turkey treats next to him. Puss in Boots is hovering nearby ready to eat them. No one goes near Garfield when he is high on catnip.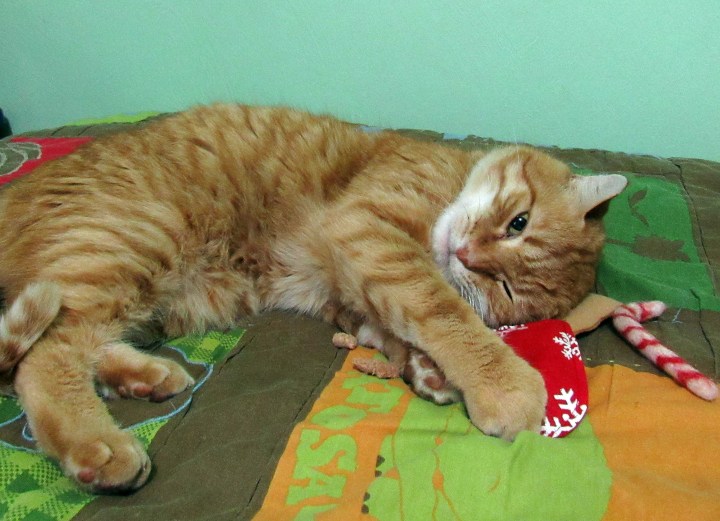 Garfield is on his way to a catnip high.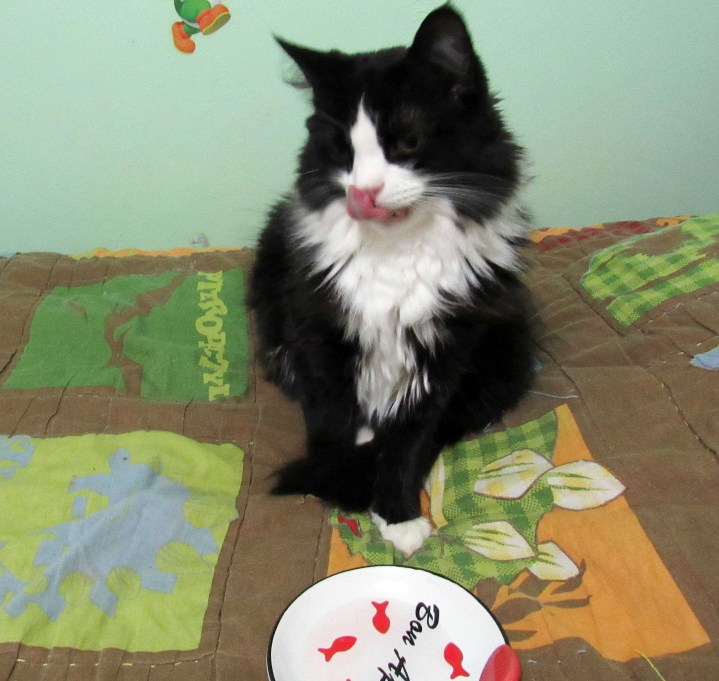 Sylvester loved the catnip wine. More, please!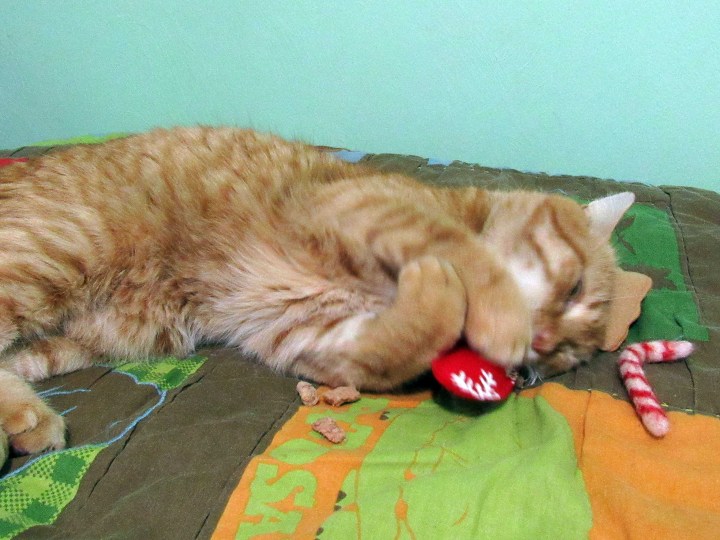 Garfield is content to play with the catnip toys. He is a happy cat.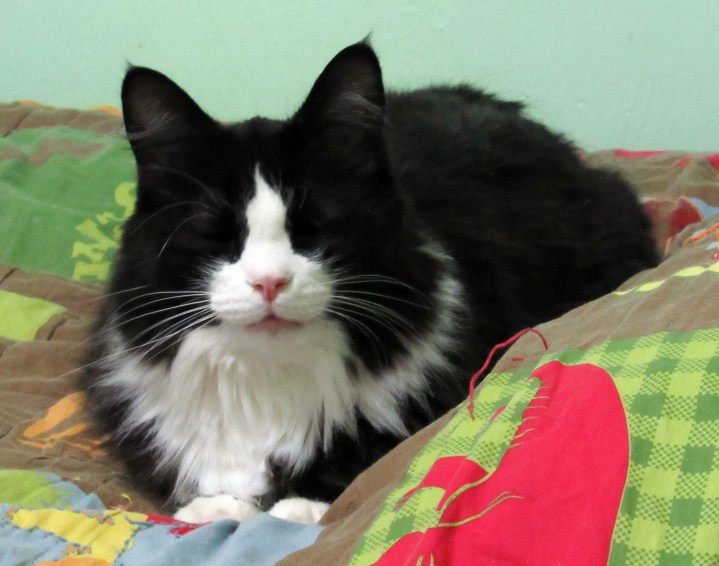 Sylvester is falling asleep after a hard day of reviewing. He wishes you and your kitties a Happy Pawlidays!
It's always interesting photographing our cats and dogs because they don't always take direction well. It was hilarious when Sylvester looked straight into my eyes and then turned his back on me. Puss in Boots reminded me of a kid playing with gelatin when he kept poking the canned food.
The kitties purred that the December box was meowilicious! I loved the variety of toys and treats. The December box value is approximately over $30.00 which is a great value for the $22.95 subscription box price.  Meowbox ships for free, so there is no additional shipping charge. They also offer an option to receive it every other month. Meowbox also donates a can of food for every box sold. A can tracking number will be sent to you so you can track your can and find out which shelter received it. Our kitties thought the box was meowvelous and hope that your kitties agree!