Daily Goodie Box is a box of free samples sent to you at absolutely no charge in exchange for your honest opinion of the products that you receive. That's right, everything is 100% free, no shipping charges and no credit card is required.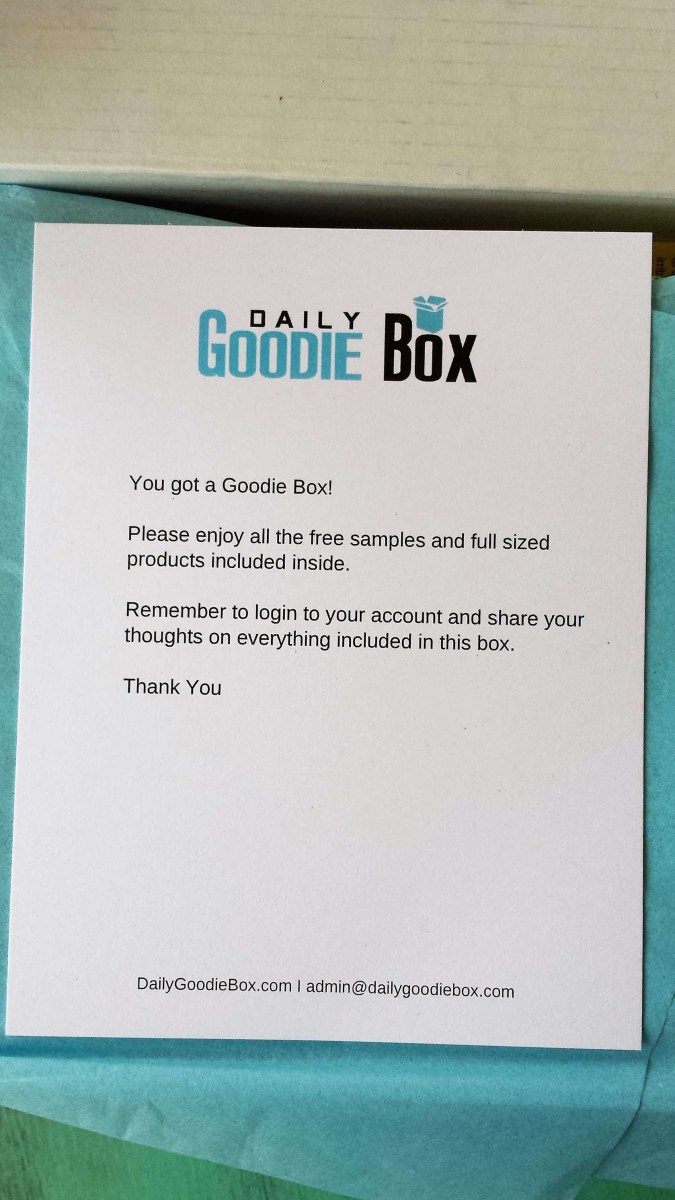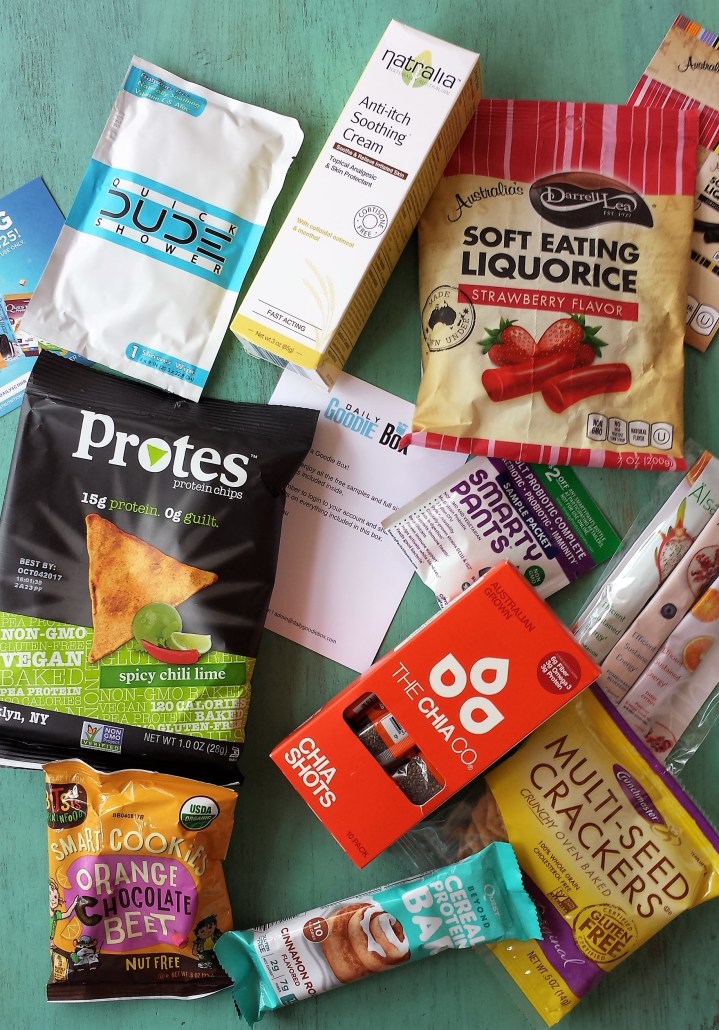 Each box contains a combination of full and sample size products for you to try out. To be registered to receive a Daily Goodie Box, you simply go their site and answer a few questions about yourself. Whether or not you receive a box or not is based on several factors including the demographics that the product manufacturer is looking for among other things. So, go to Daily Goodie Box, register and cross your fingers.
Once you receive your box you simply log on and let them know what you thought of the products. Free stuff for your opinion. Who doesn't like free?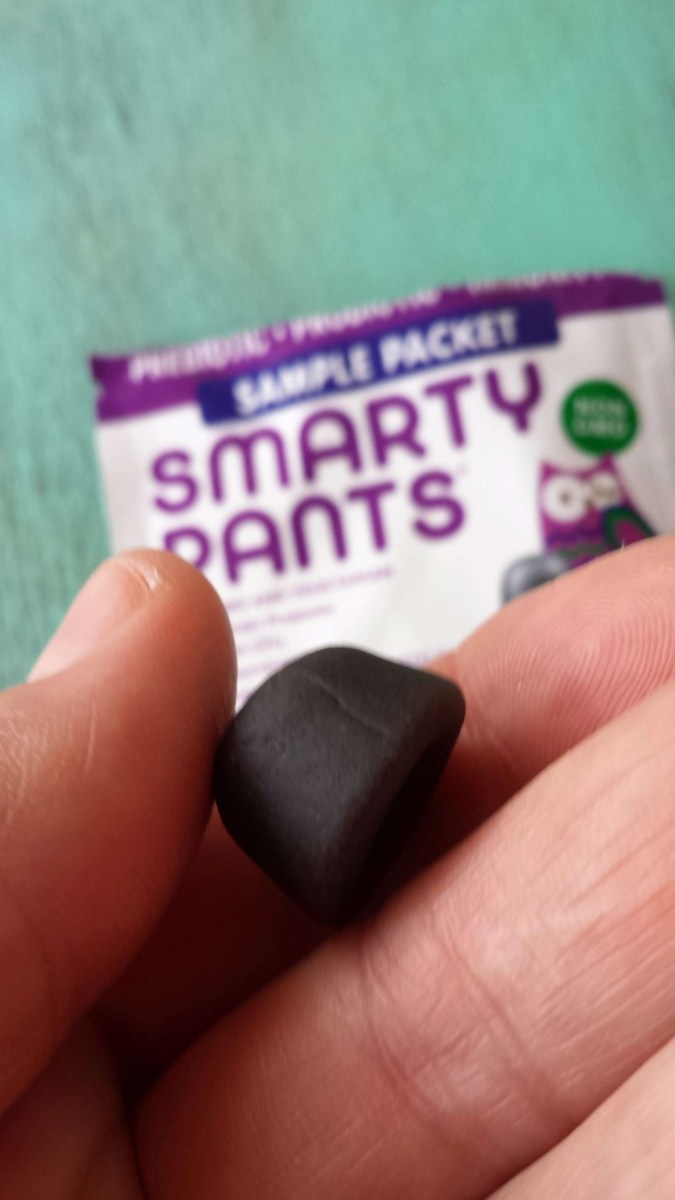 It's an Adult Probiotic Complete gummy vitamin in blueberry by Smarty Pants. Who doesn't like a good gummy?  Now, you don't have to feel bad for sneaking the kid's gummy vitamins. (I'm not the only one, right?) The flavor was good, with no vitaminy aftertaste. The vitamins are non-GMO, have no synthetic colors, no artificial flavors, sweeteners or preservatives and they are also vegan and gluten-free. Each serving contains 7 billion CFUs of the probiotics Bacillus subtilis DE111 and B. coagulans IS2.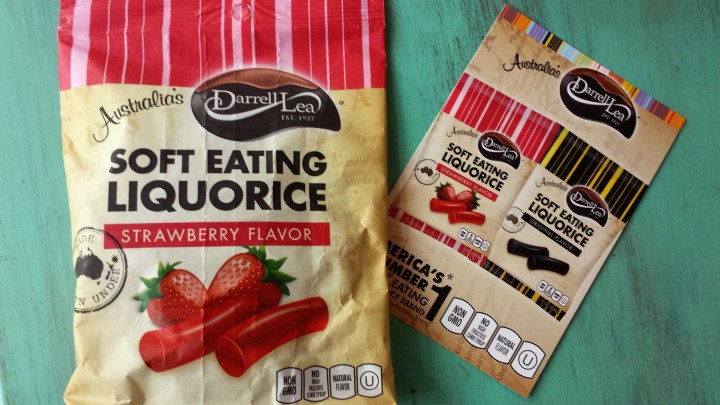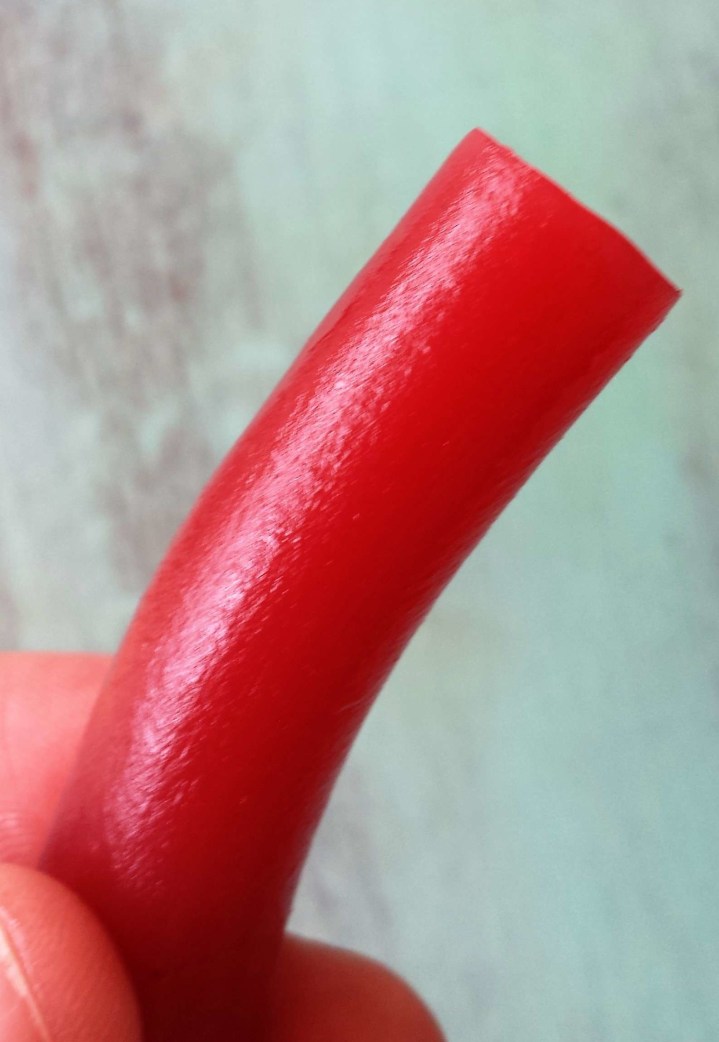 These Strawberry Soft Eating Liquorice from Australia's Darrell Lea ($2.99) were in the box. They are non-GMO, no high fructose corn syrup and no artificial preservatives or sweeteners.
"Darrell Lea has been making Australia's finest chocolates, freshest liquorice and most delectable confectionery since 1927. Our most famous product is soft-eating liquorice that we invented in a small factory under the ioconic arches of the Sydney Harbour Bridge."
These were so good!!! Soft and chewy with a great strawberry flavor, they were absolutely delicious. And, it was a big 7 oz bag. Yeah!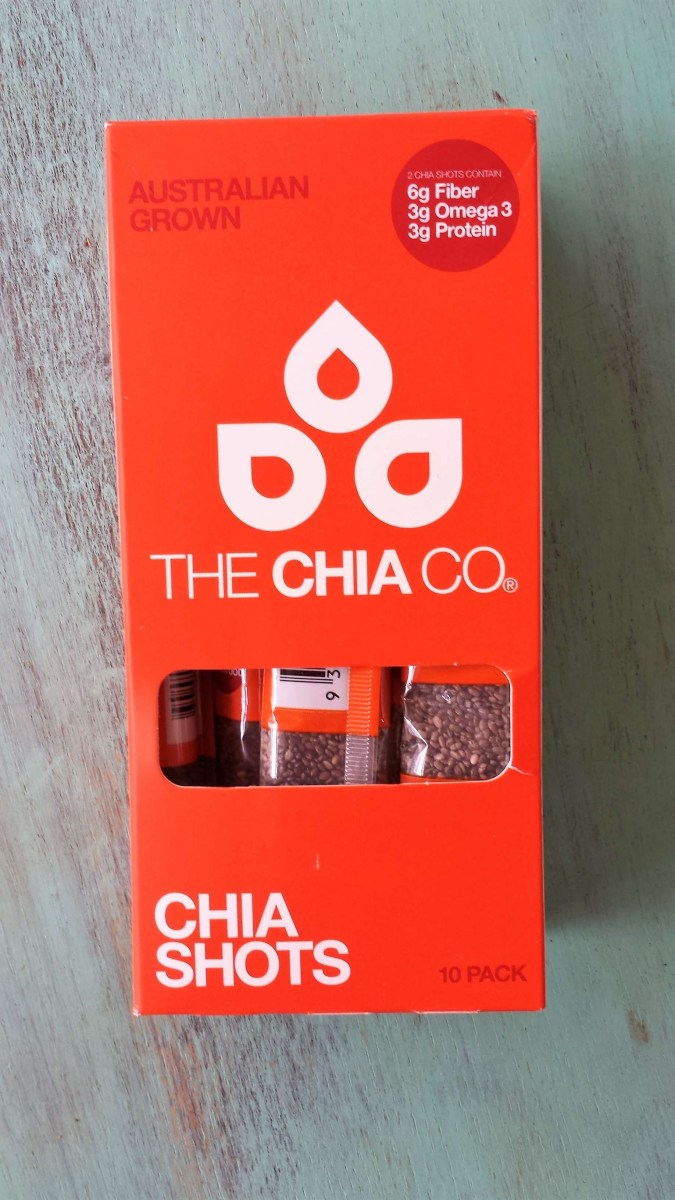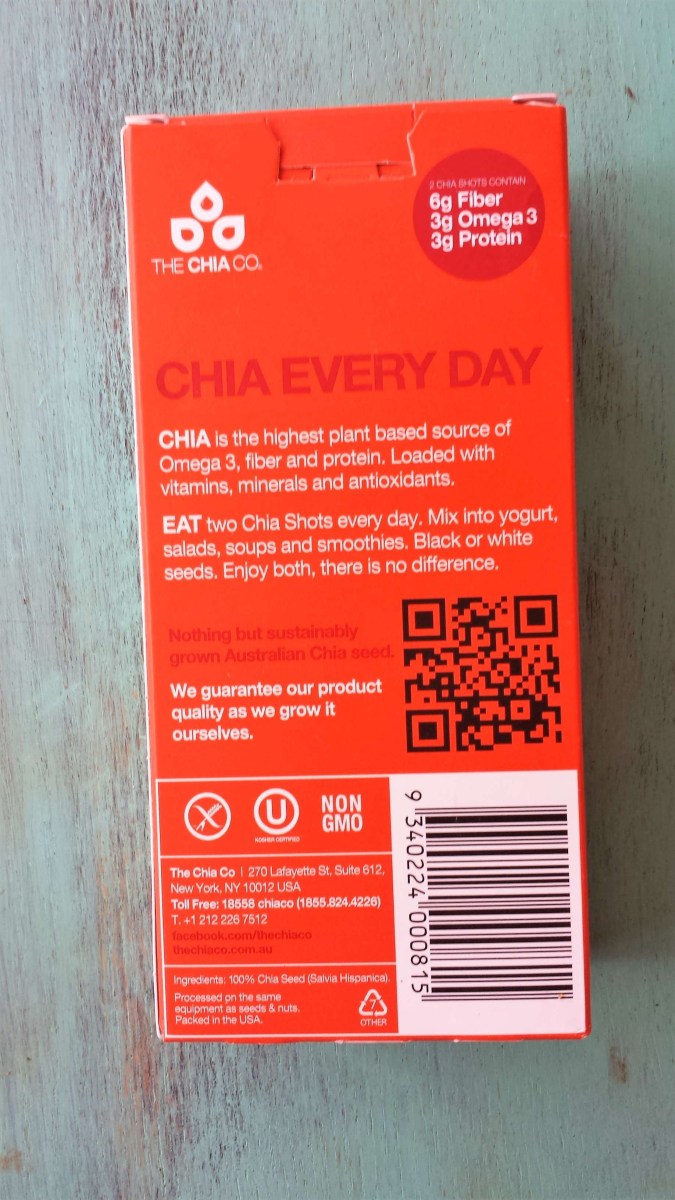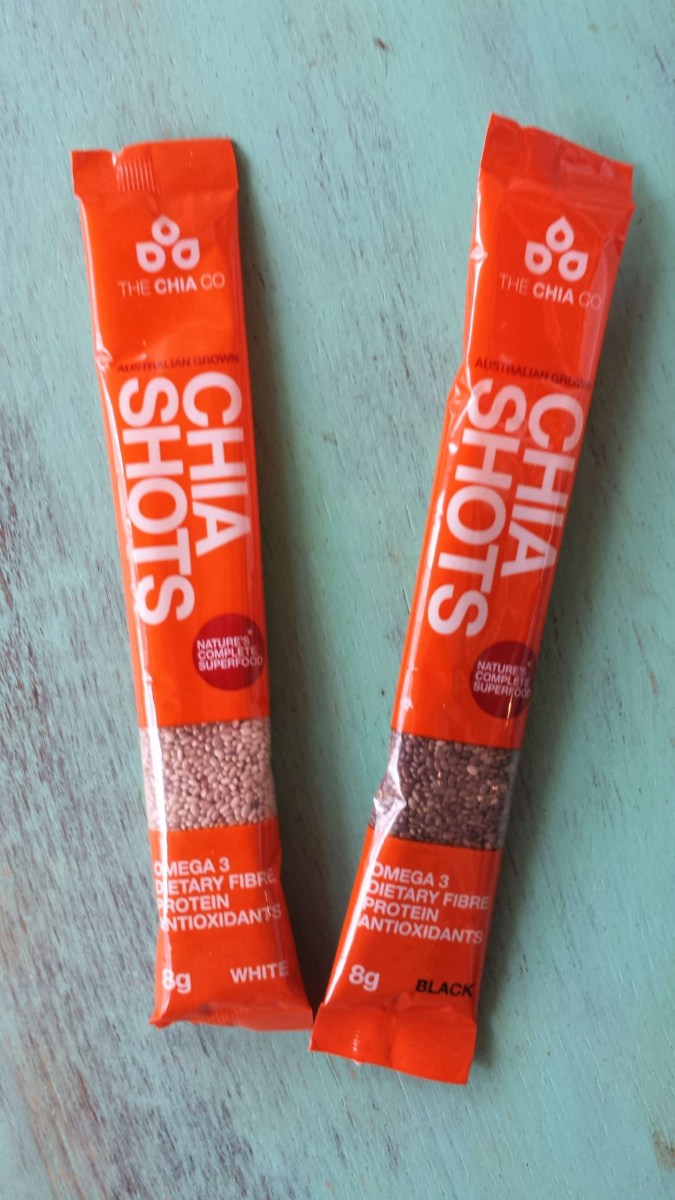 These Australian grown Chia Shots from The Chia Co ($5.99). were in the box.
"We let our chia ripen naturally in the sun and use gravity-fed irrigation to achieve the highest level of nutritional quality. We guarantee the levels of omega 3, fiber, protein, vitamins and minerals in every seed we produce, with full traceability right back to the paddock the seed was grown in. Black and white chia seeds are nutritionally identical, the only difference being the seed coat color."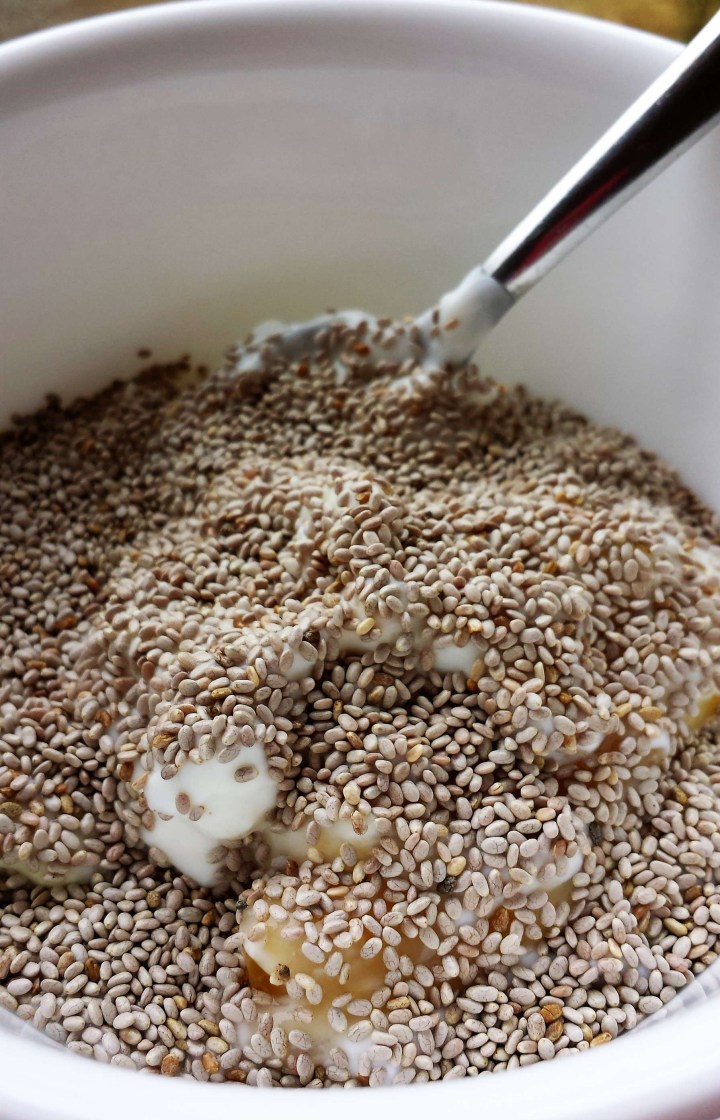 I poured a packet of the white chia seeds over some peach Greek yogurt for breakfast this morning. I didn't know chia seeds came in white?! I love the crunch that the seeds gave to my yogurt. The pack was more than enough, I probably could have just used half and saved the other half for something else.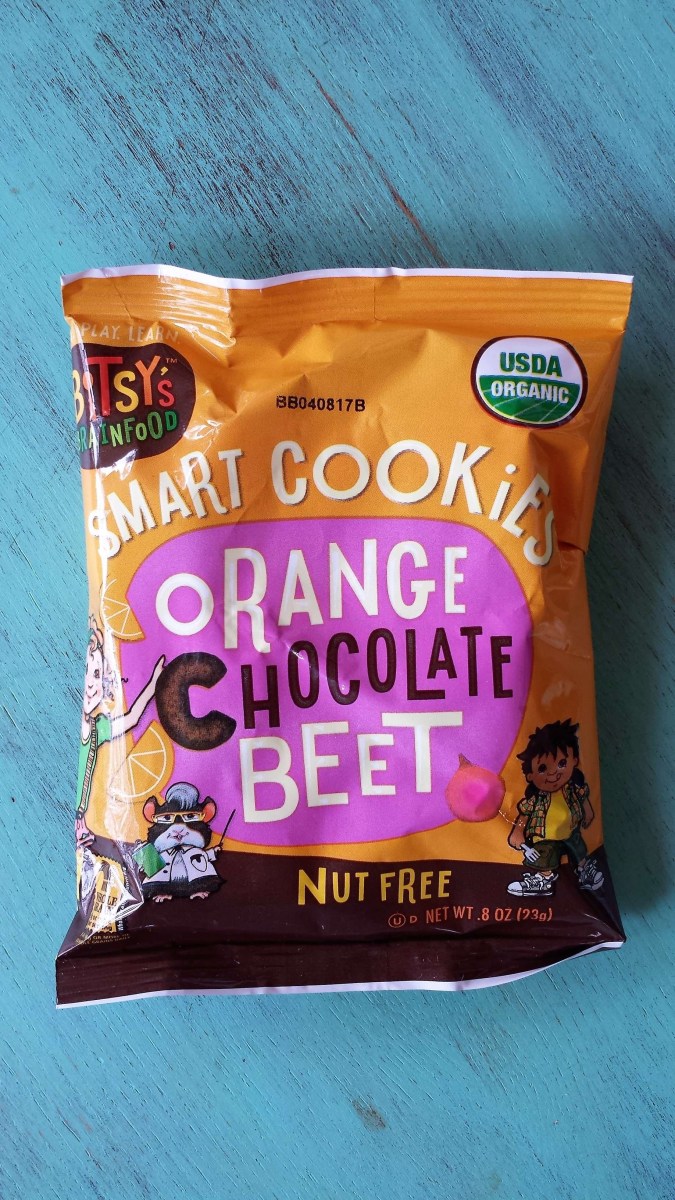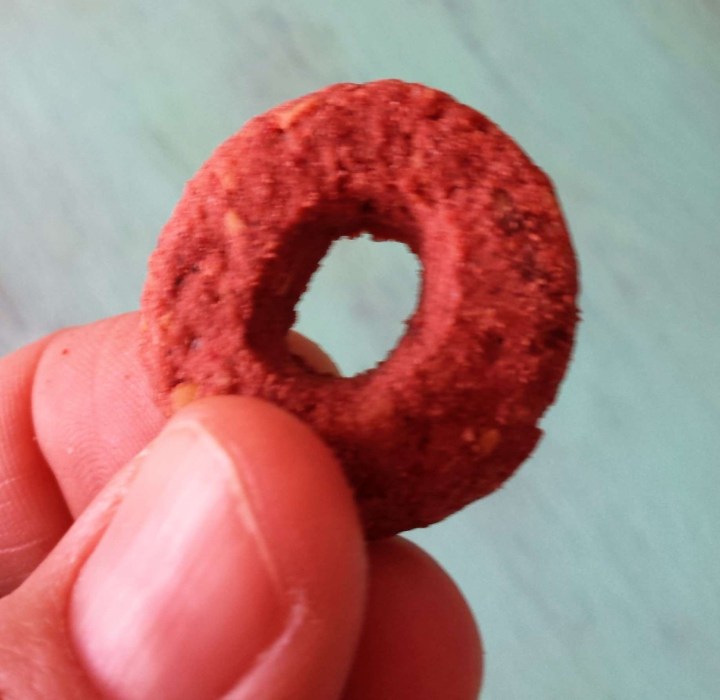 These Bitsy's Brainfood Smart Cookies in Orange Chocolate Beet were next in the box. These are little alphabet-shaped cookies that are tasty and good for you. They are organic, non-GMO, made in a nut-free facility and packed with lots of healthy stuff.
The texture and flavor remind me of Quaker's O's cereal, which is one of my favorites. They are sweet, but not too sweet, with a brown sugar and a hint of chocolate flavor.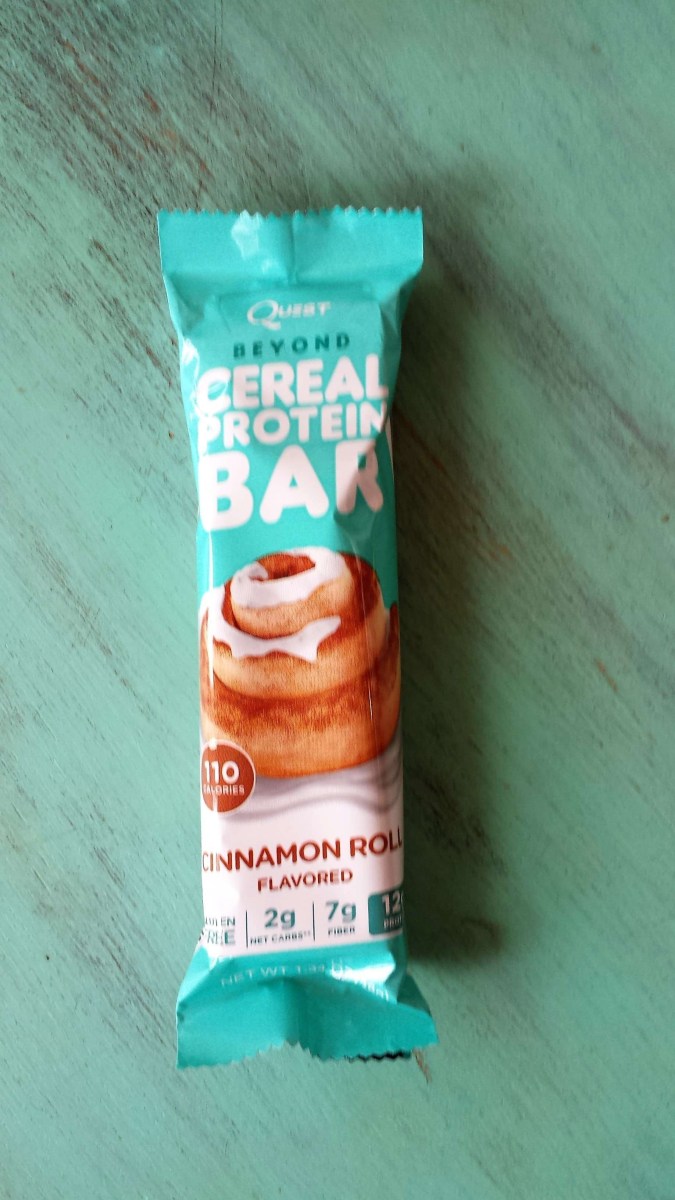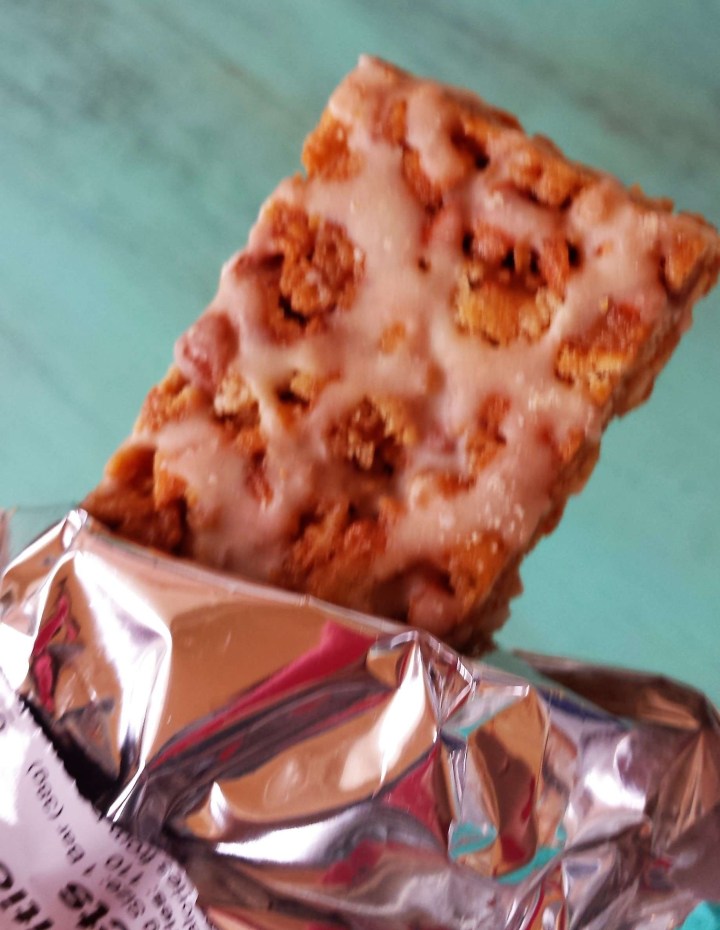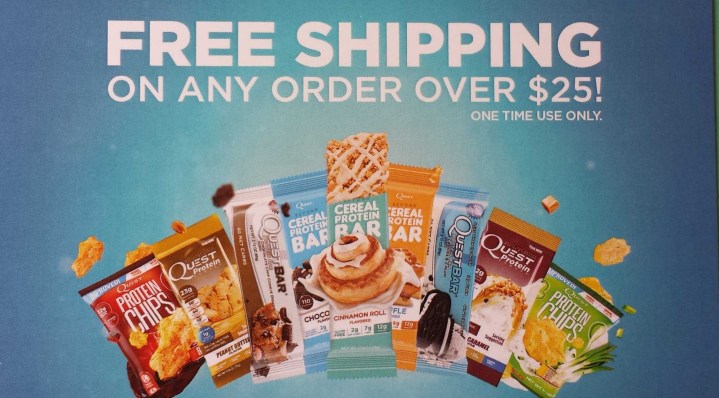 This Quest Beyond Cereal Protein Bar in Cinnamon Roll ($1.75) was in the box. The bar was 110 calories, gluten-free, had 2 grams of carbs, 7 grams of fiber and 12 grams of protein. They also included a coupon code for free shipping when you order from their site is over $25.
These are breakfast in a bar form, great for when you are in a hurry but need something to get you going. The flavor was cinnamony and good with icing on the top and I liked the slightly chewiness of it. I dislike those bars that are as hard as brick bats.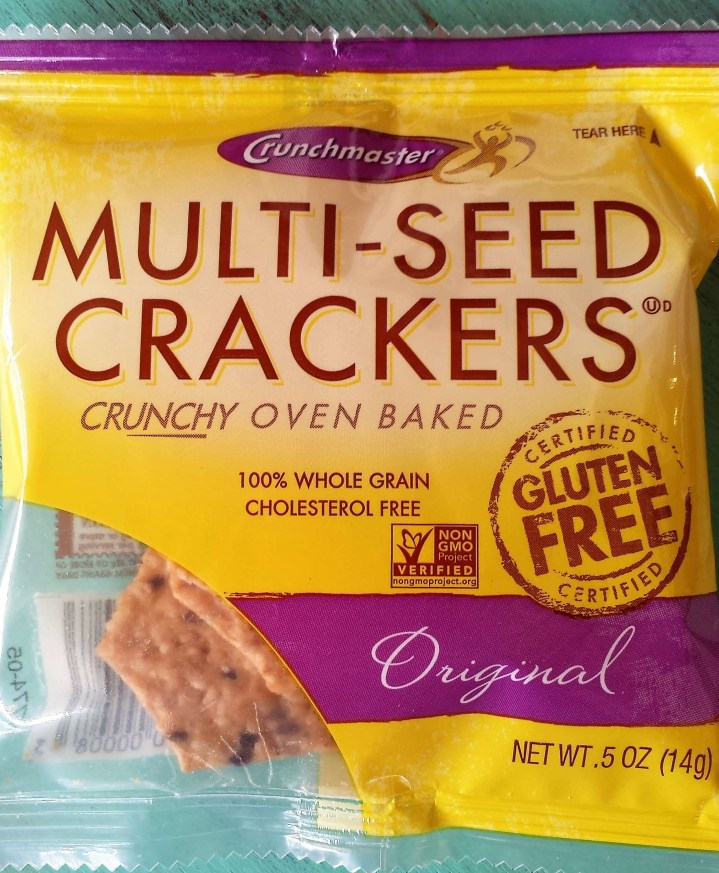 These Crunchmaster Multi-Seed Crackers are already one of my favorites. I buy them often (look in the deli section) and love to crunch them up on salads or float them in my soup. They are crisp and crunchy and have a great flavor.  They are also a great cracker to serve with dips and cheese balls, etc. because they don't crumble easily. Also, they are gluten-free, 100% whole grain and made in the USA.
This Natralia Anti-Itch Soothing Cream ($12.27) was in the box. It uses colloidal oatmeal and menthol to soothe irritated skin. Honestly, I received the same lotion in their October box, but I am happy to get another one! This stuff has been great for my daughter who gets mild seasonal eczema. It has a mild minty smell and absorbs quickly. It has really been helpful for her.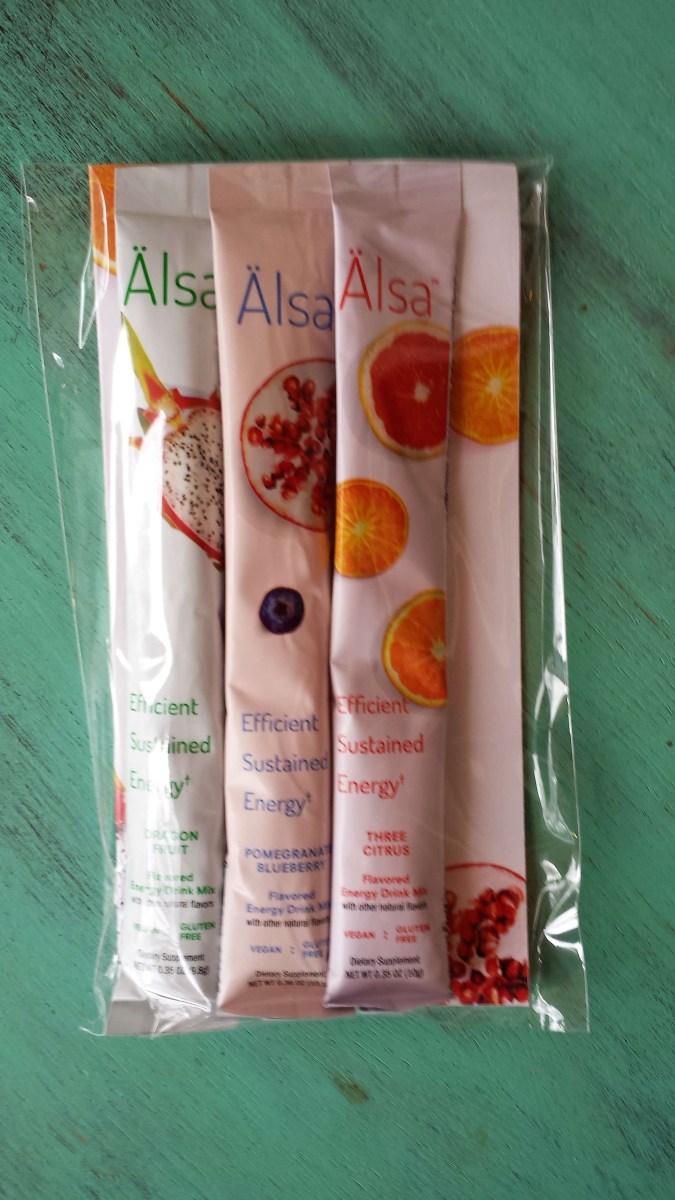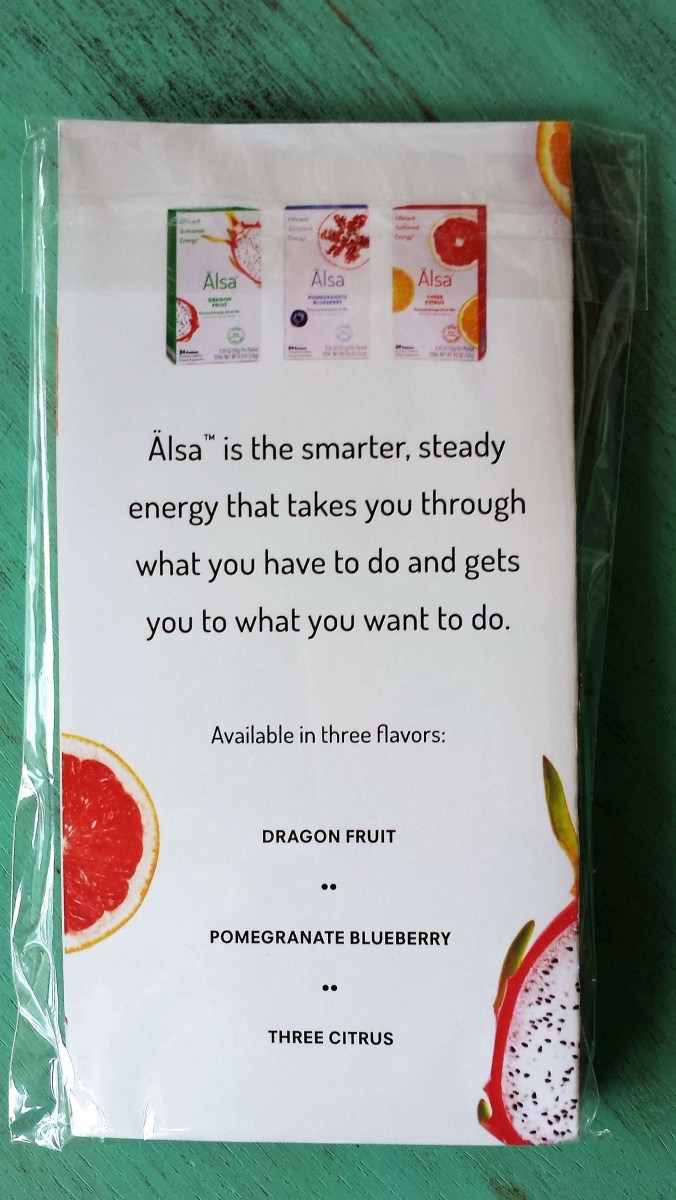 These dietary supplement drink mixes from Alsa ($4.89) were in the box. We received three single serve packs in Three Citrus, Dragon Fruit and Pomegranate Blueberry flavors. They promise a healthy energy drink mix with Cognizin citicoline for mental focus, PURENERGY for long-lasting energy, pTeroPure for heart health, Vitamins C, B6 and B12 for immune support, electrolytes for enhanced hydration, white tea and yerba mate extracts for energy and antioxidants, and they are vegan and gluten-free.
I have tried the Dragon Fruit one so far. It was just barely sweet and just added a mild fruity taste to the water. I like that it didn't have the nasty aftertaste that a lot of the drink packets can have.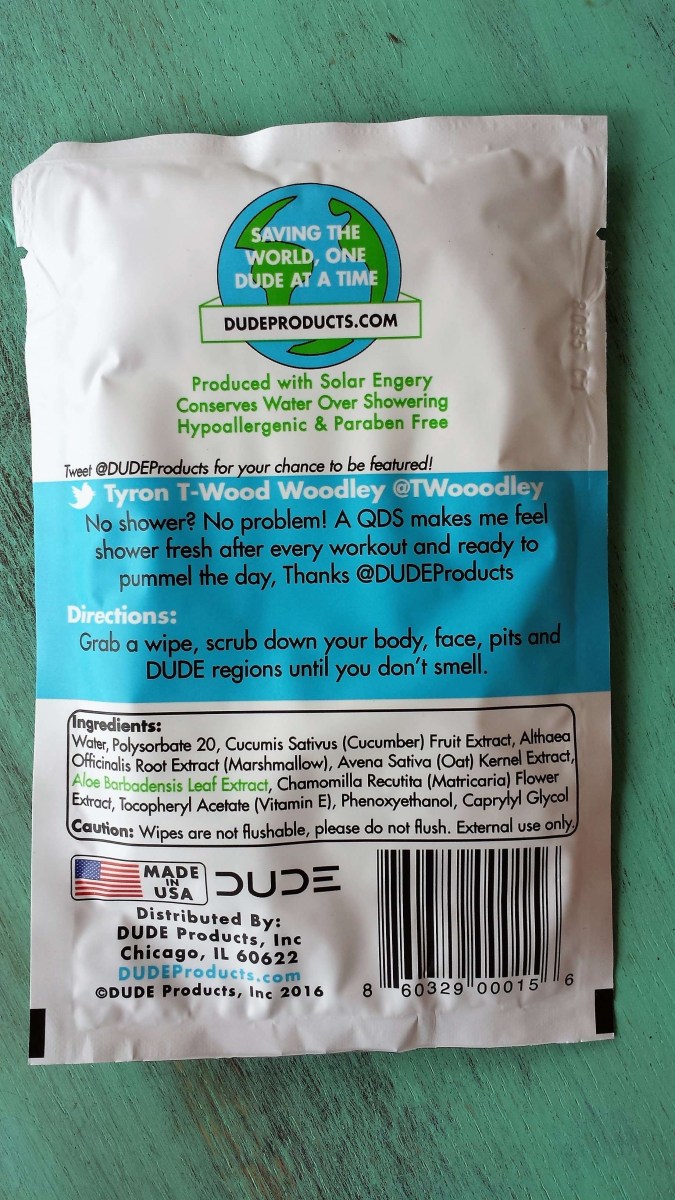 This Quick Dude Shower wipe was in the box.
"As DUDES we are dirty, sweaty and disgusting humans. Access to a shower is not always a realistic option after every awesome, stanky, or highly questionable situation. So now it's time to embrace those moments. The DUDE Shower gives you a fast and effective way to remove DUDE stank and stay fresh on-the-go."
So, at first I was like "wah?" "really?" "who still uses the word dude?", but then I checked out their website, and I was rolling on the floor laughing. They have used humor to reach out to the guy market. The wipe itself was thick and just smelled mild and clean. I'm not a dude, but the mom in me would totally keep these in the car to clean up stinky 8-year-olds.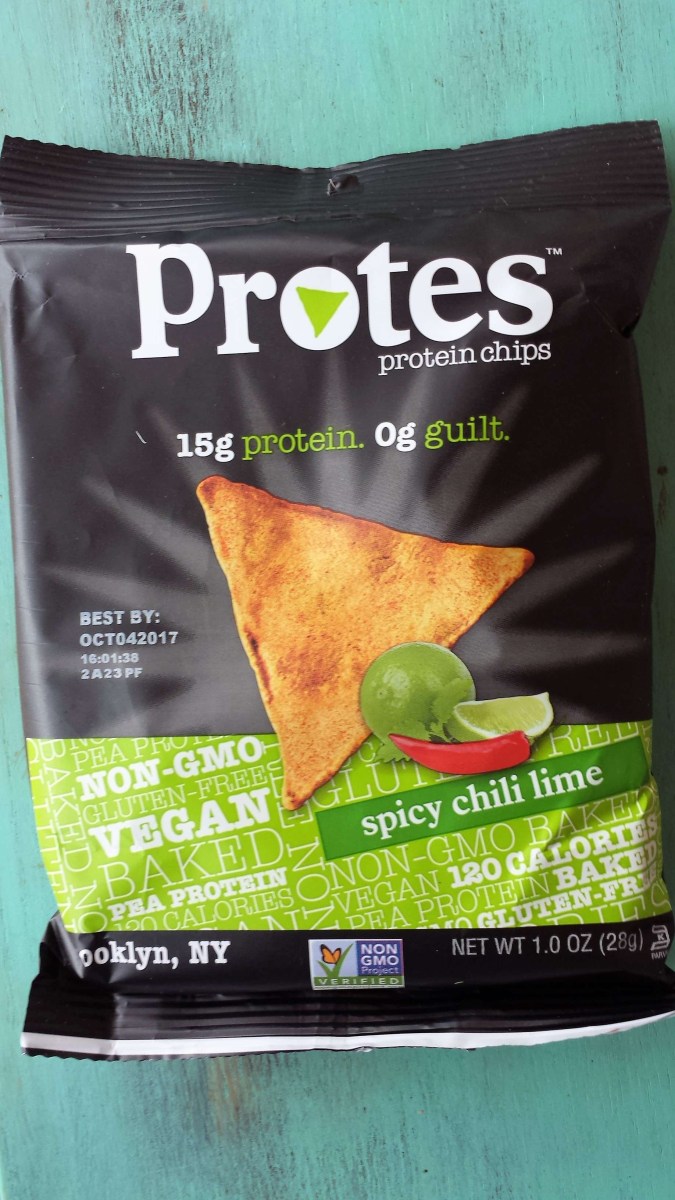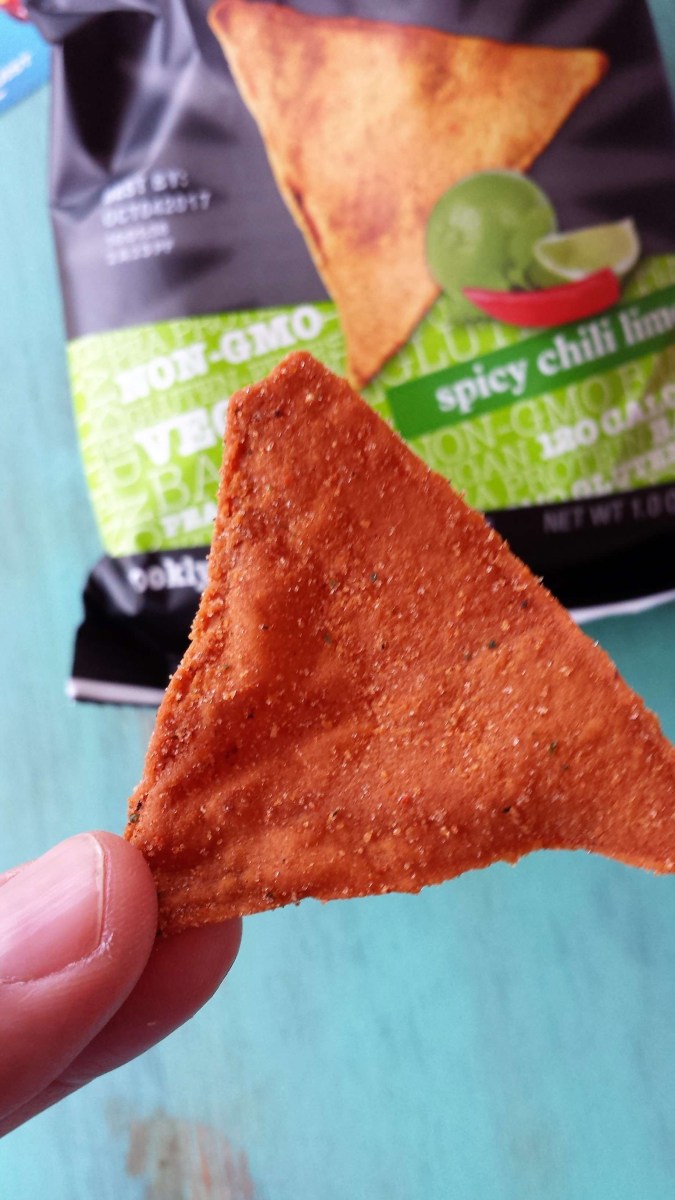 This box was really full! The last product that we tried out was this bag of Protes Protein Chips in Spicy Chili Lime flavor. These chips have a whopping 15g of protein in a serving (the 1 oz bag is a serving).
"Delicious Protes chips allow you to enjoy guilt-free snacking while adding more high-quality protein to your diet.  That's why athletes and everyday folks dig 'em."
So, these weren't my favorite, but I don't do spicy and chili lime is usually not my favorite flavor for other products. I would be interested in trying these in other flavors. They did have good texture and a very satisfying crunch. I am betting that their Southern BBQ flavor would be more to my liking.
Daily Goodie Box is a great way to try out new products and then share your opinion of those products.  The registration process was easy and the product review process was even easier. I love that you don't have to pay for shipping or give any payment information at all and they send you some pretty fabulous products to try for free.  So, go, register! Good luck!