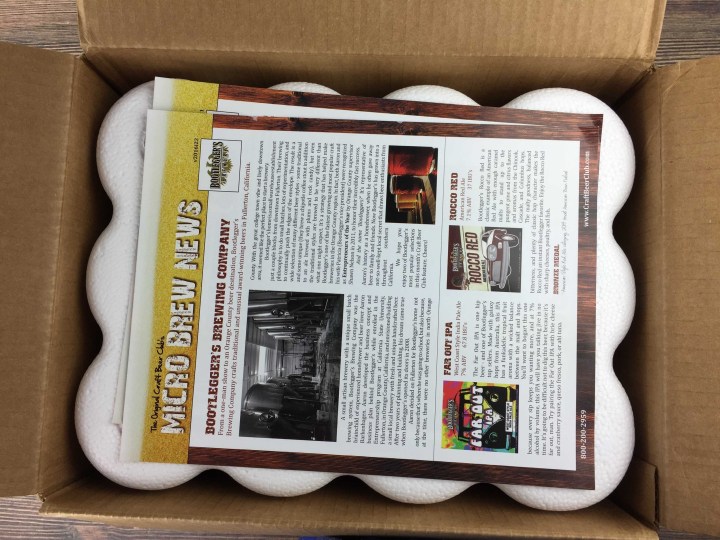 Your beer choices are no longer limited by the selection available in your neighborhood! Craft Beer Club is a monthly subscription that delivers a twelve pack of select microbrews right to your home. Picked from across the U.S. and Canada, each selection has received acclaim and is very popular within its distribution area – but CBC lets you enjoy them wherever you may be.
Every shipment includes relevant issues of the Micro Brew News.
DEAL: When you subscribe or give it as a gift, the subscription will come with bonus items – no coupon code required!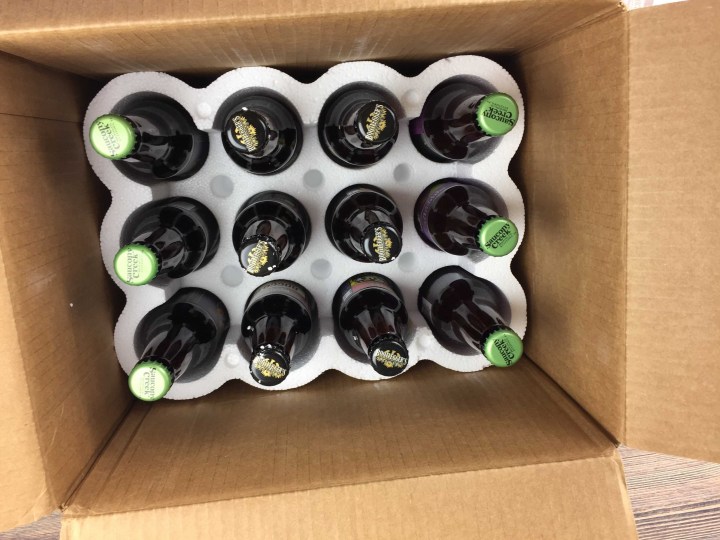 The Club delivers a mixed twelve pack each month which includes three cans or bottles of each of four varieties (they also have a case option) – most month's selections come in bottles. Each box has had two offerings each from two featured microbreweries. This month was a bit odd, as I got the same selections as last month — beers from Bootlegger's Brewing Company in Fullerton, California, and Saucony Creek Brewing Co., in Kutztown, Pennsylvania. I wasn't bummed, though, because I really enjoyed them.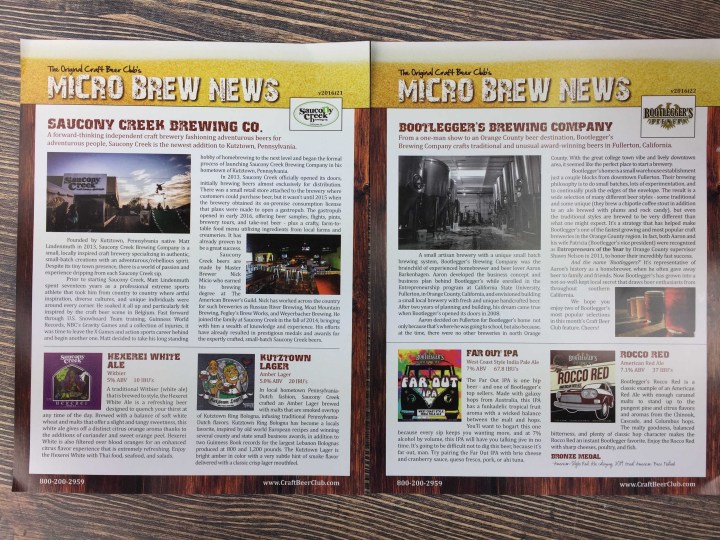 Two separate volumes of Micro Brew News were included, one for each Brewer. They include information on the history and philosophy of the featured breweries, as well as details on the style, stats, and composition of each brew.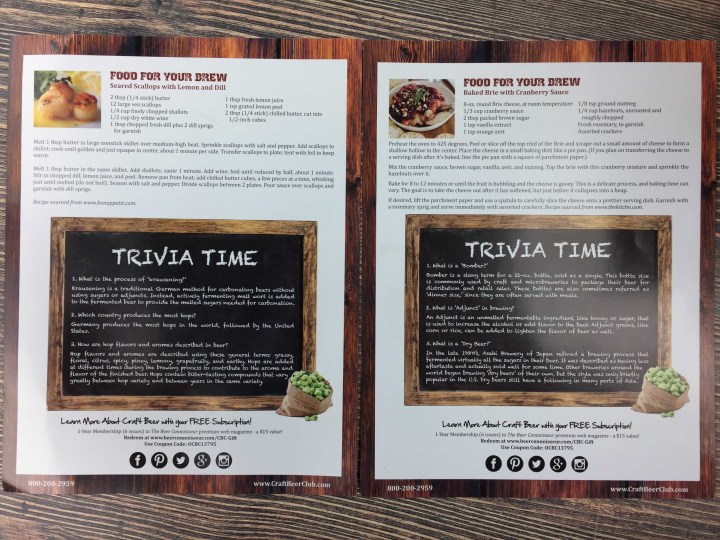 The back of each sheet had a recipe designed to pair well with the beer selections (or in some cases, actually use the beer in the recipe!), as well as some beer-related trivia. The trivia is very instructive, covering some facet of brewing or brew culture in depth. It's a great way to casual expand your beer IQ.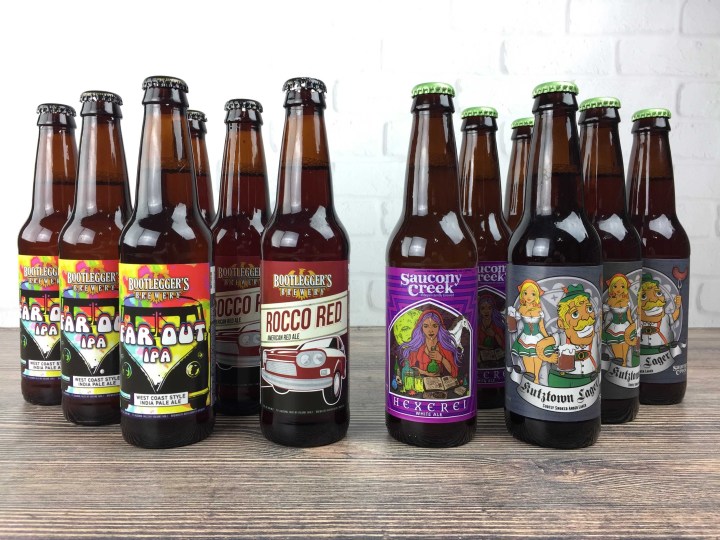 All the great beer we received in this month's box!
Bootlegger's Brewing Company Far Out IPA: This great IPA has an assertive, fruity hops and balanced, creamy body. The complexity of the Australian Galaxy hops really makes this beer – it lets the high malt content create great mouthfeel without undue sweetness, yet it never tastes bitter.
Bootlegger's Brewing Company Rocco Red: This one was my favorite! It has a very full mouthfeel and smooth, rich taste. It's very well malted, but it still has a bright crisp taste. A perfect beer for those that like a strong, malty flavor and the thick, rich feel of a porter without dark coffee or chocolate notes.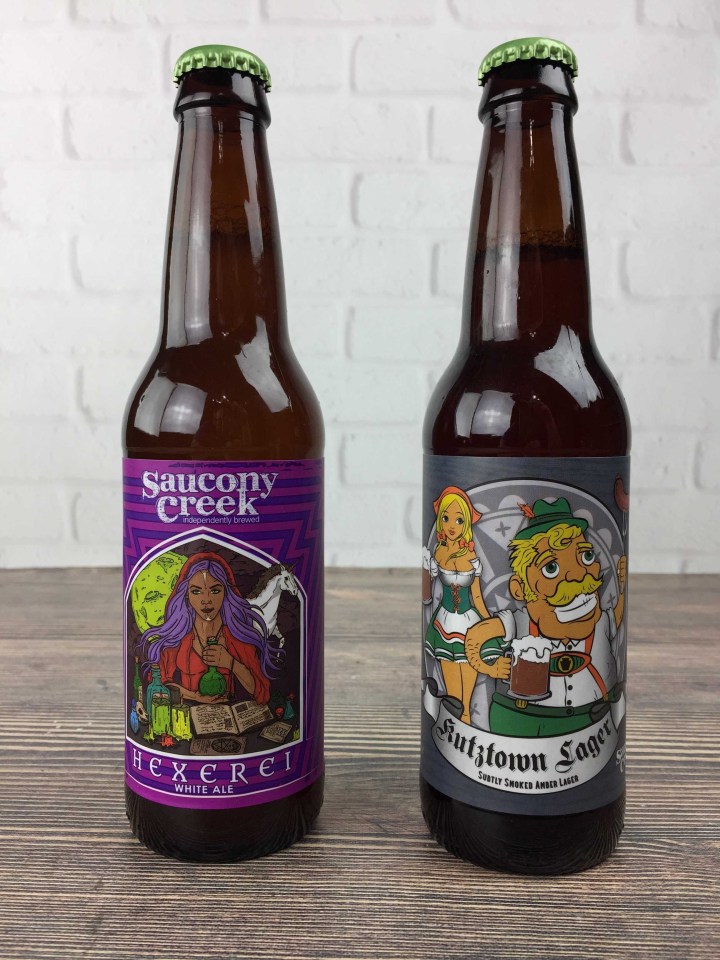 Saucony Creek Brewing Co. Hexerei White Ale: Seasoned with cardamom and blood orange, this beer has a ton of suspended sediment and a very yeasty and tingly flavor. I think this bottle had a much more pronounced yeastiness than the Hexerei I had last month.
Saucony Creek Brewing Co. Kutztown Lager: Unctuous, with a bit of smoke, this lager really captures a kielbasa-like greasy note. It's refreshing and mellow, but the distinctive note from being smoked over ring sausage really adds a distinctive character.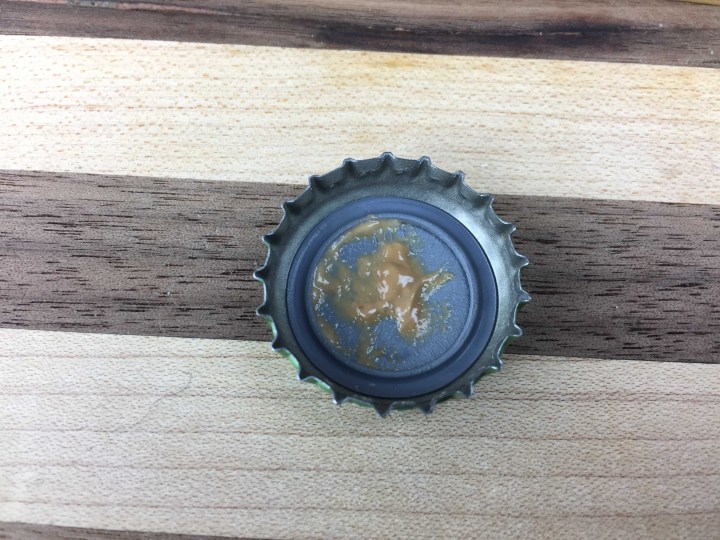 The Hexerei cap showed signs of some heavy sediment!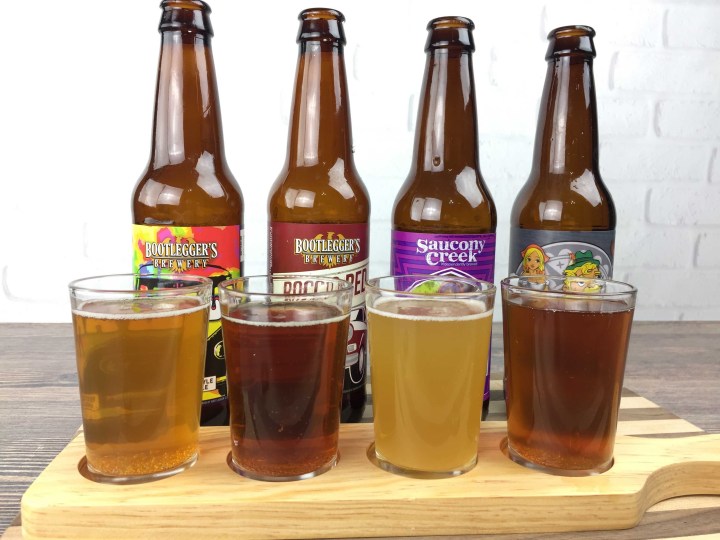 This was a relatively cloudy set of beers. Obviously, the Hexerei had some yeast in suspension, but the Kutztown Lager was also fairly foggy. Even the Bootlegger's IPA had a hazy look. The Rocco's Red was the lone clear brew, with its lovely deep copper color.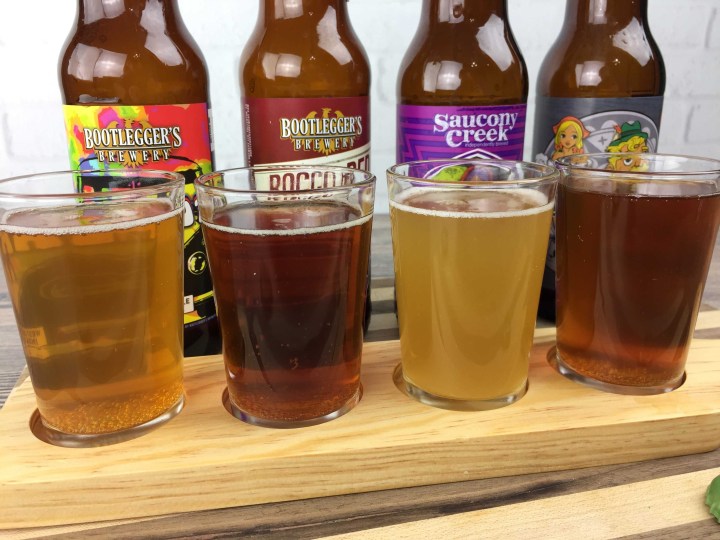 I'm not sure why I received the same batch of beers as last month, as this hasn't happened before. The Bootlegger's selections are a couple of my favorites out of all the CBC boxes I've gotten, so I was happy to get another few of each! Typically, selections vary greatly from month to month – every once and awhile you'll get something wild like a sour beer or a peanut butter brew, but most beers are classic ales and lagers that would pass muster under the Reinheitsgebot.