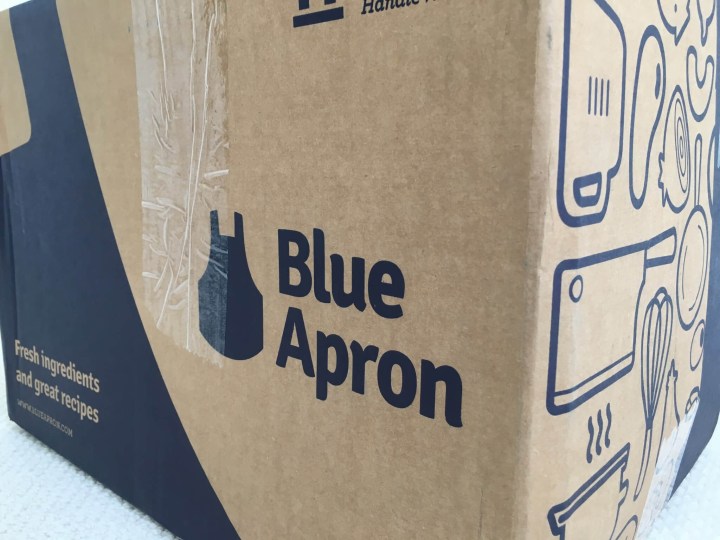 Blue Apron is a subscription box for making great meals at home. If you're like me, you periodically find yourself in a serious cooking rut. You make the same things every week, but the thought of researching a recipe and acquiring all of the ingredients is just too much work. Blue Apron is the solution! Each week, Blue Apron sends you a refrigerated box with all the fresh ingredients you need to make the included recipes. You can select the 2-person plan – 3 meals a week of 2 portions each – or the family plan – 2 to 4 meals a week of 4 portions each. The menus are set, but you can ask Blue Apron to avoid ingredients you don't eat – shellfish and lamb, in my case.
We got the Family Plan for 2 meals. I set the delivery date and it arrived right on time, securely packaged in a heavy-duty box. All of the ingredients are wrapped in an adorable insulated blanket and cooled with ice packs. Mine took a day to arrive and sat on my porch for 3 hours, and everything was perfectly cool inside.
Pricing: 2-Person Plan – $59.94 for 3 recipes. Family Plan (serves 4) – $69.92 for 2 recipes, $139.84 for 4 recipes.
DEAL: Save $30 on your first order! Use this link – no coupon code required!
The meat is at the bottom, surrounded by still-frozen gel ice packs. The beef was double-bagged in an extra ziptop bag, so no concerns about leakage. The produce was all in good shape, but the can of beans was dented. Anyone who has ever seen Alton Brown's Wheel of Pathogens knows that getting botulism is a really bad idea and dented cans are a no-go in my house. Over-cautious? Of course. But why am I getting a dented can in my $70 box of food? I would have complained, but since I received the box for review, I just used my own can of beans and tossed the dented one.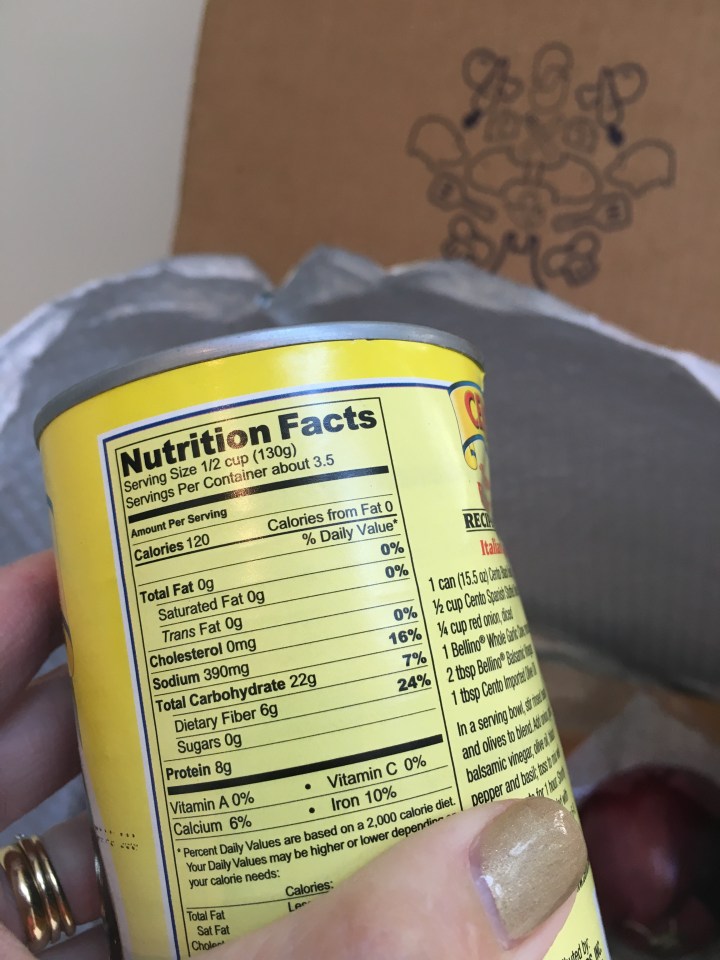 Our first meal was the Black Bean & Sweet Potato Stew.
I was excited about this stew, because who doesn't like a stew in December? This was a carb explosion with the sweet potatoes, tortilla chips, and rice, but I didn't feel like I needed to add protein because of the beans.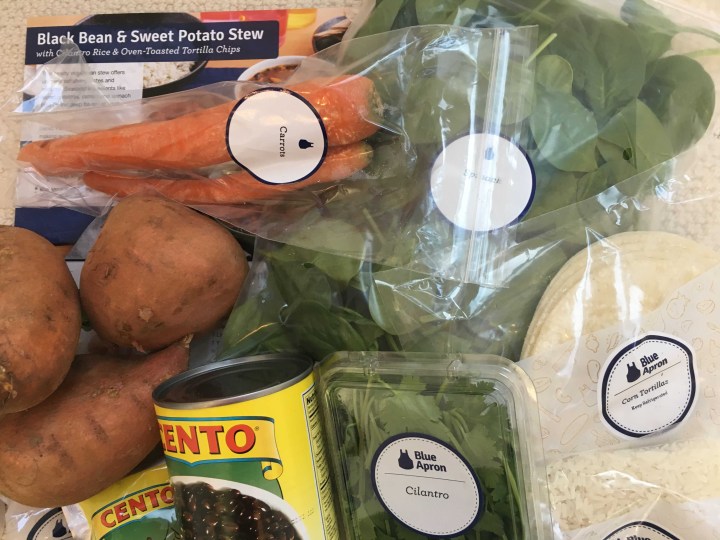 As usual, all of the ingredients were included, even the genius little packet of tomato paste. Blue Apron does a great job of sending you just the amount you need for the recipe, so you don't waste anything; nor do you have to think about how much to add to the recipe. Easy peasy.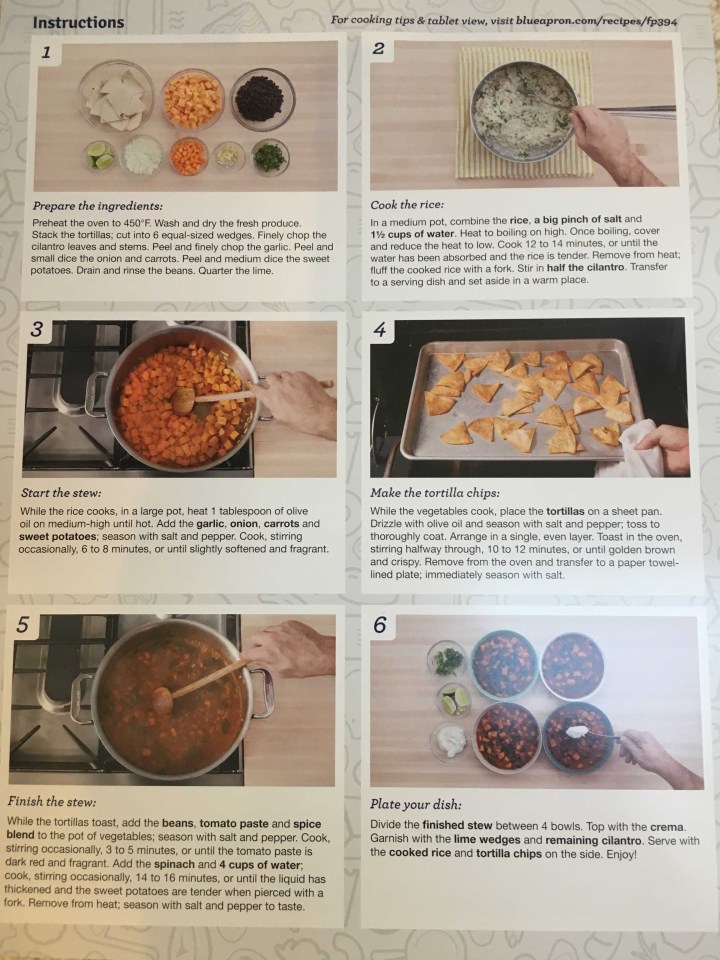 Each recipe comes with these easy-to-follow instructions. Even if you are new to knife skills, you will be able to do everything on this list. The prep time was about right for this recipe.
Now included in the box is the meal's nutrition facts. I think it's nice to have a ballpark idea of how this meal fits into my daily nutrition. Thumbs up.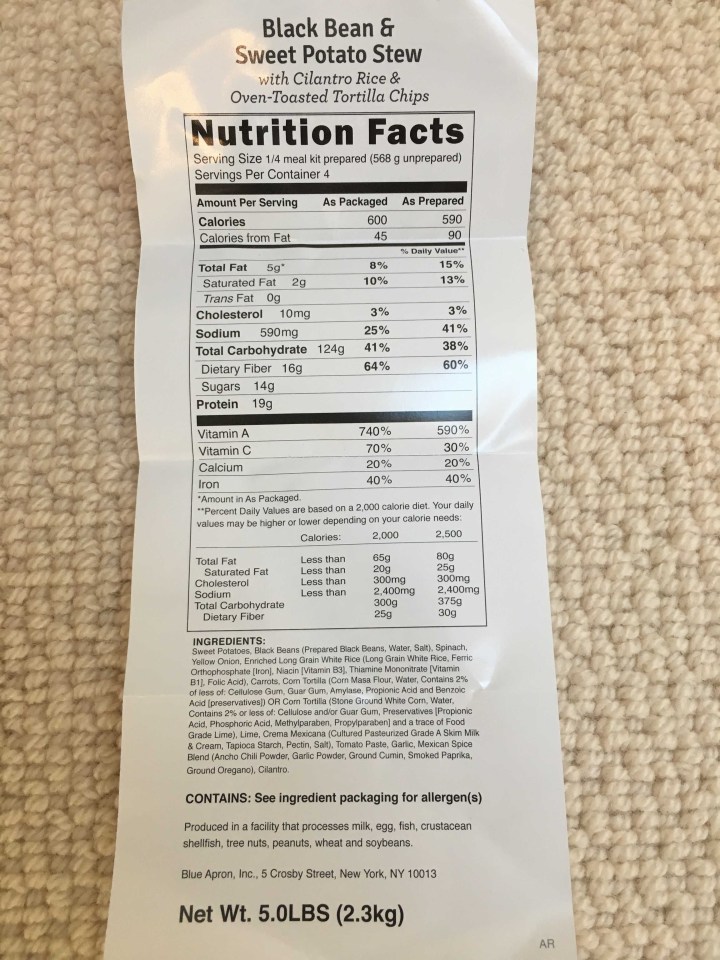 This meal was straightforward to make. We were heading out to a 6 pm basketball game, so I jiggered this recipe just a bit – after pan-cooking the veggies to soften them up, I dumped everything but the spinach into the slow cooker and let it heat up in there – everything was already cooked, so no need to revisit the Wheel of Pathogens. When we got back at 7 pm, everything was heated through and I just had to make the rice and chips to go with it. I put the spinach in the stew while the rice and chips cooked.
This all came together nicely  I would have liked a higher bean-to-sweet-potato ratio, and the rice was somewhat superfluous, but it all tasted good and it was a nice, hearty meal after sports. Everyone liked it.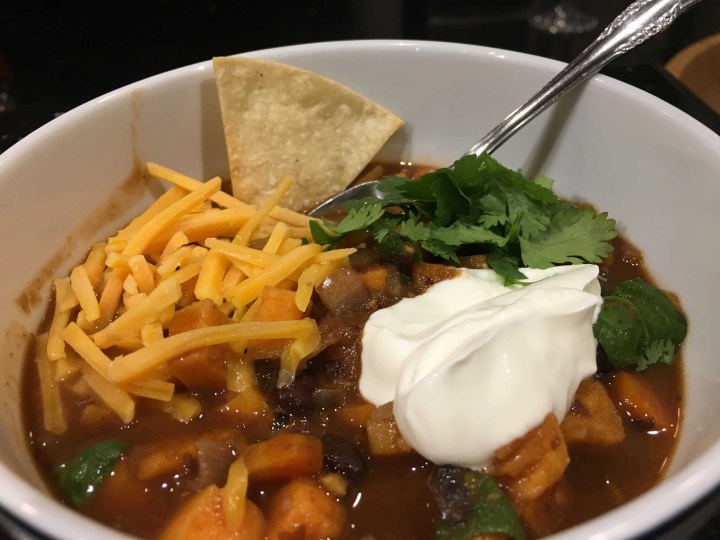 Next up were the White Cheddar Cheeseburgers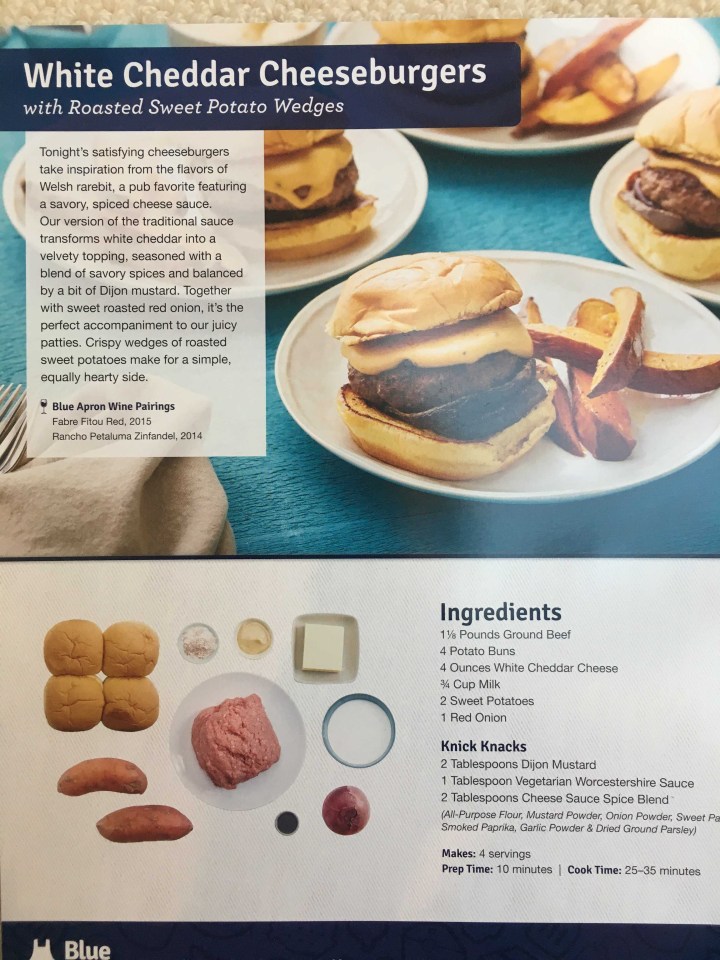 This was a holiday gift to my husband, who likes beef but whose wife rarely buys it. In fact, the last time we had burgers at home was our July Fourth Blue Apron box!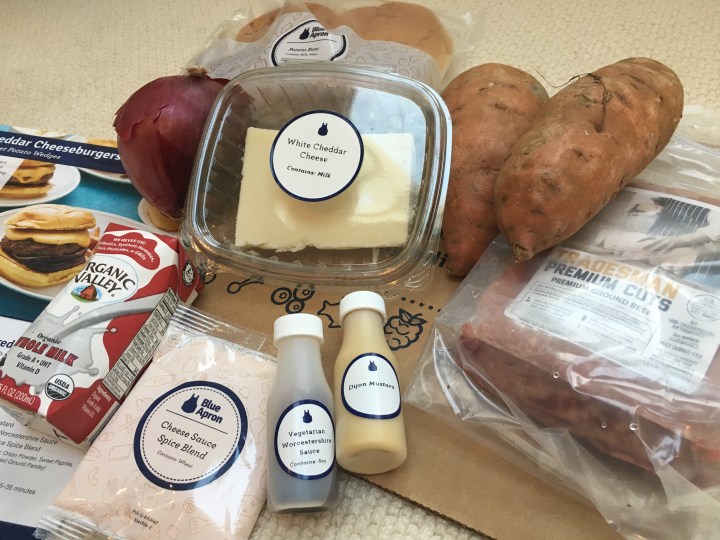 The recipe card has straightforward instructions that were easy to follow. My 9-year-old helped with everything, which was fun for all of us.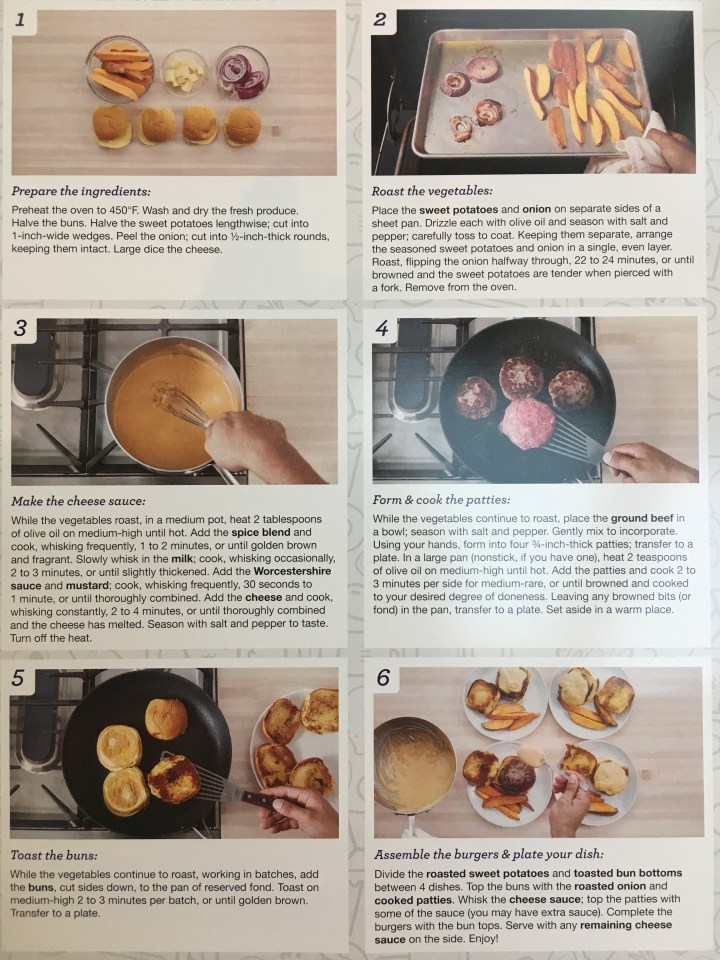 This recipe also included the nutrition facts. No one's making cheeseburgers for their health, so just carry on.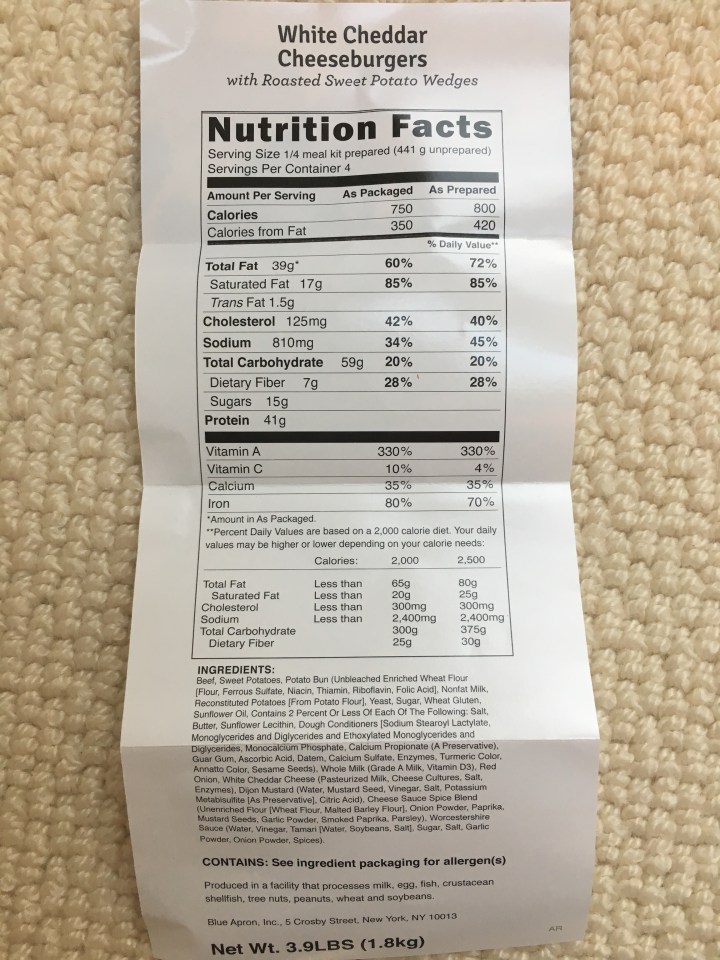 This was quick to put together, which I appreciate on a Sunday night. The ground beef was (as you can see above) not a lower-fat cut, but it was a lovely dense grind that was easy to form into patties and was, of course, delicious.  The sweet potato wedges were a snap to make and definitely something to put in the recipe rotation. The cheese sauce, alas, was tasteless and added nothing to the burger but calories. A nice slice of sharp white cheddar would have been awesome instead. Still, this was a crowd-pleaser and filling.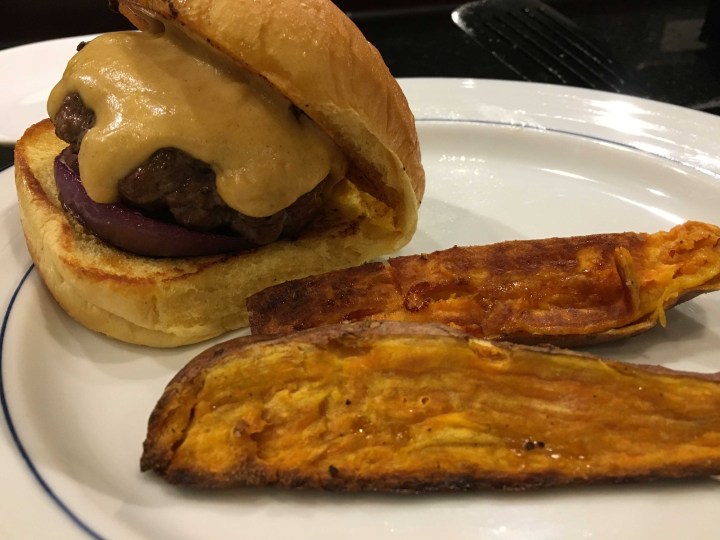 It's nice to not have to decide "what's for dinner" all the time. Overall, Blue Apron has been enjoyable and gets us out of our boring dinner routine. Honestly, you can forget how fun cooking can be. Interesting ingredients, easy recipes, and delicious food. We can't wait to see what we get next time!