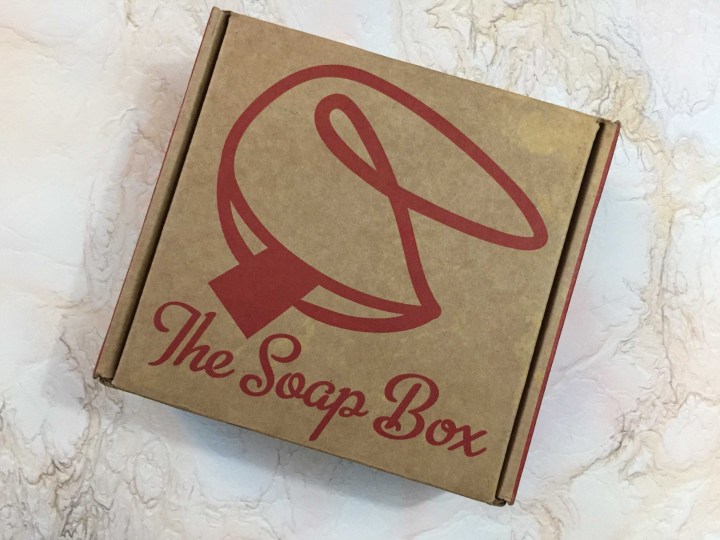 Fortune Cookie Soap is a a bath & body company that regularly releases themed collections throughout the year, usually focusing on pop culture. I've used their products before but what I didn't know is that they have a quarterly subscription box. The soap box includes small travel/sample sized versions of the products that will be in an upcoming collection. Since the collections sell out very quickly on release day (I know from experience!) this is an awesome way to get a sneak peek at what's coming.
The Winter soap box is no longer available, but the collection featured (Through the Wardrobe) goes on sale November 11 if you like what you see in my review! The Spring 2017 soap box is now for sale.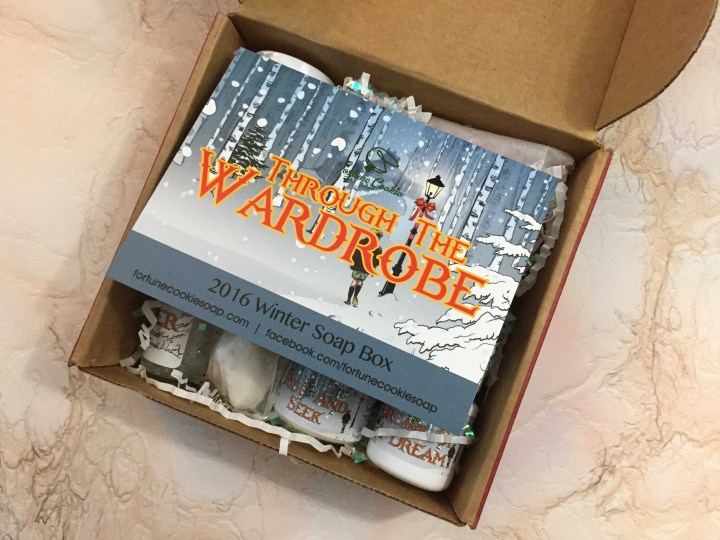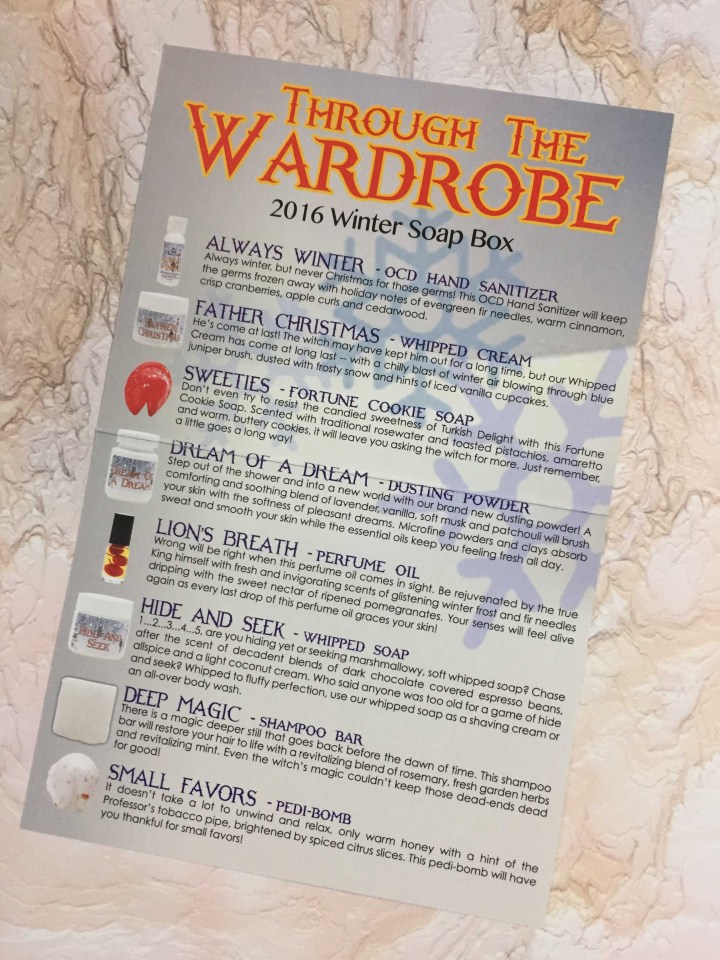 I was never into the Narnia books, so I don't understand any of these references. I'm just taking it for the wintery theme it evokes.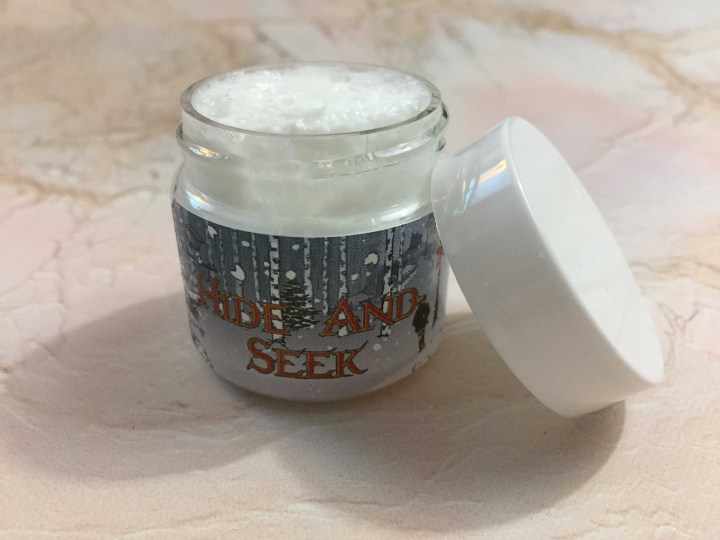 Hide and Seek Whipped Soap The first item I pulled out was a small jar of their whipped soap! It's fluffy and creamy and is scented with espresso, dark chocolate, allspice, and coconut cream. Coconut latte, anyone?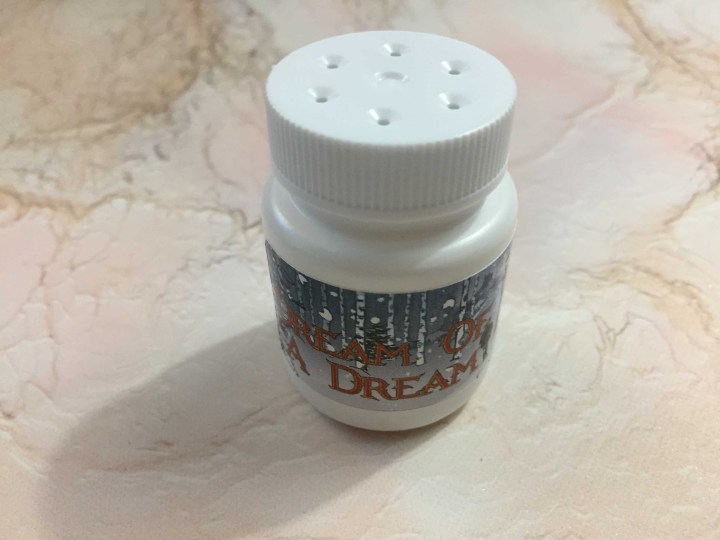 Dream of a Dream Dusting Powder This is a brand new product for FCS. I can't think of the last time I used powder, but this contains clay to help absorb moisture. The scent is an inoffensive vanilla, musk, lavender and patchouli, but it isn't too headshoppy. I like it.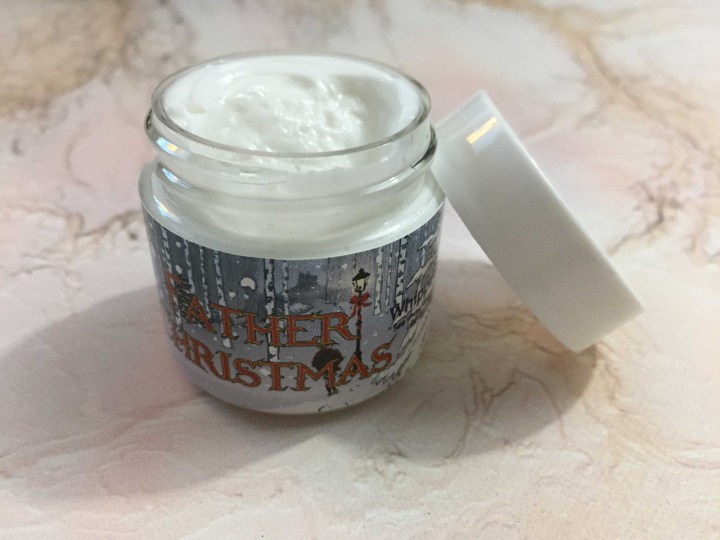 Father Christmas Whipped Cream This is my favorite product from FCS, and I need a lot of body butter once winter rolls around. It's scented with juniper and vanilla cupcakes and really smells amazing.
Always Winter OCD Hand Sanitizer I swear by this stuff; since I've had a cold for almost a month now I've been slathering on hand sanitizer from the Fall box. This winter version has cranberry, cedar, apple, evergreen, and cinnamon. There's glitter in it which does leave a sparkle on your hands, but it's very subtle and wipes off easily.
Lion's Breath This perfume smells amazing. It's ripened pomegranates but also has fir in it, and it smells soooo good. It doesn't last very long on the skin, which means I'm liberally reapplying.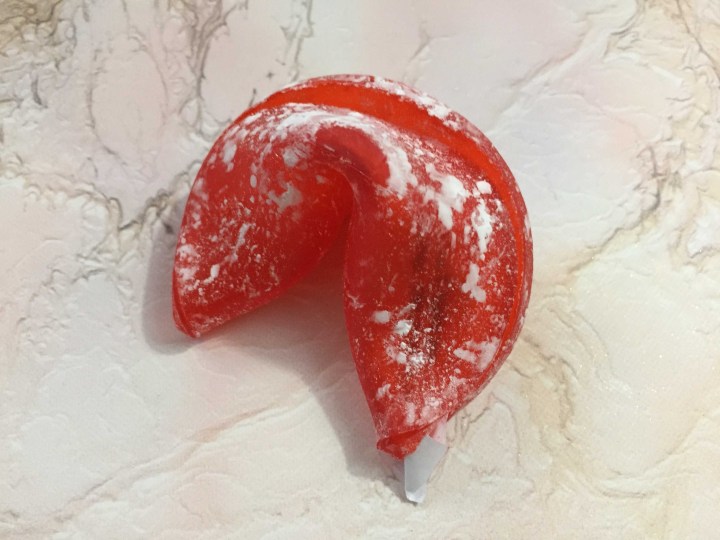 Sweeties Soap Okay, I at least remember the turkish delight, which is what this is supposed to evoke – rosewater, pistachio, amaretto, and butter cookies. It smells mostly like roses to me with a bit of almond.
Small Favours Pedi Bomb With tobacco, honey, and citrus, this is probably the only scent in the box I don't like at all.
Deep Love Shampoo Bar I used to use shampoo bars from LUSH, so I'm looking forward to trying again. This shampoo has mint and rosemary in it.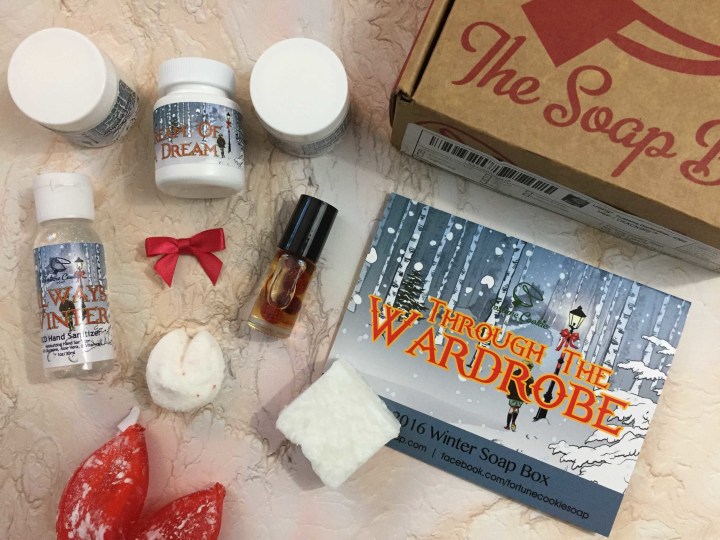 It's great to be able to get a sneak peek at the upcoming seasonal collection. The sample sizes are generous and definitely pique my interest. I've made a few orders from FCS and have liked everything I've tried. A few scents weren't for me in this collection, but that's okay! There's so much to sift through it's definitely worth the price.
Visit Fortune Cookie Soaps – The Soap Box to subscribe or find out more!