I decided this year I wanted a Fair Trade Chocolate Calendar that told the Christmas Story. I couldn't believe it when I read the Chocolate & Candy Advent Calendar Post and saw the Divine's Advent Calendar ($7.99 each) I had to order it!
I wasted no time and ordered two calendars. I should had ordered four or five because my eight-year-old son's favorite chocolate in the whole wide world is Divine's Milk Chocolate.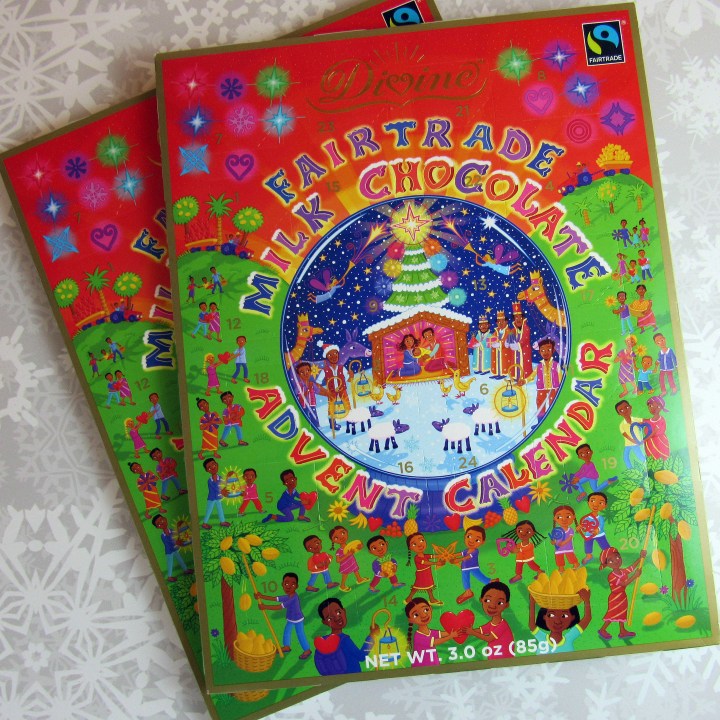 DEAL: Now through November 13th, save 15% on every Advent Calendar purchased. Use offer code ADVENT15 at checkout to receive your discount.
Divine's wasted no time in shipping it to me. It shipped the same day with a standard delivery charge of $6.95 and arrived the next day at my house. It helps to live in the same state as Divine's warehouse! I did give thought about ordering all kinds of delectable chocolates to reach $65.00 and qualify for free standard delivery but didn't. I did use a discount code that I received for signing up for their email list.

We try to support Fair Trade products whenever we can. Divine's chocolates are delicious and come from a chocolate company co-owned by Kuapa Kokoo which is a co-operative of 85,000 cocoa farmers located in Ghana, Africa.
There is a lot of information on the back of the calendar plus a few fun activities. The ingredients are
sugar, cocoa butter, dried cream (milk), cocoa mass, whole milk powder, sunflower lecithin (emusifier), vanilla
Notice that soy is missing in the ingredients. It makes me sad when I received a delicious piece of chocolate that has soy, usually soy lecithin, in it.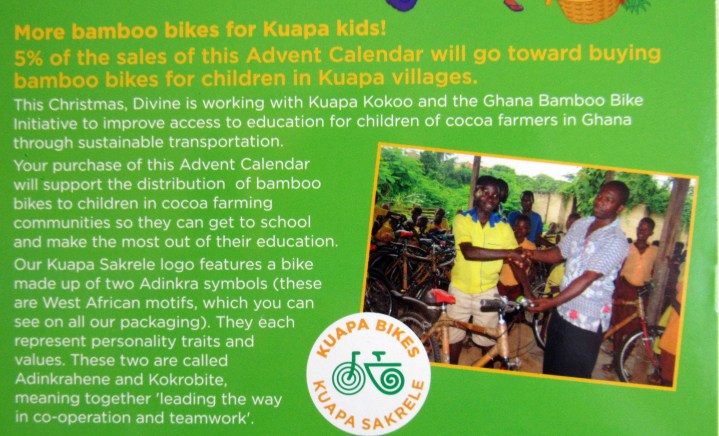 It is wonderful and keeping with the Christmas spirit that 5% of Advent Calendar sales will help purchase bamboo bikes for children in Kuapa villages.
Onwards to the chocolate!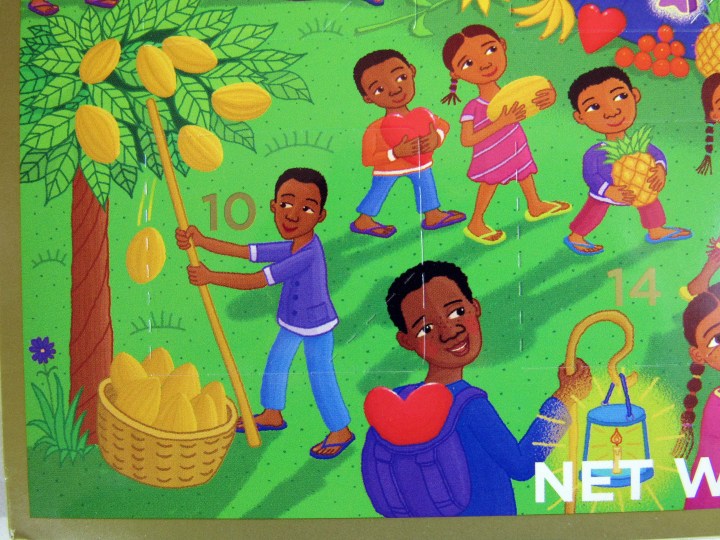 I selected a random number because the spoiler picture already shows Day 1. I selected Day 10.
The best part of the calendar is that it tells the Christmas Story.
A star appeared in the sky, a sign that a great king was about to be born.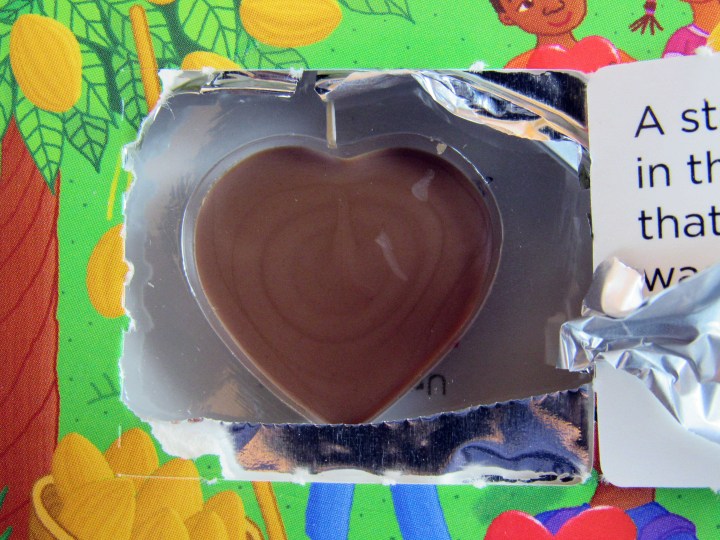 I removed the foil and saw a yummy chocolate heart.
Another fun part of the advent calendar is learning how different countries say Merry Christmas and their official flag. I was surprised to pick the United States and decided to try one more time.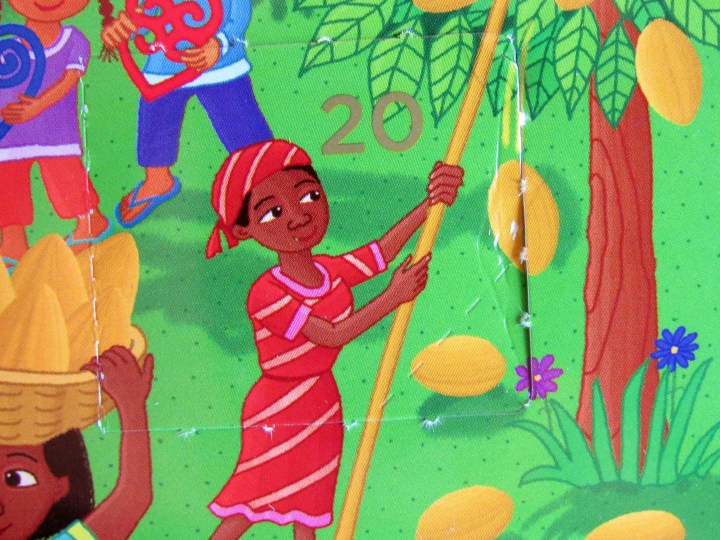 The scenes on the advent calendar spark the imagination.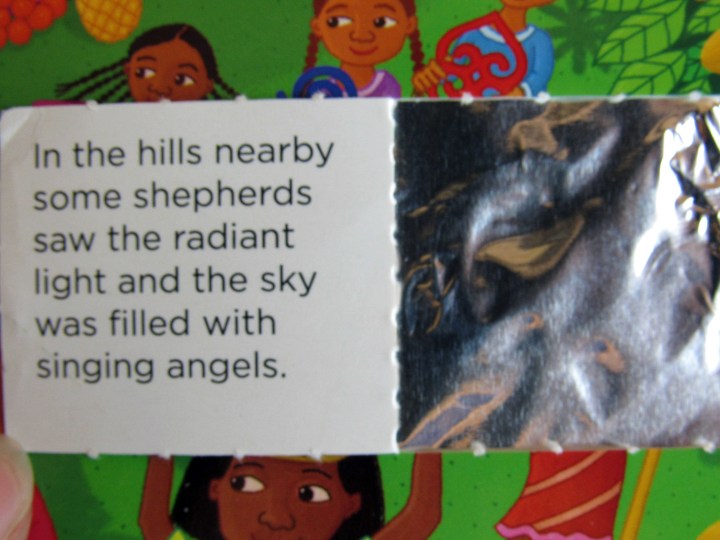 It is one of my favorite parts of the birth of Jesus. I love how the calendar concentrates on the birth of Jesus.
In the hills nearby some shepherds saw the radiant light and the sky was filled with singing angels.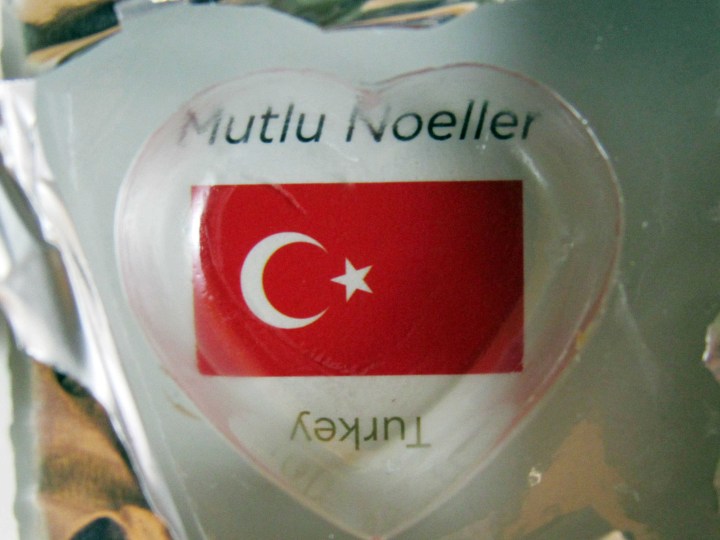 The country is Turkey. Mutlu Noeller!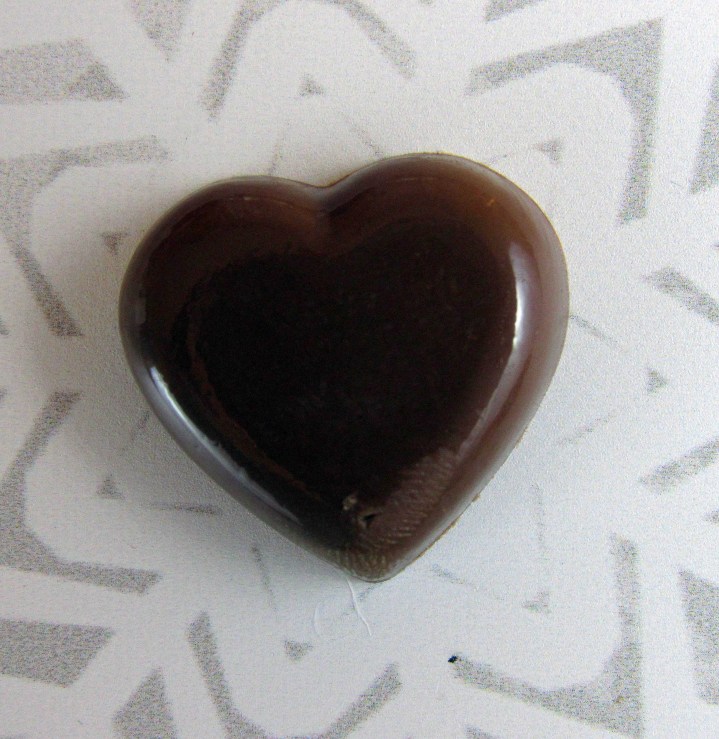 The delectable milk chocolate tasted smooth and creamy. My 8-year-old was excited to see Divine Chocolate in the house and was happy to eat the second chocolate for me. I should have bought four calendars instead of two and will keep a look out to see if any of the local stores have them.
My family loves the Divine Fairtrade Milk Chocolate Advent Calendar. It is full of scrumptious chocolate and tells the Christmas story. The colorful scenes and the Nativity scene are captivating. Now we have to wait until December to enjoy the rest of the chocolates! Check out the Chocolate & Candy Advent Calendars For a Sweet Christmas Countdown! for other yummy choices.
Visit Divine Chocolate Advent Calendar to subscribe or find out more!