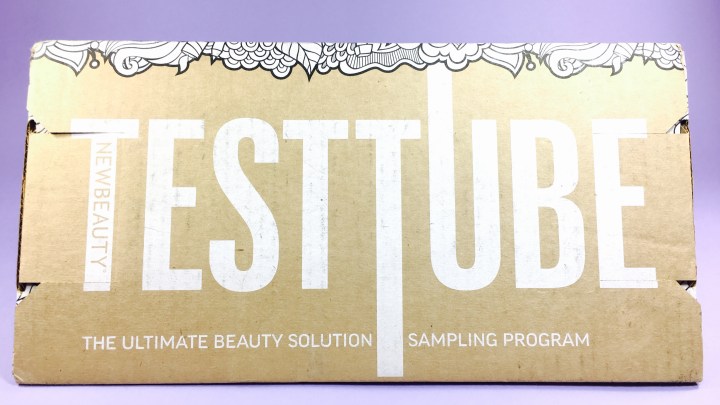 NewBeauty TestTube is a beauty subscription box filled with 10+ deluxe and full-sized luxury beauty products plus a subscription to NewBeauty Magazine, delivered quarterly. This subscription is $29.95 plus shipping and is delivered every other month. NBTT recently made some changes and now says that they offer "beauty solutions" that will help solve our biggest makeup, skin, hair, and body concerns.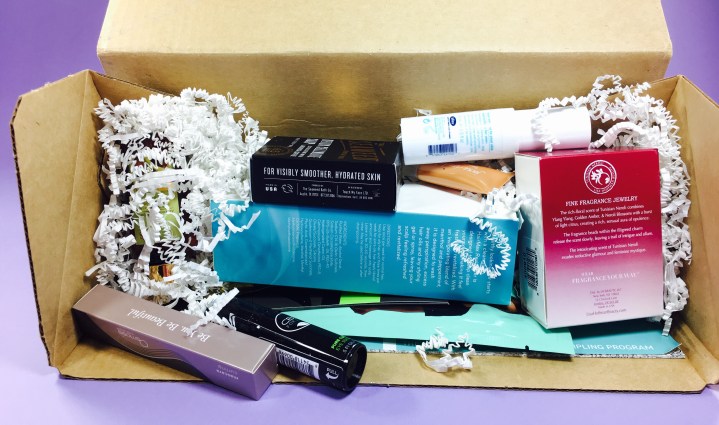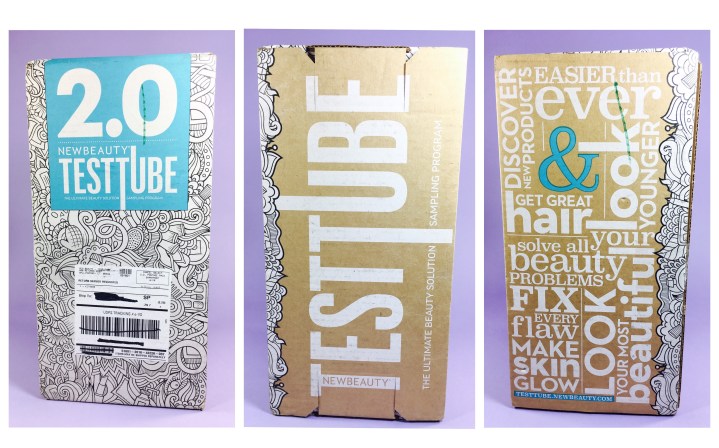 One thing that has changed is the packaging! NewBeauty TestTube now comes in a triangular prism and includes a black and white doodle that you can color in if you want to zen out with your favorite coloring implements.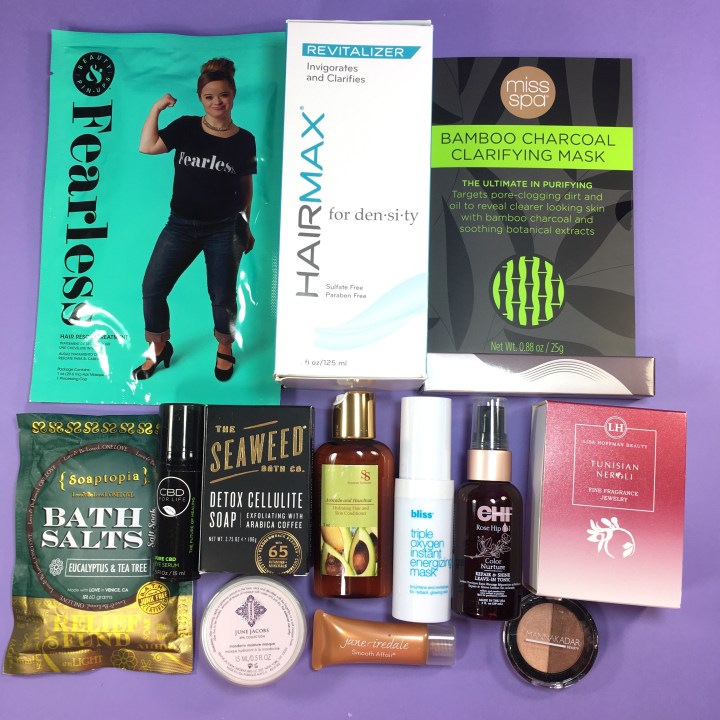 Here's everything laid out. There were 14 items in this shipment! That's a lot of stuff!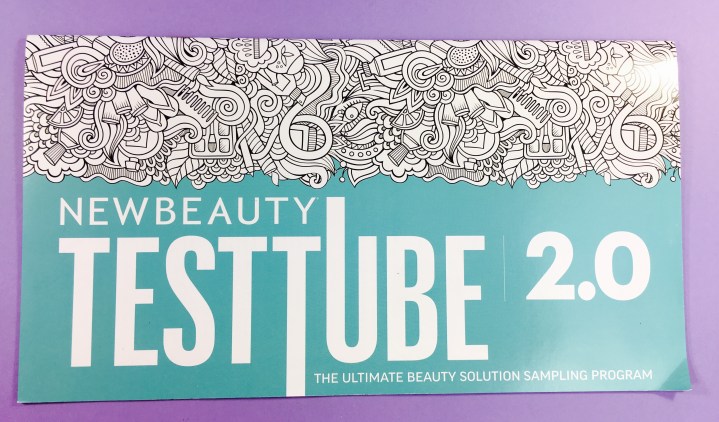 The product information booklet is very detailed and described some of the changes NBTT put in place this month.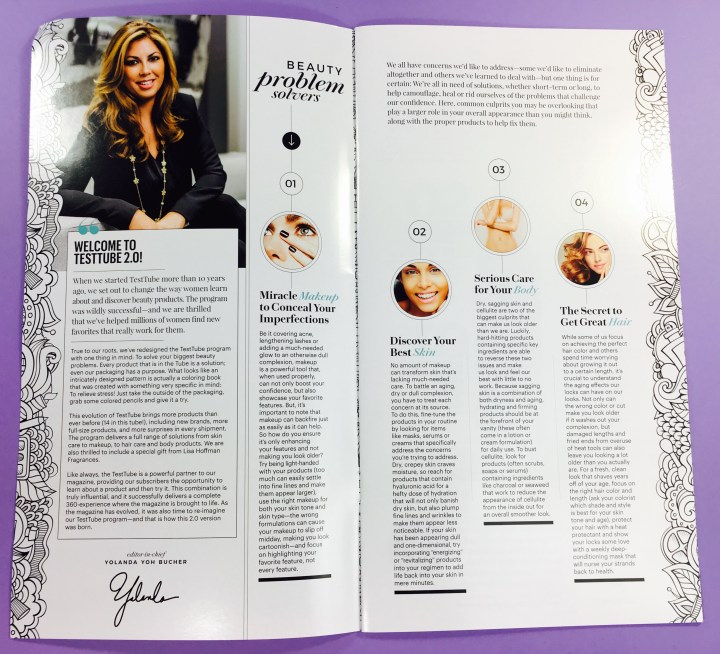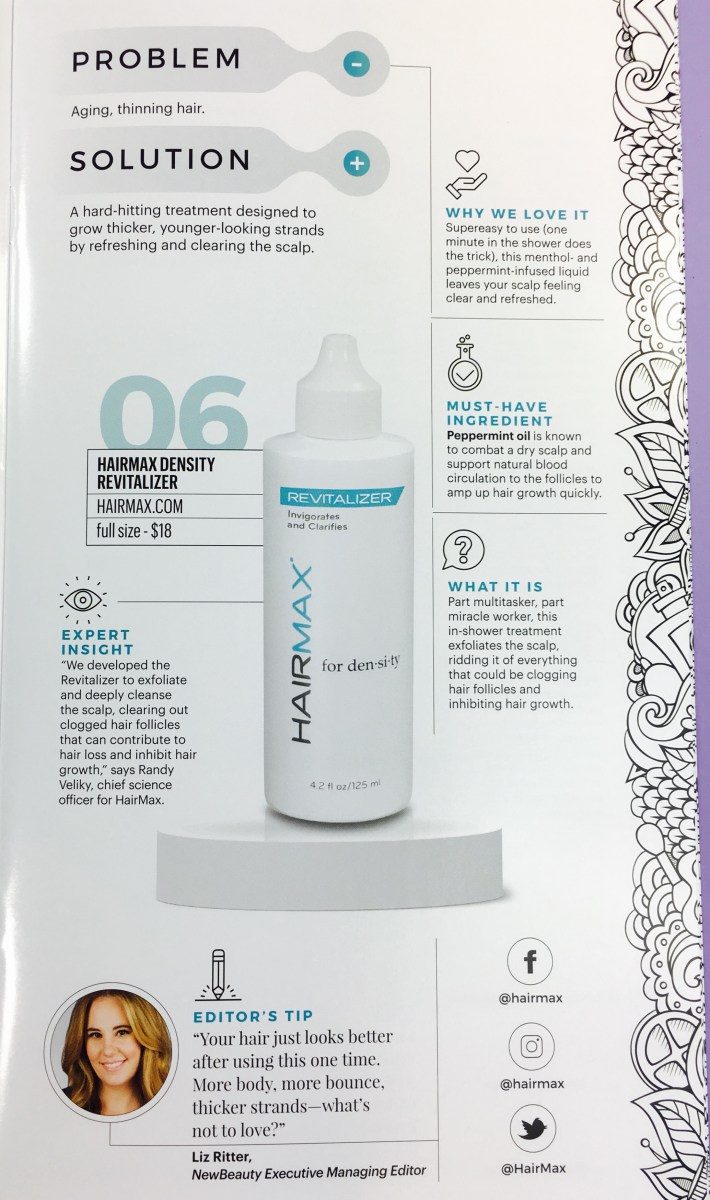 Here's a page on one of the items that I looked forward to trying since it is for fine hair and that is one of my biggest beauty problems.
There was also info on how you could win an annual subscription.
The product I tried first was HairMax Density Revitalizer ($18). I have super fine hair so I am willing to try just about anything. This scalp exfoliator is designed to deeply cleanse the scalp to remove oil, sweat, and other stuff that can clog pores and inhibit growth. It came out in a fine stream and I sort of rubbed it in and it lathered up a bit. After one minute I rinsed it out and then followed with my usual body-building shampoo and conditioner. I don't know that I saw instant results but I will continue to use it once a week and see if it helps boost body in my hair.
I look forward to trying Soaptopia Eucalyptus & Tea Tree Bath Salts ($2.95)! This blend of Celtic Sea Salt (from France, oh la la!) and Epsom salts is scented with eucalyptus and tea tree essential oils and just a whiff woke me up. I'm saving them for when I have a cold.
I'm not much of a bar soap user but I tried The Seaweed Bath Co. Detox Cellulite Soap ($7.99) all over and sadly it didn't rinse clean since I have hard water. Maine bladderwrack seaweed provides vitamins and nutrients to this slightly gritty soap that smells like natural soap.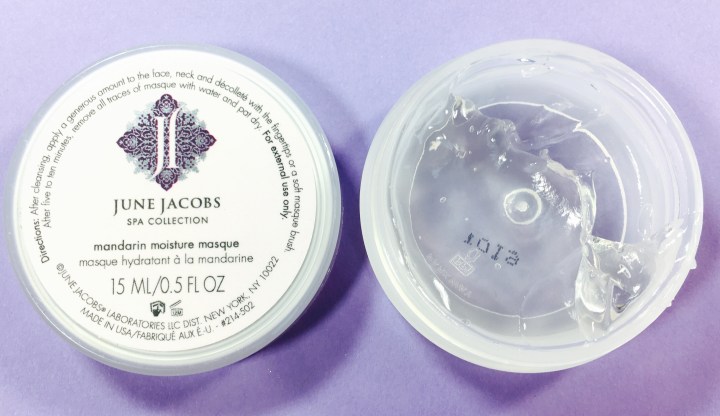 Mandarin Moisture Masque ($6.50) was the first product I have tried from June Jacobs, who bills this line as "cutting-edge science married with nature." It had a strong, sweet perfume scent and left my skin feeling tacky and not soft at all. You're supposed to leave it on for 5 minutes, then rinse off, use toner, moisturizer, etc, which leaves me thinking "what's the point?"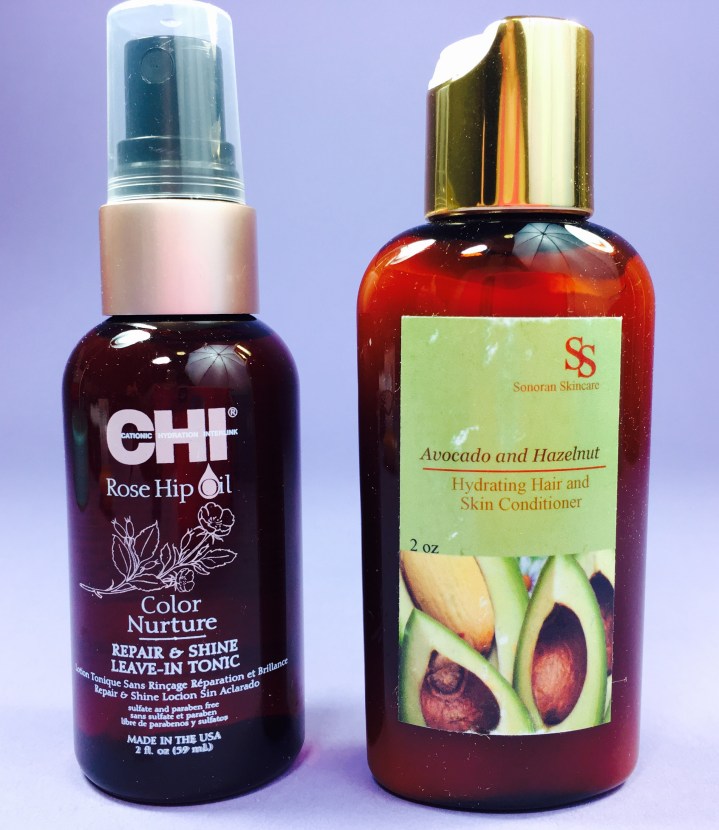 I don't color my hair so I will pass along CHI Color Nurture Repair & Shine Leave-In Tonic ($6.49) to my daughter. Generously mist hair with tonic, comb through, and then style as usual. Rose hip and olive oil, as well as silk protein provide moisture and strength in this lightweight product.
I used Sonoran Skincare Avocado & Hazelnut Hydrating Hair & Skin Conditioner ($3.75) as a body moisturizer. Hazelnut, mango, and sesame oils provide abundant moisturization but the fragrance is very strong and I can't quite place it but it almost reminds me of a fruity/floral bug spray. It's been over an hour since I applied and my skin is still soft but heavily perfumed.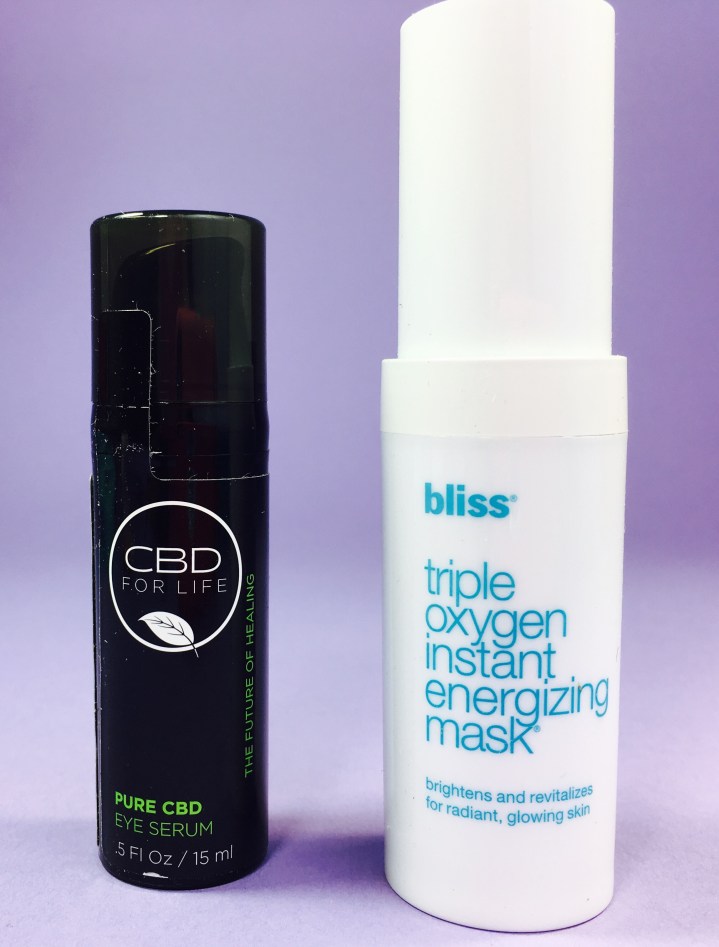 I am always looking for solutions to my increasingly darker under-eye area. CBD for Life Pure CBD Eye Serum ($32.99) absorbed quickly and didn't leave a greasy feel (which can make eyeliner smear). It had a very faint natural fruity scent and a pump applicator which means it won't get contaminated each time I use it. Note: Some subscribers may receive a CBD Face Cream or Lip Balm.
Bliss Triple Oxygen Instant Energizing Mask ($8.24) is supposed to instantly brighten, detoxify, and refresh skin with "CPR" technology (clarify, protect, and revitalize). This is one of those products that foams when you use it so don't apply around your nose because it can feel weird if it gets in your nostrils. I thought it had a nice, lemony scent but like other Bliss products it irritated my skin.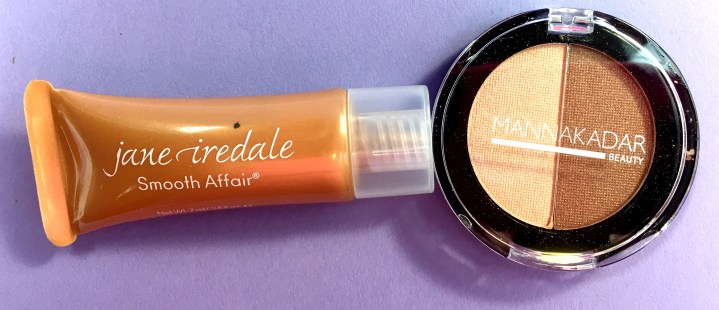 Jane Iredale Smooth Affair Facial Primer & Brightener ($6.72) smoothed my face without that slick feeling some primers have. It had a slight citrus scent and spread easily. Green and white tea calm the skin and provide anti-aging benefits.
I'm pretty sure this is the 3rd or 4th Manna Kadar Radiance Split Pan Bronzer and Highlighter Duo ($10.50) I've received in as many months. It can be used as a highlighter, bronzer, or eyeshadow, which is how I use it. It goes on smoothly and blends well. I am going to try it dampened next time and see if that gives it a slightly different effect!
Here are the highlighter and bronzer (or eye shadows) swatched on my arm.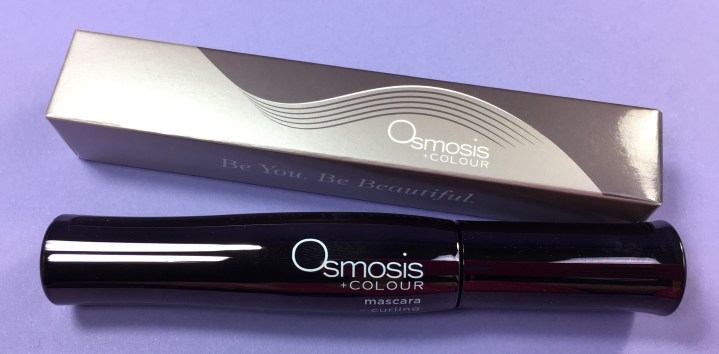 I've never heard of Osmosis Skincare before now and the Curling Mascara ($25) worked well enough for my lashes but no better than Maybelline Great Lash. This product line is available in "med spas" and in order to place an online order, it requires a referral code that is provided by your skin care professional.
According to the Osmosis website, this is called the "cobra head" wand!
Beauty & Pin-Ups has some pretty cute pin-up girls on their packaging along with product names such as Flaunt, Linger, and Sway. When it came time to illustrate their Fearless Hair Rescue Treatment ($10) they skipped the sketched women and picked the adorable Katie Mead to be the face of Fearless. A portion of the sales of this one-time use masque that includes an in-shower cap will go to Best Buddies International, who works to end the stereotypes and isolation of people who may have different abilities. As a special education teacher, I think this is absolutely fabulous!
I almost passed along the Miss Spa Bamboo Charcoal Clarifying Mask ($7.99) since it had the word "clarifying" in the name and I thought it was for acne-prone skin but it turns out it's for aging skin that gets irritated and needs soothing. It was black, unfolded easily, and didn't really have a scent, which I prefer since fragrance irritates my skin. It felt cooling at first and there was a little irritation around my nose but nowhere else. I thought my skin looked a little less red afterward.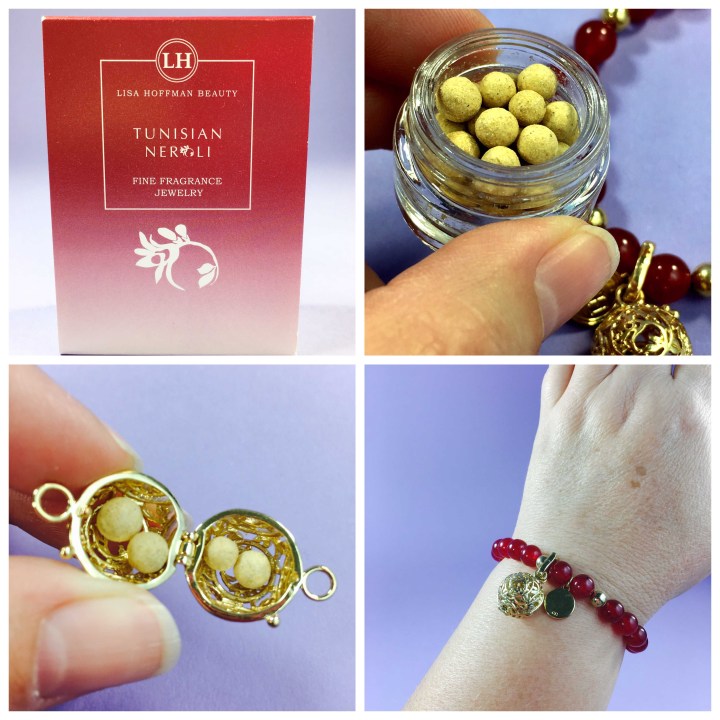 The last item was listed as a "BONUS GIFT" in the product guide. I love the idea of this Lisa Hoffman Fragrance Bracelet ($85 is the least expensive version of this bracelet and they go up to $975!). You place the scented wood-flour balls inside of a bale and then the scent gently wafts as you move about. I am not really one to wear jewelry but I wore it around the house and while on the computer and it didn't annoy me. Supposedly the Tunisian Neroli fragrance has a "heart note of honeyed neroli surrounded by gardenia petals, ylang-ylang, orange blossom, and buchu leaf." It's supposed to have citrus notes and smell green but I don't think it hits those notes at all.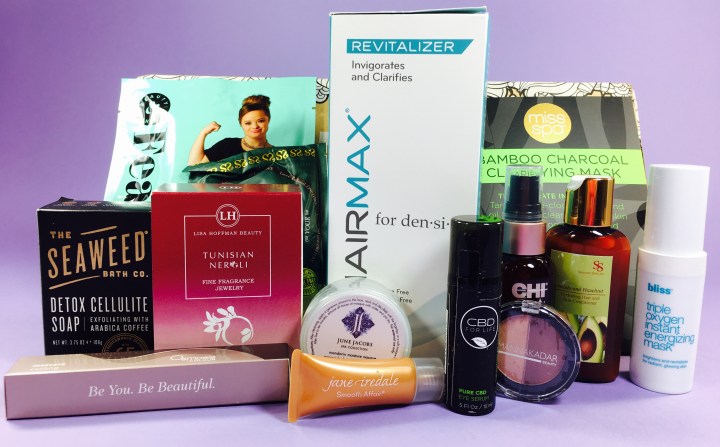 September's It's a 10 hair product takeover was my first intro to this box so I was really looking forward to getting this "2.0" version! I think NBTT tried to offer products for a lot of different beauty problems such as aging and young skin or fine and dry hair, plus makeup products that are neutral. The problem is that if you don't have one of those beauty concerns then a particular product or products could be a bust, especially if it's an expensive product. I have fine hair and aging skin so moisturizing hair products and acne treatments are going to get passed along.
Also, when a company sends variations of products then the products should be similar in value. This box could have come with a $35 face cream, $33 eye serum, or $9 lip balm, and that's a big difference in value. My box version had a value of around $147 not including the bracelet. That's still a HUGE bang for the buck but a little customization would be nice.
What did you think of this month's box?