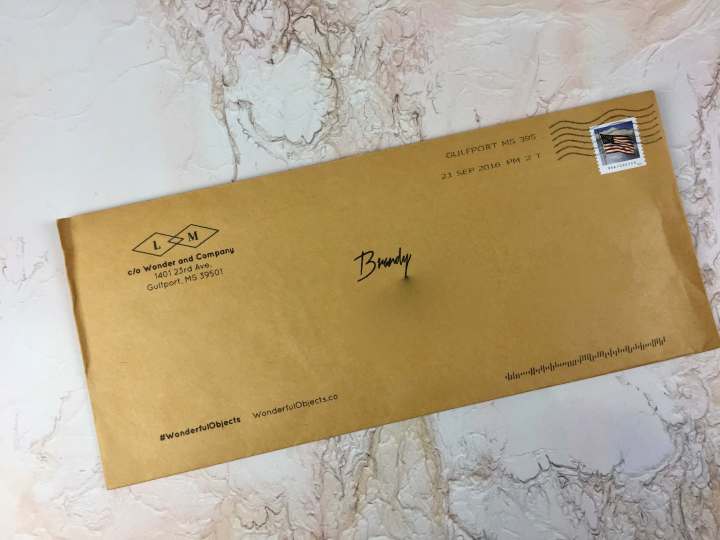 Wonderful Objects by Wonder and Company is a quarterly subscription box that focuses on storytelling and mystery solving through  hand-picked objects plus custom-designed story-making ephemera.  For $72.00 per quarter, you'll get a mystery box that includes wonderful objects like limited edition art, wearable treasures, scents, baubles, and a lot more!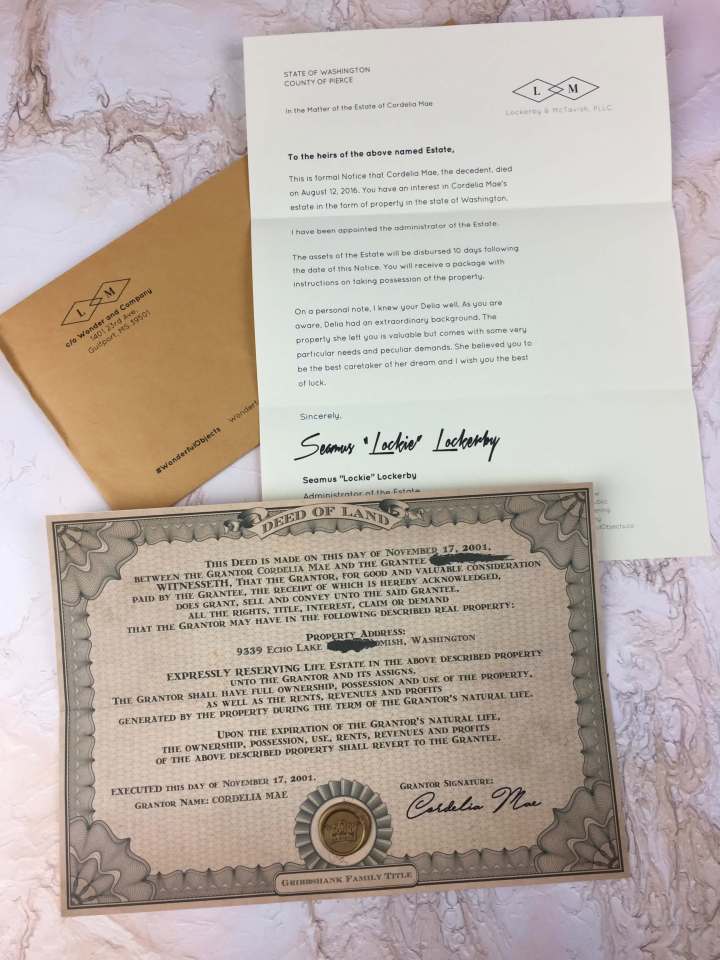 Everything in this mailing!  This is "teaser" box, so it just has a few wonderful and peculiar items to pique your curiosity.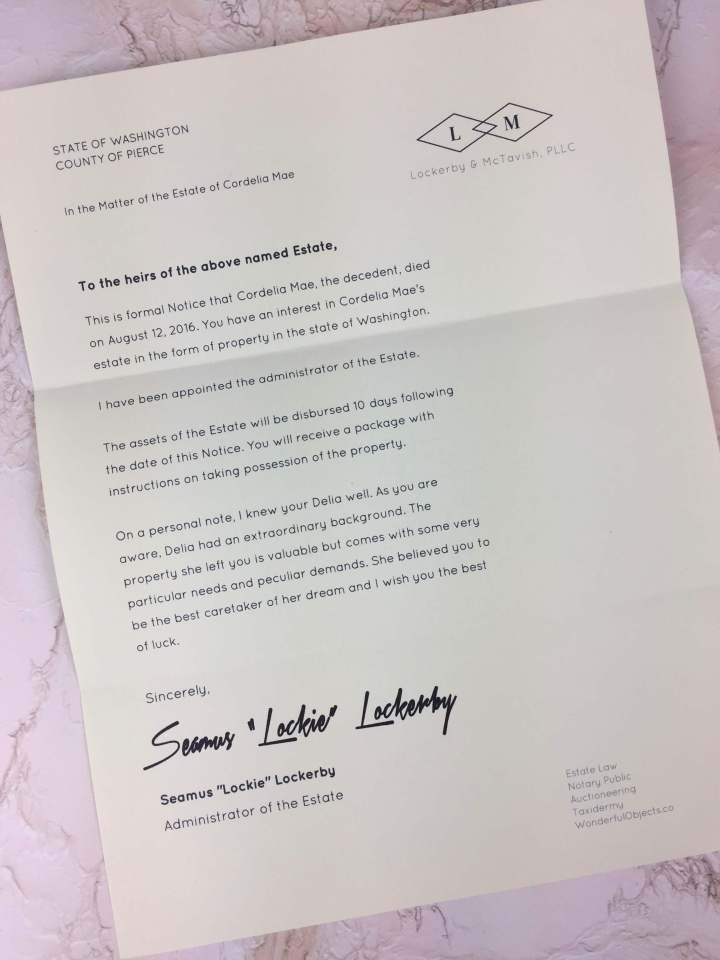 The teaser includes a letter from the administrator of the estate of your dear Aunt Cordelia Mae, recently deceased.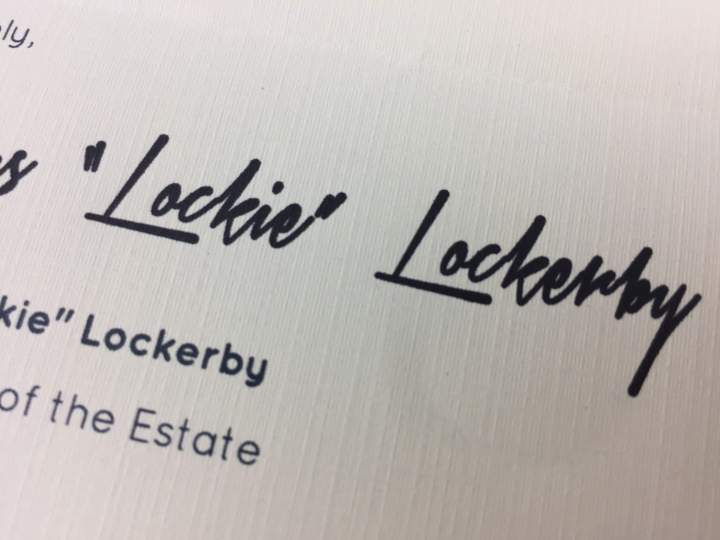 It's signed by Seamus "Lockie" Lokerby as administrator — he's an estate lawyer (but doesn't use an honorific), notary public, auctioneer, and taxidermist!
You are also given a document with a handwritten note to you from your aunt.  She expresses confidence in you "knowing what to do" with your inheritance and cautions you to "keep and eye out for the echoes."  Cryptic and creepy?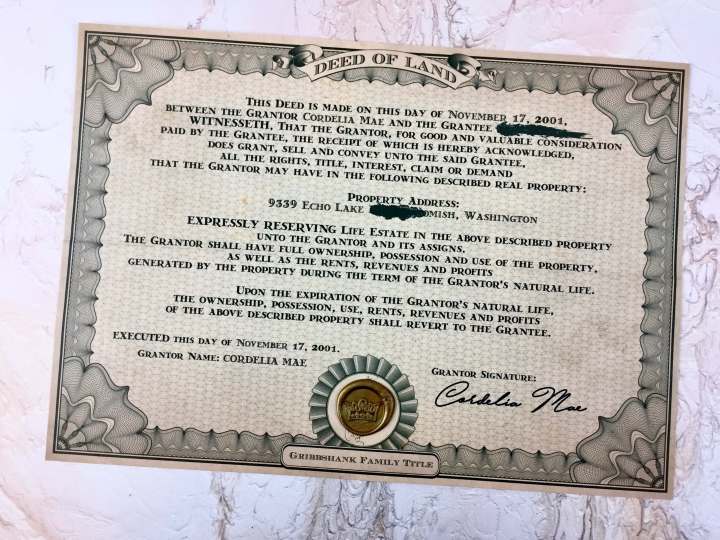 The front side of the document reveals it to be a deed of title to land, with the property having been transferred to you from your aunt in 2001, subject to a life estate.
A seal is affixed to the bottom of the deed — it looks like it's covering a clue?  Talk about a teaser!  We can't wait to see what odd and mysterious treasures await us when we explore our new house!
Note from Brandy: Tom has such a good eye and I didn't notice this mysterious clue when I took this photograph. I tucked my clues away for when we receive the main box, and just as soon as I find it I'll be ripping that seal off! The suspense is absolutely killing me!
Are you a Wonderful Objects objects subscriber?  Save $10 on any plan with code HELLOWONDER10!
Visit Wonderful Objects by Wonder and Company to subscribe or find out more!
The Subscription
:
Wonderful Objects by Wonder and Company
The Description
: Delightful objects for your home and creative space, limited edition art, wearable treasures (from baubles to scents), and more!
The Price
: $72.00 per quarter