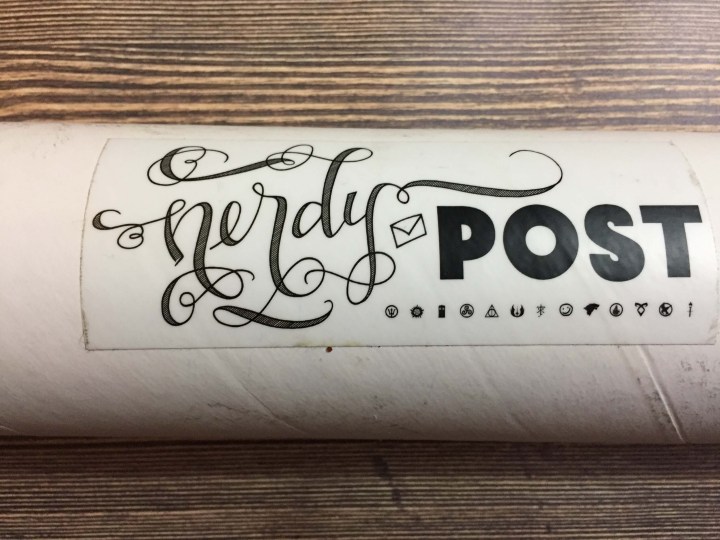 Nerdy Post is a subscription that sends original, hand lettered stationery, posters, prints, stickers, and other paper ephemera around a different theme each month! Not into that month's fandom? You can easily skip your shipment — I love when boxes allow for this feature, since fandom subscriptions can be tricky. This was their first box, and since then they have changed the packaging from a flat envelope to this new tube format due to items arriving damaged.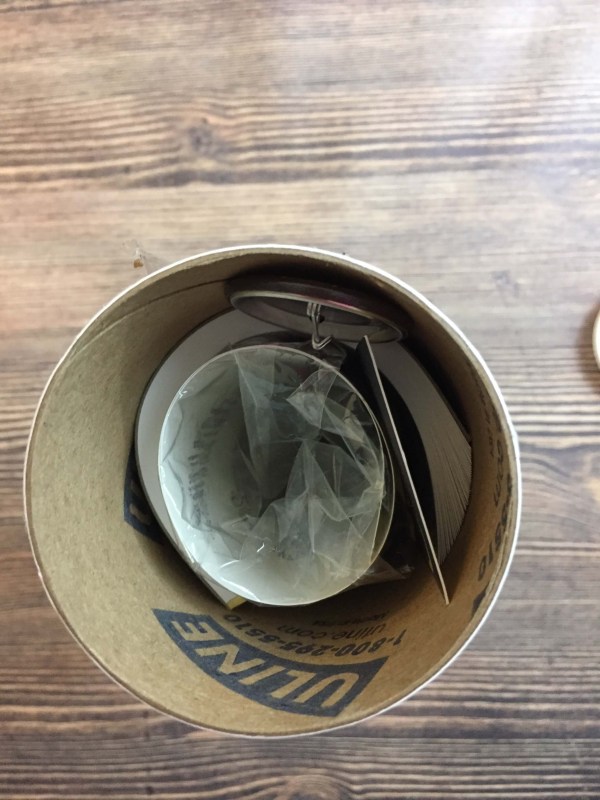 It made me a bit nervous about how well the items would travel after being rolled up inside. The first month's theme was Harry Potter!
UPDATE: This box was received through a third party and the poster was not in its original bubble wrap, which protects the poster from wrinkling. Look for a new review of this fun box soon!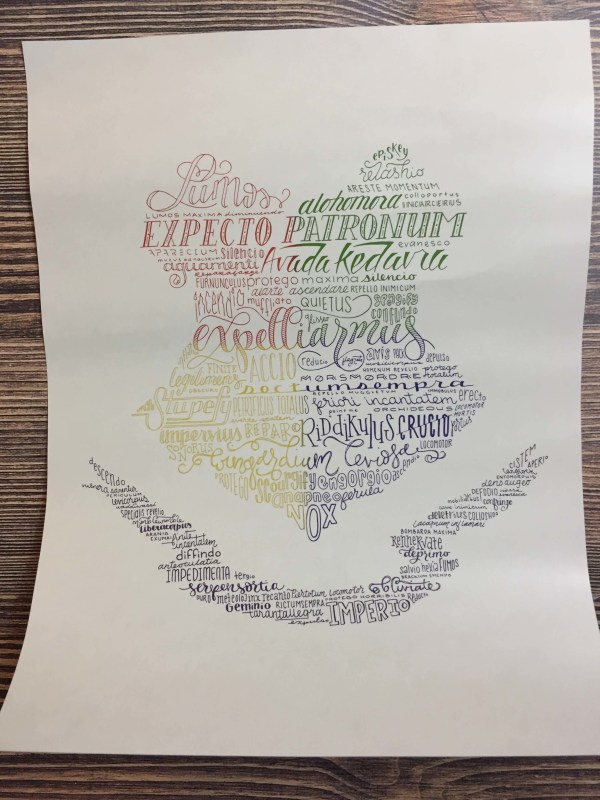 Hogwarts Poster This poster of the Hogwarts crest is composed of every spell in the series — and each spell is written out in a different style. This is so awesome! Unfortunately the poster arrived rolled up, and didn't take too kindly to being unrolled.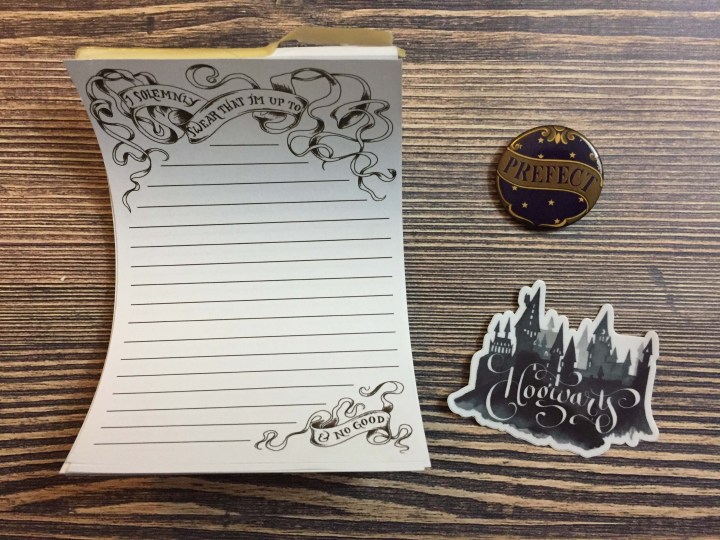 Marauder's Map Notepad This notepad features the motto of the Marauders. It arrived pretty curled up but I think it'll flatten out eventually. I'm already using this to jot down grocery lists.
Prefect Pin I will be rocking this at Universal Studios!
Hogwarts Castle Sticker The art on this is so beautiful! I love the monochrome colour palette.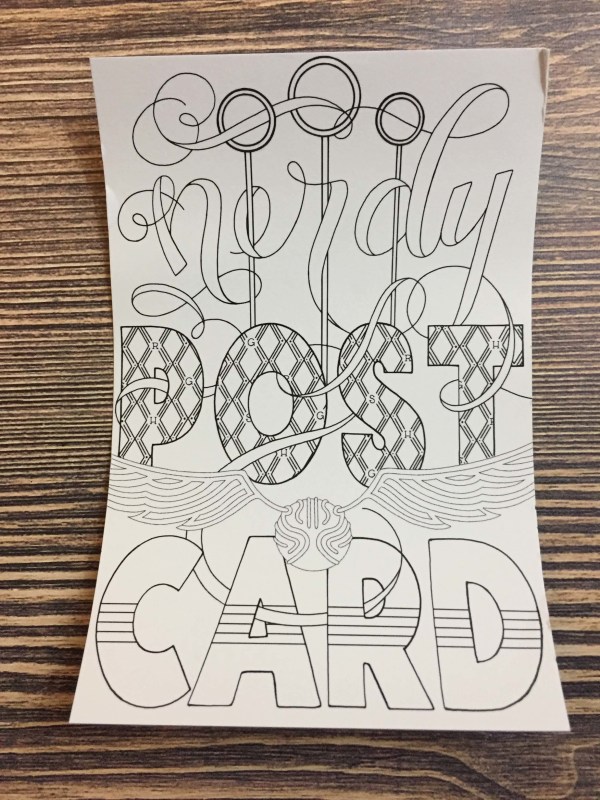 Quidditch Postcard This colourable postcard has the Golden Snitch and the goal hoops from the game Quidditch on it. You can either colour it before sending it, or leave it for your friend to do!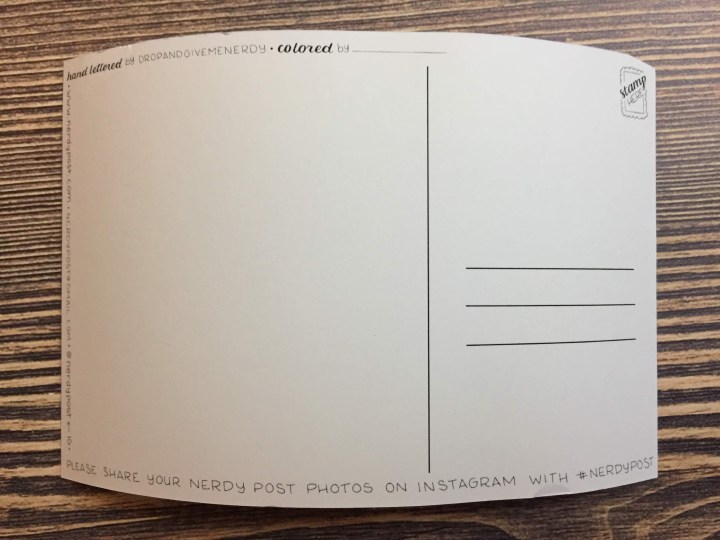 Here's what the back looks like!
Lumos/Nox Bookmark This bookmark is absolutely gorgeous; I love the writing and the simple design. Lumos is the spell used to light up the tip of your wand, for those unfamiliar with the Harry Potter spell lexicon. And if you flip it over…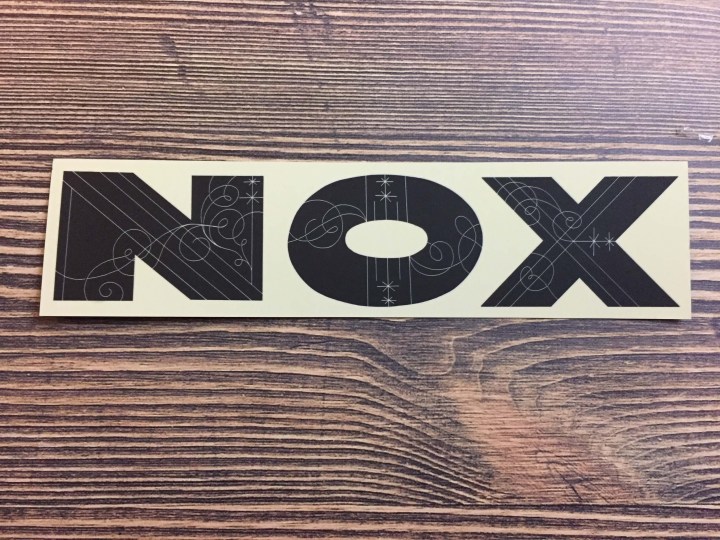 It's Nox, which is used to put out your wand light.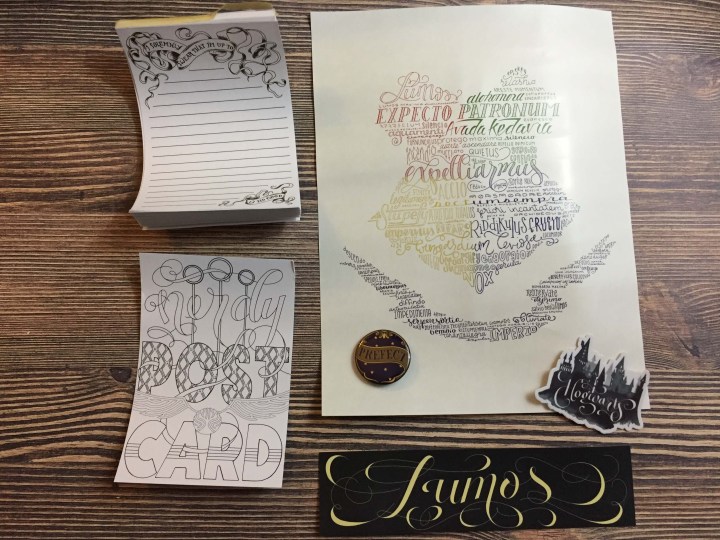 I was seriously impressed with the first month of Nerdy Post! I am hoping they will rethink their packaging choice and move to a padded envelope or sturdy mailer to protect the paper goods inside, as I don't think my poster will ever be quite the same again. I love the notepad, the bookmark, the pin and the sticker though, so even without the poster I'm still happy.
Visit Nerdy Post to subscribe or find out more! Save 10% on your first month! Use coupon code  NERDYNEWBIE.
The Subscription
:
Nerdy Post
The Description
: Monthly Hand Lettered and Illustrated Fandom & Bookish Merch – every month features a new fandom theme from books, TV, and movies. Inside your Nerdy Post will be 4-6 items featuring original, hand lettered and illustrated quotes, symbols, images, etc belonging to that month's theme. Every month will always include a high-quality poster and bookmark, an auto-grade sticker, and a postcard that you can send or keep!
The Price
: $13.95 per month