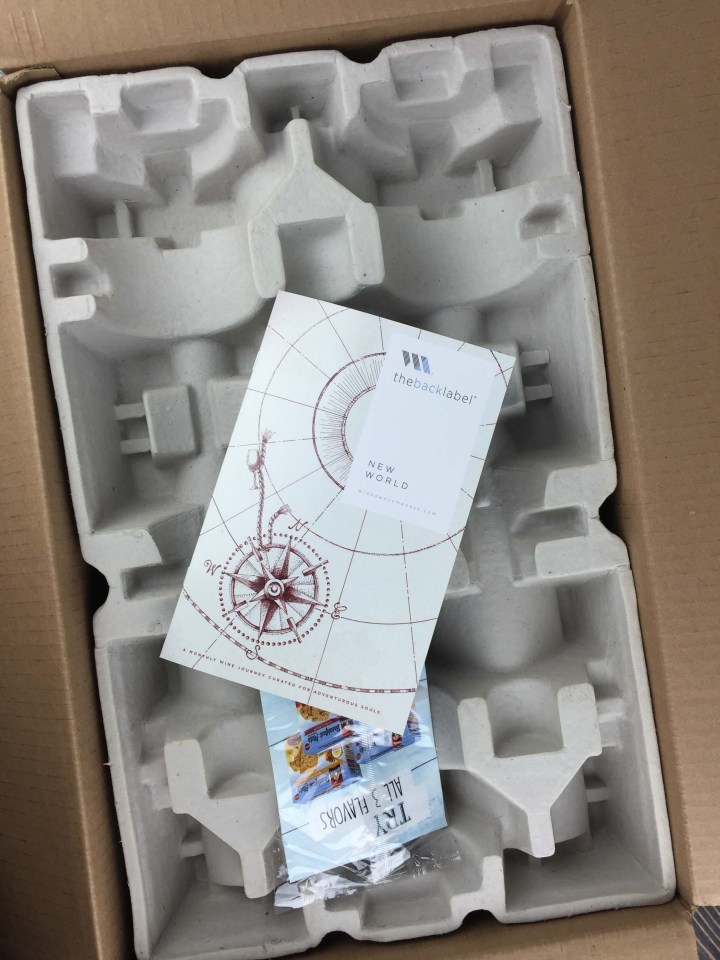 This month's Wine Awesomeness takes you to The New World!  Wine Awesomeness is a wine club subscription box  – great wines thoughtfully curated around a fun theme. You can choose reds, whites, or mixed —  One of the things that we like about this subscription is that they include rosé in with the whites!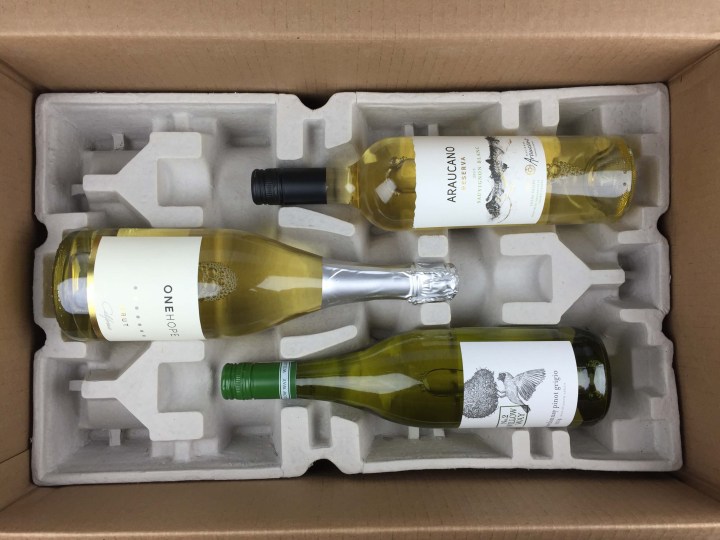 You can adjust your preferences to style, frequency and even skip a month right in your account. The 3 bottle box costs $45, and the 6 bottle box is $75. We get a six bottle mixed box – it's one of the few wine subscriptions we can get in Pennsylvania.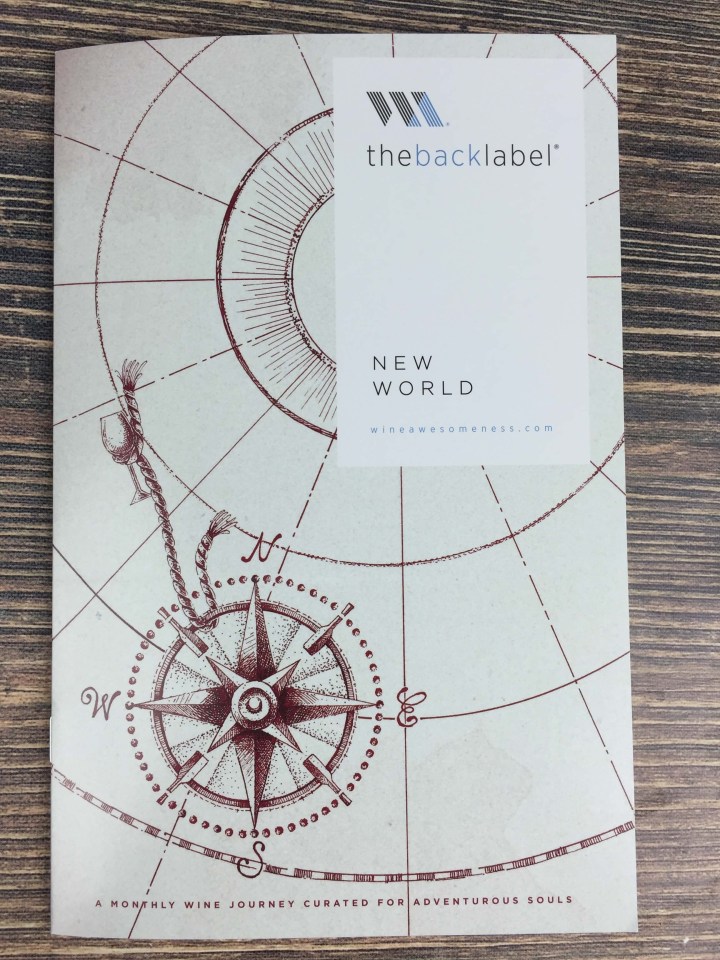 The theme this month is "New World."  It features stand out offerings from the Americas, Australia, and South Africa.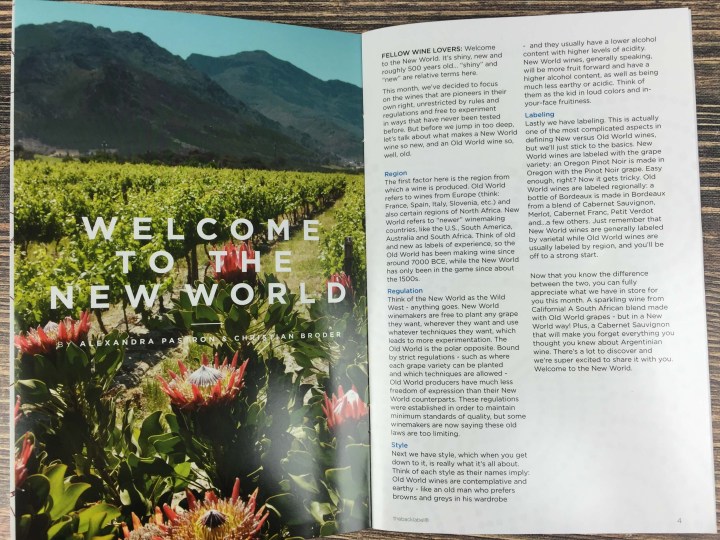 The mini-mag is full of cool stuff — full page intros with detail on the wines, paired recipes for each, and even several articles on the theme and its relation to wine culture.
This is such a great, accessible mini-mag.  This is my favorite wine subscription because of the theme and the magazine (and the great wine!).  There is always an article that articulates the theme of the box.
Each wine has its own information page including the following:
Wine Name
Grape
Location
What you should do while drinking this wine (many tongue in cheek)
What to eat with the wine
What to listen to while you drink the wine
A cool chart showing a visual on the Acid, Body, Tannin, and Fruit of the wine
Wine Bouquet
Tasting Notes
Description
Recipes:   We usually pick the recipe that is closest to what we're already eating and grab the corresponding bottle!
The recipes in this issue also shared a bit of New World sensibility, featuring American staples like the hot dog and a beet salad, a fixture at every farm-to-table joint in the U.S.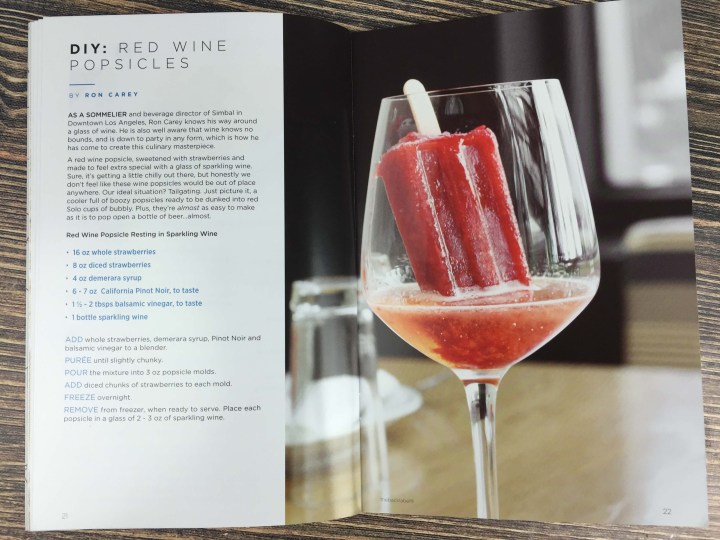 The last feature is usually a DIY item, like making a keg out of a pumpkin or watermelon.  This month was rather tame, with instructions for a winesicle.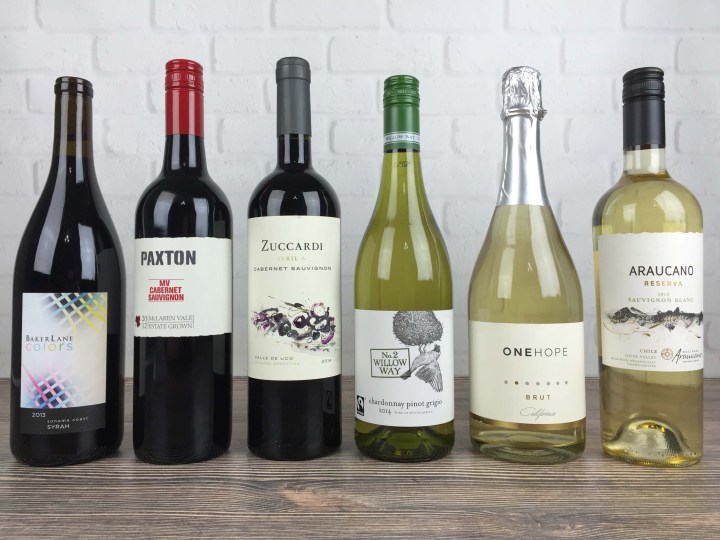 Everything this October 2016!  We love that they throw in sparkling, rosés, and other treats from time to time!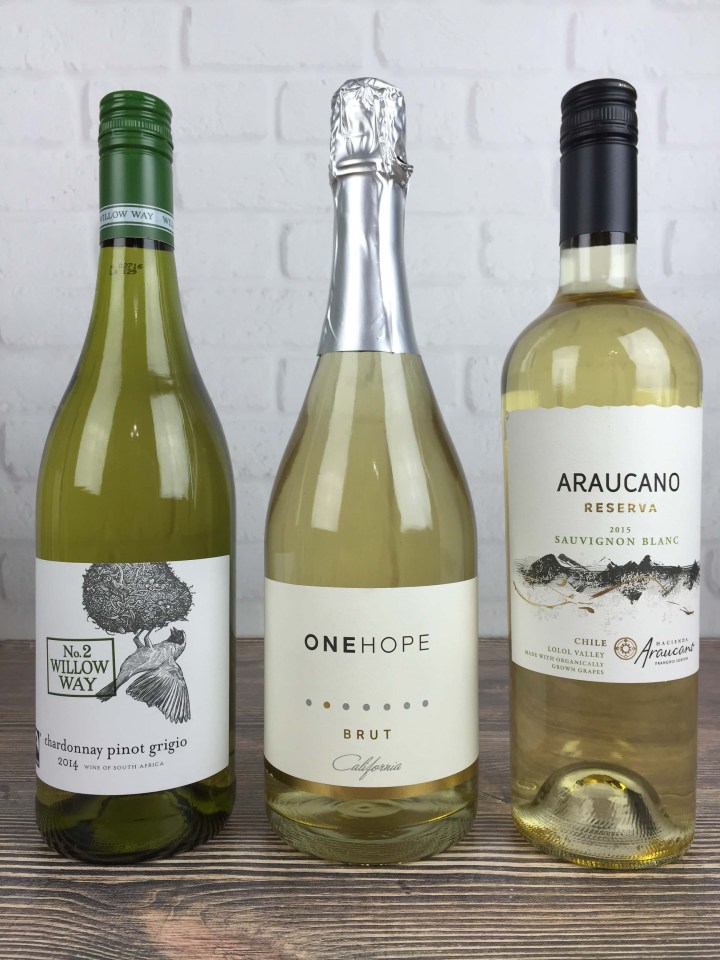 October Wine Awesomeness: Whites

2014 Willow Way No. 2 Chardonnay Pinot Grigio:  A light-bodied South African with decent acidity and lots of floral and fruit notes.  Pears and peaches rule the body, with a crisp citrus finish.
OneHope Sparkling Brut:  Sweet and rich, this Californian sparkling showcases lovely fruit notes and pleasant effervescence.  Notes of green apple, nectarine, berries, and peach are accented with a hint of fresh bread.
2015 Araucano Sauvignon Blanc:  This Chilean wine has a smooth body with lots of tropical fruit and assertive acidity.  The producer double sorts the grapes to ensure only the best grapes make it into this tart Sauvignon.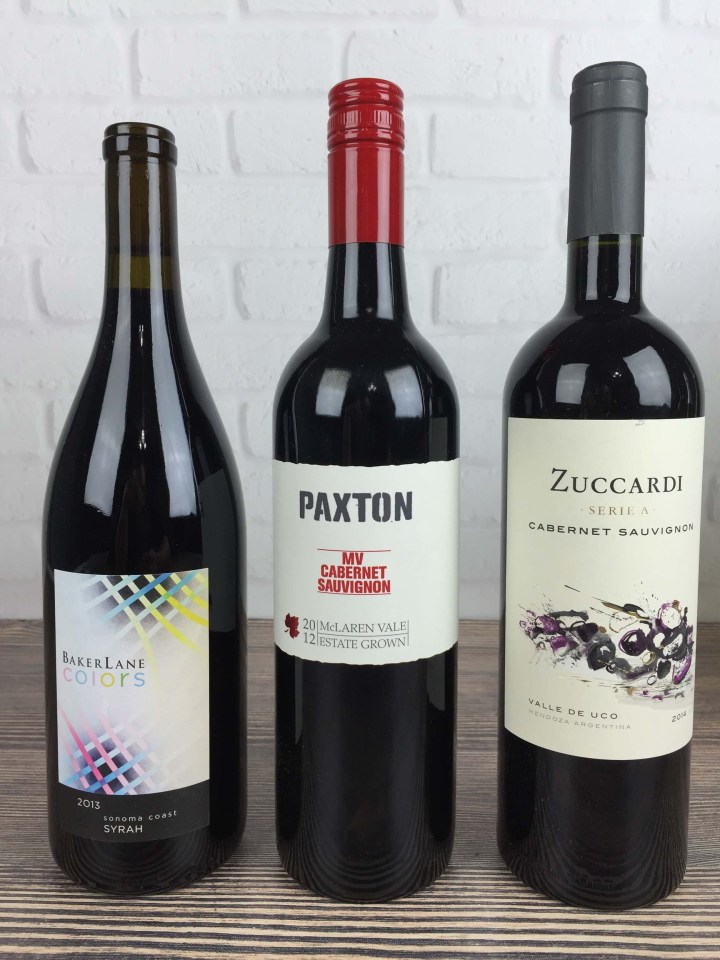 October Wine Awesomeness: Reds
2013 Baker Lane Colors Syrah:  This Sonoma Syrah features lots of tannin and acidity, with a touch of brininess and a heap of dark berry flavors.
2012 Paxton MV Cabernet Sauvignon:  This Australian Cabernet has the expected fruity and jammy palate, but it also carries a nice bit of clove and spice to add nuance to the assertive tannin.
2014 Zuccardi Series A Cabernet:  An Argentinian with very full body and a very strong fruity presence.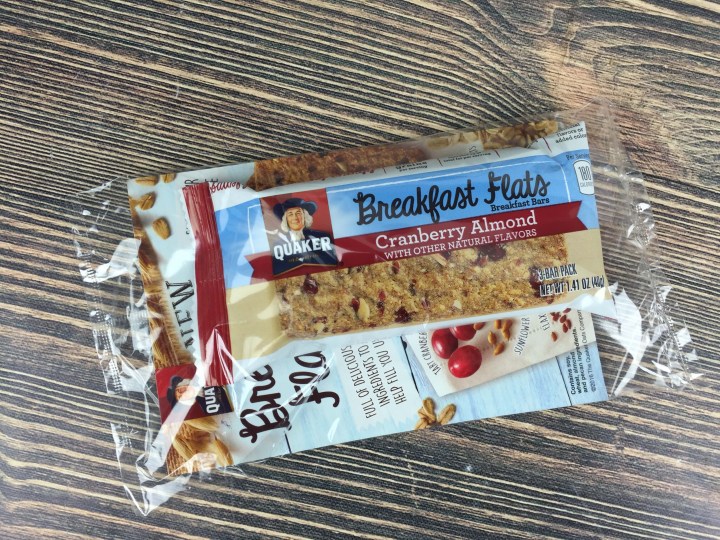 This month's bonus item is the Quaker Breakfast Flats –  an odd pairing. Yes, we will eat it – but prob not with wine.
Quaker Cranberry Almond Breakfast Flats:  Quaker's more adult version of their granola bar.
What did you think of this month's Wine Awesomeness theme? You can get your first month (3 bottles) free, just pay $22.50 shipping and handling – click here to activate the offer – no code necessary!
Visit Wine Awesomeness to find out more or to subscribe.
The Subscription
:
Wine Awesomeness
The Description
: Get 3 or 6 bottles of red, white, or mixed, curated monthly. WA membership comes with tasting notes, recipes, and music suggestions. Awesomeness!
The Price
: $45 per month
The Coupon
: Get $10 off your first club 6-pack box!
Use this link
and coupon code
YAY10
to get the deal.
Ships to
: All states except Alaska, Hawaii, South Dakota, and Utah. Yep, this wine club ships to Pennsylvania.