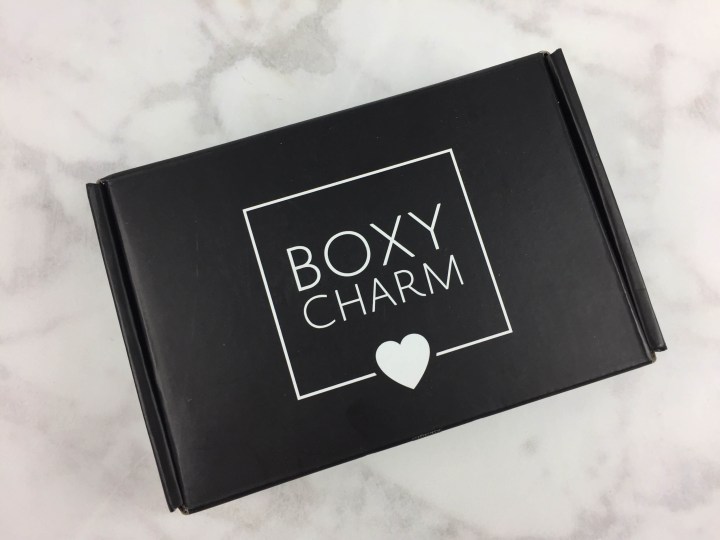 BOXYCHARM is a makeup and beauty subscription box that sends out 4-5 deluxe and full size samples every month. In the past the items have been mostly full-size products and the boxes have been able to maintain an amazingly high value.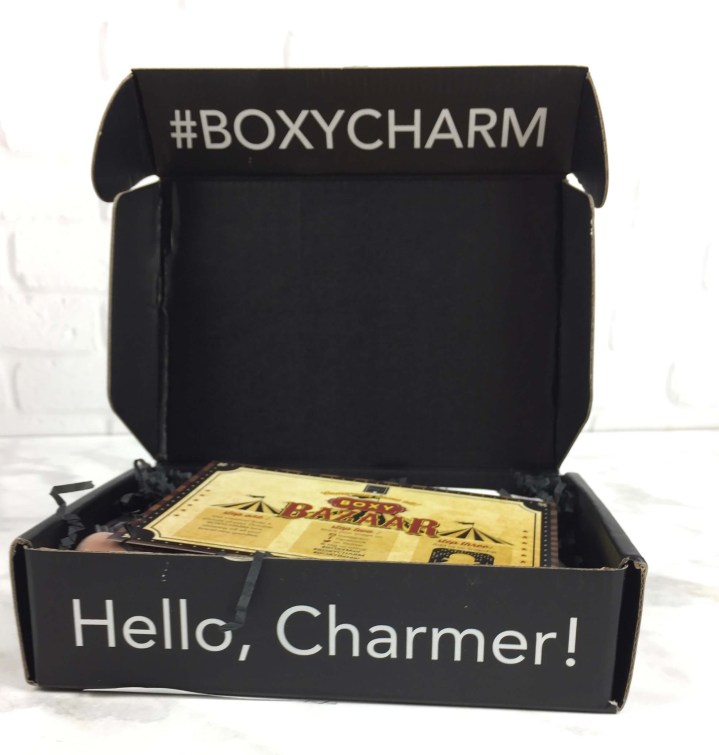 TIP: BOXYCHARM is available through the end of the month, so if you want this exact box (subject to variations!) you can sign up and still get these items.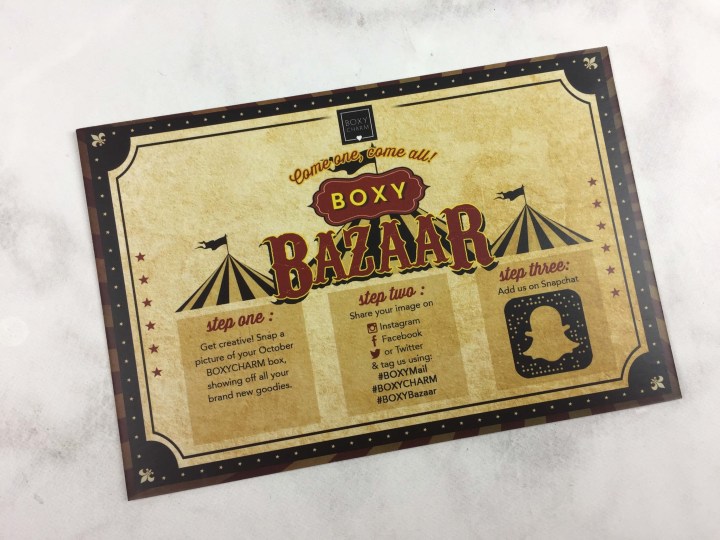 The October theme was Boxy Bazaar! Get creative and step right up!
All the item info is on the back of the card.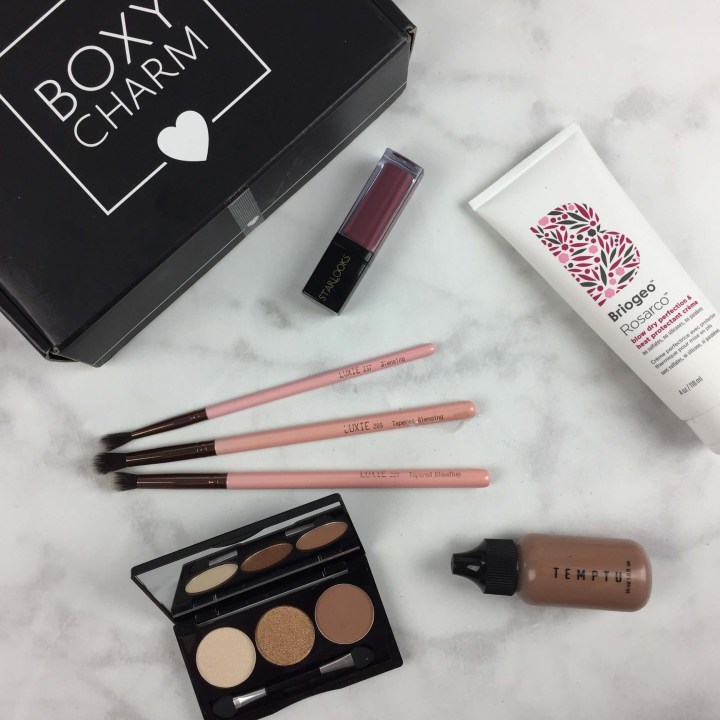 Everything in the October BOXYCHARM! I felt like I kept on pulling items out of this box. Sometimes I'm just amazed at the value to price ratio!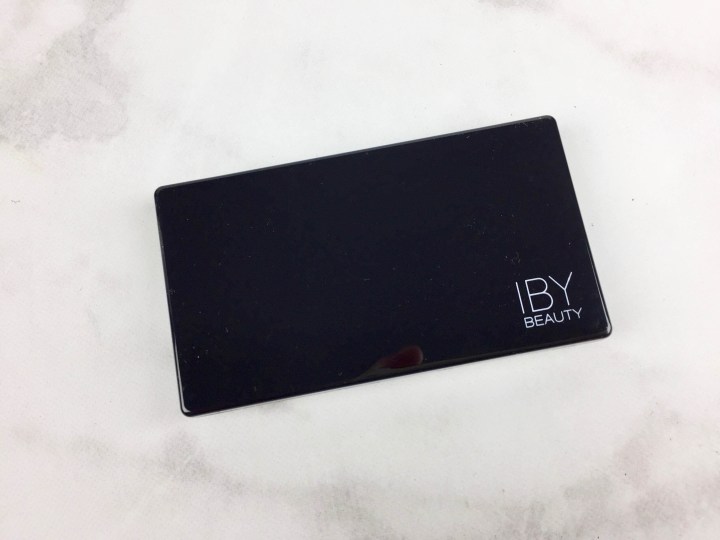 IBY Beauty Three's Company Eye Shadow Trio ($19) I hadn't heard of this brand before, but I'm impressed. First of all, even though it's super hard to capture in a picture, this compact is slick and pretty.
The shades inside are even better! Is it too much to ask to get "Glamour Days" in an upcoming box? I hope not! BOXYCHARM has a palette nearly every month, but this is one of my favorites so far – a shimmery highlighter, a burnt metallic copper, and a matte basic brown shade.
All three applied beautifully but I fell in love with the middle one!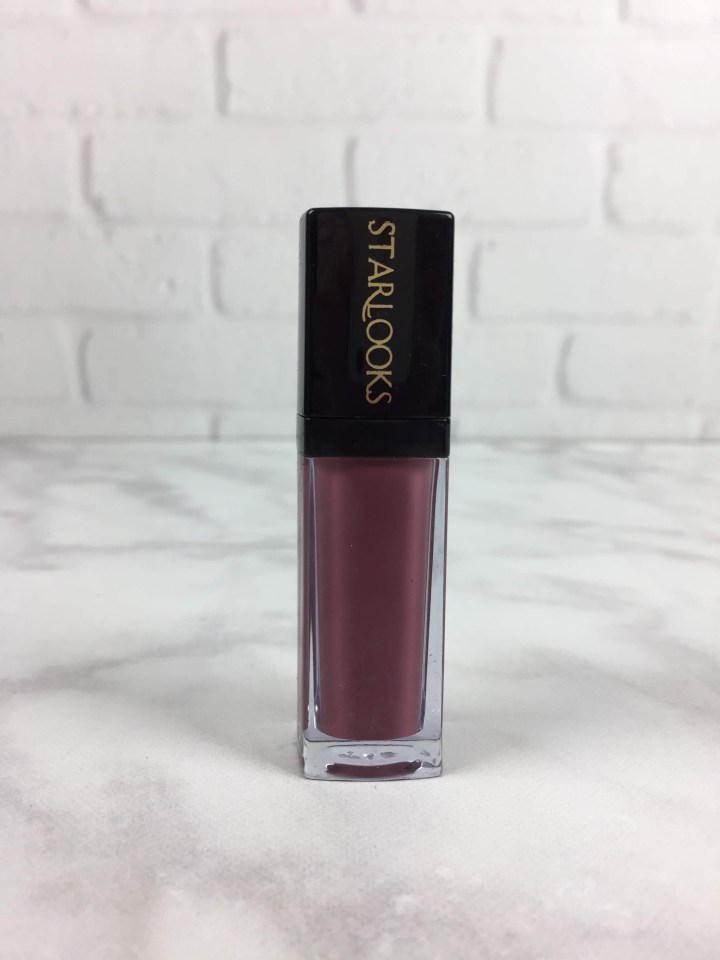 Starlooks Ultra Matte Lip Paint ($11) I love love this shade! Purple & me were meant to be together. This isn't a super dry matte, just a not-shimmery matte, and I love everything about it except the parabens (there was a plastic wrapper with the ingredients – I didn't grab a photo but this formula does contain them).
FYI – the card says $19, the site says $11, it's a different bottle, but I'll go with $11.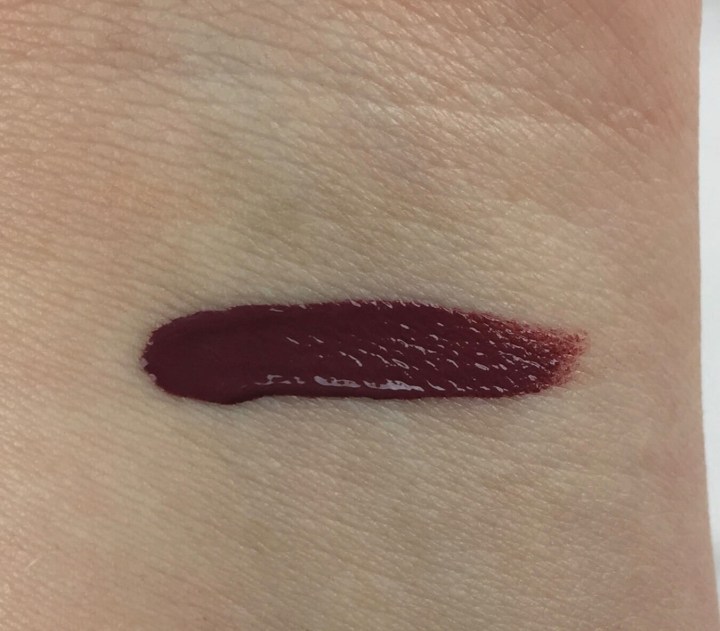 TEMPTU S/B Bronze Shimmer Bronzer ($29.50) I always receive TEMPTU in little mini-sizes, so the sheer size of this was a shocker! A little goes a long way, so this should last me all winter – I'll add it to my moisturizer for a bit of glow. Hint – if you glob a lot on, just rub it in – it goes on crazy but ultimately the look is super natural.
FYI – There were variations for this item. Some subscribers will receive:
Cargo Cosmetics Swimmables Water Resistant Bronzer $29
Cargo Cosmetics BeachBlush $30
OFRA Cosmetic Laboratories Beverly Hills Highlighter $39.95
 Luxie Eye Blender Brush Pack ($36) This sweet little brush pack was produced exclusively for BOXYCHARM by Luxie! I happen to really like their vegan, cruelty-free brushes and I can't say no to their rose gold and pink sets.!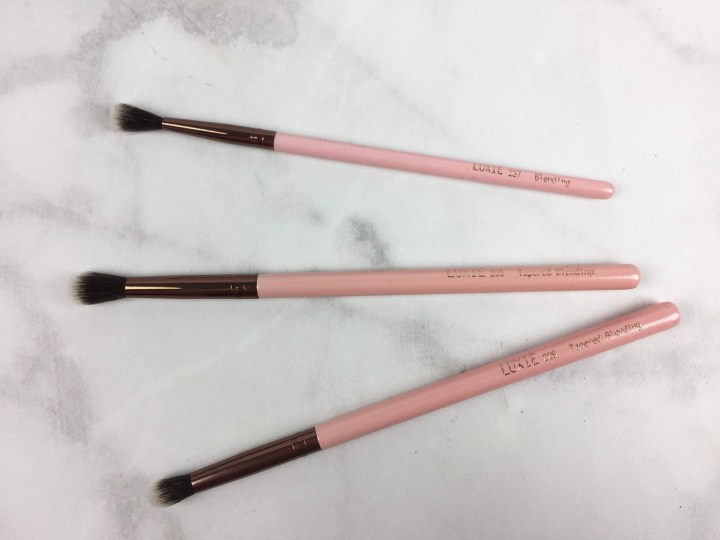 This is a great trio – with one blending brush and 2 sizes of tapered blending brushes.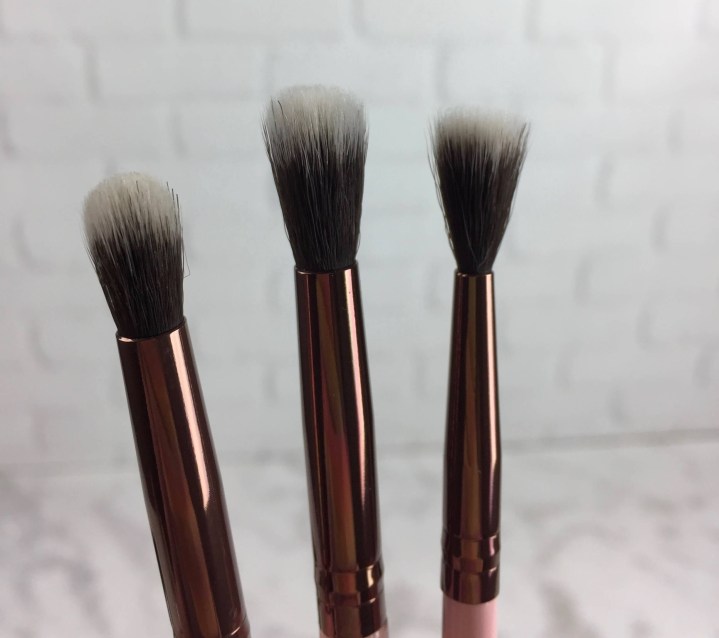 So soft!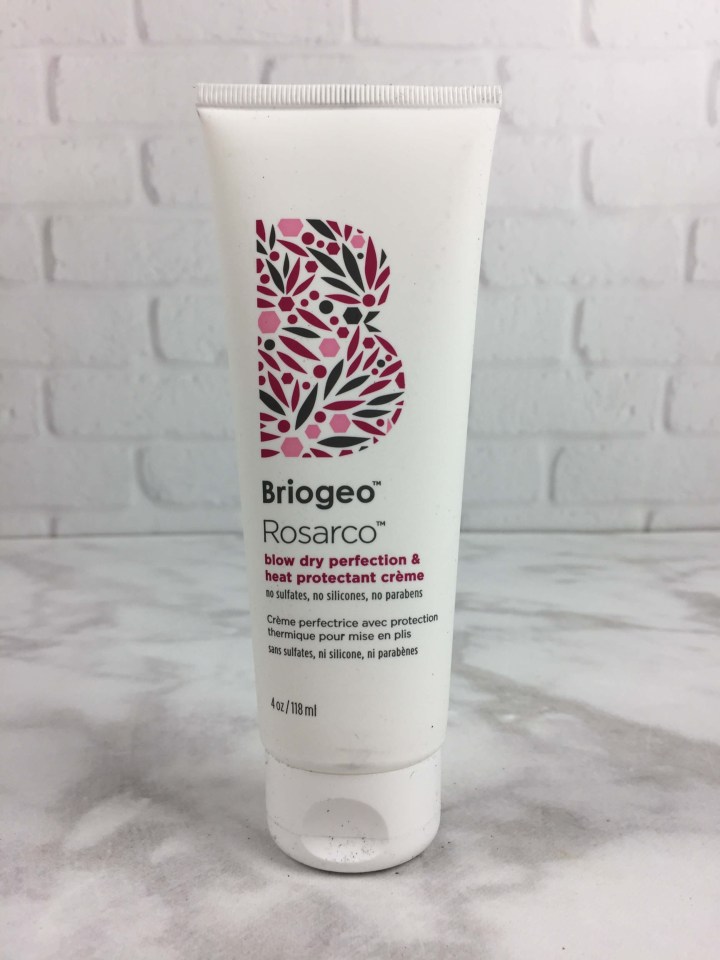 Briogeo Blow Dry Perfection Heat Protectant Creme ($24) I love the tropical-ish coconutty scent of this heat protecting hair lotion. It's so good! This formula is free of sulfates, silicones, and parabens and 95% naturally derived too. It's perfect for helping smooth hair and protect against heat styling – and it's a nice setting lotion for even when your hair is already dry!
This month's box was a wow for me – $119.5 in value and I loved nearly everything. I thought it was one of their best curated boxes ever and even if you'd skip the lip paint because of the parabens, well worth the $21 cost.
Your first box will always be the current month's box, unless they say otherwise on their site, so if you want this box (remember that there can be variations for this box), sign up before the end of the month!
What are your thoughts on this month's Boxycharm?
Visit BoxyCharm to find out more about this box or subscribe.
The Subscription
:
BoxyCharm
The Description
: Charmers will receive 4 to 5 full-sized beauty products from well-known, popular, chic and up-and-coming brands. Our beauty experts carefully select each item based on current and emerging trends, so you're always in the know about the hottest shades and styles. At BOXYCHARM, we like to focus on makeup cosmetics but we also include nail care, skin care, hair care, fragrance and more.
The Price
: $21 per month