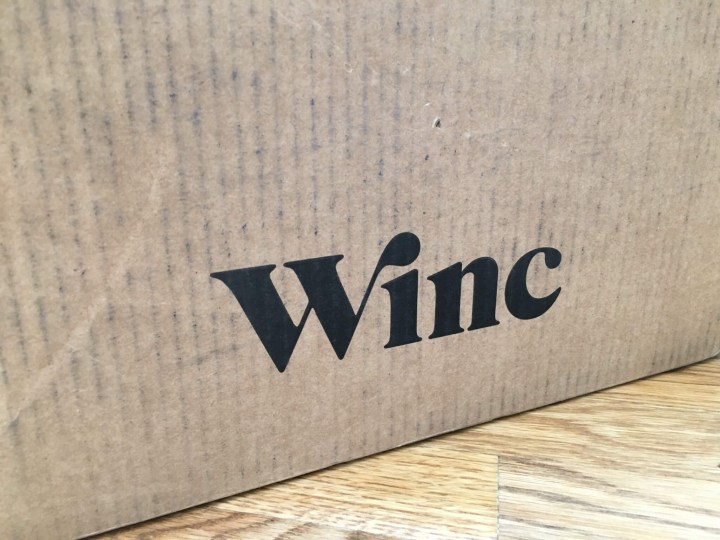 Winc (formerly Club W) is a wine subscription service that sends wine directly to you each month based on your personalized palate profile. A "global winery," Winc advertises that it has "direct relationships with vineyards and farmers to make exceptional small lot wines at prices impossible to achieve at retail."
If you're like me, you find yourself buying the same wines every time you go to the store – you've found those bottles you like, and it seems too risky and expensive to buy something else just to try it. Plus, those store employees are either clueless about wine or make YOU feel clueless about wine. Winc is the perfect solution! You fill out a quick survey about what tastes you like – black coffee, citrus, etc., and Winc makes a customized recommendation of 3 bottles that fits what you like. Then, for $6 flat shipping (or free if you pick a 4th bottle), it comes to your house!  What could be easier than that?
The new packaging (Club W rebranded to Winc) continues to be good protection for the bottles. I find the design of the internal holders fascinating.  Keep in mind that someone 21+ will have to sign for your box.
It's October, which appears to actually be fall, even here in the south. After two months of not-exactly-dry-white-wines, I had high hopes for my selections this month. You'll forgive me, I hope, when I tell you that I messed with the box selection this month to take out the recommended-for-me "Honeybeast" white blend, which I just couldn't face this month. I took my selection of wines to book club, where we actually do read the book, but where we also drink the wine. (This quarter, in honor of the election, we read Doris Kearns Goodwin's Team of Rivals, which I HIGHLY recommend because, Lincoln FTW). As usual, I had two reds and two whites to try.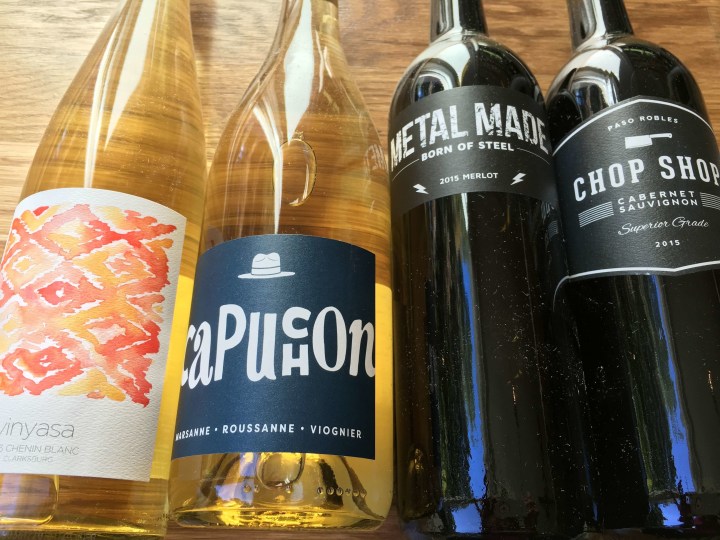 As always, Winc sent cool information cards about each wine, with coordinating recipes to go with them.
We started with the 2015 Vinyasa Chenin Blanc.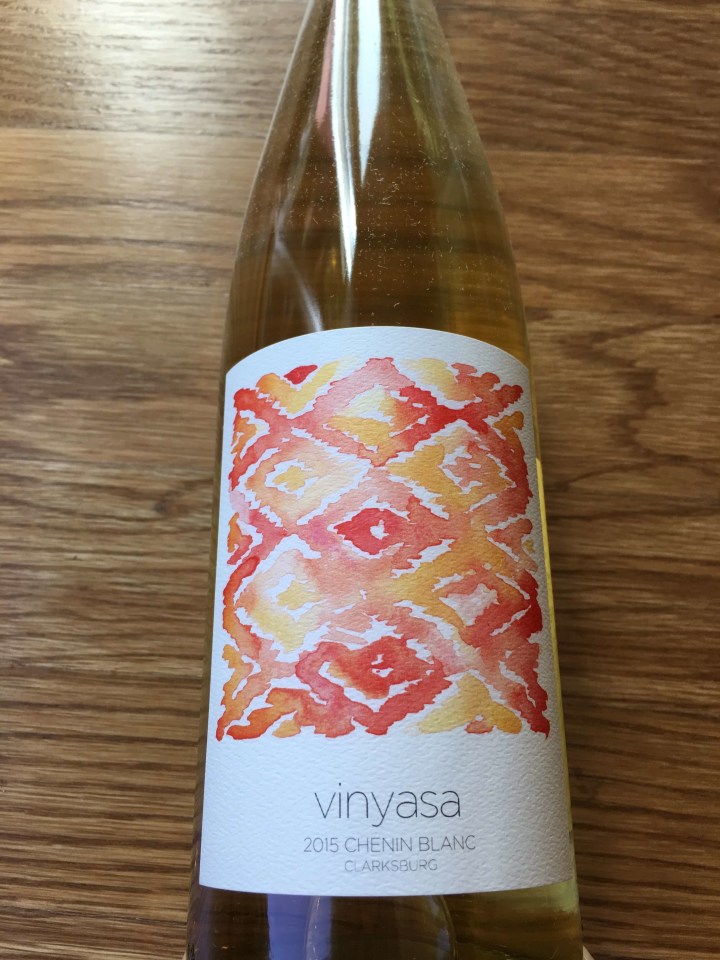 This wine advertises itself as lower-alcohol, only 11.5%, which is a good thing to keep on the shelf for those spontaneous Sunday get-togethers when you know you've got to be productive in the morning, but you also know you're going to have two glasses. This wine was golder in the glass than I expected, and the mouthfeel was heavier, too. The nose is very floral, like honeysuckle, but (thankfully) the flavor is more tart-fruit than sweet. The Vinyasa is uncomplicated, the green apple flavor dropping off quickly to a peachy finish. There's decent acidity in this to balance the fruit, and it's a nice, easy wine. You could drink this with any appetizer, from veggies to heavier salmon or chicken tartlettes. Serve it very cold. Everyone liked this one!
The next white was the 2015 Capuchon White Blend.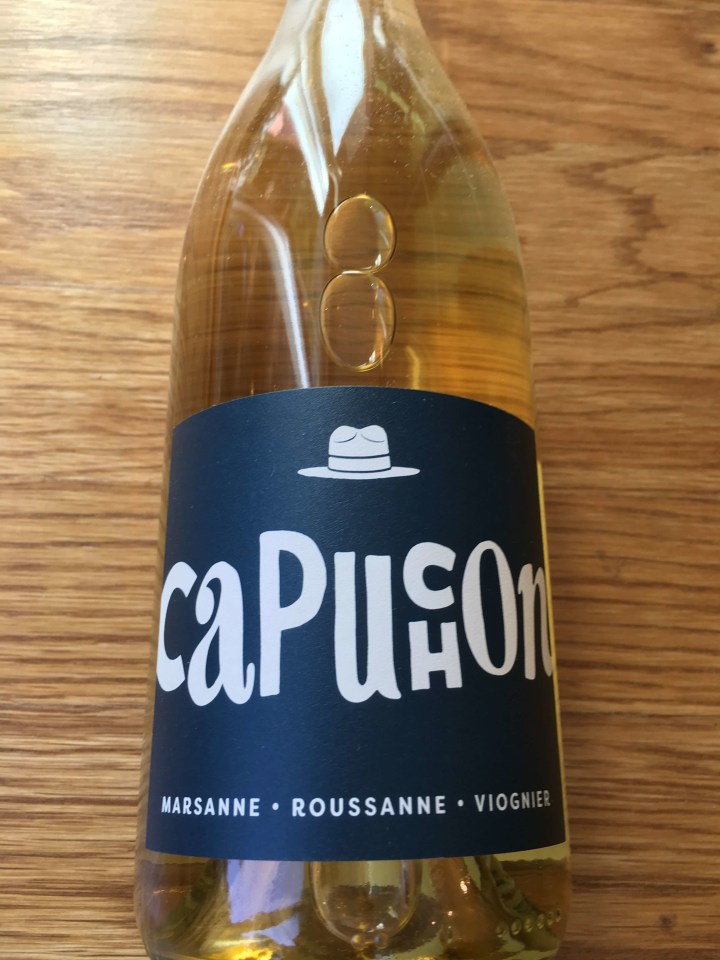 The Capuchon is a blend of Rhone whites – Marsanne, Roussanne, and Veesanne Viognier. These wines play nicely together and typically have a peachy/herbal tone to them. This wine is a light gold in the glass, very similar in look to the Vinyasa. It actually had a lighter mouthfeel than the Vinyasa, which I wouldn't have predicted. The typical peachiness definitely comes through on the nose of the Capuchon, but the flavors in the glass are more herbal, like green tea. The finish is fairly dry. This is a tasty wine, rather like a very young and unoaked Chardonnay. It would go great with any chicken or fish-based meal, and you might even consider having it out at Thanksgiving for your white-drinkers. We drank this just barely off chill, which was a good choice. So happy to have some dryer whites this month!
Next up was our first red, the 2015 Metal Made Merlot.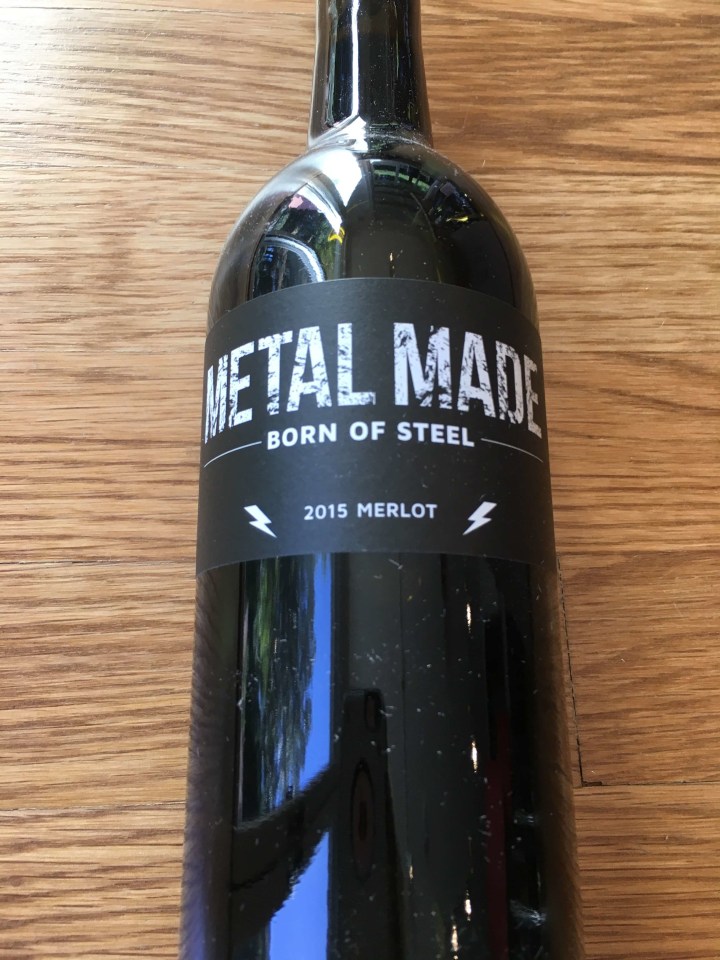 Do you remember when Sideways ruined Merlot for everyone? Like, seriously, for a whole decade. Well, Merlot is finally back, and those of us who actually liked it back in the day are happy to see it again. This wine is advertised as being super hardcore and stiff, not at all like a Merlot – I guess to counteract any lingering Merlot-shame? I don't know. But I like Merlot to taste like, well, Merlot. This wine is big, for sure. It's dark in the glass and heavy in the mouth. The flavors are dominated by peppery spices with a heavy undertone of plums and red fruit. If you're a fan of Cabernet, you'll probably like this. It needs some food to balance out the heat of the finish, so I'd serve this with pork chops or a hearty stew. Room temperature for Metal Made.
Our last wine was the 2015 Chop Shop Cabernet Sauvignon.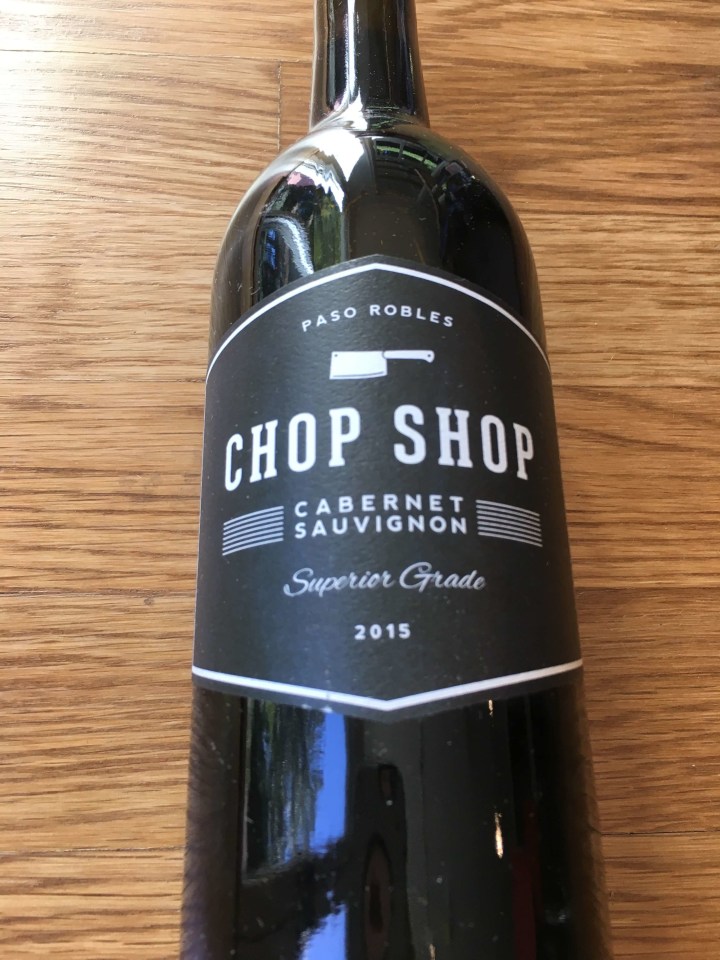 Chop Shop is a regular Winc label, and I had the 2014 earlier in the year. As I said in that review, I'm not generally a fan of inexpensive Cabs, because I find them sweetish, oaky, and, well, cheap. The 2014 Chop Shop was an exception to that rule, as I found it surprisingly balanced and easy to drink. I was hoping for the same with this year's version, and I wasn't disappointed. The 2015 Chop Shop is an appealing burgundy color in the glass and fairly weighty in the mouth. It smells like dried cherries, and that flavor carries through, but it's undergirded with some herbal notes and has a long, peppery finish which keeps it from tipping into sweet territory. Again, a quite balanced wine that would go equally well with chicken as it would with steak. We drank this room temperature, but it would be fine off-chill, as well. This was our favorite of the two red wines. Another solid performance by Chop Shop.
And that's October! We enjoyed this month's selections and all agree that Lincoln was a great President. I can't wait to see what we get in November!
Have you tried Winc yet? You can use this link for $20 off your first order – no coupon code required! ($25 total for 3 bottles, but you can grab an extra bottle and get free shipping!)
Visit Winc to subscribe or find out more!
The Subscription
:
Winc
The Description
: Each month Winc will make new recommendations for you based on your 5 question Palate Profile and previous wine ratings. Go with their suggestions or make your own selections from the ever-changing assortment. Winc works directly with wine makers. There are no middlemen, which means you get better wine for less.
The Price
: $45.00 per month