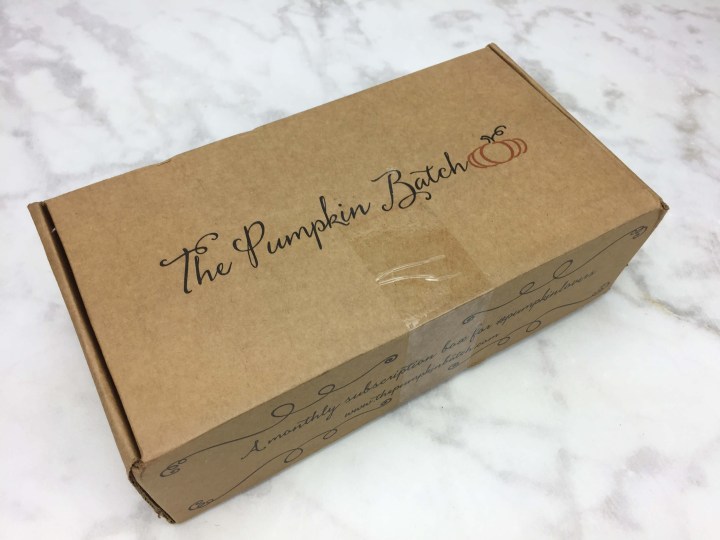 The Pumpkin Batch is a monthly subscription box for pumpkin lovers – every month you'll receive 4-6 products for pumpkin and pumpkin spice lovers – all year round! Products are sourced from small businesses all across the US!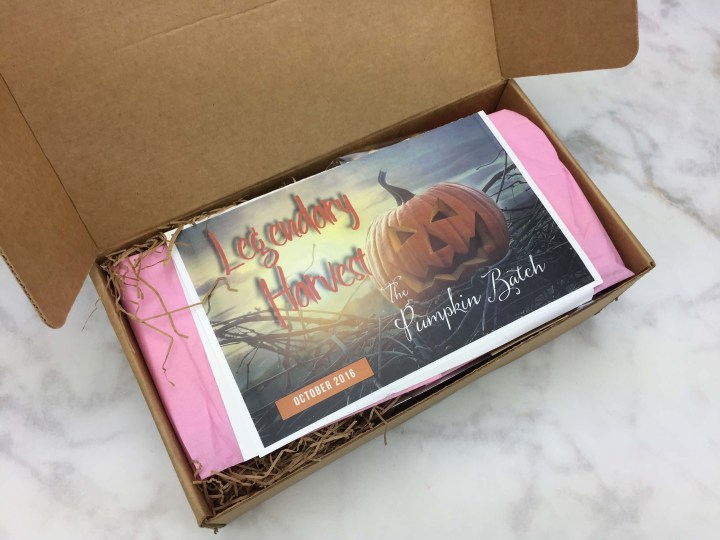 The theme for October is Legendary Harvest!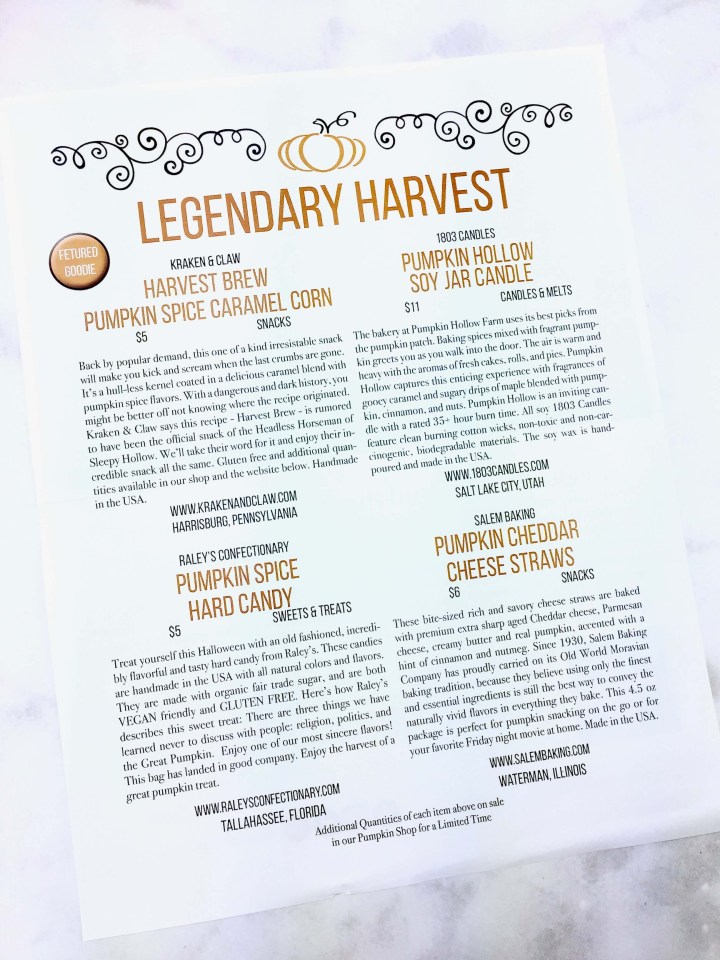 The information card has complete details on each item, including the value, the maker, and the ingredients or other necessary information.
The back of the information card had a short letter from The Pumpkin Batch. The inspiration for this month was a box full of pumpkin spice flavors that would be a pumpkin lover's dream in a Trick or Treat bag!
The pink tissue is in support of the National Breast Cancer Foundation!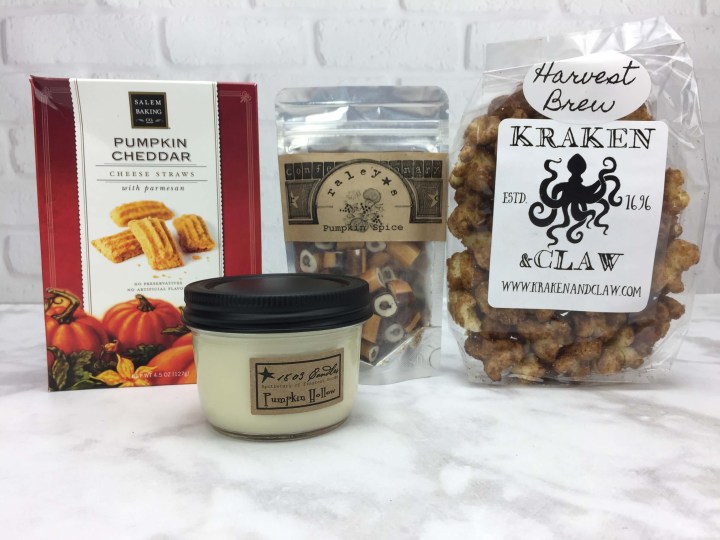 Everything in the October box! It's definitely the best time of the year – it's pumpkin season!
Kraken & Claw Harvest Brew Pumpkin Spice Caramel Corn ($5) This isn't a traditional caramel corn – it's puffed, then seasoned and sweetened. If you have ever tried Cosmos snacks it's very similar and very tasty! The seasoning is pretty strong so a few pieces satisfied me, at least until my next pumpkin spice longing!
Raley's Confectionary Pumpkin Spice Hard Candy ($5) I've always thought these little hard candies are so fascinating!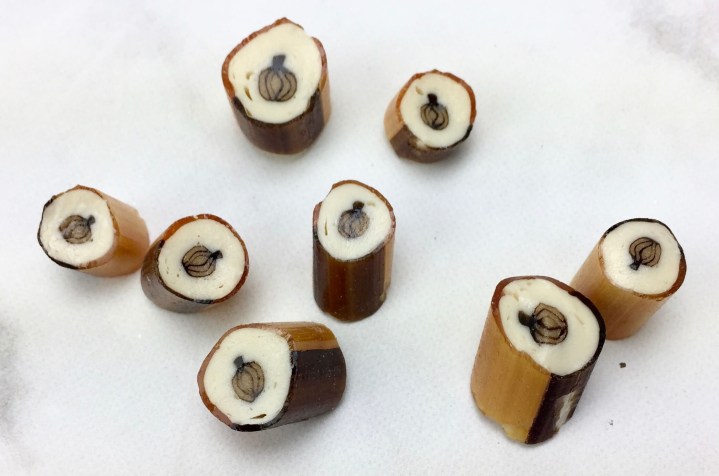 How do they make those teeny weeny pumpkins inside the candy?! I guess it's like Fimo clay creations! These were also intensely spiced and one was enough for me – the bag should last me the entire month of pumpkin! ?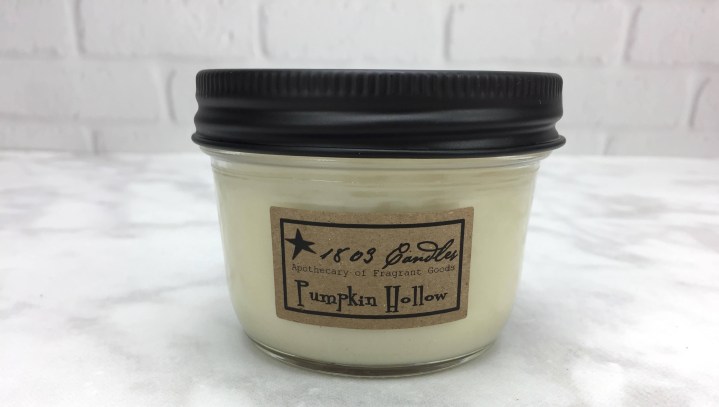 1803 Candles Pumpkin Hollow Soy Jar Candle ($11) I have been really happy with this subscription's focus on food because I am all about that, but this beautiful artisan candle was very welcome! The scent is sweet and delicious – like sugared pumpkin topped with maple, caramel, and whipped cream!
Salem Baking Pumpkin Cheddar Cheese Straws ($6) A pumpkin twist on an entertaining classic!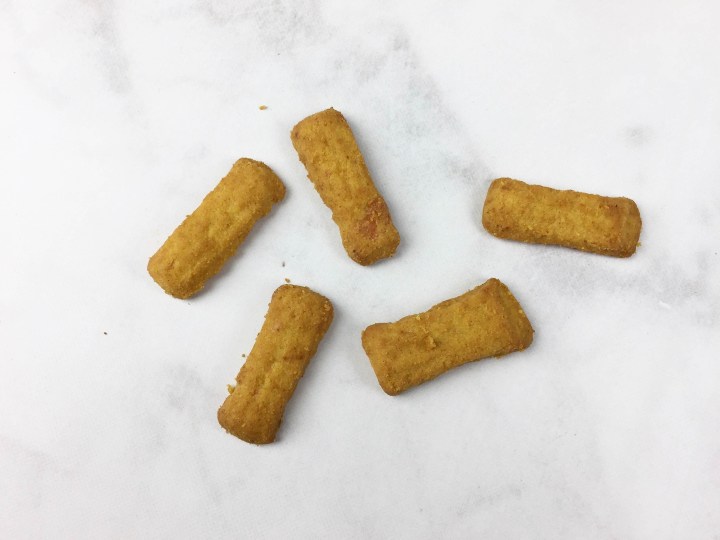 These don't have the same red pepper bite as a regular cheese straw, but they are imbued with a nice pumpkin flavor. I ate a handful and decided to save them for a warming cheddar soup. Because cheese on cheese with pumpkin is a yes! These have a hint of cinnamon and nutmeg as the spice. I thought this was a fun treat!
According to the card, the value was about $27 this month! This was a good month with some fan favorites. My tastes lean a little more to pumpkin than pumpkin spice so I am hoping to see more of that next month! I admit, I'm a pumpkin addict, this is one of my favorite subscriptions, and even though the value sometimes comes in a little below the total cost of the box, I totally enjoy it every month. It's unique and I definitely get to try pumpkiny things I've never seen before.
What did you think of this month's Pumpkin Batch?
Visit The Pumpkin Batch to subscribe or find out more!
The Subscription
:
The Pumpkin Batch
The Description
: The Pumpkin Batch offers high quality, hard to find pumpkin products year round to pumpkin lovers. Each subscription box is full of delicious flavors and sweet aromas of pumpkin and pumpkin spice. Each month receive  4 – 6+ pumpkin or pumpkin spice inspired products curated from small businesses across America.
The Price
: $24.99 per month + $5.50 shipping