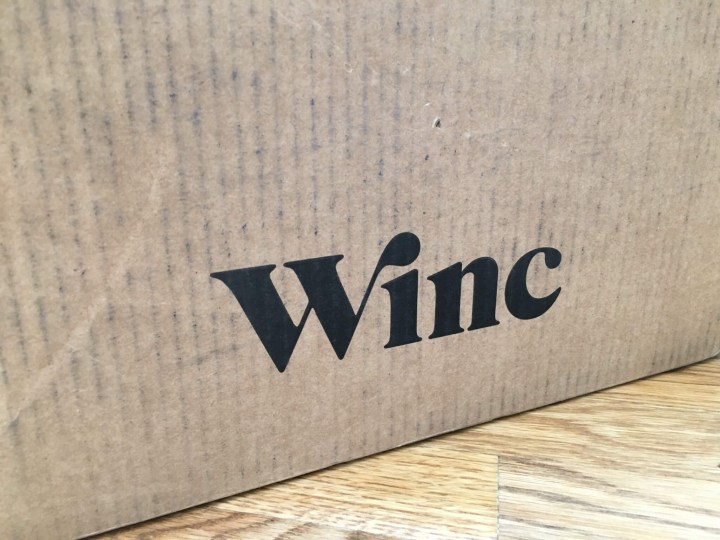 Winc (formerly Club W) is a wine subscription service that sends wine directly to you each month based on your personalized palate profile.  A "global winery," Winc advertises that it has "direct relationships with vineyards and farmers to make exceptional small lot wines at prices impossible to achieve at retail."
If you're like me, you find yourself buying the same wines every time you go to the store–you've found those bottles you like, and it seems too risky and expensive to buy something else just to try it.  Plus, those store employees are either clueless about wine or make YOU feel clueless about wine.  Winc is the perfect solution!  You fill out a quick survey about what tastes you like–black coffee, citrus, etc., and Winc makes a customized recommendation of 3 bottles that fits what you like.  Then, for $6 flat shipping (or free if you pick a 4th bottle), it comes to your house!  What could be easier than that?
The new packaging (Club W rebranded to Winc) continues to be good protection for the bottles.  I find the design of the internal holders fascinating.  Keep in mind that someone 21+ will have to sign for your box.
Welcome to September, which usually starts fall in the south, but it is still 92 here, so I think it's still summer.  This month, like last month, I went with Winc's suggested wines instead of messing around with the selection.  Last month, I wasn't really sure that Winc was customizing my box, and this month, I am 100% sure of that.  I got two sweet whites and an oaky red.  Now, Reader, I'm not making judgments about what you or anyone else likes to drink.  In fact, I saw the labels on this month's shipment and sent immediately for my friend Meg, whom I adore and who loves a sweet wine.  She's a sophisticated, educated, has-a-big-job woman who happens to like sweet wine.  It's cool!  It's just that I, personally, don't love sweet wine, and theoretically this box is about what I like.  That's kind of the whole conceit of the subscription.  I assume what's happening here is that Winc has a certain number of bottles at a particular price point, and they do the best they can.  Because I'm reviewing, I also reject repeats, so that adds to the complication.  Anyway, my point is that you should definitely rate the wines on the Winc website after you drink them, and you should remain open to trying a variety of things.  Maybe you didn't think you liked Merlot, but when was the last time you had it?  Give it a shot.   Okay, on with the review.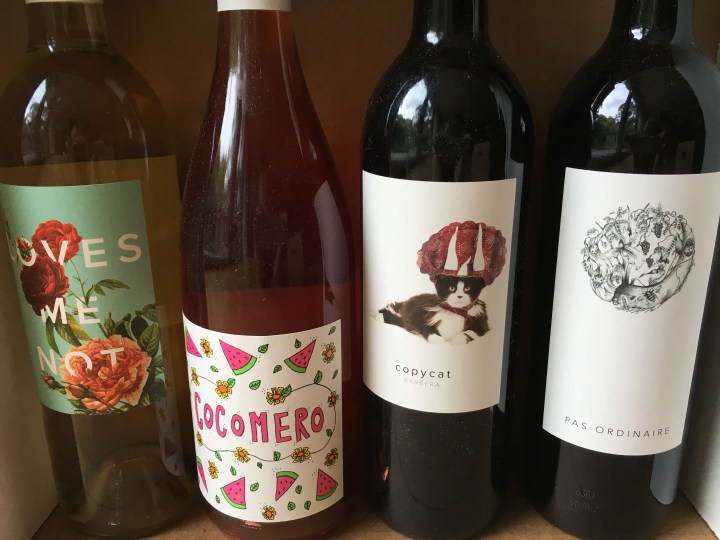 As always, Winc sent cool information cards about each wine, with coordinating recipes to go with them.
We started on the back porch with what will probably be my last rose of the summer, the 2015 Cocomero Rose.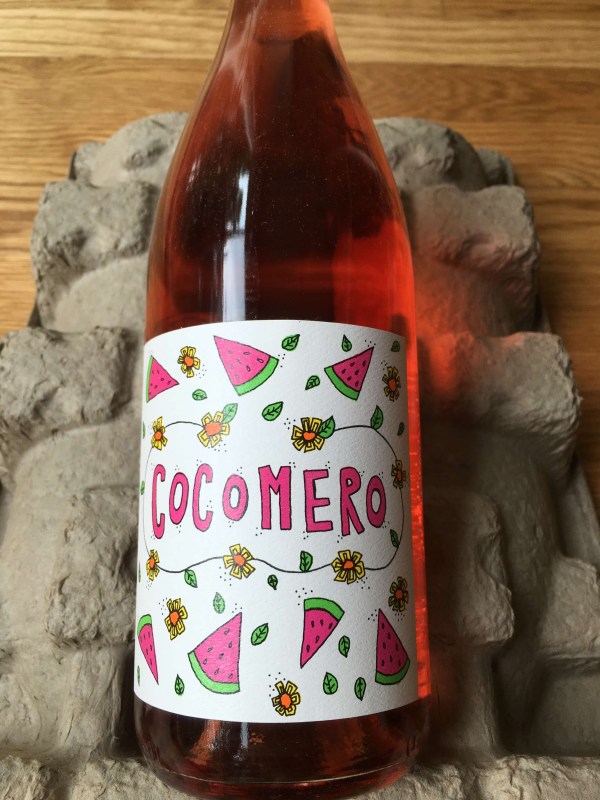 Can we just talk about the awesome labels in this month's box?  The art is really full of win.  This label looks like every fun summer party I wished I'd been invited to this summer.  Unlike the French roses we reviewed earlier this summer, the Cocomero is Italian, and is made with Barbera, a fruity red that is gaining in popularity in the U.S.  I expected this rose to be much more substantial than the pale, dry, Provencal roses, and it was.  The wine is a medium pink in the glass, not reddish, like it seems in the bottle.  It doesn't have much of a nose but there's a little berry/melon in there.  It's thinner in the mouth than I expected, which is a good thing for a rose, which is supposed to be light and refreshing.  The flavor is definitely fruity, with a mix of berry, melon, and apple.  Honestly, it tastes JUST like sangria, and who doesn't like sangria?  There's a bit of an alcohol burn in the back of your throat as it finishes, with a flavor like cranberry juice on ice.  I thought it was a fun start to the box, and would be a great wine to serve as a spritzer to start your evening.  Or, heck, you could toss some fruit in there and call it a sangria.  It would complement any spicy food, like chips and salsa or spicy Greek apps; ice cold, of course.  My likes-sweet-wine friend Meg gave this one two thumbs up.
The next white was the 2015 Loves Me Not Malvasia Bianca.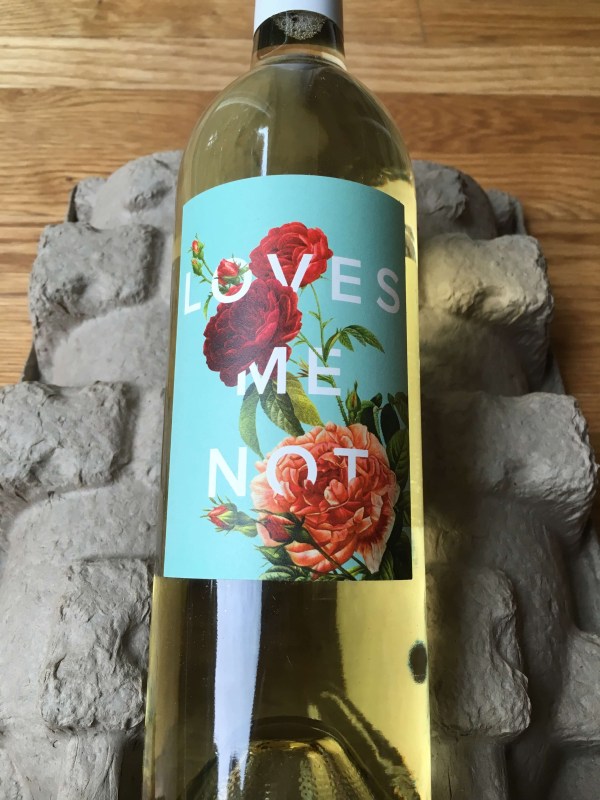 Another gorgeous label.  It looks like wallpaper in a fancy hotel powder room.  I had never had Malvasia Bianca before, and I'm always happy to try a new varietal.  Malvasia Bianca is another Italian grape, though it's also grown in California, where this wine is from.  It's often added in blends to add softness or fruit to a more structured varietal.  In this case, the first thing I noticed was this wine has a big alcohol content, over 13% ABV, which is unusual for a sweet white.  Too much of this stuff and I'll be up sweating at 2am with my sugar crashed out.  So drink responsibly!  The Loves Me Not is hay-colored in the glass (though it looks yellow in the bottle).  It doesn't have much of a nose, just a faint peachy mustiness.  It's heavy, and you get a mouthfull of sweetness right away, like liquid gummy bears.  There's some floral/melon/peachiness to the flavor, but the overwhelming characteristic is the sweetness.  It actually finishes just a tiny bit dry, but it leaves behind a stickiness in your mouth that wasn't awesome.  Meg preferred the Cocomero to this wine, which is really more like a dessert wine than anything you would drink with a meal or on its own.  Maybe pair it with a nicely bitter tiramisu, or dark chocolate almonds.  We drank it cold, but I think this would be better closer to room temperature.
Next up was our first red, the 2015 Copycat Barbera.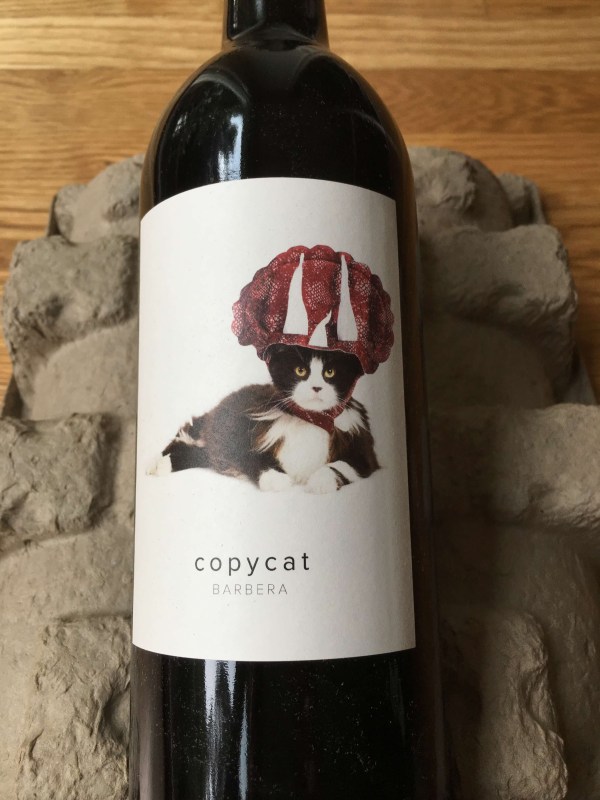 You guys, a cat in a triceratops bonnet.  I could not love this label more.  I've had the Copycat Tempranillo, and thought it was decent, if a bit unbalanced.  As I suggested above, Barbera is about to have a big moment as a varietal in the U.S.  It's fruity, it's approachable, and it's not another Pinot Noir.  This wine was a pretty garnet in the glass, with a nose of leather and smoke, like a clubby library full of fat brown chairs.  The body was medium, and it tasted of berry, leather, and a hint of oak.  The finish is smooth and lingering, with more of that oak and a touch of honey at the end.  This is another ABV bomb, so definitely drink it with food.  Any meat would be good with this, like maybe a skirt steak or a pork chop.  I'd call this one a decent all-purpose red; nothing too complicated or surprising about it, but it would please a variety of tastes.  Meg said it was a red wine for people who think they don't like red wine, and I'd agree with that.  We drank this off-chill and let it warm up in the glass.
Our last wine was the 2015 Pas Ordinaire Saint-Chinian Blend.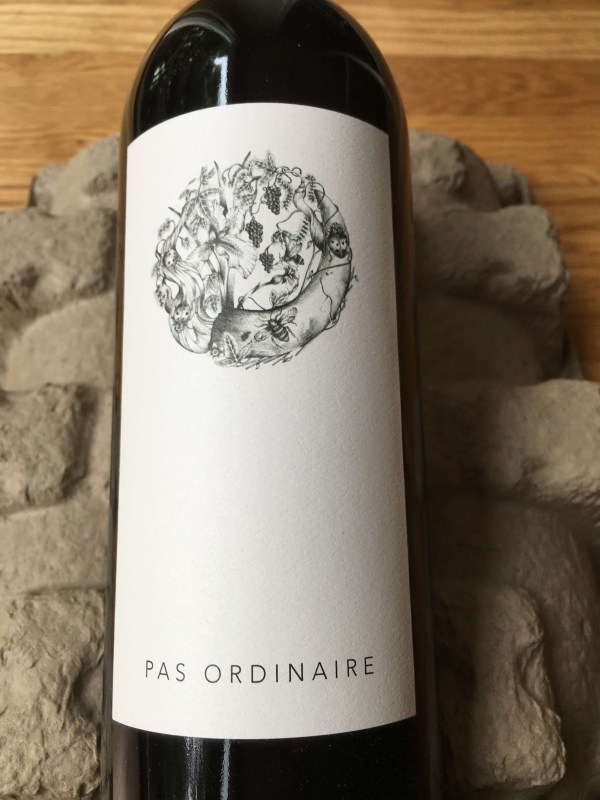 This last wine is a blend of a billion wines.  Well, 4:  Syrah, Carigane, Grenache, and Mourvedre.  It's environmentally-friendly, which is always a nice side benefit to drinking a new bottle of wine.  This wine is a dark purple, with a fun swirly action that lightens the color as you spin it in your glass.  The tasting notes for this wine talk a lot about spicy pepper flavors, but what I mostly got was a strong scent of sweet baking spices, especially clove.  I actually went inside and made my husband smell it to make sure I wasn't crazy.  The Pas Ordinaire has a medium body, more of that strong clove flavor, and a bit of raspberry on an oaky and tannic finish.  If you'd told me this was a young port, I'd believe you.  Meg thought it was heavy, and I agree that it would probably overwhelm most foods.  I think your best bet is to treat it like a port and serve it after the meal with some apricots and nuts.  Room temperature for this one.
So, a sweet September!  If you are a fan of wine that isn't dry, or you want something sweetish for the High Holidays, you should give any of these a try.  October is coming fast, with maybe some cooler temps for real and hopefully a couple of dry reds for me.  I can't wait to see what we get next time!
Have you tried Winc yet? You can use this link for $20 off your first order – no coupon code required! ($25 total for 3 bottles, but you can grab an extra bottle and get free shipping!)
Visit Winc to subscribe or find out more!
The Subscription
:
Winc
The Description
: Each month Winc will make new recommendations for you based on your 5 question Palate Profile and previous wine ratings. Go with their suggestions or make your own selections from the ever-changing assortment. Winc works directly with wine makers. There are no middlemen, which means you get better wine for less.
The Price
: $45.00 per month