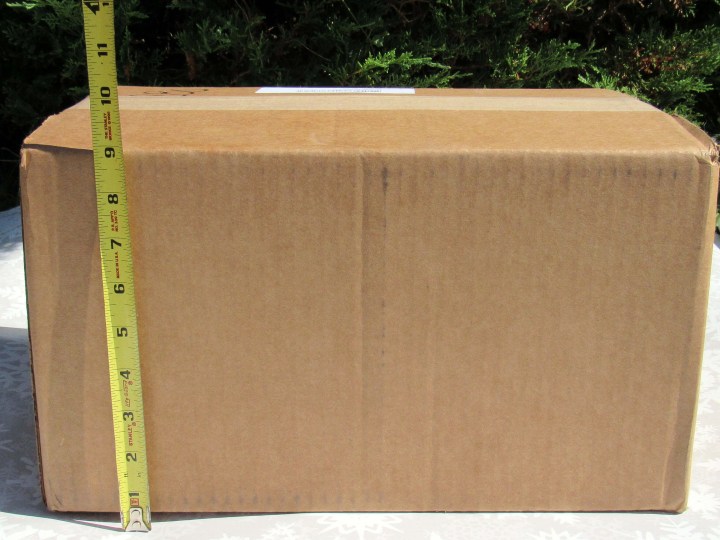 I opened the door and saw to my wondrous eyes appeared a package from L'Occitane. Not a bark from a dog, not a meow from a cat that alerted me to the box's arrival. I sprang down the stairs to open up the box!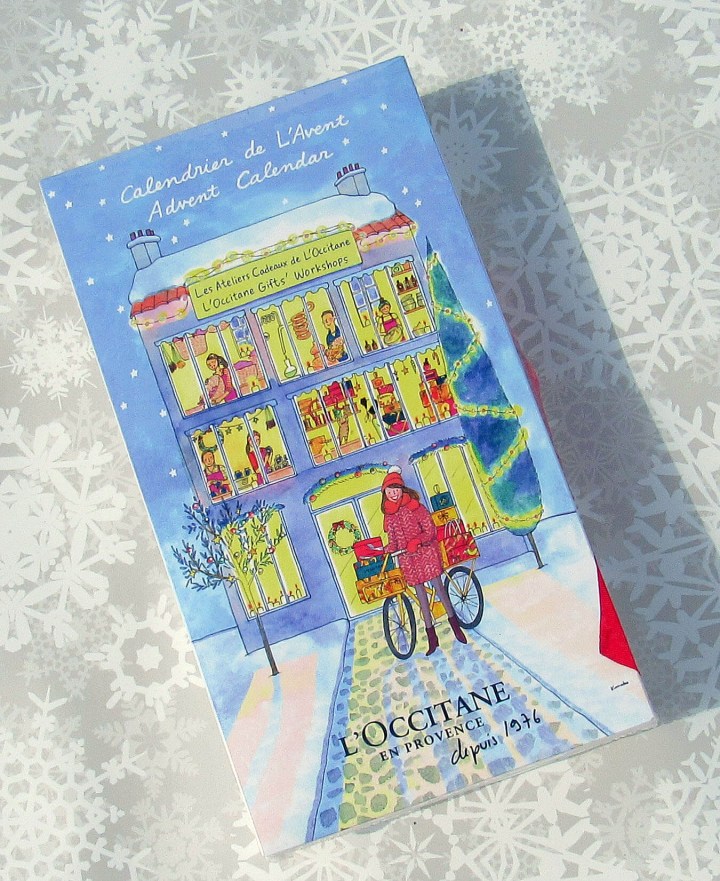 I am very excited to be a recipient of the L'Occitane 2016 Holiday Beauty Advent Calendar which is available now! I love L'Occitane products, and the idea of having one mini everyday in December leading up to Christmas is my idea of happiness! The L'occitane Beauty Advent Calendar is no ordinary advent calendar. It is over a foot high and contains 24 L'Occitane minis for $55.00 with over $100 value! It also qualifies for free-shipping!!! I felt like I was holding an oversized book!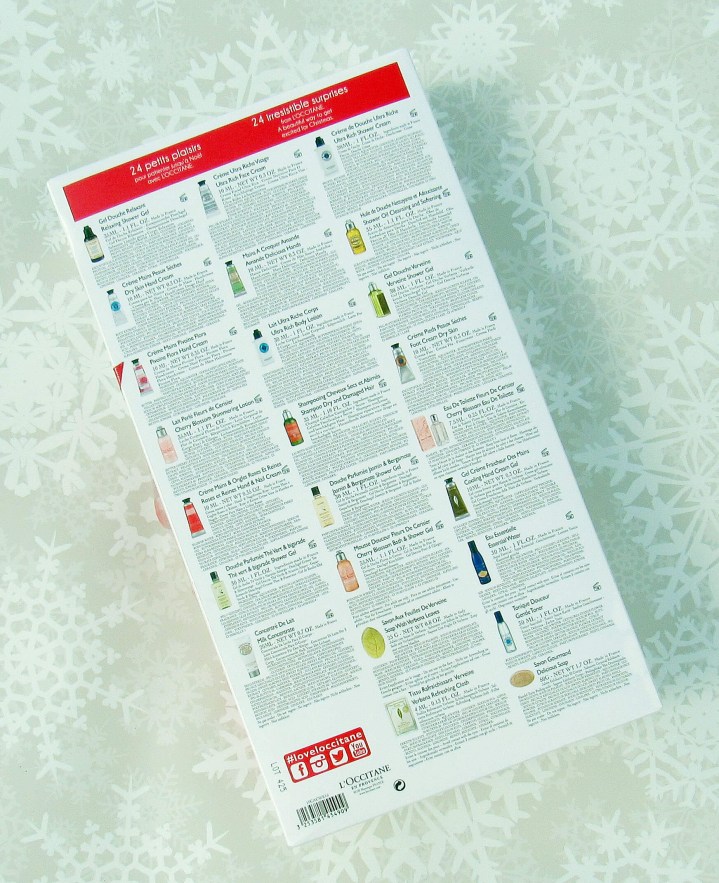 I am not peeking at the back because I want to be surprised by the beautiful, irresistible beauty products. I can't wait for December to arrive when I can open one door a day to receive a mini holiday treat just for me.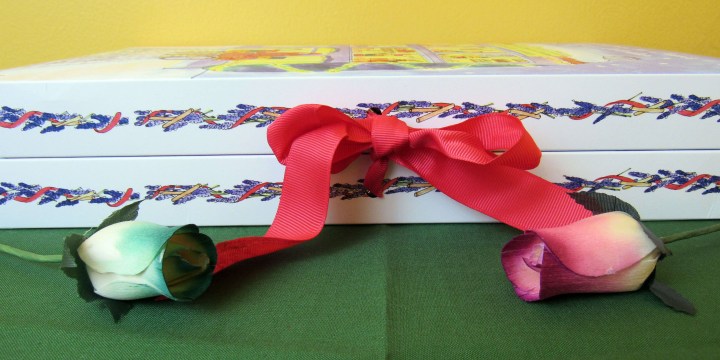 I am a sucker for red ribbons during the holiday season. There is something about opening up a package with a red ribbon that makes me happy. The box has a lavender border whose colors flows into the front of the box. So pretty!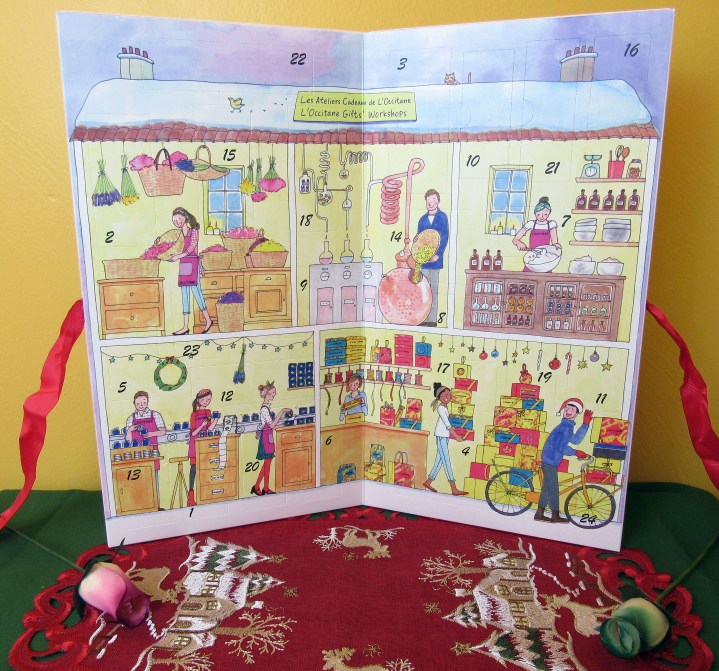 I love it! The scene is a beautiful, whimsical shop scene. I love how they made the product on top and packaged it on the bottom in the back room. It reminds me of a small country shop.  It's a beautiful scene that is rich in detail and can be kept on display throughout December.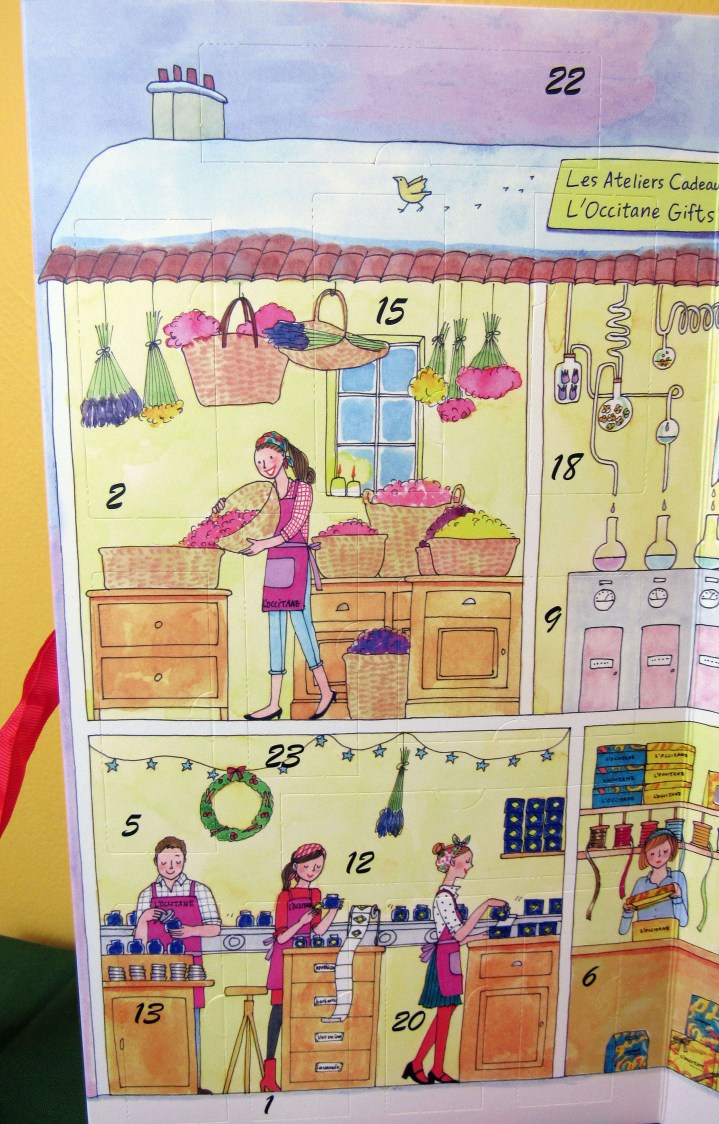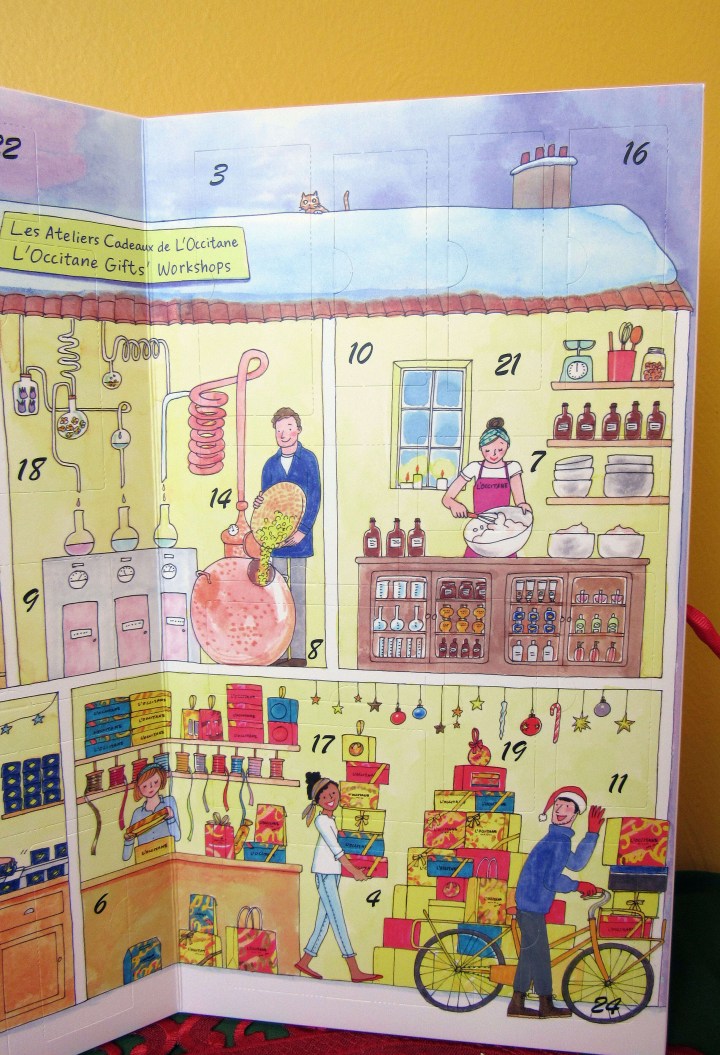 The colors are bright and bold with a few holiday decorations. Look at all the presents! It makes me want to open a window. I must resist opening the Advent Calendar!
Scratch that. How about if I open the first decorative window? I can't wait until December! I need to know now!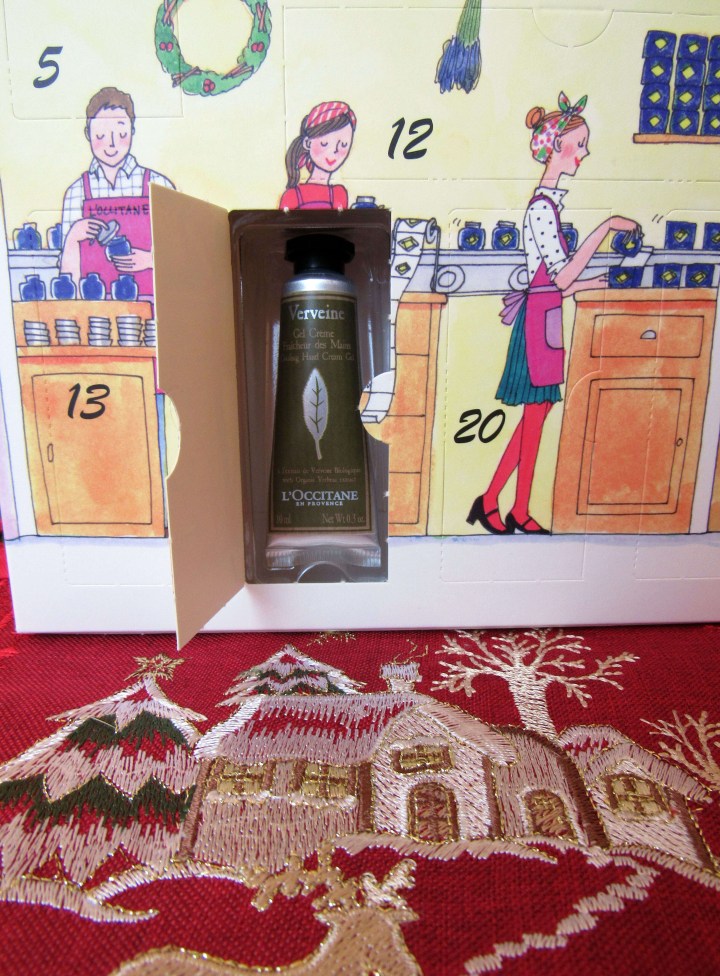 I carefully opened the cardboard window and found a hand cream! We are off to a great start. The complete spoilers are listed here. Note that they're also listed on the L'Occitane site – just ignore the bottom of the page if you want to be surprised!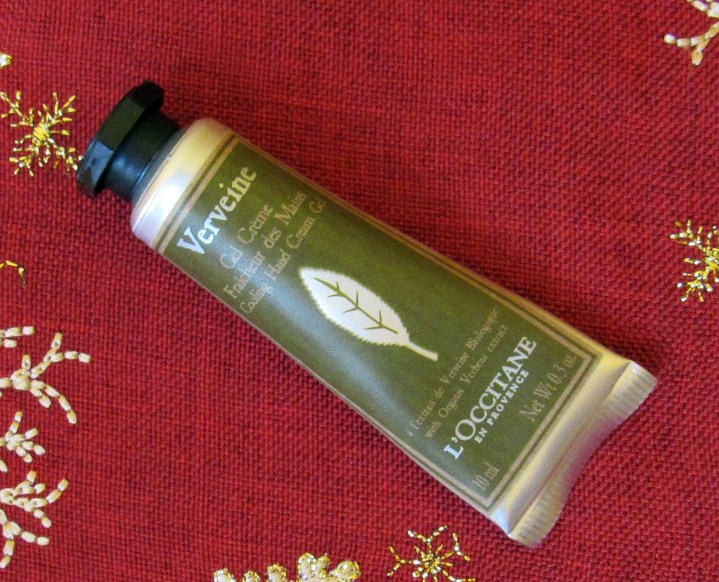 The Verveine Hand Cream has a slight peppermint scent which has me thinking of peppermint hot chocolate. Tis the season!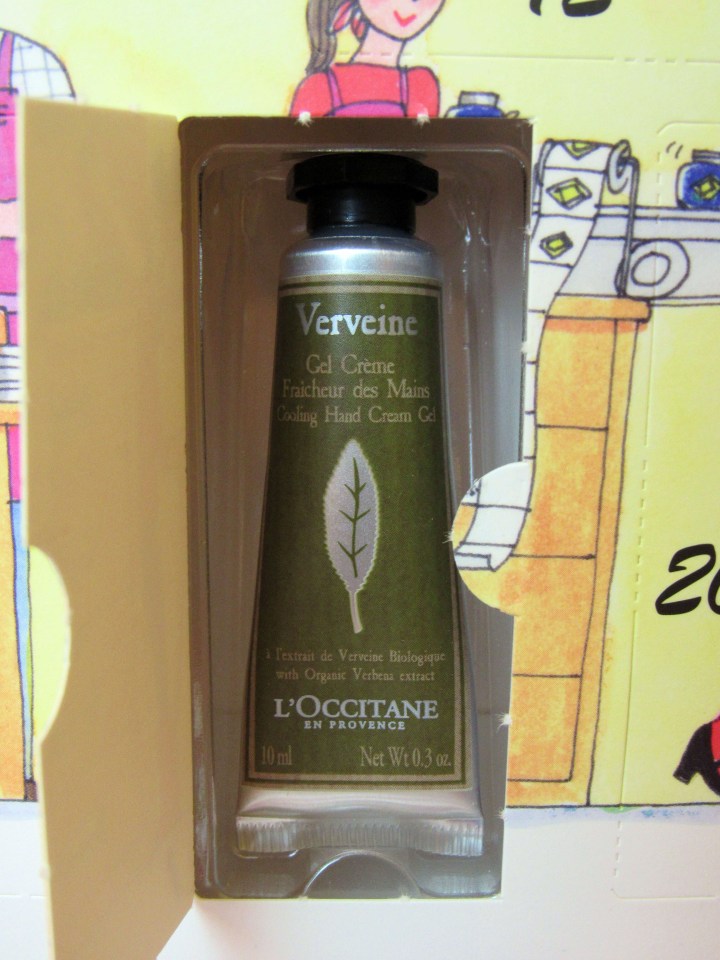 Time to tuck away the hand cream. The cardboard is robust enough to handle multiple openings and closings.

Don't forget to select your free samples when you check out, plus, get one of these free gift sets. The price of this advent calendar makes you automatically eligible for the first gift – use code HOME!
I can resist opening the rest of the Advent Calendar because it automatically qualified for a gift with purchase. I am happy to see a favorite of mine in the bag, the Amande shower oil. It smells divine! I also received a wonderfully scented lavender soap, a mini hand cream for my purse, and two foils of the Amanda Milk Concentrate Body Cream. I am going to bring everything with me when I go to look at T's number one college choice in a few days!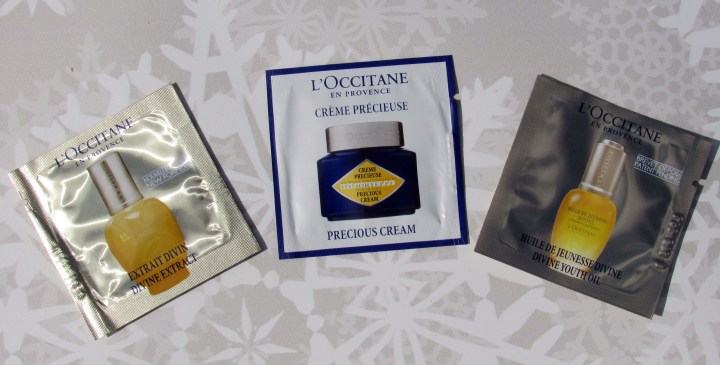 I also received three complimentary samples – you get to choose yours at checkout.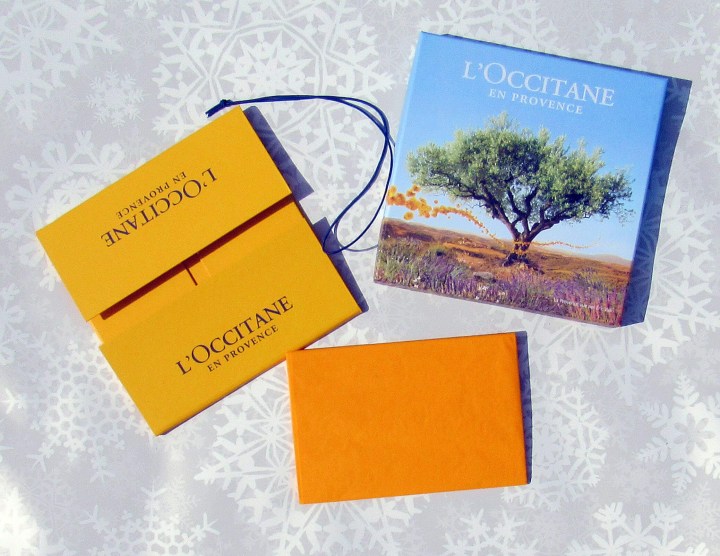 I also received a complimentary gift wrapping kit which will be used to wrap up a Christmas gift. You need to add this on at checkout, but it's free. It's also a great idea for a quick hostess gift – grab a mini out of the chateau door, pop it in the kit, and you're set.
I cannot wait until December for when I can start opening a little window each day. It adds a bit of Christmas excitement knowing each day is a surprise L'Occitane product! The advent calendar is beautifully illustrated with a light holiday theme allowing it to be enjoyed by all. It's a wonderful Beauty Advent Calendar from a passionate company that makes quality products. I can't wait for December to arrive!
Will you be enjoying the L'Occitane 2016 Holiday Beauty Advent Calendar this year?
Looking for even more advent calendars? Check out all our posts on Advent Calendars or find more on Amazon!
Pssst, we're making a list of Advent Calendars! We have a bunch more to enter, but if you find an amazing/unique calendar, let us know about it in the comments!