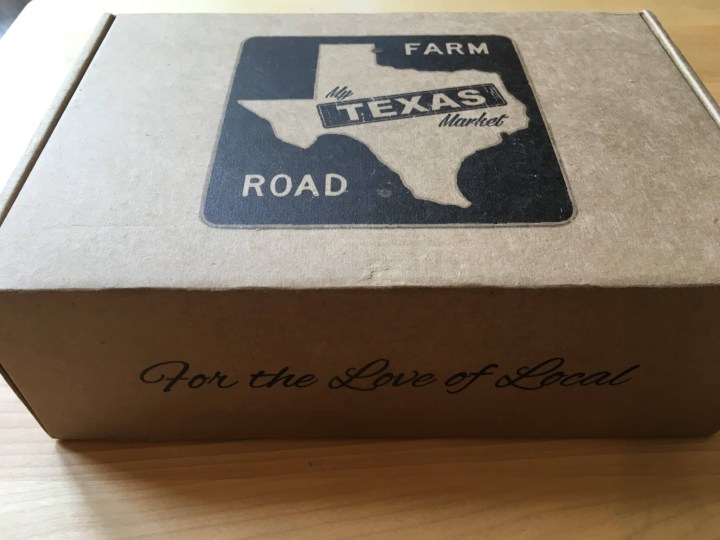 My Texas Market is a monthly subscription that sends a curated collection of small batch artisanal goods produced in Texas to your home. I was so excited to receive this box! As someone who moved to Texas a few years ago, I have come to believe that all things are better in Texas, and what better way to prove it than to sample some local fare?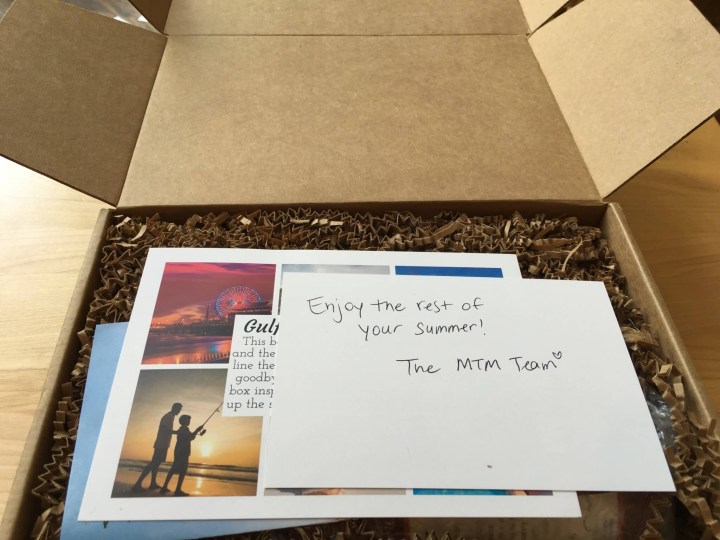 The theme for August 2016 was Gulf Coast Summer! Ever since visiting Boca Chica State Park in May, I have longed to return to the Texas coast. Thankfully, My Texas Market came to my rescue this month, and brought the beach to me!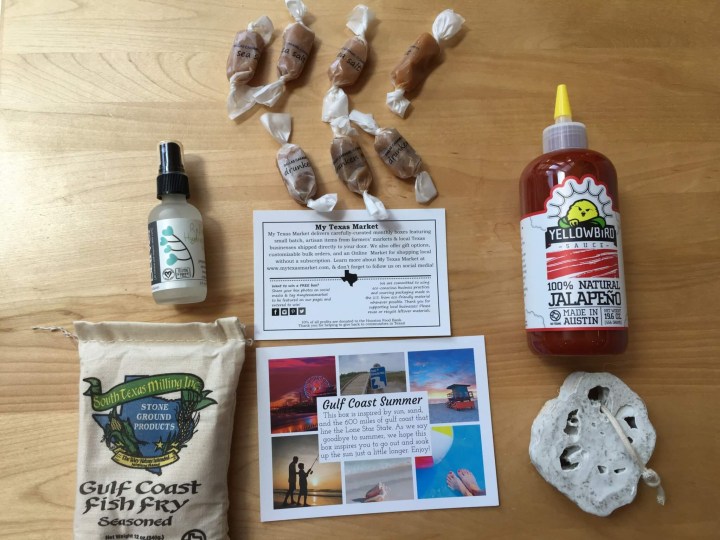 I can't wait to try out these products!
I love how My Texas Market sources small batch, artisan goods from farmers' markets and local Texas businesses each month and gives 10% of their profits to the Houston Food Bank!
August's box contains a fish fry mix, hydrating mist, hot sauce, foot scrubby and caramels. A delicious meal and a spa day sound right up my alley.
South Texas Milling Inc.'s Seasoned Gulf Coast Fish Fry ($6) is delicious and easy to use! Made with cornmeal, salt, pepper, garlic, red pepper, paprika and dried mustard, it renders a light, crunchy, flavorful coating for frying.
My Texas Market included a pamphlet about South Texas Milling Inc. and the products that they produce.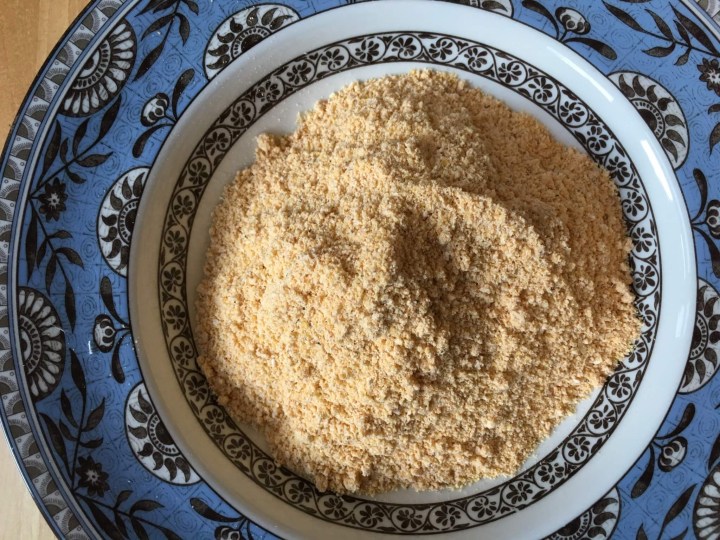 I was a bit intimidated making this dish as I have never made any deep fried dish at home before. I was pleasantly surprised at how easy this was to prepare! I dipped each shrimp, calamari tube and calamari tentacle into a mix of egg and buttermilk and then drenched them in the seasoned Gulf Coast Fish Fry mix. Once coated, they required very little time in the hot oil.
The resulting dinner was absolutely delicious! Luckily, I still have a lot of left over Gulf Coast Fish Fry, so I'll be making this meal again. Soon!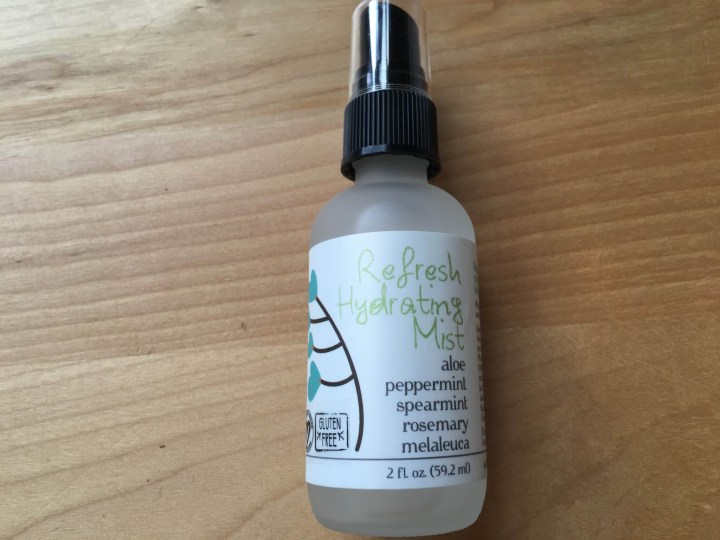 Salve's Refresh Hydrating Mist ($9.99) left my skin feeling very tingly for a long time after spritzing it on. I still need to get used to that sensation. Still, I enjoyed the bright scent to this, and my skin felt perfectly hydrated after using this product.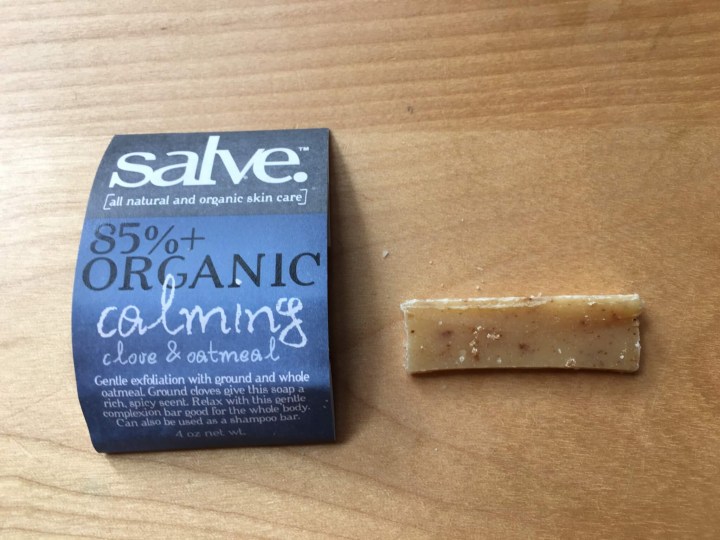 Salve also included a sample of their clove and oatmeal soap, which I loved. The oatmeal exfoliated my skin well, and I loved the clove scent! Thanks to My Texas Market, Salve and Sweet Home Bath and Body, I had a lovely spa-like bath experience this month. Thanks, My Texas Market!
I love that Salve included a coupon that I can use toward future purchases. I can't wait to try out more of their products!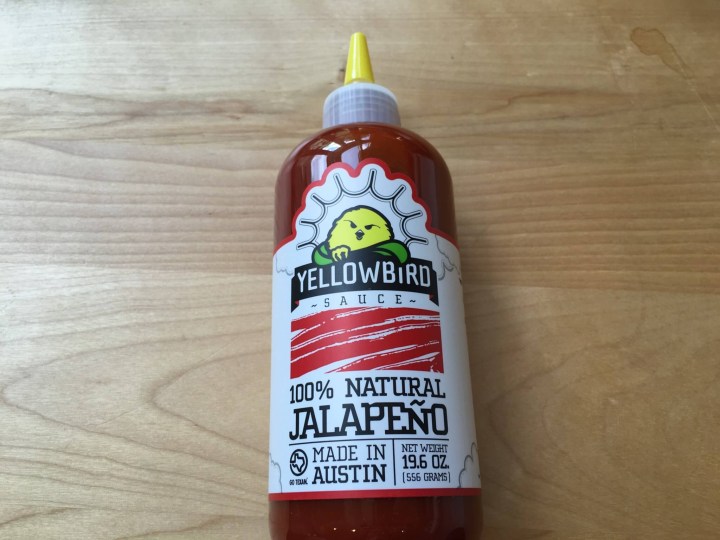 When a friend saw this bottle of Yellowbird Sauce's 100% Natural Jalapeño Sauce ($8) in my kitchen, she started raving about it. I couldn't wait to try it! It's a garden mix of jalapeño, carrots, distilled vinegar, onions, garlic, sugar, salt and lime juice. It sounded like the perfect addition to a Bloody Mary!
This was so good! I substituted Yellowbird's Sauce for the Tabasco and added horseradish, Worcestershire sauce, celery salt and lime juice. I rimmed my glass with the Bourbon Smoked Salt I received in July 2016's Mouth Indie Ingredients box. This drink was the perfect accompaniment to my fish fry.
I loved Sweet Home Bath and Body's Foot Scrubby ($10)! Made from Texas farmed loofahs that are then dipped in Sweet Home Bath and Body's homemade soap, this cleans your feet while it exfoliates. I loved how the loofah pared down my callouses while the cocoa butter and essential oils in the soap left my feet feeling hydrated. After using the scrubby, my feet felt better than they usually do after getting an expensive pedicure. This product is awesome!
Dallas Caramel Company's Sea Salt and Drunken Nut Caramels (roughly $7 based on the cost of 1/2 lb) were both divine! Perfectly smooth and creamy, I love that Dallas Caramel Company goes so far as to use Fleur de Sel de Guerande in its recipe for Sea Salt Caramels. The drunken nut caramels combine pecans with Firestone and Robertson Distilling Company Whiskey to create a true Texas original.
My Texas Market is one of my favorite subscription boxes! Texas has so many great makers, and I think that the individuals behind this box do a great job each month selecting different artisan products from across the state. I can't wait to see what they send next month!
Have you tried My Texas Market? What did you think of this month's selections? Save 25% on your first box with coupon code MAIL25.
Visit My Texas Market to subscribe or find out more!
The Subscription
:
My Texas Market
The Description
: A monthly subscription box including small-batch locally made food items, beauty products, & home goods, all from Texas.
The Price
: $35.00 per month