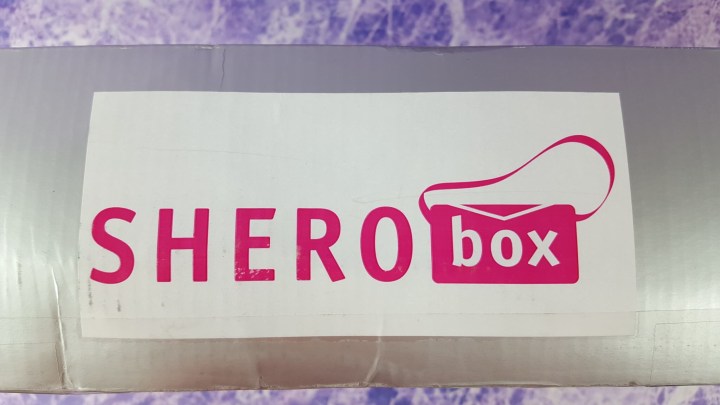 SheroBox is a monthly box for women made up of products from all women entrepreneurs and/or women owned or operated businesses. This month the box was their Anniversary Box.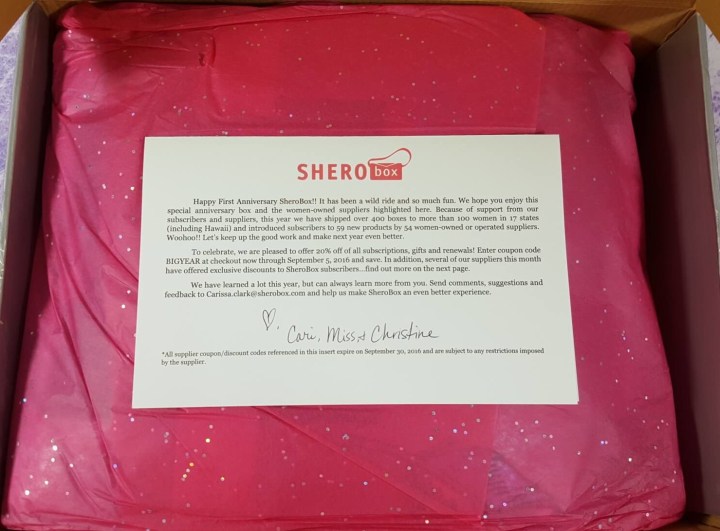 The information sheet had a nice note from the women curators on the front of it telling us all about the box this month and how its their 1 year Anniversary.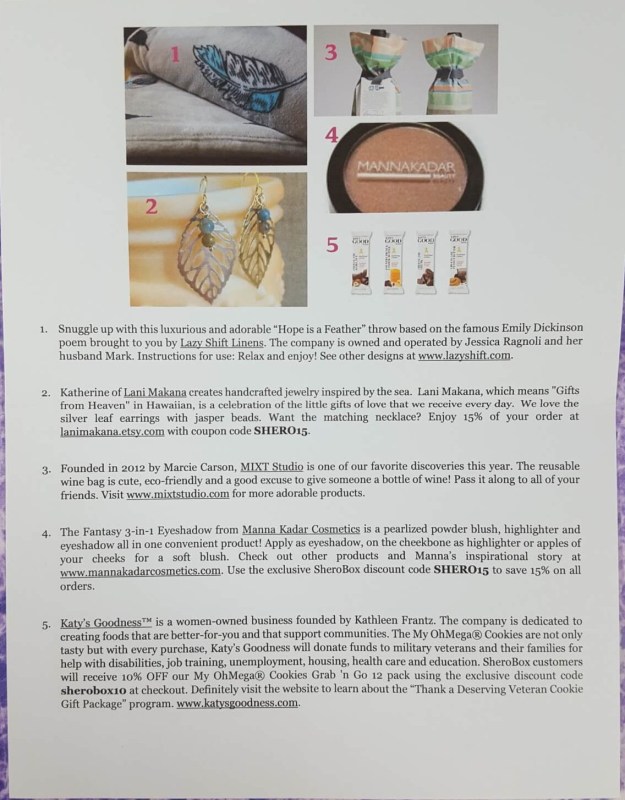 The information sheet for the box.  It focuses more on the businesses and the women behind them then the actual product in the box.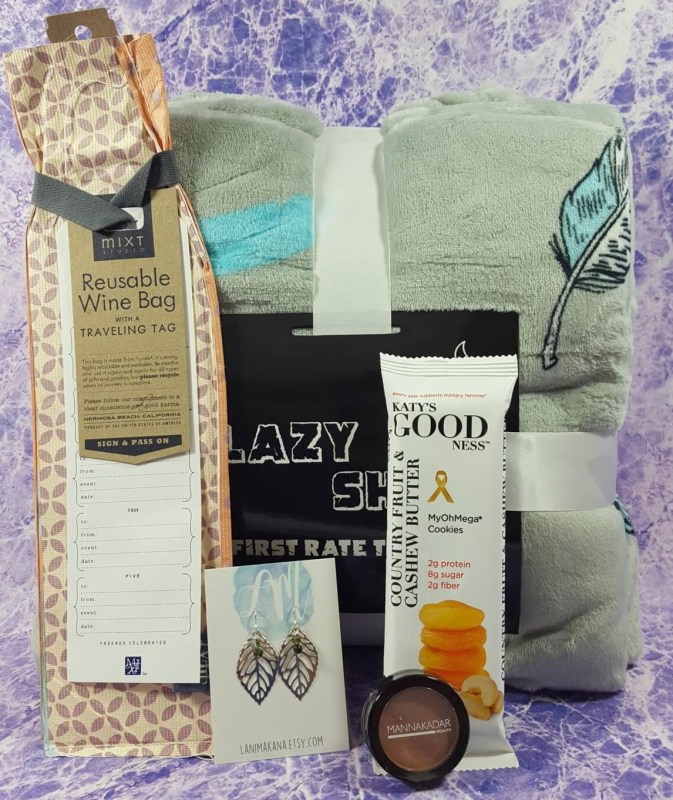 Everything in this month's Anniversary SHERO box!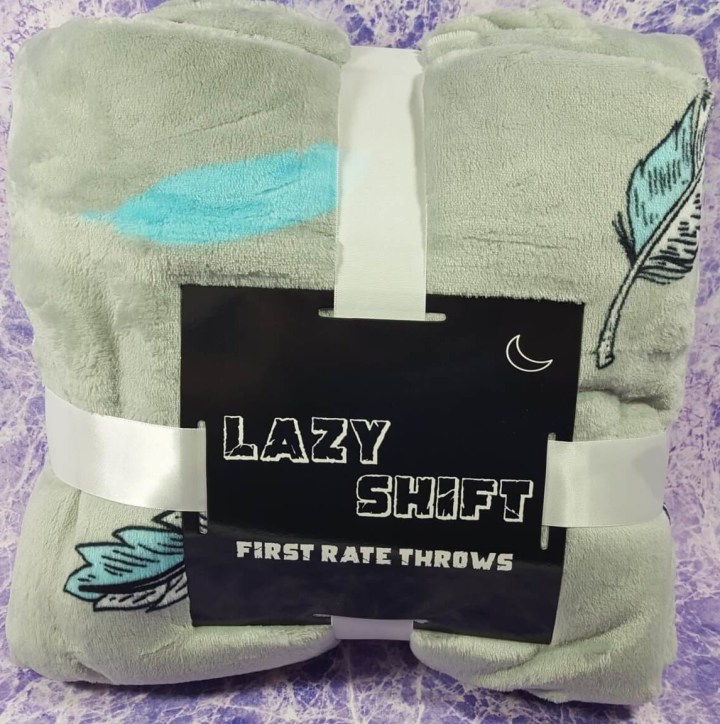 Lazy Shift "Hope is a Feather" Throw blanket($24.99) – This throw is based on a poem by Emily Dickinson and is created by a wife and husband team. The throw is beautiful and so very soft and large at 60″x70″.
'Hope' is the thing with feathers—
That perches in the soul—
And sings the tune without the words—
And never stops—at all—
And sweetest—in the Gale—is heard—
And sore must be the storm—
That could abash the little Bird
That kept so many warm—
I've heard it in the chillest land—
And on the strangest Sea—
Yet, never, in Extremity,
It asked a crumb—of Me. 
Emily Dickinson

Silver Leaf Earrings With Jasper Beads From Lani Makana ($13.00) – These are beautiful and so delicate looking. They will be great to wear through fall.  Lani Makana means "Gifts from Heaven" in Hawaiian in celebration of all the little gifts that we love to receive every day.  I love this saying and I love getting little gifts given to me.

Reusable Wine Bag By Mixt Studio ($10.00) – I love a good wine bag and this one is so cute and eco friendly.  The bags are printed on Tyvek and include a travel tag with five gifting opportunities to fill in. Fill out the tag when passing along and then the bag will have a nice travel story all its own.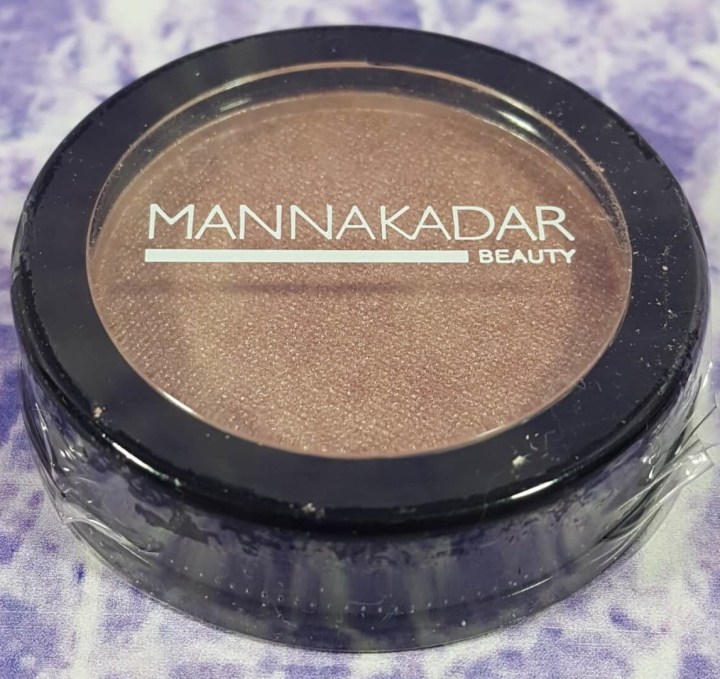 Manna Kadar Cosmetics 3-in-1 Eyeshadow in Fantasy ($19.00) – This is a fun 3-in-1 combo that can be used as an eyeshadow, blush and or highlighter. I'm all for ease in use and for when I'm traveling so this will be perfect.  I'm adding it to my traveling bag.

Katy's Goodness MyOMEGACookies – ($23.99 for a box of 12) – Katy's is a company focused on creating foods that are better-for-you and support communities.  With each purchase of the MyOMEGACookies are not only tasty but with every purchase they donate funds to military veterans and their families.
The anniversary box is great this month. With the value of almost $70 it is a great subscription and I love the items this month. I will be using and wearing them all and I love that they come from women owned and ran companies and that they highlight new companies for me to shop from each month. Such a great idea and great support for women out there.
Visit SheroBox to subscribe or find out more!
The Subscription
:
SheroBox
The Description
: In SheroBox, every month you will receive a box filled with different goodies for home, beauty, family and life in general. All of our products are from women entrepreneurs and woman-owned or operated businesses.
The Price
: $34.99 per month