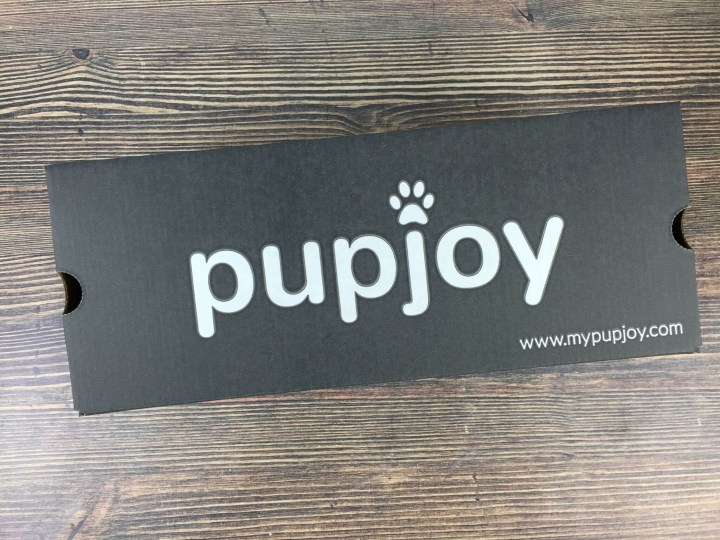 Pupjoy is a monthly subscription box for dogs that finds the healthiest dog treats with clear ingredient labeling, well-crafted dog toys, and artisan accessories for the discerning pup. It's customized for your dog's needs so you can find the right mix of high-quality products right for you and your dog (or dogs! They offer a larger size box for multiple or big dog families.).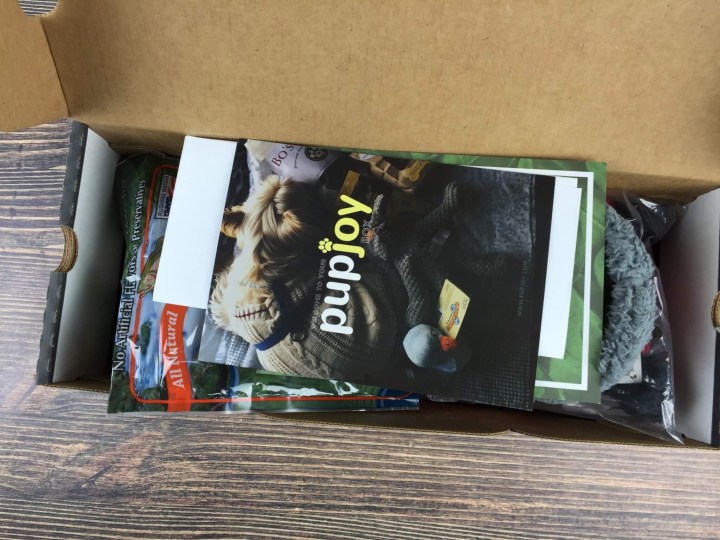 You can select toys, treats, or mixed boxes, grain free or training specific only treats, and tailor your toy preferences.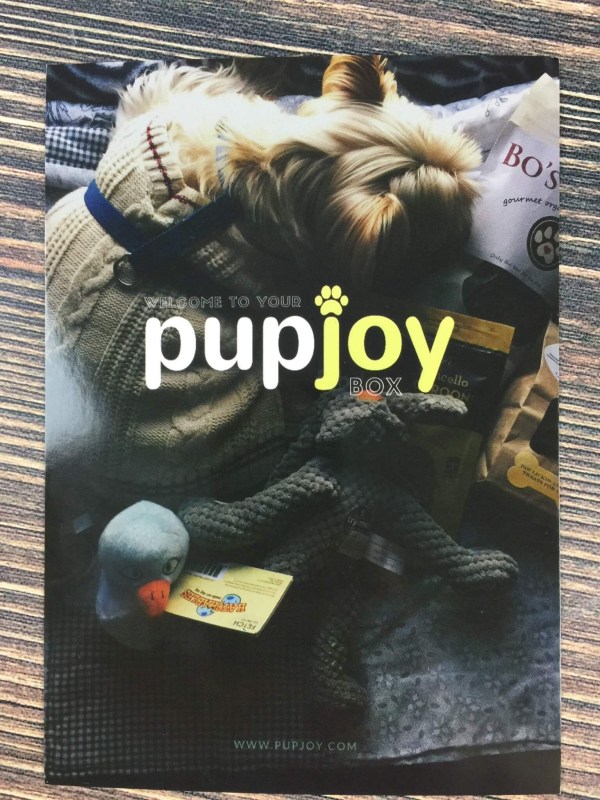 The welcome card shows a very pampered pooch luxuriating amongst his Pupjoy bounty.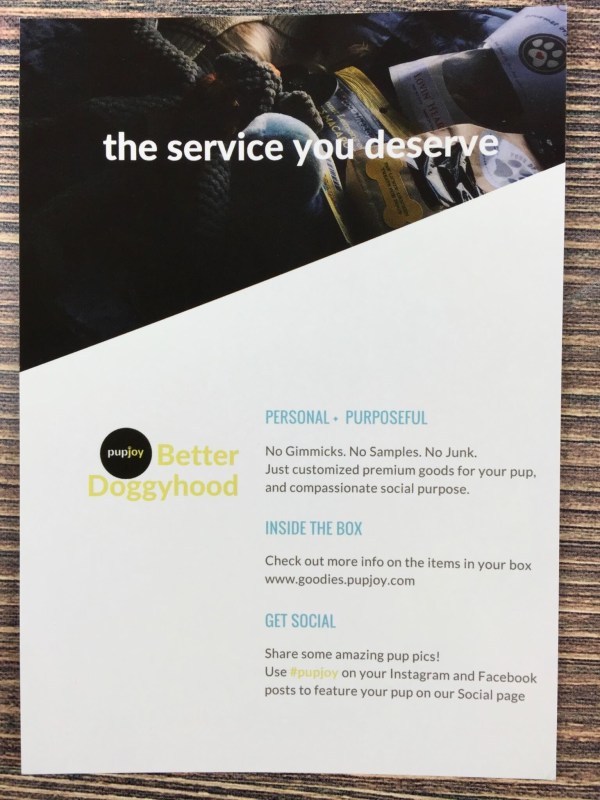 The flip side of the card notes the Pupjoy credo — no gimmicks, no samples, no junk.  The toys are sturdy and well-made, and the treats are full-sized and made by people who know that pets are family and we care about the quality of what we feed them.
The box is filled to the brim with toys and treats.
Everything in the box.
Zippy Paws Ladybug Squeakie Pad ($6):  This little guy has two squeaky chambers.  It's clearly designed as a step-on-and-squeak type toy.   It's very plush, which is great for the human that gets to squeak and toss it.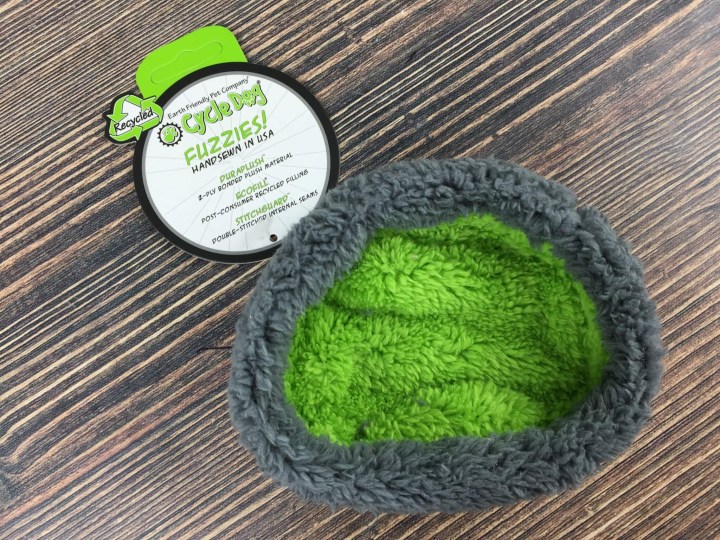 Cycle Dog Fuzzy Flyer ($10):  The high rim makes this toy look a bit like a furry water dish, but it is actually a frisbee.  The grey outer ring is durable for tugging, and the whole thing is fuzzy.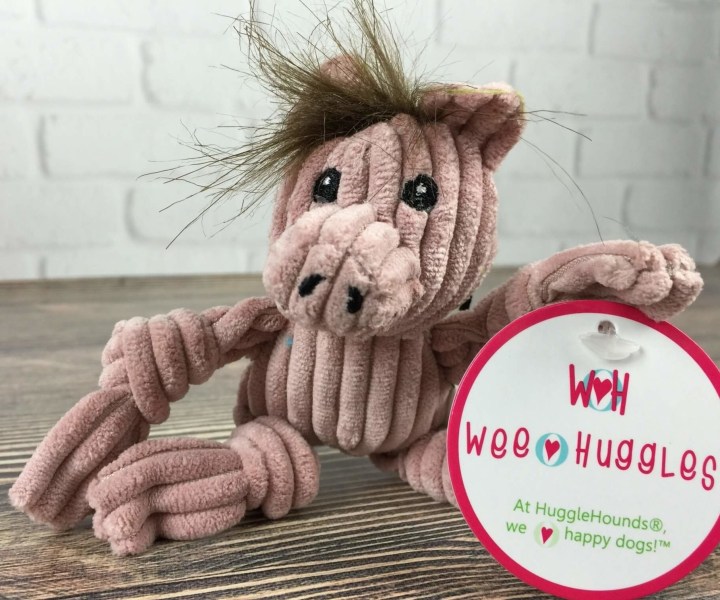 HuggleHounds Durable Knotties Wee Pig Toy ($7):  This little piggy is made of a fuzzy and durable corduroy style material.  The cords are  much thicker and stronger than the corduroy used for clothing, and they give the toy a fun texture.  I love the cray tuft of hair!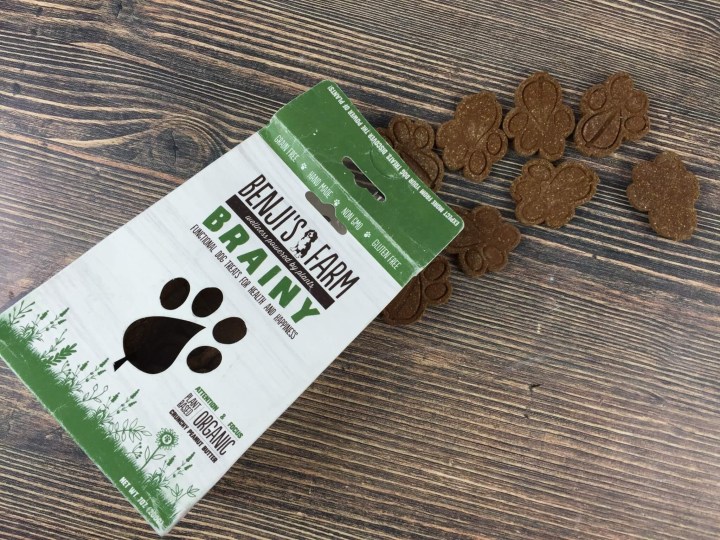 Benji's Farm Brainy Organic Treats ($12):  These "functional dog treats" contain healthy fats that aid brain function and vitality, keeping your best friend sharp.  Organic and non-GMO, they are also grain free and have a nice snap to them.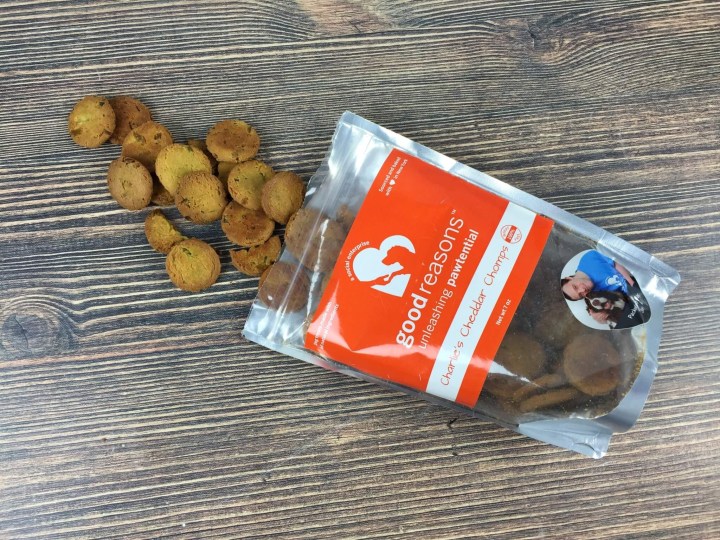 Good Reasons Charlie's Cheddar Chomps Treats ($8):  Our pup loves these.  they look like over-baked cookies, but they are loaded with real cheddar cheese.  They smell really good, even to a human.  Our furry little girl actually stood up on hind legs in full begging mode when we grabbed the bag!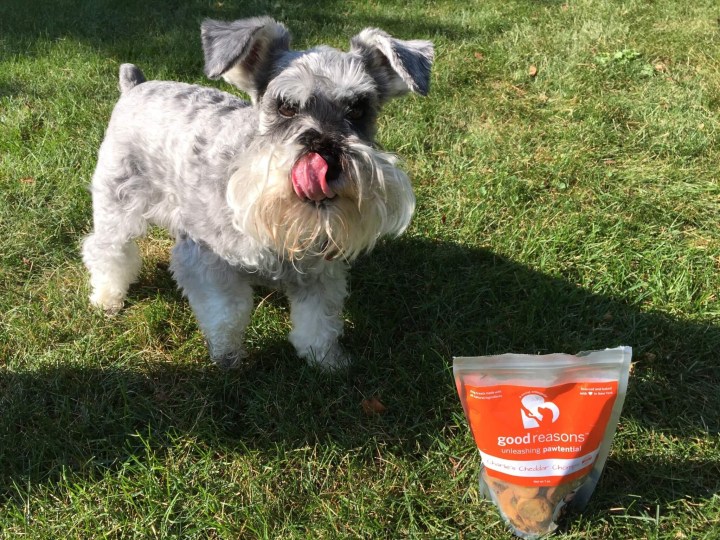 She approves.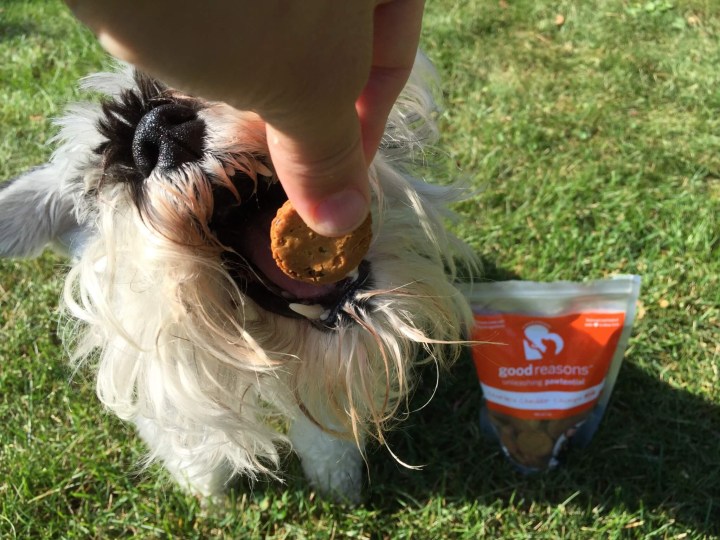 This may look like a "she didn't eat that" photo, but she most certainly did.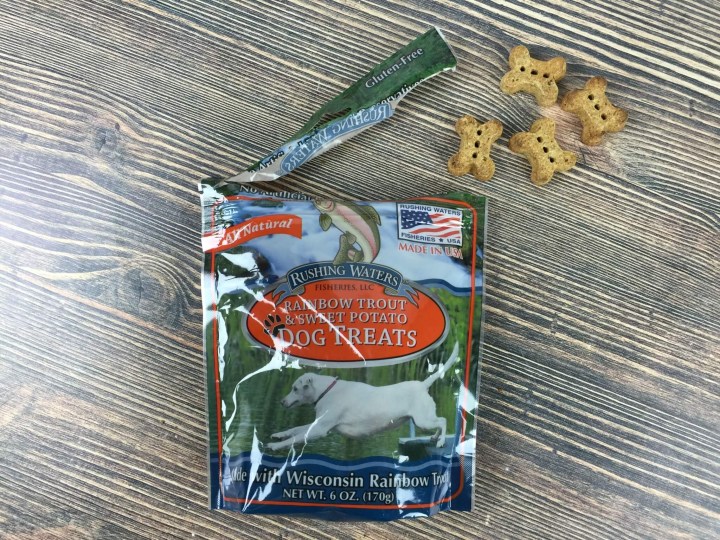 Rushing Waters Rainbow Trout & Sweet Potato Treat ($7):  These are very nice for a salmon treat — they don't smell strongly, and they are dry to the touch, not oily.  My dog likes fish (and she loves sweet potato), but I hate handling most fish treats — these are a welcome relief.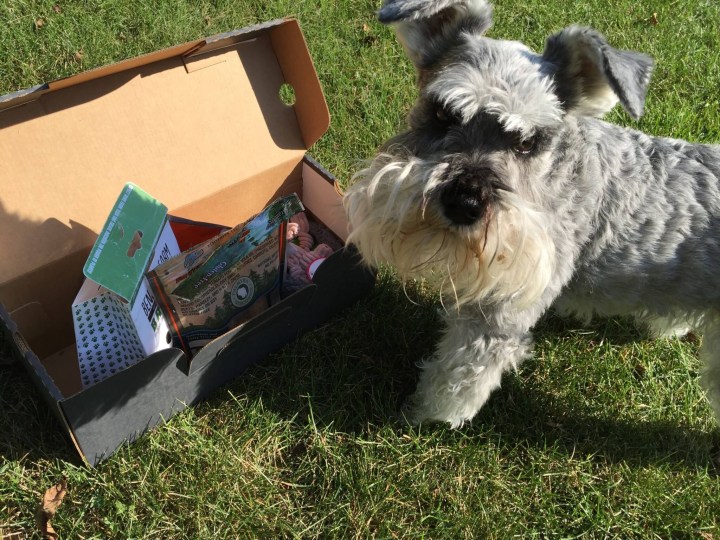 Enough posing, let's eat!
We like Pupjoy quite a bit.  The treats come in big packs, and our dog has liked all of them.  The bags this month weren't quite as huge as some previous months', but they are still full-size.  They find selections that are appealing to dogs without adding relying artificial flavors, and most selections are USA made, with many being either grain-free, organic, or similarly distinguished.  The treats are high-quality, filled with healthy meat and veggies, and tend to come from small to mid-size producers instead of the big conglomerates.  The toys are well-made and great for dogs that are into toys, but we prefer our subscription tailored to favor the treats, since our dog loves them so much.
Visit PupJoy to subscribe or find out more! Take $10 off any subscription plan! Use coupon code  HELLOSUBSCRIPTION.
The Subscription
:
PupJoy
The Description
: PupJoy resets the bar for dog subscription services, with fully customized ordering, concierge service and free home delivery. 4-6 healthy and high-quality products customized to your dog's preferences and dietary needs! Also offers Organic box and a box for Protein Sensitive dogs (no beef, chicken or dairy – the three most common canine food allergens)
The Price
: $29.00 per month