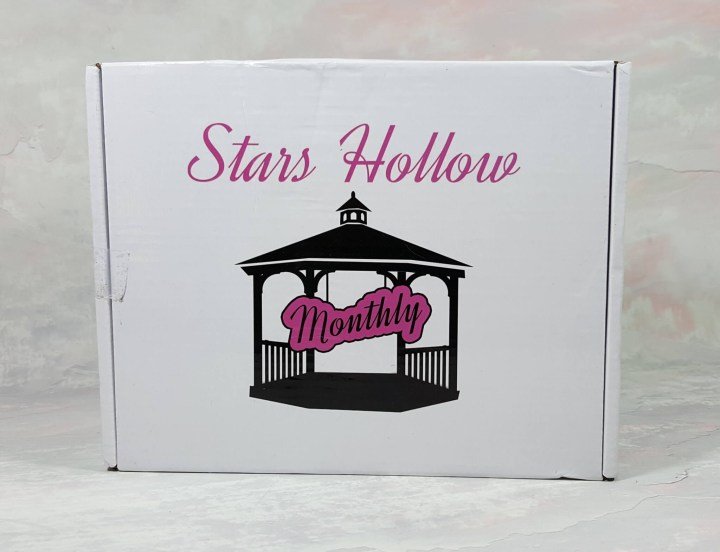 Stars Hollow Monthly will feature 3-5 products which are inspired by the Gilmore Girls and the fictional town of Stars Hollow.  (Inspired by, meaning items that relate to, are inspired by, or are artistic renderings of the show and its inhabitants/characters.)  For $29.95, you can expect anything from tee shirts (on occasion), home decor, fashion accessories, bath & body items, and much much more.  The goal for the Stars Hollow Monthly Box is to send subscribers items they will adore as fellow Gilmore enthusiasts, but also items anyone would enjoy – high quality items that won't gather dust in a drawer somewhere.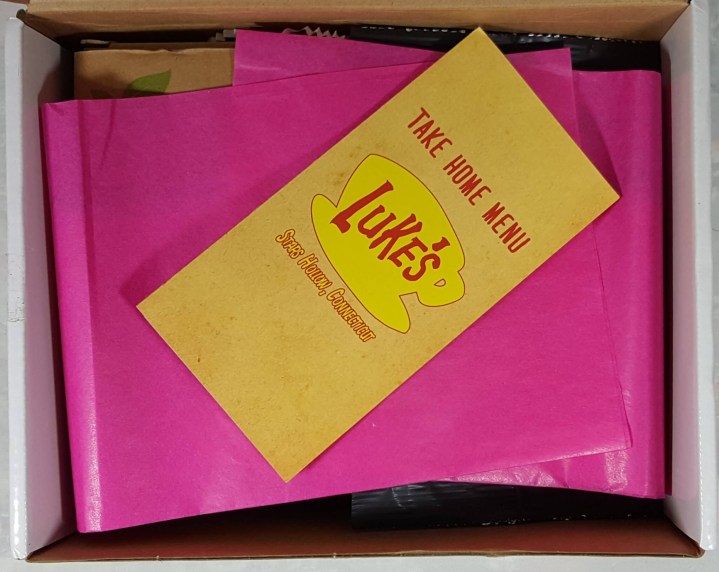 I love seeing the familiar image of the Luke's Diner menu each month!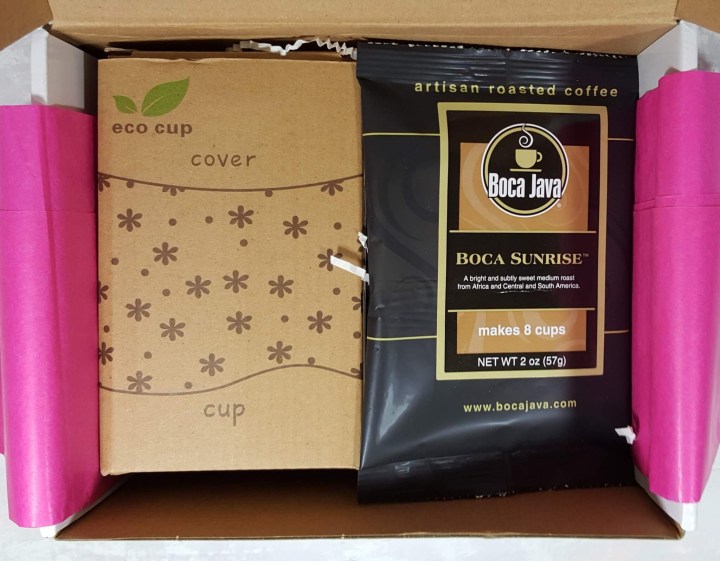 YAASSS!!!  Coffee and I can take it on the go!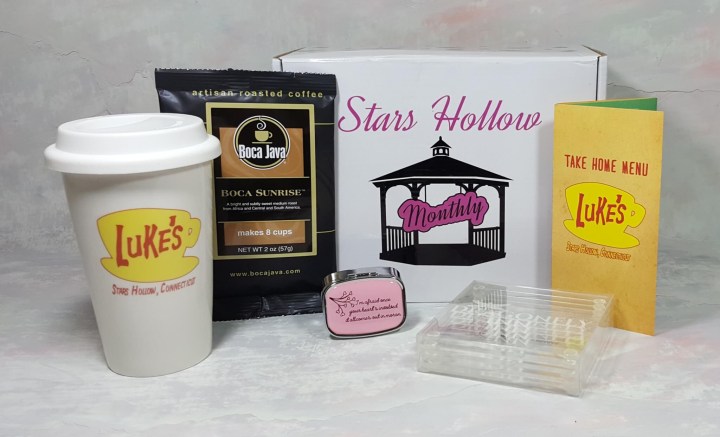 The August Stars Hollows Monthly Box.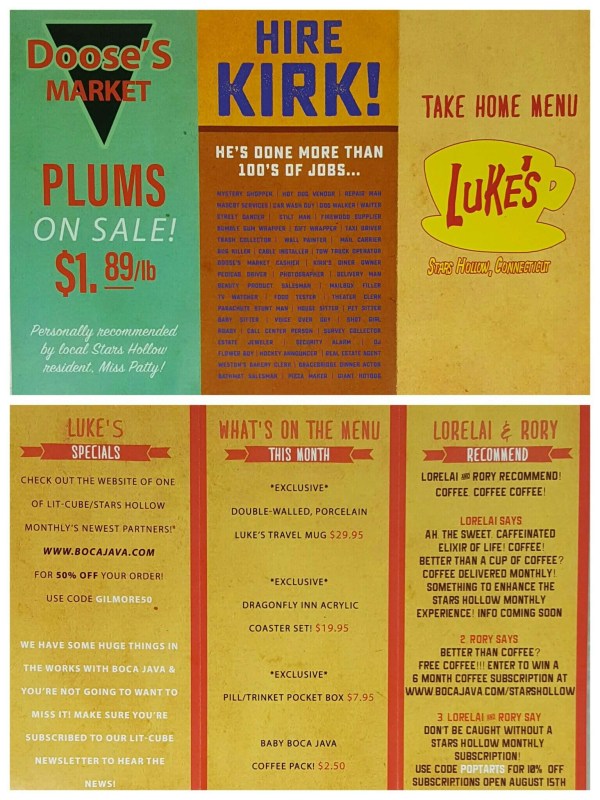 Luke's menu is actually a fold out information sheet for the box.  Since Luke is a creature of habit, the outside of the menu hasn't changed (someone please hire Kirk).  The inside of the menu contains a list of the box contents with pricing, as well as discount codes for some of the items.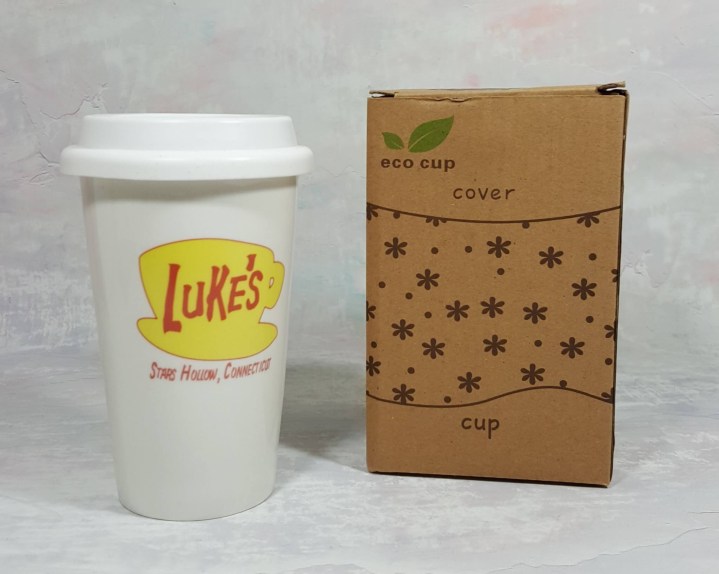 *EXCLUSIVE* Double-walled, Porcelain Luke's Travel Mug ($29.95):  I totally squealed when I saw this leaked online.  I may have a slight coffee cup obsession.  Anywho, while Luke served his coffee in your standard nondescript cup, this lets you feel like you've started your morning with a stop into Stars Hollow's favorite diner.  The best part?  Since this is porcelain, you can experience that feeling repeatedly without wasting another paper cup.  The double-walled design insulates your drink (hot OR cold) and ensures that your fingers are not harmed.  This is a bit pricier than similar travel mugs, but you won't find Luke's anywhere else.
Boca Java Baby Boca Coffee Sampler – Boca Sunrise ($2.50):  What better to fill your new Luke's travel mug than a steamy cup of coffee!  Boca Sunrise is the signature coffee of Boca Java and is described as "a medium roast, coffee blend from Africa, South & Central America, with a full-body, citrus fruit and honey notes, sparkling acidity, a clean finish."  It is a nice coffee, but a little more on the lighter side of medium than I prefer.

*EXCLUSIVE* Dragonfly Inn Acrylic Coaster Set ($19.95):  Although I won't ever get to visit Lorelei and Sooki at the Dragonfly Inn, I can pretend that I did with this set of coasters.  Made from clear acrylic, they can be used with any decor, and the logo makes a great conversation starter.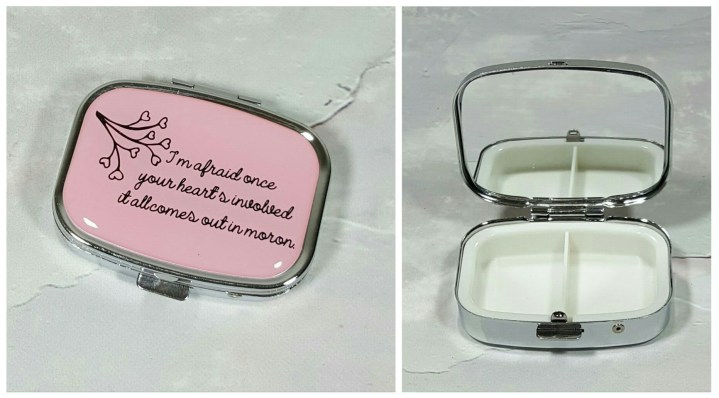 *EXCLUSIVE* Pill/Trinket Box ($7.95):  "I'm afraid once your heart's involved it all comes out in moron."  This quote is from season one, and I think it's a sage piece of advice.  Love seems to make most romantics blind to reason.  This adorable box has a mirrored lid and 2 compartments.
August's Stars Hollows Monthly Box  had a value just over $60.  With so many exclusive items, I feel like I just walked out of a Stars Hollow gift shop.  One of my favorite parts of this subscription is matching curated pieces back to episodes (OK, it's really just an excuse to watch more Gilmore Girls).  I would love to hear your feedback.   Are you having as much fun as I am with the Stars Hollows Monthly Box?  Leave a comment below and share your thoughts.
Visit Stars Hollow Monthly to subscribe or find out more!
The Subscription
:
Stars Hollow Monthly
The Description
: Stars Hollow Monthly will feature 3-5 products which are inspired by the Gilmore Girls & the fictional town of Stars Hollow. *Inspired by, meaning items that relate to, are inspired by, or are artistic renderings of the show and its inhabitants/characters.* You can expect anything from tee shirts (on occasion), home decor, fashion accessories, bath & body items, and much much more. Our goal for the Stars Hollow Monthly Box is to send our subscribers items they will adore as fellow Gilmore enthusiasts, but also items *anyone* would enjoy- high quality items that won't gather dust in a drawer somewhere. (as opposed to kitschy fandom stuff)
The Price
: $29.98 per month