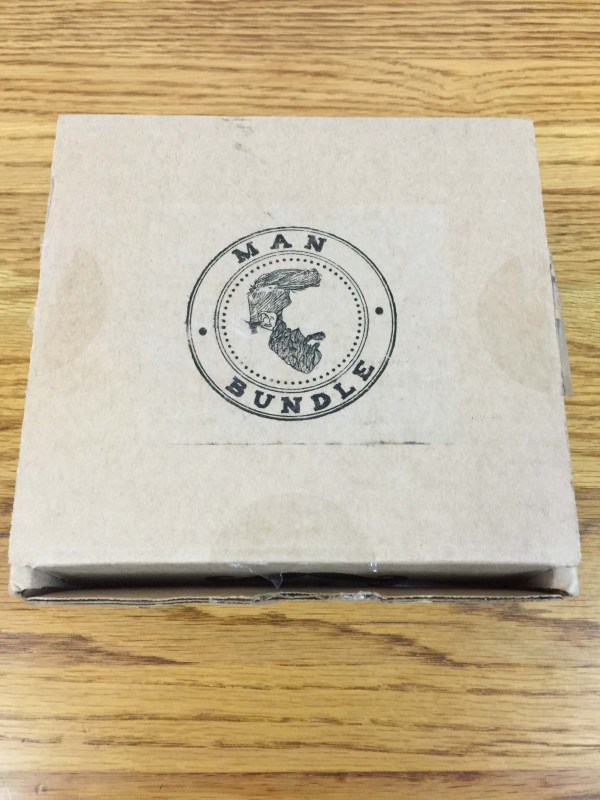 Man Bundle delivers excellent grooming products for each month.  For a low monthly cost, you receive samples and not all are tiny one time use types of samples.
All of the items in the box!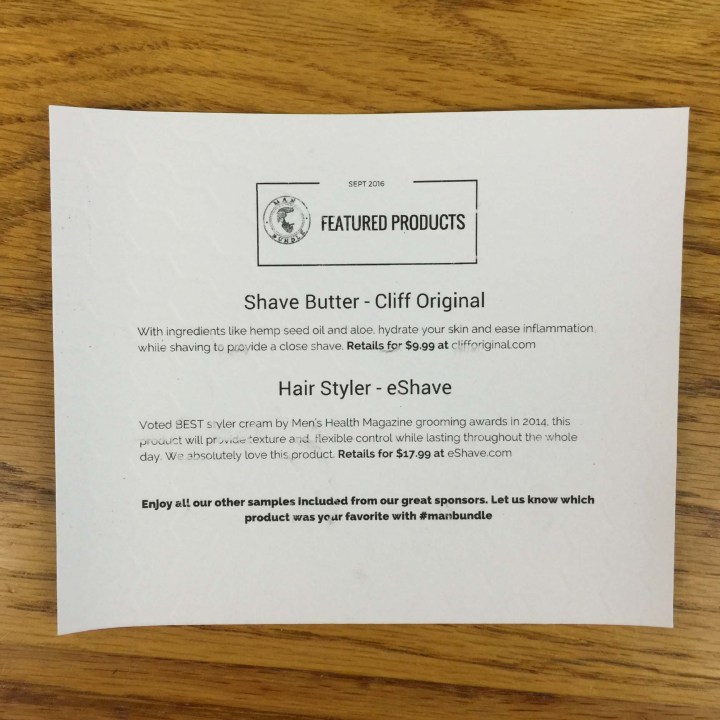 Description Card.  There is not a full rundown of every item within the box, but rather a description of a couple items.
Jack Black Deep Dive Glycolic Facial Cleanser.  This was a small, one time sample of a very good product.  I have oily skin and I need an actual facial cleanser.  I'm a fan of the Jack Black brand of grooming products for men.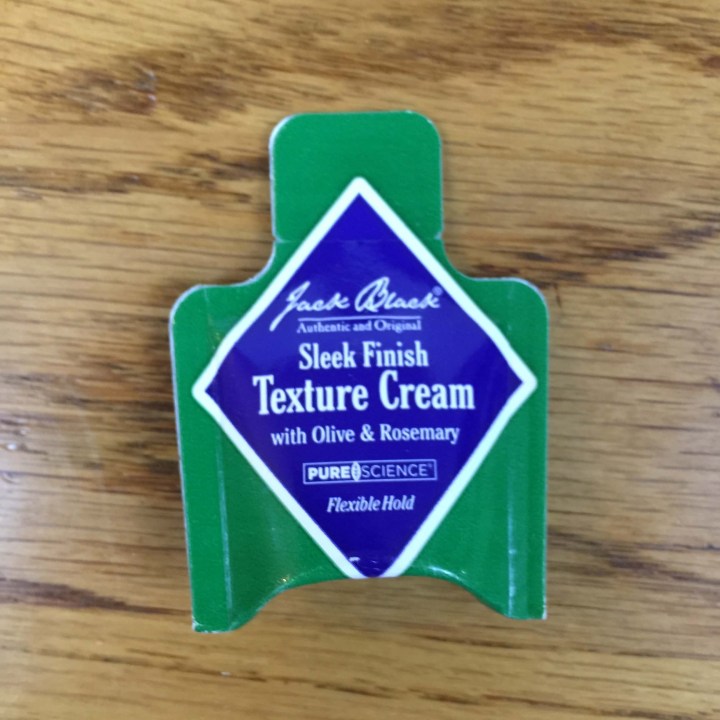 Jack Black Sleek Finish Texture Cream.  I like that this tiny sample of hair product worked well.  It gives the hair a look that holds without giving it a helmet like hard appearance.  The olive and rosemary give a pleasant scent to the cream as well.
Jack Black Nourishing Hair and Scalp Conditioner.  Another one time use item but it's a good one.  The conditioner leaves hair feeling soft and the basil was a nice touch.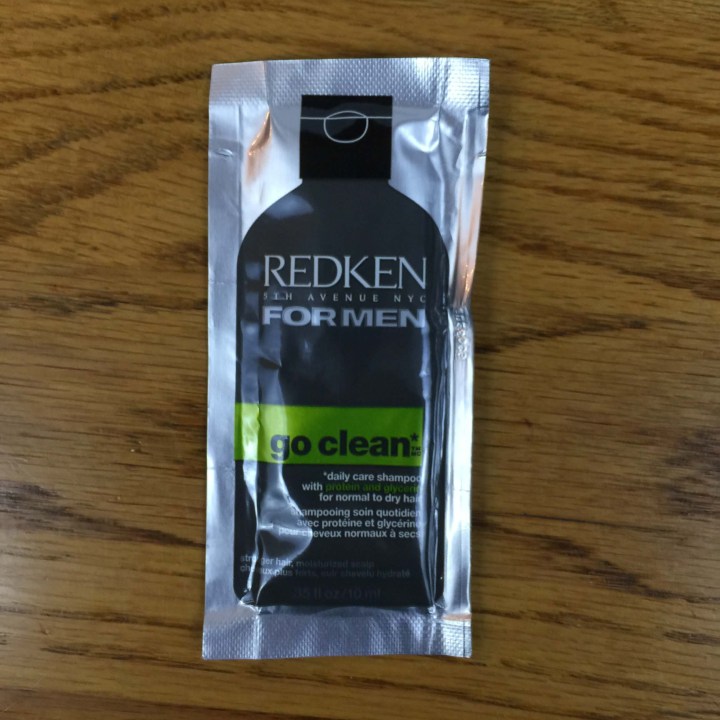 Redken Go Clean Daily Shampoo.  I like the shampoo and may need to get more.
Cliff Original Shave Butter – $9.99.  This is one of the featured items from the description card and is good for multiple uses.  It smells clean and works great!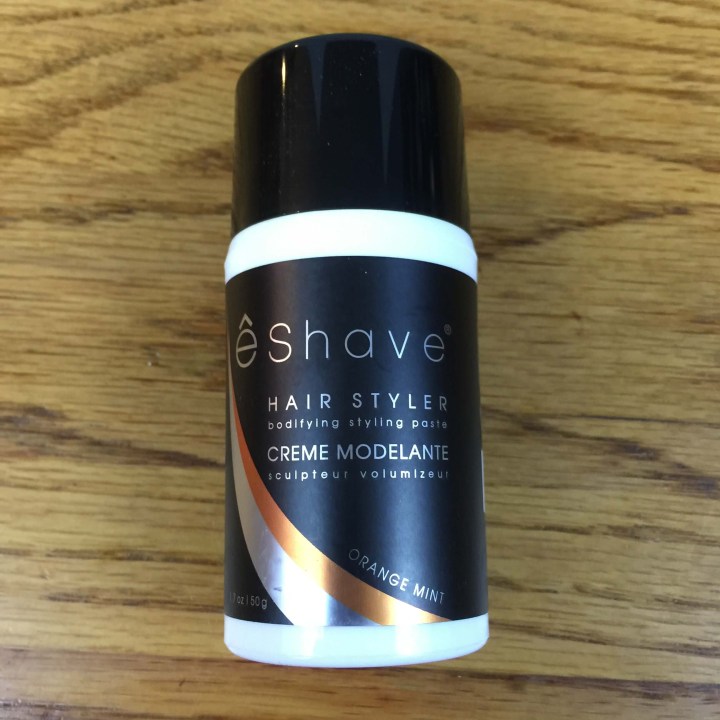 eShave Hair Styler – $17.00.  This hair styler worked great!  I like the little pump so you don't risk getting too much (and you don't need much).  The scent is nice and disappears but the hold remains.  I also like that it gives a more natural look as opposed to giving hair that crunchy feeling.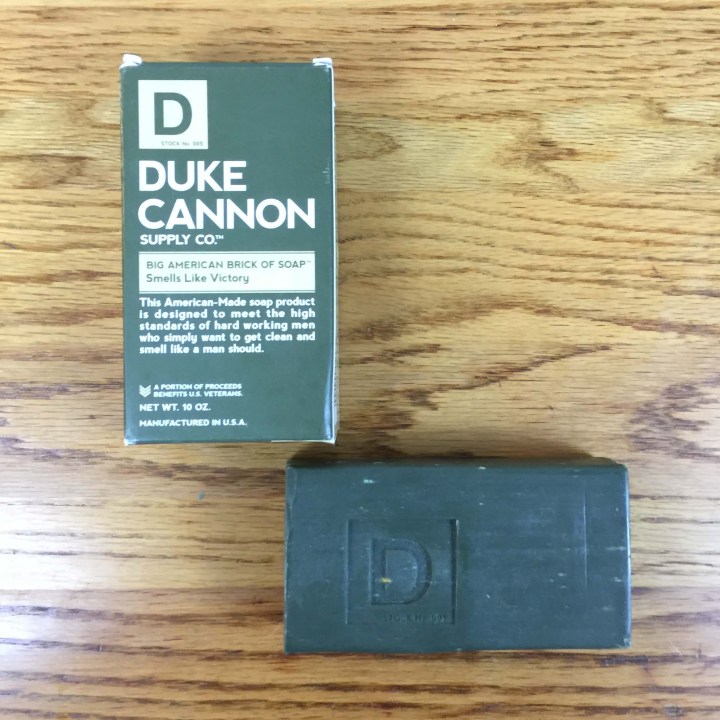 Duke Cannon Supply Co. "Big American Brick of Soap" – $9.49.  This soap is HUGE!  It doesn't fit in the soap enclave in the bathtub.  I really like it though.  There isn't much smell to it and there seems to be even less when it gets wet.  I still feel and smell clean after using it which is what is most important.  The soap is inspired what was used by GIs during the Korean War and it "Smells Like Victory."  Duke Cannon Supply Co. donates a portion of proceeds to veteran causes.
This is a great box!  Full of samples and also has full size versions of items for full usage!  I like being introduced to high quality grooming products without breaking the bank.
Visit Man Bundle to subscribe or find out more!
The Subscription
:
Man Bundle
The Description
: Man Bundle is a male grooming product subscription box which is delivered monthly. We included a full sized product and various sample products to test out. Each box is valued well over the monthly cost of $24.99. Right now we are a small company run by a few individuals. We want to stay focused on the product as well as our customers and believe that by being small we can focus and give every customer the proper service.
The Price
: $24.99 per month