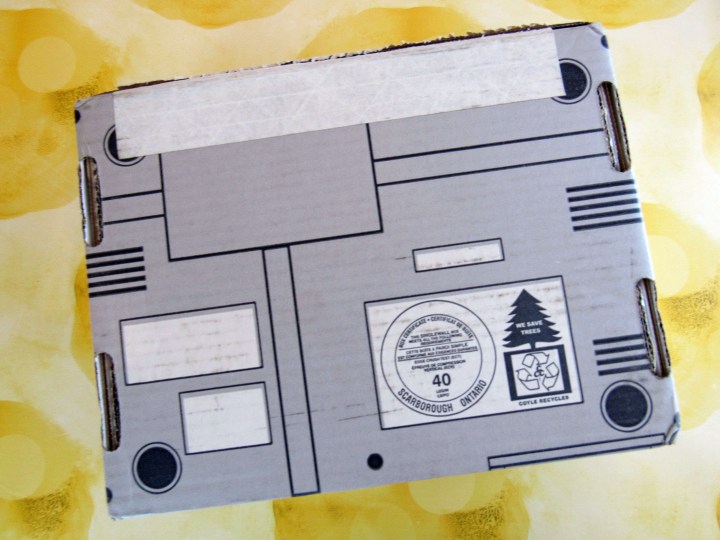 Arcade Block is part of the Nerd Block family of subscriptions and is a monthly video game mystery box. Arcade Block focuses on 4-6 video game collectible, one exclusive gamer t-shirt, and a promised value of $60.00. Arcade Block begins shipping on the 25th of each month.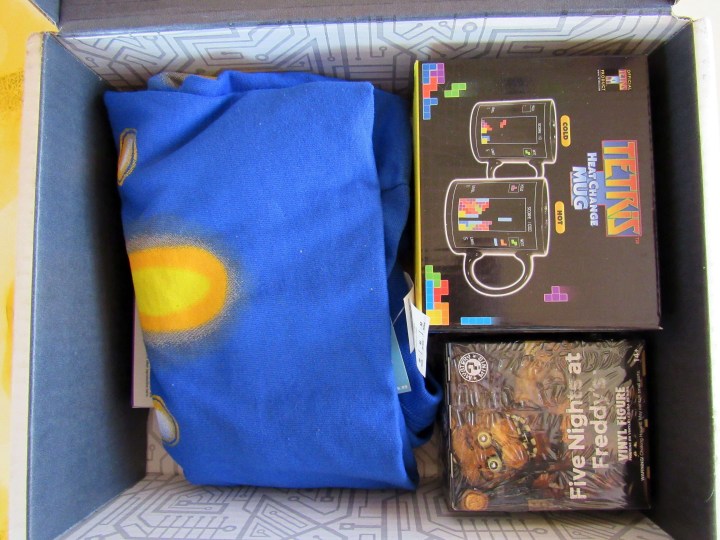 J, age 8, is unsure of the contents. He needs to take a closer look.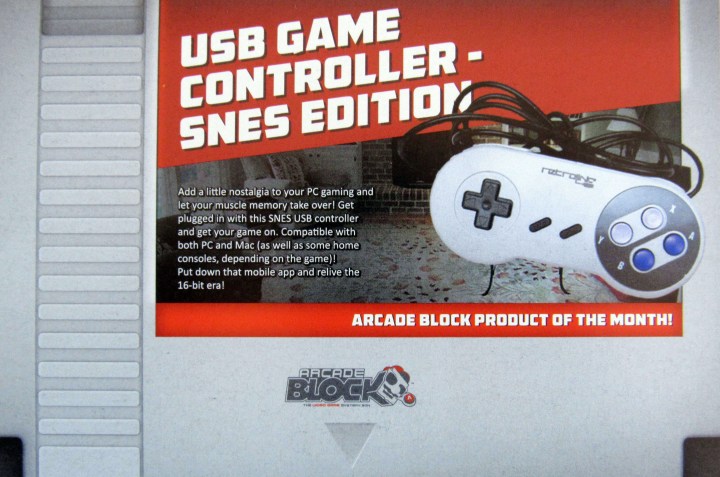 The Arcade Block Product of the Month is the USB Game Controller – SNES Edition!
The information card lists the items included in the August Arcade Block.  There are two exclusive items this month! I noticed that the $10.00 Shirtpunch credit is listed on the information card.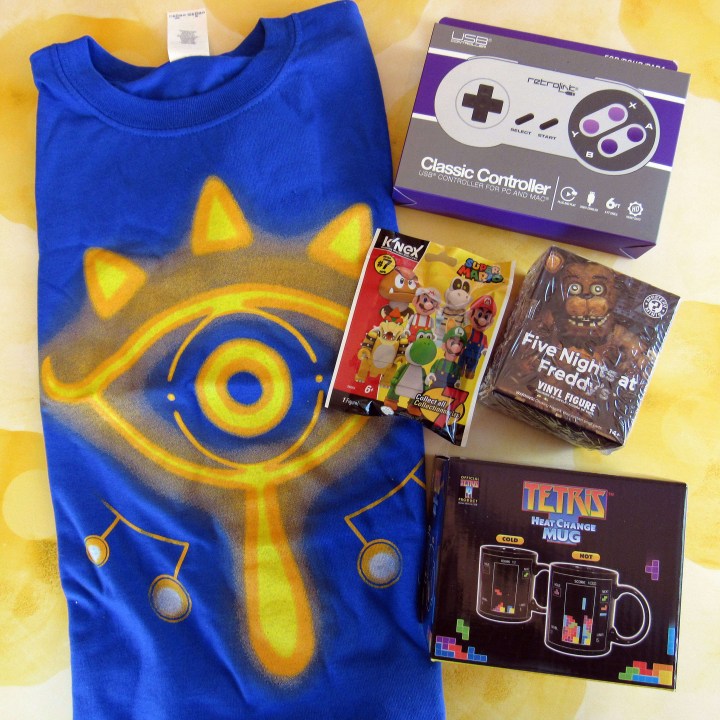 Here are all the items in the August 2016 Arcade Block. J can't wait to check out the Super Mario Blind.
PA Anna: The controller brings back memories!
T (17): SNES! This Super Nintendo Entertainment System feels great. What better way is there to play the Nintendo classics than a nostalgia controller! The buttons and D-pad all move well.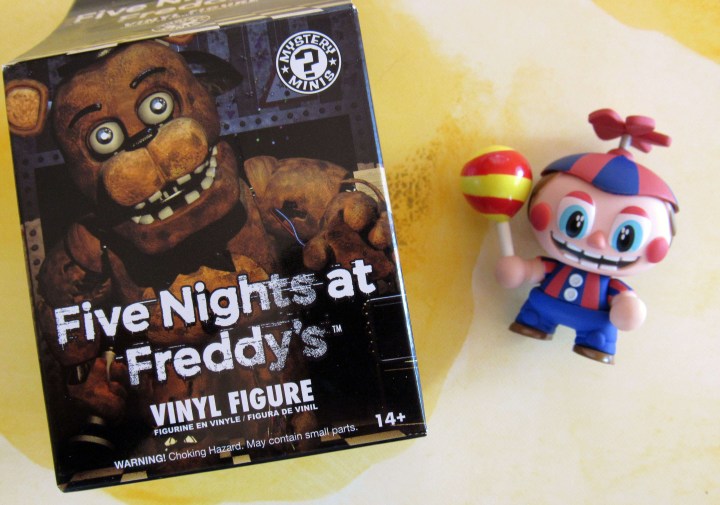 PA Anna: Why can't the Five Nights at Freddy's Vinyl Figure ($5.99) be in the Horror Block? The figure is 3″ high and is sure to please any Five Nights at Freddy's Fan!
T: It appears we have gotten the child. This appears to include characters from all the FNAF games. So depending on which child this is, he's either
The child who was lured into a backroom during a birthday party, then killed and stuffed into the Freddy animatronic.
The child who was tricked by his older brother into getting his head bitten off by a faulty animatronic
The child who got kidnapped (I think this is the one who got stuffed into an animatronic by the puppet)
I don't remember if there's a fourth one. If i mixed any one these up, well, sorry 🙂
If you REALLY think about it, it's still disturbing.
PA Anna: I don't think T will ever be a fan.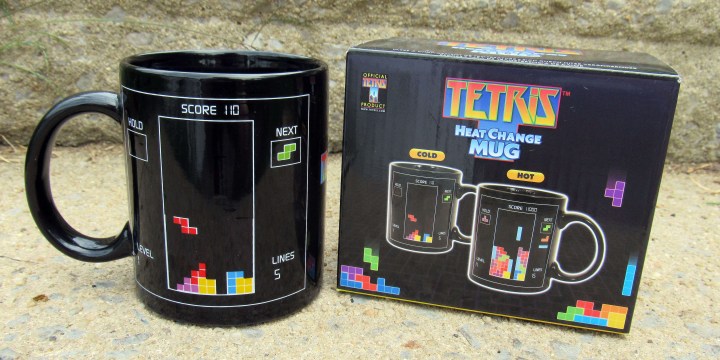 PA Anna: The Tetris Heat Change Mug ($5.50) is fun to watch as the graphic changes when a hot drink is added. I noticed that the graphics could easily be pulled off so wash gently by hand. No microwave or dishwasher for this mug!
T:  Tetris! This is so cool! Tetris is my 2nd favorite retro game after Galaga, so it was awesome to get this! How can something be so old and still be so popular?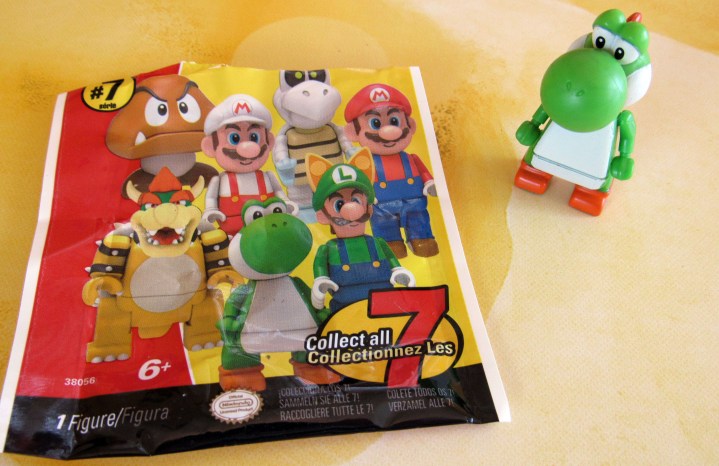 PA Anna: The Super Mario K'nex Blind Series 7 ($3.99) was a hit with J. He loves Yoshi and thinks he is pretty cool.
T: Aww it's Yoshi! Yoshi is dear to my heart and is right up there with Donkey Kong in favorites. He looks pretty good for a guy who is 26 this year.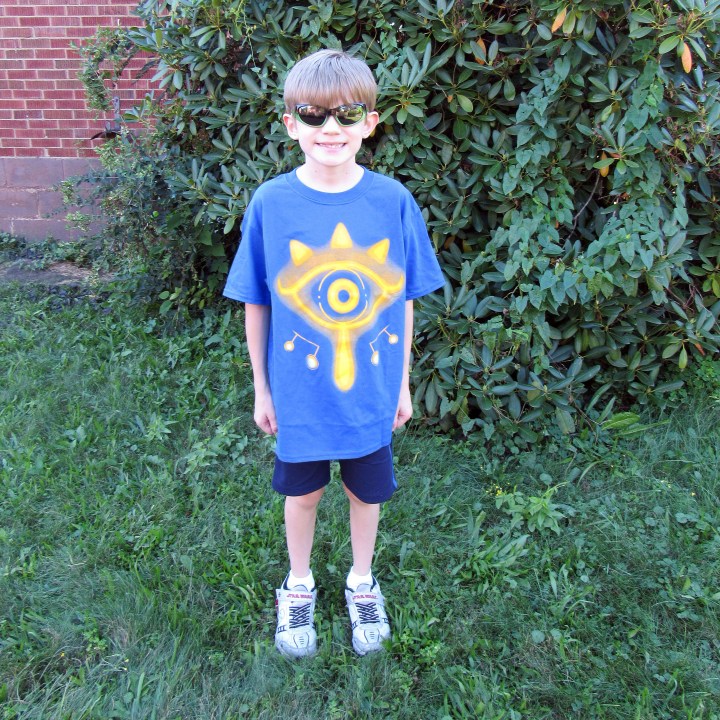 PA Anna: T was disappointed that the Exclusive The Eye of Truth t- shirt was not in his size. Maybe the Nerd Block Family can look into including additional shirts in each box. The boys would love to wear matching gaming shirts. J loves it. Everyone is happy to see a blue shirt again this month!
T: The Eye of Truth. For me this was one of the hardest items to get in The Legend of Zelda: Ocarina of Time! I just couldn't find it and when I did I couldn't get out of the well! I have no idea what is on the left and right of the Lens of Truth. It's always good to see a Zelda item!
What are you planning to buy this month with your $10.00 Shirtpunch Credit?
Be sure to check out ShirtBlock. I like that the shirt size can be changed every month.
PA Anna: I was a little surprised to see the Shirtpunch credit listed on the information card. There's usually six items in the box in addition to the Shirtpunch $10.00 credit. Both boys loved the box with the exception of the Five Nights at Freddy's Mystery Mini. J's favorite time is the Tetris mug. T's favorite item is the shirt even though it is not his size. Arcade Block is a great choice for families and especially for gamers that like exclusives.
T: This box is great. It's cool seeing items from kid friendly games like Mario to games adults enjoy like FNAF. Zelda items are always good to see, since it's a good middleman game my whole family loves.
What do you think of the August Arcade Block? Share your comments below!
Grab 15% off your first Arcade Block with coupon code HELLOSUB16, or save even more with a longer subscription. Enter this code right after pressing the big green review order button.
Visit Arcade Block to subscribe or find out more!
The Subscription
:
Arcade Block
The Description
: A monthly mystery package delivered right to your door filled with apparel, toys, and collectibles all themed around video games! Every Arcade Block comes with a custom t-shirt (Has men's regular, fitted, and women's fitted tees – and now youth sizes!) and 5-6 epic items for you to tear into! Also available – Nerd Block Jr (Girl & Boy), Horror Block, Comic Block, and classic Nerd Block!
The Price
: $30.00 per month