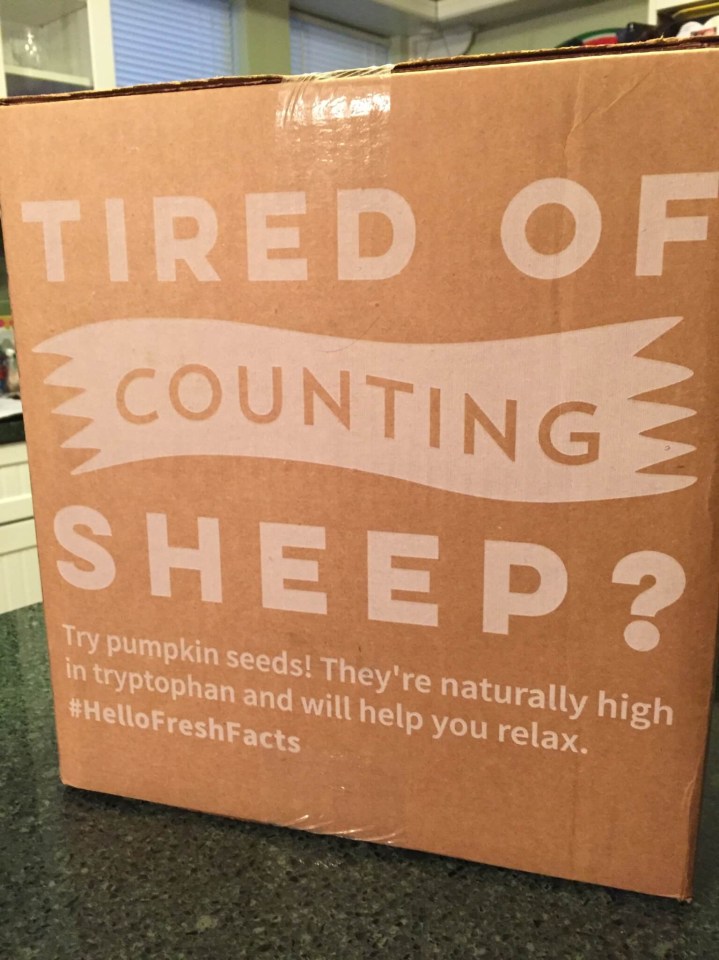 Hello Fresh is a meal kit subscription box with complete recipes and ingredients to make 3 meals every week, with each meal feeding either two or four people, depending on the plan you choose.  
Though it is a subscription, you can pause your deliveries when needed — whether you are out of town, have other dinner plans, or just aren't in love with that week's selections.  The standard subscription provides high-quality meats (free-range chicken, antibiotic meats, etc.) to use in the recipes.  
Though we do eat meat, we cook vegetarian three times a week.  Thankfully, Hello Fresh has a vegetarian subscription for both casual and dedicated vegetarians.  This review covers the vegetarian box, which featured a recipe by Jamie Oliver!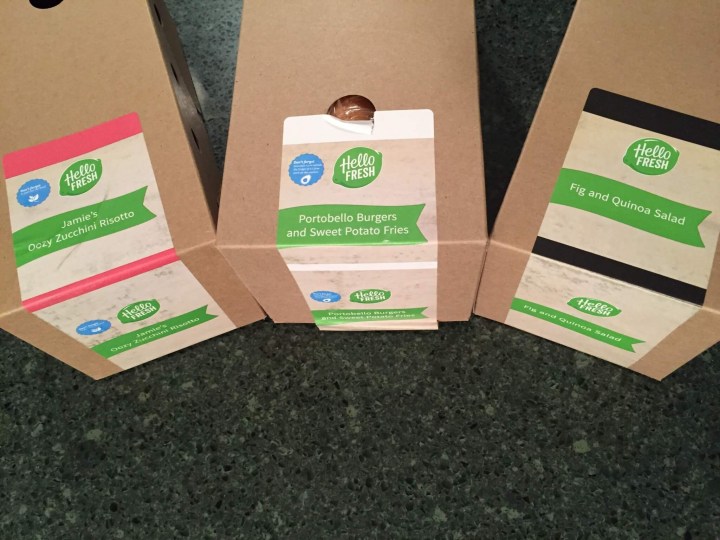 The boxes used by Hello Fresh keep all the ingredients for the recipes in order, and they stack nicely in the fridge.   Within each box, everything but the largest vegetables is separately packaged, and is packed at the bottom. Condiments and canned goods are provided in high-end, commercial packaging.  Hello Fresh usually provides spices in their own, pre-measured branded packaging.
Hello Fresh has great instructions, and they are easy to follow even if you are an inexperienced cook. There are even some kitchen tips included in the information card.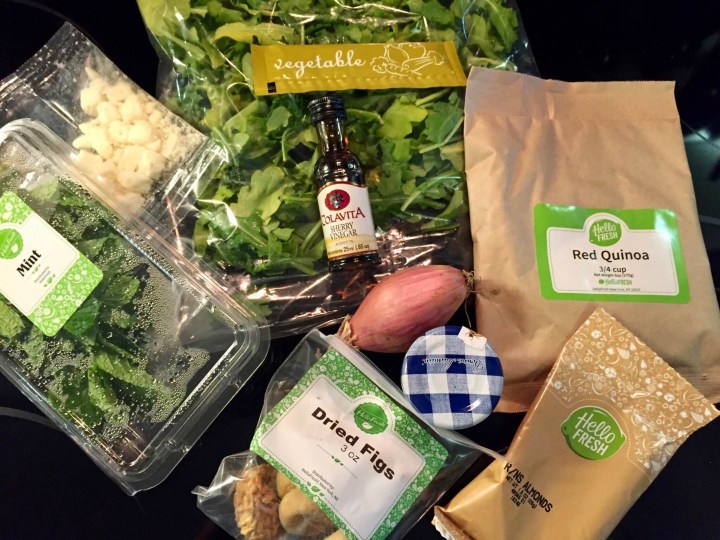 Fig And Quinoa Salad With Arugula, Mint, And Feta. 25 minutes, level 1, 637 calories per serving.
I had a big lunch out and I made sure hubby ate leftovers, Israeli Blackeyed Peas. Israeli Blackeyed Peas is a recipe from Hello Fresh from a while back.  My husband absolutely loves them and raves about how good they are.  So anyway, knowing we both had a good hearty lunch I chose to have the salad for dinner.  I had a granddaughter who wanted waffles, 1 granddaughter who I had to take to dance and picked up and 1 grandson who was running around being watched by grandpa.  In between all that mess, I managed to make waffles and this salad, easy.  By the time we, hubby and I, sat down to eat, waffle girl was fed and the other 2 were with their mom.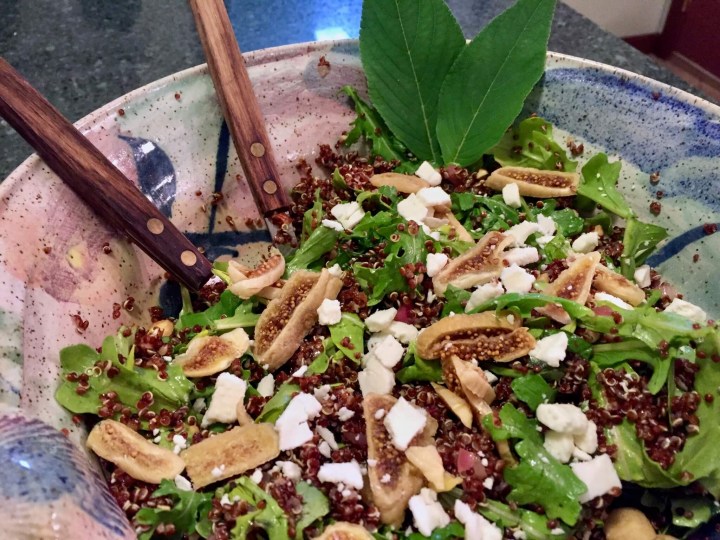 Awwwww, what a relaxing moment we had.  And for once, just this once, I swear I liked the arugula!  I talked about the flavor of the sauce, too many of the sauces you get out in public are so heavy, this was light enough you could taste it and the flavor of the food.
Things I did a tad differently than the directions:  I sauted the shallot, finely chopped the almonds (I'm not supposed to eat them-braces) and threw out the mint.  Alas, I sent my husband to get basil to replace the mint and he brings back the wrong basil!  Never send a man to do a woman's job (I say that tongue in cheek because my husband is truly an awesome guy).  You might or might not be able to see the pineapple basil in the pictures as garnish.  If you've never tried it you should, tastes just like pineapple.  My younger granddaughter eats it like a cow eats grass!
We both enjoyed this salad, so good.  The dried figs added a nice sweetness. Can't wait to eat the leftovers for lunch tomorrow.
Portobello Burgers And Sweet Potato Fries With Tomato Onion Jam And Avocado. 30 minutes, level 1, 667 calories per serving.
Have I mentioned that I love Hello Fresh???   Well, in case I haven't:  I love Hello Fresh!!!
We're camping this weekend, Thursday through Monday.  It's only 20 miles from the house but it's camping and getting away for the weekend.  So on Thursday and Friday we're using 2 of our Hello Fresh dinner boxes for dinners.  Do you have any idea how easy it makes camping?  The only item I had to pack extra for 2 dinners besides the boxes were olive oil which I always take anyway. While I was at home watching the grandkids until their mom got off work, my husband took our RV and got it set up and cooked the dinner.  I mentioned in my last post he was awesome.  So as soon as my daughter picked up the kids, I texted him that I was on my way and he cooked the dinner.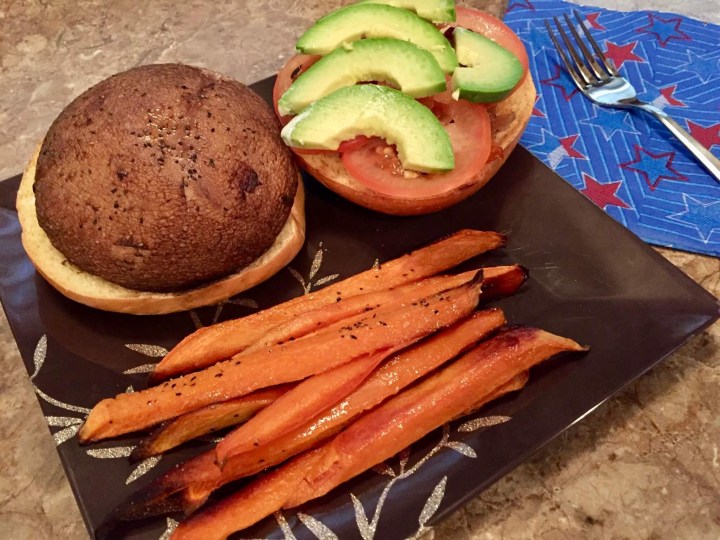 When I walked into the camper he was putting the fixings on the burger.  YUM.  I swear everything tastes fabulous when you're camping.  The only thing he did differently was place the buns in our toaster instead of the oven and cook the jam in a cast iron skillet.  This is the second time we've had portobello mushrooms for burgers and as far as I'm concerned they can keep sending them with variations on the toppings/sauces.  Ohhh, maybe portobello mushrooms cut as hot dogs with fixings?  That would be good, too!  BTW, I'm a fan of sweet potato fries, I'll pay extra at the restaurants for them.  This dinner was a great dinner and we enjoyed every bite.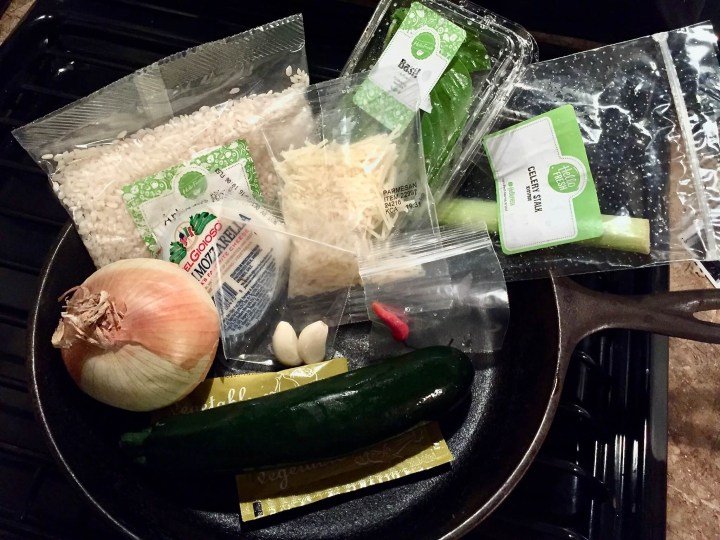 Jamie's Oozy Zucchini Risotto With Mozzarella And Fresh Basil. 40 minutes, level 3, 558 calories per serving.
First of all Jamie gets bonus points for a simple recipe name, usually they are so long.  My husband helped me since we're camping and he was hungry. While cooking the rice he kept asking, "where's the risotto?"   Ha!   I had to explain that the broth he was cooking the rice makes a creamy consistency and that is the risotto.  Did I mention that everything tastes wonderful when you're camping.  Well, this risotto was no exception.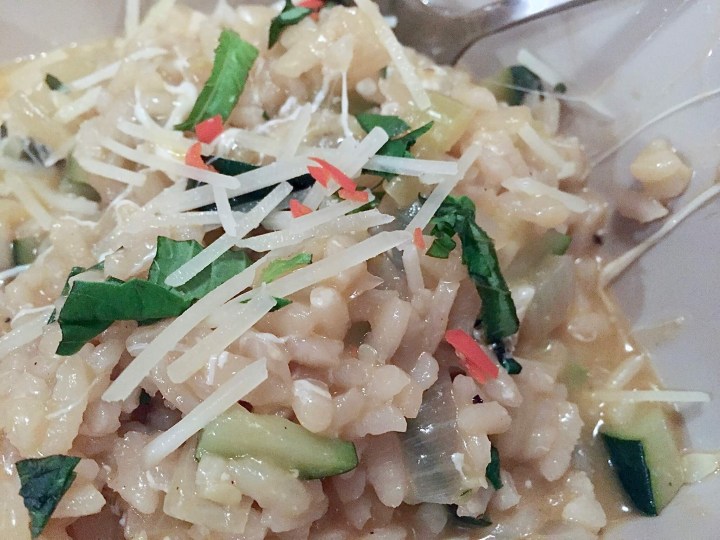 We enjoyed every bite.  My husband was also worried that the zucchini would be too hard the way it was cooked.  No, it was superb, not cooked to much but not too firm either.  It was creamy, had plenty of taste, Jamie gives you the option of adding a little bit of wine or using water.  We opted for the wine.  Wine just adds so much flavor even just a little.  Nothing like chef inspired food while camping!
 BTW, did I mention that Hello Fresh was rated very good by Consumer Reports?  Whoo hoo, Hello Fresh!
 Have you tried Hello Fresh? Currently you can get a $50 Discount on your First two Boxes with coupon code HF50SUMMER.If you just want to try one box save $40 off your first box with coupon code 7UT7K8.
Visit Hello Fresh to select your box for next week!
The Subscription
: 
Hello Fresh
The Description
: Each week Hello Fresh delivers beautifully photographed step-by-step recipe cards, with the exact fresh ingredients needed to create a selection of new recipes.
The Price
: $69 per week for 3 meals (59 vegetarian)