It's snack time!! From the lovely folks at Eat.Feed.Love comes the August Taste Club Snack Box, ready with tasty munchies and supporting good causes. The folks at Eat. Feed. Love offer a variety of food boxes via the Taste Club. This is the Snack Box, which delivers tasty, artisan snacks to your door for $35/month – and you can save $10 on the first box of any Taste Club subscription with code HelloSubscription!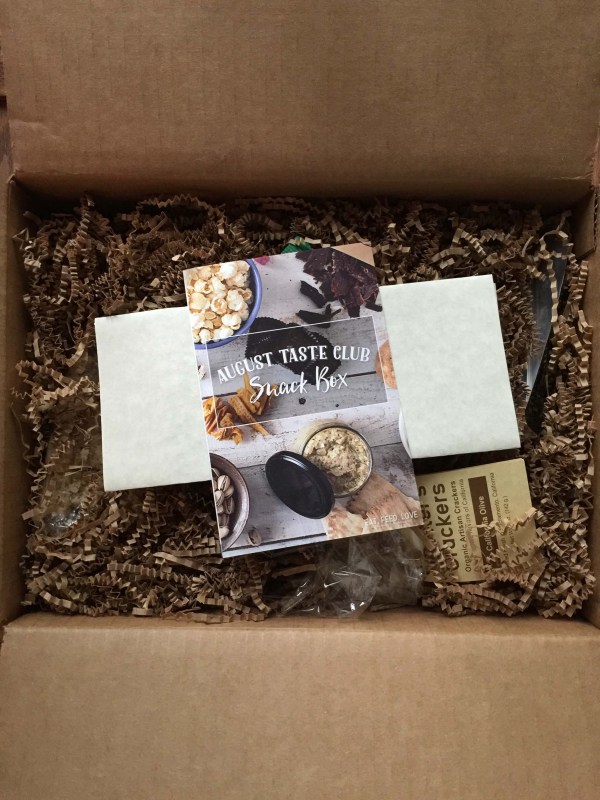 Every month, Eat.Feed.Love. partners with a worthy organization in the community to "give back". This month, they are partnering with Meals on Wheels West, which is an organization that delivers nutritious meals to homebound residents in Los Angeles communities. It is nice to know that they are doing something to Feed. and Love. others, too, and not just us.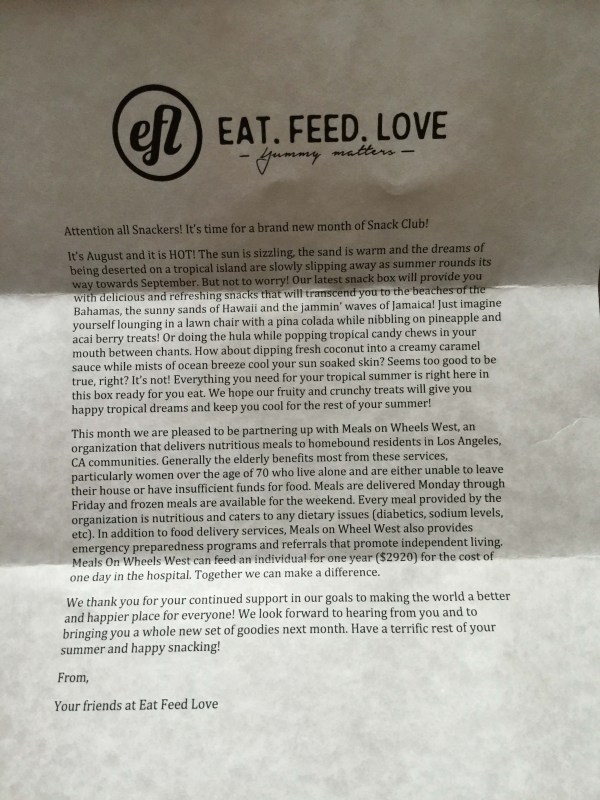 This month's snack box features six very different snacks to sample: Fat Toad Farm Traditional Goat's Milk Salted Bourbon Caramel, Peaceful Fruits Wild Açai Fruit Strips, Sugarbird Sweets & Teas Earl Grey Shortbread, Potter's Crackers California Olive Crackers, Hoots Cheese and Onion Multigrain Snack and Quin Dreams Come Chew Candies. There's something here for all snackers, from the sweet to the salty.
First up for me was the Fat Toad Farm Traditional Goat's Milk Salted Bourbon Caramel.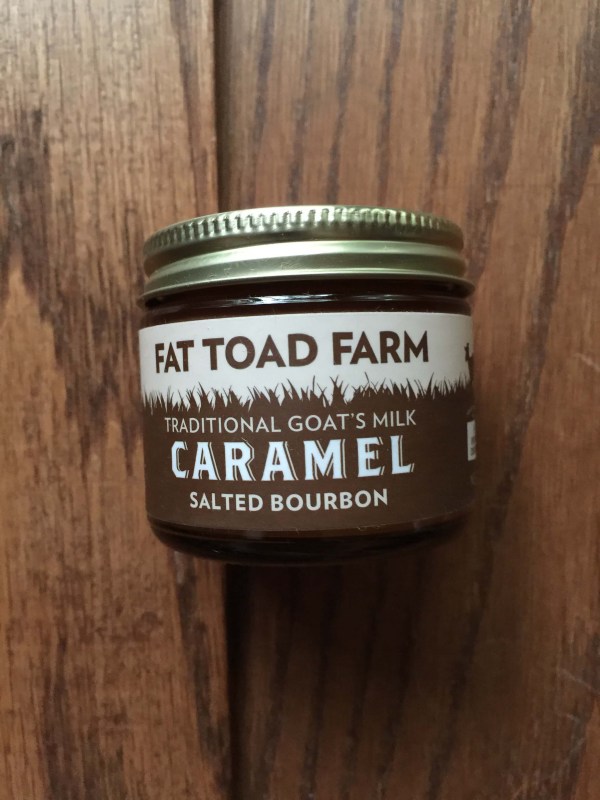 Now, let's suppose that you generally like goats milk products (cheese, etc.) and let's say you like caramel. Then, just suppose, that you enjoy a bourbon. Then let me tell you, this magical stuff will make your ice cream or apple slices incredibly delicious. I'm not saying it was so good that I ate a couple of spoonfulls just by itself. But, um, yeah. I do appreciate that this stuff won't be for everyone. It does not have a super "goaty" flavor, but it does have a hint of the tartness that goat's milk imparts, and if you don't like bourbon, I'd stay away from it. But to me, the tangy from the goat's milk and the richness from the bourbon helps cut the sweetness and keeps it from being too cloying. And if you like bourbon, you're gonna like this. Seriously. It is quite tasty stuff. They suggested also pairing it with cheese (which I think is a stellar idea) or putting it on pancakes or stirring it in yogurt. All of which I will be trying.
Next up, the Peaceful Fruits Wild Açai Fruit Strips.
The Peaceful Fruits Wild Açai Fruit Strips look like your typical fruit leather, but made from the açai berry, which is a super food du jour. Personally, I'm not wild about açai or fruit leather, so I was reluctant on this one. That hesitation turned out to be accurate, for me. The strip itself is pretty thin, as far as most of the fruit leathers I've encountered, but that didn't bother me. It still had a pretty typical "fruit leather" consistency, which is fine if you like it. The "berry" flavor is not bad, it's just not as good as say, blueberry or strawberry–at least to me. My kids seemed to like it though, even though it's not as sweet as many other flavors that I've had. All in all, if you're looking for a snack that will keep pretty well, is nutritious, and is way better than eating açai berries on their own, this stuff isn't bad. But if you don't like "fruit strips" to begin with, they are pretty standard fruit strip fair.
Next, I moved on to the Sugarbird Sweets & Teas Earl Grey Shortbread.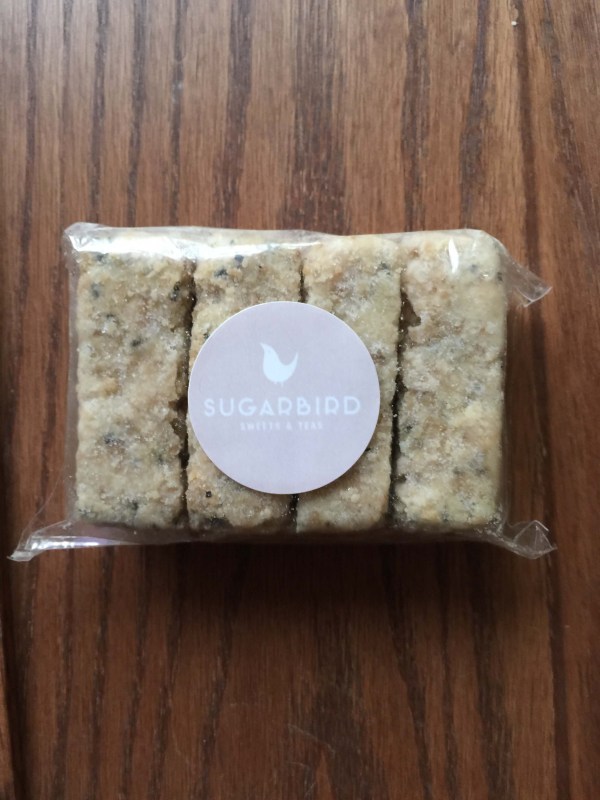 Preface: I love shortbread. But, even if I didn't, this is good shortbread. Sugarbird Sweets & Teas Earl Grey Shortbread, has a very slight hint of Earl Grey without it being overpowering. The shortbread itself is nice and buttery with a firm, dense texture that you would expect from a good shortbread. Nice, sweet, but not too sweet. I wouldn't mind trying Sugarbird's shortbread without the Earl Grey as well, but the tea is a nice addition–it's subtle, but there, and makes them super tasty if you're eating them without drinking tea, but boy, these do go great with a cup of fine tea as well.
From cookies, it's time for some crackers! Potter's Crackers California Olive Crackers, to be precise.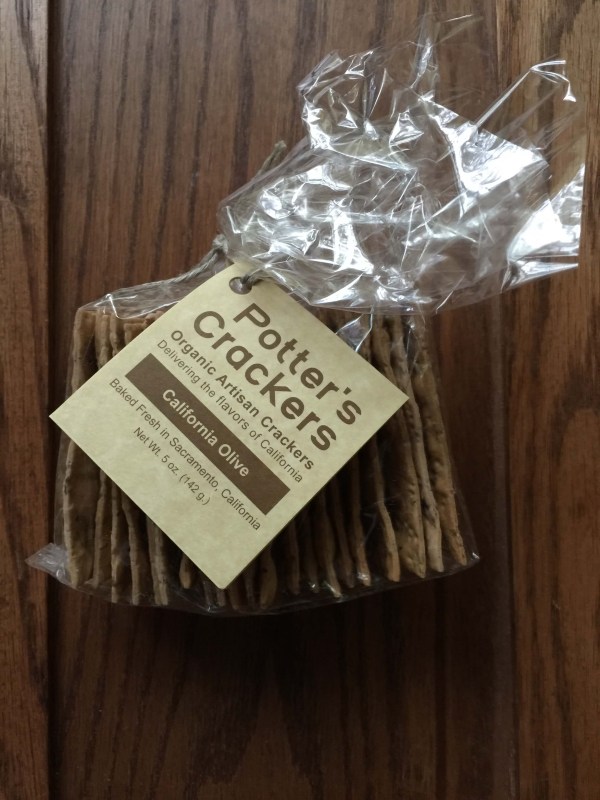 Crackers, to me, are a utilitarian snack. I'm not likely to just snack on plain crackers, even if they are "California Olive" like these from Potter's Crackers. I have to admit, I didn't really pick up on the "olive" taste in these. They are good crackers–with a nice toasted wheat taste, but the olive must be too subtle for my palate. They do have a nice crispy, slightly flakey texture so they do deliver on the crunch factor. And I really enjoyed the flavor, too. They have a slightly wheatey, toasted flavor that is a great vehicle for cheese, or anything else you might want to put on a cracker. So even without a strong olive flavor, they are still very solid crackers.
Continuing on with the crunchy snacks is the Hoots Cheese and Onion Multigrain Snack.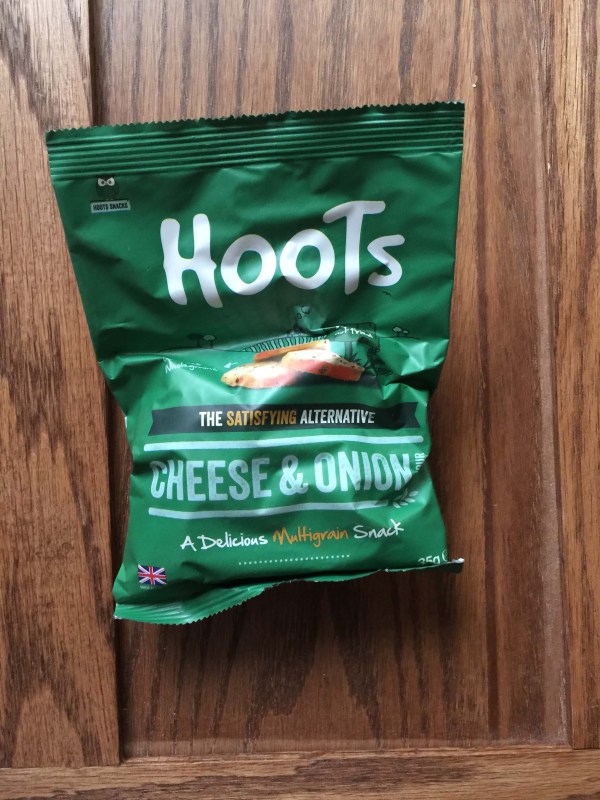 Have you ever had bagel slices? Because these things totally remind me of bagel slices. They are round, baked, about the size of a bagel slice and crunchy. If, like me, you enjoy bagel slices then you are going to like these, too. The Cheese and Onion flavor is very mild–the onion is pretty subtle and there's not a ton of cheese. I think they could have had more cheese flavor, but the onion was spot on (and I'm a cheese nut anyway). Some "multigrain" snacks can taste a little "granola" but not these. The texture was slightly different from a more traditional bagel slice, likely due to the multigrain aspect, but the flavor was pretty good and nothing would indicated in any way that these are a healthier alternative. Which is a good thing! You can indulge in a snack that's bad for you without it being, well, quite as bad for you. Right?
Finally, we have the Quin Dreams Come Chew Candies.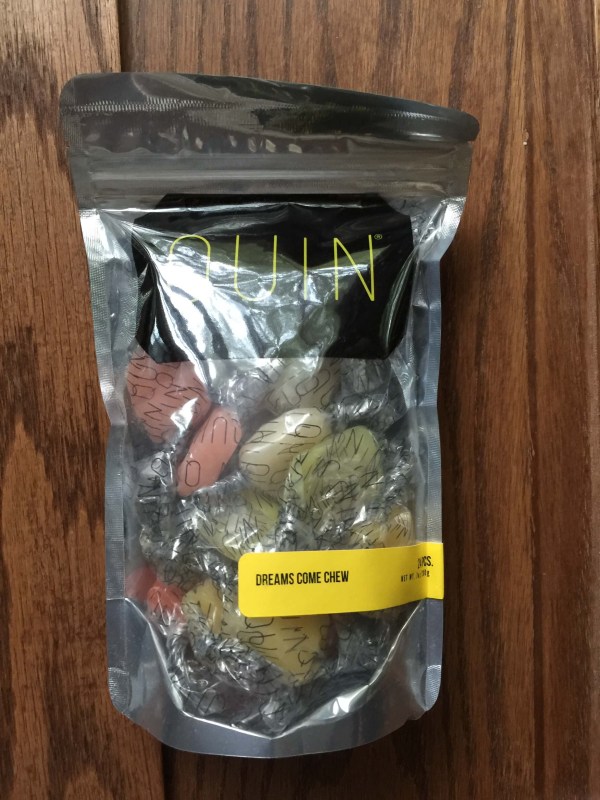 It's well known (in my house anyway) that I'm not a sweet snacker–it's salty all the way for me. But damn, these are good. They are softer than many taffy type candies, but still have a little chew, and they come in a variety of flavors: cherry, strawberry, tangerine, lemon, fruit punch and pineapple coconut. My daughter loves them. I had to put them up to limit her intake or she would have powered through the whole bag! I have to admit the flavors are really great, my favorite is the pineapple coconut which tastes like a piña coloda Starburst. In fact, my daughter compared these to Starburst's, too, saying, "These are like a good Starburst!" which I'd agree with–but imagine a non-mass produced version, with even better flavors and texture! So these were really a hit in my house and I have a feeling I'm going to be ordering more directly from Quin.
Once again, the folks at Eat. Feed. Love. have produced a winner of a snack box. I would say they pack enough snacks to last you a while, but not around here–they are always so good they disappear in a day or two. We're snackers. And if you're a snacker or even if you just like trying different things, this is an excellent box.
Coupon: save $10 on the first box of any Taste Club subscription with code HelloSubscription!
Visit Taste Club: Snack Box to subscribe or find out more!
The Subscription
:
Taste Club: Snack Box
The Description
: Tasty artisan snacks, no cooking required, just un-pack and enjoy. From chocolate fudge to caramel corn. The connoisseur snacker's dream..
The Price
: $35.00 per month