This month brings another three teas in the Rosali Tea each with unique characteristics, but each a very high-quality, great tea experience. Rosali does allow you to tailor boxes to your likes and dislikes, to sign up, you visit the Rosalitea.com site and take a survey in order to get started.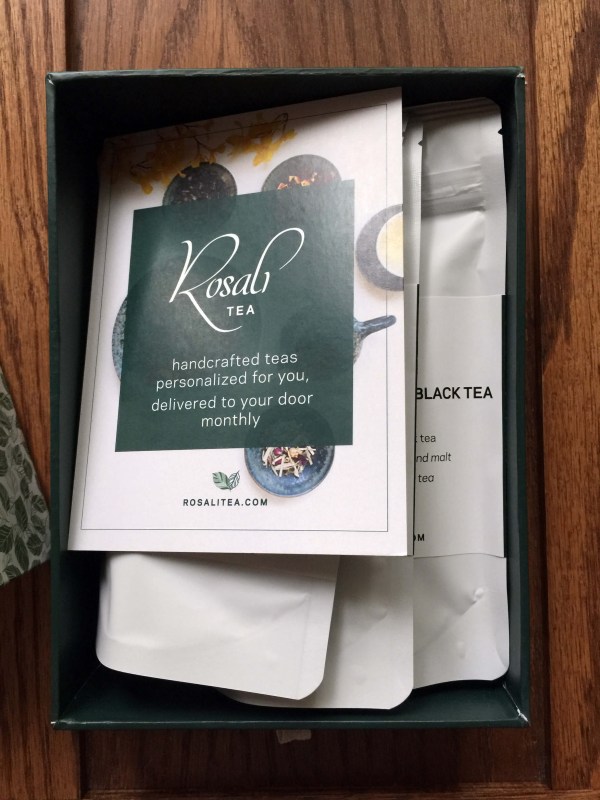 The result is a lovely box of teas, picked specifically for you!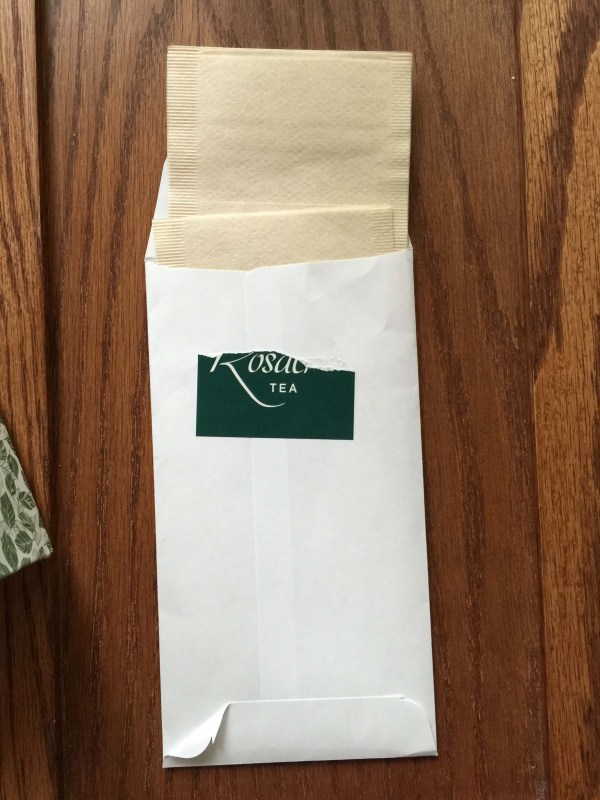 The box also includes a number of tea bags for steeping.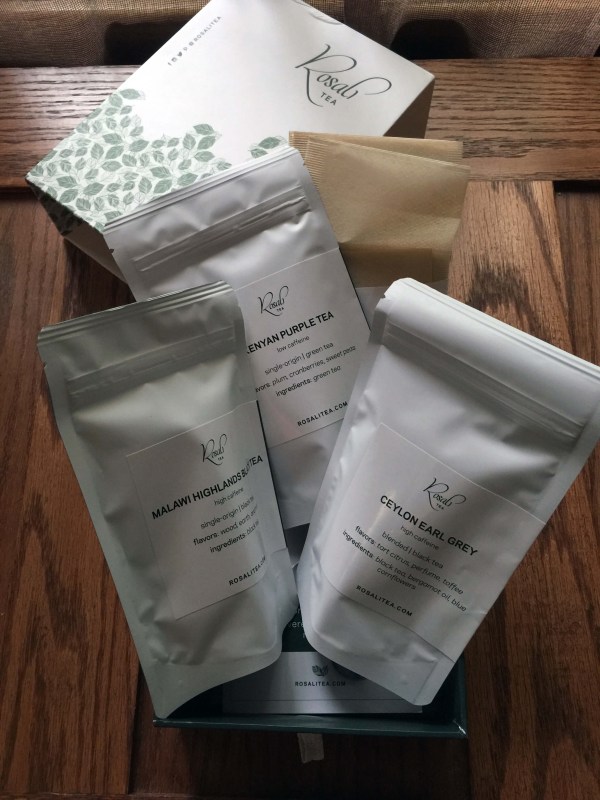 A very nice, well designed box. And now, on to the teas!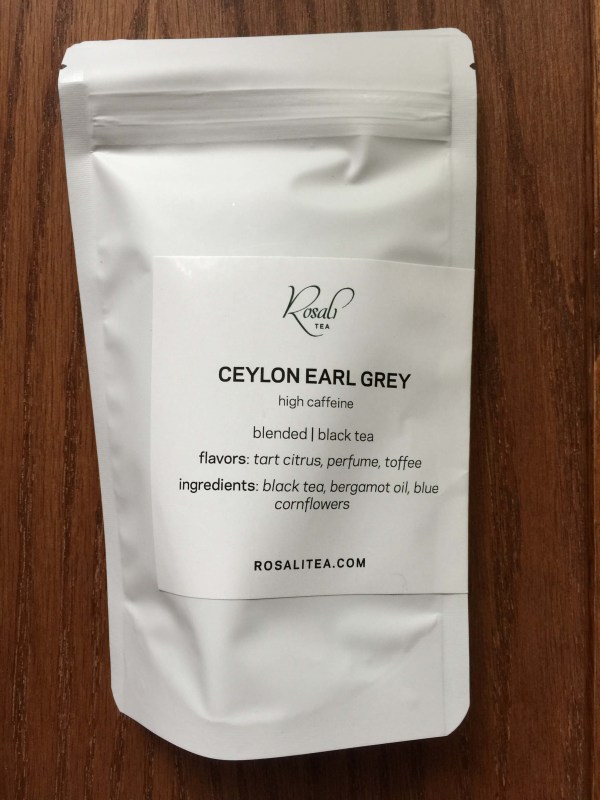 First up is the Ceylon Earl Grey, which is a "high caffeine" tea with "tart citrus, perfume, and toffee" flavors.
What Rosali Says: According to the Grey family, a Chinese mandarin gifted the first Earl Grey tea to Charles Grey, the 2nd Earl of Grey (Prime Minister of the UK 1830-1834). The Earl's wife, Lady Grey loved the tea so much that she entertained with it exclusively, thus, associating it with high society. It carries a highbrow connotation to this day.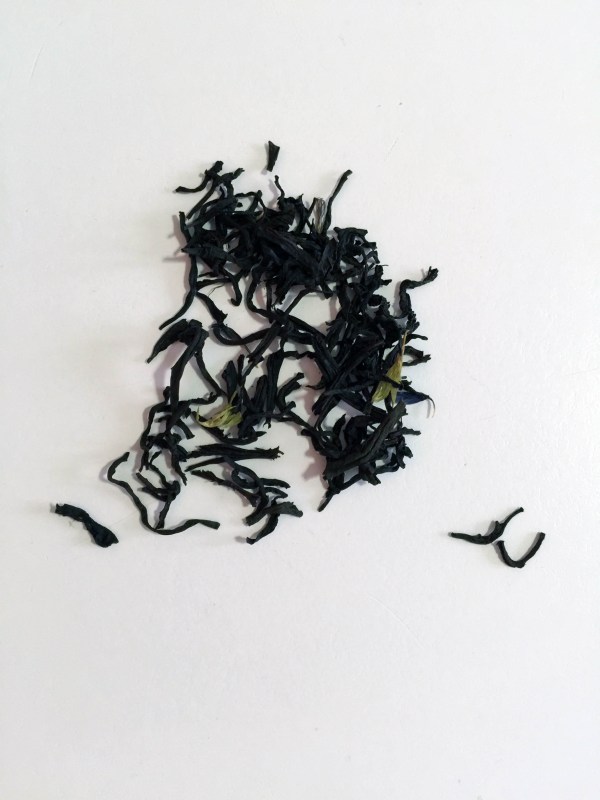 What I Say: This is a grand tea. It really is highbrow, in the sense that you'd be a fool not to enjoy it. It's a smooth flavorful tea, with just the right about of citrus–which I didn't find particularly tart, but rather smooth but still very enjoyable. This is a nice, relaxing tea to me, perfect for sipping on a slow morning. As we move into fall weather, I'll be drinking a lot more of this tea.
Next up was the Kenyan Purple Tea.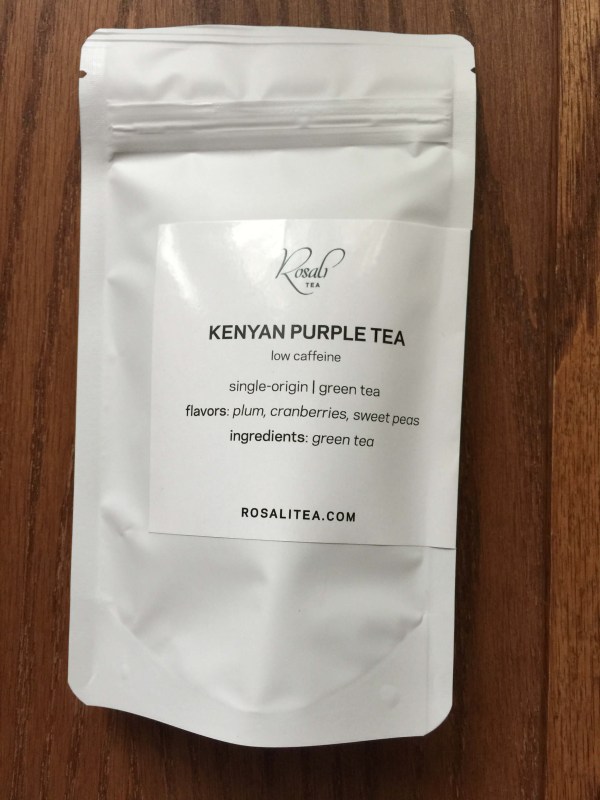 This is a "low caffeine" teat with flavors of "plum, cranberries and sweet peas".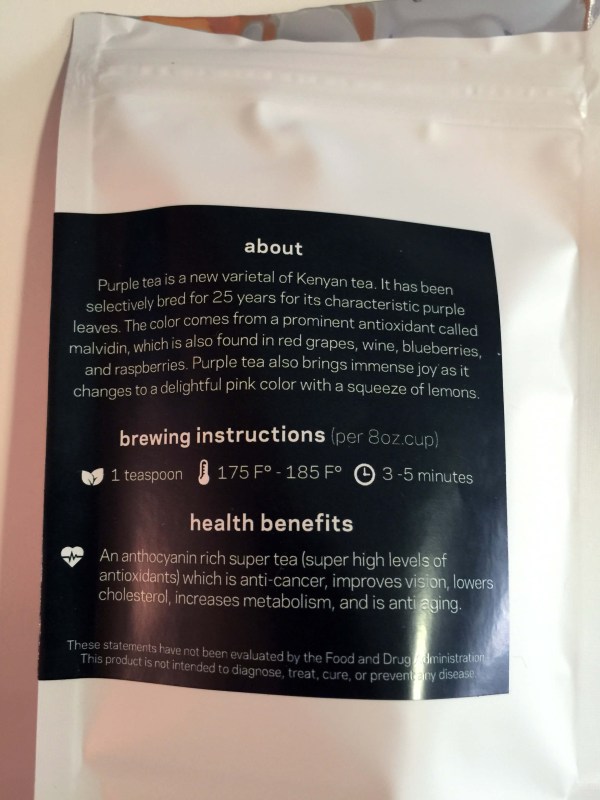 What Rosali Says: Purple tea is a new varietal of Kenyan tea. It has been selectively bred for 25 years for its characteristic purple leaves. The color comes from a prominent antioxidant called malvidin, which is also found in red grapes, wine, blueberries and raspberries. Purple tea also brings immense joy as it changes to a delightful pink color with a squeeze of lemons.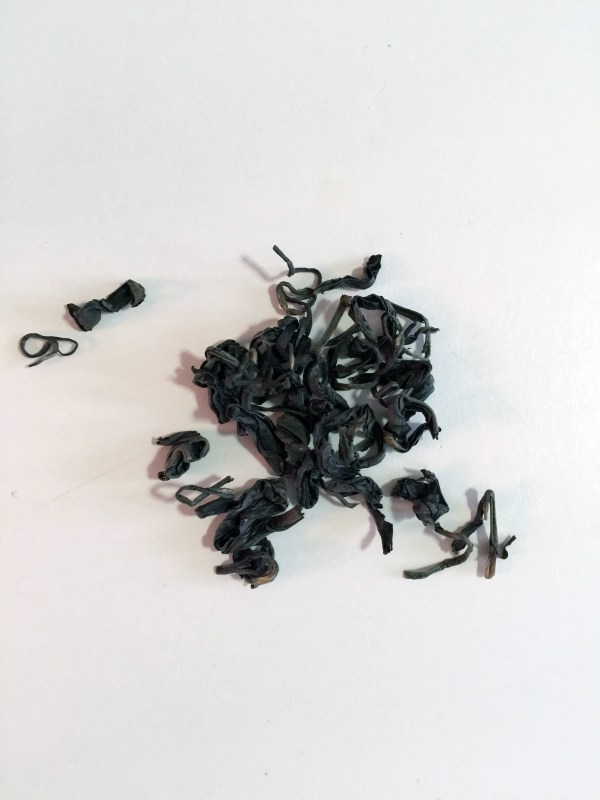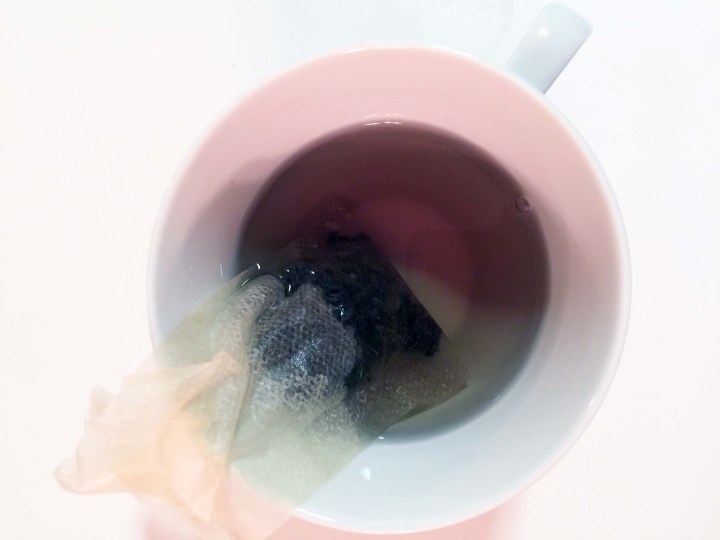 It really does turn pink with lemon!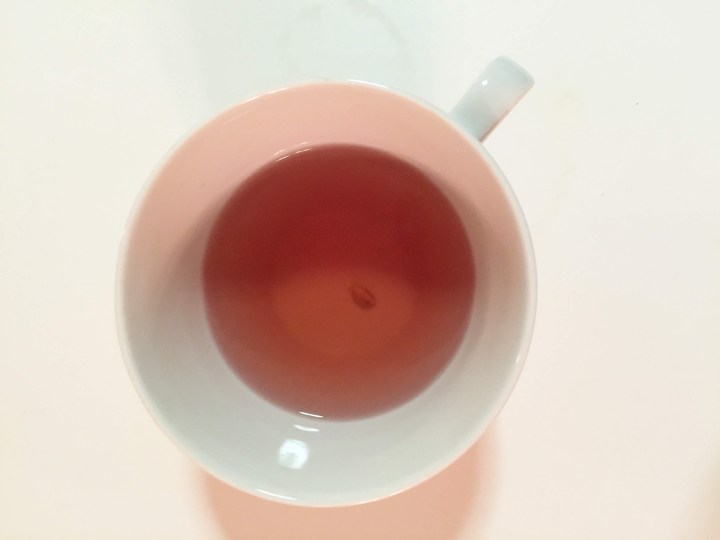 What I Say: This was a really good tea. I didn't really get the plum or cranberry, but I definitely got a hint of sweet pea, and a slight musky, mushroom taste, very last in the finish. It's a really interesting green (or should I say, purple) tea. The liquor is dark with a purplish hue, and I just had to try adding lemon–and sure enough–it turned pink! "Wow, that's awesome!!" said my daughter. While the chemistry is very cool, I don't recommend drinking it with lemon–the lemon really overpowers the subtlety of the tea, so all you taste is lemon. But all on it's own, it's a good tea that has a built in bonus science experiment!
Finally, we have the Malawi Highlands Black Tea.
This is another "high caffeine" tea, with flavors of "wood, earth and malt".
What Rosali Says: This tea is a spring harvest tea from the shire highlands of Malawi. The flavor profile is mild with a softly sweet flavor and thick oily texture. No pesticides were used and it is Fair Trade Certified, UTZ+ and Rain Forest Alliance Certified.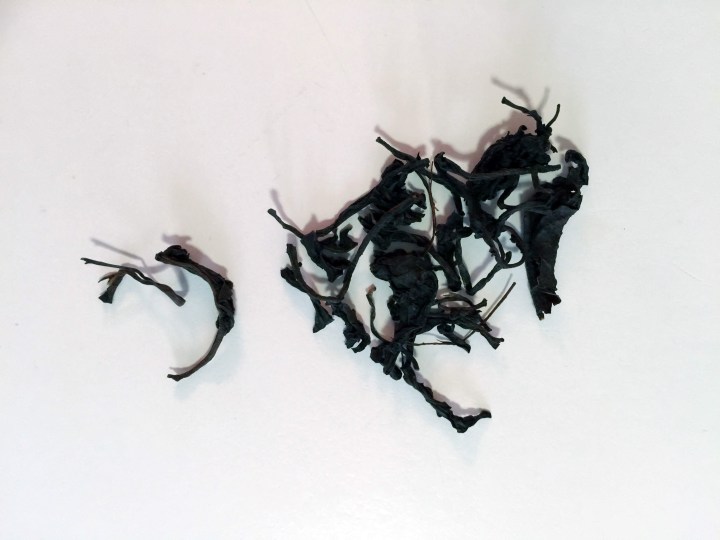 What I Say: It's nice that this tea is certified Fair Trade, UTZ and Rain Forest Alliance, but the proof, as they say, is in the taste. And it is a very tasty tea. It is nice, mild black tea, with a distinct mustiness (and I mean that in a good way). You do get a hint of earthiness and I thought the malt flavor was rather pronounced, but as a malt fan, that didn't bother me in the slightest. I enjoy a tea that seems reminiscent of the earth from which it grew, and this is definitely one of those kinds of teas. It's very nice on it's own, but with a touch of local honey it was really outstanding.
So there you have it! Another great selection of teas from the Rosali Tea folks. I think they do a really outstanding job of finding interesting teas, which tend to complement each other well, and occasionally surprising me with something new–like the Kenyan Purple Tea. Still one of the most consistently good tea boxes I've seen and well worth the subscription.
Visit Rosali Tea to subscribe or find out more! Save 20% off the first month. Use coupon code  HS20.
The Subscription
:
Rosali Tea
The Description
: Rosali Tea is a fun way to discover exclusive teas from around the world that you can't find in grocery stores. Our tea expert personalizes your tea box based on your preferences, and we source from artisans who handcraft and blend their teas in small batches. We offer different price points to fit your budget and daily needs and deliver monthly. Shipping is free, we deliver to your door, and you can cancel anytime.
The Price
: $14.95 per month