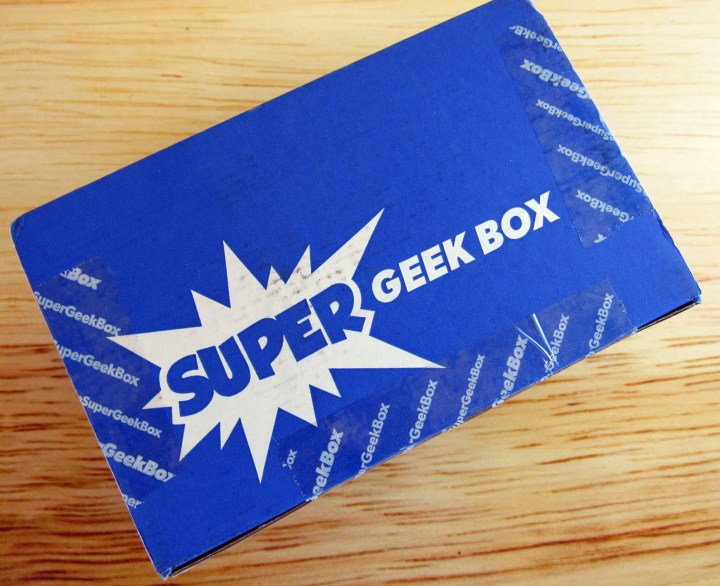 Super Geek Box is a monthly geek subscription box that promises a new shirt every month or something 2x Epic.
J is e static because there is a Donkey Kong plush in the box!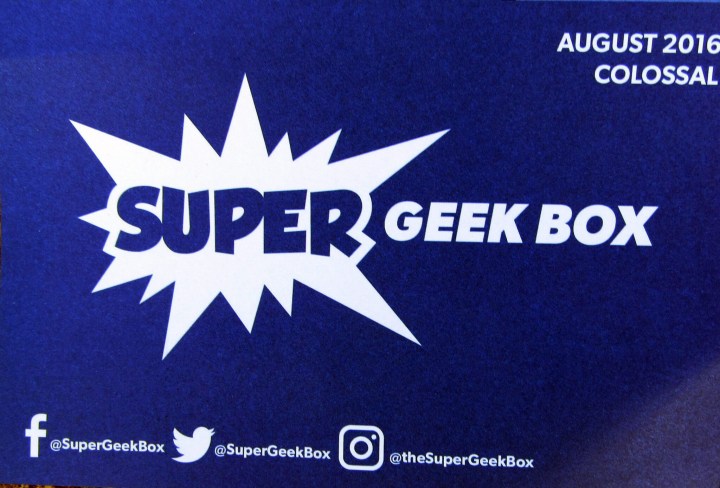 The August Theme is Colossal.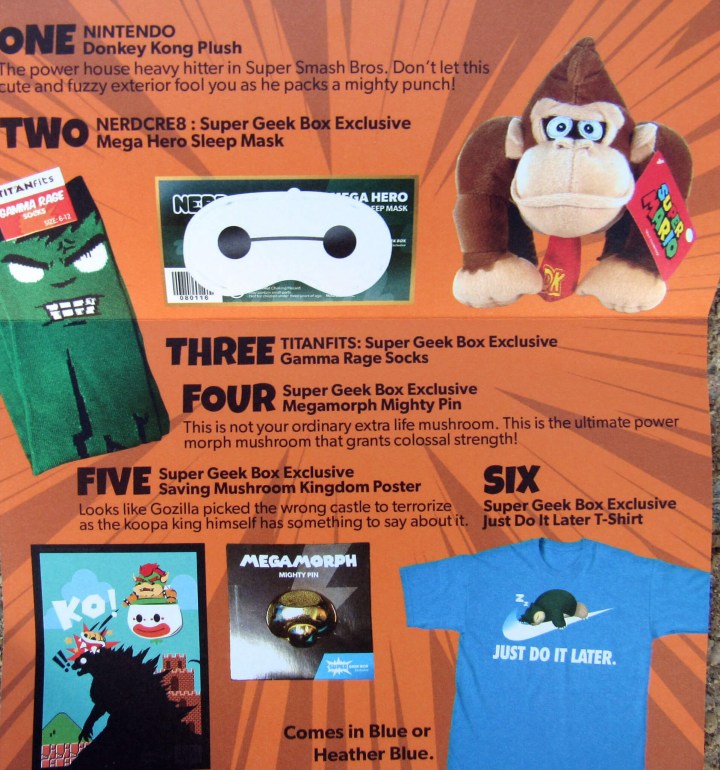 The information card lists what is in the box and shows variations.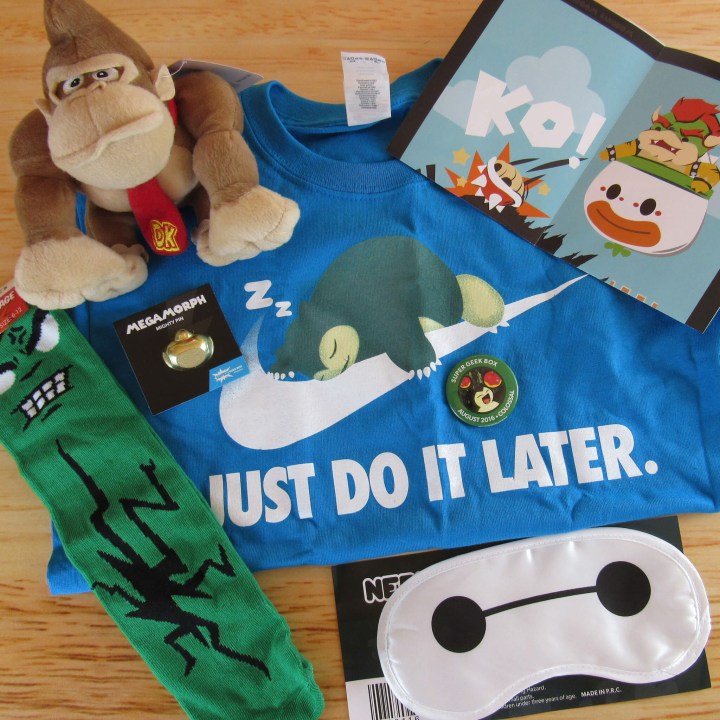 Here are the items in the August Super Geek Box. J is extremely excited about the August box.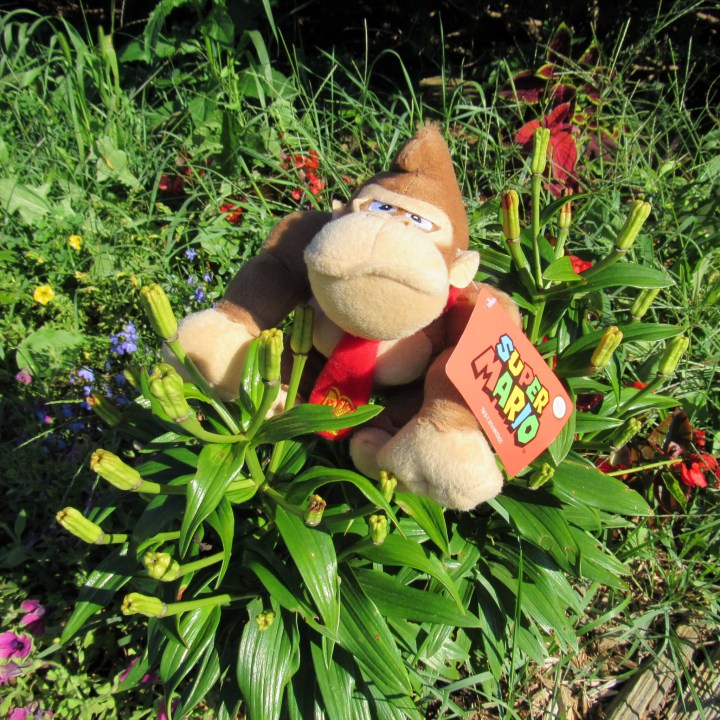 PA Anna:  It's Donkey Kong. I remember playing the original Donkey Kong game. I've watched the cartoons with my older son and played numerous Donkey Kong games with both sons. I want to keep him for myself! J is keeping him because he is DK.
T (age 17): Donkey Kong is my favorite!! He is in his usual attire (A tie. Get it. Attire? Nevermind…). Now is it just me or does he look kinda mad/REALLY annoyed? Maybe he is stuck on a level in Donkey Kong: Tropical Freeze.
PA Anna: This is what happens when you let your child eat Laffy Taffys. I've been listening to lame jokes for years!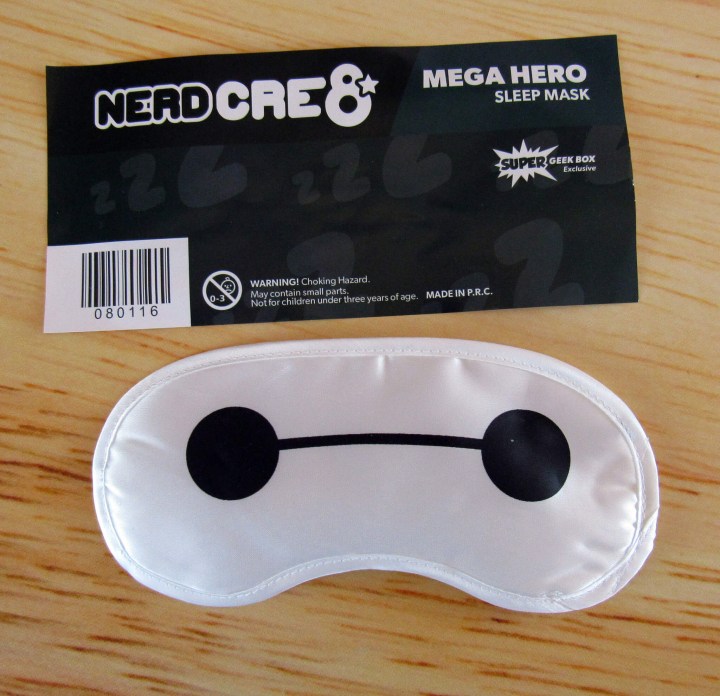 PA Anna: J recognized the NERDCRE8 Exclusive Mega Hero Sleep Mask right away. He is excited to have his own sleeping mask.
T: I could not place this mask until J told me it was Baymax from Big Hero 6. It would have been nice if Super Geek box told us that's what it's from. But now that I know that, this seems cool! I haven't seen Big Hero 6 yet, but my friends tell me it's awesome.
PA Anna: If Super Geek Box told us EVERYTHING, there will be no laughing later when you found out your mom photographed the Megamorph Mighty Pin upside-down.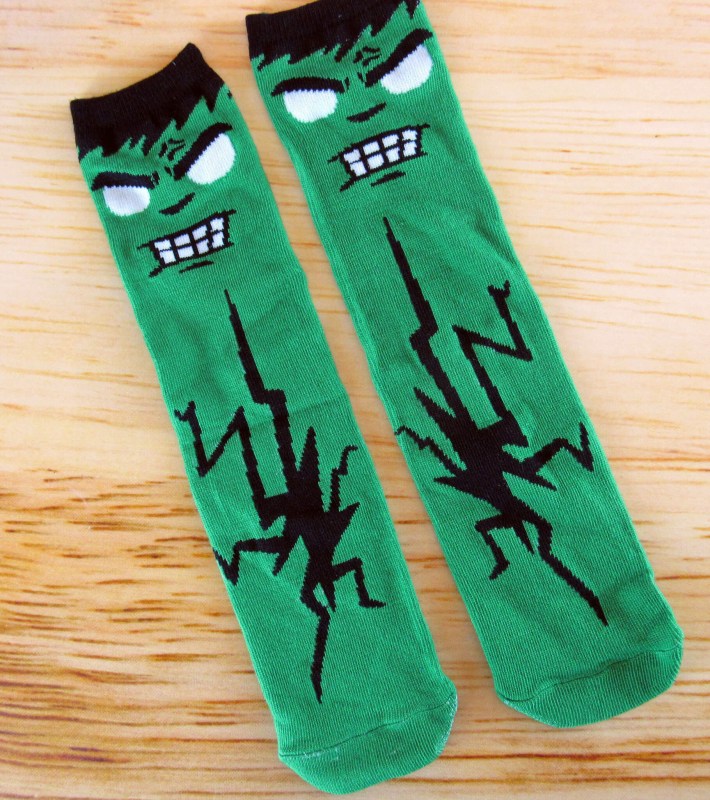 PA Anna: You won my heart, Super Geek Box. The Exclusive Gamma Rage Socks fit J! I thought they were a cross between Hulk and a green Venom which doesn't exist. At least I don't think there is a Green Venom in Spidey's world.
T: Good ole Hulk is on the socks! It has Hulks face and what appears to be cracked ground (in typical Hulk fashion) on the socks.
PA Anna: I still like my idea of a Green Venom Hulk. You are welcome, Marvel Comicbook writers.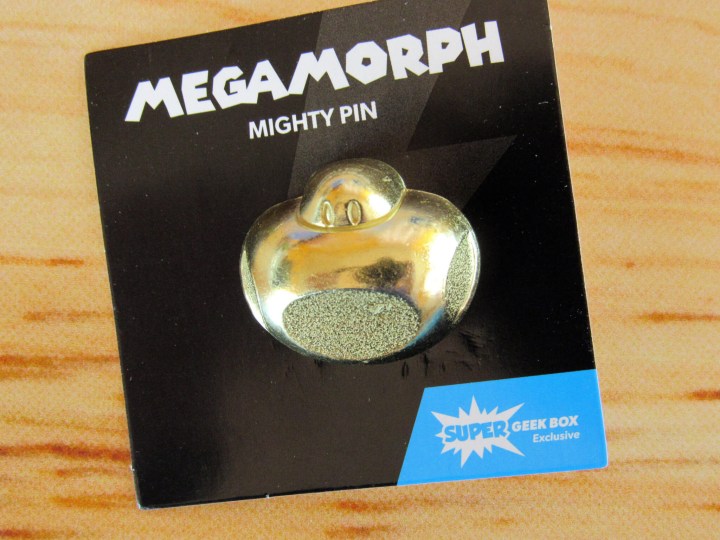 PA Anna: I thought it was a Mario Mushroom, but I wasn't sure. It turns out I have the Exclusive Megamorph Mighty Pin upside-down.
T: A Mega Mushroom pin! In the Mario games, getting a Mega Mushroom turns you into a giant, which makes you invincible and able to walk through any obstacles. You can tell it's a mega mushroom because of the bigger…. mushroomy part above the eyes. This is cool!
PA Anna: He left out the part where he laughed at the pin being photographed upside-down.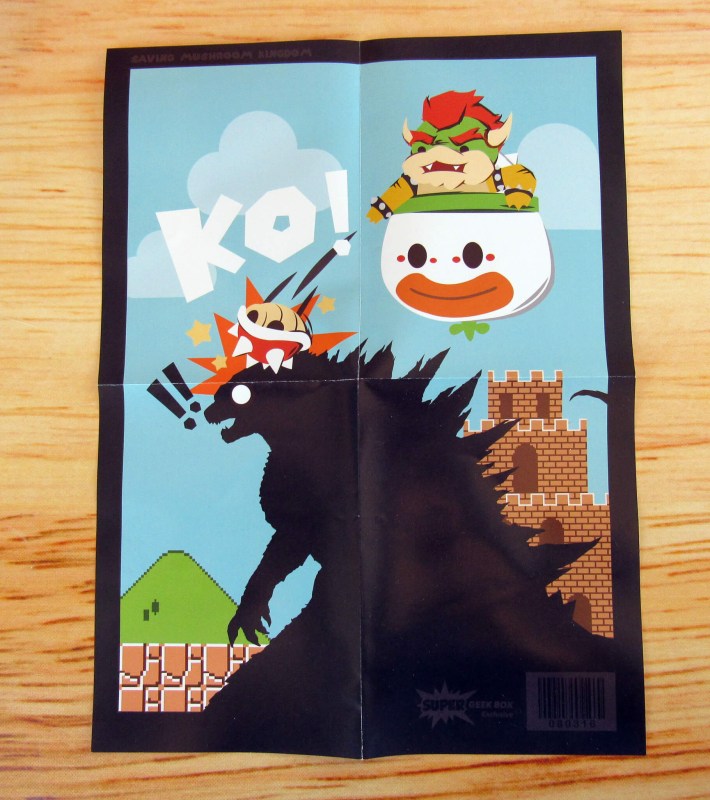 PA Anna: Godzilla is getting around this month! There is so much happening in the Exclusive Saving Mushroom Kingdom Poster that I will let T explain it.
T:  Wow. There's a lot in this poster. We have a Godzilla getting wrecked by Bowser, who is riding a Koopa Clown Car (which is also his favorite mode of transportation. The more ya know).  The back round is from the original Super Mario Bros game for the NES. I'm not sure if it's from the end of an actual level or not, if it is, that makes it just that much more awesome. Bowser is throwing a red spiny shell. This is not to be confused with the flying blue shell in Mario Kart. Red spiny shells are used in the Mario games to protect Mario's head or hit a bunch of enemies. They also don't hit me when I'm about to win 1st in Mario Kart…..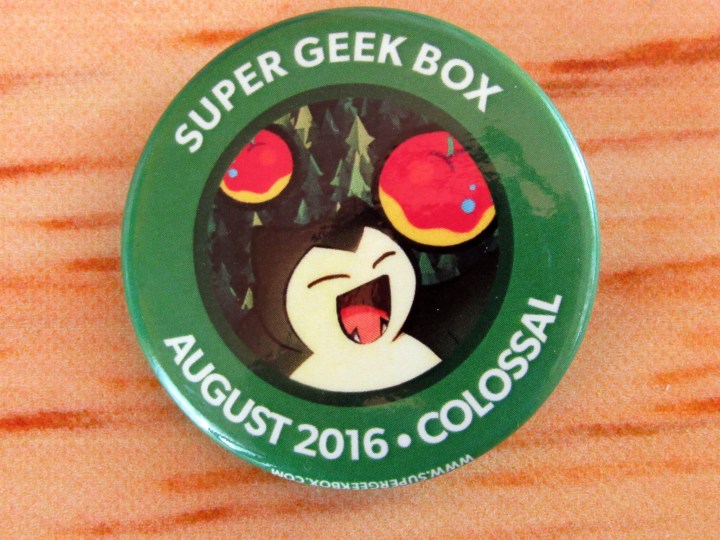 PA Anna: The August Colossal pin matches the shirt! J will be added it to his lanyard.
T: Snorlax is eating apples. I'm jealous that J is keeping it.
PA Anna: Both boys are going to love the exclusive Just Do It Later T-shirt. I need to find out if I can order one for T.  The shirt comes in blue or heather blue.
T: Yes! This is possibly one of the best shirts ever designed!! Snorlax (a giant Pokemon who loves to sleep) is sleeping on the Nike swoosh logo. "just do it later" is poking fun at Nike's slogan "just do it". I was so disappointed that this was for J and not me. Brilliant!
J: This shirt is really cool! I love it.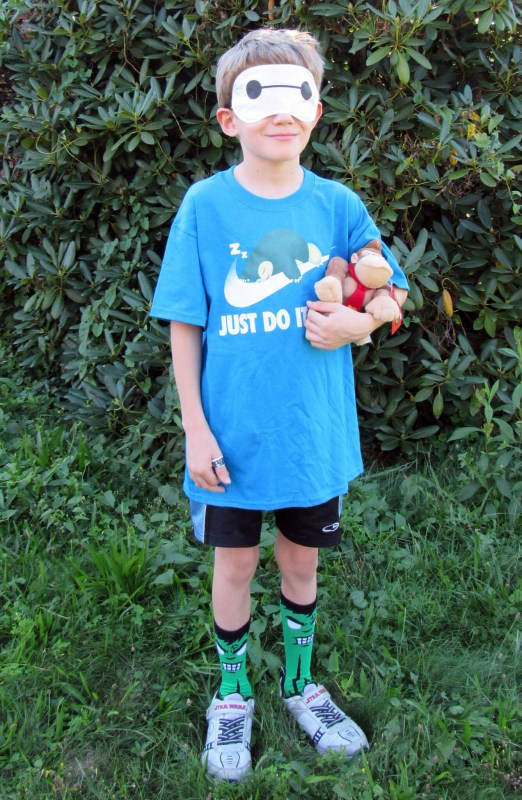 J is wearing the socks, shirt, and sleep mask while holding Donkey Kong.
J 's favorite item in the August Super Geek Box is the Donkey Kong Plush with the t-shirt being a close second. T wanted the box for himself and wished the sizes fit him. I am thrilled that the socks fit J! The boys recognized the fandom easily which is great because the box is packed with exclusives. It's an excellent family friendly geek box.
What do you think of the August Super Geek Box?  Use code SUPER for $3 off your first month!
Visit Super Geek Box to subscribe or find out more!
The Subscription
:
Super Geek Box
The Description
: A Monthly Box of SUPER Geek & Gamer Gear. New swag every month. Guaranteed exclusive Ultra-EPIC Shirt! or something 2x Epic!
The Price
: $19.92 per month