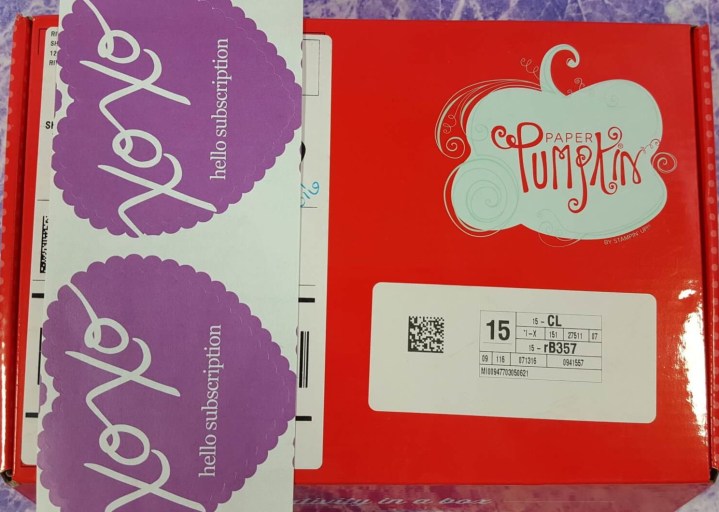 Paper Pumpkin is a craft box from Stampin' Up that sends a fun box each month with all the supplies to make a quick craft whether it be cards, boxes, bags, home decor or anything else in the paper crafting world.  Most crafts can be completed in about 30min if you sat down to work on it.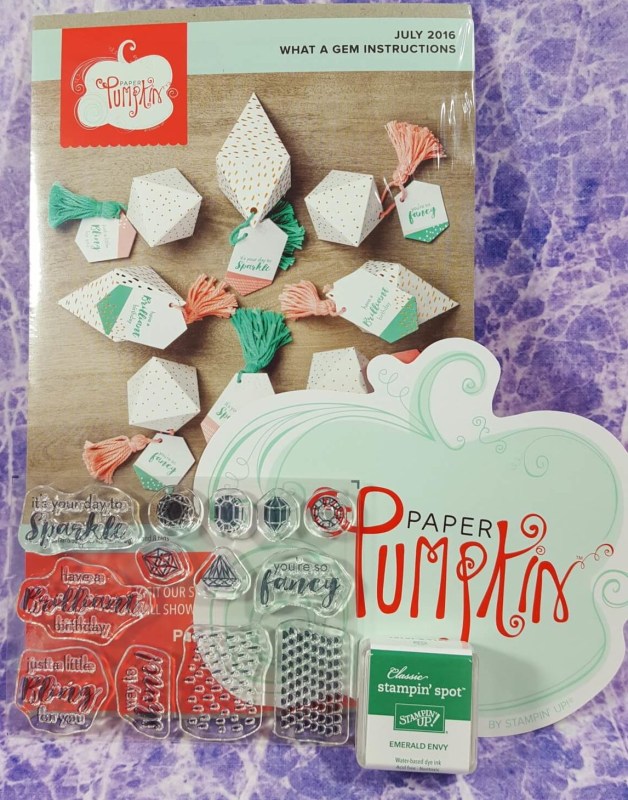 Everything in the July box.  The paper products are all sealed up with a piece of cardboard so that they stay nice and flat in transport. I will say at first look I was not overly excited with this one. I do think the boxes are cute but I just had no clue what I would use them for.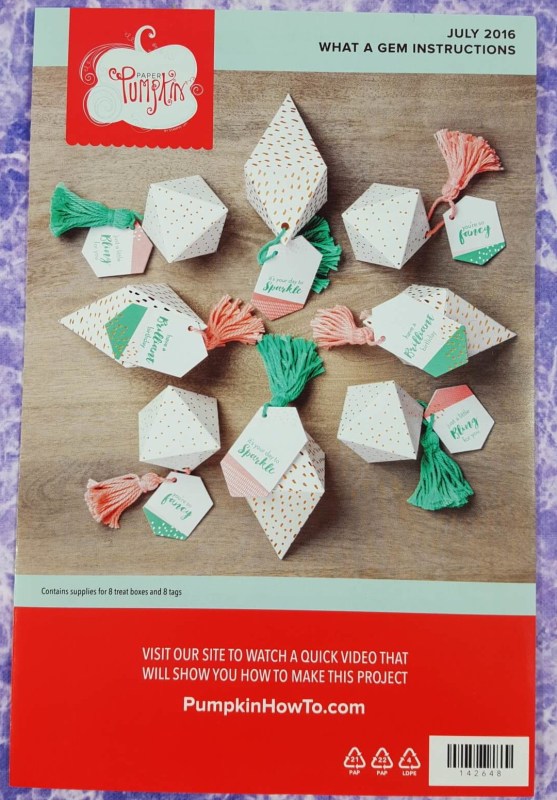 This month they sent enough product to make 8 boxes and 8 tags.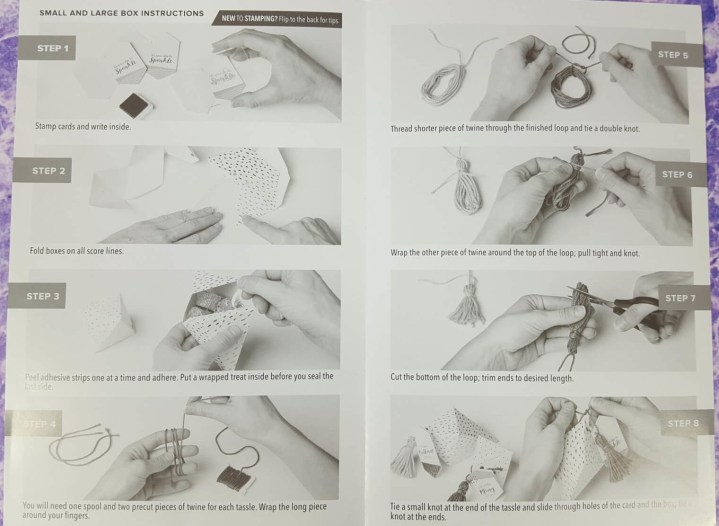 The inside of the pamphlet has step by step instructions on how to make the projects.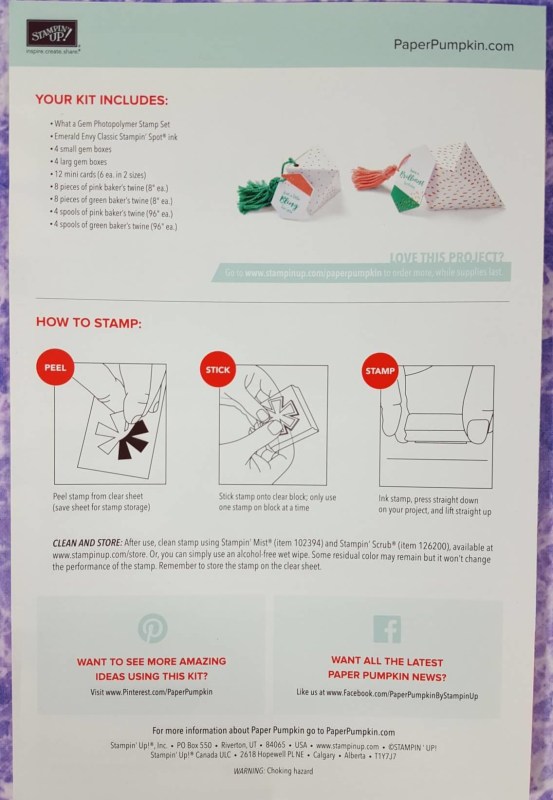 The back has a list of the included contents and a how to stamp. Don't worry if you don't own a clear stamping block since Paper Pumpkin will send you one if your first box.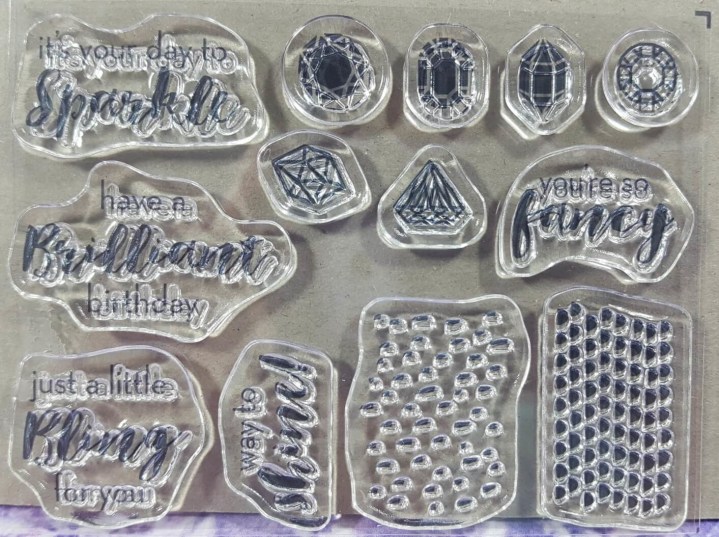 This is a really cute stamp set. I love some sassy sayings when I'm scrapping especially when I'm working on pocket pages and these will work great for that.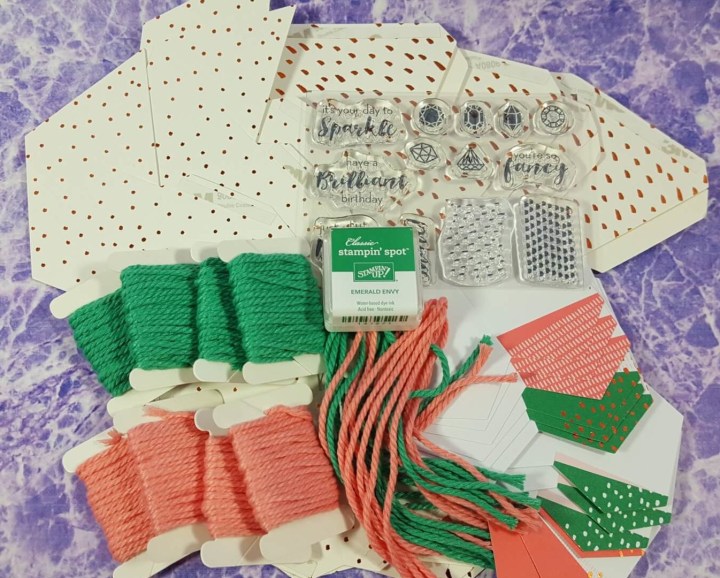 Everything in this month's kit all opened up. That is a lot of twine and I love me some twine. I'm also loving the color scheme since they are some of the new Stampin' Up colors for this year that just got released in June so I don't have a lot with them.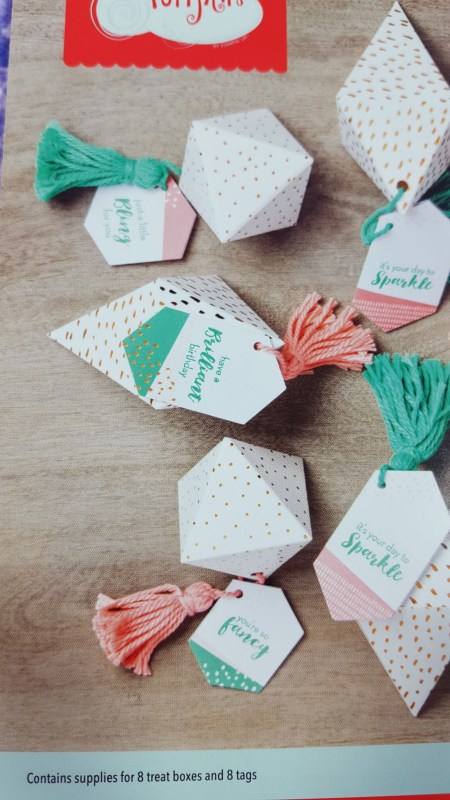 I wanted to include a closer view of the project since I did not end up making them into boxes at all.  I did love the instructions on how to make my own tassel since I have never done that before and it was way easier then I was expecting. I also love the look of them so I will be making more of those.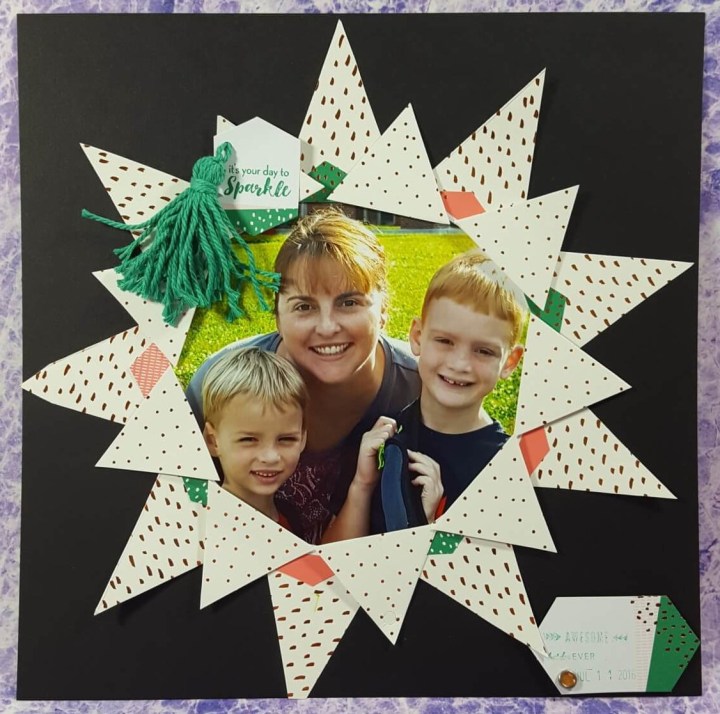 Here is what I came up with. I'm pretty much loving it and I love that it is way outside the box from my normal projects.  I had been holding onto this box thinking that I would have an occasion to use the little boxes but then the other day I had this thought to make them into like a sun shape around a picture.  So I cut them up and laid them out around a picture of me and my boys on the first day of school.  I then had to add the "it's your day to Sparkle" stamp since it reminds me of Twilight and I'm still a twihard and the stamp just makes me smile.  For the label I grabbed a couple of my roller stamps I keep in my crafting bin to added a little comment and the date with a blingy brad from my stash.  I LOVE the way it turned out and this will be a great page to add with the other pictures I took from that day.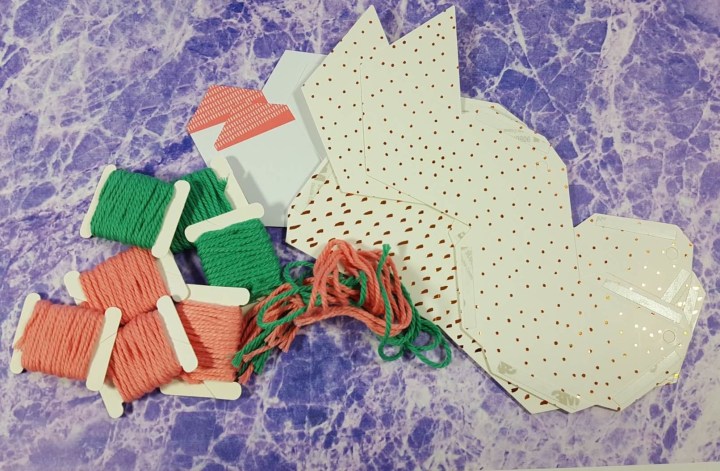 Even with all the boxes and tags I cut up for my page I still have enough leftover for 3 boxes, a couple tags and some tassels.  Of course I also have the fun stamp set and the new ink spot too which I've already added to my stash.
So this was an interesting month for me with Paper Pumpkin.  While I did like the look of the project it just wasn't something I was going to use anytime soon so I waited awhile and then had this thought for an alternative project.  I love that while Paper Pumpkin does send instructions for the project you can use what is included and then anything you might have at home and come up with something else entirely.
What did you think of this Paper Pumpkin kit?
Right now Paper Pumpkin  is having a BOGO sale so when you sign up for Paper Pumpkin now and get your first kit for regular price of $19.95 using promo code "BOGO" and then get your second kit for FREE.  This sale runs from August 11 – October 10th,2016 and is for new subscribers only. Future boxes will be charged at regular price and you can skip or cancel anytime you want easily in your account.
Visit Paper Pumpkin to subscribe or find out more!
The Subscription
:
Paper Pumpkin
The Description
: Each month a fully designed project kit arrives in a delightful box filled with stamps, ink, and paper—everything cut and ready to go so you can skip to the fun. Just think of it as creativity in a box.
The Price
: $19.95 per month