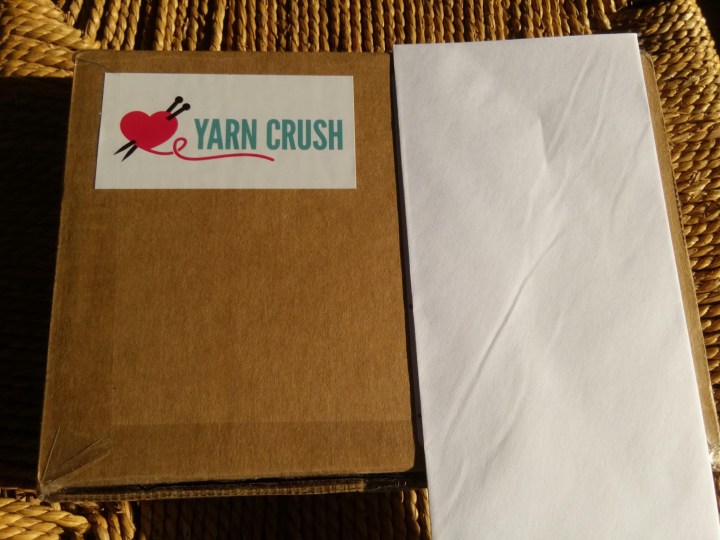 Yarn Crush is a monthly subscription box to feed your fiber addiction.  It includes at least 100g of premium yarn (either one large skein or several coordinating mini skeins), a knit and a crochet pattern,  any notions necessary to complete your project, and most months will also include a bonus gift.
This is the June 2016 Yarn Crush subscription box.  Isn't it swoon worthy?
If you choose to subscribe month to month, the price is $32.99 per month.  If you prepay for 3 months, the price is $32.00 per month and you get a free gift.  If you prepay for 6 months, the price is $31.66 a month and you get the free gift.  And, if you are totally committed to this box of swoon worthy yarn, you can prepay for a full year and the price drops to $31.25 a month (you get the free gift of course).  Shipping to the U.S. is $5 per box.
You also get to have some input to the colour way that you get.  You can choose between Warm, Cool, Neutral and Surprise Me.
This card full of cuteness introduced the box.  I love the print.  Too cute.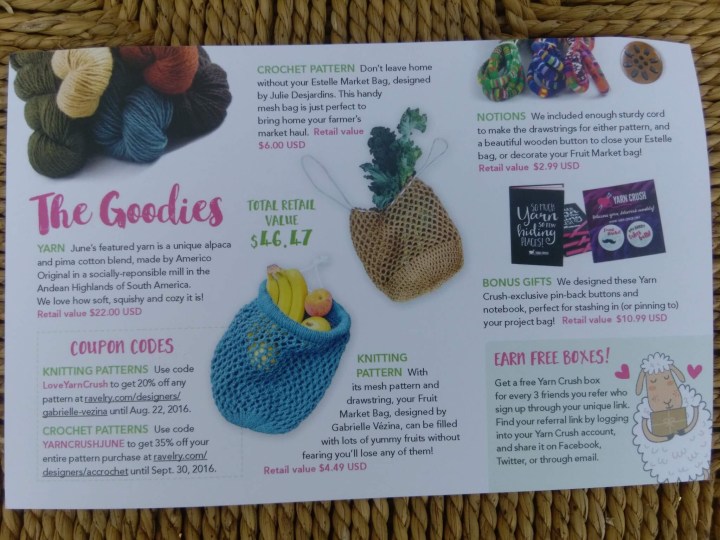 The flip side of the card gives all kind of useful information about the included products including their retail price.  There is also coupon codes for patterns and a referral offer from yarn crush.  For every three friends that sign up using your referral link you get a free box.  Cha-ching!  (You have to subscribe first and then log into your account to get your referral link).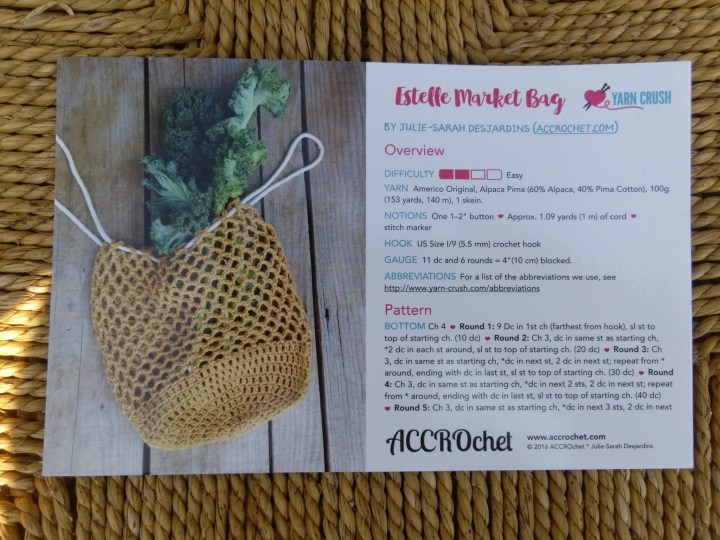 This is the crochet pattern for the Estelle Market Bag ($6) that was included in the box.  It was easy to understand and worked up very quickly.  (See the bag I made below.)
The pattern even included an email address where you can contact the author for help.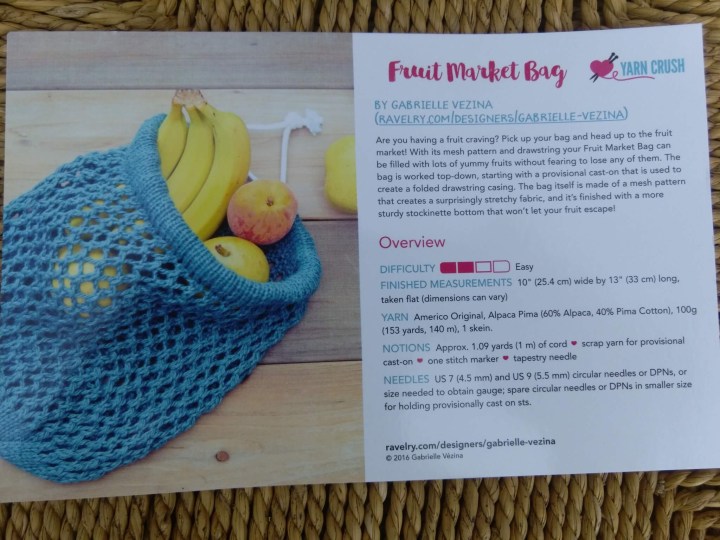 This is a knit pattern called Fruit Market Bag ($4.49) that works up a similar bag to the crochet pattern.  There is enough yarn in the box to work either the crochet or the knit pattern.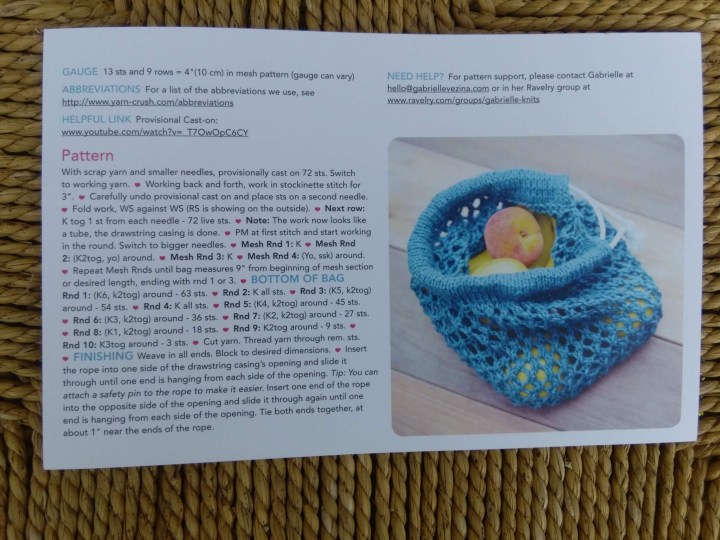 The pattern cards are printed on a sturdy card stock with a laminated finish.  Very good to keep in your permanent pattern collection.
This beautiful wooden button and colorful piece of cording were the included notions. ($2.99) I love the button.  So pretty!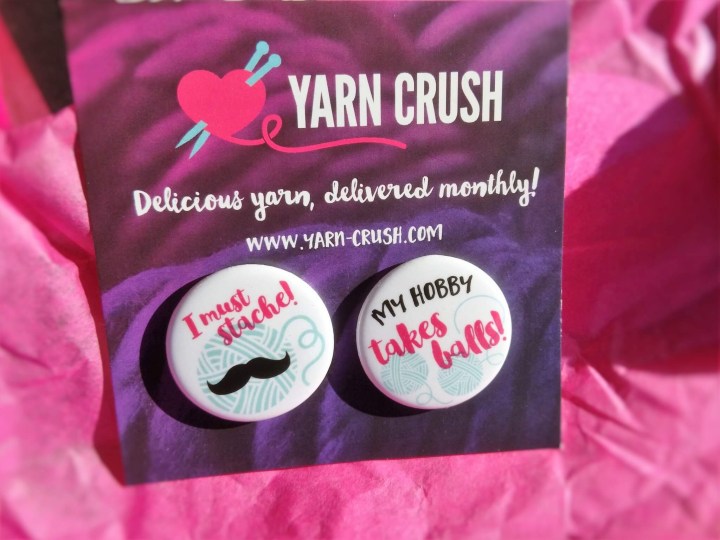 These light hearted buttons were in the box.  I like the, "I must stache!" one.
This handy little notebook was in the box.  ($10.99 with the buttons) It's the perfect size to keep in your yarn bag with notes about your current WIP (work in progress).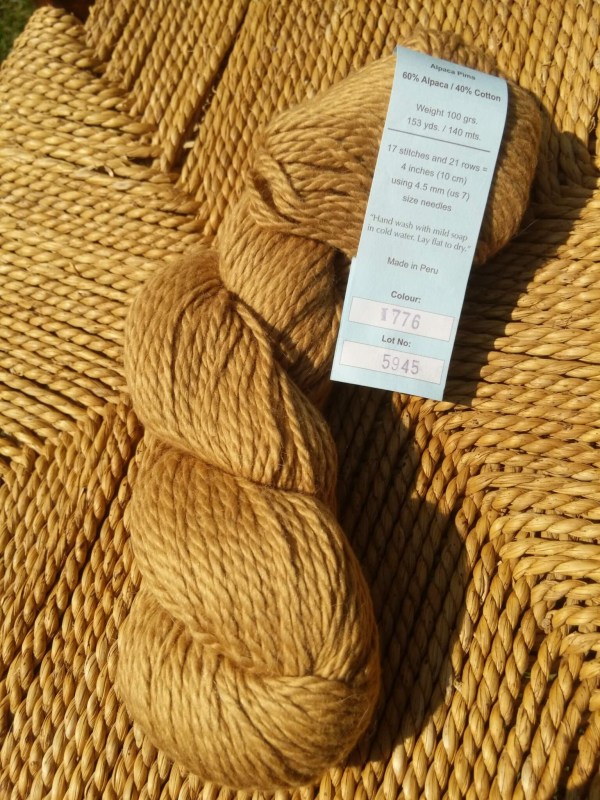 So, here it is!!  The delicious fiber!  They labeled the colour 1776.  I call it Woven Seat Bottom of Antique Rocking Chair that Sits on my Front Porch.  Seriously!  Doesn't it blend right in?  It's a bit softer than the weaving of the chair bottom though.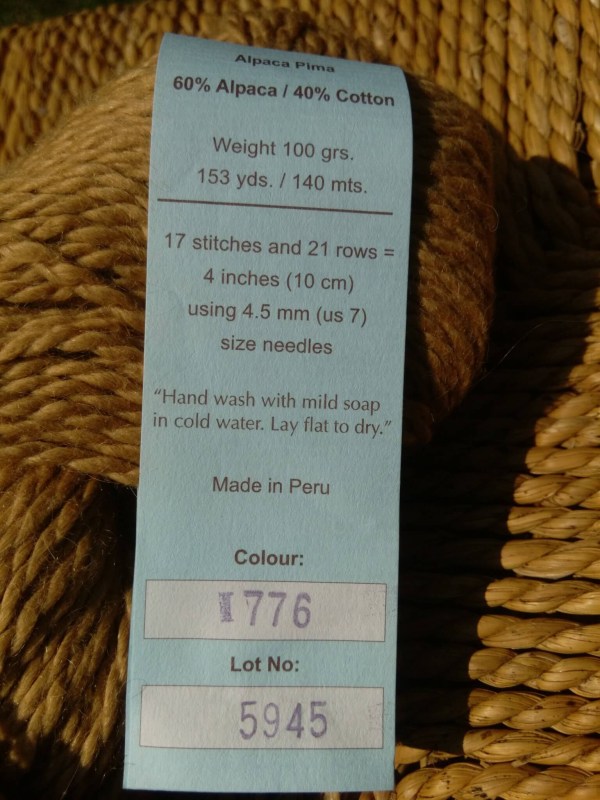 The fiber is a 60% Alpaca and 40% Cotton blend by Americo Original.  ($22)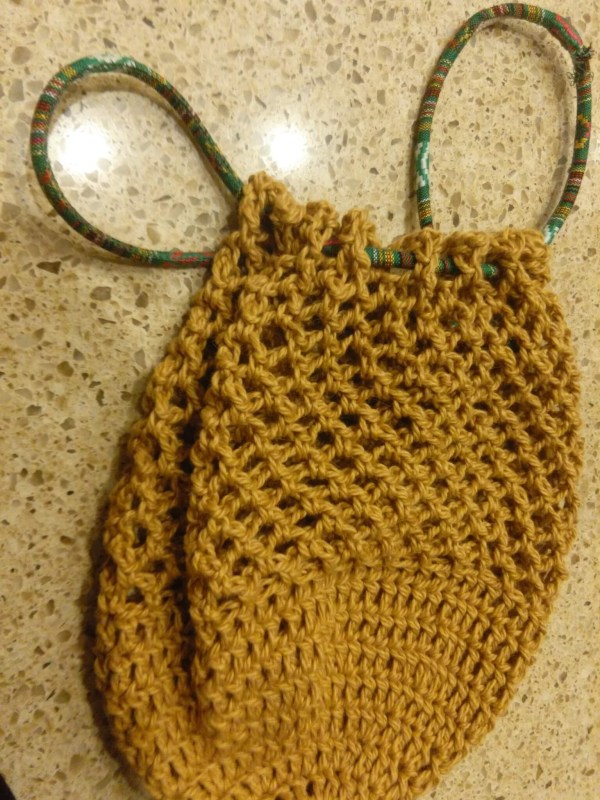 Here is my market bag all worked up.  It turned out lovely, don't you think?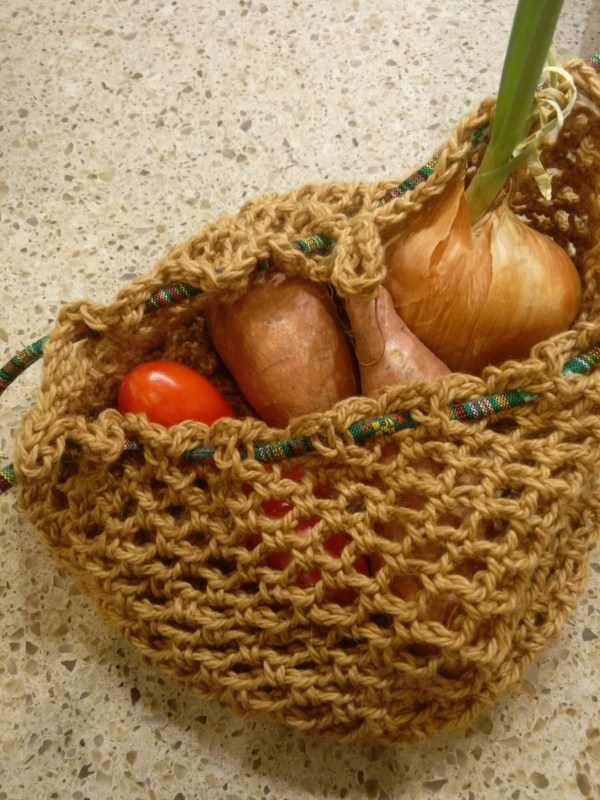 It stretches nicely to hold fruits and veggies.  It's perfect to take with me to the little community farmers' market that they have down the road from my house on Saturdays.  And, it's cute.
Yarn Crush is a great fiber subscription box to satiate the need for new yarn in your life.  I love the useful nature of this project and will be filling my new bag with delicious produce and fresh bread at the farmers' market this Saturday.
Did you order the Yarn Crush subscription box?  Did you choose the Warm, Cool, Neutral or Surprise Me box?  What color yarn did you get in your box?
If you'd like to give Yarn Crush a try, use coupon code HELLO to save $5 on your first box!
Visit Yarn Crush to subscribe or find out more!
The Subscription
:
Yarn Crush
The Description
: Yarn Crush is a knitting and crochet project-in-a-box. Every month, we send a full-size skein of yarn (or set of coordinated mini skeins), brand-new knitting and crochet patterns designed to use the yarn, and any notions required to complete either project. We usually include a bonus gift, too! Every month, the value of the box is guaranteed to be higher than the subscription fee, usually around $50!
The Price
: $32.99 per month