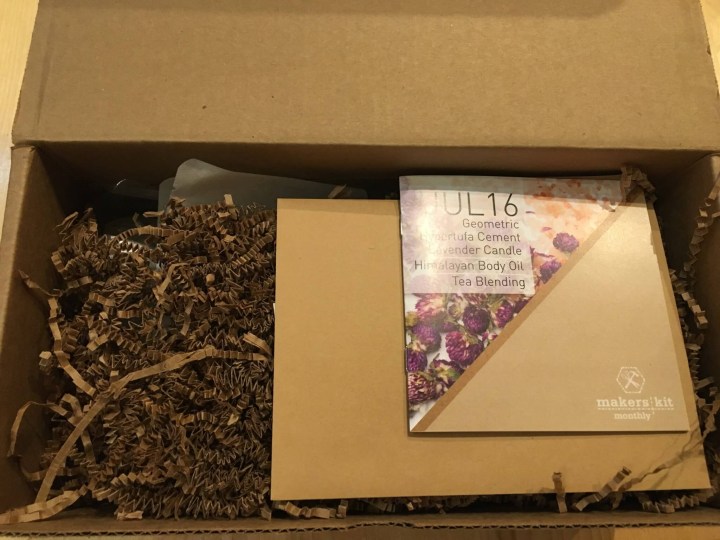 MakersKit Monthly brings you an endless supply of new DIY projects from month to month. The subscription costs $24 per month, and you'll get a box filled with DIY project materials, plus bonus goodies. The box is always with a total value of $50 or more.
If you receive six boxes in a row, you'll also receive a bonus box worth at least $50 that is only available to subscribers! In addition, all subscribers receive a 20% discount on any item in the Makers Kit Monthly shop!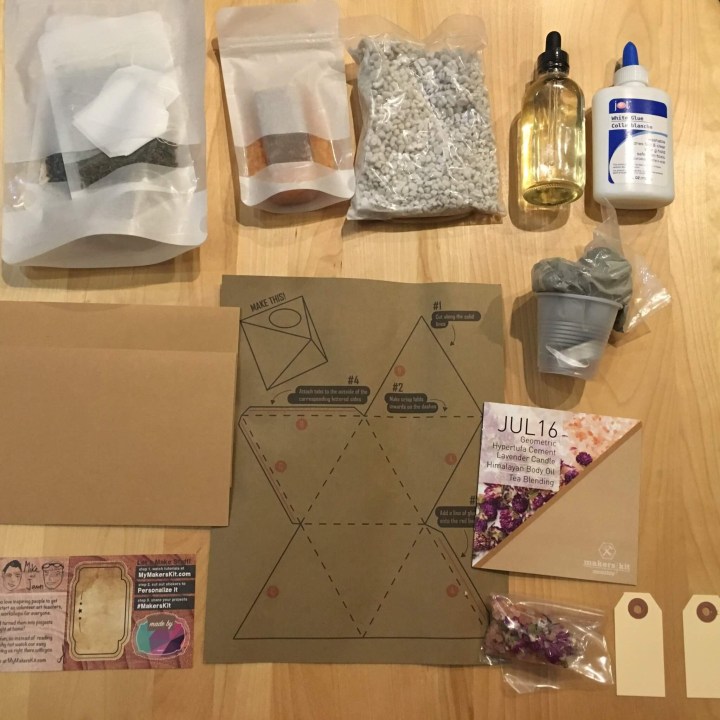 Makers Kit Monthly strives to inspire creativity in its subscribers. Started by former volunteer art teachers, each box aims to provide its recipient with a fun, creative experience while also supporting the artists responsible for the kits. As a nice bonus, a portion of the profit from the sale of each kit gets donated to arts education in public schools.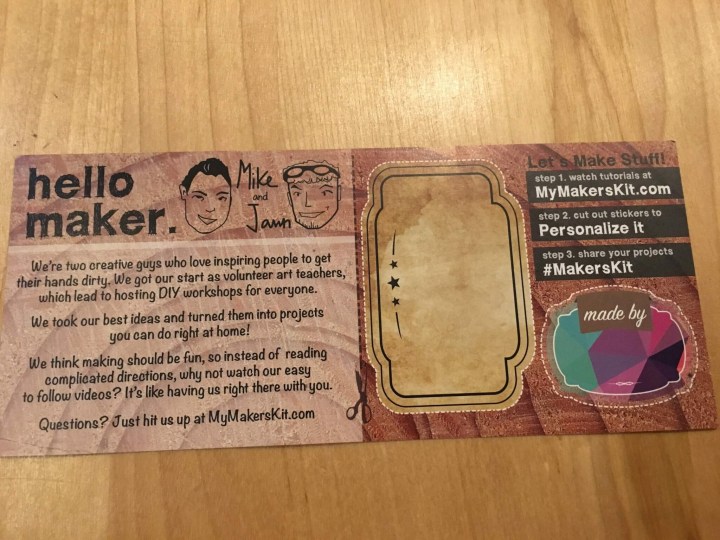 Each box arrives with everything you'll need to regift your items. From fancy labels to cards, envelopes and tags, Makers Kit Monthly makes it easy to give homemade gifts away as presents to those you care most about!
Overall, I would say that Makers Kit Monthly has thought of everything you might want to have on hand while producing your own creations.
The theme for July 2016 is relaxation and rejuvenation. Once you're done, you will have a votive holder, body oil, organic tea, soap and bath salts to use as you see fit. I can't wait to get started!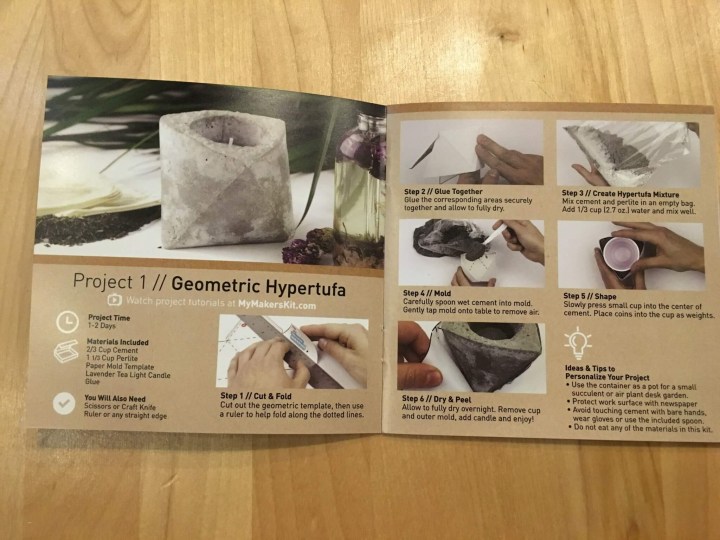 The first and by far most involved project is to create a geometric hypertufa to house either a votive candle or small succulent. Don't get me wrong–it was not at all difficult to construct; it's just that all of the other activities were so quick and easy to complete that this one stood out in comparison.
All of the required supplies were included in the box except for water, a mixing bag and a measuring cup.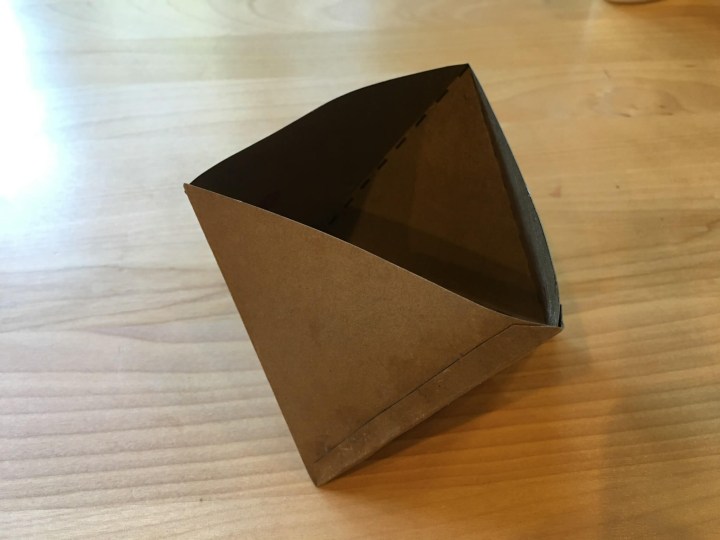 To construct the votive holder, first, cut out the template and place glue on the red lines shown. Then, assemble the hypertufa by aligning the template letter to letter. Set the mold aside until it dries completely.
Next, mix together the cement and perlite, along with 1/3 cup of water, until you create a somewhat slushy solution (this picture was taken after the addition of 1/3 cup of water. Although I added more water to my solution after taking this picture, in retrospect, perhaps I should have added even more!). After adding in additional water, I spooned the mixture into the template, tapping the outside occasionally to be sure to remove all the extra air pockets.
Once all of the cement mixture is in the template, push a cup full of coins down into the middle and leave to dry overnight.
Once completely dry, tear away the template, remove the cup of coins, and insert either a small succulent or the enclosed votive candle. Beautiful!
The next activity walked me through making my own natural body oil.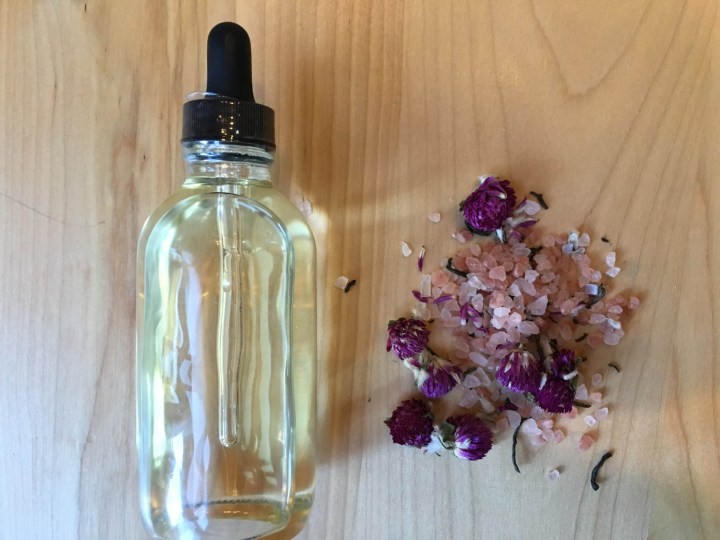 The kit arrived with a bottle of coconut oil, apricot oil, almond oil, fragrance oil and vitamin E oil all mixed together in a beautiful glass jar. The oil mixture smelled great in the bottle. The kit also included dried Gomphrena Globosa flowers, Himalayan sea salt and Darjeeling Green Tea. I added them all in.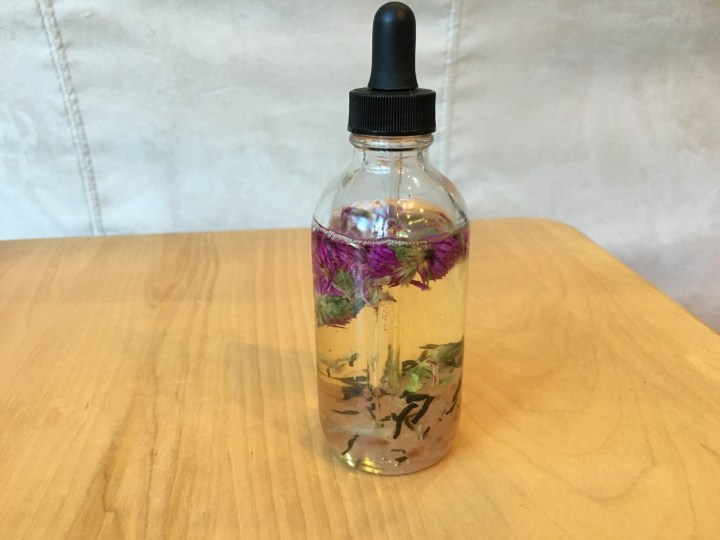 The result was a rich body oil with a lovely sweet, floral scent. I slathered it all over my body and wished I could continue to use this every day for the rest of my life. Now that I know what's in it, I guess I can! I look forward to playing with the same oil base in the spring, using dried jasmine from my yard to scent it.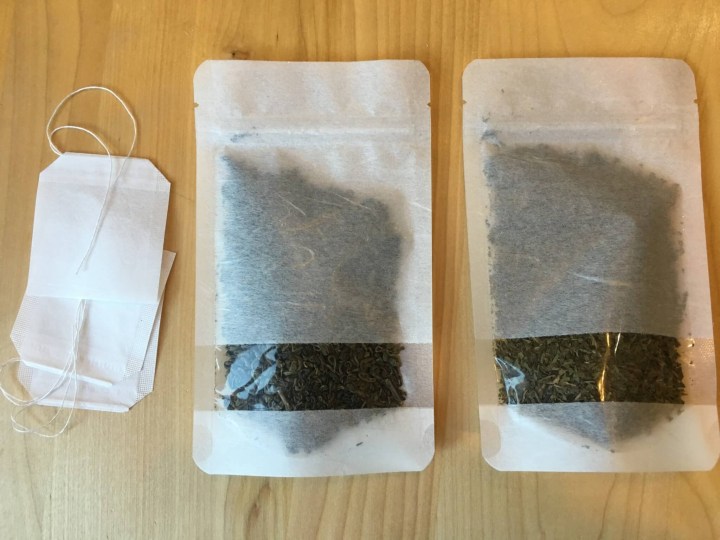 The final activity asked me to mix together organic peppermint tea and organic gunpowder green tea and place my creation in the enclosed tea bags, each of which will make approximately 4 cups of tea.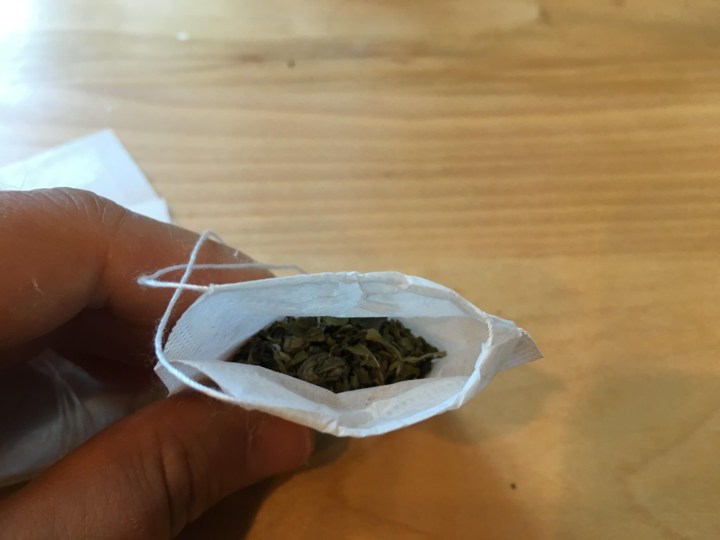 This was very easy to do. I look forward to doing it again, next time with organic rooibos tea, as I don't drink caffeine.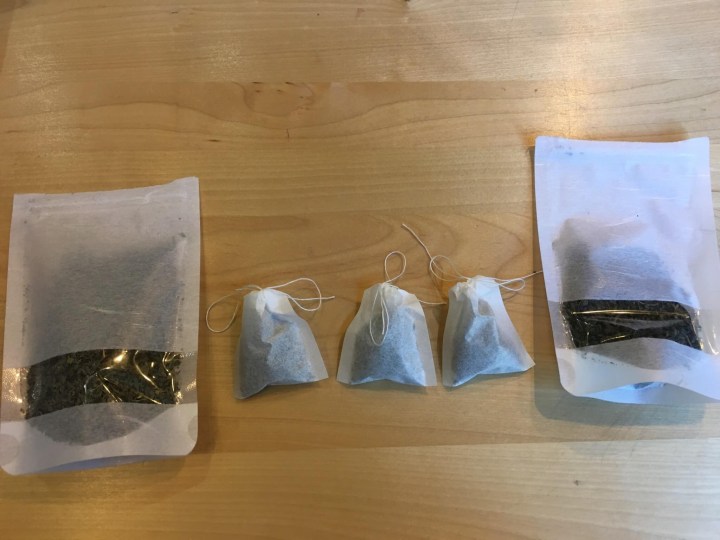 I look forward to giving these to my son's French tutor, who loves green tea blends!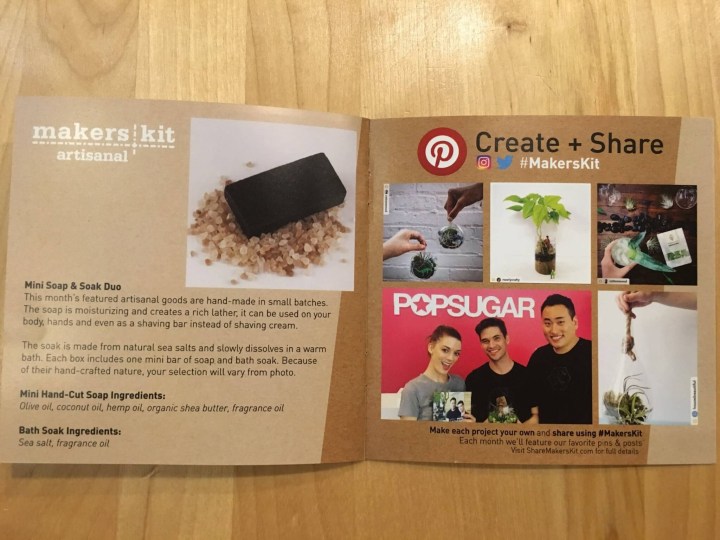 As an added bonus, the box included a handmade soap and Himalayan salt bath soak.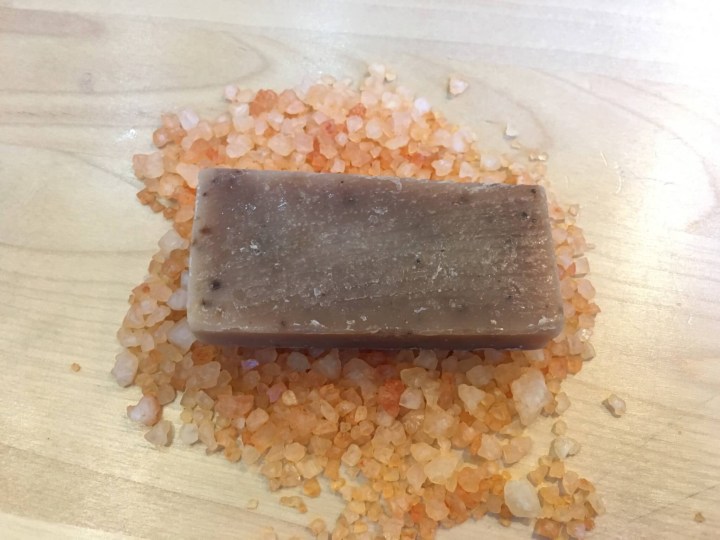 The salt bath soak smelled wonderful and left my skin feeling soft and supple. The soap likewise left my skin feeling great, although I would have preferred a different scent. This one smelled like chocolate power bars.
I love this box! Each of the three activities were easy to complete, and all were worthwhile to me. The inclusion of handmade artisan products is nice not only because you can indulge in the products themselves, but also because they help you see what some of the possibilities are beyond the DIY kits included in the box. As I was basking in my fragranced Himalayan salt bath, I thought to myself: I could make these! Then I thought about all the different scent combinations I'd like to try. Lucky for me, as a subscriber, if I have any questions about how to make anything, I can just email the Makers Kit Monthly help desk for pointers. Maybe I'll try to make my own soap as I wait for my next monthly installment to arrive!
Have you tried MakersKit Monthly? What are you most proud of making?
Visit MakersKit Monthly to subscribe or find out more!
The Subscription
:
MakersKit Monthly
The Description
: Experience a new DIY project created by MakersKit each month. Each month we'll send you our featured DIY project plus extra goodies with a total value of $50 or more. Each box is a surprise, and will be revealed right after they ship.
The Price
: $24.00 per month