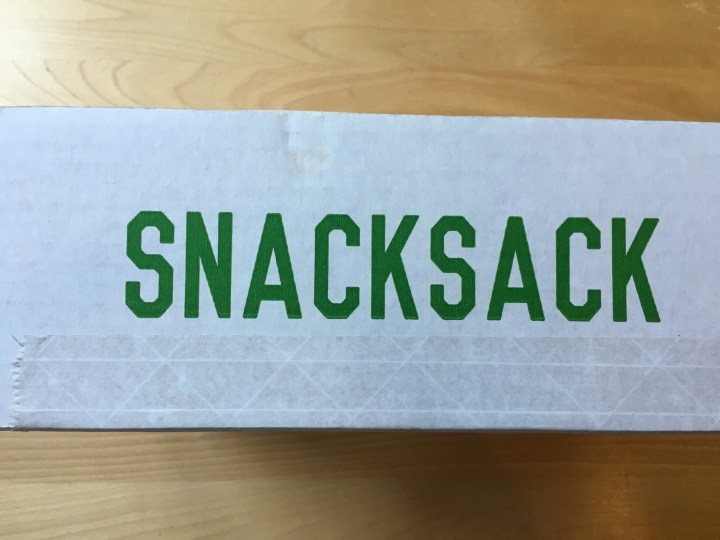 Snack Sack is a monthly subscription service that sends boxes to your home that are filled to the brim with a combination of organic, non-GMO, gluten-free, all-natural, vegan and fair-trade snacks!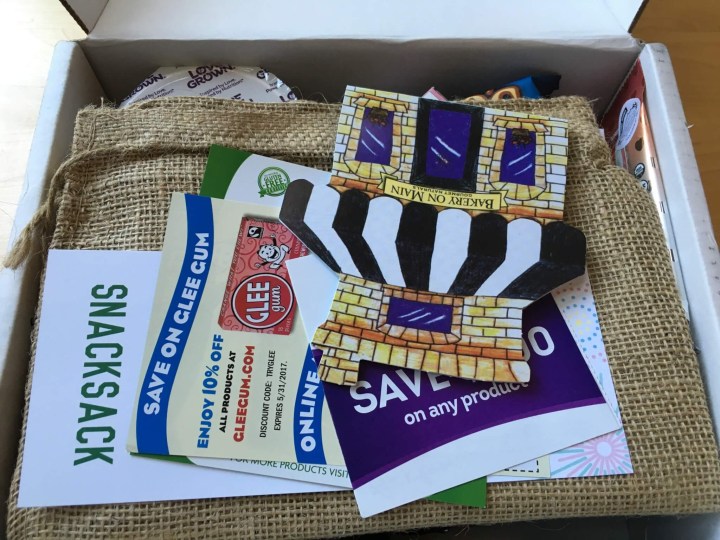 Like always, July's box arrived chock full of snacks!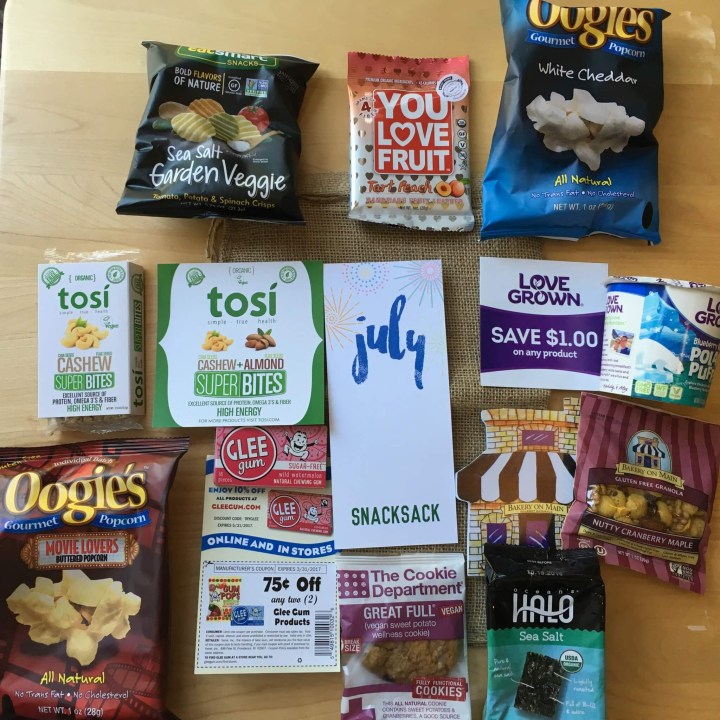 I love how, in addition to the plethora of snacks, the box included coupons for future purchases.
Each month the box arrives with a list of its contents. I love how easy Snack Sack makes it to identify the gluten free, vegan and non-GMO snacks! As I was writing this review, I couldn't help but notice that I never received one of the snacks listed on this sheet–Beanitos' Honey Chipotle BBQ Chips. It's too bad both because I really like Beanitos' products, and Honey Chipotle BBQ Chips sound delicious! Luckily, everything else looks great.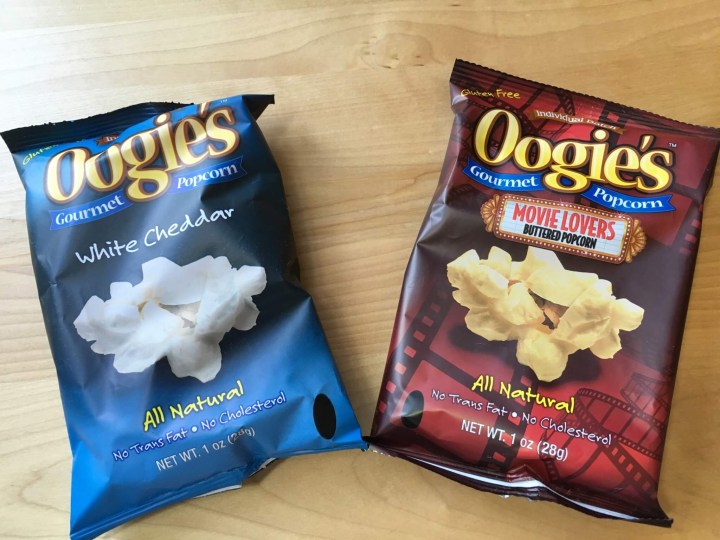 Oogie's Gourmet Popcorn ($2.54 for 2 based on the cost of 28) is delicious! I loved both flavors equally. I also love that they use all-natural ingredients like annatto and tumeric for their colors. Oogie's uses a proprietary hybrid variety of popcorn in making its delicious snacks.
Bakery on Main's Nutty Cranberry Maple ($1.29) tastes of rice cereal with cranberries and hints of maple, almonds and pecans. Yum! This cereal is gluten free, and Bakery on Main donates a portion of their profits to celiac disease research.
This is one of the first gluten-free snacks I've had that is similar to a non-gluten-free mainstay that's delicious. I'm delighted that Snack Sack included a coupon for money off a future purchase!
Love Grown's Blueberry Vanilla Polar Puffs ($0.90 based on the cost of 6.5 oz) is a sweet kids' cereal that is made from navy beans, lentils and garbanzo beans. Still, none of those bean flavors were discernible. My kids couldn't get enough of it!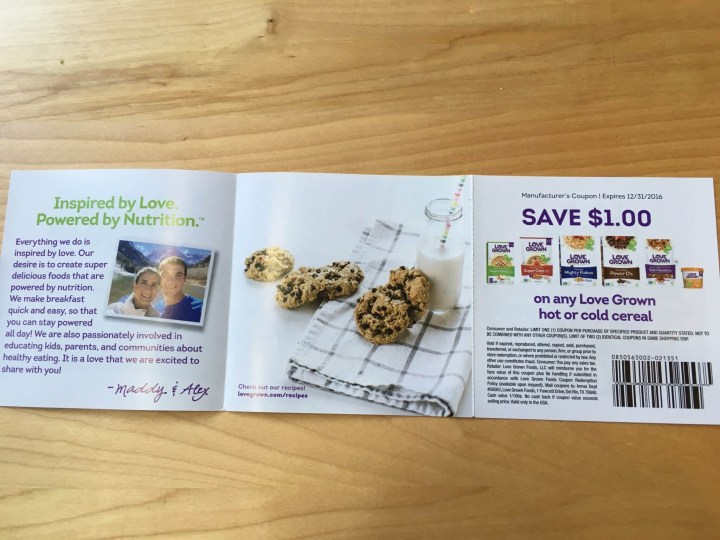 My kids will be thrilled to find out we're getting more of this cereal! I'm grateful for the coupon.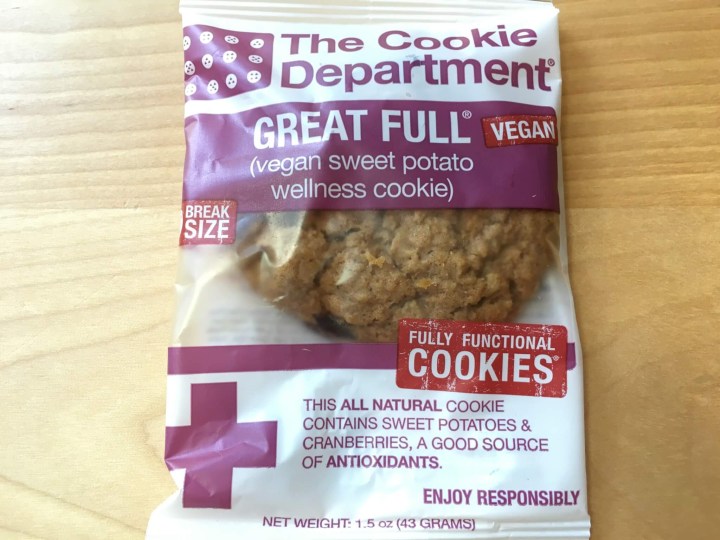 When I first saw the description of The Cookie Department's Great Full Cookie ($2.33 based on the cost of 12), I must admit, I wasn't too excited to try it. Vegan? Sweet Potatoes? I'm glad I did, though! It's fabulous! If you like pumpkin cake and cookies and dried cranberries, you'll love this! I only wish we had three dozen of them.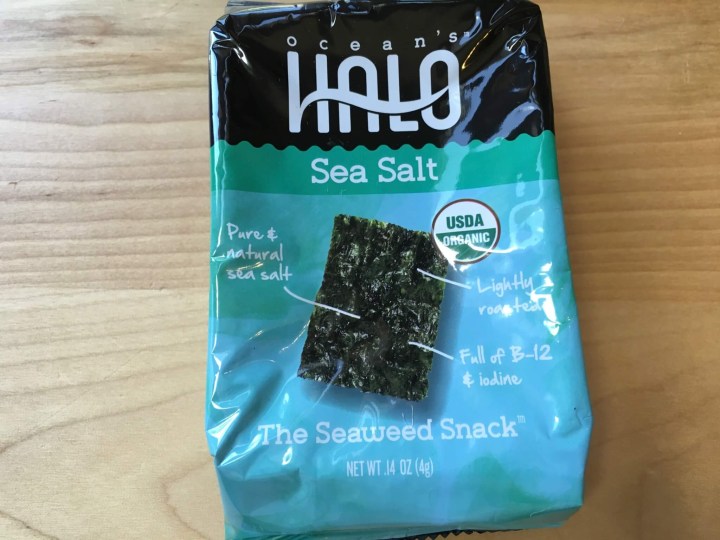 Ocean's Halo Sea Salt Seaweed Snack ($1.33 based on the cost of 30) was the only snack that I would prefer to pass along this month. It's thin and crunchy and tastes like seaweed. Although I love seaweed in sushi rolls, I find eating it on its own to be overpowering.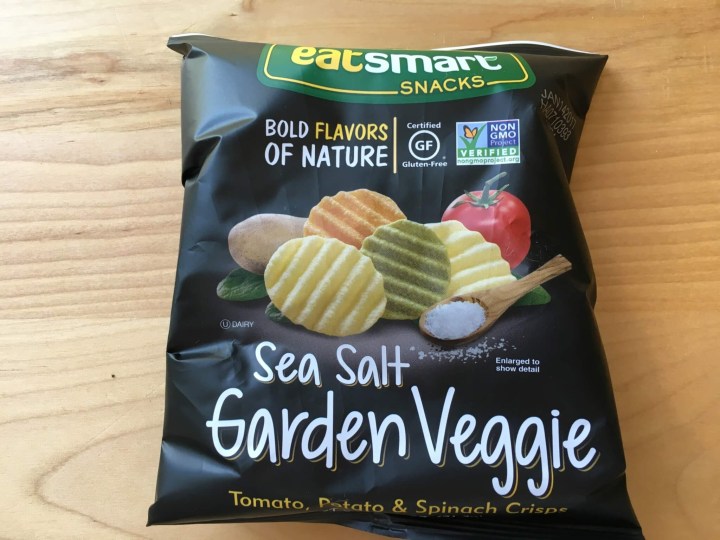 Eat Smart Snacks' Sea Salt Garden Veggie Chips ($1.29 based on the cost of 48) are crunchy and light. My kids like the colors, and I like knowing that they're better for them than a regular potato chip.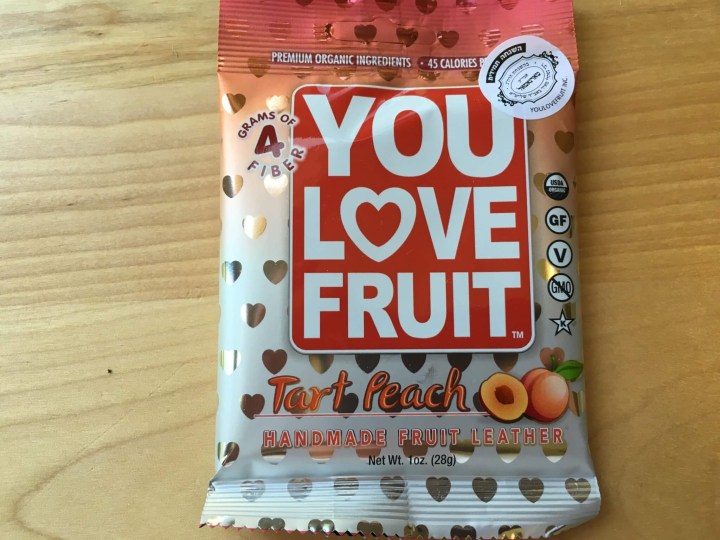 I was very excited to see You Love Fruit's Tart Peach Handmade Fruit Leather ($1.46 based on the cost of 12) in this month's box! We tried their key lime fruit leather in April's Snack Sack and loved it! This one was similar–it still had a mango base, although the mango was less pronounced here. I had hoped to include some of this in my kids' lunches this week, but they finished this off almost immediately. Delicious!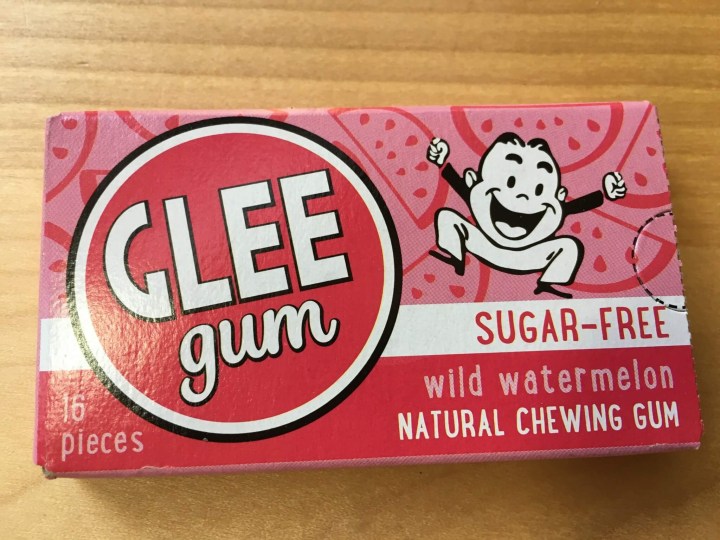 The inclusion of Glee Gum's Wild Watermelon Natural Chewing Gum ($1) was a fun surprise! I haven't had chewing gum in years, and clearly I've been missing out. This gum is sweetened with xylitol, which is great for teeth. The wild watermelon flavor is delicious and stays that way for about 20 minutes. The gum arrives shaped like chiclets, so you'll want to pop a few in your mouth at a time.
Yet another coupon! Yay!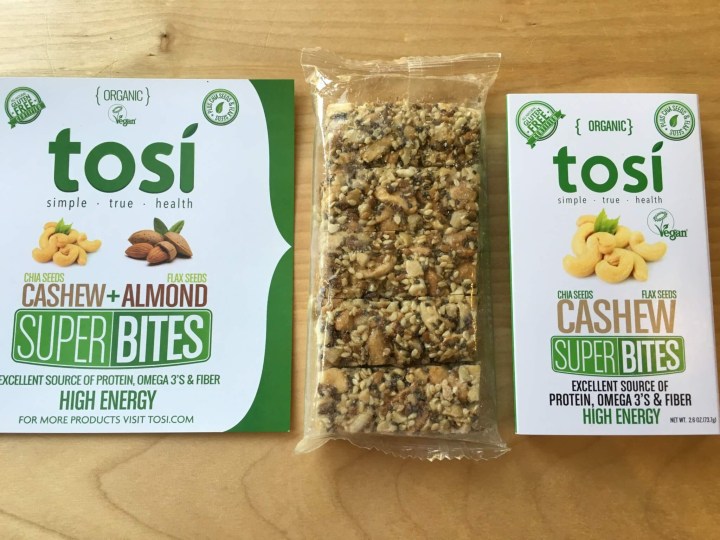 My son and I loved these Cashew Super Bites by Tosí ($2.83). Nice and crunchy, they taste like candied nuts. These didn't last long at all!
I was able to fit all of this month's snacks inside the included burlap sack. I love these sacks! After they help keep my review-writing organized, I use them to collect my kids' toys.
I loved how Snack Sack delivered a ton of relatively healthy snacks, yet each one was substantially different from the other. Some would be perfect for lunchboxes, others for treks, and still others for lounging around the house. Some were extremely sweet; others were tart. Some were soft, and others were crunchy. Some were made of fruits and vegetables, and others were principally nuts. In short, whatever your snack persuasion, Snack Sack would deliver. We can't wait to see what they send us next month!
Have you tried Snack Sack yet? Get 15% off the entire lifetime of your subscription! Use coupon code HELLO15.
Visit SnackSack to subscribe or find out more!
The Subscription
:
SnackSack
The Description
: Monthly surprise delivery of delicious all-natural & organic snack foods. We curate a delicious assortment of gluten-free, non-gmo, & vegan goodies. Sent from beautiful Colorado directly to your doorstep.
The Price
: $23.00 per month