Rag Tag Box is a monthly subscription box that provides all your cross stitch needs! For only $15.00 per month, you'll get a box that includes 1 cross stitch DIY kit, and 1-2 fun miscellaneous items like jewelries, hair clips/ties, stationery, paper crafts, and more!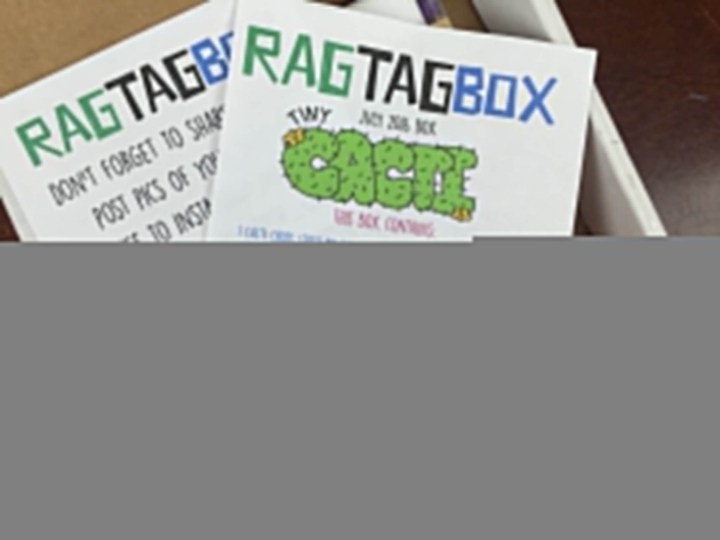 The items are neatly stacked inside the box. The theme for this month's box is 'Tiny Cacti.'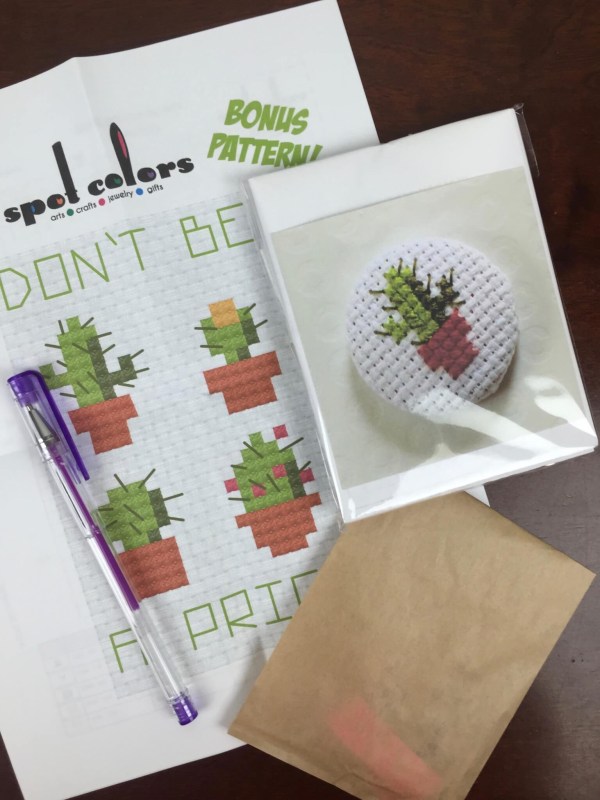 Everything in my July Box!
Gel Pen
Cacti Cross Stitch Pin Kit
I don't normally cross off my charts but a lot of stitchers do, and either way, this is a really fun pen to get!
These are the following items that are included in the Cacti Cross Stitch Pin Kit:
DMC Threads (907, 740, 469, 602)
Aida White Fabric
Needle
Circle Template
2 Button Covers
2 Pin Backs
Glue
I am not normally an aida stitcher, but I enjoy it in this subscription. #1 – I tend to use the projects in this box as on the go crafts (I actually still have June's to review, but it's a larger project, so it's taking me a while to finish because I use it as my at the computer project – and I haven't had a lot of time!) and #2 – I don't have my magnifying lamp. Despite my relatively young age I actually need it to stitch, but I can make do with aida and my reading glasses.
I do wish this box came with a smaller needle (I personally prefer a size 26 gold needle – the needle that came with this box was hard on my fingers). But I was sure happy to have a whole tube of e6000, even if it's mini size. It's the most useful glue and better than crazy glue IMO.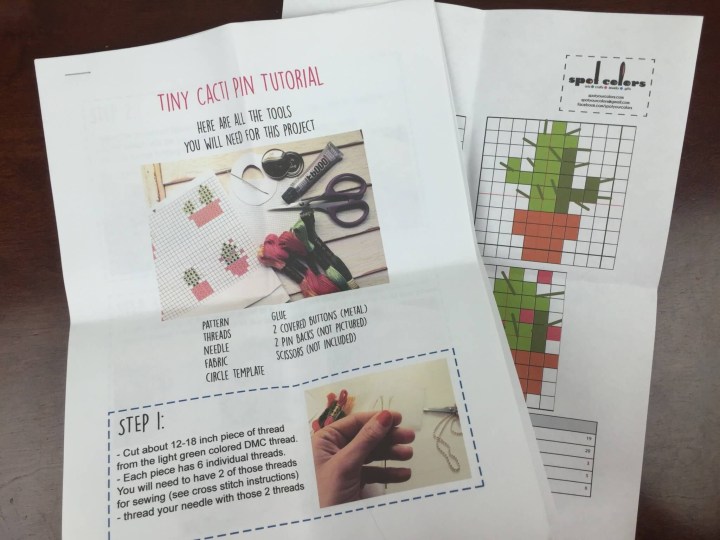 The instructions are clear and included an illustration of the step by step procedure.
As a bonus, Rag Tag Box also included this Don't be a Prick Cacti Pattern. Haha.
Two Tiny Clothes Pins and a bright pink Hair Tie were included in the Kraft Baggie as little extras. Perfect accessories for getting your craft on!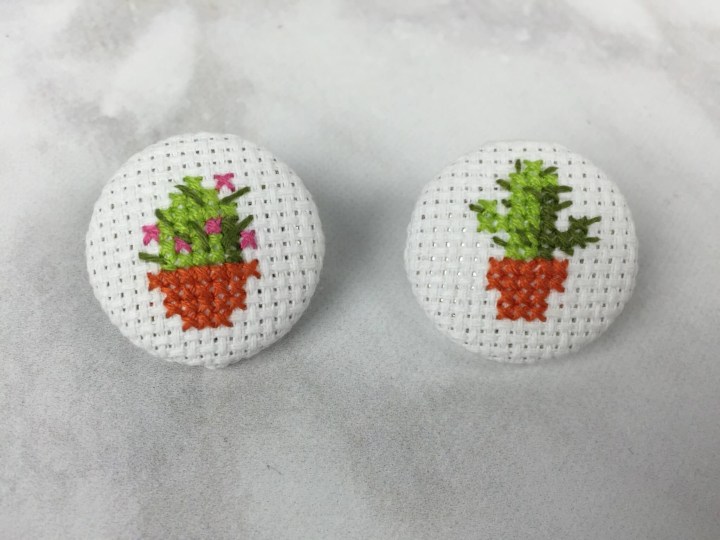 The project this month was relatively small in stitching time, and I completed it in about an hour. Back to point #1 above – this smaller project includes more finishing gear than some of the other projects, and is nicely sandwiched between 2 larger projects. I really appreciate this, especially as it isn't my main project – and for an infrequent stitcher, it's nice to make sure you don't get overloaded.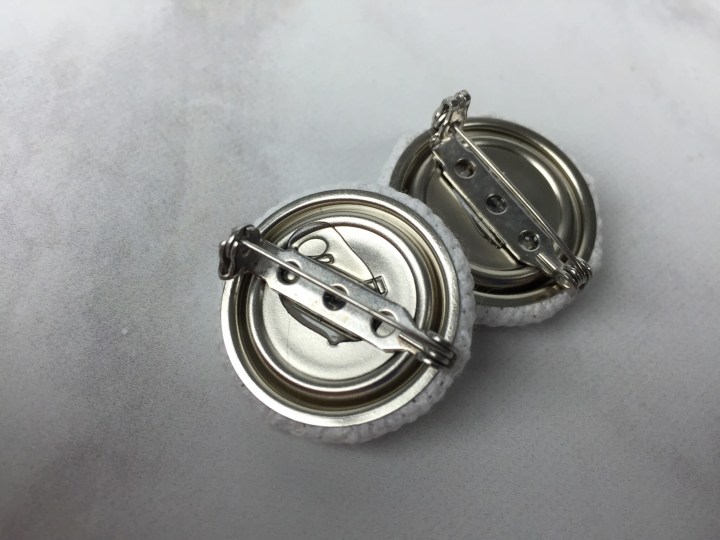 The pins were relatively easy to make and it's so great to have a totally finished project. This box also includes the template for centering your fabric on the circle and cutting out the precise amount you need.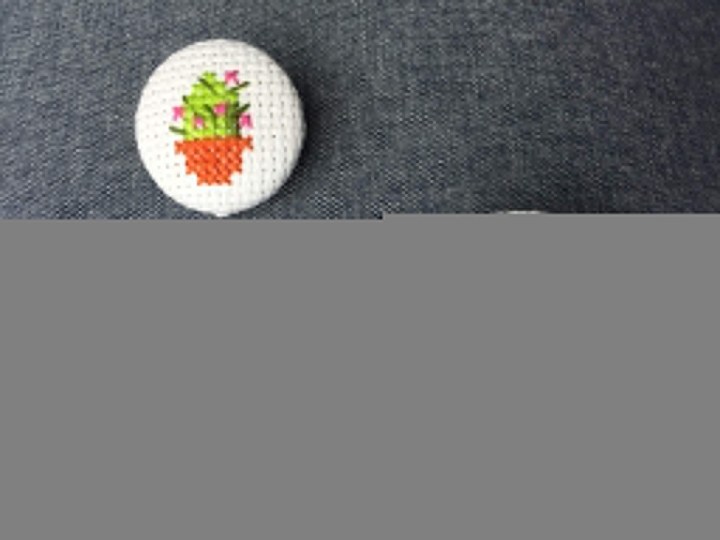 If you think enamel pins are hot, these are even cooler, because I made them myself!
I think this subscription is great to have some ready-to-go projects for both casual and hardcore stitchers, and the themes are witty, not too subversive, but edgy enough to have some fun with. I'll have to suck it up and show you how little I've stitched on the June project next week because I'm dying to dig into the July box.
FYI – they also have a pattern subscription but #1 I do like to support designers by buying their kits (and avoiding stash overload) and #2 they are a really great way to make sure I actually do the projects.
Coupon: 15% off your first box, use coupon code SEPTSTITCH (expires 9/30/16, U.S. only)
What do you think of this month's project?
Visit Rag Tag Box to subscribe or find out more!
The Subscription
:
Rag Tag Box
The Description
: RagTagBox is a monthly subscription box for cross stitch! Each month contains: 1 cross stitch diy kit designed by spot colors plus 1-2 fun misc items which could include handmade or none handmade jewelry, hair clips/ties, paper crafts, finished stitchy items, & more!
The Price
: $15.00 per month